[ad_1]

When one thinks of traveling in Israel, the city of Jerusalem often comes to mind first, since it appears in so many historical and religious stories.
However, for traveling backpackers, another city, Tel Aviv, offers almost everything one could want: plentiful, delicious food, safe places to sleep, historical sites, and options for getting around town easily. Add to it an abundance of cultural diversity and after-hours fun and this Middle Eastern city becomes a fantastic place for adventure.
Of course, a city like Tel Aviv has a range of restaurants and eateries, but the best bet for getting inexpensive, delicious food may be in the open-air markets scattered around town. Here, one can get fresh fruits and vegetables, along with meat and cheese, making for a meal at the fraction of the cost of a restaurant.
Foot-weary travelers can hop a bus or a shared taxi-like van to go from place to place without spending too many shekels, and since it is a small country, getting to interesting places doesn't take all your time.
Additionally, Tel Aviv has several wonderful options for hostels, where one can relax, meet new people and get a good night's sleep. 
Abraham Hostel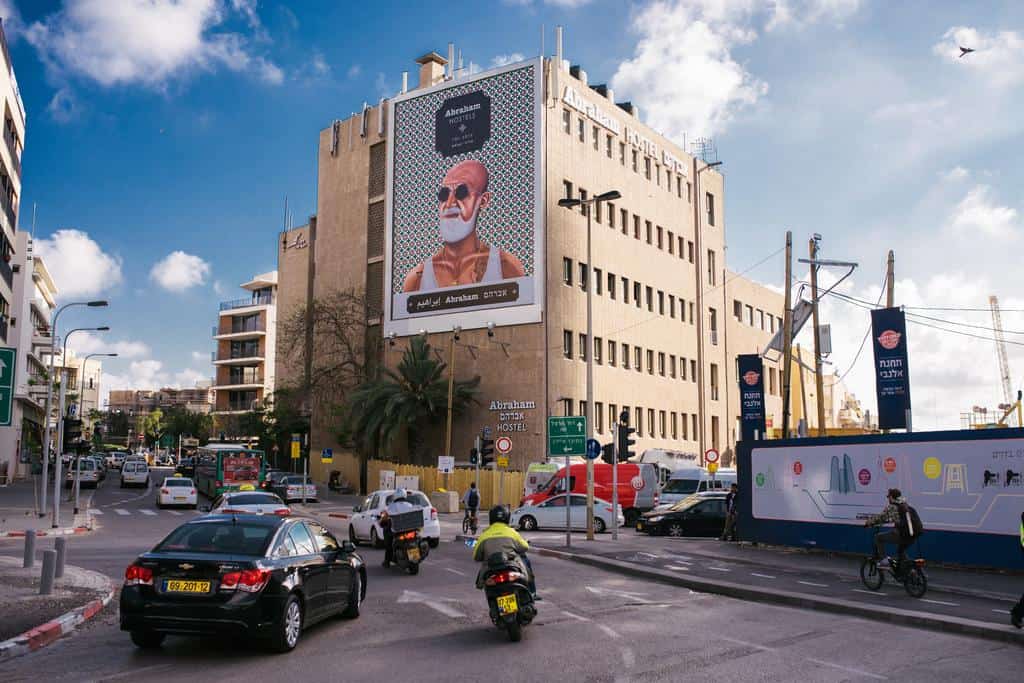 Book on Hostelworld Book on Booking.com
from $27 / 12-dorm 4.6/5 Map
Highlights of Hostel 
Internet Café

Laundry Facilities

Free Breakfast

Giant Terrace
Offering 350 beds, Abraham Hostel is sure to be the place anyone can find a comfortable place to lay their head.
Travelers of all sorts will find what they need here since they offer dorm-style lodging, private rooms, and apartments to stay in. The mixed-sex dorms have lockers and en-suite bathrooms, while the private rooms have double beds, or two single beds, and en-suite facilities. The family-room apartments are big enough for the whole family to bunk down together.
Abraham Hostel's huge lounge and communal kitchen make meeting new people easy, and the convenient access to bus routes makes seeing new places a piece of cake as well. When a little down-time is needed the onsite bar fills the tab with live music and good drinks.
Folks wanting a little quiet can take in a sunset from the rooftop, or make their way to the TV room to catch a movie with friends. 
Florentine Backpackers Hostel
Book on Hostelworld Book on Booking.com
from $18 / 8-dorm 4.4/5 Map
Highlights of Hostel 
Amazing terrace

24-hour Security 

Linens included

Luggage storage

FREE Breakfast
People who find a bed at Florentine Backpackers Hostel will also find an eclectic group of fellow-travelers enjoying the interesting neighborhood, sitting on the edge of the old German colony and the Florentine community.
Close to the Levinsky food market, this area also boasts funky cafes, vibrant street art, and fantastic restaurants. For folks looking for great shopping, Israel's largest flea market is just 5 minutes away on foot and is a perfect place to get that just-right souvenir. In the hostel, there's a fully equipped kitchen to cook in, air conditioning in all the rooms, lockers to put stuff in, and a friendly staff eager to help with all the guest's needs.
The expansive terrace makes for an ideal place to hang out or make new friends. With free breakfast and free Wi-Fi, and a wonderful family atmosphere, the hostel has something for everyone. 
Check out some useful/MUST HAVE gadgets for backpackers:
Little Tel Aviv Hostel
Book on Hostelworld Book on Booking.com
from $30 / 6-dorm 4.6/5 Map
Highlights of Hostel
Outdoor Terrace

Towels and Linens included

Free Wi-Fi 

Events
Voted Best Hostel in Israel 2019 and 2017 by HostelWorld, this newly renovated facility is just a half-mile from the famed Camel Market. Since it is just on the edge of the old part of Tel Aviv, folks can explore historical buildings while enjoying the more modern area as well.
The hostel's clean rooms and friendly staff get high marks from travelers who rate it. In addition, there's plenty of restaurants, bars, and shops within walking distance. Backpackers can stay in a dorm, or opt for a private room, all of which are en-suite with a balcony.
Then they can meet new people during a highly rated Shabbat dinner, or when just chilling in the outdoor courtyard or the cozy commons room. Local artists display their works throughout the facility and sometimes, the hostel hosts artists to give their guests a truly international art vibe. 
Hayarkon Hostel
Book on Hostelworld Book on Booking.com
from $23 / 8-dorm 4.0/5 Map
Highlights of Hostel 
Linens included

Free coffee

Free Wi-fi 
If you want to put your toes in the sand after you wake up, then the Hayarkon Hostel is your place. Sitting right on the beach, this nice place also has a free breakfast and helpful staff.
They offer three different types of lodging that can meet a range of budget needs. Guests can stay in dormitories, private rooms with bathrooms down the hall, or private rooms with facilities en-suite. They offer female-only dorms as well as mixed. For breakfast, guests are given eggs, vegetables, and spices so they can whip up their favorite morning comfort food.
When it's playtime, visitors can enjoy the phenomenal view from the rooftop bar, make new friends in the huge commons area, watch TV, or play a friendly game of pool or foosball. Away from the hostel, downtown Tel Aviv is just a 2-minute walk away or people can even rent electric scooters to see the city a somewhat faster pace. 
Roger's House Tel Aviv
Book on Hostelworld Book on Booking.com
from $24 / 10-dorm 4.1/5 Map
Highlights of Hostel 
Free Wi-fi

Air conditioning

USB charging ports 
For travelers who prefer a more intimate place to stay, Rogers is the place that fills that request. In the dorms, each bunk bed features bed curtains, offering additional privacy even in a dorm atmosphere. Private rooms are available too.
Housed in a building dating back to 1929, this facility also has two big yards to gather in. The hostel staff offers a range of activities for fun and friends. Sign up for the pub crawl of local bars and get a free shot at each one.
Musical people (or not) can pick up an instruct for jam night, or just belt out their favorite song on karaoke night. And of course, Friday's features a delicious Shabbat dinner. Other options for meeting new people include hanging out near the ping pong table or grabbing a craft beer brewed onsite. When its time to see the town, guests can rent a bike and pedal their way to sightseeing nirvana. 
Tel Aviv Beachfront Hostel
Book on Hostelworld Book on Booking.com
from $25 / 5-dorm 4.3/5 Map
For a vacation in a vacation, travelers should check in to this beachfront hostel and get ready to stay active. Activities include hummus workshops, krava maga classes, yoga sessions, and Shabbat dinners. Guests can stroll down to the Camel Market, or just hang out on the beach. Complimentary beach towels are included.
The rooftop offers a great place to sit and breathe, and the pancake breakfast should not be missed. Guests with different budget levels can find a bed here. Along with en-suite private rooms, private rooms with a shared bathroom, and dorm-style lodging, Beachfront also offers roomy tents with 2-5 beds in each one and access to a close-by bathroom. 
More about Tel Aviv..
Tel Aviv offers the backpacking traveler a whole playground of things to do. The party crowd will love the bars and restaurants.
History lovers can visit fantastic museums as well as checking out the town with a walking tour of the city. And everyone can enjoy the beach. With azure waters and warm sand, a day spent hanging out at the edge of the Mediterranean gives people a chance to let the sun work out all those traveling stresses. For the traveler that hates sitting still, another way to enjoy the beach is to walk the promenade that runs the length of Tel Aviv's beach.
Folks can enjoy the sights and sounds of beach life, check out the many shops along the way, and take a break at one of the interesting cafes along the way. 
One place that should go on the don't-miss list is Old Jaffa Port, also known as Namal Yafo. This is one of the oldest ports in the world and so, chock full of history. At the same time, a cultural vibe has sprung up in the area with all kinds of art and dance on display in the various areas around it. Visitors can grab a bite to eat, or visit the fish market and take home dinner that was swimming that morning. 
Another favorite spot to check out is Habima Square. Perfect for those needing a break from the party scene, this area offers a cultural respite with a theater, auditorium, street performers, and a beautiful sunken garden in the middle of the square. It makes for a wonderful place to eat a snack and do some serious people-watching. 
For those who love to eat, Tel Aviv delivers. Of course, there are hundreds of terrific restaurants serving up food from the Middle East and beyond all over town. There are Shabbat dinners, vegan tours, and all kinds of street food. One option sure to satisfy both body and soul is the street food tour in the Camel Market. Starting with the flakey pastries at the bakery near the beginning, then moving to savory zaatar with lahuh, sweet halva, and nutty garinim, tour-goers will walk through much of Israel's exotic flavors. The guides teach all about the country's food culture while the sights, smells, and delicious tastes enhance the lessons. 
So, no matter the type of traveler setting out in Israel, Tel Aviv is definitely a place to explore and having so many fantastic lodging options makes exploring by day and partying at night so much easier. 
[ad_2]