[ad_1]

Looking for tips on what to do in Banff?
As part of our city guides series, we interviewed Leigh McAdam's who has visited Banff in fits and spurts over the last thirty years.
Leigh shares with us her insider Banff travel tips and knowledge on things to do in Banff for those looking for the best places to see, eat, stay, drink, and explore.
In this post on things to do in Banff, Canada we share the following.
Why Visit Banff, Canada?
Banff is the gateway to the Canadian Rockies with some of the finest mountain scenery you'll find on the planet.
Throw in outstanding chances to see wildlife (bears and elk in particular), and loads of activities to keep you busy during the day, followed by everything from budget to gourmet dining at night and you have a potent reason to visit.
What to Do in Banff
You can tour the town of Banff in a day or two but you could easily spend a month in the general area.
Here are what I think are some of the great things to do.
Ease your body into the 37-40C water found at the historic Banff Upper Hot Springs while you enjoy views of Mount Rundle. Open year round, it's an especially soothing place to hang out on those cold, blustery days. Adult admission is $7.30 and you can even rent a bathing suit.
If you want a view from a height, ride the Sulphur Mountain Gondola. The eight-minute ride takes you up 2300 feet. It's open daily in the summer from 8:30 am until 8 or 9 pm depending on the month. A ticket will set you back $29.95. Once on top, take a one-kilometer interpretive walk along the Banff Skywalk while keeping an eye out for wildlife.
Take a boat tour of Lake Minnewanka, the largest lake in the Canadian Rockies.
Head to the Whyte Museum. They feature extensive archives and library, visual art with a Canadian Rockies theme and a collection of historical relics used for skiing, mountaineering, guiding, packing and more. Adult admission is $8.
Check out the stuffed animal specimens of moose, bears, foxes and birds at the Banff Park Museum. It's Canada's oldest natural history museum. Built in 1903, it uses decorative log construction and makes use of natural light.
Go hiking and biking in Banff. There are so many trails to choose from that it's worthwhile to have a chat with a Park Ranger and see what they recommend based on your ability and time frame. Their office is on Banff Avenue in the heart of downtown. Recently a bike and hike shuttle has started up that will drop you off and pick you up from some of the nearby trailheads. You can rent a bike in town from Bactrax.
In winter there are two ski hills almost within spitting distance of Banff – Sunshine Village (fantastic when sunny) and Mount Norquay (steep) and both have shuttle buses running to them. Lake Louise is another thirty minutes up the highway.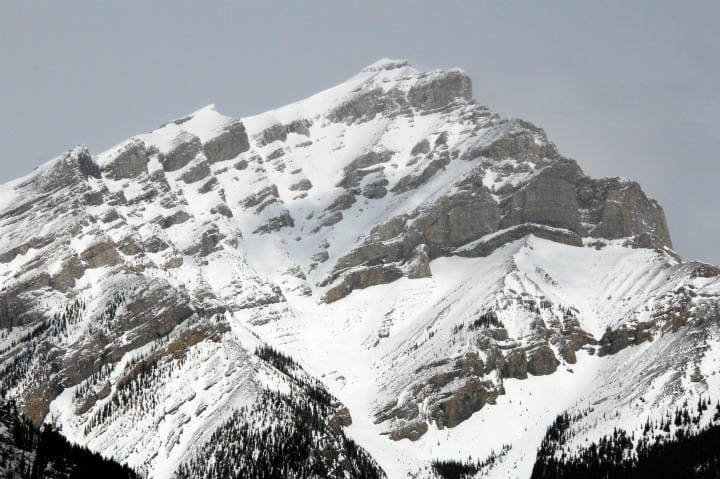 Best Areas to Explore
I highly recommend a trip to Johnstone Canyon, about 25 minutes away – any time of the year.
It's an easy 1.1 or 2.7 kilometer hike one way, depending on if you want to see the lower or upper falls. In winter I'd recommend wearing crampons or Yactrax for grip on the ice.
Check out: 50 walks and hikes in Banff National Park
Where to Eat in Banff
For breakfast and lunch try Wild Flour Bakery Cafe, Jump Start or Timbers Food Company; all are within about three blocks of each other.
Loads of dinner choices.
Probably the most upmarket choice would be Saltlik Restaurant, a place that specializes in beef though there are plenty of other choices.
Other places to try are the Eddie Burger Bar – for burgers but also poutine and deep fried pickles. You can't go wrong with Earl's for reasonably priced food and a great atmosphere.
You can't visit Banff without eating?
Alberta beef and buffalo.
Where to Drink in Banff
Try the Banff Paddock Pub for a casual pub setting in the Mount Royal Hotel. Banff Avenue Brewing is a happening spot for meals and for great beer.
For something a little quieter head to the Banff Springs Hotel and nab a table with a view. It's a place that takes you back in time but the drinks are good and so is the bar food.
Where to Stay in Banff
If you come into Banff along Banff Avenue you'll pass 13 hotels in just six blocks.
There 's plenty of choice across the full budget spectrum. Plus there is nearby camping at Tunnel Mountain once the snow disappears.
If money isn't an object then I'd recommend a stay at the iconic Fairmont Banff Springs Hotel. The present 778 room hotel was built in 1928 and styled after a Scottish baronial castle. It's only minutes away from the hot springs too. For a deal sign up for email alerts from Fairmont.
Buffalo Mountain Lodge is another pricier lodge features post and beam construction. It's about a 15 minute walk from downtown Banff.
Pension Tannenhof Bed and Breakfast is a 10 room contemporary B&B that's reasonably priced…for Banff.
At the other end of the spectrum is Banff Y Mountain Lodge. Dormitory rates start as low as $33 in high season with bedding provided. They do have private rooms too including a family room. And the manager tells me one-third of his clientele are from Australia.
Markets and Shopping
Most of the shopping in Banff takes place on Banff Avenue. Unfortunately, I see it primarily as shops catering to tourists, though there are a few exceptions.
Patagonia has a store and there are a few galleries worth poking about in – Canada House and Willock and Sax Gallery. There are lots of opportunities to pick up a T-shirt and perhaps a chocolate moose.
Events and Festivals
The Banff Film Festival is one of the major events in Banff that takes place yearly in late October and early November.
They do have ongoing events throughout the year but it's best to check their website for what's coming. The main festival draws an international crowd of writers, movie makers and adventurers.
The Banff Summer Arts Festival takes place from June 21st to August 25th. You'll find performing artists from across Canada and around the world including Emmylou Harris this year.
Banff National Park Dragon Boat Festival takes place on August 11th and 12th this year. With over 500 participants expected this should be a fun weekend out on Lake Minnewanka.
Getting around Banff
It's easy to get around Banff on foot or by bike – should you have one.
But there is a transit system in place and for $2 you can move around the entire town – from the gondola on Sulphur Mountain to the Tunnel Lake Campground. Buses start running at 6:15 am and the last pickup is at 11:30pm.
Best Time to Visit Banff
Banff is actually a year round destination though my personal opinion is that it's at its prettiest in July, August and September. Ski season lasts from late November until May.
Favorite side trip from Banff
You only actually need a few days for Banff. The beauty of Banff lies in its' location. It's extremely easy to explore the surrounding mountains and lakes by day and return to Banff by night.
Picking a favourite side trip is near impossible but if you've never been to the area then I think you should drive the thirty minutes to Moraine Lake near Lake Louise and walk to the far end of the lake – phenomenal scenery and fantastic lake colour.
Don't miss one of Canada's most scenic drives, the Icefields Parkway!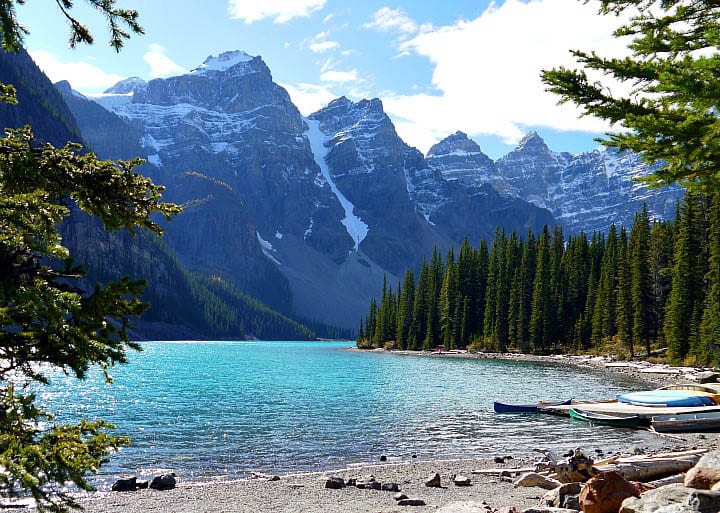 Getting there & away
Fly into Calgary and then hop on a shuttle, a bus (free WiFi on Brewster buses) or rent a car.
The drive from the airport to Banff takes about 1¾ hours. Banff really isn't close to any other major city. It would be close to a 5 hour drive from Edmonton or a 9-hour drive from Vancouver.
You might want to explore the region in an RV. Outdoorsy RV rentals offers ease, flexibility, and cool vehicles to suit your travel style. You can see what RV rentals are available in Banff here. 
Best insiders tip for Banff
Wander down to the Bow River; I like the trail heading off from behind the Banff Springs Hotel.
Go park yourself down on a rock by the river and enjoy the peace and serenity of the place. You may even spot an elk.
I love Banff because …
If I'm in Banff, I'm on holidays and unplugged from my computer. I never get tired of the views and I love the variety of activities available out of one small town. It's all about savoring the day outside and then rewarding myself with a great meal at the end.
Planning to travel soon? Let us help you know what to do and when. Our pre-departure checklists will arrive in your inbox at the right stage of the travel planning journey and tell you what to take care of. They're free.
Click here to Automate your travel planning now!
Planning a Trip to Banff
Banff Accommodation
Booking.com has over 45 properties in Banff including hotels, apartments and hostels. You get free cancellation on most rooms and a best price guarantee.
Flights to Banff
Skyscanner is a comparison website that searches millions of flights. Once you find your best deal, book directly through the airline (no extra fees).
Tours in Banff
Car Rental in Banff
RentalCars.com is the world's biggest car rental booking service that compares all the major brands like Hertz, Avis, Alamo, and Europcar.
Pin Below To Share to Pinterest:
BIO – Leigh lives in Calgary, Alberta just over an hour's drive from the mountains. She's happiest outdoors in nature, whether it is on a hike, a bike ride or paddling her sea kayak. Follow her journey on her blog, HikeBikeTravel on Twitter @hikebiketravel or on Facebook.
Do you have any tips on what to do in Banff? Share in the comments below.


[ad_2]