[the_ad_group id="4187"]
[ad_1]

Koh Samui (Samui Island) is the second-largest island in Thailand, located in the Gulf of Thailand near the eastern coast of the Kra Isthmus. With its splendid palm-lined beaches, scenic coconut groves, green mountain rain-forest, luxurious spas and resorts, Koh Samui is also home to many charming and comfortable hostels.
From the stunning beauty of its panoramic beaches to the lush verdant rain-forests and majestic Buddha statues with surrounding sites, Koh Samui offers one of the most unique, amazing and enthralling visitor destinations in the world.
You might wanna check out also:
This fascinating island is a global melting pot where budget travelers staying in modest beach bungalows mingle with extremely wealthy holiday travelers enjoying a weekend at one of the island's elegant resorts or villas on the sparkling white sandy beaches of Koh Samui.
Visitors favor either the lively environment of Chaweng Beach or the more relaxed ambiance of Lamai Beach. This island truly offers amazing things to do and something for everyone who enters this intriguing and pleasurable traveler's paradise.
Top-Rated Hostels in Koh Samui for the Backpacker's Comfort and Island Adventures
Highly recommended hostels in Koh Samui for backpackers from around the globe all have top ratings for cleanliness, friendly and helpful staff, and the perfect location. The best choices of these very attractive and low-cost hostels include the following:
Lub d Koh Samui Chaweng Beach
Book on HostelWorld Book on Booking.com
from $15 / 8-dorm 4.3/5 Map
Highlights of the Hostel:
Bicycle Rental

Outdoor Swimming Pool

Laundry Facilities

Bar and Restaurant

Tours/ Travel Desk
This charming beachfront hotel offers the elite style furnishings of a luxurious resort at very cost-efficient rates. It's located in the elegant beauty of the center of Chaweng Beach, which the hotel shares with the latest world-class beach club, "The Tropics."
The club features a gorgeous infinity pool with stunning scenes of the Gulf of Thailand below.
The hostel is just a few meters away from the ocean. However, it also offers a swim-up pool bar, a gaming center, a beach-side restaurant and a floating DJ booth for entertainment.
The interior of Lub d Koh Samui is designed with deluxe en-suite rooms that offer panoramic tropical ocean views along with a socializing room for family and friends.
The hostel also offers stylish shared accommodations for travelers who prefer the opportunity of sharing rooms with other backpackers. The hostel staff is extremely helpful and friendly, providing exceptional guest services and amenities.
Make sure to pack a quality Worldwide Travel Adapter for your trip!
KoHabitat Samui
Book on HostelWorld Book on Booking.com
from $12 / 12-dorm 5/5 Map
Highlights of the Hostel:
Outdoor Terrace

Air Conditioning

Airport Transfers
Located in the neighborhood of Bophut, this "home away from home" style hostel is a welcome oasis for anyone who wants a peaceful place to chill and crash while exploring the many amazing venues of this fascinating island.
Just a 15-minute walk away is scenic Bophut Beach and the Bophut Fisherman's Village. Nearby the hostels are a supermarket, several colorful cafes and many intriguing restaurants serving delicious Thai cuisine.
This hostel provides communal spaces for guests, such as the kitchen, balcony, living and leisure room and the co-working area.
Accommodations include 12 custom-made, spacious bunk-style beds, each with a curtain for privacy. Clean linens, pillows, and blankets are provided, and every bed is equipped with a reading light and power plug for recharging phones, laptops or tablets.
Individual guest lockers for storing backpacks are also available. The hostel has two clean shared bathrooms with guest amenities. This eco-friendly hostel provides guests with reusable tote bags for shopping and beach use.
Chill Inn Beach Cafe & Hostel
Book on HostelWorld Book on Booking.com
from $10 / 6-dorm 4.8/5 Map
Highlights of the Hostel:
Air Conditioning (5:00 p.m. to 11:00 a.m.)

Sun Beds, Beach Mats, and Yoga Mats

Outdoor Terrace

Beach-side Terrace Bar and Cafe

Restaurant

Airport Transfers
This warm, friendly hostel is family operated, and visitors are welcomed by a charming couple of Shane (Irish) and Pop (Thai). They have both backpacked extensively as international travelers, and Pop speaks fluent Dutch from having lived in the Netherlands for 13 years.
The beautiful decor and menu of the hostel are due to the talents of Pop, and Shane can provide excellent visitor advice about exciting venues and excursions around the island. This hostel is easy to locate and access on Samui's main road.
The hostel is also near many major attractions of Koh Samui, such as glorious waterfalls, a water sports center and several excellent restaurants. The hostel rents kayaks and paddleboards, and the staff will also arrange guest rentals of cars and scooters.
This friendly guest establishment provides several attractive communal areas where guests can enjoy mingling and get acquainted during their stays. A
Accommodations are in the main building and a bungalow, which include a 4-bed deluxe en-suite dorm and three additional dorm rooms with six or four beds each. There are five showers and six toilets for guest use.
US Hostel
Book on HostelWorld Book on Booking.com
from $7 / 4-dorm 4.6/5 Map
Highlights of the Hostel:
Swimming Pool

Outdoor Terrace

Bar and Restaurant

Motorbike Rental

Airport Transfer
The two brothers who built this friendly, inviting hostel designed the interior as an attractive, comfortable environment with a relaxed, leisurely atmosphere for guests. This welcoming guest house has a large common area for games, special events, and film showings.
This hostel has open-air spaces for admitting the fresh, revitalizing ocean breezes and natural ambiance. There are attractive stores and a bakery nearby and within a short distance, guests can enjoy the fresh Thai foods sold in the local market and see the captivating sights and scenes of Fisherman's Village.
The warm, friendly, family-like environment of US Hostel makes it a special place for many travelers, many of whom return for more visits. Convenient shuttle services are available to this hostel from various piers, hotels and other island venues.
For travelers who especially like guest accommodations with a casual, home-like feeling, this is an ideal choice. It is also very nice for families traveling with children, especially with its open-air communal areas where youngsters can gather to share games and relaxed play time while getting acquainted.
P & T Hostel
Book on HostelWorld Book on Booking.com
from $7 / 4-dorm 4.6/5 Map
Highlights of the Hostel:
Cable TV

Cafe

Bar and Restaurant

Laundry Facilities

Tours/ Travel Desk
Every guest room in this very appealing hostel has a wardrobe and a private bathroom that features bath or shower facilities. In addition, some rooms have attractive balconies where guests can enjoy cool drinks in the fresh ocean breezes while viewing the stunning tropical scene below.
This guesthouse also offers a large communal terrace, and the hostel restaurant serves delightful and healthy Asian cuisine. Many guests write to the management thanking them for the superb food, wonderful location and excellent, friendly staff following their visits.
Guests can enjoy scenic diving and fishing excursions in the area, and motorbikes are available as rentals for road travel and adventure. The hostel also offers travel agency service for arranging special site visits and tours around Koh Samui.
All rooms are fully equipped with 24-hour air conditioning, and free WiFi is available throughout the property. This charming guest facility offers the perfect balance of fresh, open-air areas and desirable creature comforts indoors to satisfy the preferences and needs of every guest.
Casa Luna
Book on HostelWorld Book on Booking.com
from $8 / 8-dorm 4.4/5 Map
Highlights of this Hostel:
Free WiFi

Internet Access

Air Conditioning and Ceiling Fans

Bar and Restaurant

Security Lockers (Spacious for Storing Large Backpacks)
This friendly, welcoming guest hostel is owned by young, active English residents of Koh Samui and located in Bangrak. The dorms offer outstanding tidiness and cleanliness for travelers. The beds are large and very comfortable for getting a good night's sleep, and the hostel restaurant gains high praise for its fine quality menu.
Guests have free use of a swimming pool near the hostel, and the staff will book a tour for guests to many of the fascinating sites and scenic venues on Koh Samui and other neighboring islands.
Guests are invited to enjoy the celebration and fun of the full moon party that is held nearly every month on one of the main piers, just across from Casa Luna. The sparkling white sand of Big Buddha Beach with its amazing towering Big Buddha statue is not far away, and nearby also is Fisherman's Village, the legendary fishing community with captivating shops, bars, restaurants and cafes along the beach.
Many guests expressed their ongoing thanks and approval for this attractive, well-kept hostel with its numerous comforts and conveniences in this enthralling island location.
Bodega Koh Samui Party Hostel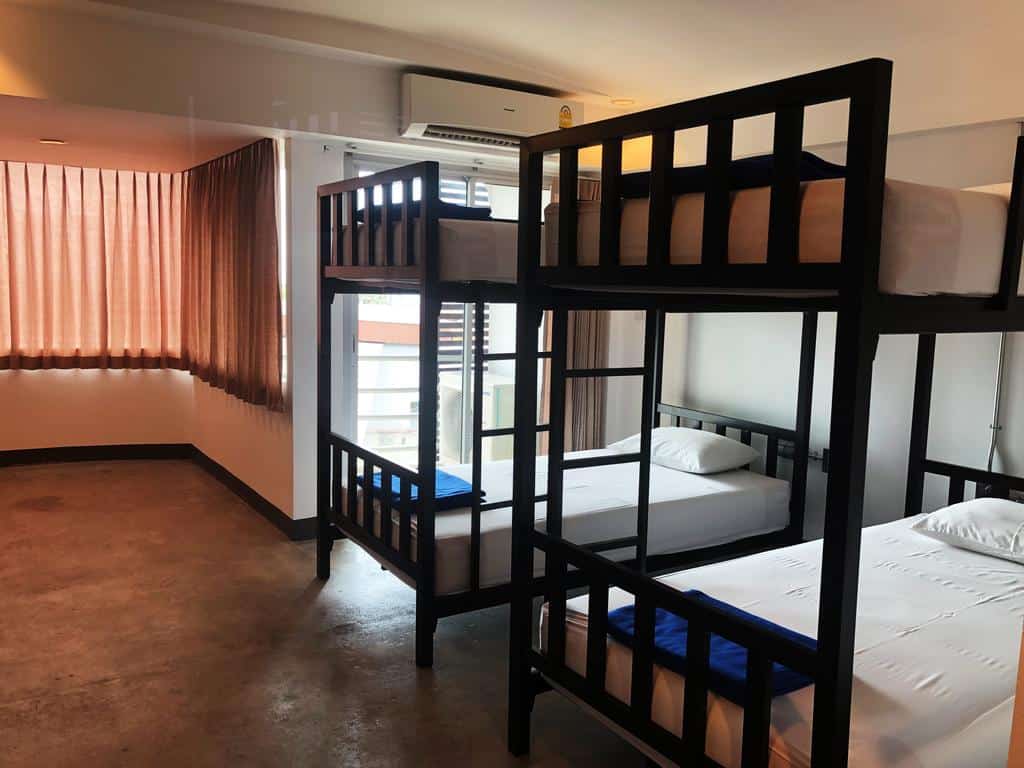 Book on HostelWorld Book on Booking.com
from $7 / 6-dorm 4.0/5 Map
Highlights of the Hostel:
Outdoor Terrace

Outdoor Swimming Pool

Cafe

Restaurant

Night Club

Game Room

Tours/ Travel Desk
This Bodega Hostel is designed for fun-loving travelers who desire to experience the very best of Koh Samui venues while enjoying the comforts and amenities of a true backpacker's haven that offers fabulous, funky socializing.
Nightly features include lively pub crawls, pool parties, drinking games and more. This is the place to stay for anyone who is in the mood for great people, vibes and experiences. Here everyone can truly delight in the culture and chaos of Thailand.
This very active hostel has an ideal location in Chaweng, right in the central hub of Samui and within a short stroll to Chaweng Beach. Within another 15-minute walk is the main strip, and a 10-minute scooter drive will take guests to the extraordinary site of Big Buddha and the Chinese Temple as well as the well-known and celebrated Bophut Fisherman's Village.
This is truly an ideal locale for enjoying all of the wonders that this exotic tropical island has to offer. This unique hostel environment gets high reviews and praise from many of its happy and well-entertained guests.
Backpacker Hostel Guests Enjoy the Many Fascinating Sites and Delights of Koh Samui
By traveling light and staying in friendly, affordable and unique environments offered by the many different hostels in Koh Samui, backpackers and hostel guests share and enjoy the very best venues and qualities of the island.
The enriching culture, fabulous beauty and active lifestyle of this exotic tropical paradise are most easily and completely experienced by travelers who take a genuine interest in living the healthy, free and intriguing lifestyle of this enchanting location throughout their visits.
By giving their full attention to the superb culture, art, natural beauty, sports, games, social events and healthy living that is common to this very special travel destination, those who pack their backpacks and stay in the simplified, casual elegance of pure, natural surroundings gain the ultimate joy and returns from their travels.
They live and experience the true joys of each new lifestyle that they enter along life's diverse and fascinating path.
In the northern part of Wat Plai Laem (Big Buddha Beach), you can see the Big Buddha, which is a gold statue 12-meters high in the north of the island. Nearby is a colorful Buddhist Temple with extravagant decor and art, such as the 18-arm image of Guanyin, the Goddess or Mercy.
There is also a large white Chinese Buddha on the nearby lake. Bophut's Fisherman's Village is a historical section of Bophut with charming rustic style buildings and many boutiques, restaurants, and hotels offering a delightful street market every Friday.
Koh Tao (Turtle Island) is Thailand's favorite scuba diving destination abundant with coral reeds and located in the crystalline waters of the Gulf of Thailand.
There are many colorful nightclubs and cabarets on Koh Samui, including Samui Starz Cabaret featuring a lively and highly entertaining combination of pop divas and Thai cultural dance.
This popular nightlife venue offers free admission and three full shows every night. This exotic island is the ideal travel destination for anyone seeking the perfect blend of quiet relaxation and fascinating adventure.
— pin it —
[ad_2]
[the_ad_group id="4187"]