[ad_1]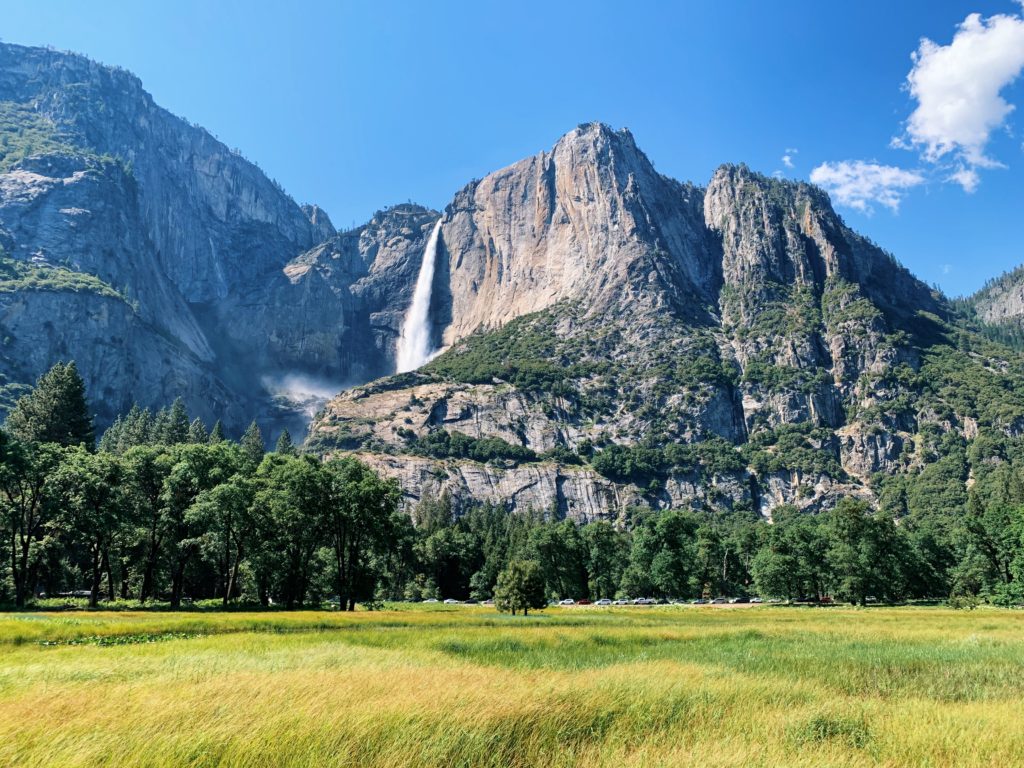 It may have taken us two full years after moving to the Bay Area, but this summer Derek and I were finally able to cross off one of our biggest California bucket list items: Yosemite National Park.
I've visited several U.S. National Parks in the past, and I've previously spent time marveling at California's majestic mountain ranges. So yes, I thought I knew what to expect upon arriving to Yosemite for a long weekend getaway…but I didn't.
Yosemite is like another world; it's a larger-than-life, "pinch me I must be dreaming" kind of place.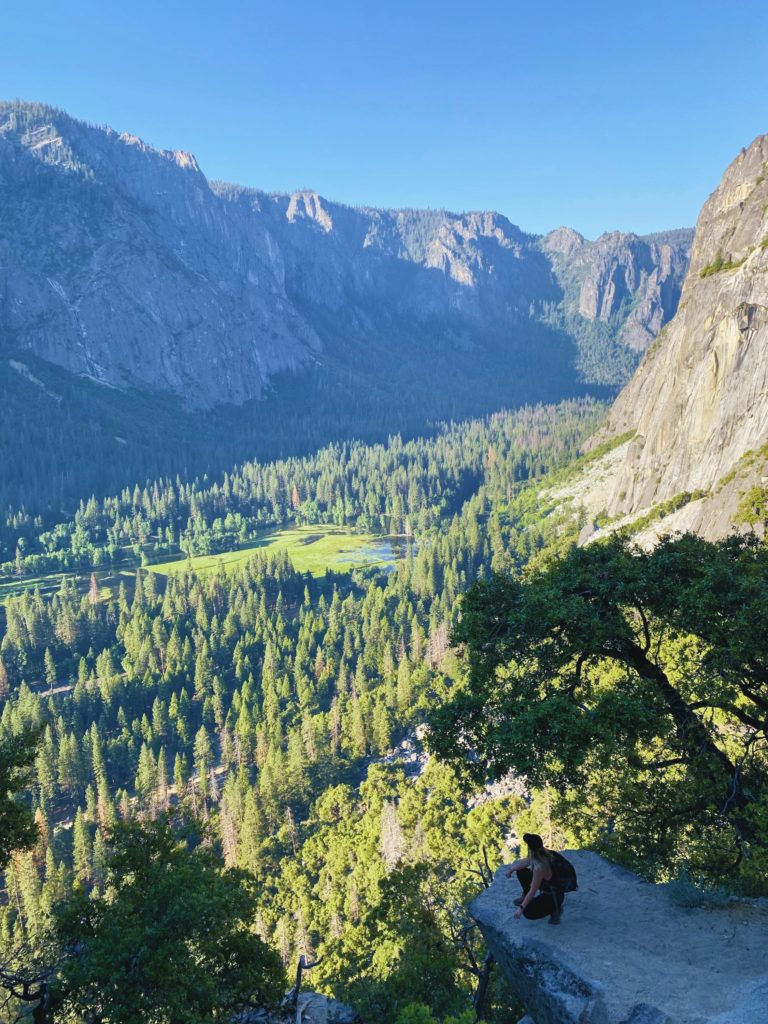 The word that kept coming to mind as we explored Yosemite was "majestic." The mountains, the trees, the waterfalls, the rivers—they're all so powerful, grand, and wild within the park boundaries.
The famous environmentalist and photographer Ansel Adams once said, "Yosemite Valley, to me, is always a sunrise, a glitter of green and golden wonder in a vast edifice of stone and space."
Truly, I can't find any better words to describe our own experience in Yosemite. Waking up with the sun—when the valley floor was still cool and misty—then hiking to the top of Upper Yosemite Falls and seeing the sheer size and scale of the park below…just, wow.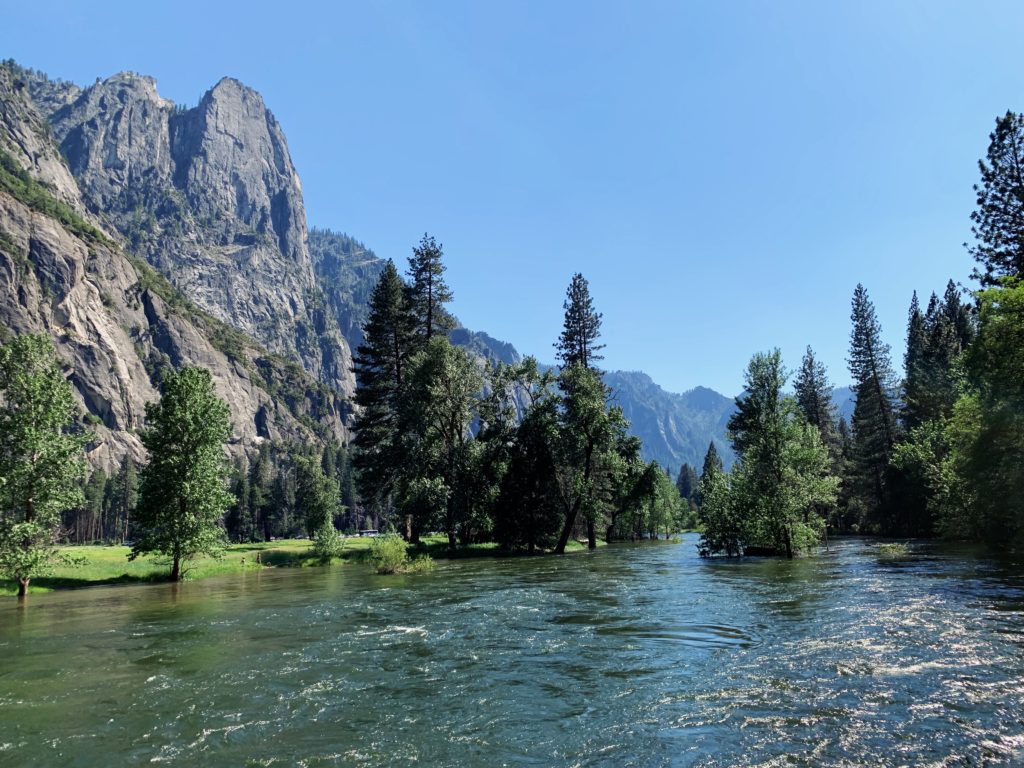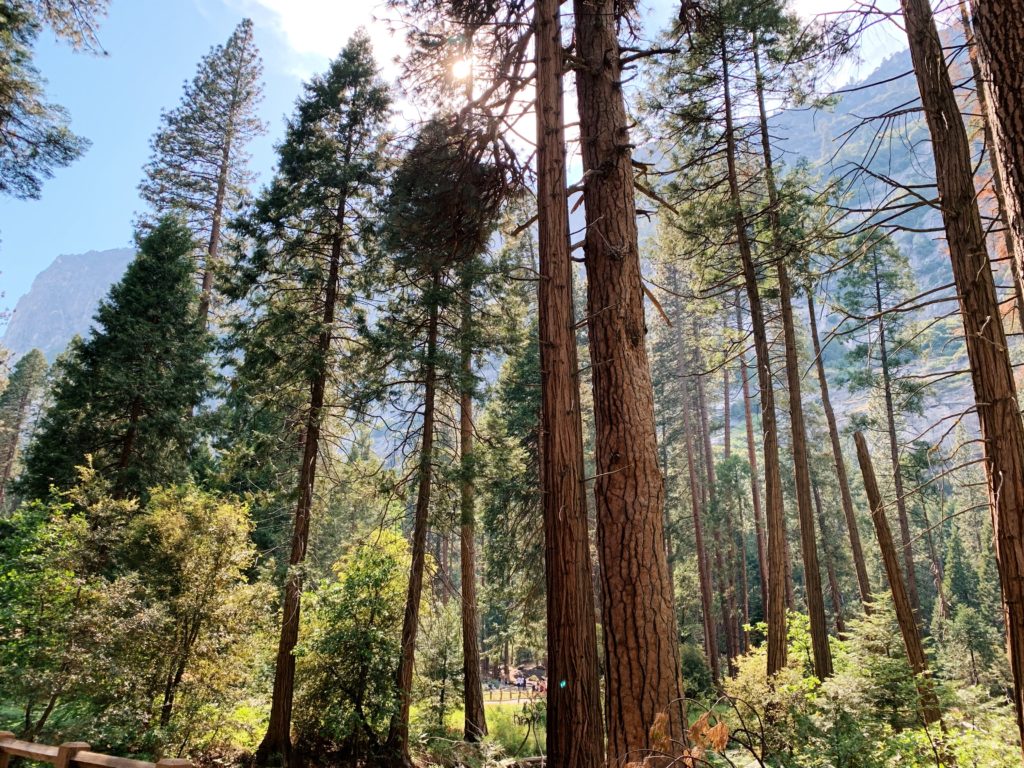 The First Timer's Guide to Yosemite
Yosemite National Park Overview
Where to Stay in Yosemite
Best Sights in Yosemite
Best Hikes in Yosemite
How to Get Around Yosemite
Where to Eat in Yosemite
Tips for a Successful Visit to Yosemite
If you're planning a visit to Yosemite National Park, I hope this guide will serve as a helpful resource for you. Yosemite is definitely a destination that requires a bit of advance planning and preparation…but it's so worth it!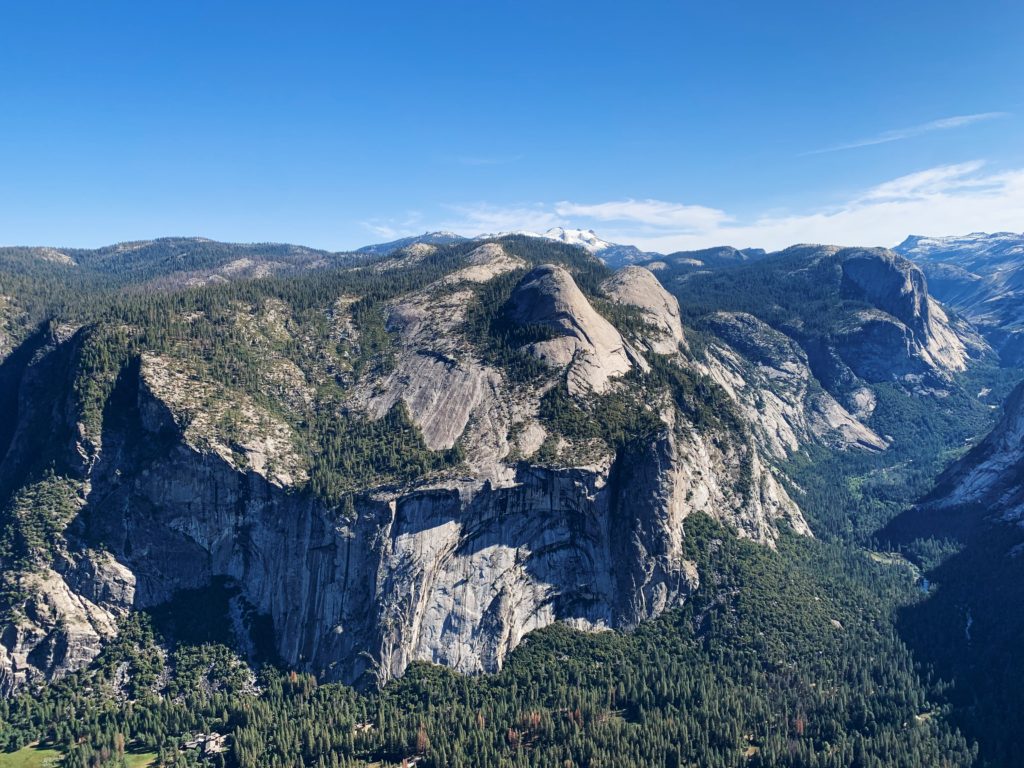 ---
Yosemite National Park Overview
First, a bit of background about Yosemite!
Yosemite is one of the national parks operated by the U.S. National Park Service. It was established as a park in 1890, and has attracted endless praise and affection from environmentalists, photographers, and outdoor enthusiasts over the years.
Yosemite National Park is situated in the Sierra Nevada mountains of California, and is famed for its incredible cliffs, deep valleys, waterfalls, rivers, and ancient sequoia groves.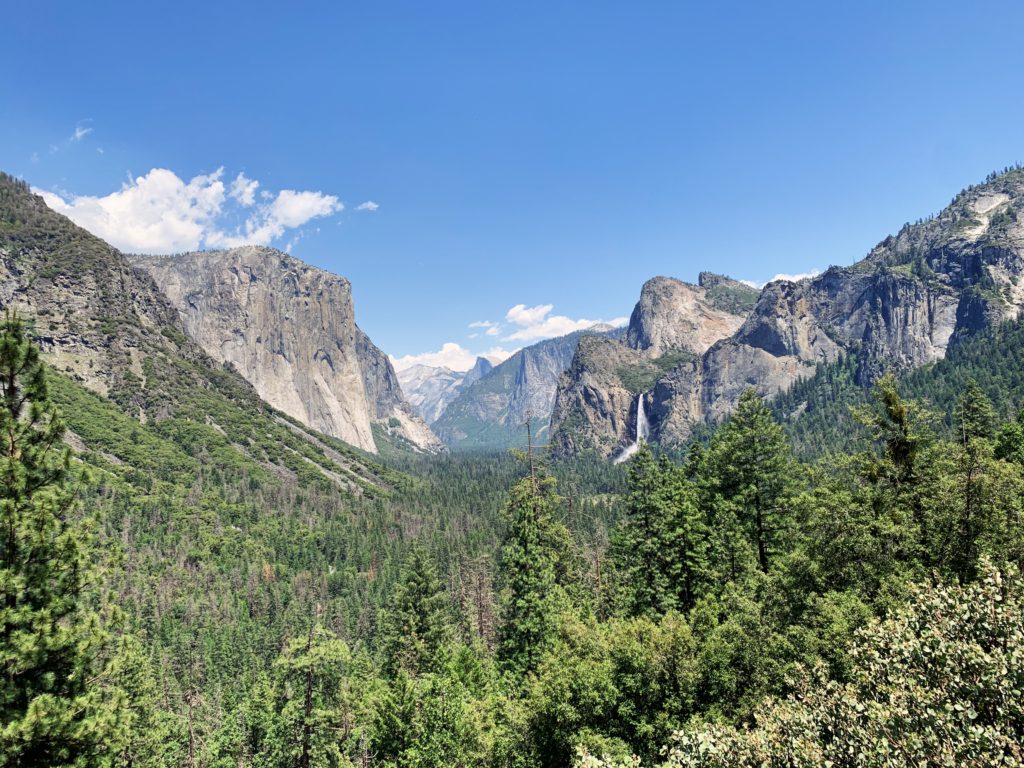 Oh, and it's huge.
How huge? Here's a fun fact to put it in perspective: Yosemite National Park spans nearly 1,200 square miles, making it roughly the size of the U.S. state of Rhode Island!
Yet despite all of that incredible landmass, the vast majority of visitors to Yosemite (there are around 4 million per year, by the way) focus their exploration on the 7 square-mile area of Yosemite Valley.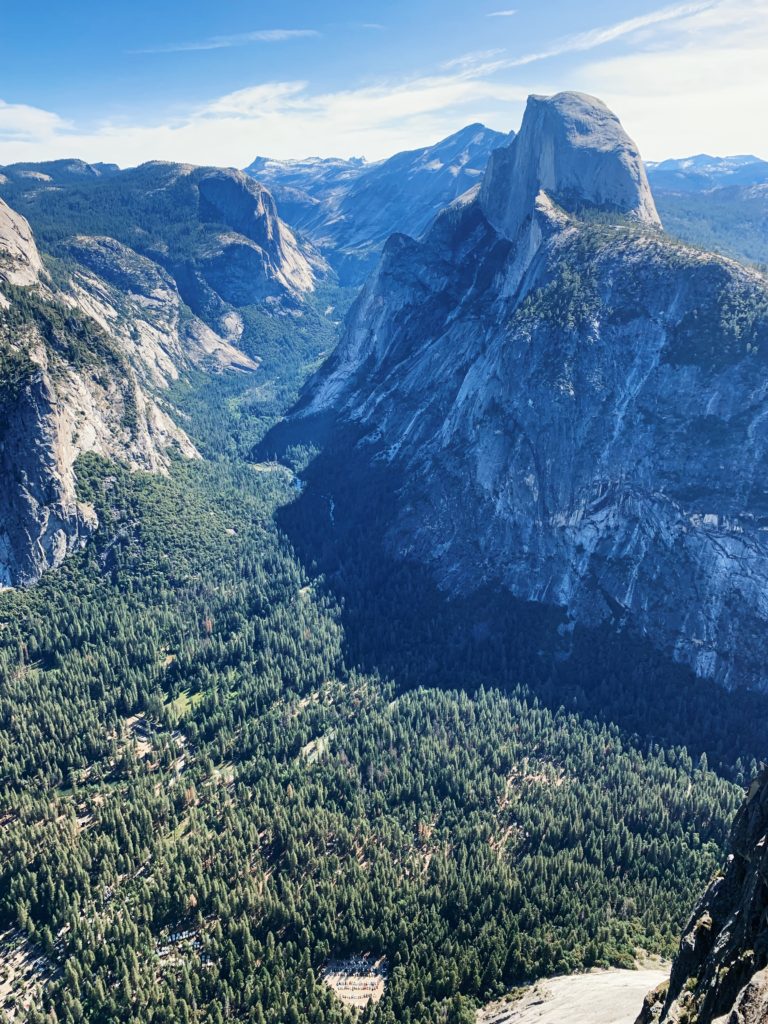 That's because Yosemite Valley is home to many of the park's most iconic viewpoints and landmarks, such as El Capitan and Half Dome. Outside the Valley, you'll find other beautiful destinations like Tuolumne Meadows and Mariposa Grove.
---
Where to Stay in Yosemite
The short answer: The BEST place to stay in Yosemite is INSIDE the boundaries of the national park.
The long answer: Yes, staying inside Yosemite National Park is more expensive than staying in one of the small towns just outside the park. Yes, lodging is limited and you'll likely need to book your stay months in advance. Yes, many of the properties are older and a bit outdated.
Do. It. Anyways.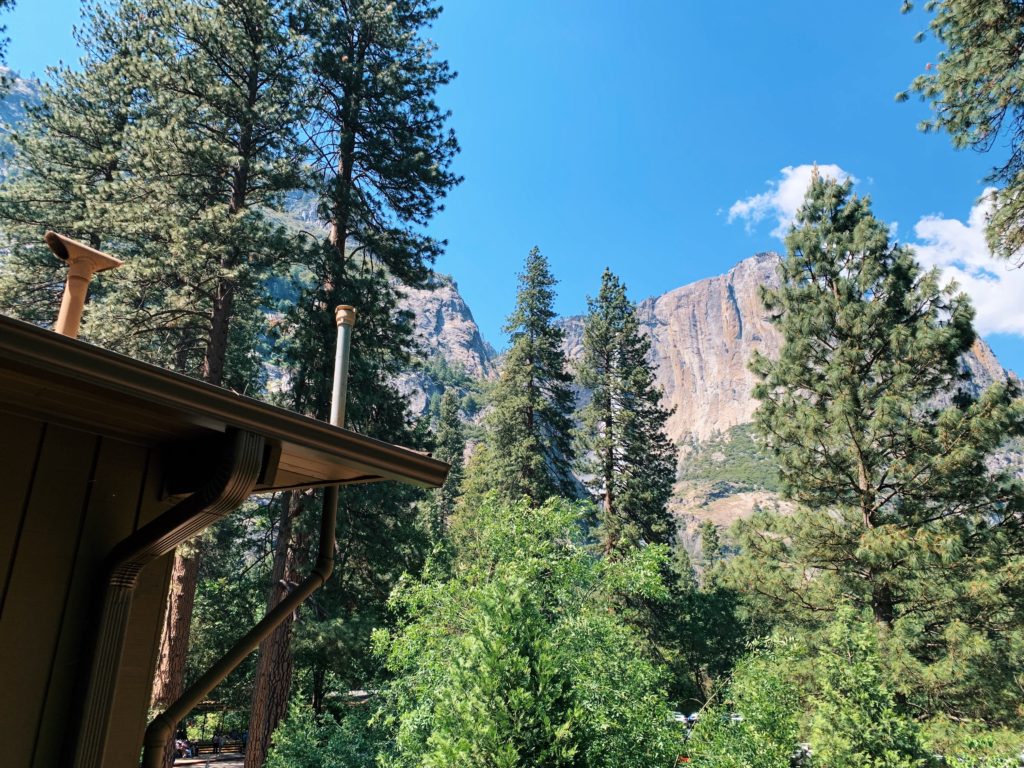 We booked two nights at Yosemite Valley Lodge, right smack dab in the middle of Yosemite Valley, and I can't emphasize enough how happy I am that we splurged on this accommodation (…and yes, it was a major splurge for us).
As I mentioned before, Yosemite National Park is BIG. If you stay outside the park, you'll need to drive 1-1.5 hours in and out of the park each day. By staying inside the park, we were able to use those extra 2-3 hours per day hiking, relaxing and enjoying the views instead.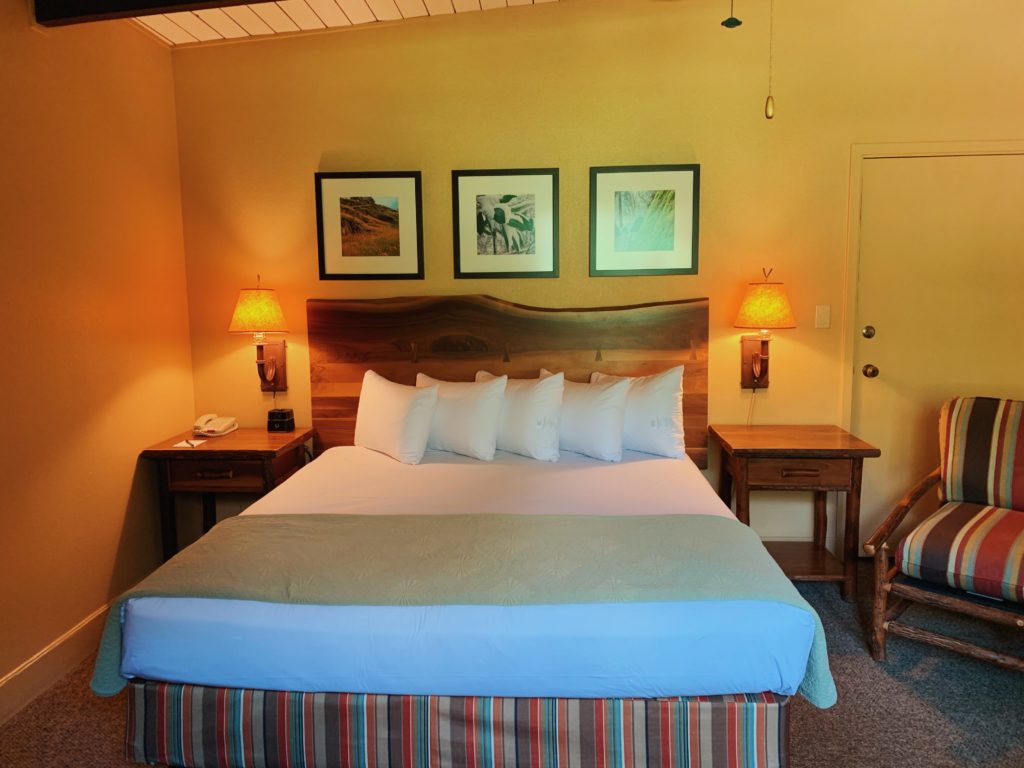 It also meant that we were able to hit the trails early without needing to wake up before dawn. Early mornings (before 9am) and evenings (after 5pm) were probably the most peaceful times of day!
Additionally, traffic and parking in Yosemite are huge problems. Someone at the front desk of our lodge told us that visitors were complaining about spending an entire hour circling the lot looking for a place to park…after their hour-long drive into the park. Oof!
Add in the awesome pool and the abundant onsite dining, and Yosemite Valley Lodge seriously ended up being the perfect place to stay in Yosemite.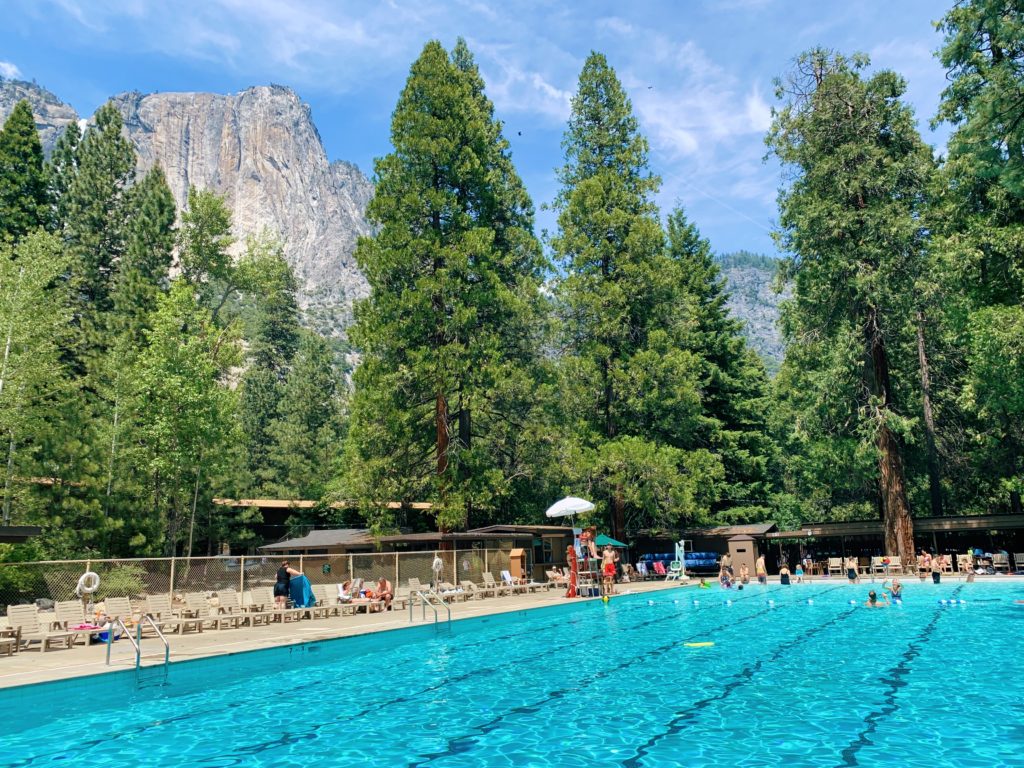 I know I've rambled on about this a lot, and I want to stress that my intention is not to make anyone feel bad about not staying in the park. If you're visiting Yosemite, you're going to be blown away and have an amazing time. Period.
But if I could offer just one piece of advice about visiting Yosemite, it would be this: stay inside Yosemite National Park if at all possible. It is so, so worth it.
You can view all lodging in Yosemite National Park here. I recommend looking into Yosemite Valley Lodge, Curry Village if you're on a budget, and The Ahwahnee if you're ready to seriously splurge.
If staying inside the park isn't an option due to budget, availability or group size, check out accommodations in the towns just outside the park, like Groveland, Fish Camp, Oakhurst or Mariposa. I've heard great things about Rush Creek Lodge and Tenaya Lodge.
(function(d, sc, u) {
var s = d.createElement(sc), p = d.getElementsByTagName(sc)[0];
s.type = 'text/javascript';
s.async = true;
s.src = u + '?v=' + (+new Date());
p.parentNode.insertBefore(s,p);
})(document, 'script', '//aff.bstatic.com/static/affiliate_base/js/flexiproduct.js');
For larger groups, renting an Airbnb just outside the park would be a great option as well (get $40 off your first booking!)
---
Best Sights in Yosemite
For one of the most iconic, photo-worthy views in all of Yosemite Valley, you can't miss Tunnel View. This panoramic viewpoint is incredibly accessible; just pull off into one of the parking lots right next to the Wawona Tunnel, hop out of your car, and soak in the sweeping views of the valley.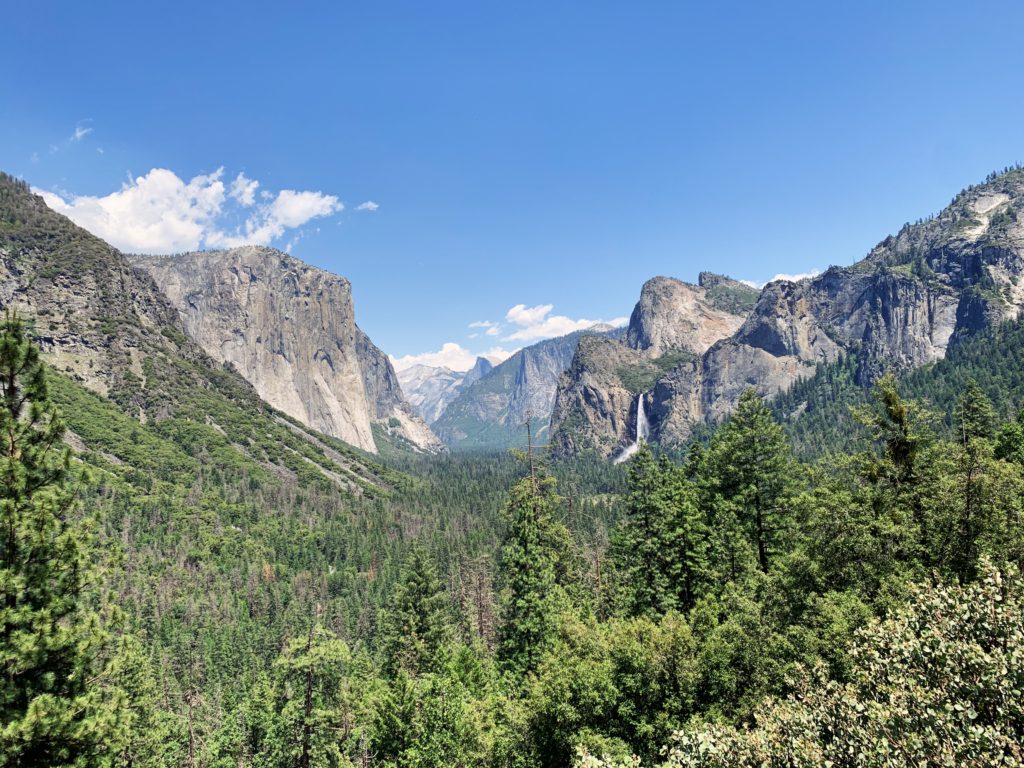 From Tunnel View, you can see famous Yosemite landmarks like El Capitan, Half Dome and Bridalveil Fall. Just down the road is a separate viewing area for Bridalveil Fall, if you'd like to take a closer look.
Yosemite Falls is yet another must-see for any visitor to Yosemite Valley. It's worth getting an up-close look (via the Upper Yosemite Falls or Lower Yosemite Falls trails) but I was equally blown away by the views from Cook's Meadow. At 2,424 feet, Yosemite Falls is the tallest waterfall in North America!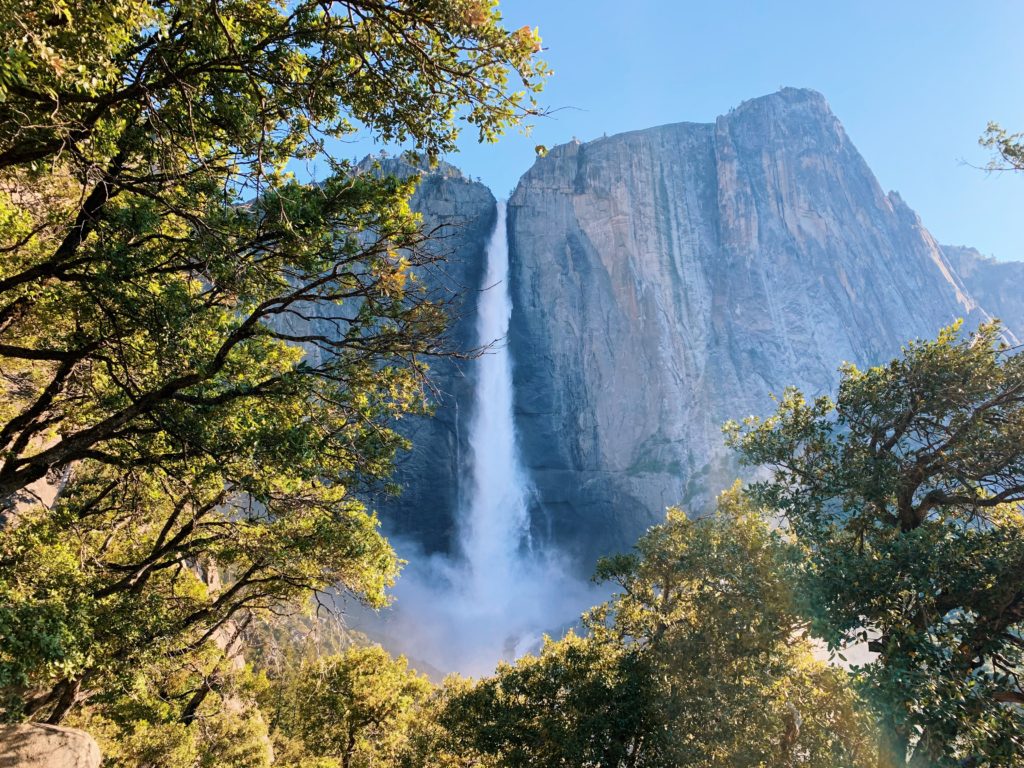 Located close to the meadow is the cute-as-a-button Yosemite Chapel, which is listed on the National Register of Historic Places.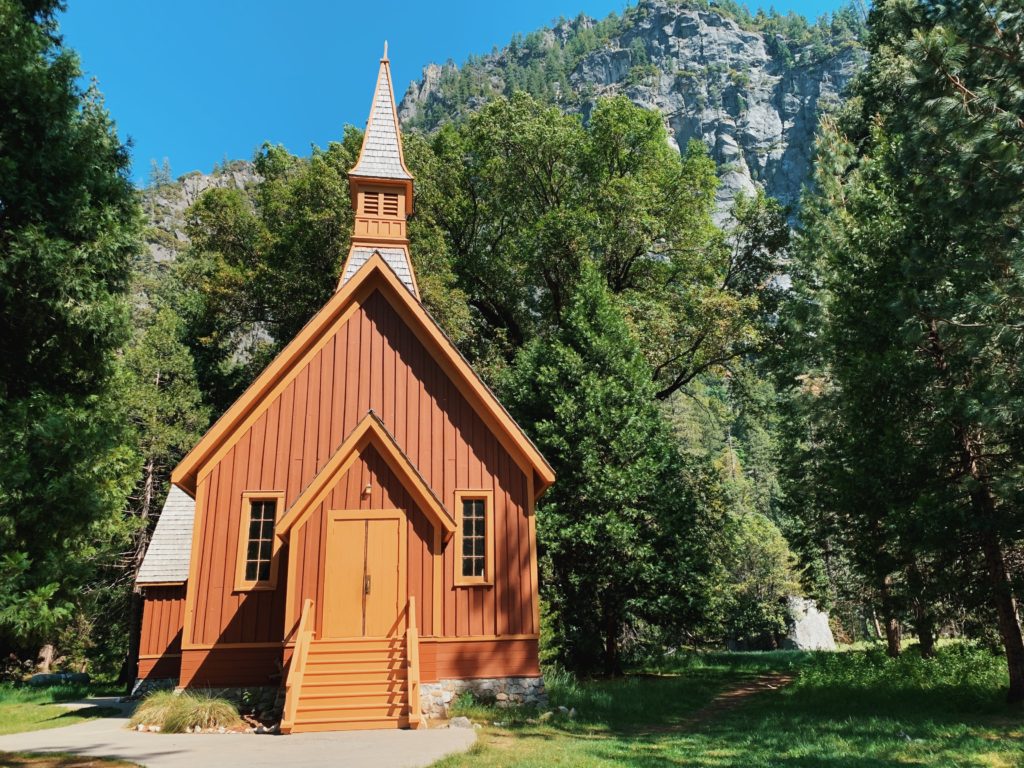 For some of the most epic views in all of Yosemite National Park, you absolutely can't miss Glacier Point. The views of Half Dome, Yosemite Falls, Vernal Fall and Nevada Fall are out of this world! Like Tunnel View, this viewpoint is very accessible, with plenty of nearby parking.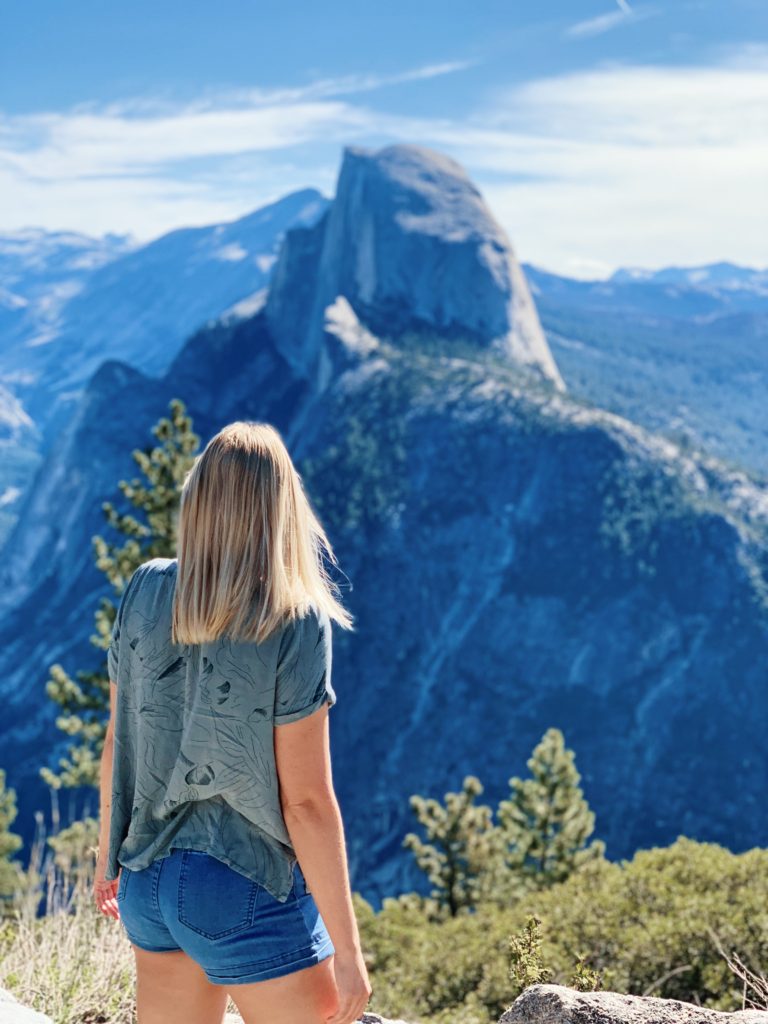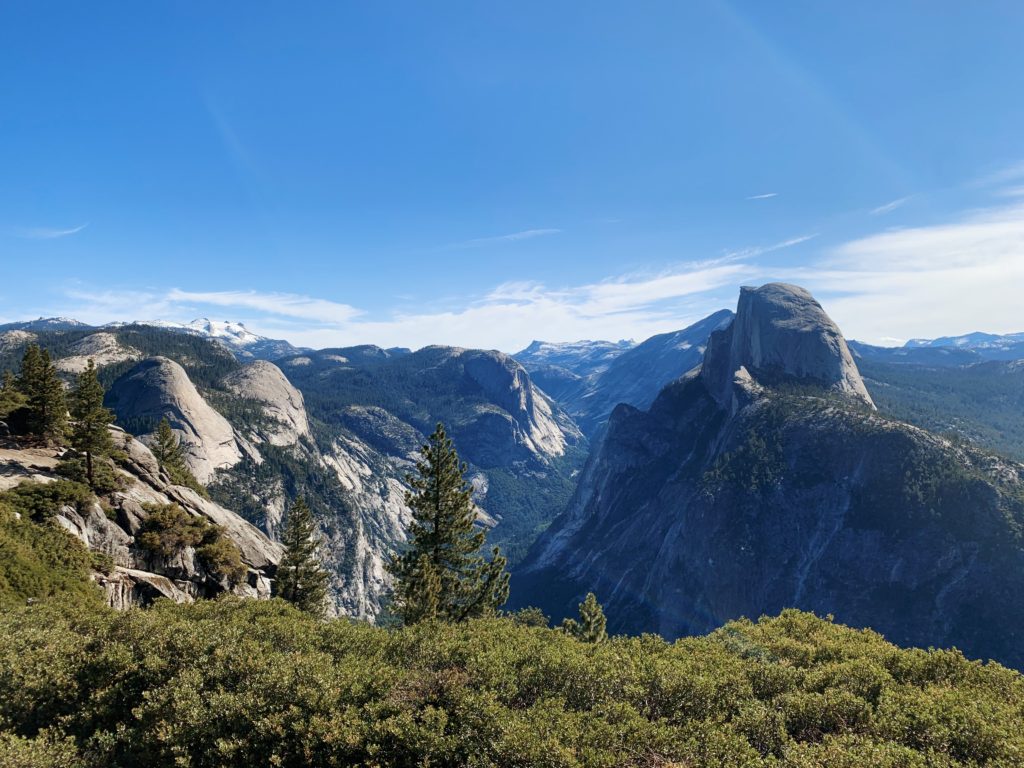 Two sights that we unfortunately didn't have time for on this trip were Tuolumne Meadows, located in Yosemite's high country, and Mariposa Grove, where you can walk among ancient sequoias. Next time!
---
Best Hikes in Yosemite
Derek and I had a long weekend to spend in Yosemite; we arrived on a Friday afternoon, had a full day on Saturday, and returned home after a bit of exploring on Sunday. With this amount of time, we were able to accomplish one long, strenuous hike and a handful of short, easy walks.
Strenuous Hikes in Yosemite
For our one big hike, we opted for the Upper Yosemite Falls Trail. It is listed as "strenuous" by the National Parks Service…and man, they aren't lying! This hike was tough, both mentally and physically.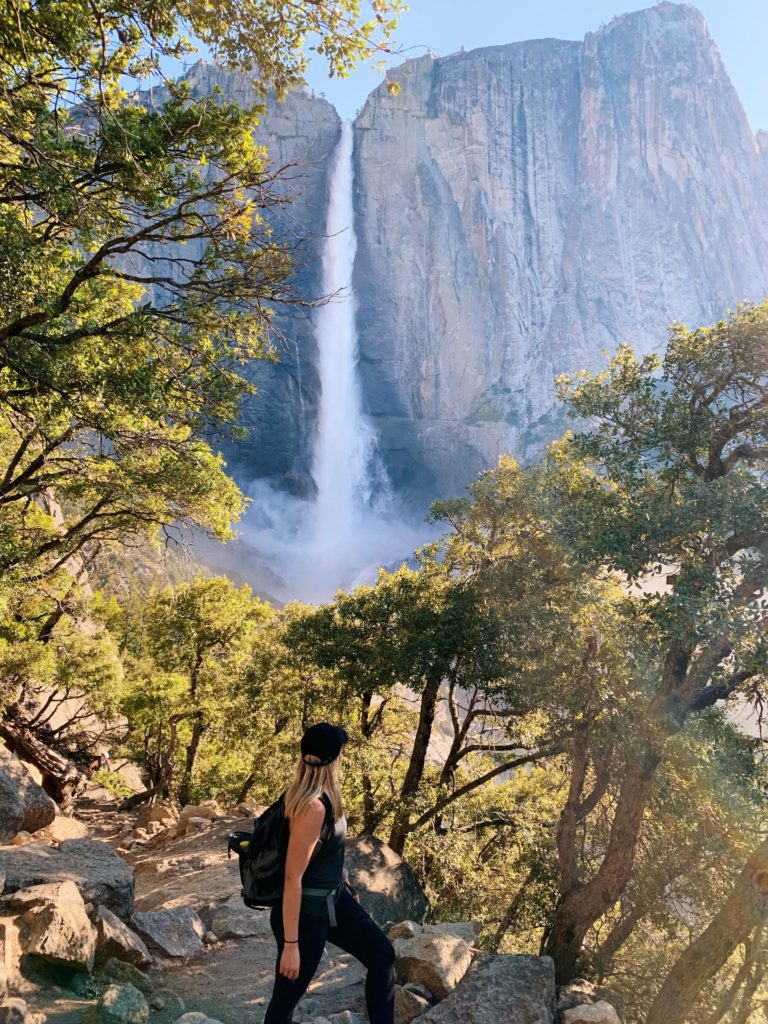 The Upper Yosemite Falls Trail is 7.2 roundtrip miles of nonstop switchbacks and stairs; it's steep, rocky, and slippery at certain parts (thanks to the heavy mist that drifts down from the waterfall).
My advice? Start early, bring a ton of water and snacks, and plan to spend around 6-8 hours on the trail when all is said and done. But above all, enjoy it – it's a truly stunning trail, and the views at the end are mesmerizing.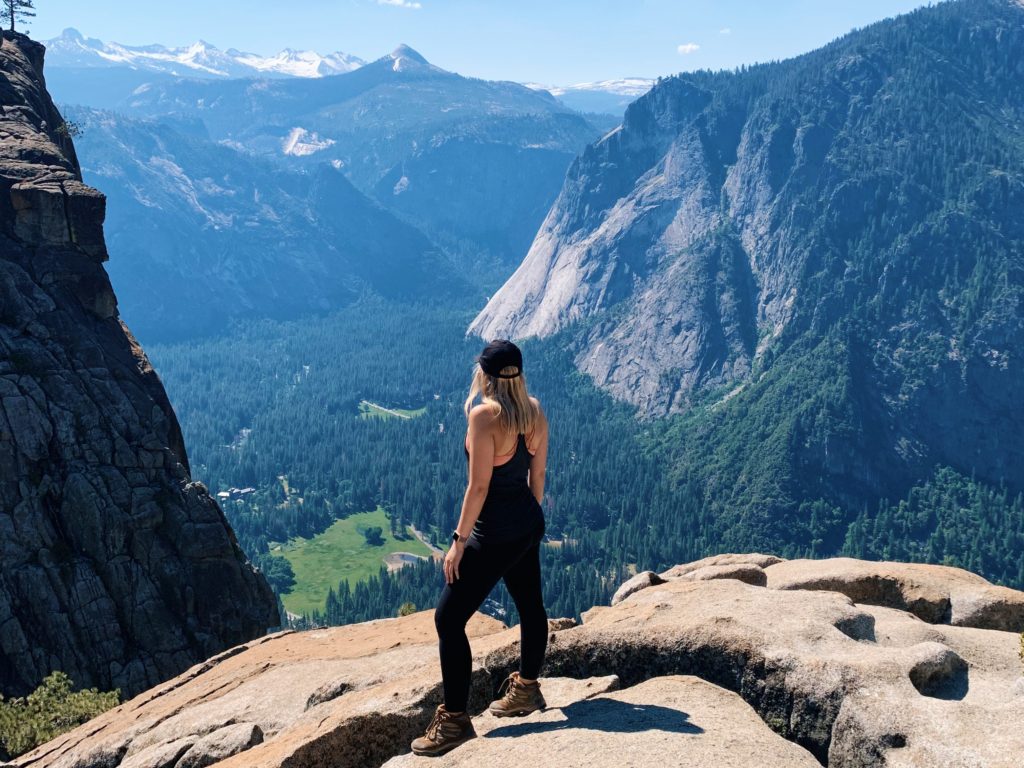 Other strenuous half-day and full-day hikes in Yosemite include:
Mist Trail and John Muir Trail Loop
Four Mile Trail
Half Dome (lottery permit required)
Short, Easy Walks in Yosemite
There's no better way to get acquainted with Yosemite on your first day in the park than with a quick and leisurely walk along the Cook's Meadow Loop. This flat, scenic 1-mile trail yields amazing views of Yosemite Falls and Half Dome right from the valley floor.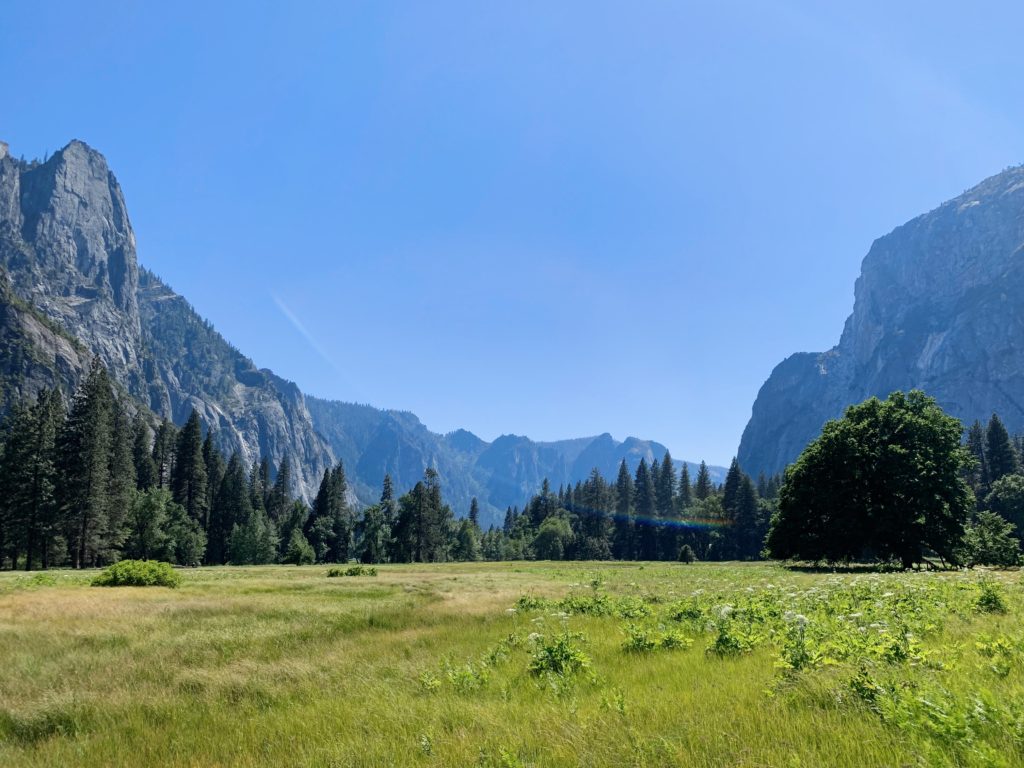 The Lower Yosemite Falls Trail is another excellent, easy hike to squeeze into your Yosemite visit. This 1-mile loop will bring you to a small footbridge right at the base of the waterfall; the spray and roar of the water is seriously cool! The trail isn't completely flat, but it is paved and the incline is very minimal.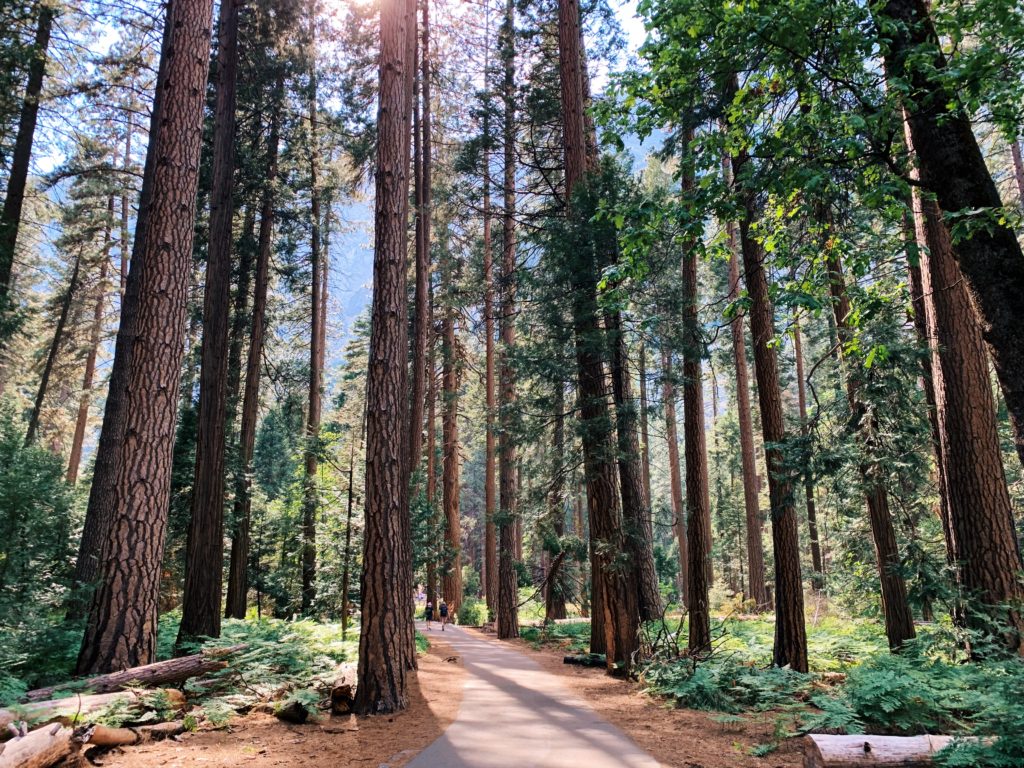 Bridalveil Fall Trail (0.5 miles) and Mirror Lake Trail (5 miles) are two more short hikes that we unfortunately didn't have time to try out.
You can view all hikes in the Yosemite Valley here.
---
How to Get Around Yosemite
Planning to drive yourself around Yosemite? If so, I hope you're an early bird rather than a night owl; if not…well, you know what they say about not shooting the messenger.
In fact, here's what the U.S. National Park Service has to say about driving in Yosemite:
If you are planning to visit Yosemite Valley by car for the day, arrive before 9 am, after which parking is usually full….If you find a parking space, plan to leave your car there; you will not be able to find another parking spot. Use the free shuttle to get around Yosemite Valley.
I can vouch for the above statement! By noon, the traffic in Yosemite was pure madness. Traffic on the roads was bumper to bumper; in the parking lot outside our lodge, drivers were circling like hawks, rolling down their windows to ask pedestrians if they were leaving and following them to their cars.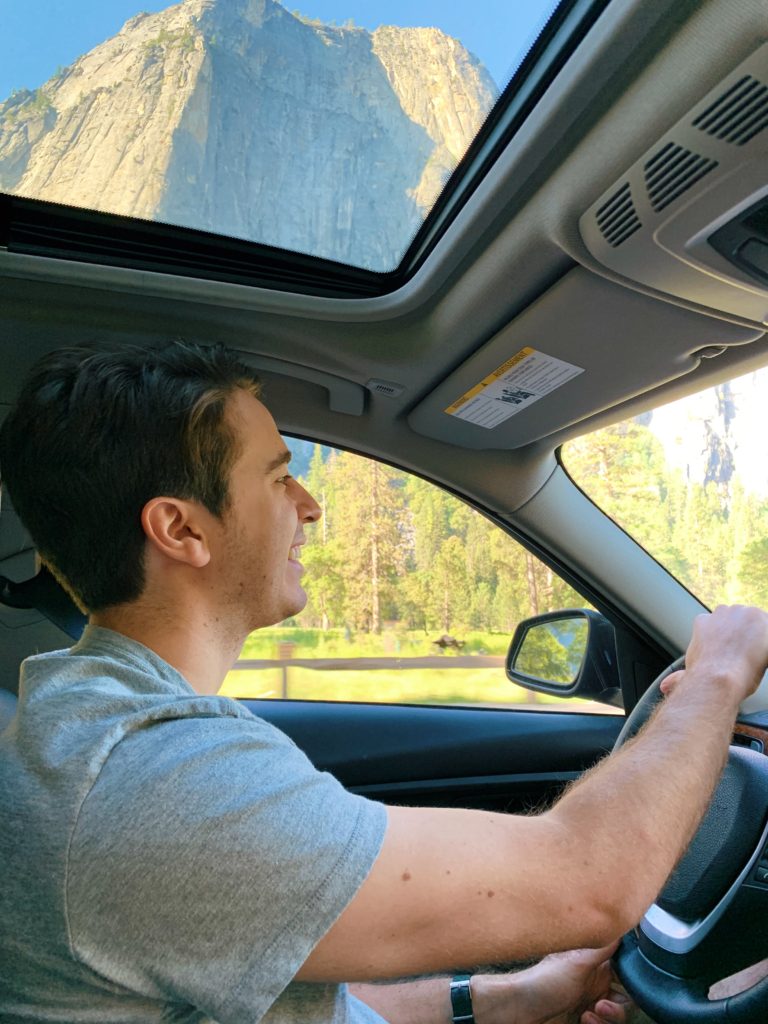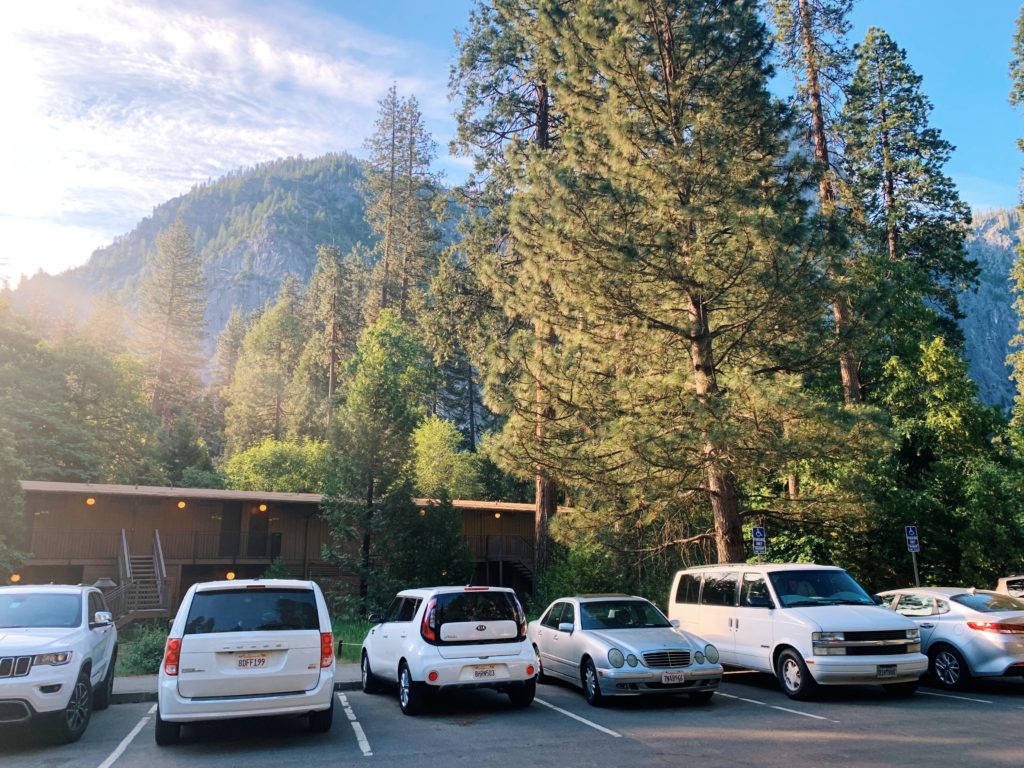 If you manage to snag a parking spot, don't you dare give that baby up! Hop on the completely free Yosemite Valley Shuttle to move around the park instead. The shuttle service runs all year long from 7am to 10pm, and makes stops near all overnight accommodations, shops and major viewpoints.
Derek and I actually ended up not even using the shuttle at all. From the Yosemite Valley Lodge, it was just a short walk to all of our hikes. And we didn't touch our car once after parking on our arrival day!
---
Where to Eat in Yosemite
I was surprised by the number of dining options available in Yosemite…especially right on the property where we were staying. Yosemite Valley Lodge has several onsite restaurants:
Yosemite Valley Lodge Food Court: Quick, casual meals you order from a counter
Mountain Room: Slightly upscale dining with VERY good food!
Mountain Room Bar: Drinks and light snacks; a nice spot to unwind after a long hike
Yosemite Valley Lodge Gift Shop: Okay, obviously not a restaurant. But you can purchase protein bars, chips, candy, ice cream, trail mix, and even wine here!
Starbucks: Yes, Yosemite really has its own Starbucks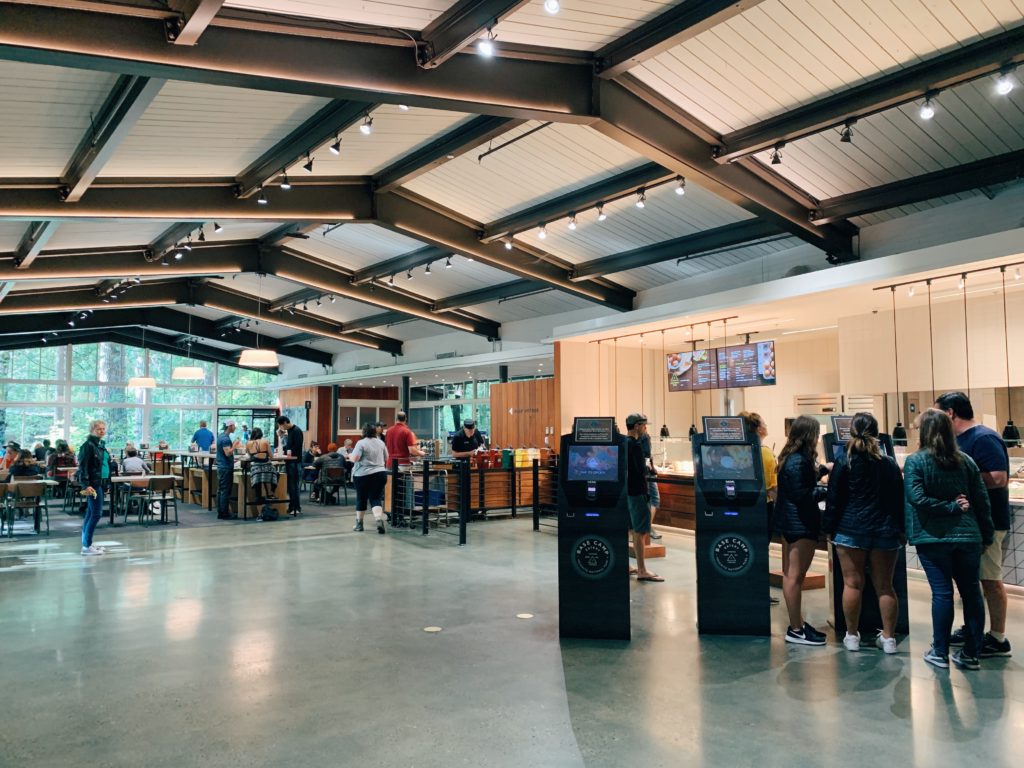 I can't tell you how nice it was not needing to leave the property in order to eat. If you're staying at one of the other accommodations in the valley, you'll be just as well equipped; The Ahwahnee is renowned for its gorgeous Ahwahnee Dining Room, and Curry Village offers pizza, sandwiches, burgers, salads, and alcoholic beverages.
---
Tips for a Successful Visit to Yosemite
Plan ahead. Lodging and camping can book up months in advance; if you have your sights set on a specific type of accommodation, book as soon as you're able. You may miss your chance if you wait!
Become an early bird. Hiking, climbing, swimming, driving…all of these activities will become more enjoyable the earlier you get started, before the crowds accumulate.
Avoid driving between 9am and 5pm. If you need to get around, use the free shuttle service instead. You may not find a parking spot during peak hours.
The entry fee for 1 vehicle is $35. Cash, credit cards, debit cards, checks, and traveler's checks are all accepted.
Let wildlife be wild. Never feed or approach any wild animals inside the park, ESPECIALLY bears. Although they might not harm you, they may get too comfortable with humans over time, and begin venturing into populated areas more frequently. This will result in the bears being euthanized by park rangers.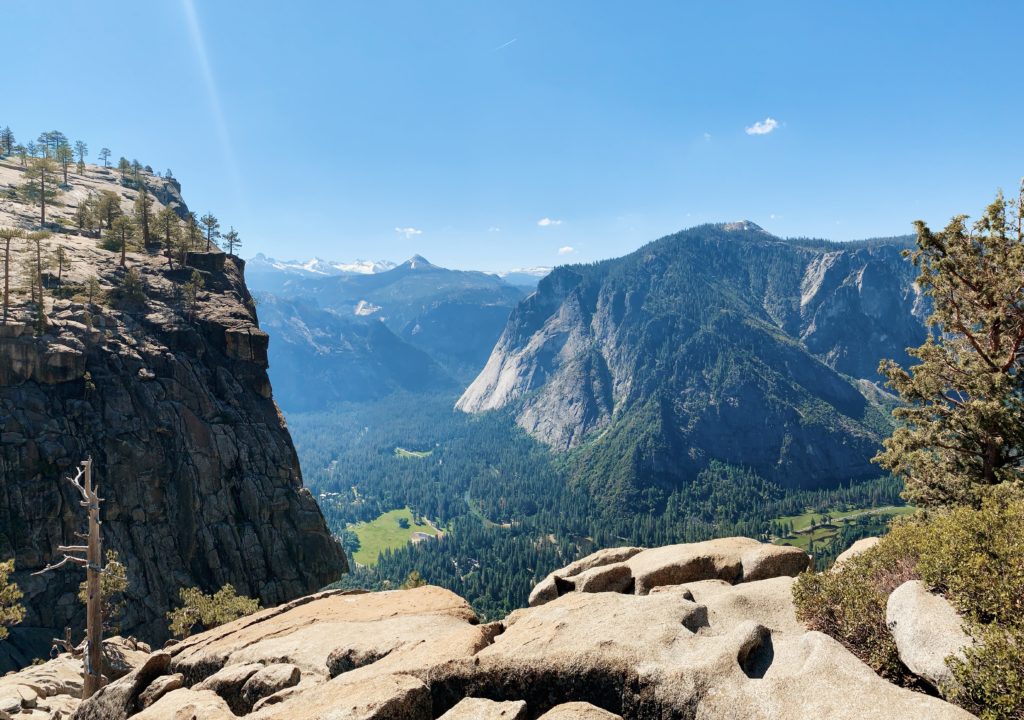 Drive responsibly. You'll be sharing the road with a lot of other visitors, so pay attention and obey the speed limits. We also learned that multiple bears are struck and killed by cars every year in Yosemite due to speeding
Accept that you'll be off the grid. We had almost zero cell service the entire time we were in the park, and the Lodge wifi was incredibly weak and spotty. I actually loved it! Why not embrace that feeling?
Know your limits – Yosemite is a wild place. Just because it's an area maintained by the National Park Service doesn't mean you're invincible! It's still very possible to overexert yourself, get heat stroke, become dehydrated, sprain an ankle or knee, or slip and seriously injure yourself…or even fall to your death. Yes, it does happen to a few unlucky people each year. Know your limits, stay within them, and never ever risk your life for an Instagram shot.
---
Have you ever visited Yosemite National Park? Where did you stay; what did you do and see? Which U.S. National Parks are highest on your travel bucket list?
Note: This post contains several affiliate links. If you make a purchase using one of these links, I will earn a small commission at no additional cost to you. My affiliate income helps offset the cost of running this blog, and allows me to keep this site free of ads and sponsored posts. So, thank you!!
The post The First Timer's Guide to Yosemite: What to Know Before You Visit appeared first on The Wandering Blonde.
[ad_2]