[ad_1]

The Fijian Archipelago with its pearl-white beaches and blue skies provide space for some of the most beautiful remote islands and some of the most luxurious hotels in the world. These hotels have exceptional hospitality and exquisite cuisine. Each hotel is sensitively designed for sustainability, which provides most indisputable blissful retreats in the world. Most interesting hotels are located on popular islands like Nadi and Denarau, where is an incredible peace and silence reigns there.
In addition, some of them are luxury bungalow complexes, which are built in ethnic style and located on the ocean. All hotels are working on an all-inclusive system, satisfy the needs of even most sophisticated guest. So, let's have a look at following services of these most luxurious hotels in detail that will make your stay indisputably blissful.
Check out: Best Luxury Hotels in Bali!
Nanuku Auberge Resort
Location: Nanuku Auberge Resort
 Booking.com (*9.1) Map Starts at ($541-$4,813)
**prices are shown for weekdays in Mid-season (September)
Nanuku has a scenic, tranquil spot on Fiji's southern coast on Beqa Lagoon by Pacific Harbour. The resort exudes calm and serenity on a 10-acre patch of land with just 18 suites. It is built with natural wood structures, which is surrounded by tropical gardens with plenty of sofas and seats to flop in. Along with swimming, snorkeling, kayaking and paddle-boarding aside, guests can join staff on fishing trips to catch them. There is also a library, games room gym, and spa. Various dishes include sugarcane skewers of fish, basil and thyme, local lobster pasta, green chicken curry and Nanuku banana fritters.
Taveuni Island Resort & Spa
Location: Butukia, Taveuni, Fiji
 Booking.com (* ) Map Starts at ($2,023-$8,276)
**prices are shown for weekdays in Mid-season (September)
The rocky volcanic island strangled a dense rainforest filled with colorful flora and fauna, Taveuni is often called the Island of the Garden of Fiji. Taveuni Island Resort is located on top of a cliff with breath-taking views of the Pacific Ocean. It consists of 12 luxurious bures, all of which are spacious and airy and surrounded by extensive well-kept gardens. With an exceptional restaurant and a gorgeous spa, Taveuni Resort is an idyllic place where travelers can experience the stunning landscape.
Likuliku Lagoon Resort
Location: Nadi Airport, Fiji Islands.
 Booking.com (*9.2) Map Starts at ($1,050-$1,326)
**prices are shown for weekdays in Mid-season (September)
Likuliku Lagoon Resort is a multi-award-winning, unique, luxury haven for couples in Fiji with over-water bures. Charming lagoon of Likulik is a crescent located on the north-western coast of Malolo island. Design of resort emulates the architecture of traditional Fijian villages. With manual thatched roofs and interiors with generic designs, it creates a resort with authentic charm. The overwater bures are spectacular with crystal clear water. The rooms are equipped with water coolers, and macadamia cookies appear every afternoon.  
Grand Pacific Hotel
Location: Suva, Viti Levu, Fiji
 Booking.com (*8.8) Map Starts at ($856-$4,038)
**prices are shown for weekdays in Mid-season (September)
The Grand Pacific Hotel now comes with atmospheric heritage rooms, sea view pool and elegant terrace where afternoon tea retains a sense of occasion. The building is over a century old, which retain a real aura of history. In addition, it is friendly and entirely un-pompous. From doormen to serving staff, service is impeccable and warm. The standard Grand Pacific Superior rooms all have verandas or balconies and extremely comfortable. Plenty of choices are available in dishes like lemon and mango-poached octopus carpaccio, an Indo curry trio, fish in passionfruit and coconut rum puree, and sweetly spiced plantain bananas in coconut milk.
Fiji Gateway Hotel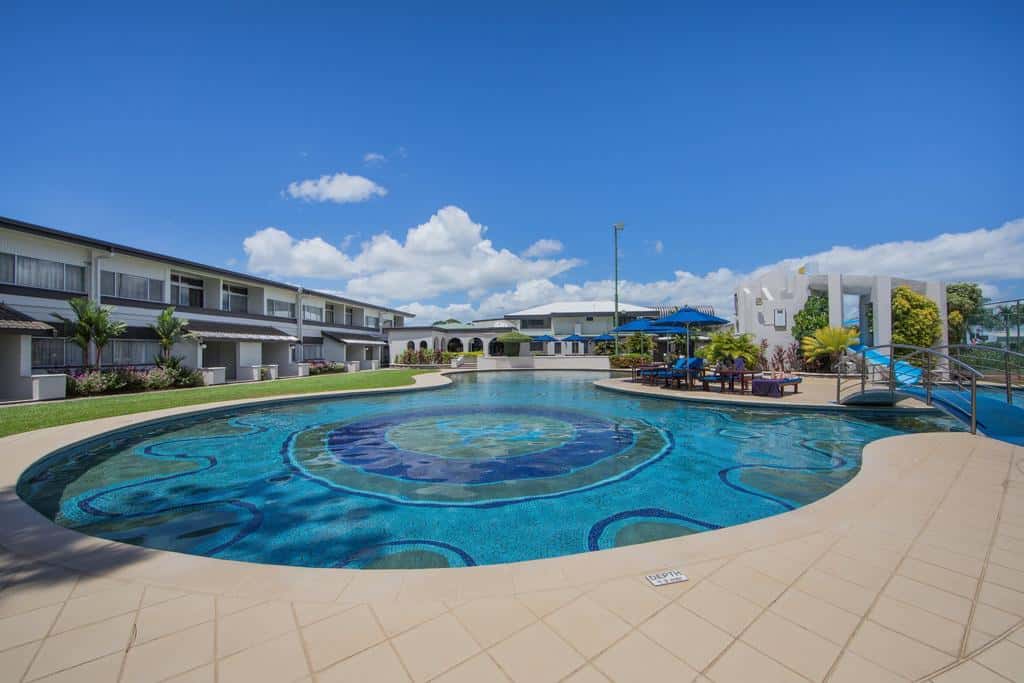 Location: Queens Road, Nadi, Viti Levu Fiji
 Booking.com (*8.5) Map Starts at ($414-$599)
**prices are shown for weekdays in Mid-season (September)
Fiji Gateway Hotel is renowned for its stunning gardens and personalized service. This friendly and affordable hotel offers an idyllic garden setting where travelers can relax. The other facilities include two swimming pools and a waterslide, two restaurants, a gymnasium, a tennis court, and a poolside bar. Moreover, the hotel has complimentary transfers services to/from Nadi International Airport. Deluxe rooms are ideal for couples or families and offer space and comfort along with standard amenities and features. Suites are spacious and ideally available for couples, honeymooners and upscale travelers.
Outrigger Fiji Beach Resort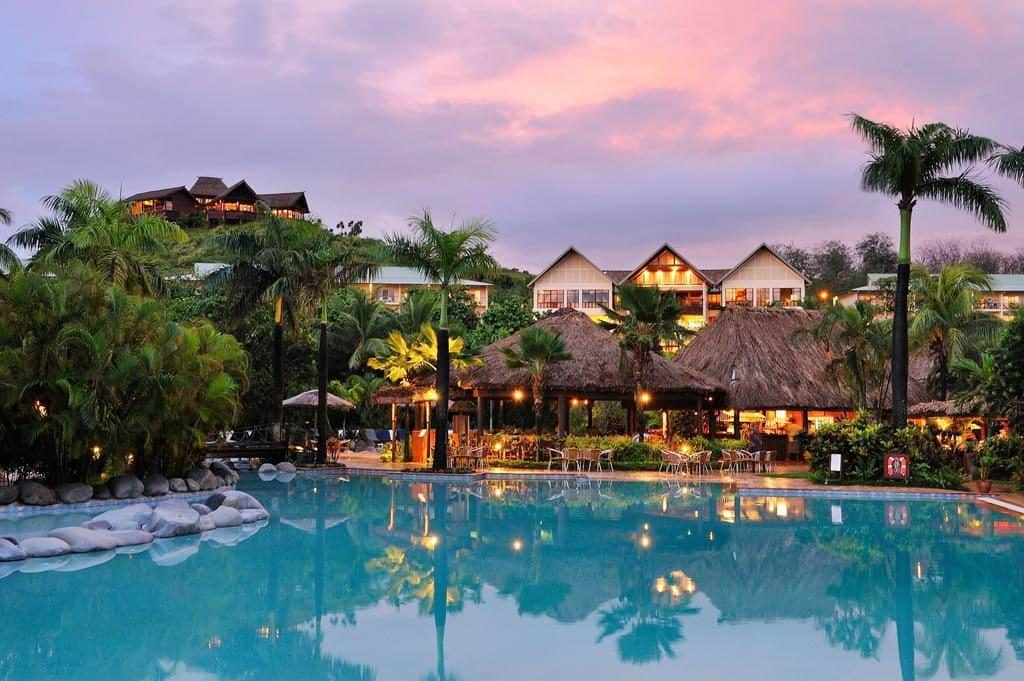 Location: Sydney Drive, Off The Queens Highway, Sigatoka, Fiji
 Booking.com (*8.3) Map Starts at ($1059-$2181)
**prices are shown for weekdays in Mid-season (September)
The Resort features 24-hour room service, modern air-conditioned rooms, award-winning restaurants, complimentary Kids Club, and magnificent tropical pool. With the availability of 24-hour facilities, the resort has a fitness center, traditional Fijian bures, golf training facility, and Bebe Spa with private open-air balconies that offer breath-taking ocean views. The hotel offers several activities like snorkeling, kayaking, Fijian fire walking show, and a Fijian kava ceremony. 
Castaway Resort
Location: Castaway or Qalito Island, Fiji
 Booking.com (*9.0) Map Starts at ($559-$2,227)
**prices are shown for weekdays in Mid-season (September)
Castaway Island is an island of the Mamanuca Group in Fiji and equipped with a tourist resort on its west side. It provides a unique South Pacific experience, which is a great place to relax, unwind and enjoy life's simple pleasures. The island's 174 acres are covered with lush tropical vegetation and surrounded by white sand beaches and vibrant coral reefs. The resort offers traditionally inspired individual 65 bures (bungalows) accommodation with stylish and spacious interiors. These bures are featured with traditional Fijian style thatched roofs, which are nestled amongst lush tropical gardens. In addition, the hotel has key standout features like incredible service from very friendly and sincere staff, great facilities and food quality, kids club, and plenty of recreational options.  
Novotel Nadi Hotel
Location: Namaka Hill, Nadi, Fiji
 Booking.com (*6.9) Map Starts at ($361-$599)
**prices are shown for weekdays in Mid-season (September)
Novotel Nadi hotel is situated on 42 acres of tropical gardens in the Namaka Hills. It is an ideal base for touring and discovering Fiji's white beaches and crystal seas at mystical rituals. In regards to exploring the nature, Sleeping Giant mountain or sip a cocktail by the sparkling pool is the best choice. Travelers can take advantage of complimentary shuttle transfers to/from the airport by providing your flight details. Leisure facilities of this hotel are a golf course, tennis court, indoor games room, fitness center and Senikai Spa and pool. Talei Restaurant offers an à la carte menu with international cuisine and Talei Bar is a perfect place to relax with a refreshing cocktail in beautiful gardens.
Six Senses Fiji
Location: Malolo Island, Fiji
 Booking.com (*8.5) Map Starts at ($3482-$14789)
**prices are shown for weekdays in Mid-season (September)
With a dreamy beachside location, glorious gardens, and impressive eco-endeavors, resort has plenty of uninhabited corners and immaculate reefs bursting with vibrant corals and migrating whales. The layout of rooms echoes a typical Fijian village, which has thatched-roofs. The resort has full availability of half a dozen different complimentary activities like morning yoga, stand-up paddle-boarding and hikes, wood-carving, and movies at the open-air cinema. Moreover, there is a swimming pool, water sports center, tennis courts, private marinas, and a sensational Six Senses Spa. Various gorgeous Pacific-infused tasting menus are also served here. 
Royal Davui Island Resort
Location: Beqa Lagoon PO Box 3171, Royal Davui Island, Fiji
 Booking.com (*7.9) Map Starts at ($4791-$6168)
**prices are shown for weekdays in Mid-season (September)
This is a secluded boutique island retreat with luxurious touches befitting an exclusive island resort. Intimating yourself with 16 spacious and incredibly private pool villas can make this resort unique. But it is intangible aspects of this barefoot luxury retreat that offers an indulgent escape for true romantics. Indulge yourself with this luxury Fiji resort of Royal Davui where 5-star services like romantic champagne breakfast on a deserted sandbar and a Pure Fiji spa treatment are combined with an unforgettable private island resort.
Vomo Resort
Location: Vomo Island, Fiji
 Booking.com (*9.1) Map Starts at ($4605)
**prices are shown for weekdays in Mid-season (September)
For Fijian influences, Vomo Resort is particularly elegant and refined with perfectly relaxed and comfortable rooms. This is a far-flung member of Mamanuca, an exquisite collection of volcanic islands perched to the north of main island. The resort has a distinctly country-club vibe. A few well-placed art pieces keep things dynamic, as do bubbling fountains, tropical flowers and swaying coco palms. Staff members are engaging and helpful, with an infectious enthusiasm for Meke song and dance performances. Served poolside or beachside at the Reef Restaurant, lunch and dinner spring from an ever-changing three-course menu of inventive appetisers.
Shangri-La Resort & Spa
Location: Yanuca Island, Sigatoka, Fiji
 Booking.com (*8.2) Map Starts at ($159-$423)
**prices are shown for weekdays in Mid-season (September)
In the 1933 novel, The Lost Horizon, British author James Hilton described Shangri-La as a solitary utopia that exists inside, completely protected from rest of the world. This is a legend from which Shangri-La Resort successfully names its name. Located on a charming little island of Yanuca, Shangri-La is a tranquil haven where guests are invited to fully relax and regain their mental and physical well-being. This luxurious comfort of resort and spa provide a blissful pampering to body and soul.
Laucala Resort
Location: Laucala Island, Fiji
Laucala is a triplet of small and privately-owned islands, which has exclusive Laucala Resort. The resort has shaggy thatched roofs and modern style architecture with big glass walls, wooden and stone floors, and whirring fans. The pools are sensational; one is glass edged, while another has a sandy floor that rises on to the beach. Each room has an outdoor shower, living space, a plasma TV, Bose iPod docks, free Wi-Fi and fridges stocked with champagne, health drinks and fresh fruit juice. From exotic fruit platters and light pastries for breakfast to rich fine-dining degustation menus, food is light and delicious.
Overall Takeaway
Whether it is about a pocket-friendly Novotel Nadi Hotel by Fiji or ultra-luxurious Castaway Island Resort, each one offers its fully-fledged services to customers. These above-mentioned hotels and resorts are best in their catering and provide a number of activities to their customers. So book your Fiji honeymoon packages or Family vacation and enjoy the real paradise on earth.
Author Bio
Branda Robinson is working as a travel adviser cum writer at Paradise Taveuni in Fiji. The Place is owned and operated by Allan and Terri Gortan originally from Australia. Together with their dedicated Team of Fijian staff, they will strive to give you the BEST Vacation you have experienced. She loves traveling and has a great passion for writing.
[ad_2]