[ad_1]

Looking for the best California music festivals…?  Well, you've come to the right place!  There's arguably no better destination in the U.S that can compare to the incredible production, loving communities, and epic line-ups found at all these music festivals in California.  Being born and raised in Orange County, I've been fortunate to attend a lot of these festivals already, and they truly are amazing.  California has the best weather, the best cheese, and the the best festivals and events to choose from!!
So without further ado…here are what I think are the best California Music Festivals to keep you dancing, partying, and loving life all year long.
---
1) Coachella Valley Music & Arts Festival
When: Mid-April (Two Weekends)
Where: Empire Polo Club, Indio, California
Website: https://www.coachella.com/
Coachella is one of California's oldest and most epic music & art festivals, and will certainly be a weekend experience that you'll never forget.  Every year they bring an unbelievably stacked line-up spanning every genre, massively beautiful stage production, incredible food & drink vendors, and a really solid festival atmosphere.  While Coachella may have gotten a reputation for being all about celebrities and fashion in recent years…it's still one hell of party!  While I've only personally attended twice (in 2014 & 2018), both weekends have been so insanely fun, and I'd recommend it to ever music festival addict!  Get your festival squad together, go through this music festival camping essentials checklist, and prepare for one of the best weekends of your life!
---
Don't like camping at music festivals…?  Well sign up for a new AIRBNB account and you can receive $40 USD OFF YOUR BOOKING.  So forget about uncomfortable tents, air mattresses, and extreme heat…rent an amazing Airbnb nearby the venue for a much more comfortable Coachella experience.  Trust me – there are tons of options nearby the polo fields!
---
---
2) Outside Lands Music Festival
When:  August 9-11, 2019
Where:  Golden Gate Park, San Fransisco, California
Website:  https://www.sfoutsidelands.com/
Outside Lands is Northern California's biggest and best music festival, and is definitely an event you'll fall in love with!  While it may be one of the more pricier events on the list (everything is more expensive in San Francisco), it's worth every penny!  The line-ups are always impressively diverse, the production is truly top-notch, and you'll be blown away when you walk around the venue at night oggling at all the colorful lighting in the trees.
This annual 3-day festival is a San Francisco favorite, and I can't wait to get back for another round!
Read my festival reviews 2017 & 2018:
 Outside Lands Music Festival: The Ultimate Golden Gate Park Party
Outside Lands Festival 2018 | Top 10 Weekend Highlights
---
3) Lightning In a Bottle
When: Mid-May 2020
Where:  Bradley, California
Website: http://lightninginabottle.org/
Lightning in a Bottle, or more commonly referred to as "LIB", is the the largest transformational music festival in California.  While it always boasts an incredible electronic line-up, there is much to more to this spiritually awakening festival.  Many friends of mine have called it their favorite festival they've ever  attended, and it will easily be life-changing festival experience.  Go to some workshops, do some yoga, take a refreshing dip in the lake, watch the sunrise, and party like there's no tomorrow!
Celebrating Art, Music, Performance, Sustainability & Life. 
"The history of LIB spans more than a decade, and friends, family, and co-horts of The Do LaB are thrilled and astounded that it's been more than ten years of making miracles and catching Lightning in a Bottle!"
---
4) Dirtybird Campout
You're never too old to go to summer camp!  Dust off your camping gear and calibrate your compasses, Dirtybird Campout is coming…
When: October 4-6, 2019
Where:  Modesto Reservoir Campgrounds 
Website: http://dirtybirdcampout.com/
While it may be one of the newer festivals on the list (with it's first edition being held back in 2015), Dirtybird Campout is without a doubt one of the wildest parties I've ever attended in California.  I've been a HUGE FAN of the Dirtybird Label for years, and they really go above and beyond to provide an unforgettable adult summer camp / music festival experience.
Read my Dirtybird Campout 2016 Festival Review to get a better understanding!
"Whether you went to summer camp back in the day, or found yourself at Campout over the last four years, those memories of sun-drenched hours full of outdoor activities, hazy summer afternoons, and sleepless nights under the stars, have fostered an unmatched sense of belonging and an unparalleled community for many. It is this family feel that has made Dirtybird Campout one of North America's most celebrated and unique festival weekends."
---
5) HARD SUMMER
When:  Beginning of August
Where:  The Speedway in Fontana, San Bernadino, California
Website:  https://www.hardsummer.com/
This annual two-day festival has been a So-California favorite for years, and always manages to throw together an unbelievably unique line-up, stunning production, and overall epic experience.
2019 Line-up Highlights: Kid Cudi, Dillon Francis, ZHU, Major Lazor, What So Not, Loco Dice, and more…
---
6) Groove Cruise/ Groove Island
When:  September 27-30, 2019
Where: Catalina Island, California
Website: https://grooveisland.com/ / GrooveCruise.com
Groove Cruise is truly an experience that you need to attend to understand it's pure magic.  When people ask me what my favorite music festival is, Groove Cruise instantly comes out my mouth!  It's a nautical rave adventure unlike any other, and the loving "GC Fam" is truly something special.  While there are some really awesome music festival cruises in the world, Groove Cruise is the OG – and no one does it better.
I've attended three different GC's, so read all about them below:
If you're thinking about attending Groove Cruise, feel free to shoot me an email with any questions!  Also, if you book with promo code "JONES ", you'll get $50 off per person.  😉
---
An immersive Dance Music Experience on Catalina Island!!
Six theme parties including roaring 20's in the Casino Ballroom to Celebrate 100 years of Wrigley's Catalina!  Catalina Island is a natural paradise with zip lines, eco tours, golf, hiking, biking, art & museums, fisghin, scuba diving, jet skiing, parasailing, paddleboarding, and more!  
---
7) CRSSD Festival
When:  September 28-29, 2019 & March 2020
Where: Waterfront Park, San Diego, California
Website: http://www.crssdfest.com/
CRSSD is a 2-Day Festival in downtown San Diego, and happens TWICE a year!  They've always got a star-studded line-up across three stages, in a beautiful venue, and dozens of after-hours events to choose from after the festival ends.  I've been once myself, and had an unbelievably fun time!   
It's one of the best music festivals in San Diego, and shouldn't be missed if you're heading to southern-California when it's going down!   
Read all about my experience below:
Two Days of Sun & Tech at CRSSD Music Festival
---
8) Lucidity Festival
When: Mid-April 2020
Where: Live Oak Campground, Santa Barbara
Website:  https://lucidityfestival.com/
Sound baths, acro yoga, dance workshops, fire breathers, circus performers, food vendors, fashion stalls, blacklight tea parties, cacao ceremonies, art galleries, epic DJ's, live bands, crazy costumes, and an incredible amount of Oxytocin filled hugging. I had an unbelievably magical experience at Lucidity Festival, and think the world would be a better place if everyone attended it once in their life.
It's truly one of the most unique, colorful, and intimate community oriented camping festivals I've ever attended!  
Check out my review article about my experience here:  Ludicity Festival – Rising Dawn | Top 12 Festival Highlights!  I, unfortunately, couldn't make it back for the 2019 edition since I was traveling through Spain, but I'm really hoping to make a return for 2020!!
---
9) Beyond Wonderland Music Festival
When: March 2020
Where: San Manuel Amphitheater, San Bernadino, California
Website: https://beyondwonderland.com/
Insomniac Events are known for throwing some of the biggest and craziest raves in California, and Beyond Wonderland is definitely one you cannot miss!  They always deliver a world-class line-up, beautiful stage production, and a loving PLUR filled atmosphere!  Expect wild pyrotecnics, wild outfits, and pounding bass for a weekend you'll never forget!
"Embark on an adventure to the far side of the forest, exploring what exists Beyond Wonderland."
---
10) Kaaboo Del Mar Music Festival
When: September 13-15, 2019
Where:  Del Mar Racetrack & Fairgrounds, San Diego, California
Website: https://www.kaaboodelmar.com/
"Forget what you know about music festivals. This is a music experience. A completely curated three-day sound voyage that combines rock-n-roll music and tastemaking socials into a modern wonderland on the warm shores of the Pacific. Where every detail is crafted for your enjoyment and you bask in world-class music, incredible cuisine, craft libations, comedy acts, contemporary art, dancing and premium amenities. This is your escape to the perfect weekend. So venture to the horizon with us this September in Del Mar, California. See you on the other side."
2019 Line-Up Highlights include:  Kings of Leon, Dave Matthews Band, Mumford & Sans, Duran Duran, Black Eyed Peas, Snoop Dogg, and more!
---
11) Northern Nights Music Festival
When: July 19-21, 2019
Where: Cook Valley, California
Website: http://northernnights.org/
Northern Nights Music Festival is a 3-day celebration of music, art, food and local culture!!
Our mission is to produce NNMF, founded on passionate support for & a strong understanding of emerging underground music industries, AND featuring sought out producers & DJs from regions around the globe.  Our collective hope is to sustain NNMF as a premiere destination festival that offers a unique opportunity to fully embrace a truly Californian experience.  Lighting, sound & stage production for the stages is a collaboration between the Bay Area's finest production teams partnering with experienced local talent. Adding to top-notch music talent, NNMF proudly features local & global arts and crafts, a collection of regional craft brews & wines, a mindful space for yoga and meditation, organic food offerings, and local non-for-profit vendors. 
Cook's Valley Campground is a festival site unlike any other. It is a rare gem.  
The festival grounds feature deep swimming holes, the largest Redwood grove used for camping, and plenty of space to stretch out. Northern Nights Music Festival is a unique and safe experience for both newcomers and seasoned campers.   Our collective hope is to sustain NNMF as a premiere destination festival that offers a unique opportunity to fully embrace a truly Californian experience."
---
12) Air & Style Festival
When: Beginning of March
Where: Exposition Park, Los Angeles, California
Website: https://airandstyle.com/
"Air + Style is a global event series that blends live music, action sports, art, and culture."
Watch some of the world's best snowboarders perform insane tricks, and then check-out some of the world's best DJ's spin incredible sets!  I saw Major Lazer and Flume at Air & Style in 2017, and it was such an amazing evening!  They've got events all over the world, and the Los Angeles edition should not be missed!
---
13) Joshua Tree Music Festival
When: May & October (Bi-Annual Festival)
Where: Joshua Tree National Park, California
Website: http://www.joshuatreemusicfestival.com/
"JTMF is a resource-generating powerhouse of passionate creativity, community empowerment, and arts education for all ages.  A family inclusive global music experience in the magical Mojave.  Committed to radical inclusion, these three day (and four night) funky desert-style festivals create experiences where passion, purpose, family, and friends come together, and the boundary between performer and patron is blurred. The music is diverse and eclectic, from dance-world-electro-funk'n groove to soulful global-ethno melodies. 
Joshua Tree Music Festival promotes personal growth through a variety of multidisciplinary workshops, such as yoga and movement, visual arts, music, and myth. A robust schedule of Kidsville activities makes JTMF one of the top family-friendly festivals in the country.  Magnificent art installations and a world market further inspire, intrigue, and invite festival goers. Our mission is to foster social interaction on a deep level, creating positive life-changing moments."
---
14) Desert Hearts Music Festival
When: End of April 2020
Where: Los Coyotes Indian Reservation, Warner Spring, California
Website:  https://festival.deserthearts.us/
The Desert Hearts Crew have been taking the U.S by storm the past few years, and throwing wild parties around the entire country (as well as hosting stages at tons of other festivals).  But to fully understand their madness, you gotta make it out to their own Desert Hearts Festival in Southern California!!  
House, Techno, & Love…We Are All Desert Hearts.  
Infinite love and nonstop beats.
Check out this epic review titled "Desert Hearts is a Stimulating and Vibrant Marathon of Music, Love, and Rave" to learn more!  If you're into techno and good vibes, it'll become your new favorite festival!
---
15) Dreamstate Festival
When: November & May 2019
Where:  San Diego & San Francisco
Website:  www.dreamstateusa.com
All trance, all the time. You're not living in reality anymore, you're living in Dreamstate.
"Envision a world where ethereal beats and timeless melodies abduct you from the everyday and take you to a higher state. Insomniac's brand-new, all-trance event brings that vision to life. This music has the power to connect, the power to soothe, and the power to heal. It's time to experience that power together. Get your boarding passes and prepare to enter Dreamstate."
---
16) Enchanted Forest
When: Mid-June
Where:  Black Oak Ranch, Laytonville, California
Website:  http://enchantedforestmendo.com/
Northern California's premiere music, art, movement and conscious living festival!
Enchanted Forest Gathering is a 3-Day music festival wonderland featuring movement classes, workshops, daily yoga and the world's largest independent performing artists. The 2018 gathering will showcase internationally-acclaimed live and electronic music acts performing atop stunningly-constructed stages, as well as performance and visual art,  wisdom shares, immersive environments & experiences for the whole family!
---
17) FYF Fest
When:  Mid July
Where:  Exposition Park, Los Angeles
Website: https://fyffest.com/
FYF Fest is one of LA's biggest festivals right in the middle of the city.  This two-day event brings an amazing line-up, and definitely worth adding to your summer festival list!
"Having grown from a roaming party at various venues along Sunset Boulevard in Echo Park, FYF has blossomed into a world class event, drawing talent from around the globe and music lovers from across the country."
---
18) SnowGlobe Music Festival
When:  December 29 – January 1
Where:  South Lake Tahoe, California
Website:  http://www.snowglobemusicfestival.com/
"Literally And Figuratively The Chillest Festival Ever."
This 3-Day EDM Festival is the New Years Eve event of your winter dreams!  Spend your days snowboarding in the beautiful Lake Tahoe mountains, and then party all night to some of the world's biggest electronic DJ's!
---
19) BottleRock Napa Valley
When:  End of May (Memorial Day Weekend)
Where:  Napa Valley, Northern California
Website:  http://www.bottlerocknapavalley.com/
"The first taste of Summer"
Featuring one of the largest and most diverse line-ups brought to Northern California, Bottle Rock Napa Valley is an annual 3-day festival enjoying music, wine, food, and craft beer!
---
20) Splash House
When:  June & August (Two Festivals Every Summer)
Where:  Palm Springs, California
Website: http://www.splashhouse.com/
If Coachella Pool parties & Las Vegas day clubs made a baby…
"Splash House is a multi-venue music festival hosted poolside across three hotel resorts in Palm Springs.  GA passes include admission to all three resorts and shuttles running between all weekend.   Hotel Packages includes room accommodations at one of our host venues along with GA Splash House passes.
By night, the Palm Springs Air Museum hosts our After Hours program — a pair of open air parties back-dropped by vintage aircrafts and the glowing airport tarmac.   After Hours admission is sold separately and may be purchased with or without a Splash House wristband.
---
21) Nocturnal Wonderland
When:  Beginning of September
Where:  San Manuel Amphitheater, San Bernadino, California
Website:  http://www.nocturnalwonderland.com/
"Enter a world of sights and sounds as vibrant and unique as those who have come, year after year, to behold its fantastical mysteries. In this place, curious creatures of all shapes and sizes move to the vibrations of the night. What new adventures will our journey hold? Come with us and see."
Read all about The Best of Nocturnal Wonderland for an excellent review about this incredible weekend experience!
4 days of Camping, 3 Nights of Music, Art, Family, and Culture. Carpe Noctem!
---
22) YOUtopia
When:  Mid-October
Where:  La Jolla Indian Campground, Southern California
Website:  http://sdyoutopia.com/
San Diego's official Burning Man regional event
"YOUtopia is A 4-day camping and arts regional "burn" celebrating the culture and principles of Burning Man.  Burning Man only happens once a year, but burner culture is alive and well year-round. Burning Man regional events are held all over the world and are based on the Ten Principles, empowering burner ethos to thrive far and wide. YOUtopia is part of a long tradition of bringing the magic of the playa to the rest of the world while also celebrating the vibrant creative and communal elements of San Diego and the surrounding areas."
---
23) West Coast Weekender
When:  Beginning of May
Where:  Various Venues around San Diego, California
Website:  http://www.westcoastweekender.net/
"A celebration of music, dance, and culture in Southern California, the music conference and festival is blossoming right alongside San Diego's incredible cultural renaissance. With nearly half of attendees coming from out of town, the West Coast Weekender audience rings in a truly one-of-a-kind vibe. The influx of activity—plus the San Diego underground community's enthusiasm—creates an infectious, old school energy that's of another era.
---
24) Stagecoach Music Festival
When:  End of April
Where: Empire Polo Club, Indio, California
Website:  http://www.stagecoachfestival.com/
California's Premier Country Music Festival
If you're a fan of country music, then there's arguably no better festival in the entire world than Stagecoach.  It's hosted the weekend after Coachella ends, and has all the same stages & production, so it's definitely an experience to check-out.  While I haven't personally attended Stagecoach, I've heard from tons of people (who don't normally listen to Country) that it's truly an amazing event!
---
25) Wanderlust Squaw Valley
When: Julu 19-22, 2018
Where:  North Lake Tahoe, CA
Website:  http://wanderlust.com/festivals/squaw-valley/
To add something a little different, Wanderlust has been organizing and throwing events all over the world, and their event up in Squaw Valley is a must for people looking for something a little different.  It focuses on self-exploration, daily yoga sessions, incredible guided adventures in the area, local and sustainable food, and awesome live music.  Wanderlust is an epicenter of good vibes and transformationa!
---
26) Escape:  Psycho Circus
When:  End of October (Halloween Weekend)
Where:  NOS Event Center, San Bernadino, California
Website:  https://escapehalloween.com/
"Sinister sights and rattling sounds will shock, amaze, beguile, astound. Escape with us, and come inside — the Psycho Circus has arrived!"
ESCAPE is one of Insomniac Events top music festivals that's been running annually since 2011.  Complete with walk-through mazes, themed stages, and costumed performers – this is a Halloween Rave you need to check out at least once!
---
27) High Sierra Music Festival
When: July 5-8, 2018
Where:  Quincy, CA (Northern California)
Website:  http://highsierramusic.com/
High Sierra Music Festival is one of the longest running events in California, having just finished it's 27th edition in 2017!  Every year they bring a wide variety of entertainment, family friendly fun, and an epic festival camping experience.  It's guaranteed to be a highlight your summer complete with top-notch music, fire-dancers, movement classes, colorful parades, and silent-discos!
---
28)  Emissions Festival
When:  Mid May
Where:  Belden Town Resort & Lodge, Belden, California
Website:  http://www.emissionsfestival.com/
West Coast Bass Culture
"Emissions strives to provide a unique experience with an alternative focus. An intimately sized, limited capacity to allow for a closely connected atmosphere. Creating a rare opportunity to truly absorb the music up close & personal. Alongside a unique lineup of fresh sounds curated to enhance this specific outdoor experience. Culminating in 3 full days & nights of uninterrupted satisfying sound with a focus on proper low end representation. ~Come feel the difference~"
---
29) Serenity Gathering
When:  End of April 2019
Where:  Woodward Reservoir, Oakdale, Northern California
Website:  https://serenitygathering.net/
"A conscious gathering focused on creating an environment of positive collaboration specifically geared towards art and music."  
Complete with cacao ceremonies, full-moon dances, 3 stages of Funktion 1 sounds, and being surrounded by a lovingly spiritual festival community – Serenity Gathering sounds like a beautifully unique experience!
---
30) Desert Daze
When:  Mid October
Where: Lake Perris, California
Website:   https://desertdaze.org/about/
"Desert Daze is an annual celebration of music, art, culture and nature.
Cited as "a chance to escape the world as we know it" (Billboard) and a "a surrealist's playground that reminds us what festivals were like before festivals were Festivals™" (Noisey), Desert Daze 2018 brings its unique brand of hermetic fantasy universe to Moreno Beach, in the valley of unbroken horizon, at Lake Perris, in Southern California."
---
 31) One Love Experience

When:  November 2019
Where:  Lake Perris, California
Website: http://onelovefest.com/
"Giving the world what we all need more of… Love!
One Love Experience is a smaller camping festival at the beautiful Lake Perris in Southern California.  It's not as wild and crazy of a party, but instead all about a beautiful community!  When you walk around, you can really feel a strong sense of love between it's attendees.  It's got nothing but good vibes, good music, and lots of love.  I attended in 2017 and saw Moby headline, and it was such an incredible night!!
---
32) California Roots Festival
When:  Memorial Day Weekend (End of May)
Where:  Monterey Country Fairgrounds, Monterey Northern California
Website:  https://californiarootsfestival.com/
Featuring some of the biggest names in reggae, rock, folk, and hip-hop in the world! 
"California Roots isn't just a music festival; it's a movement. It's a way of life. It delivers a cosmic blend of good vibes, true happiness, family, peace, love and joy to all who enter. When Jimi Hendrix torched his guitar at the Monterey Pop Festival in the late '60's, he changed the way an entire generation looked not only at music festivals, but life itself.
It is out of this same pure energy–the energy of natural and peaceful rebellion–that California Roots was born. We discovered the ecstasy that culminates from listening to awesome music, smiling at your neighbors and dancing with strangers; California Roots is about living life to the fullest."
---
33) Still Dream
When:  End of July
Where:  Blue Mountain Event Center, Wilseyville, CA
Website:  https://stilldreamfestival.com/
"A common love for music, community, nature, culture, and consciousness has enouraged us all to unite and give back to the community that has always given us love, inspiration and provided growth. In the short years of our existence, Stilldream has gone from throwing intimate parties for our friends in a barn, to inviting thousands to take a part in our events in venues with decades of rich musical history"
---
34) The Untz Festival
When:  Beginning of June
Where:  Mariposa Fairgrounds, Mariposa, California
Website: http://www.theuntzfestival.com/
"The underground bass community will reunite once again in this beautiful mountain community less than an hour from the mouth of Yosemite National Park and just 3 hours east of the Bay Area. The best and brightest up-and-comers in the bass scene will return to Mariposa Fairgrounds!"
---
35) HeART and SOULstice Gathering
When:  June 2019
Where:  Frog Town, Angeles Camp, California
Website:  http://heartandsoulsticegathering.com/
"Featuring 3 days & 3 nights of workshops, music, visual arts, performing arts, healing arts and ceremonies, yoga, discussions, flow arts, family village with games & activities, artisan vendors, community activism and more.
Heart and Soulstice Gathering is a holistic, educational and arts event. Our goal is to cultivate a platform for creative expression that encourages community involvement and participation. Our ethos is to promote the care of self, community and one's environment by curating a family-oriented atmosphere centered on sustainability."
---
36) Guitarfish Music Festival
When:  End of July
Where:  Cisco Grove Campground, Truckee, California
Website:  http://guitarfishfestival.com/about-gf
"A People Friendly Camping Experience.  Full Moon in the Forest, Over a Mile High over the Yuba River"
An intimate arts and music festival that brings community together to enjoy renowned musical acts and true goodtime vibes.
Set in the stunning Sierras at Cisco Grove campground, the festival also provides an enchanting setting to enjoy the South Yuba river, hiking, world class mountain and road biking, towering trees, and starry skies. Emphasizing the importance of water, Guitarfish works in partnership with non-profits to educate on the issues of overfishing and water pollution, promoting water conservation and preservation of clean oceans and watersheds, with a portion of proceeds going towards such. Guitarfish aims to provide a direction for positive change to sustain and maintain healthy watersheds, rivers, streams, lakes and oceans and to preserve all living beings that depend on it. Coming together to honor this big blue ball we all call home feeds the magic.
---
37) Genius Loci **Bonus Festival**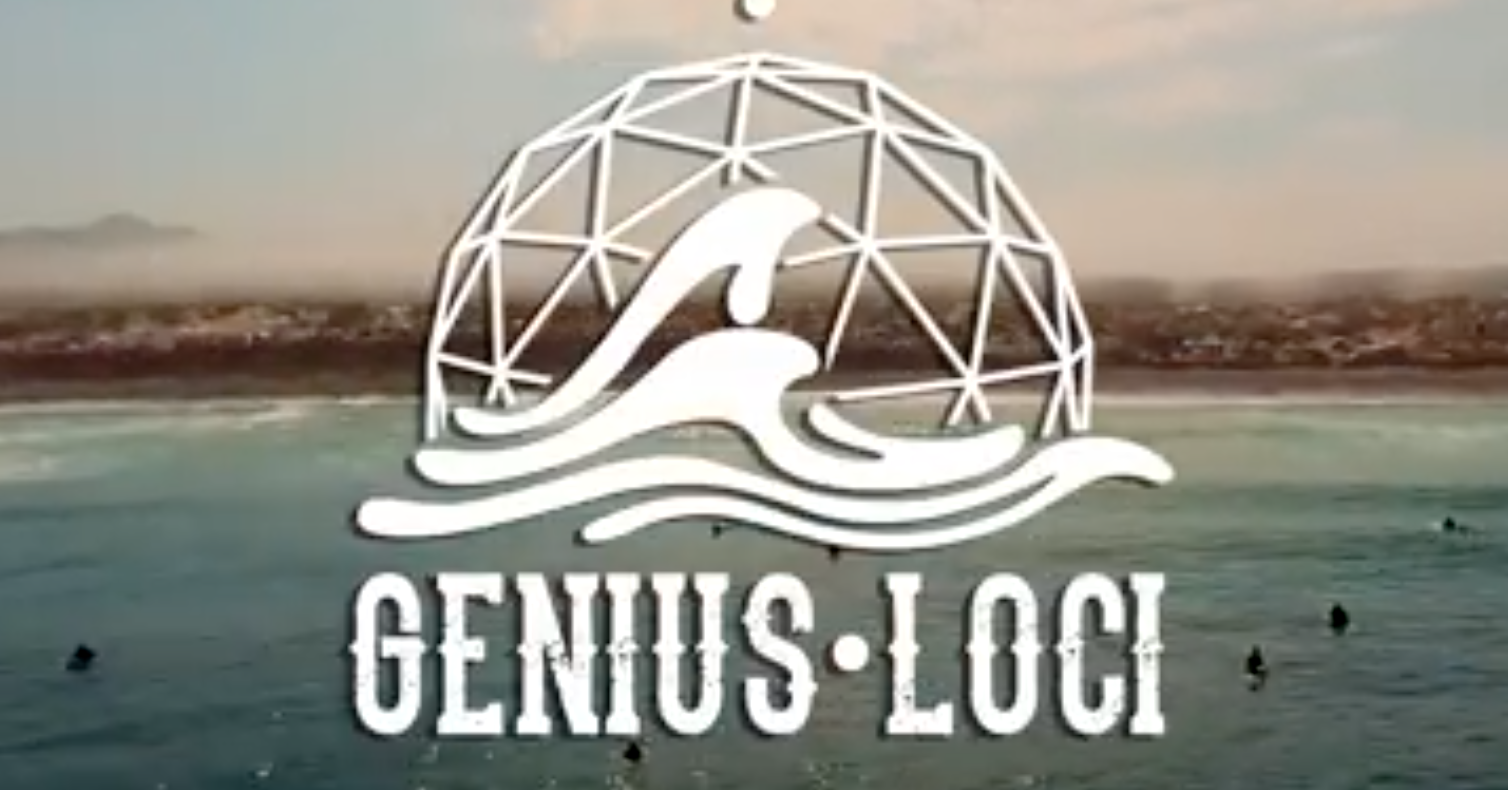 When:  June 2019
Where:  Punta Cabras, BAJA California (Mexico)
Website:  http://geniuslocifest.com/
Surf.  Music.  Yoga.  LOVE
Last, but certainly not least….while it's not technically in the state of California, Genius Loci is down in BAJA California (so that kinda counts), and I just really wanted to include it in this list!  It looks exactly like my kinda festival, and I've heard that it's truly a special experience from friends who have attended in the past!  Definitely worth checking out if you can!
"The definition of Genius Loci is the prevailing atmopshere, spirit or character of a place.  Genius Loci is nestled at a private beach on the sandy plateaus alongside the pacific ocean in Northern Baja.  The location is pure magic!
JOIN US THIS SUMMER IF YOU WOULD LIKE TO WAKE UP WITH THE WAVES, SURF WITH THE DOLPHINS, DANCE IN THE SAND AND PARTY UNDER THE STARS WITH YOUR FRIENDS."
---
So am I Missing Any Epic California Music Festivals…?
While I'm sure there are tons more for all different genres of music, I'm pretty these are all the biggest and best music festivals and events in California.  I hope this article gave you some inspiration, and I hope to see you at one of these music festivals throughout the year.  I'm always flying back to California for different events, and there's a good chance you'll see me dressed in a crazy outfit, taking photos of all the beautiful people who attend these different festivals.
---
Looking for music festivals around the world…?
My website is filled with articles about the best music festivals in the world, so take a browse through some of the posts below – and start planning
The 25 Best Music Festivals in Asia
Top 20 Music Festivals in Canada To Experience Before You Die
30 Music Festivals in Australia To Experience Before You Die
10 Music Festivals in Washington To Experience Before You Die
Top 10 Music Festivals in Colorado To Experience Before You Die
The 25 Best Music Festivals in Florida
The 25 Best Music Festivals in Texas
The Top 25 Music Festivals in Arizona To Experience Before You Die
---
Share this article with your festival squad!
Related Posts
[ad_2]