[ad_1]

Explore palaces and enjoy Korean culture in a hanbok!
Gyeongbokgung from Shutterstock.com
◘◘ Rent a hanbok and explore some of Seoul's cultural highlights
(Nearest subway station: Gyeongbokgung Station, Exit #4) You must never leave the city without trying on the elegant Korean traditional clothing called as 'hanbok'! Much like how Japan has kimono rental shops, South Korea has hanbok rental shops for tourists. Through these places, you can borrow and wear a hanbok for a day (or more) whilst you venture out to the cultural spots in Seoul to snap wonderful photos.
This is certainly a MUST-do activity in your Seoul itinerary because aside from the fact that you can have the chance to feel as though you've been transported back to the Joseon period or to a set of an old K-drama, the experience itself is also supported by the Koreans as a part of promoting their history (so yes, it's one way of immersing yourself with their vibrant culture too). And if those reasons are not enough, wearing a hanbok grants you FREE entry to the palaces in the city!
TRIVIA: The term 'hanbok' literally means "Korean clothing" but it just basically refers to the traditional clothing for both men and women from the Joseon period.
There are a LOT of hanbok rental shops in Seoul but if you want the best, I highly recommend renting with Seohwa Hanbok. Apart from its prime location, it has more intricately-designed hanbok garments that are set at an affordable price! For a more comprehensive guide on this, read my 'Hanbok Rental' post here.
Now, as you would see on the online booking platform, Seohwa Hanbok has 3 rental options: 6 hours, 1 day or 2 days. Between the 6 hours and 1 day package, I suggest getting the 6-hour rental because there isn't much of a difference from the 1-day pack (where you need to return the hanbok at the closing time of 7PM) . After all, the shop is generous enough in adjusting the start time of your rental if, let's say, you came in late or you took a while choosing your hanbok attire.
Example: You set an appointment at 9AM but you come in at 9:30AM and only finished fitting your hanbok and arranging your hair at 10:30AM. Seohwa Hanbok will then be kind enough to re-adjust and make your start time at 10:30AM and end time at 4:30PM. This leaves you with enough time to explore some other places in the day — BUT please, I'm NOT telling you to be late! Besides, if you arrive earlier, you'll have more hanbok designs to choose from and there won't be too much of a crowd yet either.
NOTE: If you have purchased the Discover Seoul Pass (no matter if it's the 24H or 48H option), it's preferable that you do NOT activate it on this day because you'll already be given FREE entry to 4 of the 'Five Grand Palaces' if you're wearing a hanbok. Not to mention that this whole hanbok activity will already likely fill up your whole day, so it's best to activate the pass the next day. (Unless of course, you plan to avail the FREE hanbok rental use instead that's under the Discover Seoul Pass' perks. Personally, I think it's best that you avail a hanbok rental separately for longer hours because the free hanbok rental under the pass is only for 90 minutes).
Once you are clad in a hanbok of your own choosing, I recommend doing the following route:
Visit one (1) of the 'Five Grand Palaces': The following 5 structures are considered as exemplary works from the old Joseon period and each of these magnificent palaces is truly a sight to be seen. However, if you ask me, Gyeongbokgung and Changdeokgung are the best of the five — so, you can choose from either of these two for your visit (or if you are fast and can squeeze in some time, then doing both will be optimal).

★

Gyeongbokgung

: This is the closest palace from Seohwa Hanbok (it's just a few steps away) and if you can only go to one palace during your Seoul trip, I propose going here because it is the main royal palace and also the largest of the 5 (even often called as the most beautiful too).

The Changing of the Royal Guard (Sumunjang) ceremony is held for FREE daily, except Tuesdays, at 10:00AM and 2:00PM in front of Gwanghwamun or the main gate of Gyeongbokgung. If you can't make it to these time slots, you can also witness a Guard-on-Duty Performance in Gwanghwamun gate at 11:00AM and 1:00PM or a Sumungun (Gatekeeper) Military Training in Hyeopsaengmun Gate at 09:35AM and 1:35PM.
If you've got time, you can check out the huge golden King Sejong Statue at the nearby Gwanghwamun Square. (King Sejong is best remembered as the inventor of 'Hangeul' or the Korean alphabet.)

★

Changdeokgung

: This was the 2nd palace that was built after Gyeongbokgung and it has since been recognized as a World Cultural Heritage site by UNESCO in 1997. An interesting feature of this place is its 'Secret Garden' because there are only a limited number of admission slots per day that are given out. If you're lucky, you can get the chance to go in if you want to!

Deoksugung

: This palace is famous for its picturesque stone-walled road (which is often featured in K-dramas like Goblin). And much like Gyeongbokgung, Deoksugung Palace has a Changing of the Royal Guards Ceremony and it is held at 11:00AM, 2:00PM, and 3:30PM daily, except on Mondays.

Changgyeonggung

: This used to be the residential quarters for queens and concubines of the king, and it later became a park with a zoo and a botanical garden during the Japanese colonial rule (today though, the zoo and garden are relocated to Seoul Land).

Gyeonghuigung

: Located near Deoksugung Palace, this site served as the secondary palace for the king in the latter half of the Joseon period. For a time, Gyeonghuigung was of a considerable size but most of its major structures have long been disassembled and moved to other parts of Seoul.


.

Visit Bukchon Hanok Village: (Nearest subway station: Anguk Station, Exit #2)
Not too far away from Gyeongbokgung and Changdeokgung palaces is this village that is home to hundreds of traditional Korean houses or 'hanok' that date back to the Joseon Dynasty. With this in mind, this makes for a great place to visit with your hanbok attire.

To get here, look for the Bukchon-ro street. It will be hard to miss because the tourism board had recently appointed staff there in red clothing to help tourists and distribute maps. Basically, there are 8 major view points to see in Bukchon Hanok Village and those that you must NOT miss are the Gaehoe-dong areas that are typically appointed as Views #3 to #7. If you're coming with elderly companions, take note that there are a bit of uphill climbs in this area.
Unlike other hanok villages (like Namsangol Hanok Village), Bukchon was not built for tourists as it is rather a residential village inhabited by Seoulites. Therefore, make sure to keep quiet so as not to disturb the locals.
As you leave Bukchon, drop by the nearby neighborhood of Ikseon-dong. Much like Bukchon, it's one of the oldest hanok villages in Seoul; but in case you want to escape the crowds, it would be a great idea to explore this hidden gem!


.

Drop by Insa-dong: (Nearest subway station: Anguk Station, Exit #6)
As you make your way to the last stop of this route, you must not skip on the neigborhood of Insa-dong in the Jongno-gu district of Seoul. After all, its streets are one of the best places in Seoul when it comes to culture and crafts (perfect for souvenirs!). If I may also share another tip, try to stop by Ssamziegil which is a unique building wherein each of its levels are connected in the form of a spiraling walkway!


.

Lunch: You can either have it at Bukchon Hanok Village or at Insa-dong. There are a lot of cafes and restaurants in these areas so you won't have a difficult time picking a place; though if I may put in my two cents, do check out Jokagbo at Bukchon (across the street near the entrance to the village) or Gogung at Insa-dong for their bibimbap (mixed rice bowl). For other food or restaurant options, click the "Extras" tab on top of this section.


.

Visit Namsangol Hanok Village:  (Nearest subway station: Chungmuro Station, Exit #3)
Located at the foot of Namsan, this village was built to feature 5 traditional houses of different social classes from the Joseon era, all relocated to this spot from different locations in Seoul in order for guests to understand the daily lives of its past people. Of all these 5 houses or hanok, only one is open to the public which is the house of Yoon-ssi of Okin-dong. It has been transformed into 'Yoon's Tearoom' where visitors can learn about Korea's tea culture. If you're interested, you could join the tea ceremony program for only ₩7,000. (For a list of other activities in this village, see this link).
Is it possible to just try on a hanbok for FREE?
Yes. If you hold a Discover Seoul Pass, you can wear a hanbok of your choice outdoors for 90 minutes via HANBOKNAM, or take photos with a hanbok in the indoor studio of Namsan Seoul Tower Hanbok Experience Center. However, if you do not have a Discover Seoul Pass, Korea Tourism Office's Main HQ allows you to wear simple hanbok and take shots of yourself in it indoors.
Is there a service where I can just rent a hanbok indoors and have a professional photographer take photos of me?
Of course! You can book this kind of experience via KKday for just ₩15,000~ (or USD$14~ / Php 730~). It even has the option of doing outdoor shots.
.
* * * * * *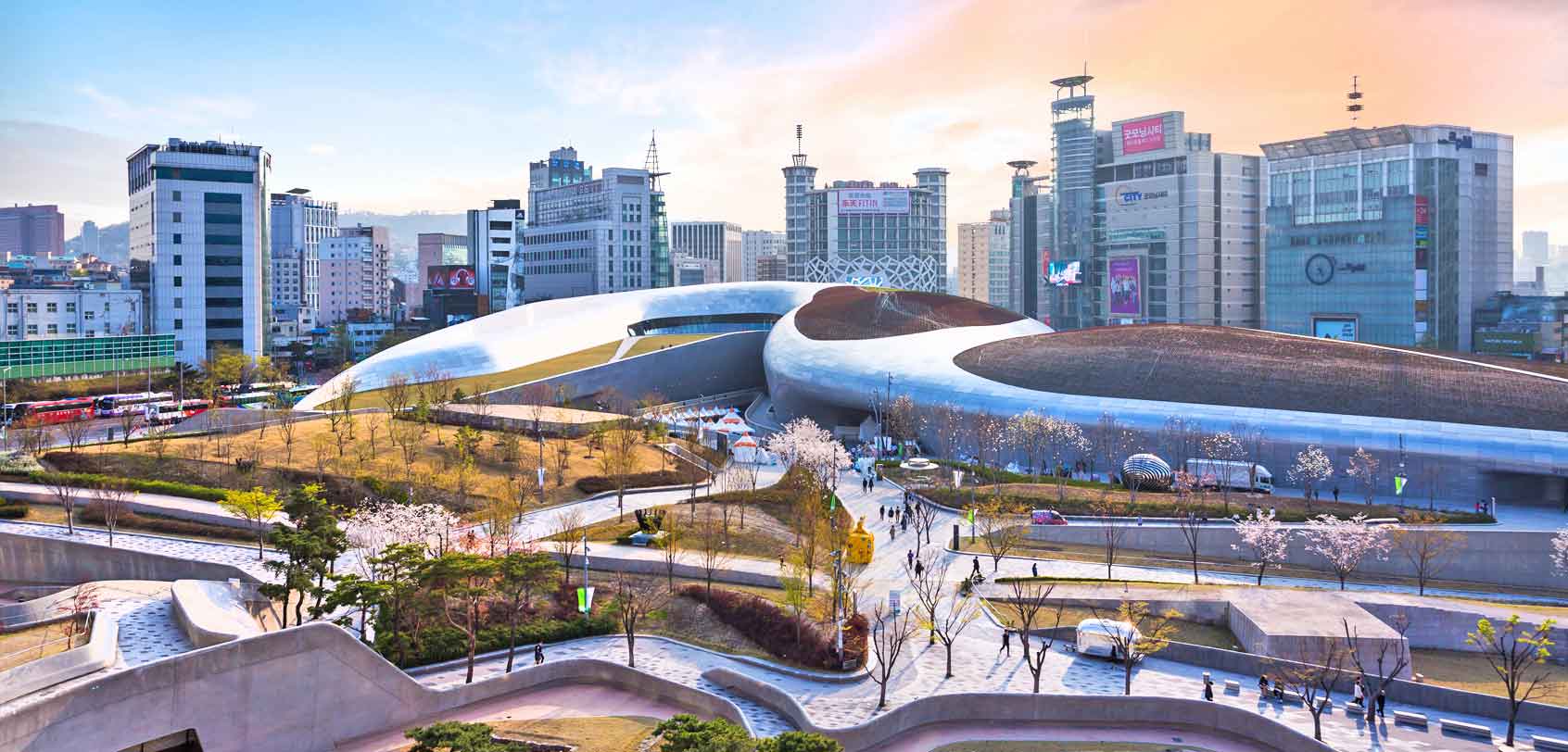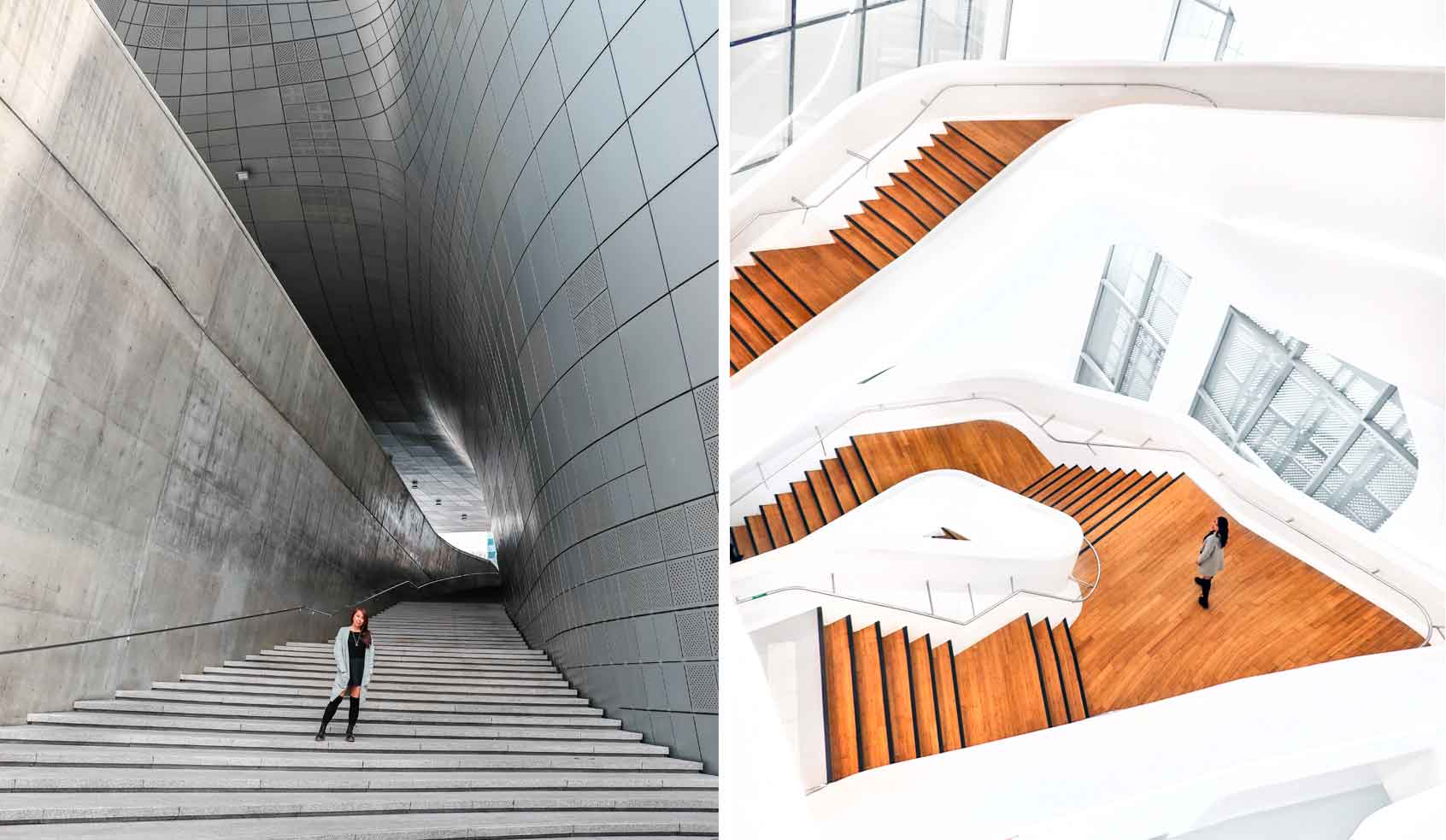 Topmost photo of DDP from Shutterstock.com
◘◘ Visit the awe-inspiring structure of Dongdaemun Design Plaza
(Nearest subway station: Dongdaemun History & Culture Park Station, Exit #2)
Also called as "DDP", this structure is a new major urban landmark in the heart of Seoul which has a distinct futuristic design made by world-renowned architect, Zaha Hadid. As such, it's not strange that it is one of the most Instagrammed locations in Korea.
Other than enjoying its grand outer architecture, you can also stroll through DDP's huge 5 halls namely, Art Hall, Museum, Design Lab, Design Market, and Dongdaemun History and Culture Park — places where you can shop and watch various exhibitions, fashion shows, and performances among many others.
From late May to late October every year, Seoul Bamdokkaebi (Goblin) Night Market will open in DDP from 6:00PM to 11:00PM, so don't forget to make a stop here to not only buy a variety of food and goods, but to also enjoy the various performances made available during this event.
Make sure to drop by DDP's LED Rose Garden which is a permanent exhibition of 25,550 roses that will light up automatically once the sun sets. To get there, just go to side of Yigansumun Exhibition Hall or simply ask the DDP guards or attendants for directions.

TRIVIA

: This display was first put up on National Liberation Day in 2015 which is in celebration of Korea's 70th year of independence. Hence, the number of 25,550 comes from 365 days multiplied by 70.

BONUS: If you still have some time, drop by Ihwa Mural Village, a picturesque neighborhood in Seoul that is famous for its amazing murals — as well as for its fascinating cafes and shops. It's no wonder that a lot of K-dramas and movies have started to do their filming here. You can basically find this near Naksan Park (which also yet another hidden gem that provides great views of the cityscape).


.
* * * * * *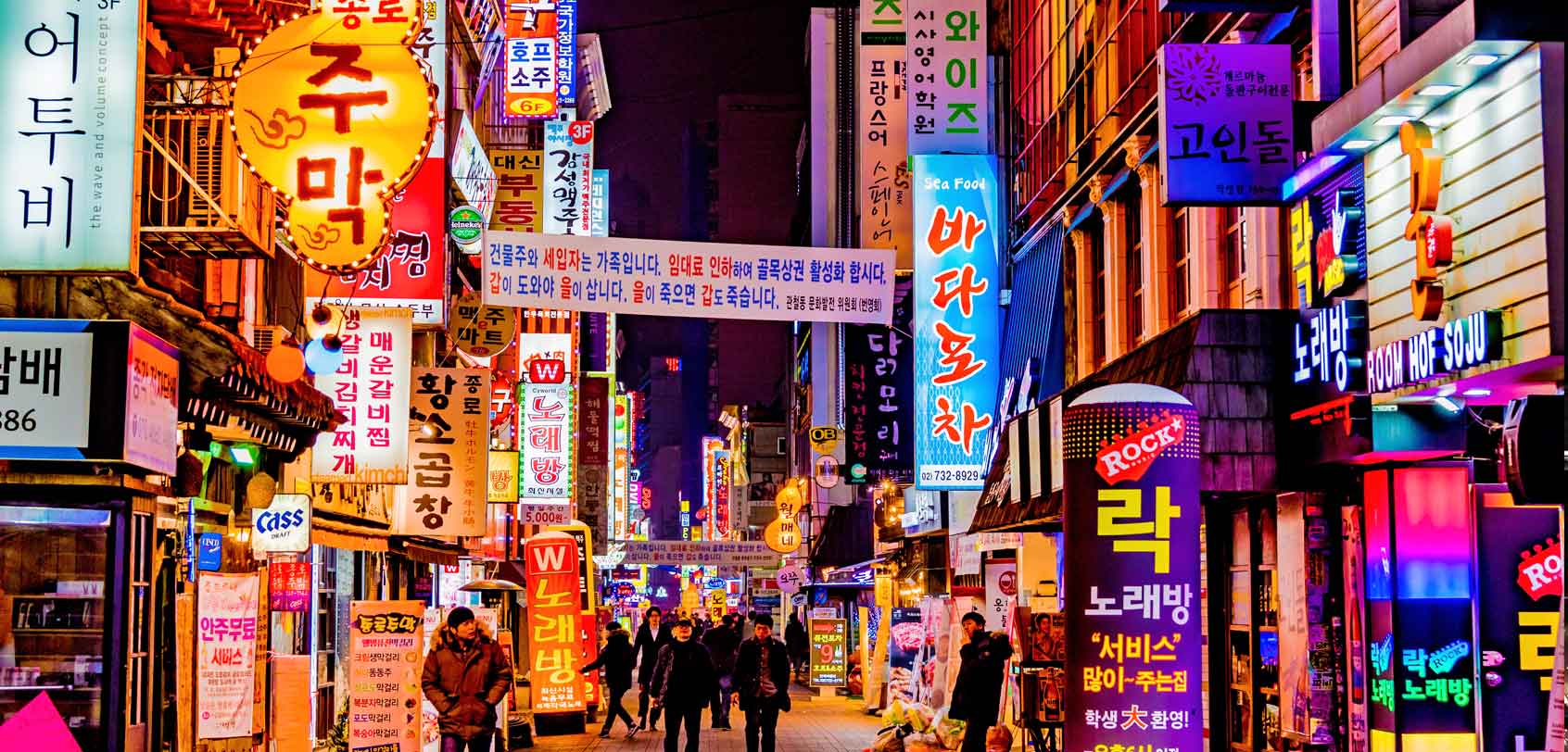 Myeongdong from Shutterstock.com
◘◘ Eat and shop through any of Seoul's night markets
Like the rest of Asia, Seoul has no shortage of vibrant night markets, so for dinner, go and drop by any of the following spots (it's best to choose only one!)
Bamdokkaebi (Goblin) Night Market: (Nearest subway station: *various spots*)
Like I've written above, this night market opens from May to October. It originally opened in Yeouido (Yeouinaru Station, Exit #3) but has since expanded to several locations such as DDP. The other remaining places would be Cheonggyecheon Stream (Jongno5(0)ga Station, Exit #7) and Banpo Hangang Park (Express Bus Terminal Station).


.

Dongdaemun Night Market: (Nearest subway station: Dongdaemun History & Culture Park Station, Exit #4)
Take note that this is different from the night market found in DDP. Apart from the retail haven found in this vicinity, you will also find the 'Open market' with its bright yellow tents, all selling various apparels, souvenirs and items at affordable prices starting from 10:00PM up to 5:00AM. If you're rather looking for delicious Korean eats, drop by Mukja Golmok ("Let's Eat Alley" at exit #8 of Dongdaemun Station) to feast on snacks like tteokbokki (rice rolls).


.

★ Myeongdong Night Market: (Nearest subway station: Myeongdong Station, Exit #7)
Even if this is not one of those 'traditional' night markets, it remains to be a popular destination for travelers as it is set in the bustling shopping district of Myeongdong that holds some of the biggest stores like Lotte and Shinsegae as well as cosmetic brands of all kinds. Starting from 5:00PM and onwards, you will start to see food stalls filling up the main street with fares like gyerangbbang (Korean egg bread), dak-galbi (spicy stir fried chicken), etc.


.

★ Namdaemun Night Market: (Nearest subway station: Hoehyeon Station, Exit #5)
Open from 11:00PM till 4:00AM, this traditional night market is the largest in Seoul and it holds every possible thing that you can think of — from food to clothing, they have it all!


.

Gwangjang Market: (Nearest subway station: Bupyeong Station, Exit #3)
If Namdaemun is the largest, then Gwangjang would be the oldest in Seoul, making it a common go-to place for many Korean shoppers. You can actually find this close by Dongdaemun and DDP so it's possible to check off several of those night markets in the same night if you will it so! (

TIP

: This place is best if you're looking to buy a hanbok for yourself).


.

★ Noryangjin Fish Market: (Nearest subway station: Noryangjin Station, Exit #1)
Operating 24 hours a day, this place is more than just a night market. If you come in the early morning, you can witness a bustling fish auction (reminiscent of Japan's Tsukiji Fish Market). Anyhow, the fun part about this place is that you can buy some fresh seafood and then have it cooked by a restaurant located on the 2nd floor — and if you're brave enough, maybe you can try the infamous Korean activity of eating a LIVE octopus?


.
* * * * * *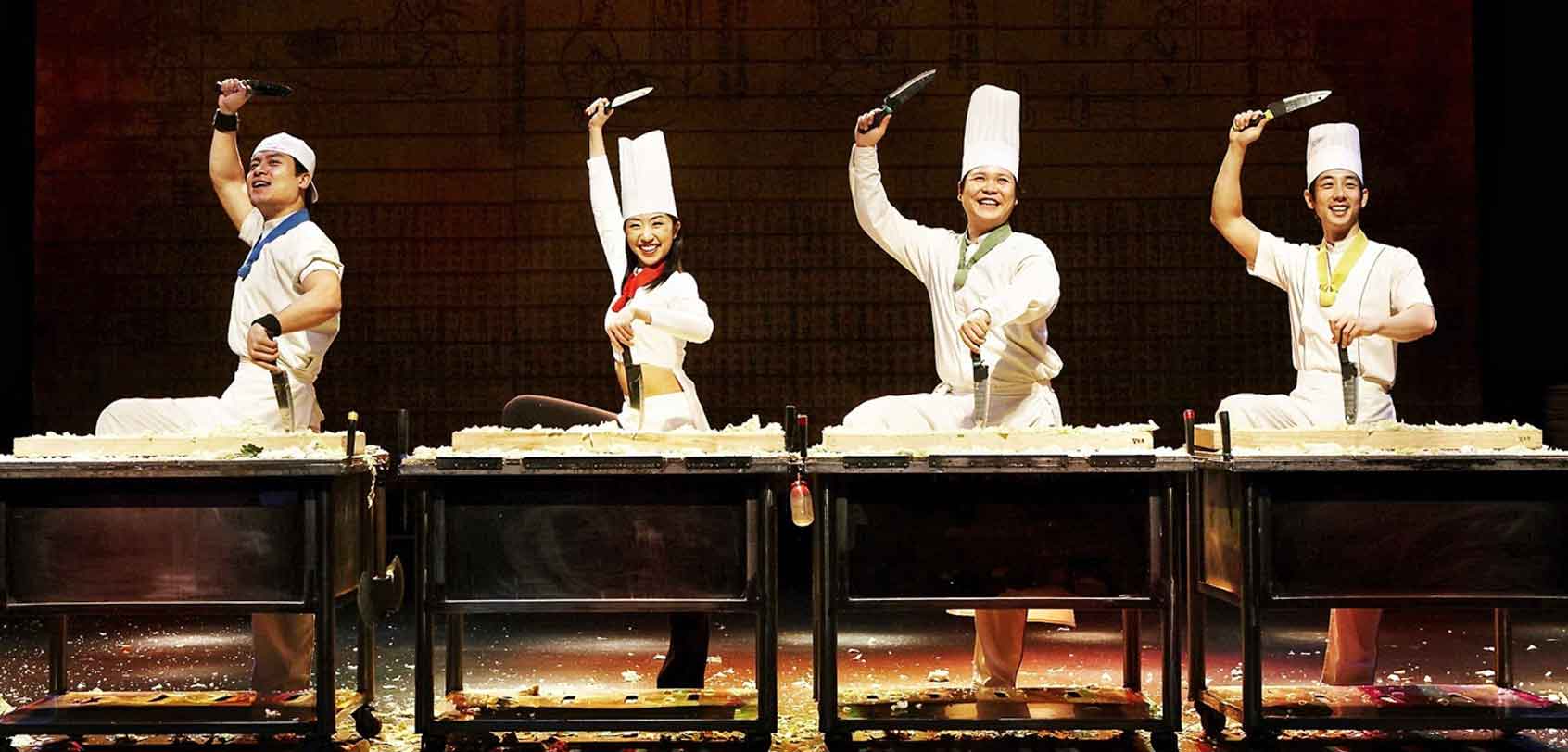 ◘◘ Watch the famous Nanta Show
If there's one show that you should NOT miss for your Seoul itinerary, it will be witnessing the award-winning long-running NANTA Show at Myeongdong Theatre. This is basically a non-verbal comedy show (so it's fine even if you don't know Korean) that incorporates traditional 'samul nori' rhythm (which is a genre of percussion music distinct to Korea) as they do a slapstick play that mimes the story of cooks who are preparing for a wedding.
I've seen this show myself and it was quite entertaining as I saw knives fly and fire blasting from pots — but don't worry, it's all safe! But I must say that it did have a distinct sense of humor that may or may not work for you. Either way, it's an energetic performance which has garnered distinctions and awards from Edinburg Fringe Festival and on New York's Broadway, so I say: give it a try!
NEAREST SUBWAY: Myeongdong Station, Exit #7
BOOK: via KKday to get 30% off on tickets
"Discover" more of Seoul
NOTE: If you have purchased the Discover Seoul Pass (no matter if it's the 24H or 48H option), this would be a good day to start its activation.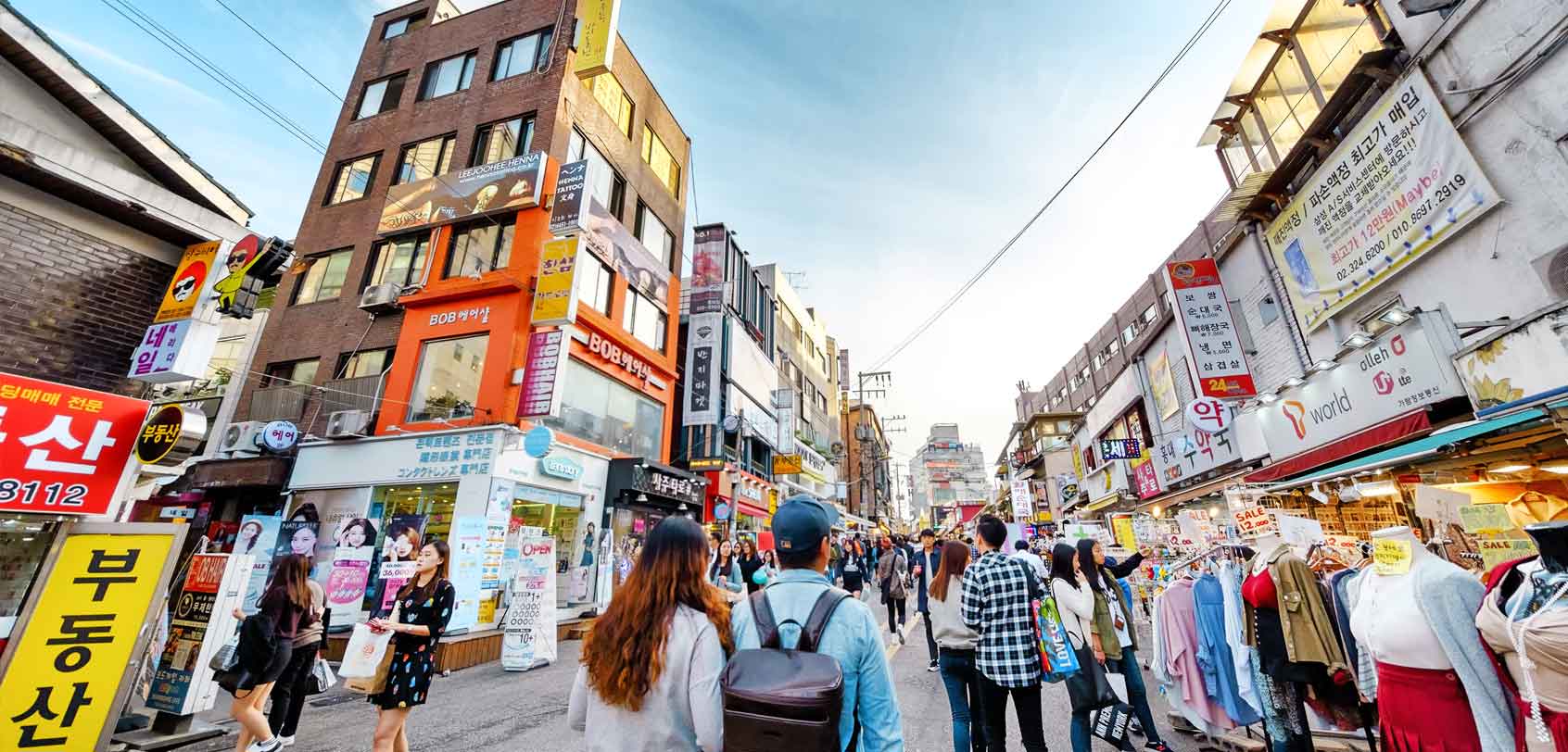 Hongdae from Shutterstock.com
◘◘ Explore and shop in Myeongdong and Hongdae
Myeongdong: (Nearest subway station: Myeongdong Station)
This is is arguably the shopping mecca of Seoul and its 2 main streets meet in the center — the first spanning from Myeongdong Subway Station and the second from Lotte Department Store at Euljiro. For the shopaholics, there is a wide range of branded shops and department stores that line Myeongdong's streets and alleys (e.g. Lotte Department Store, Shinsegae Department Store, Noon Square, etc.), and they are often set relatively cheaper than the other shopping areas in the city like Cheongdam-dong.
Of course, let's not forget that Myeongdong is a beauty-lover's dream too given the number of Korean cosmetic stores that regularly hold insane sales for their high-quality products. As an example, I went here to shop for face masks and one piece averaged at only USD$0.40~ or Php 20~! Some of the top stores you need to check are: Innisfree, Nature Republic, Holika Holika, Tony Moly, Nature Republic, and Laneige. (If you have heard of the Instagram-famous place called as Style Nanda Pink Hotel, you can find it here in this neighborhood or 'dong').
TIP

: Try to NOT buy from the first shop that you set foot into because most of the time, they will hand out free samples and masks, which could be quite a treat! In fact, I know that some people would hop from store to store just to collect samples, haha. Anyhow, in case you want to check out other places because you've got some time, shops in Hyehwa and Sincheon neighborhoods can have cheaper cosmetic products too. And oh, of course, do NOT ever forget claiming your tax refund!
Hongdae: (Nearest subway station: Hongik University Station, Exit #9)
It's no surprise that this area is often compared to Japan's Harajuku because of its hip and youthful ambience — with a dash of unique cafes and indie fashion shops here and there. Aside from strolling through 'Hongdae Walking Street', 'Picasso's Street' and 'Club Street', below are some of the places in and around Hongdae that you should consider stopping by:
Hongdae Free Market: Open on Saturdays from March to November at Hongik Children's Park. You will find here an array of local artist works.


.

Trickeye and Ice Museum: TrickEye museum is an interactive 3D space that gives off impressive optical illusions; whereas Ice Museum, as the name implies, is a space where you can enjoy a cool icy environment (e.g. a living room with a TV and couch made of ice and more). Entering to these places are free if you hold a Discover Seoul Pass, but if you don't have the pass, you can reserve your tickets online via KKday.


.

If you're looking to spend some time in cute cafe's, go to 'Chuu' or 'Zapangi'.


.
BONUS: Ewha Womans University is an educational institute with picturesque grounds, but more than this, it's actually smacked in a shopping area that sells a variety of affordable and stylish clothes for young people; therefore, this is also a good place to shop.
.
* * * * * *
◘◘ Get lunch
It's time to feast on a delicious Korean BBQ meal! While you're already in Hongdae, go and have it at Samgeori Pujutgan — a place well known for its high-quality meat and secret sauces.
For other food or restaurant options, click the "Extras" tab on top of this section.
.
* * * * * *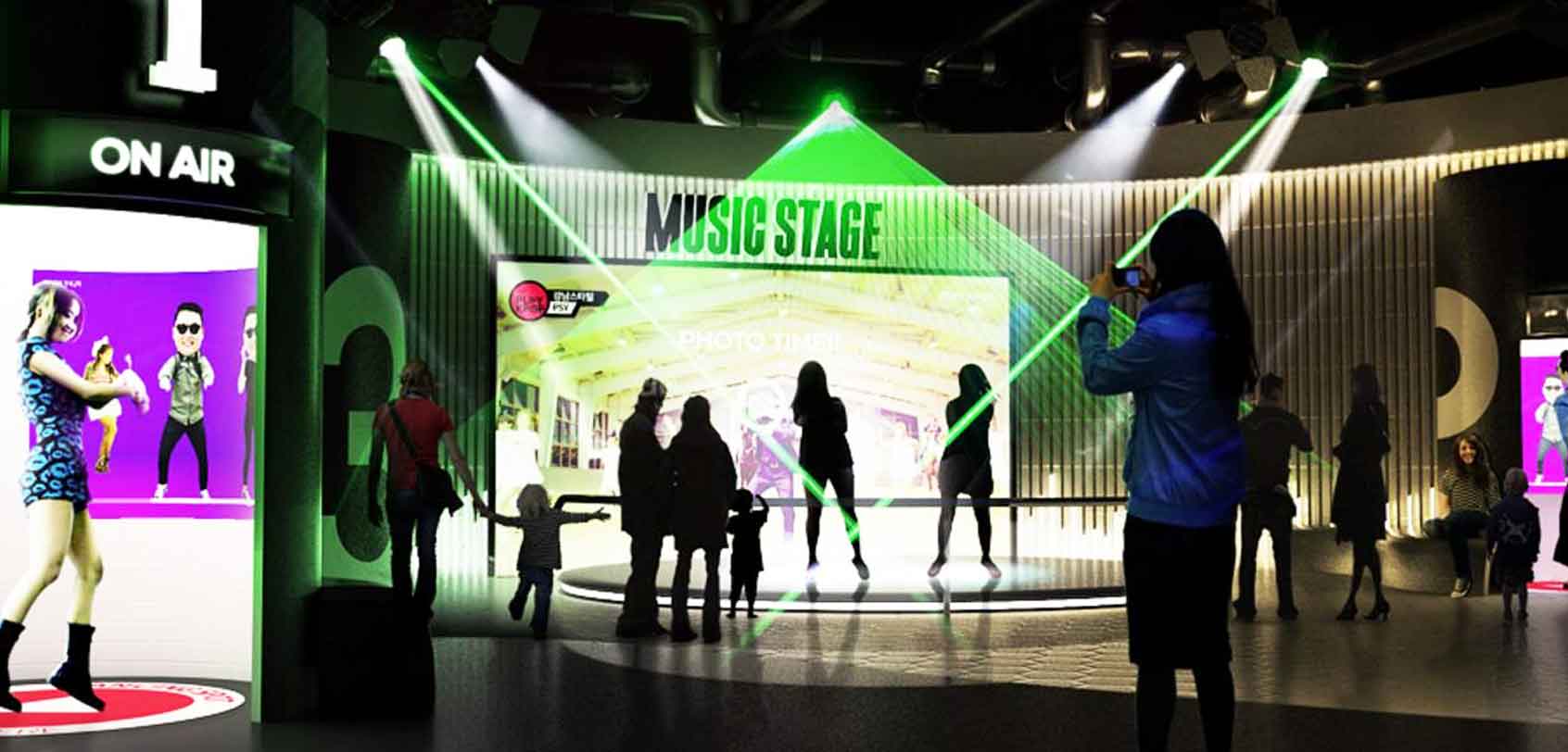 ◘◘ Make full use of your Discover Seoul Pass
If you've followed my advise and got yourself a Discover Seoul Pass, you can enter any of the establishments below for FREE! Take your pick from any of the following to fill up the rest of your day (best to pick 2 at most).
For a complete list of FREE admissions under the Discover Seoul Pass, you can also visit this page.
MBC World: (Nearest subway station: Digital Media City Station, Exit #9)
Are you a fan of K-pop, K-dramas, or Korean stars — or just 'hallyu' (Korean Wave) in general? Then MBC World is a great destination for your Seoul itinerary, as it will give you the chance to experience hologram K-pop concerts, virtual reality drama sets and more. (If you don't have the Discover Seoul Pass and want to separately book a ticket, go here).


.

SM Town Museum: (Nearest subway station: Samseong Station, Exit #6)
Still in line with the 'hallyu' fever, this place is dedicated to famous K-pop artists under the powerhouse of SM Entertainment in South Korea. Avid fans can tour through their training rooms, recording rooms, and so much more. (If you don't have the pass and want to separately book a ticket for this, go here).


.

Grévin Museum: (Nearest subway station: Euljiro 1-ga Station, Exit #1)
This is like Korea's version of Madam Tussauds. You can find about 80 wax figures of  Korean and international celebrities, as well as several thematic interactive experiences. (If you don't have the pass and want to separately book a ticket, go here).


.

63 Square: (Nearest subway station: Yeouinaru Station, Exit #4)
Other than gaining access to panoramic views of Seoul, you can also enter in 63 Square the first aquarium in Korea called as Aqua Planet 63. If you're a K-drama fan, this is actually the aquarium used in 'Legend of the Blue Sea' and where a Mermaid Show is regularly held. (If you don't have the pass and want to separately book a ticket, go here for the aquarium or here for the observatory. You can also book a romantic lunch or dinner on top of the 63 building).


.

COEX Aquarium: (Nearest subway station: Bongeunsa Station, Exit #7)
This place has the largest collection of marine life in Korea and you can watch feeding shows and interactive exhibits here too. (If you don't have the pass and want to separately book a ticket, go here).


.

Seoul City Tour Double-Decker Bus: Go on a hop-on-hop-off bus tour through the center of Seoul to get a glimpse of all of its past and present glory. (If you don't have the pass and want to separately book a ticket, go here).


.

Alive Museum: (Nearest subway station: Euljiro 3(sam) Station, Exit #1)
This place is similar with TrickEye Museum but it is arguably larger with several other exhibits such as the 'Dynamic Maze' (where participants must work together to overcome challenges) and the 'Black Wonderland' (where fairy tales like Alice in Wonderland, Frozen, Cinderella and Aladdin can be experienced in the dark). (If you don't have the pass and want to separately book a ticket, go here).


.

Seoul Zoo and Skylift: (Nearest subway station: Seoul Grand Park Station, Exit #2)
Seoul Zoo is South Korea's largest zoo with over 330 species of animals, inclusive of a botanical garden and a forest park. The icing to the cake? You can even ride the Sky Lift which can transport you to several places such as the Seoul Land theme park and more. (If you don't have the pass and want to separately book a ticket, go here).


.

Running Man: (Nearest subway station: Euljiro 1-ga Station, Exit #3)
Do you want to be a part of Korea's popular variety show, Running Man? Well with this thematic experience, you can do so! This will surely be a hilarious and fun adventure for you and your travel companions as you make your way through 6 zones, including Maze Battle. (If you don't have the pass and want to separately book a ticket, go here).


.
* * * * * *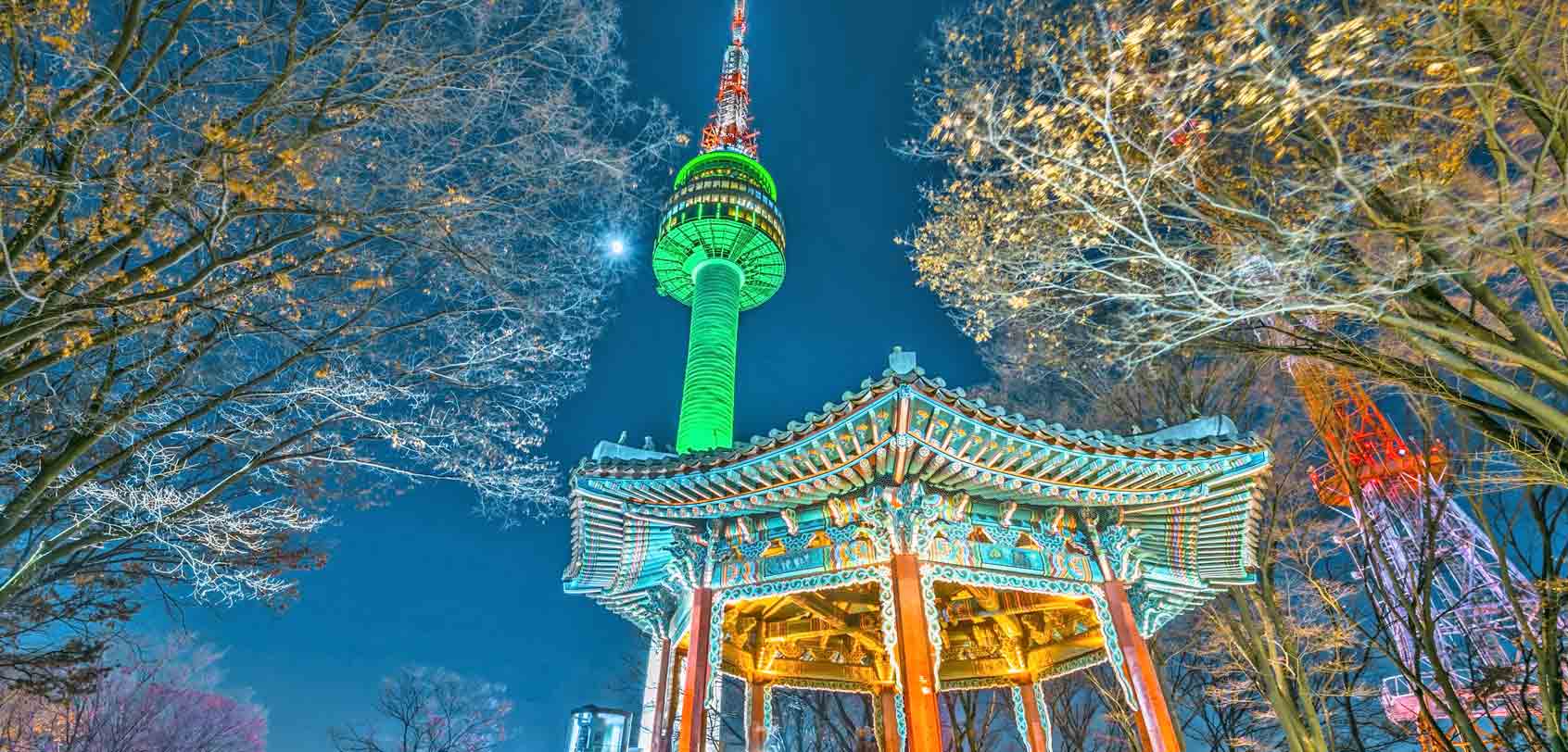 N Seoul Tower from Shutterstock.com
◘◘ Visit Namsan Park and N Seoul Tower
(Take Namsan Shuttle Bus, Circulation Bus No. 2, 3, or 5). Mt. Namsan's Namsan Park is a symbolic place in the center of Seoul. To get up here, you can ride a cable car, a bus, or just simply walk up its stairway path. Most visitors come to this place to enjoy the nature, to see the city skyline or to do some of the hiking trails — but a majority makes a stop to the famous N Seoul Tower which is the first tower-type tourism spot in South Korea.
Rising at almost 480m above sea level, it is certainly one of the tallest towers in Asia. Once you set foot in its premises, you can explore its other attractions such as the LED tunnel, Hello Kitty Island, Ssentoy Museum & Showroom and more.
BOOK: via KKday to get a discounted ticket to the tower's observatory


.

TIP

: Other than N Seoul Tower, you can also find Palgakjeong Pavillion (octagonal hall) and Bonghwadae (beacon mounds that were used to signal incoming enemy invasions in the past).


.
* * * * * *
◘◘ Grab dinner
I have two options for you, depending on what you fancy:
A traditional royal Korean cuisine dinner: Feast on fresh and high quality Korean cuisine set in a traditionally-styled restaurant called as Myongdongjeong. What's more? You can also rent their hanbok for free to while eating to really feel as though you've been transported to a royal palace.


.

A cruise buffet dinner through Hangang River: Hangang or Han River is a major river in South Korea, and it is best enjoyed during the night with Eland Cruise as you glide through the waters and taste a delectable food buffet. Before the end of your cruise, you can even witness a firework show and a front-row view on the colorful Banpo Bridge Rainbouw Fountain Show. To reserve your spot, go here.
For other food or restaurant options, click the "Extras" tab on top of this section.
.
* * * * * *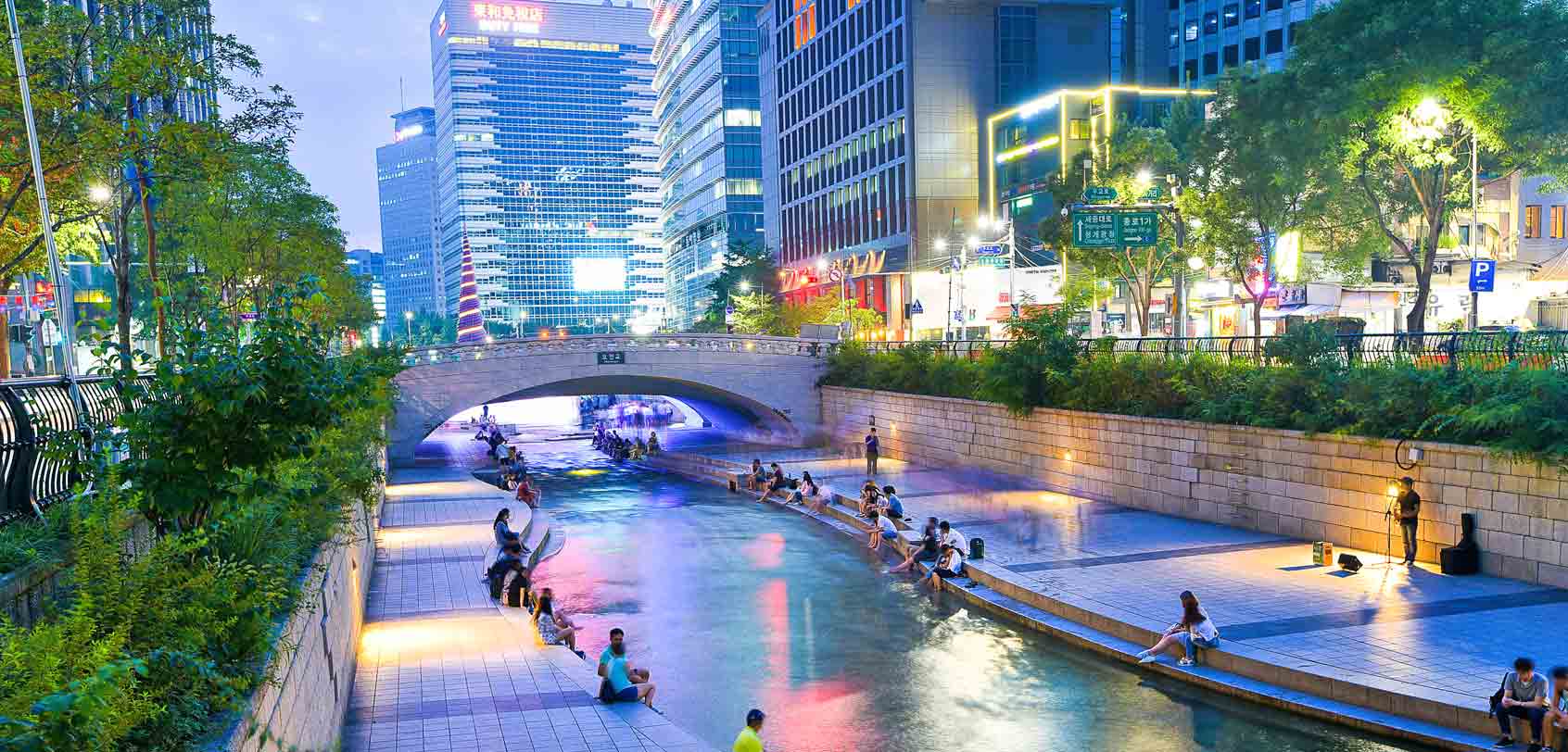 Cheonggyecheon from Shutterstock.com
◘◘ Walk through Cheonggyecheon Stream
(Nearest subway station: Jongno5(0)ga Station, Exit #7 ). Cheonggyecheon is a picturesque 11km-long modern stream that runs through a total of 22 bridges before flowing into the Hangang or Han River. Some examples of the beautiful bridges that it has is Narae Bridge (that represents a butterfly) and Gwanggyo Bridge (depicting the harmony of the past and the future).
A lot of Seoulites wind down to this spot to chill and bask under the city lights, the lush ambience, and the surrounding man-made waterfalls, if not partake in the Bamdokkaebi (Goblin) Night Market from May to October — so why not do the same?
A 'chill' kind of day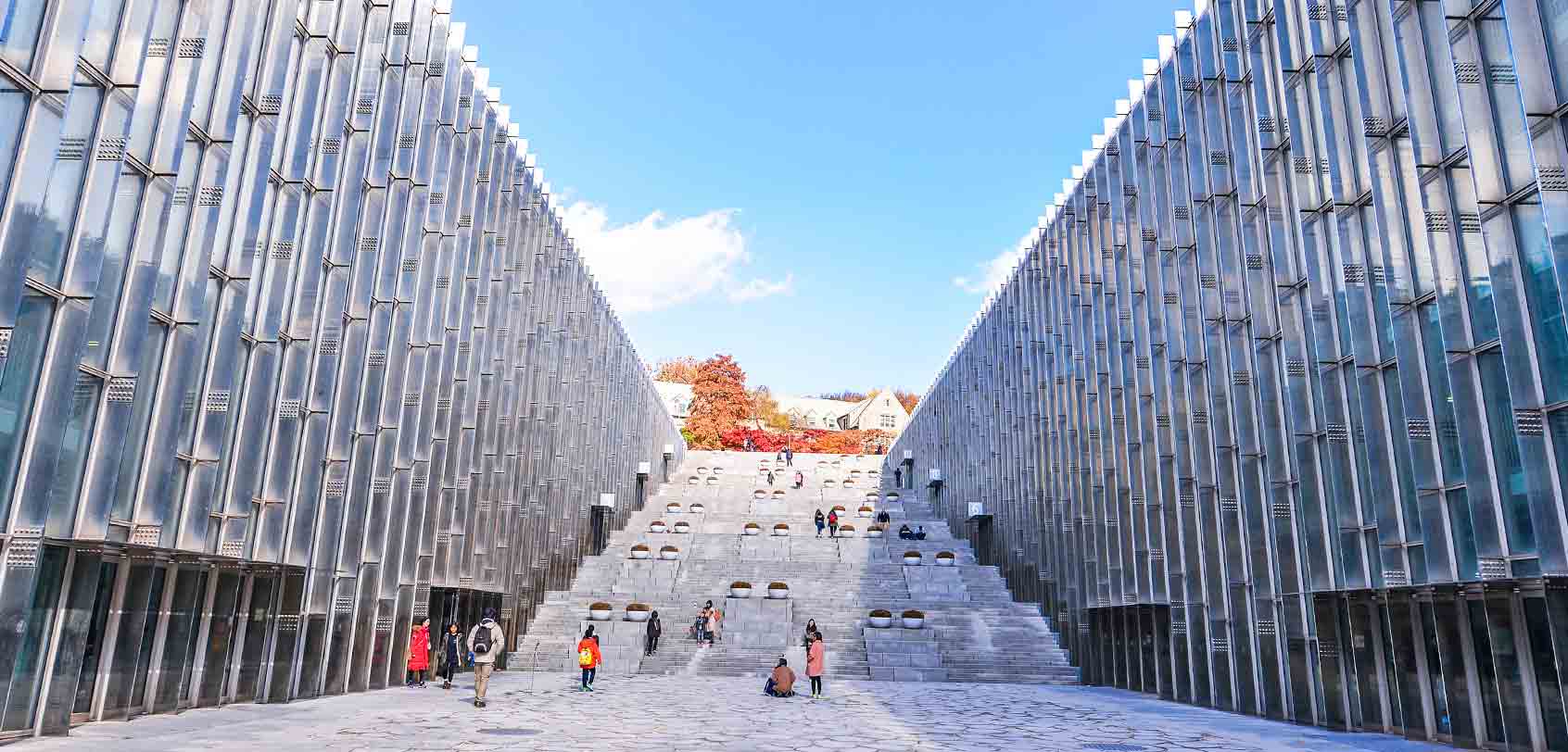 Ewha University from Shutterstock.com
◘◘ Do a "Discover Seoul Pass" or "Extras" activity
I recommend that you pick up an activity that you prefer from any of the previously listed things-to-do that I've written under Day #2's 'Discover Seoul Pass' options. If not, you can also browse through the "Extras" tab above.
If you ask me, doing either a cooking class or a K-pop dance class will be a LOT of fun!
.
* * * * * *
◘◘ Grab lunch
If doing a cooking class is NOT part of your Seoul itinerary today, I have two restaurant options for you to grab some chow in:
Hangaram: (Nearest subway station: Express Bus Terminal Station)
Hangaram is a great choice if you want to taste some of the beloved Korean staples like bibimbap (mixed rice bowl), bulgogi (stir-fried beef), japchae (stir-fried glass noodles), kimchi (fermented vegetables), etc.


.

Tosokchon Samgyetang: (Nearest subway station: Gyeongbokgung Station, Exit #2)
Another Korean dish that you need to taste is samgyetang or ginseng chicken soup and this restaurant is often lauded as the BEST place to eat it in.
For other food or restaurant options, click the "Extras" tab on top of this section.
.
* * * * * *
◘◘ Shop for highly discounted Korean food and snacks at Lotte Mart!
(Nearest subway station: Seoul Station, Exit #4 ). Naturally, going through any of the night markets I've listed under Day #1 will already grant you access to the cheapest food and snacks possible. However, other than those, I think that you should also go on a crazy chow shopping spree at Lotte Mart's Seoul Station Branch! Why so? Well… as one of the leading discount store chains in South Korea, they sell ridicilously low-priced goods.
I swear to you, I bought about only USD$20-worth of snacks here, yet it was enough to gift them to more than 20 of people! (On top of the discounted items, you can get at most an 8% tax refund, and more to that, they also provide a free self-packing station so that you can pack all your purchased items in sealed boxes).
For the must-buy snacks? It would be tteokbokki junk food, Binggrae banana-flavored milk, choco pies, yoghurt jelly, honey butter chips, fire noodles (called also as Buldak Bokkeum Myeon), Lotte stick biscuits, and honey butter almond among many others!
TIP: While you're here, don't miss dropping by the nearby newly-opened (May 2017) sky garden walkway called as Seoullo 7017!


.
* * * * * *
◘◘ Walk around Gangnam
(Nearest subway station: Gangnam Station) There's probably not a soul in this world who hasn't heard of 'Gangnam' (and we have PSY to thank for that). For your info, Gangnam is Seoul's upscale modern center that is home to high skyscrapers, designer brands, high-end restaurants and pulsating nightclubs — so yes, it's the home to many wealthy Koreans. In fact, you can think of it as the 'Beverly Hills' of Seoul. To make the most of your visit here, stop by the following (it's best to pick 3 at most).
Gangnam Terminal Underground Shopping Centre: You'll find this from the moment that you step foot in Gangnam Station's subway. With an array of accessories, clothing, cosmetics and shoes, I have found a lot of sweet bargains here myself!


.

Gangnam Square: Right outside Gangnam Station's Exit #5 is the spacious Gangnam Square which has a small section built as a tribute to PSY's 'Gangnam Style' hit song, as well as the Gangnam-daero Road that's speckled with variety shops.


.

Apgujeong Rodeo Street and Cheongdam Fashion Street: (Nearest subway station: Apgujeong Rodeo Station, Exit #1 and Exit #3 respectively.) If you haven't had enough of shopping but are looking for more upmarket shops.


.

Hallyu K-Star Road: K-pop fans must not skip on this! Found between Apgujeong Rodeo Station and Cheongdam Station are adorable GangnamDols that are each autographed by K-pop groups like EXO, BTS, Super Junior, and more. For a detailed list, you can check here.


.

Garosu-gil Road: (Nearest subway station: Sinsa Station, Exit #8)
This Gingko tree-lined street is a popular, trendy street in the city of Seoul and it is even often called as 'artists street' due to the number of quaint cafes and designer stores. Some charming cafes that you can choose from are Gingko Avenue, Line Friends Cafe, Cafe de Paris, and IKOVOX.


.

Starfield COEX Mall: (Nearest subway station: Bongeunsa Station, Exit #7)
This mall is a shopping mecca, but more than this, it has interesting amenities too that are not limited to the COEX Aquarium and the Starfield Library. The latter is the newest built facility in the premises and it features 50,000 books and magazines in a grand yet relaxed setting.


.

SM Town Museum: (Nearest subway station: Samseong Station, Exit #6)
This place is dedicated to famous K-pop artists under the powerhouse of SM Entertainment in South Korea. Avid fans can tour through their training rooms, recording rooms, and so much more. (If you don't have the pass and want to separately book a ticket, go here).


.

Lotte World: (Nearest subway station: Jamsil Station)
As Seoul's largest indoor and outdoor amusement theme park, you will actually need a full day to enjoy this place — but I still felt like including this here, just so you know that it's located in this Gangnam area. So if you have a spare day, it would be great to visit Lotte World. Another theme park choice would be Everland, but if you want other options, check the "Extras" tab above.


.
* * * * * *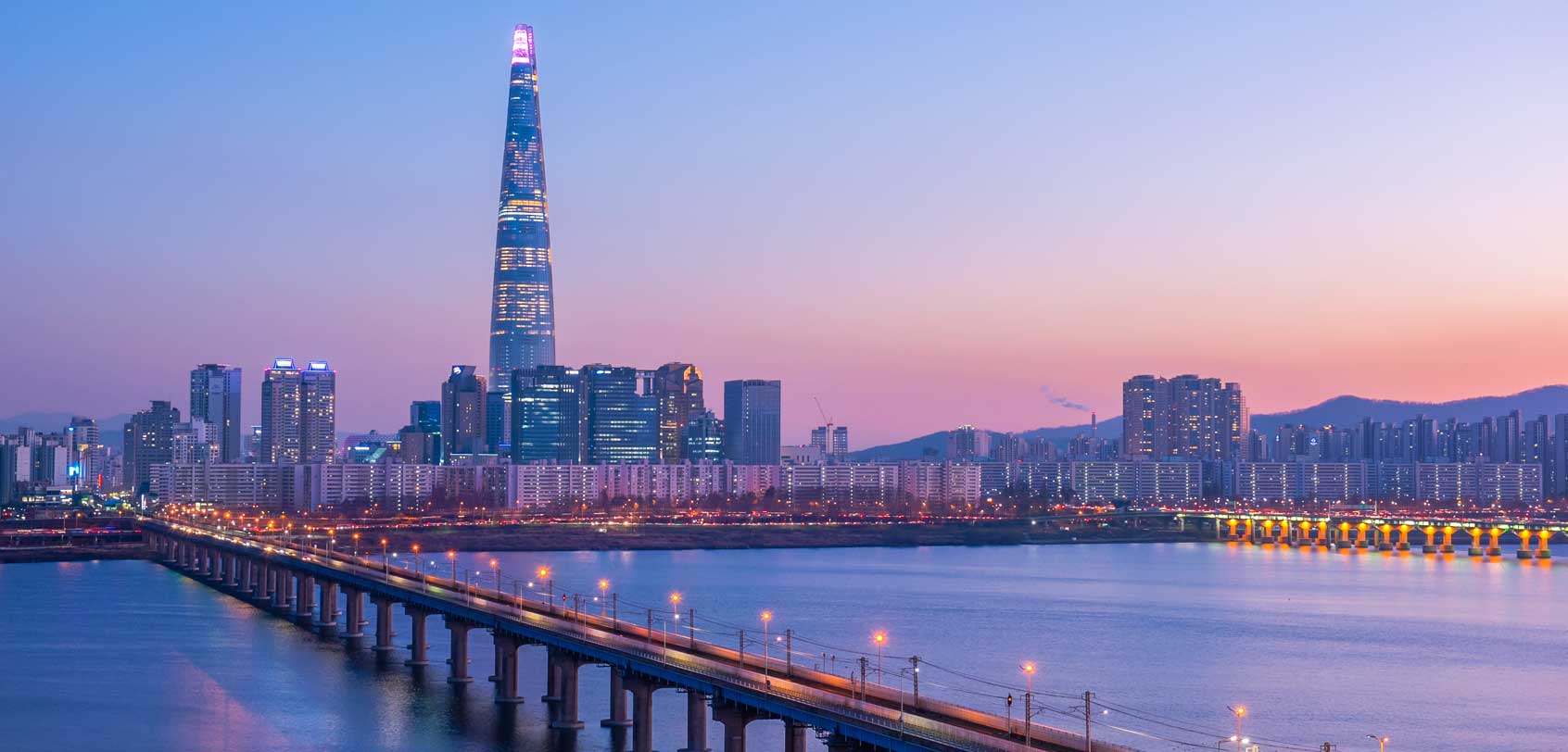 ◘◘ Go up to Lotte World TowerLotte World Tower from Shutterstock.com
Towering at 554 meters, this new 123-floor skyscraper just opened last April 2017 and it is currently the tallest building in Seoul and the 5th tallest in the world. It contains several cafes, galleries, a luxury hotel, a skywalk and an observation deck.
Obviously, this is the best place for viewing panoramic views of the cityscape and I highly suggest that you go up to the observatory not only to enjoy the view with a cup of coffe, but to also experience its glass floors! Though it was nerve-wracking at first, it was really cool to feel as though I was floating up in the air like that! (Another thing you can enjoy nearby is Lotte World Mall).
NEAREST SUBWAY: Jamsil Station, Exit #2
BOOK: ₩27,000 for adults and ₩24,000 for children
.
* * * * * *
◘◘ Grab dinner
I think it's time to have a meal with the guidance of a local, so why not try a Seoul street food tour for instance? If you're not game for that, you can find other food or restaurant options under the "Extras" tab on top of this section.
All about DMZ
JSA from Shutterstock.com
◘◘ Visit the Korean Demilitarized Zone (DMZ)
It's no news that the Korean peninsula has long been divided into the two countries: North Korea and South Korea. Unfortunately, it was not at all a peaceful separation given the infamous 250km-long buffer zone of the Demilitarized Zone (DMZ) that separates the two since 1953.
Today, it is referred to as the most heavily guarded area in the world with battle-ready armies, fences, landmines, and fences on both sides — it's absolutely one of the scariest place in the world! …And yet, it continues to be a popular major tourist attraction in South Korea that attracts a lot of history buffs and curious folks worldwide who are seeking to witness this surreal land for themselves (people like me).
Now, you might have heard the recent news this 2018 on how North and South Korea have agreed to end the long-running Korean War in order to purse a more peaceful relationship with one another — a great news not only for the Koreans but for the world too! That being said, it's possible that DMZ will thankfully transition into a more amicable place soon — but for now, it seems that the below tours are still being held:
Panmunjom Joint Security Area (JSA) Tour: This is the most sought-after tour by travelers to South Korea's DMZ because this is the closest place to North Korean soil that anyone can step into without getting arrested or shot. A tour to JSA will only be possible through an organized tour that is approved by the government and it will basically take the guests to the iconic blue UN building that is smacked on the border — with both North and South Korean soldiers facing one another (as if they're on a staring showdown). As of April 2018, trips to JSA have been shutdown not only due to military tension but also due to the imminent talks that are going to happen between the leaders of the North and the South. With that, it's highly likely that this place will soon change into an experience that is less tense; either way, it is still possible for you to get a glimpse of DMZ by going on a different tour that goes to the…


.

Third Tunnel of Aggression Tour:  This is one of the 4 known tunnels that have been eerily dug out by North Korea as a way to possibly invade South Korea — a passage that is said to have the capacity to transport 30,000 soldiers per hour as a surprise attack on Seoul. We were even told by our guide that there's a possibility of 10 or 20 other tunnels that haven't been discovered yet! North Korea defended itself by saying that it's a part of a coal mine but evidences on the tunnel's walls suggest otherwise. Since then, the tunnel has been blocked with 3 barricades and then turned into a tourist site (but of course it is still well-guarded). Touring to the Third Tunnel of Aggression also involves the following stops:

Imjingak Resort

: This was built in the hopes that unification would someday be possible

North Korea Center of Unification Board: Shows over hundred of photos and documents showing the stark reality of North Korea.
Mangbaedan Alter: The spot where Korean's separated from their families in the North. Koreans typically visit this place on New Year's Day and Chuseok (Korean Thanksgiving) to perform ancestral rites to their home and relatives in the North.
Bridge of Freedom: Where South Koreans have crossed when they were released from North Korea. You will witness a lot of ribbons tied to the fences that each contain messages of hope, peace and love.
Dora Observatory: From here, visitors can look closer into North Korea with binoculars as they witness things like the North Korean propaganda village, Kaesong city, and others.
Dorasan Station: This is the northernmost train stop on South Korea's railway line and locals hope that it would one day connect North and South Korea when peace finally prevails.
It is possible to combine the two tours above for a whole day experience, but since I visited in April 2018, the JSA tour was no longer being offered — nevertheless, the DMZ tour that I've done to the Third Tunnel of Aggression still proved to be such an amazing yet surreal experience (not to mention that our tour guide was beyond amazing given how she provided a lot of interesting history and explanations).
BOOK: via Here to get a discounted rate
.
* * * * * *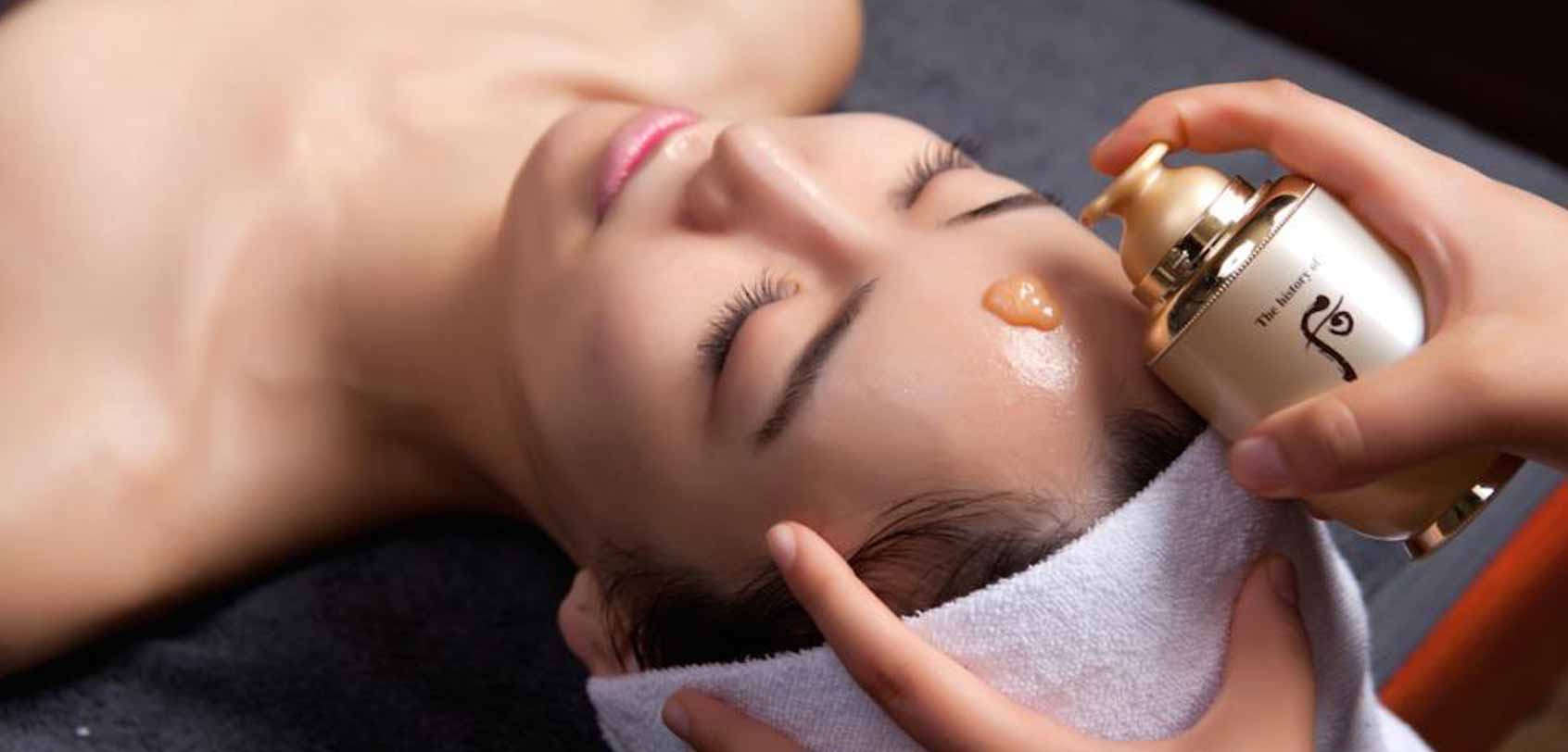 ◘◘ Visit a spa or a jjimjilbang
After your tense morning tour to DMZ, how about you relax and pamper yourself with Korea's well-liked spa services? Apart from getting a Korean massage, I urge you to experience jjimjilbang or a large gender-segregated public bouth house complete with hot tubs, showers, traditional Korean kiln saunas and massage tables.
If you're a fan of K-dramas, you will probably be familiar with this because it's a common place that Koreans frequent for spa services. For this, you can visit Dragon Hill Spa (or if you hold a Discover Seoul Pass, it gives you free admission to Sealala jjimjilbang).
NEAREST SUBWAY STATION: Itaewon Station, Exit #3
BOOK: go to this link to get a discounted rate
ALTERNATIVE: If you rather want to relax in nature, go over to the World Cup Park, a humongous space that used to be a landfill but has now been turned into a park with 5 different sections: Pyeonghwa (Peace) Park, Haneul (Sky) Park, Noeul (Sunset) Park, Nanjicheon Park, and Nanji Hangang Park. A crowd favorite would be Haneul Park as it's the highest elevation of the five parks.
.
* * * * * *
◘◘ Grab Dinner
I have two options for you, depending on what you prefer:
Day tour to Gapyeong County
◘◘ Explore Gapyeong County's wonders
It's time to venture out of Seoul's busy metropolis to get some fresh air and tranquility. For this, a day trip to Gapyeong County's top attractions is recommended!
» READ: My detailed guide on this tour by clicking [here].
Petite France: This is a charming place that serves as both a cultural village and a youth training facility with over 16 French-styled buildings. Petite France is also recognized as a top filming location for Korean dramas like 'Secret Garden' and 'My Love from the Star'. With its European ambience, it is also somewhat of a tribute to Saint-Exupery, the author of the famous French Novel: 'Le Petit France'.
~Entrance fee: ₩10,000 adults / ₩5,000 children


.

Nami Island: A half-moon shaped island nestling inside an artificial lake known for being the filming grounds of the well-known K-drama 'Winter Sonata'. Nami Island is home to rows of majestic trees, roaming animals, and art exhibits, making it a sought-after destination in every season! I highly recommend that you rent a bike when you're here; otherwise, there are other activities you can do such as doing water sports, trying on the roller skating rink, going on the shooting range, and more.
~Entrance fee: ₩13,000


.

Garden of Morning Calm: This grand 30,000sqm garden is open all year round and it is regarded as the oldest private garden in Korea with an artistic space that's sure to leave anyone in awe. The Garden of Morning Calm becomes even more magical during winter (December to March) when they set up hundreds of multi-colored lights to create themed gardens, so make sure that this is on your Seoul itinerary!
~Entrance fee: ₩9,500 adults / ₩6,000 children


.

Gangchon Rail Bike: Built on a discontinued trail line, Gangchon Rail Bike is a fun attraction where you can pedal through old railroad tracks while taking in the amazing Bukhangang River scenery. Rest assured, it doesn't require much effort to pedal the makeshift carts because the rail lines are slightly slopping downhill.
~Entrance fee: ₩30,000 for a two-seater


.

Edelweiss Park: Edelweiss Park is similar to Petite France, but instead, it focuses more on being a Swiss-based cultural village, so it's filled with Swiss architecture, establishments, and sceneries.
~Entrance fee: ₩10,000


.
For a hassle-free experience, it would be advisable to go on a guided tour. Nowadays, there are different packages so feel free to take your pick from any of the combinations below (they often already include a delectable dak-galbi lunch):
– (1 stop) Gangchon Rail Bike
– (2 stops) Nami Island + Petite France
– (3 stops) Nami Island + Petite France + Garden of Morning Calm
– (3 stops) Nami Island + The Garden of Morning Calm + Gangchon Rail Bike
– (3 stops) Garden of Morning Calm + Gangchon Rail Park + Edelweiss Swiss
– (4 stops) Nami Island + Petite France + The Garden of Morning Calm + Gangchon Rail Bike (use promo code IAMAILEEN to get 10% off*)
*The promo code covers the following countries: Philippines, United States, Canada, Mexico, United Kingdom, Ireland, Germany, France, Greece, Hungary, Denmark, Italy, Australia, Malaysia, Laos, Cambodia, Singapore, and Papua New Guinea
If not, you can take the 'Gapyeong Tourist Bus' which can bring you to all of these locations for only ₩6,000 — the downside though is that the buses run only once every hour, and with the crowds that go to all of these places, it's likely that the spots get filled quickly. (This is why I suggest going on a guided tour instead.)
.
* * * * * *
◘◘ Grab Dinner
I have two options for you, depending on what you prefer:
Samgyeopsal: Taste this hearty grilled pork belly dish at Palsaik which is very popular with locals.
Jokbal: Try this Korean dish consisting of soft pig's trotters cooked in soy sauce and spices at Manjok Ohyang Jokbal.
List of other Seoul activities
◘◘ Family Fun ◘◘
.
* * * * * *
◘◘ K-drama and K-pop ◘◘

.
* * * * * *
◘◘ Korean Performances ◘◘
.
* * * * * *
◘◘ Beauty ◘◘
.
* * * * * *
◘◘ Workshops ◘◘
.
* * * * * *
◘◘ Food & Restaurants ◘◘
Budae Jjigae
Try budae jjigae, the iconic Korean 'Army Stew'.
.
* * * * * *
◘◘ City Trips ◘◘
Jeonju
Known for its bibimbap and heritage village.
Busan
Experience the best of Busan.
Paju
Discover Paju City, Korea's art hub.
.


[ad_2]