[ad_1]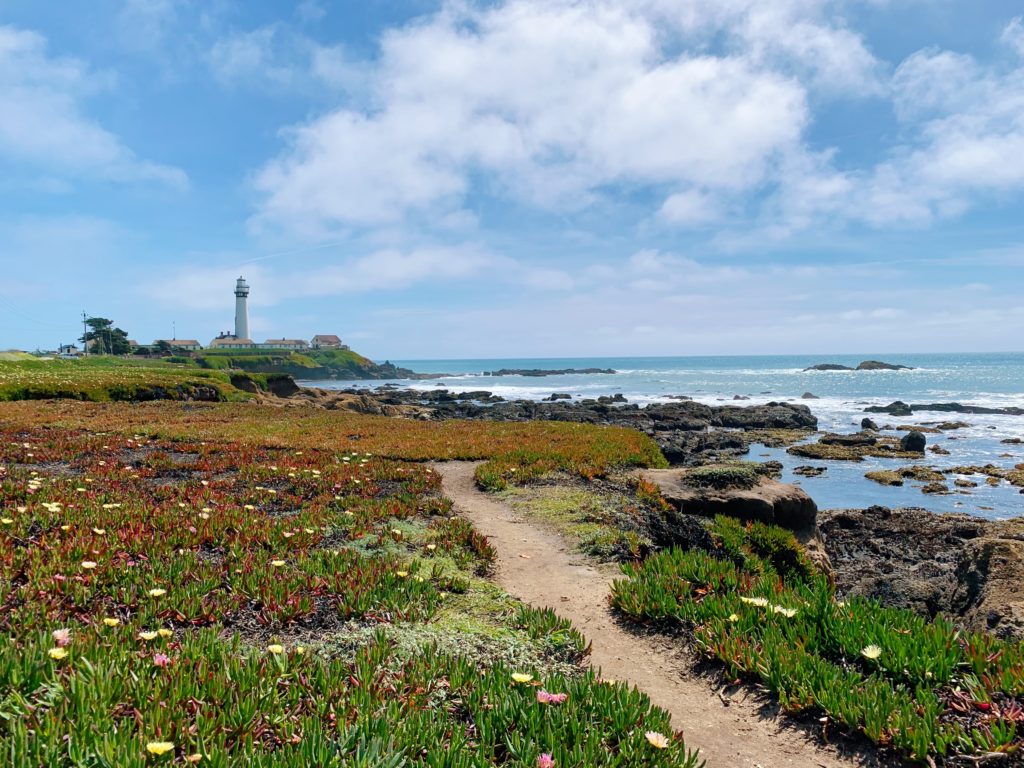 Pescadero is a historic farming and ranching community nestled along the Northern California coast, just north of Santa Cruz and south of Half Moon Bay. It's a blink-and-you'll-miss-it town, with a population of less than 650 people and a history stretching back to the 1850s.
During our day trip to Pescadero at the end of March, the first thing that struck me about the area was how unbelievably peaceful it was; Louis Armstrong's What A Wonderful World definitely popped into my mind on more than one occasion as we drove past rolling green pastures and colorful fields of wildflowers.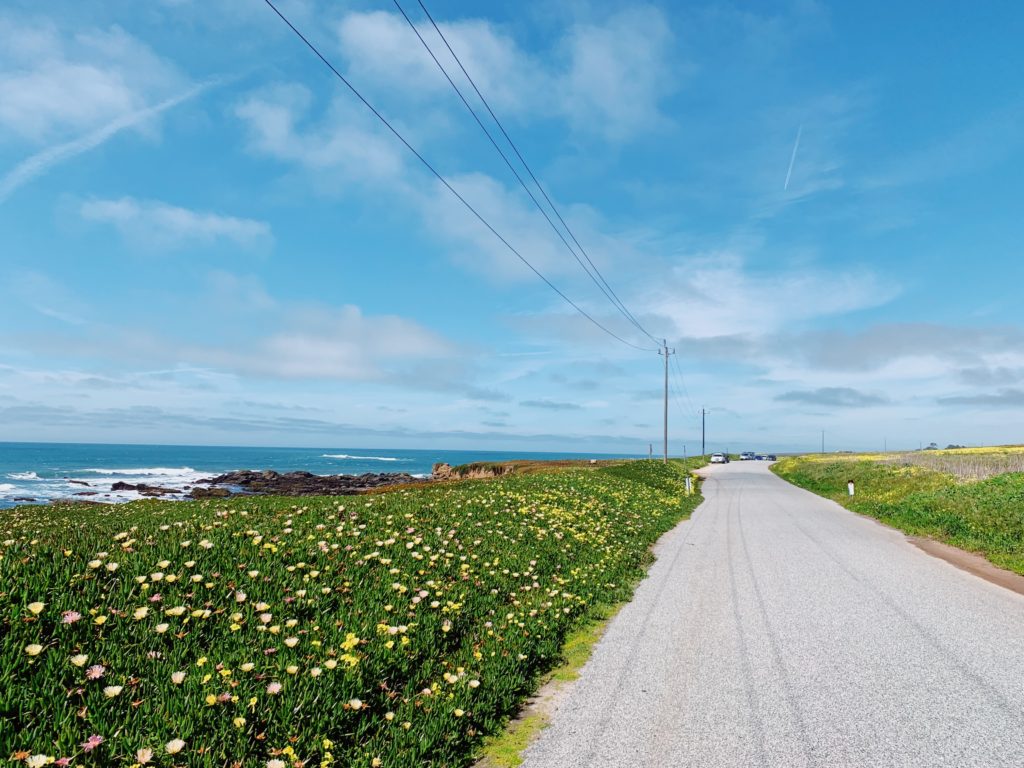 Despite being situated just a few miles from the crashing waves of the Pacific—where you can watch whales from the shoreline and gaze upon historic lighthouses—Pescadero is the quintessential pastoral setting, complete with rolling green hills, dilapidated barns and rusty tractors.
It's a place where you can visit idyllic family-own ranches, twirl through flower fields and pick your own strawberries in the summertime, but also walk barefoot down foggy beaches, collect seashells and scope out secret surf spots.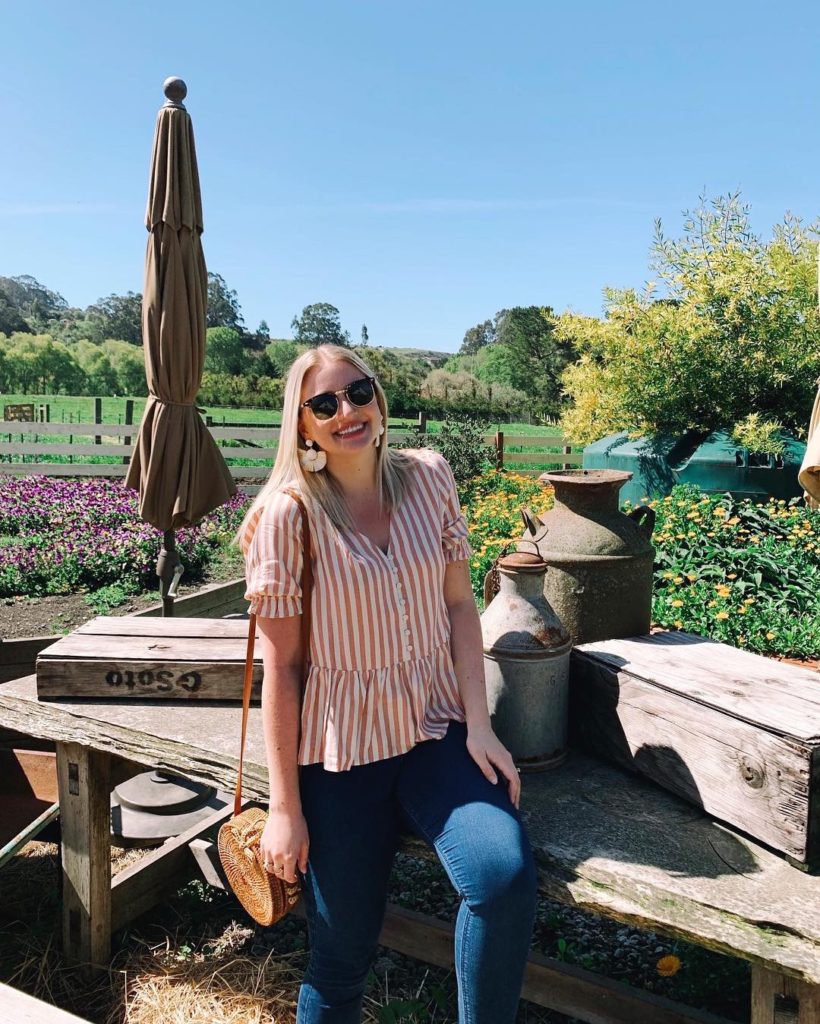 Rural farmlands and dramatic coastline might seem like a strange combination to those not familiar with Northern California, but it is one I have grown to love deeply since moving to the Bay Area two years ago.
Whether you're road-tripping down the California coast, looking for a unique excursion during your visit to San Francisco, or are local to the Bay Area, spending one day in Pescadero is a very worthwhile addition to your NorCal bucket list.
Harley Farms Goat Dairy
I have three words for you: SNUGGLE. BABY. GOATS.
That's exactly what we did during our two hours at Harley Farms Goat Dairy, the first stop during our day trip to Pescadero. We booked one of their 11:00am farm tours, which lasted for 1.5 hours and took us through the edible gardens, pastures, barn and milking room.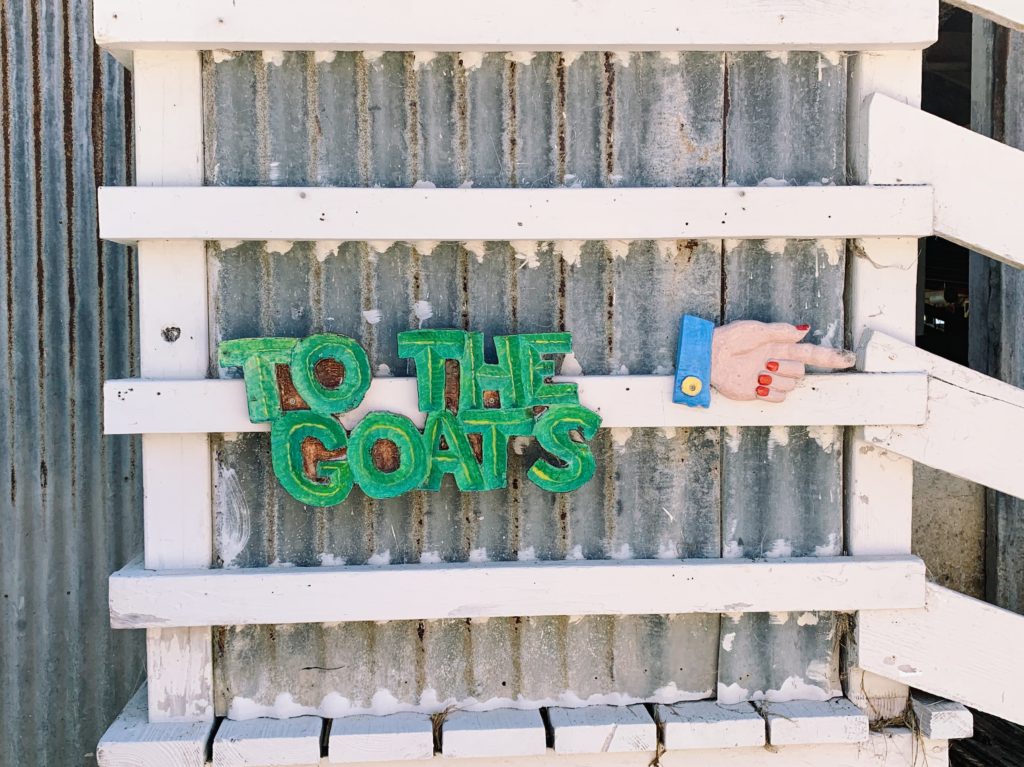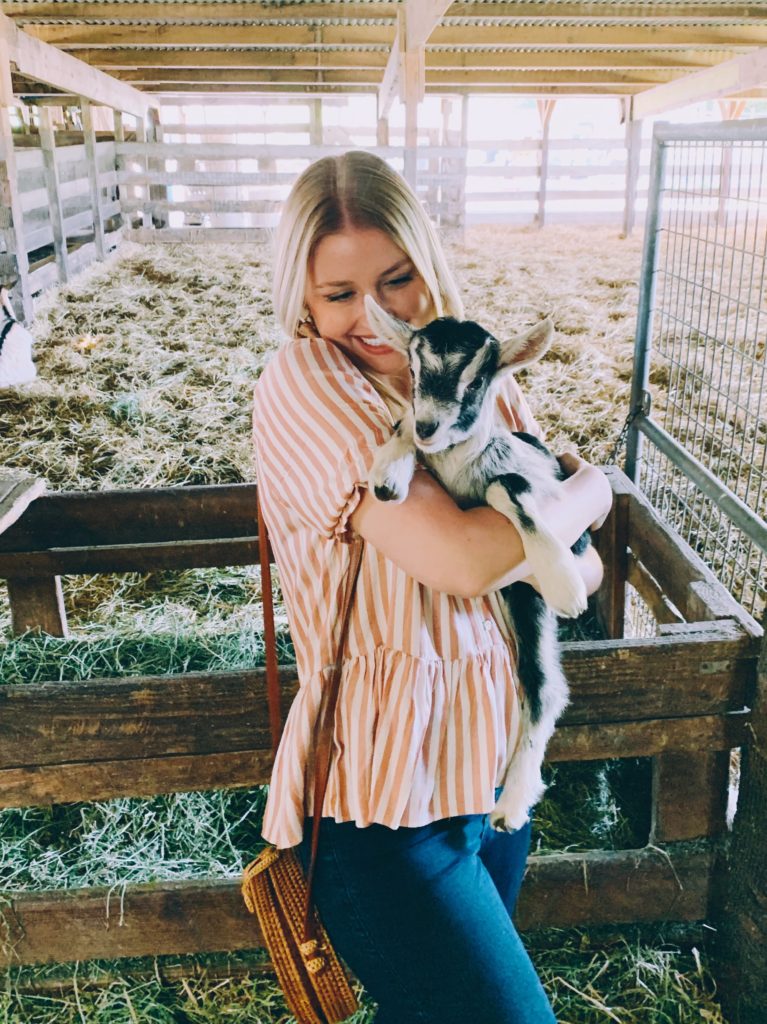 The obvious highlight of the morning was seeing the brand new baby goats in the barn! Most of these little guys were just a few weeks old, and we were allowed to scoop them up out of their pens and snuggle them in our arms. Needless to say, I just about DIED from the sheer cuteness of it all.
The baby goats were so playful and curious, trying to nibble on everyone's clothing, shoes, purses, and fingers. They were absolute little love-bugs and seemed very happy to be held and petted; they kept jumping up against their pens trying to get to us, and wagged their tails like puppies!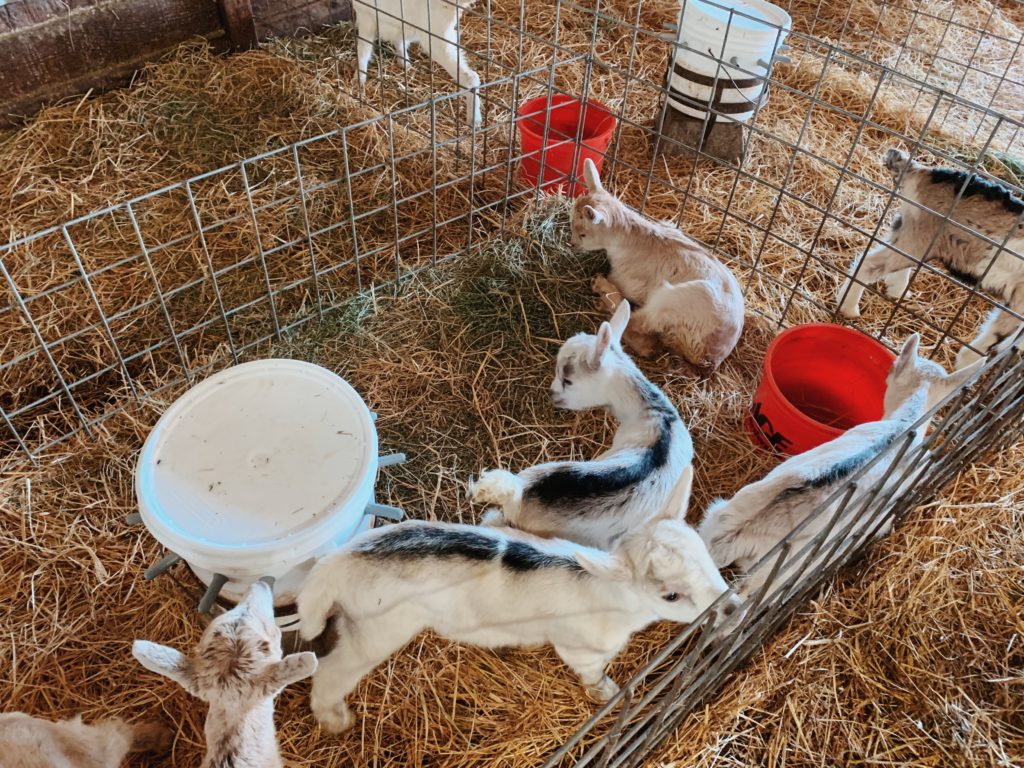 I was pleasantly surprised to find that we essentially had as long as we wanted to interact with the babies. The whole group eventually trickled out from the barn into the pasture where the adult goats were grazing, but Derek and I lingered with the babies for quite a while after most of the others had gone.
IMPORTANT: Baby goat season lasts from February through May, and if you want to hold the babies you MUST book one of the tours!
You can absolutely still visit the farm and see the babies without booking a tour, but I do recommend snagging one of the tour spots if you get the chance. Spots are limited and fill up quickly, so be sure to book weeks or even months in advance!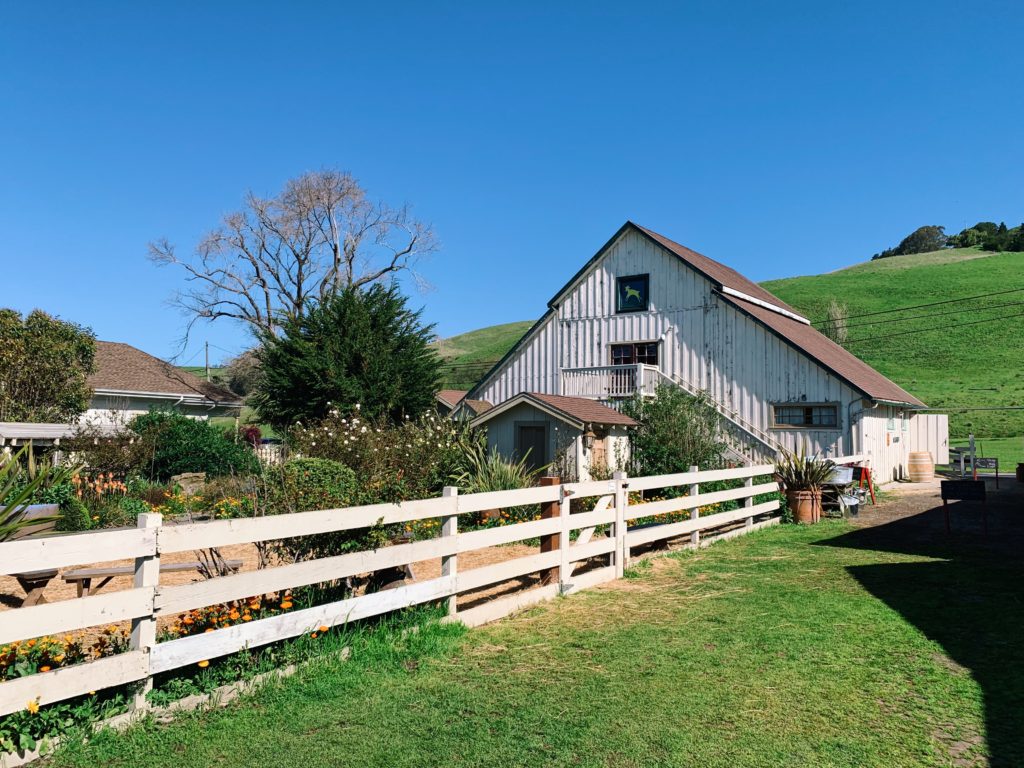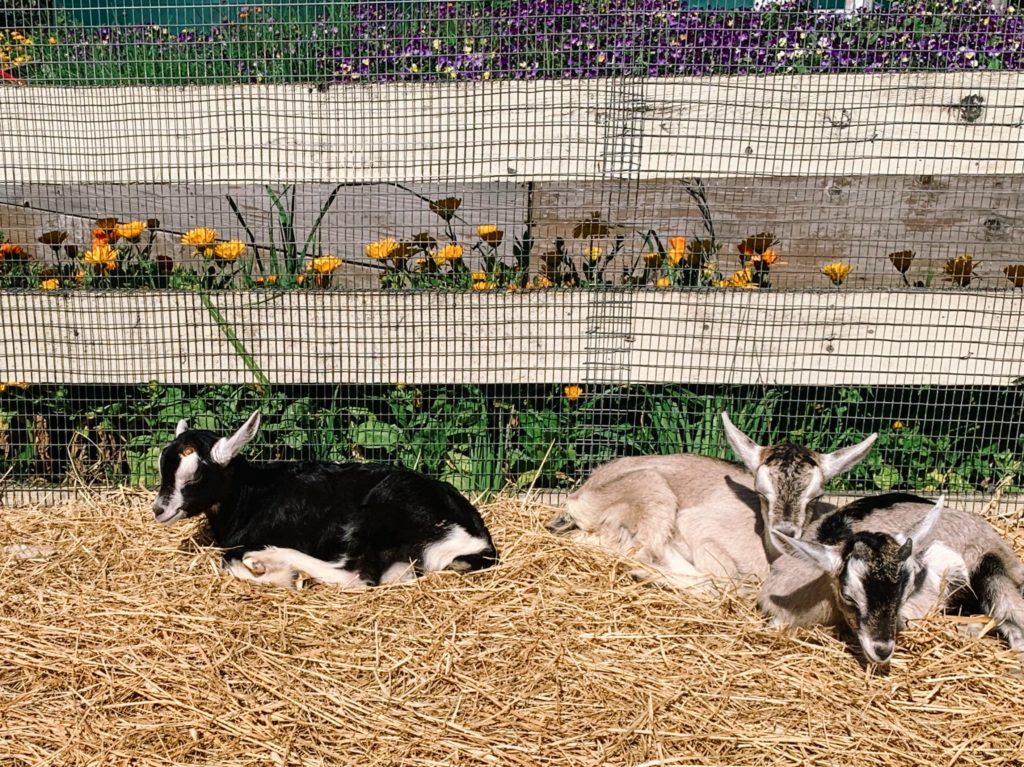 That said, my honest opinion is that certain parts of the tour dragged on a bit; the first 30 minutes were spent sitting in the gardens learning about the history of Pescadero and Harley Farms. Definitely some fun little tidbits of knowledge in there, but ultimately we just wanted to get to the babies
The tour ended in the hayloft, with a tasting of two of the farm's most popular cheeses: the Honey Lavender Chèvre and the Monet Chèvre, which is adorned with edible wildflowers from the farm's garden.
Both were divine, but that lavender cheese is the stuff dreams are made of!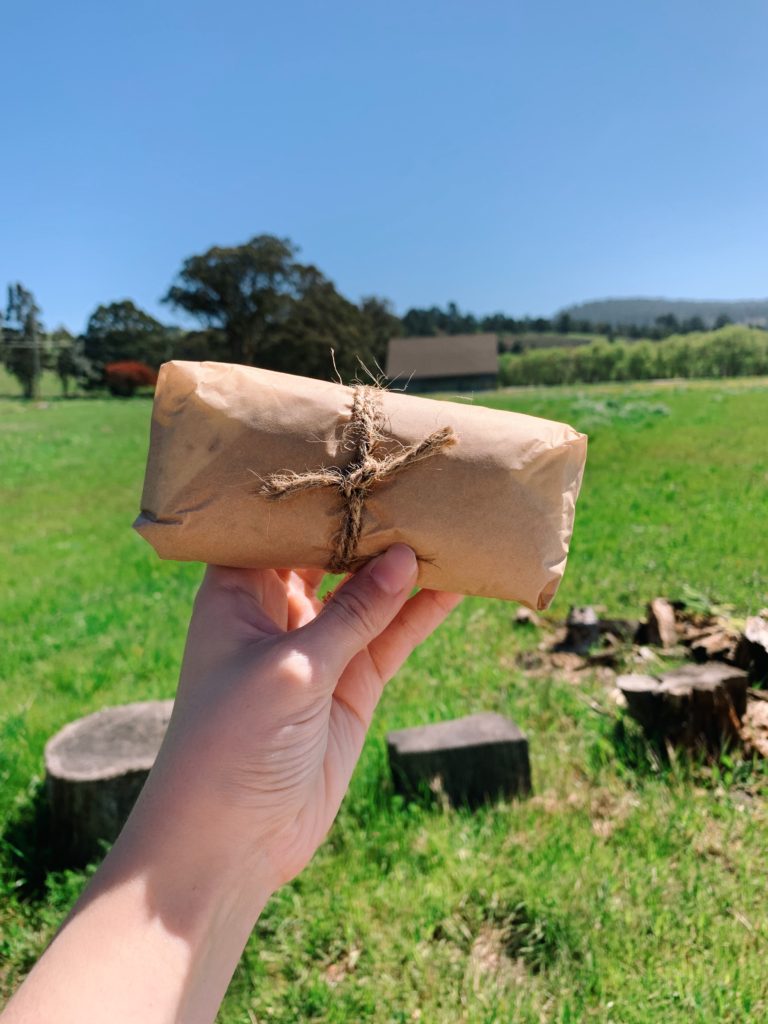 Don't miss the shop, where you can sample even more cheeses with sourdough bread while browsing through farm-fresh dairy products, locally-made honeys and jellies, chocolates, soaps, lotions, and other adorable keepsakes from the farm. They even sell slices of cheesecake made with goats milk!
It is no exaggeration when I say that Harley Farms is one of the most idyllic destinations I have ever had the pleasure of visiting; the only sounds to be heard as you wander through the pastures and gaze upon the surrounding forested hills are chirping birds, bleating goats, and leaves rustling the wind.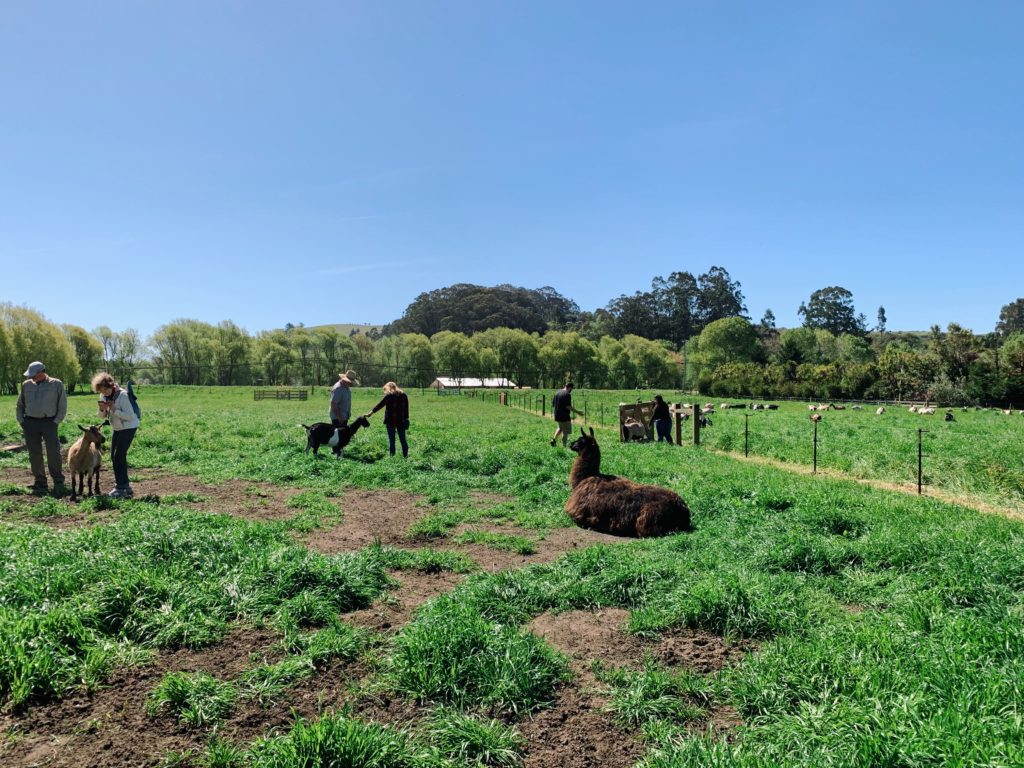 Add a fresh loaf of bread, a log of lavender chèvre and a bit of gentle California sunshine to the mix, and you've got the ultimate recipe for good vibes and relaxation. Ahhhh.
Lunch at Arcangeli Grocery Co.
Dining at a grocery store? You betcha!
This family-run market and bakery has been a Pescadero institution since it was founded in 1929, and not much has changed during the last 90 years. Come lunchtime, locals and tourists alike line up at the counter to fill their bellies with ridiculously tasty sandwiches and freshly baked loaves of bread.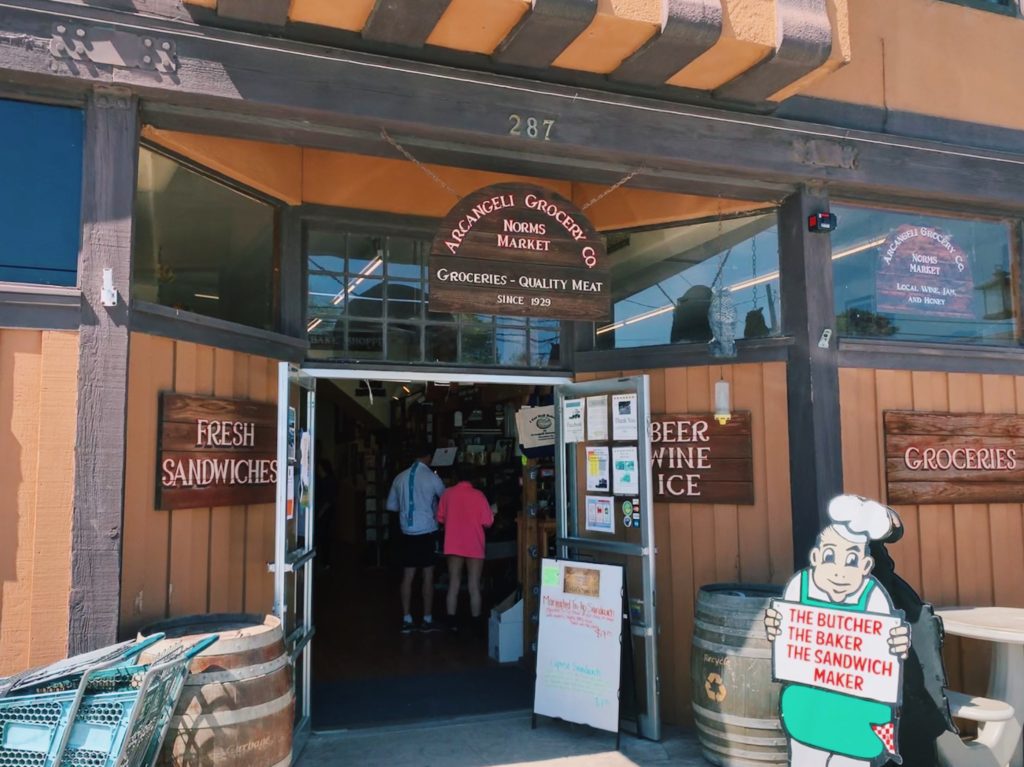 Arcangeli Grocery Co. stocks an impressive selection of Italian and French-style breads (their Artichoke Garlic Herb is the most famous), cheeses, local wines, gourmet condiments and desserts. As were visiting right at lunchtime, we opted for hot sandwiches from their deli.
Derek and I both ordered The Godfather, which can only be described as B – O – M – B. That pesto focaccia bread, mmmmm.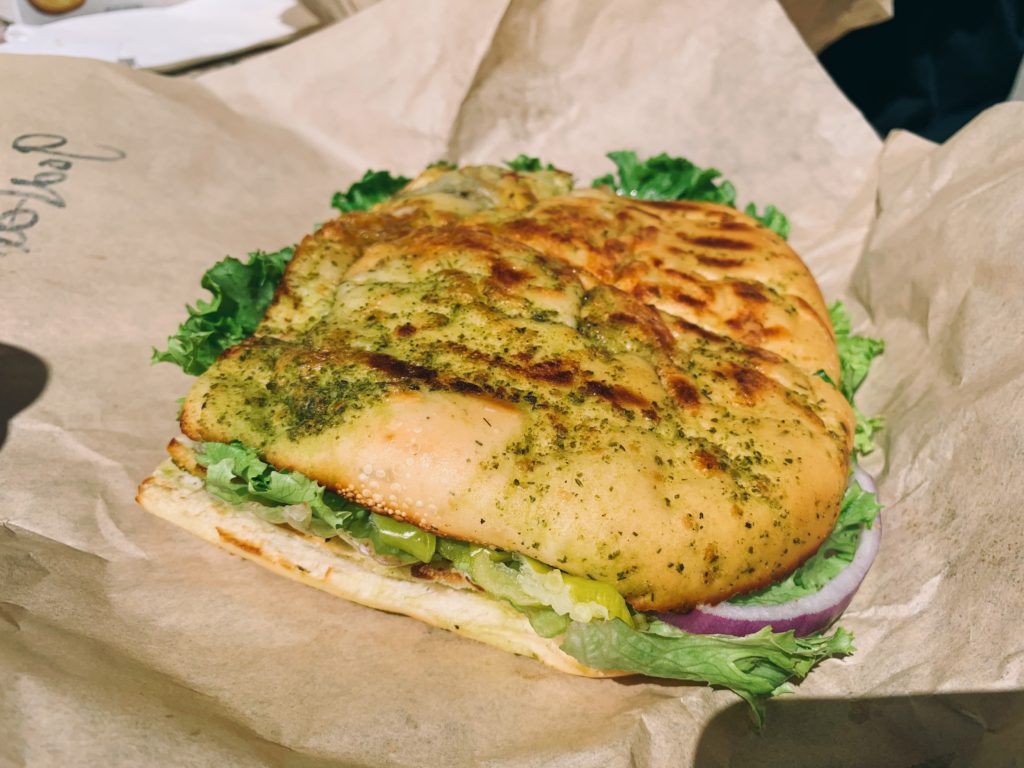 There's a shady, grassy picnic area just behind the shop which is the perfect place to spread out and dig in. Surprisingly, Arcangeli wasn't too busy when we visited at 12:30pm on a Saturday; I have a feeling we just got lucky, though!
Explore Downtown Pescadero
There's not a whole lot going on in downtown Pescadero, but that's exactly what makes it so darn charming. You won't need much time, because all of the shops and eateries are confined to one single, quaint street.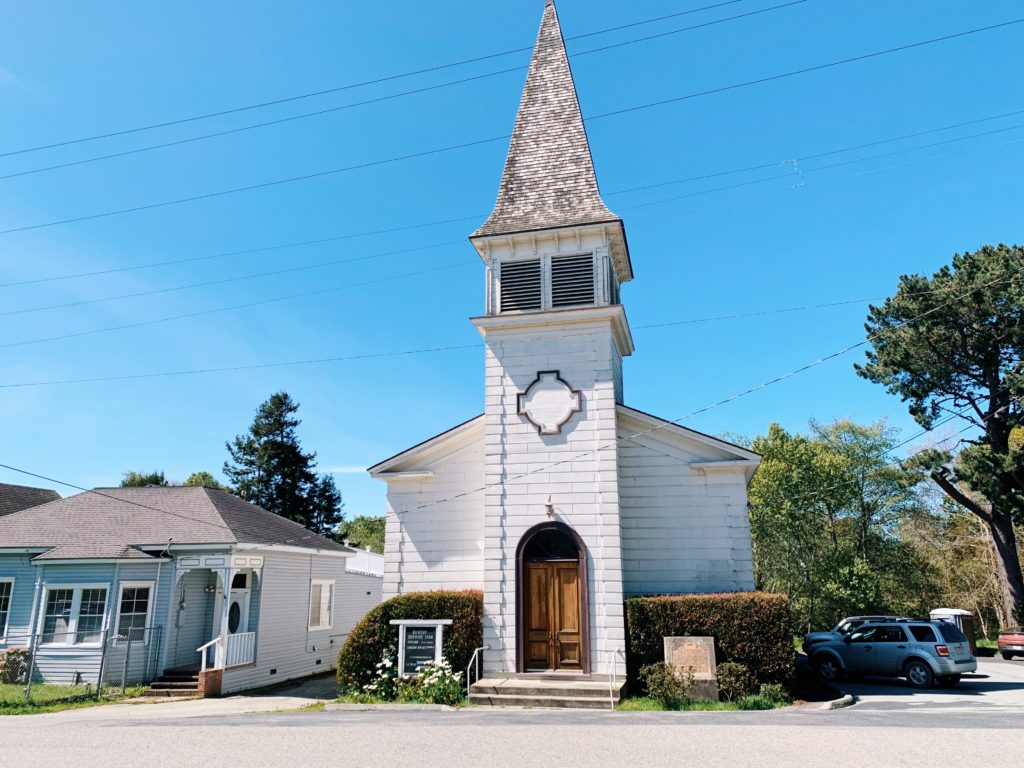 In addition to Arcangeli Grocery Co., your dining options in Pescadero include one restaurant (Duarte's Tavern), a taqueria (technically part of a gas station, but apparently very highly rated), and an adorable cafe called Downtown Local.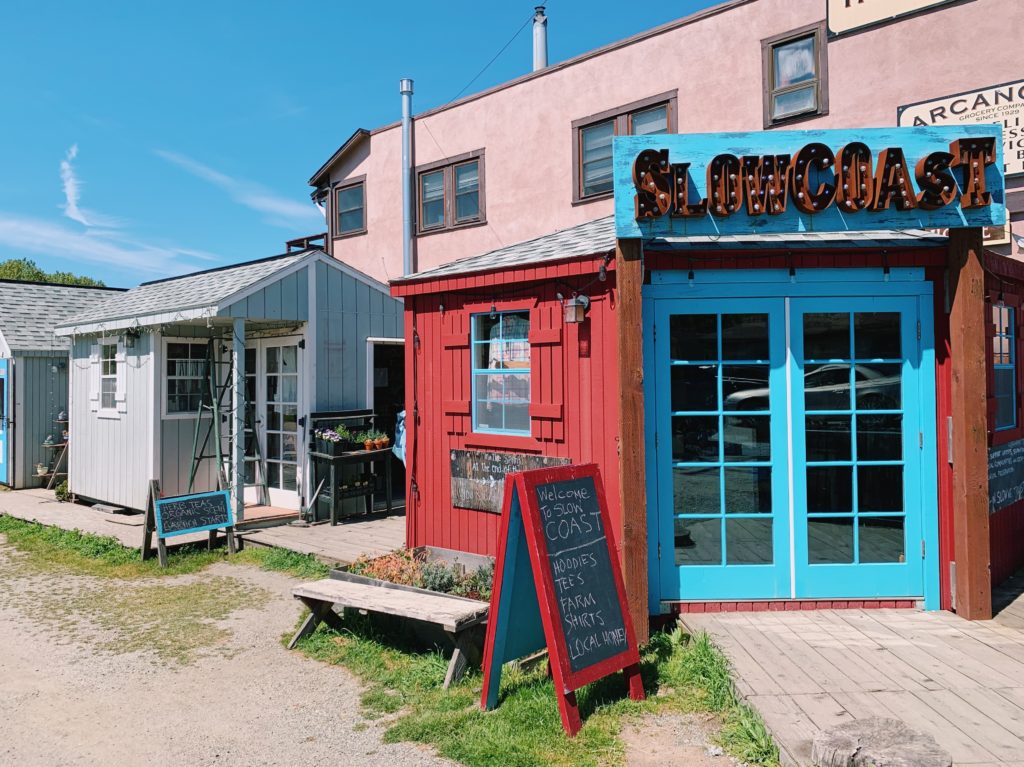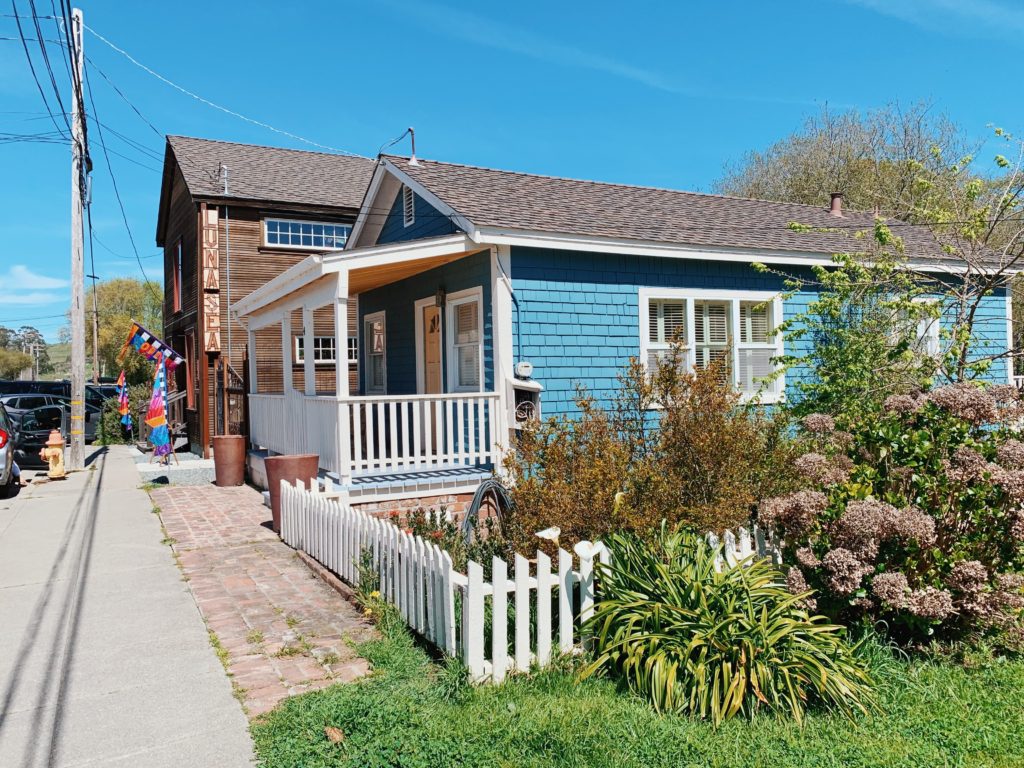 There's a small wine tasting room and a smattering of shops; Slow Coast and the little boutiques nearby were absolutely as cute as could be! We also stumbled across a few antique stores that were worth spending a few minutes perusing.
Hit the Beach
As peaceful and picturesque as inland Pescadero is, you simply can't plan a day trip here without budgeting at least a little bit of time for Northern California's world famous coastline.
Bean Hollow State Beach and Pescadero State Beach are two of the most highly rated beaches near Pescadero, but truthfully you can't go wrong by driving down Highway 1 and stopping at any beach that catches your eye.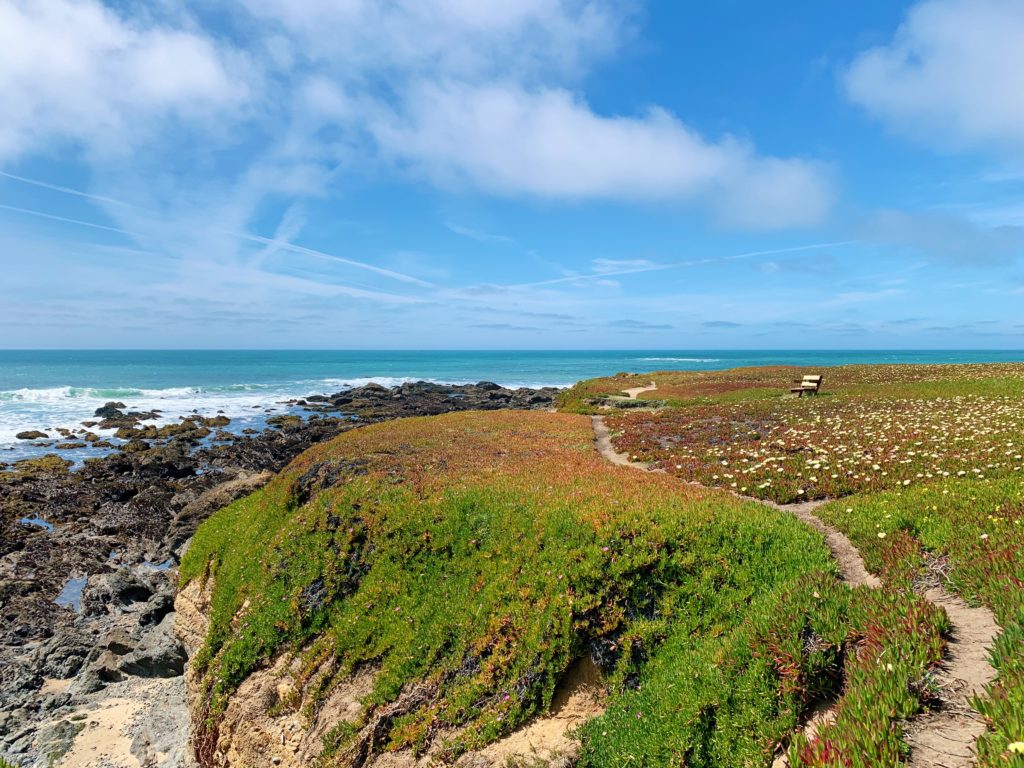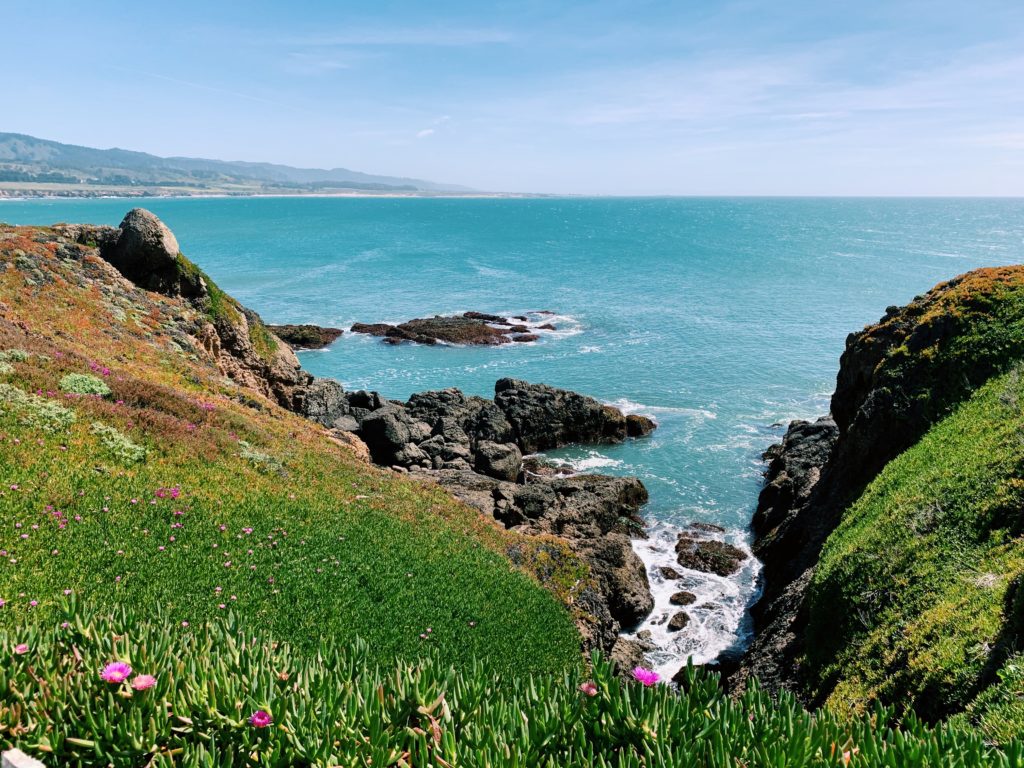 Personally, one of my favorite ways to enjoy the coast near Pescadero is by strolling along the cliffs above the sea, rather than walking down to one of the sandy shorelines. Especially during the spring and summertime, when they're dotted with all sorts of colorful wildflowers. The views are like something out of a fairytale!
Pro Tip: Bring a jacket, even if you're visiting in summer! The Northern California coast is notoriously windy and cool, even during the warmest months of the year.
Pigeon Point Lighthouse
Pigeon Point Lighthouse is Pescadero's most famous landmark, and with very good reason! At 115 feet tall, it's the tallest lighthouse on the West Coast and has been guiding mariners since 1872.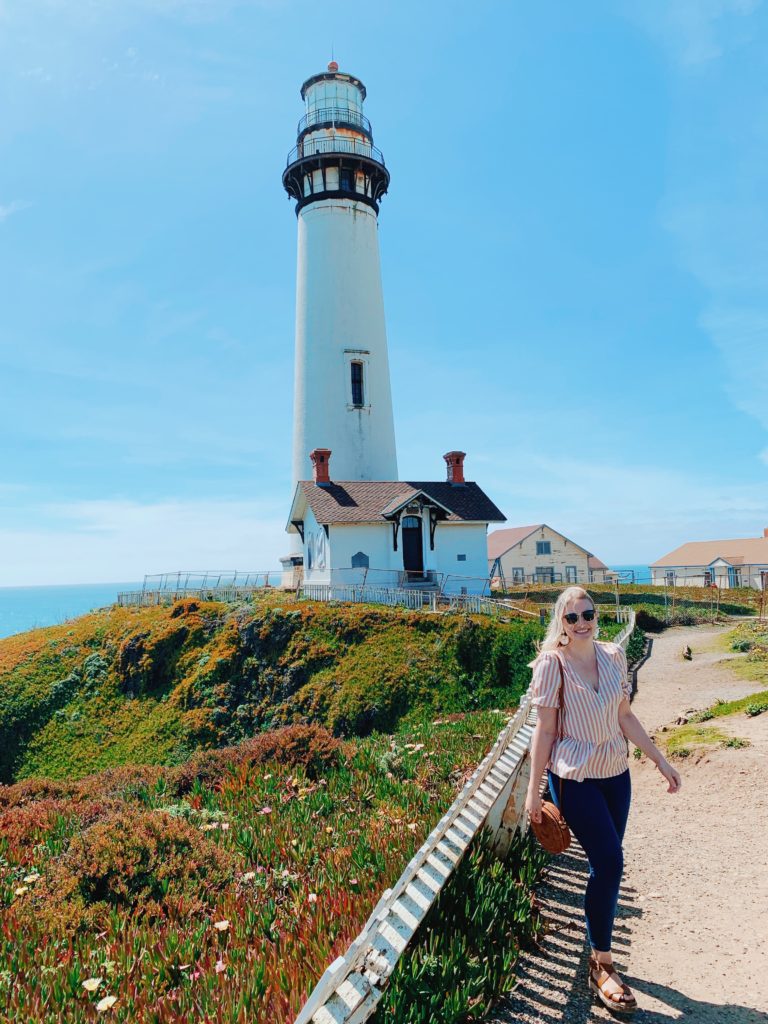 Nearly 150 years later, and Pigeon Point is still an active Coast Guard aid to navigation…as well as a hostel where you can spend the night! Although you can't sleep inside the lighthouse (or trust me, I'd be all over that) you can't simply beat the location.
I actually stayed at their sister location—Point Montara Lighthouse Hostel—a few summers ago and absolutely adored it. I'm sure this hostel is just as dreamy and inviting!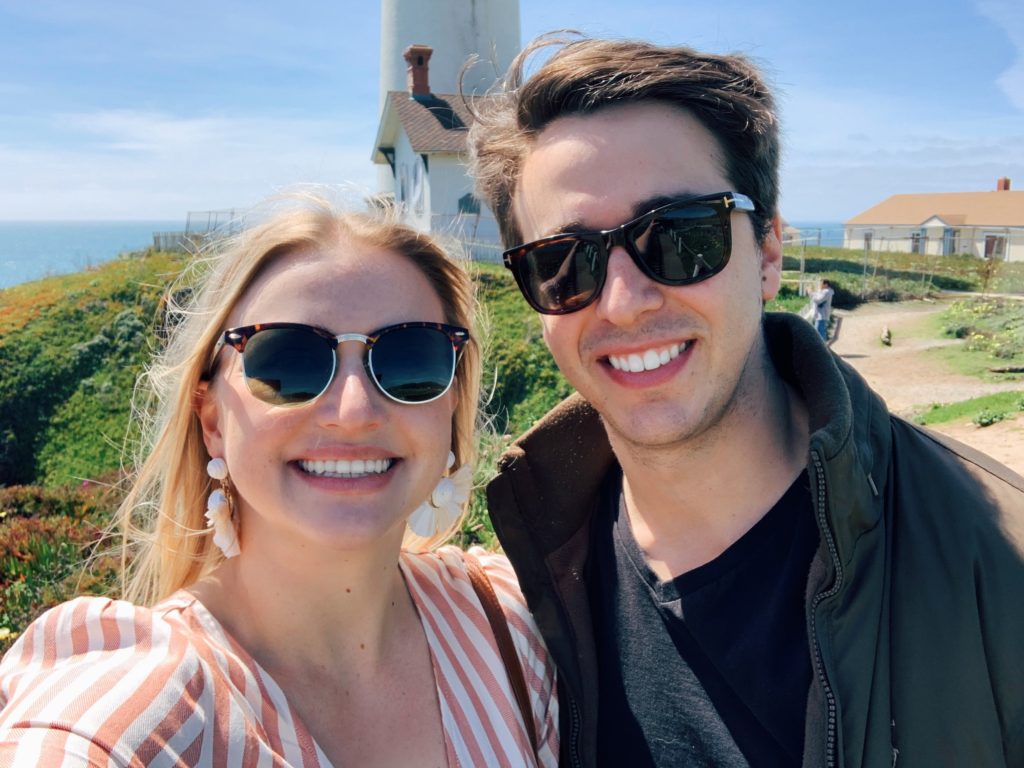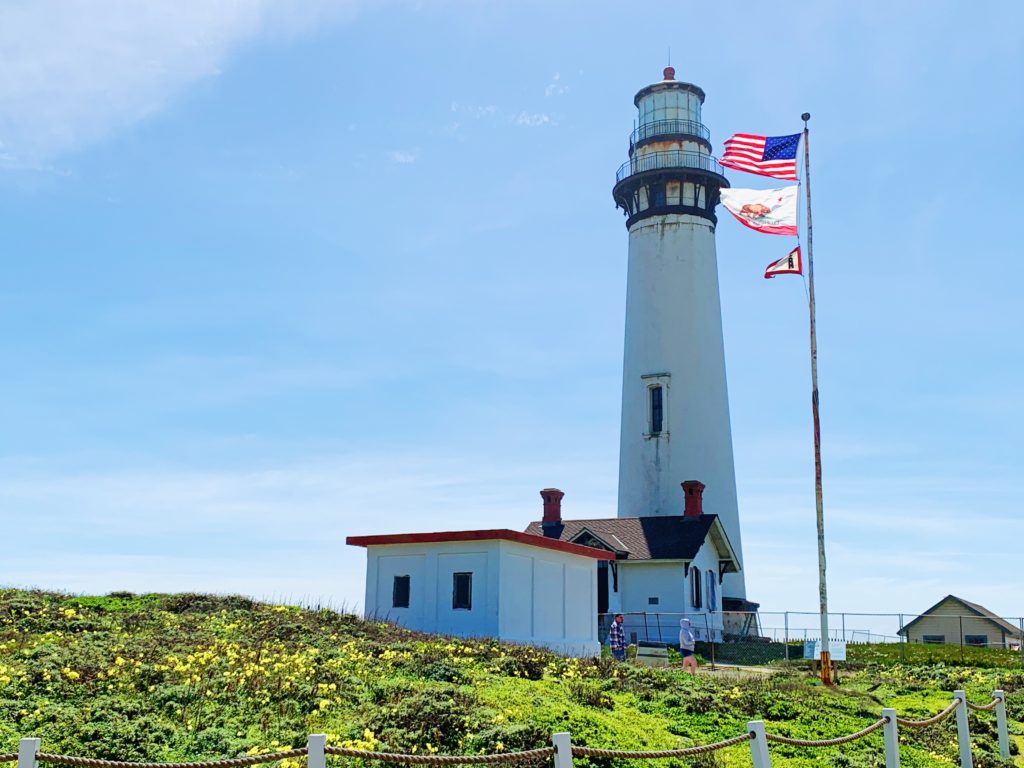 Sadly you can't go inside Pigeon Point Lighthouse, but it's fun to explore the grounds and scope out some amazing views of the coastline and the Pacific Ocean. The property would also be a gorgeous spot for a picnic lunch; there are plenty of tables available.
Pie Ranch Farm Stand
Just a few miles south down Highway 1 is one of the sweetest spots to visit in Pescadero: Pie Ranch Farm Stand. You'll know you've found the right place when you start seeing the hand-painted "slow down for pie" signs along the road!
This homey little farm stand certainly lives up to its name; seven day a week until 5pm, you can stop by to choose from an ever-changing rotation of freshly-baked whole and "cutie" sized pies!
When it comes to Pie Ranch, there's actually a lot more than meets the eye—the ranch was founded in 2002 with the mission of cultivating a healthy, fair, sustainable food system through food education, farmer training, and strategic partnerships. Through their various programs, they're committed to tackling issues like systematic racism and oppression, climate change, and food insecurity.
…but if you're just the here for the pie, that's fair enough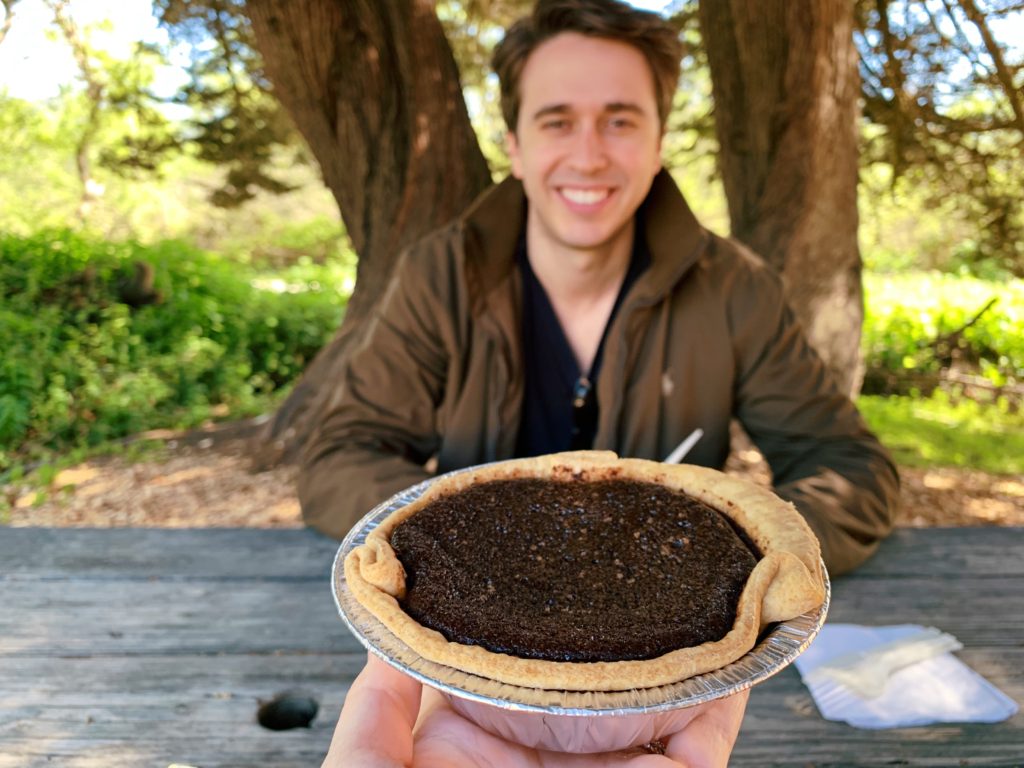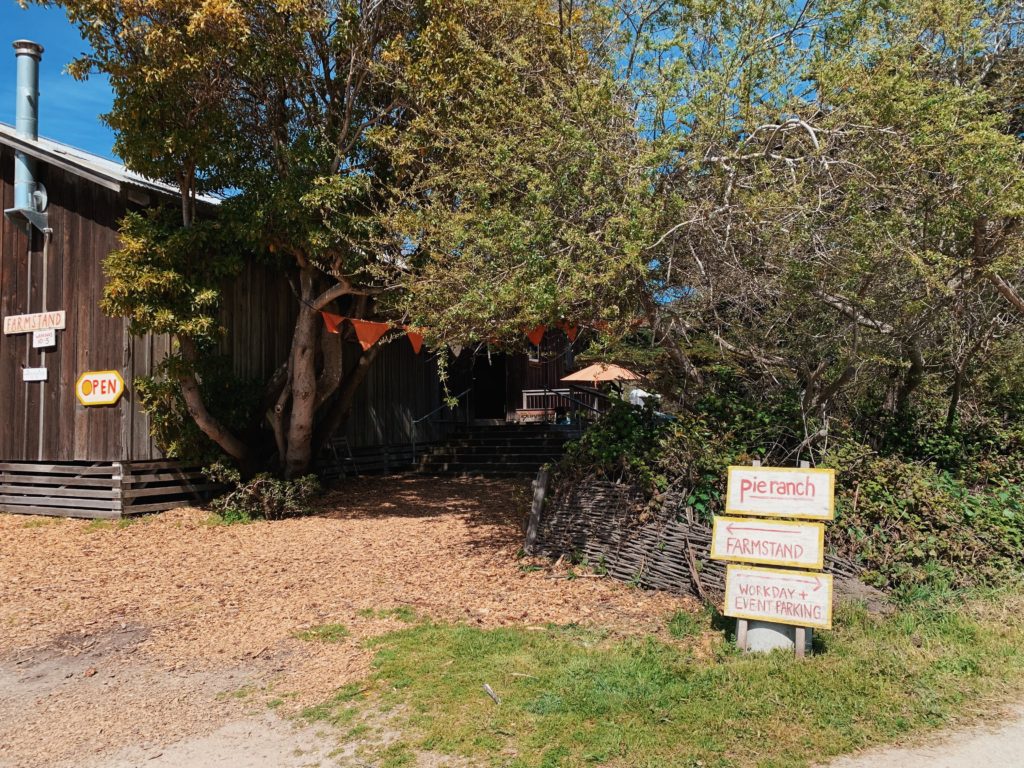 Derek and I shared a chocolate "cutie" pie, but according to Yelp, available pie flavors may include peach, lemon buttermilk, strawberry rhubarb, apple, summer berry…I'll take one of each, please!
Drive Along Highway 1
Where do you go from here? The world—er, highway—is your oyster!
Highway 1 is one of the most iconic roadways in the world, known for its incredible panoramic views of the Pacific Coast. Some of the most famous stops along Highway 1 include San Francisco, Big Sur and San Luis Obispo. You could drive for hours in either direction and never run out of gorgeous, awe-inspiring views.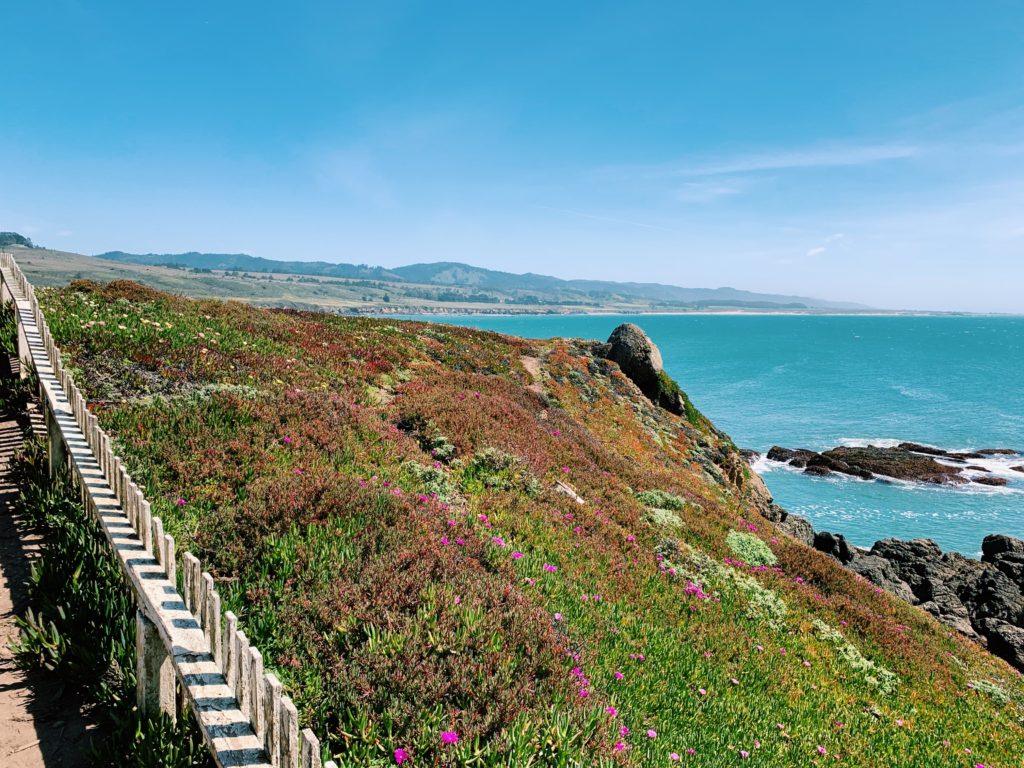 Sticking to the local area and not planning to drive too far? I still recommend budgeting 30 minutes to an hour for aimless driving along the coast; maybe north to Pacifica or south to Santa Cruz.
Roll down the windows, feel the wind in your hair, smell the sea breeze, take note of the farmlands pressed up against the rocky coastline, pull off to the side of the road when a particular viewpoint grabs your attention…and just relish the sheer beauty of Highway 1.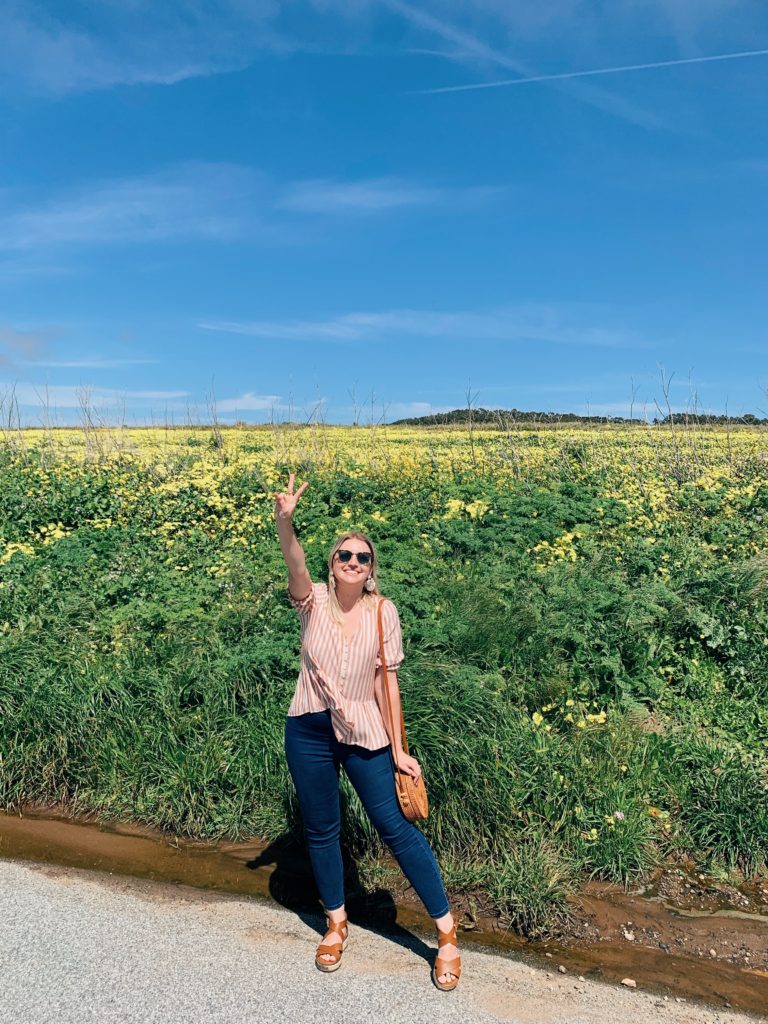 And there you have it, folks—my take on how to spend one PERFECT day in Pescadero, California! Now accepting photos of newborn baby goats as payment for all of this free travel-planning content
---
Pin It!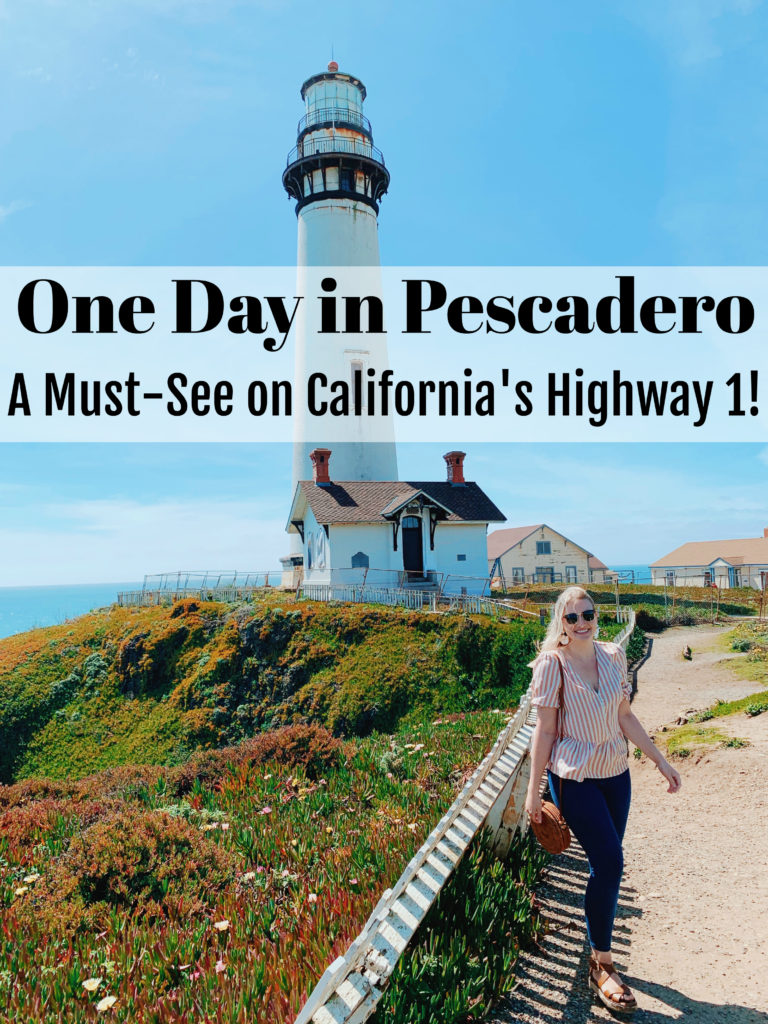 ---
Does Pescadero seem like the type of place you would enjoy visiting? Which sight, activity or food would you be most excited to experience in Pescadero?
The post One Perfect Day in Pescadero, California appeared first on The Wandering Blonde.
[ad_2]