[ad_1]

How to Plan A Bachelorette Party in Austin, Texas : The Perfect Bachelorette Weekend Itinerary
So you're planning a bachelorette party in Austin!! Congratulations, out of all the best places to have a bachelorette party, Austin is about the easiest and most fun place to plan a great bachelorette weekend that everyone will love! If you've never been before, you're going to love Austin. It's got everything you need for a perfect girl's weekend – good food, great weather, tons of activities to choose from, a chill vibe, and an unbeatable nightlife. But where do you even begin with the planning!? I'd recommend starting with booking a hotel or house for your group, then working through what your ideal weekend itinerary looks like.
Here are a bunch of  ideas for activities that are perfect for groups, as well as my favorite recommendations on where to eat, where to stay, and where to play in Austin.
Where to stay for a bachelorette party in Austin if your group is 5-12:
The JW Marriott Austin
This contemporary hotel is sophisticated, yet super welcoming and ideal for a bachelorette party. It's centrally located right near the river in downtown Austin and has an amazing rooftop pool and bar overlooking the city!
The South Congress Hotel
A super cute boutique hotel located in the chic South Congress district of Austin. If you're a smaller bachelorette party, or looking for a chic hotel for your group, this is your spot. I love their hotel bar and patio any day of the week and their prime location makes for an ideal base for a fun weekend in Austin.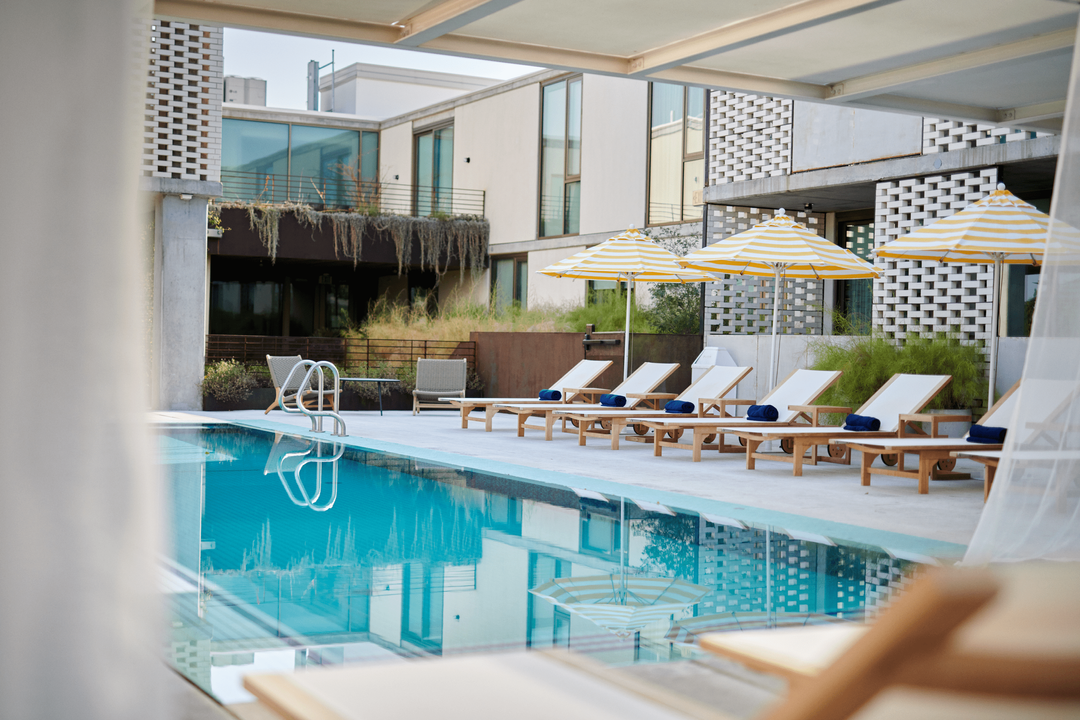 Where to stay for a bachelorette party in Austin if your group is 10-15:
Tarrytown House
This 5BR house sleeps up to 15 people, and is in a great location near UT Austin.
The Arrive Zilker Park Home – 4 Bedrooms, sleeps 12
Super cute villa in Austin that has a pool, outdoor BBQ, and 4 big bedrooms.
Where to stay for a bachelorette party in Austin if your group is 15+:
Capitol Villa
This SEVEN bedroom house is great for a big bachelorette party in Austin. It's located 2 blocks away from the world-famous Franklins BBQ and within a 2 min Uber/Taxi from all of Sixth St/Rainey Street, so you won't have to spend a ton of money on ubers.  The Neighborhood the house is in is super quiet and safe and the property is the only 3-story house in Central-East Austin.
Casa Cartel Austin
With a private pool, 5 bedrooms, and sleeping more than 16 people, this is ideal for a bachelorette party in Austin. Easy access to downtown, the river walk, and Congress ave.
A lake day on Lake Travis or Lake Austin
It's impossible to beat a day on the Lake in the Austin heat. If you're looking for Lake Austin boat rentals or Lake Travis Boat Rentals – Float On is the #1 rated boat rental company in Austin and through them you can rent a boat or pontoon for the day for $4-500 for 3 hours for your group (or add on additional hours if you want)! I'd highly recommend doing a boat day for any bachelorette party in Austin as it is sure to be a highlight of the weekend (especially in the summer, when it's HOT and you'll be craving a day on the water)
Doing a pedalbike or 'pedal pub' bar hop with Hipside Peddler was easily the highlight of the last bachelorette party weekend I did in Austin! It was around $40 per person for a 3 hour ride and we had SO much fun! Basically, you casually pedal on the bike, while dancing and screaming your heart out to music on the loudspeakers as the guide takes you to a few different bars throughout Austin. You can even BYOB on the bike for in-between bars. We went to a couple really cool breweries and bars and had SO much fun on the bike, while getting to see a ton of the city. PLUS you feel active and like you're getting a workout while day-drinking!
Highly recommend Hipside Peddler for a daytime activity with any group going to Austin, but especially a bachelorette party!
Paddle-boarding in Ladybird Lake
Ladybird Lake is a beautiful dammed-off stretch of the Colorado River that makes for an ideal day on the water right in central Austin. And, since no motorized boats are allowed on the lake, it's ideal for paddleboarding and kayaking! If you're with an active group or want to start your day off with a workout, I love going to Ladybird Lake.
Shopping on South Congress
Walking and shopping on South Congress is one of my favorite things to do in Austin. You can stop by instagram spots like the "I love you so much" wall and the Austin Motel, or pop into the many boutiques lining the street.
Bar hopping on Rainey Street
A great day or nighttime activity with any bachelorette party is just bar hopping down Rainey Street. Check out my recs for specific bars below under Where to Go Out in Austin!
Where to brunch:
Holy cow this place is good. But WARNING: This place does not take reservations, so you'll need to get there early. But it's so worth it. It's huge and has a big patio so is perfect for groups, and the food is AH-MA-ZING. There's also a BYO Michelada bar that makes me feel like I'm in Colombia. Huge win.
One of the best brunches and the cutest patio! I love going here with small or big groups!
Check out their menu here.
Where to eat dinner with a big group in Austin:
This adorable Tex-Mex spot is ideal for bachelorette parties of all sizes. Definitely recommend calling ahead and booking a table on their beautiful patio! The mexican food is amazing, the margaritas are even better, and the prices are perfect so even after a few rounds of margs and queso, your bill won't break the bank.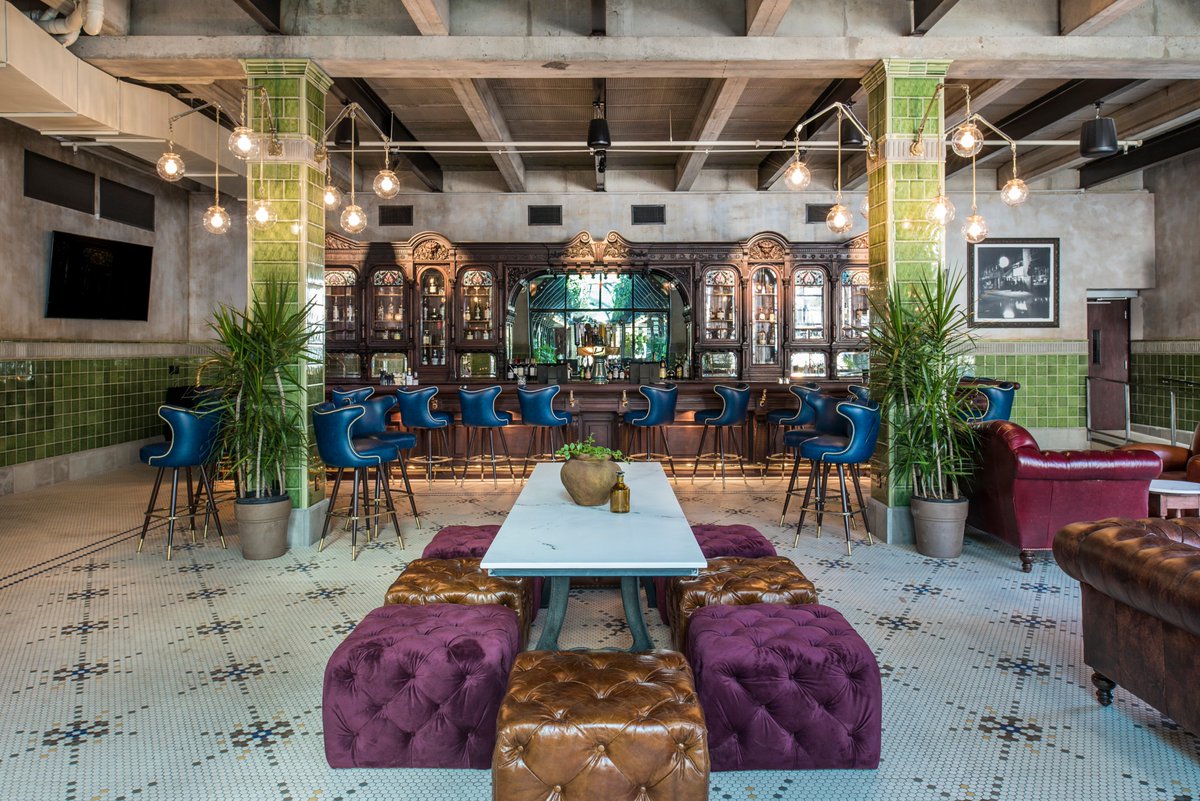 These are the best bachelorette party bars in Austin!
Container Bar – Rainey Street
Really fun day or night, and perfect for groups. Huge space and usually has an amazing DJ going. You'll probably see at least 4 other bachelor/bachelorette parties partying here.
Bungalow – Rainey Street 
Located right next to Container Bar, Bungalow is a great spot to go out on Rainey. Theres a ton of outdoor space, along with a fun dance floor inside.
Maggie Mae's Austin – Sixth Street
If you're looking for a little-more-ratchet-but-a-ton-of-fun vibe for your group, Maggie Mae's on Sixth street is your spot. Think multi-level outdoor dancing to hip hop overlooking sixth street.
Easy Tiger – Sixth Street & North Austin
Contemporary German-style beer garden with ping-pong, house-made sausage and bread, and beer. Their new North Austin location is huge and perfect for groups!
The cutest bars in Austin:
If you're looking for a chill vibe, or a pre-dinner cocktail spot, these are your go-tos:
Kitty Cohen's
Adorable retro-inspired patio on the East Side with a chic fountain/pool that's ideal on a sunny day in Austin.
The rooftop bar at the JW
Order the frose and soak up the city views at this chic hotel rooftop bar.
Irene's Austin 
One of the best happy hours in Austin (3:30 to 6:30 and all day Sunday), this is a perfect spot to head during the afternoon with a group.
The best times of year to go to Austin:
I'd recommend anytime of year in Austin, but the warmest times of year will be May through October!
Wondering what to pack for your bachelorette party weekend in Austin? Here are some outfit ideas you can shop by clicking the links!
During the day, Austin is very casual, and you'll want to pack fun sundresses and cute chic-but-casual daytime outfits:
At night, you'll want cute jumpsuits, rompers, and whatever you'd normally wear going out on a warm, humid night. These are some of my favorite outfits for going out in Austin with a bachelorette party:
If you're spending time by the pool or doing a boat day, definitely consider doing matching swimsuits or cute bachelorette party sarongs like these ones from Kenny Flowers! You can all do the same, or get a different print (or white one) for the bride! AND, Kenny is actually my fiancé – so if you use the code BACHPARTY, you can get 20% off of your whole order – making the sarongs less than $30 each!!
Enjoy your weekend in Austin!! Let me know if you have any other recs for groups in the comments!
& check out some of my other posts:
The best bikinis and one pieces for summer 2019
The Best Bachelorette Party Destinations
Q&A with Jetset Christina – Everything you ever wanted to know about me!
The Ultimate Bali Travel Guide
*Please note that this post contains affiliate links to some products! If you choose to buy something I recommended, I would so appreciate you using these links to do so! An affiliate link basically just means that at zero cost to you at all, I get a small kickback from the site for bringing them your business! I never recommend anything that I don't 100% LOVE & think you will, too! If you have any questions at all, please see my advertiser & affiliate policy page here.
[ad_2]