[ad_1]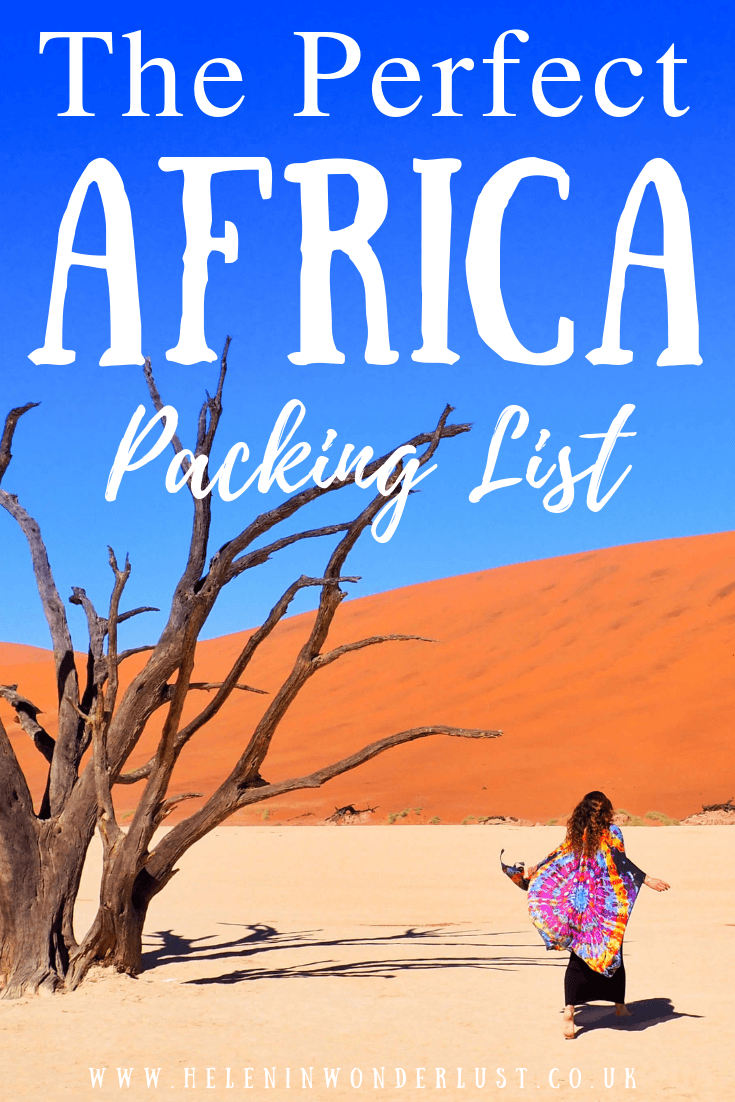 Deciding what to pack for Africa, especially if you're travelling long term, covering multiple countries with different dress codes, cultural considerations, weather conditions and temperatures, can be a bit confusing!
But don't worry, with this comprehensive Africa packing list, I've got you covered or pretty much every country and all situations!
This is generally a packing list for women, but fellas, you'll get the idea!
Just to be clear, you do probably don't need everything on this list. A lot will depend on where and when you are going.
For example, if you're travelling to Zanzibar for two weeks, you're not going to need a down jacket, however if you're travelling to Namibia or Botswana in the colder winter months, you definitely will need a down jacket. If you're not trekking for days on end in the rainy season, do you really need a heavy waterproof jacket? No. If you're not into photography, do you need a tripod? No.
But, if you are travelling for a long period of time, many of these items will come in useful, so pick and choose the items appropriate to your own needs.
---
What to Pack for Africa: The Only Africa Packing List You'll Ever Need!
---
Baggage
Backpack
When you are travelling around Africa, your bags are likely to get thrown about, strapped to the roof of a car and absolutely covered in dust, so I'd suggest you get a durable rucksack. A great choice for Africa is something like the Kathmandu Hybrid 70L Trolley or Osprey Ozone 80L or the Osprey Meridien 75L. I like these because they have wheels so you can pull them and open up properly like a suitcase. If you don't want one with wheels, try the Osprey Farpoint (they have 55L and 70L versions) or the Osprey Fairview (also comes in 55L and 70L versions). You can of course take a suitcase too, but I just find that backpacks are better.
Packing Cubes
I am a massive fan of packing cubes. If it's one piece of advice I could give you about packing, it's separate your stuff. It just makes everything sooo much easier to find and to keep clean! I love the Eagle Creek Pack-it Cubes
 as they are really good quality and they last forever (I've had mine for 10 years now and they have survived multiple Africa backpacking trips), but there are a few different makes to choose from. I also sometimes wrap mine in a jumper and use it as a pillow when I'm camping or on overnight trains. Works like a charm.
Daypack
If your larger rucksack has a detachable smaller bag you probably won't need this, but having a smaller backpack/daypack is really useful for hiking, on safari etc. The one I have is the Lowe Alpine Edge 18 and it's great. I also use this as my carry on for the plane, it just fits my computer and camera stuff in, plus a few other bits and pieces.
I also have a cross body bag by Dakine that I LOVE. I have this one but in the Zanzibar pattern (how appropriate). This the bag I tend to have with me on a daily basis. If you want something a little more low key and stylish, I love the cross body bags from Fat Face.
Wallet
I always take at least couple with me and spread my money about. Only keeping the minimal amount that I need in the wallet I keep in my handbag. I sometimes take old make up bags and put some cash in there too.
Toiletry Bag
I usually take a wash bag that has room for general toiletries and the little bit of make up I take. Mine is this one from Lifeventure. I love it because it has 4 separate compartments, it's machine washable, it has a mirror and a hook so that you can hang up away from wet communal shower floors.
---
Clothing & Shoes
Choosing what clothes to take is tricky.
But my best advice, before you go, is to check the seasons/temperatures. Being prepared for the seasons will mean that you're not carrying around heavy stuff when you don't need to, or freezing your boobs off when you don't have appropriate warm clothing.
Africa can be really dusty, so the golden rule for every day clothes tends to be not to bring anything that you mind getting dirty, especially if you are travelling overland or going on safari! I've lost or damaged many a lovely clothing item on my Africa backpacking trips over the years.
But that's not to say you shouldn't bring a few nicer items too, as there will certainly be times when you'll want to dress up!
What to wear on safari? Lightweight, breathable clothing is best, but you don't have to be head to toe in khaki and wearing zip off pants! I never do. However it is advised to avoid dark blue and black as they are said to attract the tsetse fly, although from my experience (which is a lot) tsetse flies are evil and just bite you regardless whether you are wearing dark colours or not, so the best thing is to cover yourself head to toe in bug spray, including under your clothes.
If you're doing any type of trekking, you can see my Kilimanjaro Packing List here.
Hat
The sun can be strong, so protect your face and neck with a hat. I usually just bring a baseball/trucker style cap. Good for safaris, boat trips, at the beach, hiking etc.
Warm Jumper/Jacket
I cannot emphasise enough that you need to bring warm clothes. You'll spend a lot of time outdoors and at certain times of year and some places in Africa are FREEZING!
As I'm usually travelling over the British summer (when it's colder in Africa) I usually take a fleece and a hoodie, as well as a down jacket just in case. I don't need it all the time, but when I do it's great. I just stuff it into the inner compartment on my backpack and forget about until I need it.
And I often buy a blanket when I'm there (the one below was from a market in Queen Elizabeth National Park, Uganda which has now become a throw on my sofa at home, the Maasai blankets are also great).
The picture below was me and my Rock My Namibia Adventure group in Namibia in August. Look what we are wearing! Hats, hoodies, down jackets AND blankets!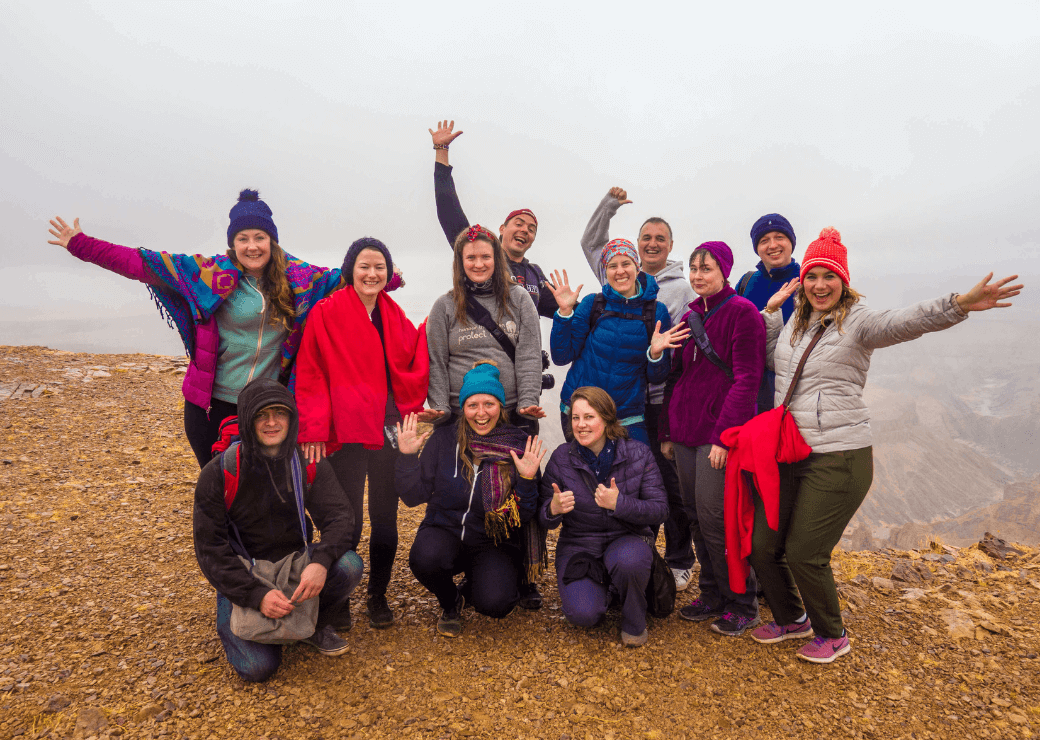 Lightweight Rain Jacket
Unless you are doing some serious multi-day trekking, a lightweight rain jacket will be fine.
Vest Tops/T-Shirts
You'll live in these, so take at least 3 or 4 very basic ones, maybe including one sports type vest if you like hiking.
Long Sleeved Shirts
A long sleeved shirt can be useful to cover up out of respect, from the sun or as a little extra warmth at night. You may want to bring one in neutral colours for safari.
If travelling in the colder months, especially if camping, you may want to bring a long sleeved thermal top too. I have a couple Icebreaker crew tops from when I climbed Kilimanjaro (they are great as they are really warm, breathable and don't smell even after a few days of trekking), but there are cheaper ones available.
Loose Pants
Colourful, slouchy trousers can be found anywhere these days, so you could either bring some from home, your previous travels or pick some up at a local market in Africa. These are comfortable for safaris.
Hiking pants are also good for hiking and safari. I don't bother with these and just wear leggings but I know some people love them.
Leggings
Great for wearing under shorter dresses in areas where you shouldn't show your knees, for hiking or for protecting you against pesky mosquitoes.
If you are travelling in the colder months, you may also want to invest in a per of thermal leggings too.
Maxi Dress or Skirt
You will have occasions to dress up, so take a couple of versatile and lightweight items that will work both day and night and won't get ruined when you wash them. I have a colourful dress (above under the bag section) and also a black cotton dress that I wear but accessorise with a kimono or scarf to make it look a bit dressier (see below).
Scarf
I always have a brightly coloured lightweight scarf with me for for extra warmth, to add a bit of style to my outfits or to cover my shoulders with when I need it. The one I wear now is one I picked up in a market in Morocco (see pic below).
Sarong
If I'm heading somewhere beachy, I usually have a sarong as well as a scarf. I use the sarong for the beach and to cover my legs if I'm wearing shorts somewhere that's not appropriate. You can pick these up in a lot of the tourist markets in Africa.
Buff
If you want to keep the dust out of your hair and nose/mouth, get yourself a Buff. They're not the coolest looking things, but they serve a purpose and are very useful, especially when hiking or on safari. I like bright and colourful ones like this and this, but they come in all colours.
Shorts
A pair of shorts or two is always useful in Africa. Maybe take one that are lightweight and breathable for activities like hiking or white water rafting, and then maybe a pair of denim shorts for lounging around in.
Jeans
You won't need jeans all the time, and they'll be too warm to wear some places but really come in handy in others, especially in cities like Nairobi or Cape Town.
Flip Flops
When I'm in Africa I tend to live in Havaianas
 in the day time. They come in all different colours and are pretty durable. Since I bought my first pair I haven't looked back.
Sandals
For evenings, I tend to wear my Blowfish Galie sandals as they are a bit dressier than flip flops but really comfy. You can see me wearing them in the pic below.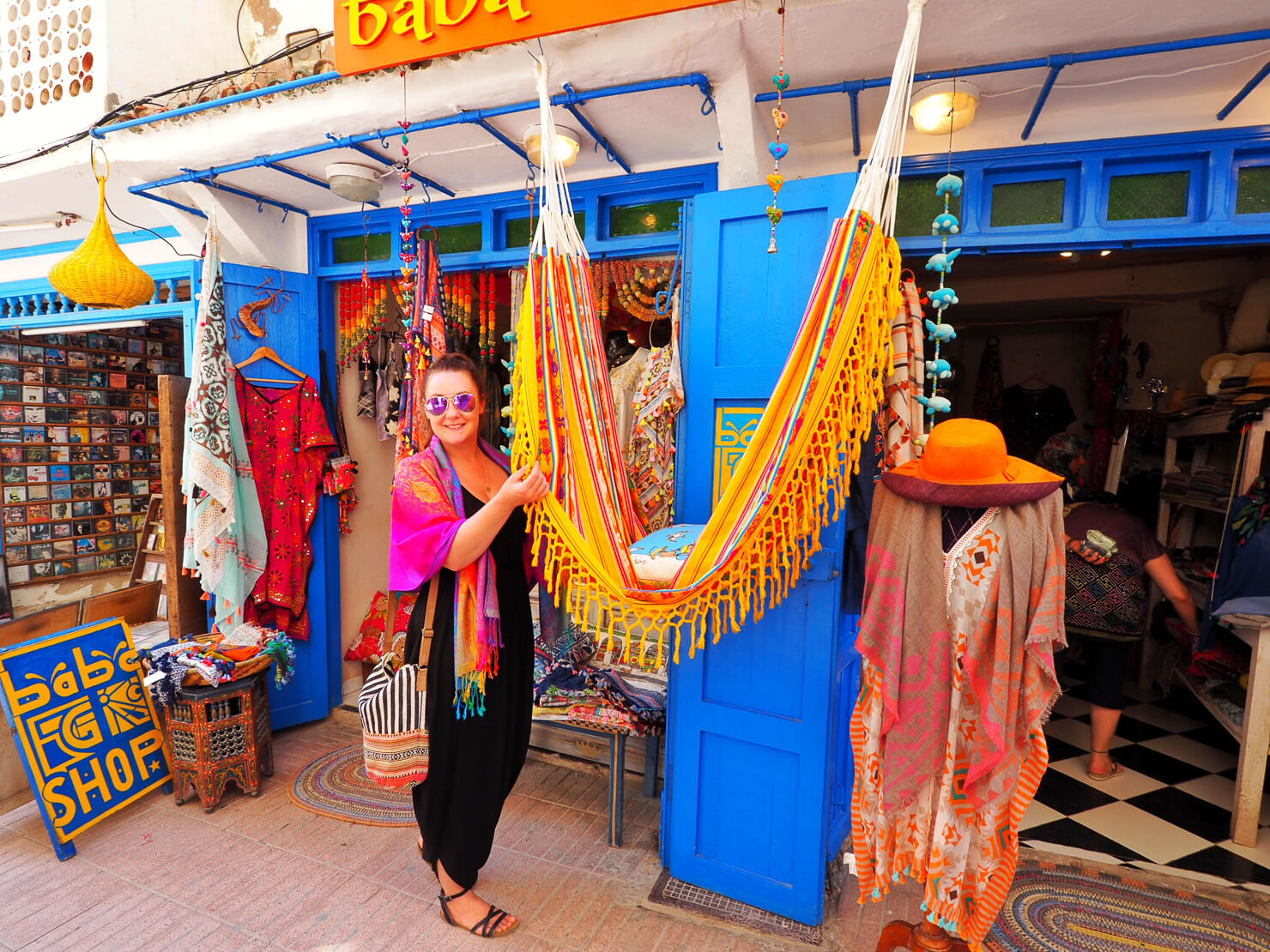 Trainers & Boots
At night, especially on safari, I tent to switch to trainers, because it gets cold at night and also to protect my feel from any creatures or sharp objects I can't see in the dark.
If you're doing any big hikes, you may want to bring a pair of comfortable hiking boots or shoes like this Merrell pair.
Water Shoes
These aren't essential, but some people may find then useful. This past year I spent a lot of time swimming in rivers, visiting the Devil's Pool and playing in waterfalls, so having water shoes I bought this cheap pair and they have saved my delicate feet.
Swimsuit
There will be plenty of opportunities to get in the water, so bring your cozzie.
Pyjamas
Definitely needed, especially if camping or staying in hostels.
Underwear & Socks
Breathable materials are best! Bring at least one ports bra for hiking. As well as normal trainers socks, I usually always have a couple of pairs of thick hiking socks too. I have some similar to these ones that I initially bought for Iceland.
Sunglasses
The sun is strong and they're also good to protect your eyes from the dust on safari. Plus they'll make you look stylish in your photos. I'd take at least 2 pairs in case you break one. You can buy sunglasses over there from the markets etc, but the quality may not be as good.
---
Electronics
I'm a blogger, so I tend to travel with more electronics than the average person (although for a blogger I practically travel light).
If you aren't working on the road, you probably won't need everything I mention, but to I'll give you an idea of what I carry with me below.
Camera
Africa is a photographers dream, so you're probably going to want to have a good camera with you. The first time I went, I took a very basic point and shoot which was a big mistake. But that was a long time ago and even basic cameras have come a long way since then. It doesn't have to be a DSLR and you don't have to be a professional to get great photos, but if you want to get good pictures on safari, you should at least have a good zoom.
I prefer having a smallish camera, both for ease of transportation and to be discreet, so lugging round a big, heavy camera isn't that practical for me.
If you want something great but not too expensive, try the Sony A6000 or the Fujifilm X-T20. Alternatively, if you want something super amazing you could invest in a Sony A7 or the Fujifilm X-T2.
If you don't want to invest in a camera with interchangeable lenses, you could consider a bridge camera. These are actually my favourite, but the quality isn't quite as good, but that shouldn't matter too much to anyone who isn't a blogger or photographer. A good one is the Panasonic Lumix.
Having a camera with wifi capabilities is a good idea too, so you can back up your photos to your phone so you can Instagram away without having to transfer using a computer!
If you want to vlog or take videos, or just want a camera that's a little more discreet that takes great photos, I would highly recommend the Canon G7X Mark II. The only problem with this camera is that the zoom isn't great, but it's perfect for everything else.
Camera Lenses
If you have a camera with interchangeable lenses, as well as the normal lens
, you may also want to consider getting a wide angle for all those epic landscapes and telephoto zoom lens for when you are on safari.
 I'd suggest your telephoto lens be at least 300mm. Mine is only up to 150mm and it's pretty useless on most safaris. And if you're into portraits, a nifty fifty fixed lens is also good!
Tripod
If you are interested in taking long exposure pictures, you're going to want to have a tripod with you. I personally could not be bothered lugging around a big tripod, so I have an awesome Manfrotto PIXI tripod which is tiny and also great to use as a handle if you want to take selfies (using your phone as a remote) they also have a similar one with slightly extendable legs for uneven surfaces. If you want one of the bigger tripods, I would try the Manfrotto Aluminium tripod.They also have ones for DSLR cameras and GoPros.
GoPro
Not essential, but having a GoPro (and various accessories) is useful for visiting Victoria Falls and any water-based activities.
Memory Cards
Finding (good, authentic) memory cards
can be difficult outside of the big cities, so take a stash with you. The last thing you want to do is be having to spend your safari deleting pictures to make space. I always use the 128 GB SanDisk ones now, they take ages to fill up so you don't lose crucial time deleting pictures. I usually go through 1 every 3 months.
Head Torch
Absolutely essential! Brilliant for camping, brilliant for dorms, brilliant for when the power inevitably goes out. I use this one.
Kindle
You're going to make a lot of long journeys in Africa, so having a Kindle is great and also means you don't have to carry heavy books around. If you want to read up on Africa, you can find some of my favourite books here.
Chargers
Don't forget all your chargers so you can use all your stuff!
Powerbank
You may not always have access to a charging point so having a powerbank is great, especially on a long journey. I have this one which has two USB points, lasts for ages and it's been great so far (when I remember to charge it)! Spare batteries for your camera are also worth considering!
Phone
I have an unlocked iPhone. If you are tied into a contract, consider getting your smart phone unlocked so you can pick up local SIM cards along the way and then you have internet at your fingertips! You may need your passport to get a SIM card.
iPhone Pin
As I travel with an iPhone, I always travel with some kind of iPhone pin so that I can switch SIM cards as needed. A paper clip usually works too. Avoid toothpicks as they can break and get stuck inside. I know this from experience!
Adapters
British, South African and European plugs are the main plug sockets used in East and Southern Africa. My favourite one is this Skross adapter as it converts British plugs into European plugs and European into South African plugs. 
You can check the plugs you need here.
Multiway Extension Lead or Charger
Having something that can charge multiple items at once is a bonus, especially at campsites with limited . Some people I know travel with an extension lead, and others have a multi USB charger. Whatever you have, you'll be everyone's favourite person.
Laptop
The first time I went to Africa in 2009, I would never have dreamed of taking a laptop. Not many places had WIFI and I pretty much disappeared of the grid for a year, (aside from the odd email home sent from an internet cafe and a few texts on my trusty old Nokia). But times are changing (sadly), and lots of people have them now so if you. I have a MacBook Air which I love, although I try not to be on it too much when I'm travelling. Then of course it's good to have a case to keep it safe and you may think about investing in a protective case.
Hard Drive
I would strongly advise that you back up your photos when you can! I have an ADATA hard drive which has been great so far.
TOP TIP: Use velcro to stick your hard drive to the top of your laptop and out of the way!
---
Toiletries/Health
You don't have to take everything with with you but if there's anything in particular that you like to use, I'd take it with you, as some of your favourite brands may not be available.
But there are relatively big supermarkets in most cities and towns where you can top up a lot of stuff if you run out.
Cleanser/Soap
I've always just used Dove soap on my face (I know some people who gasp in horror that I use soap on my face but it's always worked for me) and body. You can get it in a lot of supermarkets in Africa but if you like a proper face cleanser, I'd take yours with you. I carry my soap in a soap case, which I usually buy from somewhere like Bodycare, Boots or Superdrug.
Moisturiser
Like in Asia, there seems to be a fascination with skin whitening facial creams in Africa, so I always bring a little bottle of my favourite moisturiser with me. I've been using Olay Complete Care Sensitive SPF 15
 for the last 20 years and still love it.
Shampoo & Conditioner
In the last year I have become a complete convert o the Lush shampoo bars. They're A-MAZING! One shampoo bar lasted me 4 full months in Africa and took up hardly any space in my bag. My favourite is Honey I Washed My Hair shampoo paired with their Happy Happy Joy Joy conditioner. If you do buy the shampoo bar, you'll also have to invest in a storage tin, but they are cheap and you can use them over and over. They also make solid perfume bars too, perfect for travel.
Facial Sunscreen
Girls (and guys), look after your skin. I have long been a fan of Clinique Super City Block SPF 40
and always take a tube on my travels. I love it because it lasts for ages, protects my skin and it gives me a nice fresh look. I also use Shiseido Sports BB SPF 50+ – they have light, medium and dark, dependent on skin tone. I use the medium.
Heel Cream
Backpacking around in flip flops in the dry conditions wrecks havoc with your feet and within a week or two they will end up a sore, cracked mess. Before you go to sleep each night, just stick on a little bit of Scholl Cracked Heal Cream
and you'll be right!
Nail Brush
Your nails (especially your toenails) will get really dirty with the dust, so I'd definitely recommend taking a small nail brush to keep you clean and dirt free.
Make-up
I don't wear much make up when I'm in Africa, if at all, but for nights out, I take a tube of Maybelline Great Lash Mascara, a black eyeliner and my favourite blusher, MAC Blusher in Pink Swoon
. I use my Clinique City Block instead of foundation.
Sun Lotion
Sun lotion can be expensive in Africa so I usually take it with me, however I try to keep covered up as much as possible and use cream sparingly.
First Aid Kit
I always have a little Lifesystems Adventurer First Aid Kit
 with me. I usually buy a few extra items and stick them in there for emergencies, things like antiseptic cream, rehydration sachets, paracetamol, Tiger Balm and Immodium. If you're going to remote places you may want to take some water purification tablets, but I've never used these. A lot of the Americans I know travel with antibiotics, but you can pick that type of stuff up when there (usually just over the counter).
Insect Repellent
You can get good mosquito repellent in the cities, but it's not always readily available, so I usually take a couple of bottles of Jungle Formula
with me for emergencies. I also really like a South African brand called Peaceful Sleep and tend to use this more than Jungle Formula. I find it really effective, it doesn't contain DEET and smells quite nice.
Malaria Tablets
You could get all your malaria tablets at home, however they are expensive. I usually get a few from home, to start me off and then buy the remainder when I'm over there. Personal choice! The non-branded versions are much cheaper.
Tweezers
Good to keep your brows looking good and for removing splinters.
Sanitary Products
Sanitary towels are easy to buy in Africa, but tampons are harder to come by and usually only found in the bigger supermarets and chemists, so if that's what you use, you may want to take some with you.
However, nowadays, a lot of women are switching over to cups, like the Diva Cup or Mooncup. Just be aware there are different sizes and they take a bit of getting used to, so you will want to try it out before you go.
Hairbrush
If you don't want to take a big brush, you could take a Tangle Teezer
 which are perfect for travel. These usually don't get through my long, thick wavy, hair so I take my paddle brush, but I have removed the handle.
Toothbrush & Holder
I have yet to find a really good toothbrush in Africa, so I always take my own, plus a spare and carry them in a toothbrush holder like this one. You may also want to pack some floss too.
Contact Lenses and Contact Lens Solution
Contact Lens solution isn't easy to find in Africa and can be expensive, so make sure you take what you need.
Other
Believe it or not, Africa has some awesome supermarkets, so you can can a lot of stuff there, such as soap, wet wipes, razors, deodorant, hand sanitizer, toothpaste, toilet paper, cotton buds and body lotion.
---
Money & Travel Documents
All the important stuff. If there's only a few things you take, these should be it!
Money
I suggest taking a mix of your own currency, dollars for visas and some activities and local currency (if available to exchange before you go).
Dollars
Most visas on arrival need to be paid for in dollars (always check though). The dollars should be in good condition and dated 2013 and after if possible. If they are ripped or have any markings they may not be accepted.
ATM Card
Visa is the most commonly accepted card in Africa so I'd ensure you have a Visa card, but Mastercard is becoming more widely accepted now too.
If you can find a card that doesn't charge for withdrawals get that one! and don't forget to let them know you are going abroad!
Passport
Remember you will get stamped so your passport should have enough pages to get you through your trip. They usually say 2 pages per country you are visiting, however they will usually stamp more than one stamp on each page. Just make sure you have a few left!
And your passport should be valid for at least 6 months after you intend to leave the country.
Yellow Fever Certificate
Some countries require a Yellow Fever vaccination certificate to allow you to enter. You can find more info about whether you need a Yellow Fever certificate here.
Visas
You can get most visas on arrival at lots of entry points, however some you have to apply for in advance, so do your research. If you have applied in advance, don't forget to take your paperwork with you.
Travel Insurance Documents
Make sure you have a travel insurance that covers you for everything you want to do and keep your documents with the emergency numbers handy and also leave them with someone at home too. I recommend World Nomads or Outbacker.
Passport Photos
I've only had to use these once, as now they usually take your picture with a camera, but maybe carry a few spare passport photos with you in case you need them for visas.
---
Miscellaneous
Mosquito Net
For the record, I've never taken a mosquito net as a lot of places have them, but not all, so you may want to consider taking one. If you are in a tent, you don't usually need one as mosquitos rarely get in.
It is also sometimes handy to travel with a small can of DOOM (insecticide) that you can spray around before you go to bed.
Electrical Tape
Occasionally you'll find that the mosquito nets have holes in, so I usually just bring a small roll of electrical tape to fix the holes. Electrical tape also works to fix broken bags and tents and occasionally a car bumper.
Jewellery
You'll have an abundance of choice in Africa, so leave your expensive stuff at home and have some fun and support the local economy by haggling for some locally made items. Ladies may want to consider a cheap, fake wedding ring.
Towel
You could substitute a proper towel for a microfibre towel. They are a bit crap, but they dry quick and are small. I usually just take my normal towel.
Notebook/Pen
To keep track of all those amazing things you'll be doing. Or you can just use the notes on your phone.
Padlock
For securing your stuff in the lockers in your hostels, a combination padlock is great.
Travel Wash
Almost everywhere you stay will have some kind of washing facility, either for you to wash your own clothes or for someone to do your laundry for you. however, there may be the odd time when you run out of underwear and need to do them yourself. Alternatively, you can just wash your undies with shampoo in the shower. Works a treat.
Tent
A good way to save money on lodging, is to buy a small tent. This also helps if you're a bit of a wing it kind of person and just . Even if there's no room in the actual hostel, there will always usually be a space to pitch a tent!
Sleeping Bag
If you're camping, you'll need a sleeping bag. The bag you take will depend on the season. If you are travelling in the colder months, I'd recommend a 3 – 4 season sleeping bag.
Roll Mat
And you'll also need a roll mat. Depending on your tolerance for sleeping on the floor you could either go for something thinner (that could double as a yoga mat if you're that way inclined) or a thicker one like a Therm-a-Rest. I have an older version of this one which I used on Kilimanjaro.
Sleeping Bag Liner
Some people like to take a sleeping bag liner even if they're not camping. I have a silk one which is really nice and adds extra warmth when it's cold.
Tupperware
This may sound like a weird one, but something nice to have is a small Tupperware box, to put your food in for hiking or if you have any leftovers you can reuse them. You can buy plastic goods in every African supermarket (honestly, I've never seen anything like it, rows and rows of the stuff).
Bottle Opener
It's sometimes useful to carry a small bottle opener with you. You could take something tiny like a Wallet Ninja. Or a Swiss Army Knife. Or just a normal bottle opener!
Water Bottle
You may want to carry your own water bottle to save the planet and your pocket. If so, I'd definitely recommend a LifeStraw water bottle as they allow you to drink from the tap by filtering your water. This will save you a ton of money in the long run.
If you want a conventional one, I'd get a stainless steel one like this one which comes in tons of cool colours or a Camelbak, I have this one.
You may also want to get a carabiner to attach to your bag.
Like this post? Pin it for later!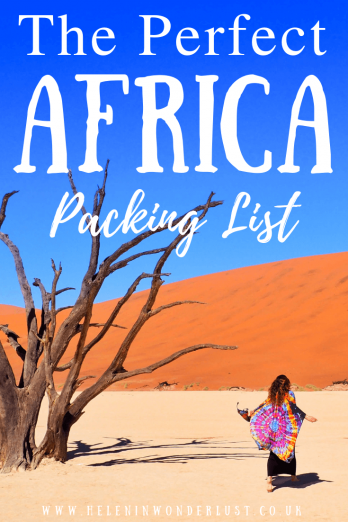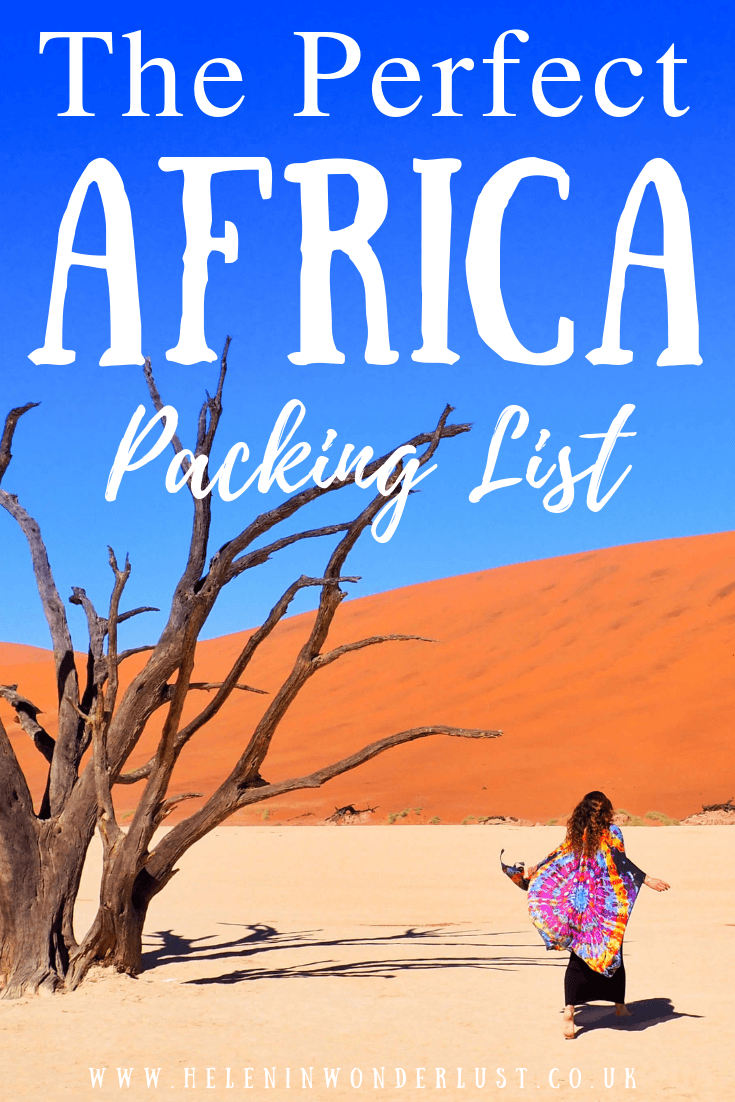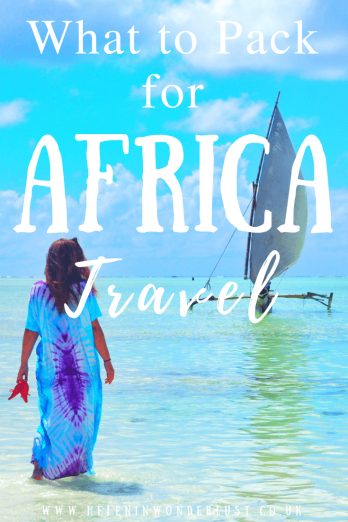 ---
---
Plan Your Trip to Africa
Getting There: I always search for flights on Skyscanner.
Travel Insurance: This is Africa, so make sure you have comprehensive travel insurance that will cover you for all of the activities you want to do. I recommend World Nomads or Outbacker.
Resources: I'm a big fan of Lonely Planet guidebooks and usually travel with one wherever I go.
Tours: Don't fancy going it alone? Join a small group tour and come on one of my Rock My Adventure tours.
Read More About Africa: 
See all Africa posts here.
---
I hope you have a fantastic and well-prepared trip to Africa! If you have any questions or suggestions for other items you can't live without, leave them in the comments below.

---
Please Note: Some of the links in this post are affiliate links, which will earn me a small commission at no extra cost to you. Affiliate sales help with the running costs of this site, so thank you for your support!
[ad_2]