[ad_1]

Last Updated October 2018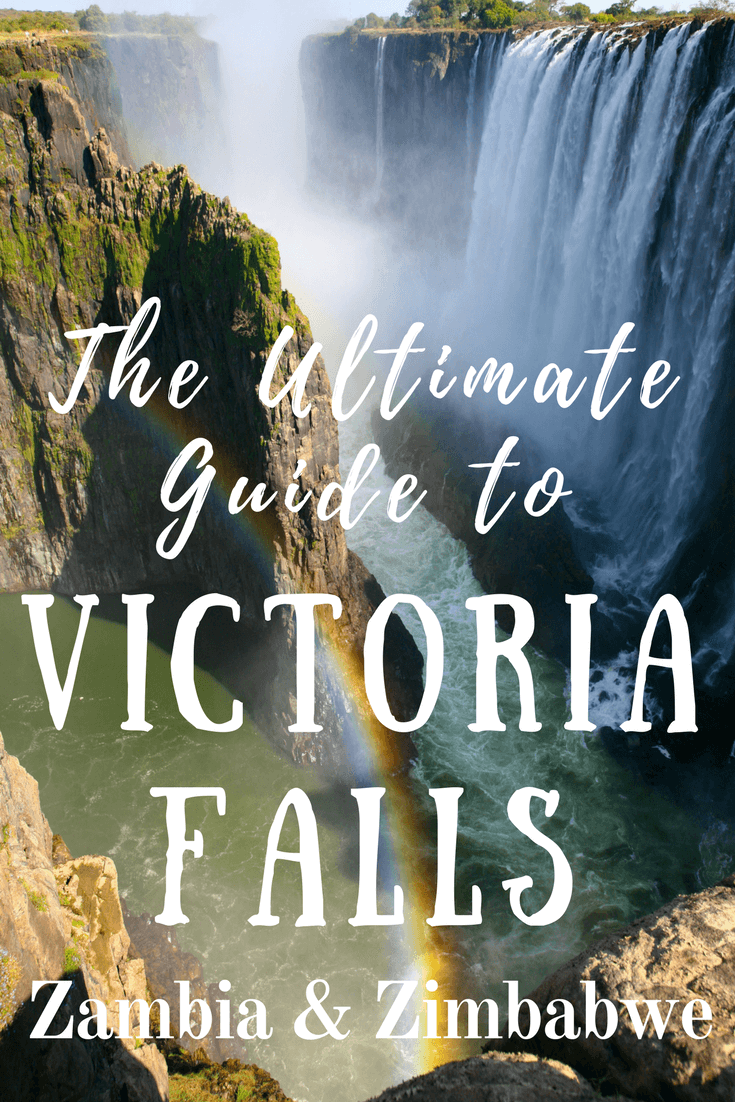 Visiting Victoria Falls in Zambia and Zimbabwe has to be one of the top activities in all of Africa.
This impressive waterfall is one of the 7 natural wonders of the world, known locally as Mosi-oa-Tunya, which means 'the Smoke that Thunders' in the local languages of Lozi or Kololo.
The first time I visited Victoria Falls, I heard the roar of the water (the 'thunder') crashing down into the gorge below and was covered in a fine mist (the 'smoke') before I even caught a glimpse of the falls themselves. I'd even see the mist rising into the sky as I flew into Livingstone airport. It is, for sure, one of the most spectacular places to visit on earth.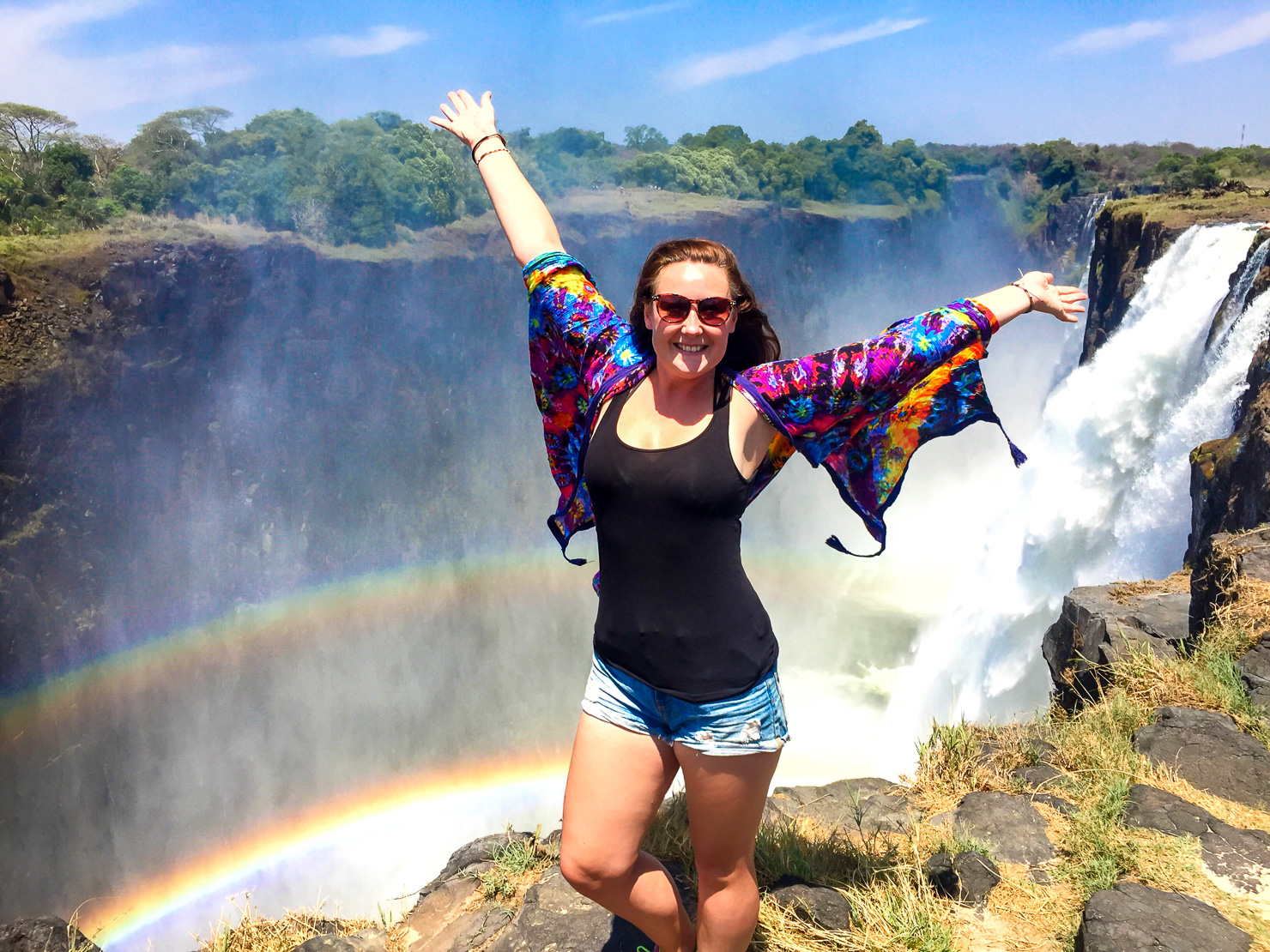 ---
Whilst most people would be content with visiting Victoria Falls once, or maybe even twice, I've been to Victoria Falls ten times (I think). I've visited eight times by day, twice by night and at four different times of the year. Nine of those times were on the Zambian side and once on the Zimbabwe side.
As the falls change dramatically with the seasons, each time has been a very different and profound experience and they never fail to blow me away.
April – Mid-November: This is the dry season. Around April/May, the falls are in full flow. The water levels then start to drop throughout the season. By November the falls are just a trickle on the Zambian side so you won't see much water at all, so if you want to see gushing water, you'll either have to go to the Zimbabwean side or take a trip to the Devil's Pool.
Mid-November – March: This is the rainy season, when the river begins to fill back up again. By March the falls are bursting, so it's hard to see them up close.
Check out the difference in appearance at different times of year…
The first time I went was in May when the falls were full to bursting. The rainy season, which runs from November to April, causes the river to swell, so visiting towards the end or just after this time, you will see Victoria Falls in all her magnificent glory. The roaring of thunder hits you, long before you see any water. Even as you enter the park, a fine mist gently coats your skin and clothes. As you get closer, the spray gets stronger until you are completely soaked. A rain coat may be a good idea to take to keep you dry, you can also buy ponchos there.
There are a couple of downsides to visiting at this time of year though. The spray is so strong it's difficult to get really close, especially to take photographs – so a waterproof camera or GoPro helps! Then there's rafting, sometimes the trips stop between March to May when the water level is too high. So if rafting is high on your priority list, go later in the year!
This is a great time to visit Victoria Falls. It's still pretty full, and you will still get wet, but you can get some good pictures of the falls and the rainbows they create.
The water is also low enough, so all the rapids are open for rafting but the river isn't completely wild yet! There's usually no rainfall at all between May and August and night time can be really cold, so take warm clothing, especially if you are camping and likely to be spending lots of time outdoors.
This is also a good time to visit the Angel's Pool (see below).
By September the weather is getting hotter and the falls, on the Zambian side at least, are almost dried up. In fact you can walk the full length of the Zambian side of the trail without getting wet at all – a massive contrast to other times in the year.
By November, the water has pretty much dried up.
Whilst you don't feel, see or hear the full force of the water, one thing you do get, is a chance to really appreciate the full magnitude of the gorge! Still pretty cool right?
However, the falls will still be flowing on the Zimbabwe side and you can get the the KAZA visa (see below on how to get this visa) which allows you entry into Zimbabwe too, so you can pop over the border and get the best of both worlds.
During the dry season, you can take a trip to the Devil's Pool (see below) and you can swim underneath the falls, something I did for the first time this year. This is also the best time for white water rafting – especially if you like your rivers pretty wild! A real adrenaline rush!
The Verdict?
It all depends on your preference and what activities you want to do, but any time of year is amazing and you won't be disappointed I'm sure! My favourite time is between July and October.
---
Victoria Falls sits right on the border between Zambia and Zimbabwe, so which side are they best viewed from?
During the dry season, the falls are best viewed from the Zimbabwe side, but then Zambia has the Devil's Pool, which one of the best things to do at that time of year!
Zimbabwe tends to have the more 'complete' view of the falls, but the view from the Zambian side is also wonderful.
Vic Falls town is a closer to the falls than Livingstone, but it's only a short taxi ride away anyway.
Both places have nearby airports.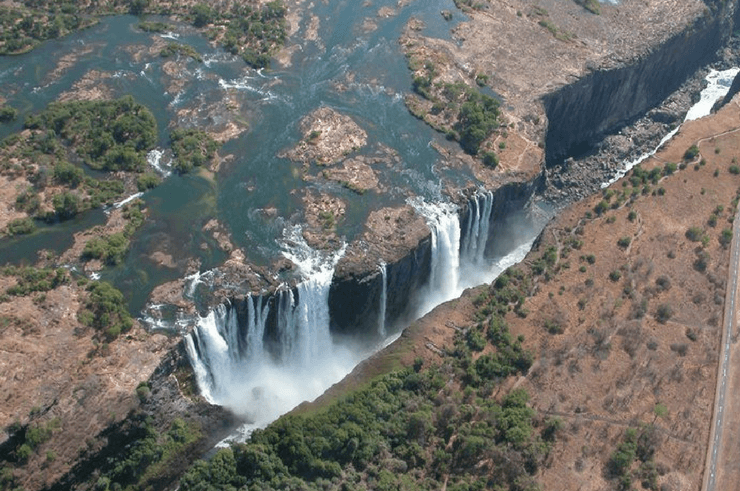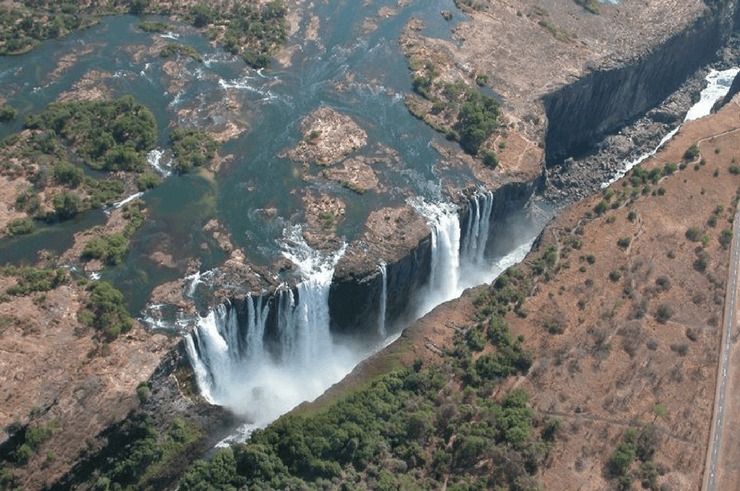 Many people say they are better from the Zimbabwe side, but I love Livingstone in Zambia as a place to stay. Vic Falls is smaller and more touristy with more hotels and restaurants and is in the national park so animals wonder around town, but Livingstone is a bustling African town and a lot of fun. Having now been to both, my vote would still go to Livingstone.
The Verdict?
Basically, both sides have their merits and are amazing! So I would maybe try and see them from both sides if you can and maybe also stay on both sides! As mentioned above, you can get the KAZA visa which allows you to move back and forth between the two, so you don't have to choose!
---
READ MORE: The Ultimate Travel Guide to Livingstone Zambia
---
I'm going to write a post about all the cool activities you can do in and around Victoria Falls (believe me there are a lot), however here are 4 special activities you can actually do in the falls or inside the park.
The Devil's Pool
When the water level is low (August to January usually) there is a little spot called the Devil's Pool.
A ledge creates a barrier at the top of the falls, so that you can sit and peer over the edge and not plummet to your death… This isn't for the faint of heart, but if you can face it, it's the ultimate infinity pool and it's one of the best things I've ever done.
The Angel's Pool
When the Devil's Pool is closed, you can visit the Angel's Pool. A similar experience but you are not quite on the edge like you are with the Devil's Pool.
Either experience is very cool. They're not cheap, but you get nice meal included in the price.
Under the Spray
A newer activity is swimming 'Under the Spray' where you basically walk down the the Boiling Pot (the swirling water underneath the Zim Zam Bridge where the rafting trips start from), get in a raft and then paddle to a spot directly underneath the falls.
You then scramble over the rocks until you reach a pool where you can swim underneath the falls as they come crashing down on top of you. This is awesome!!!
Only available during low water and dependent on river conditions as it would be too dangerous any other time. We did it in September.
---
When the water level is high and the moon is full the Victoria Falls open at night and are home to a Lunar Rainbow or Moonbow. Whatever you want to call it, seeing a rainbow at night is pretty surreal and magical.
The best time for viewing is between April – July and is said to be best from the Zambian side. You can see the dates here.
---
There are airports on both the Zambian and Zimbabwe side and both towns are well connected by bus to other cities in Southern Africa.
A taxi to Victoria Falls from Livingstone town costs around 60 ZMK or some hotels/guesthouses will provide a free shuttle bus. Do not attempt to walk to the falls from Livingstone as the road is not safe – it's busy, there are animals about and people have been robbed along this road.
From Vic Falls in Zimbabwe, you can easily walk to the falls from town, as it's a lot closer on that side. A taxi from Vic Falls Backpackers was around $5.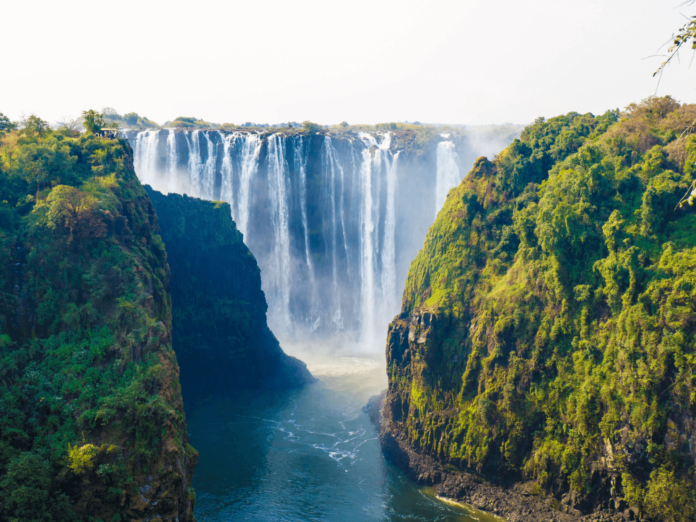 ---
If you are coming from the Zambian side and want to visit the Zimbabwe side this is how you do it in a few easy steps:
Take a taxi or shuttle from your hotel to the border at Victoria Falls.
Go to immigration and get your passport stamped to exit Zambia.
Walk through the gate.
Walk to the Zim Zam bridge, which takes approx. 10 minutes.
Walk across the bridge, admire the views and watch the bungee jumpers.
Walk to Zimbabwe immigration, which again, takes approx. 10 mins.
Go to immigration and get your passport stamped to enter Zimbabwe. Pay your visa fee if you don't have one already.
 Walk through the gate.
The entrance to Victoria Falls Zimbabwe is a few hundred yards down on your right.
If you don't want to walk across, you can get a taxi from just inside the gate after Zambian border control that can take you across the bridge and on to the Zimbabwe border. Then you can pick up taxis once you are through into Zimbabwe.
For info on visas, see below.
---
Most nationalities can get visas on arrival, however, it's always best to check on the relevant government websites for Zambia and Zimbabwe to ensure that your passport is on the list! if it's not, then you will need to apply for your visas in advance.
Some passport holders do not need visas at all.
KAZA UniVisa
If you are arriving at either Kenneth Kaunda International Airport (Lusaka, Zambia), Harry Mwaanga International Airport (Livingstone, Zambia), Harare International Airport (Zimbabwe), Victoria Falls International Airport (Zimbabwe), Kazungula Border (with Botswana) or the Victoria Falls Border (between Zambia/Zimbabwe) you can purchase the KAZA UniVisa* which costs $50 and is valid for 30 days. This allows you to move freely between Zambia and Zimbabwe.
Just be aware that if you leave Zambia or Zimbabwe (for instance to go on an overnight safari to Botswana), this visa becomes null and void, so you will need to buy another visa for re-entry. The ONLY exception to this, is if you take a day trip to Botswana.
*Update: They are now saying that the KAZA UniVisa is available at ALL ports of entry into Zambia and Zimbabwe. Even if this is true, I wouldn't bank on them having them in stock, but by all means ask! Jessi, who runs some of my tours for me in Zambia, recently tried to get one from the Malawi/Zambia border but they didn't have any. They once ran out of these visas (for months) so no-one could buy them and I believe this happens frequently! So bring extra dollars just in case. TIA.
Single or Double Entry Visas
If you are arriving overland from anywhere else (ie. coming from Malawi) and cannot get a KAZA Univisa or you don't need one, here are your options:
Single Entry Visa to either Zambia ($50) Zimbabwe ($30*): This will just allow you into the one country, so you will not be able to leave and come back for free unless you go on a day trip to Botswana.
Double Entry Visa to either Zambia ($80) or Zimbabwe ($45*): This allows you to leave the country once (whichever one you bought the visa for) and return once. So if you buy a Zambian visa, go to Zimbabwe for the day or camp overnight in Botswana and then go back to Zambia, that's it. No more free entries after that.
Single Entry Visa ($50/$30) + a KAZA UniVisa ($50): You should be able to buy the KAZA UniVisa either at the Kazungula Border when returning from Botswana or at the Victoria Falls border. Just be aware that once you buy the KAZA UniVisa, you have to stay within Zambia and Zimbabwe, so if you are planning on doing this, go to Botswana first, otherwise you void the KAZA UniVisa and end up having to pay again! If you can get the KAZA UniVisa, you may as well, as it's the same price as single entry but gives you more freedom.
Transit Visa ($50): Zambia also has a transit visa option, but it costs the same as a single entry visa so I'm not sure why you would bother?
Day Tripper ($20): If you want to visit Zambia for a day from either Botswana or Zimbabwe, you can get a day tripper visa which might work out a little cheaper. Only available at the Kazungula and Victoria Falls borders.
*Please Note: For Zimbabwe, some people pay different fees for visas.  For instance, British and Irish passport holders pay $55 for a single entry and $70 for double entry. You can see the current prices and information here.
Multiple Entry Visas
These are only available in advance from the relevant consulate.
PLEASE NOTE: This is only intended as a guide as the rules can change at short notice so please keep an eye on the relevant government websites and do further research.
---
As of May 2017, the cost of entry is $20pp in Zambia and $30pp in Zimbabwe. A guide is usually an extra $20, however you don't really need a guide and it is fine to explore on your own.

If you want to bungee jump (or do the other extreme activities), you do not have to pay to enter the national park or for an additional visa. Simply head to the ZimZam bridge, go through customs, but tell them you are bungee jumping. they may just keep hold of your passport whilst you do it.

Beware the baboons. Baboons run wild and whilst they won't usually come near you, or hurt you, they are opportunists and they can give you a nasty bite. So if you are swinging your bag, they may think there's food in it and run off with it (I've seen it happen)! Once they realise there's not, they'll drop it – or throw it over a cliff. Bye bye camera! So keep your bags close to you, up off the floor. And to be safe… don't bring any food with you.
If you're visiting the lunar rainbow, take a torch, it's very dark on the paths.
Wear steady shoes as it can get slippy.
If you're visiting during high water, perhaps bring a rain coat and make sure you have a way of water proofing your camera, either with a waterproof bag or a plastic bag, as you will get soaked!
Like this post? Pin it for later?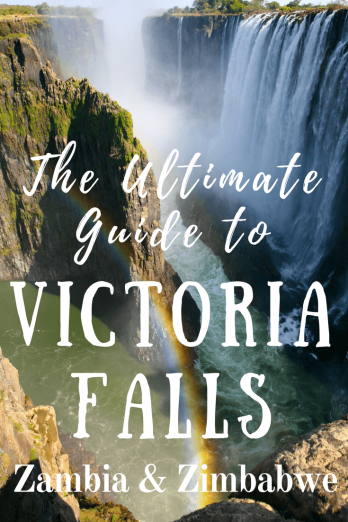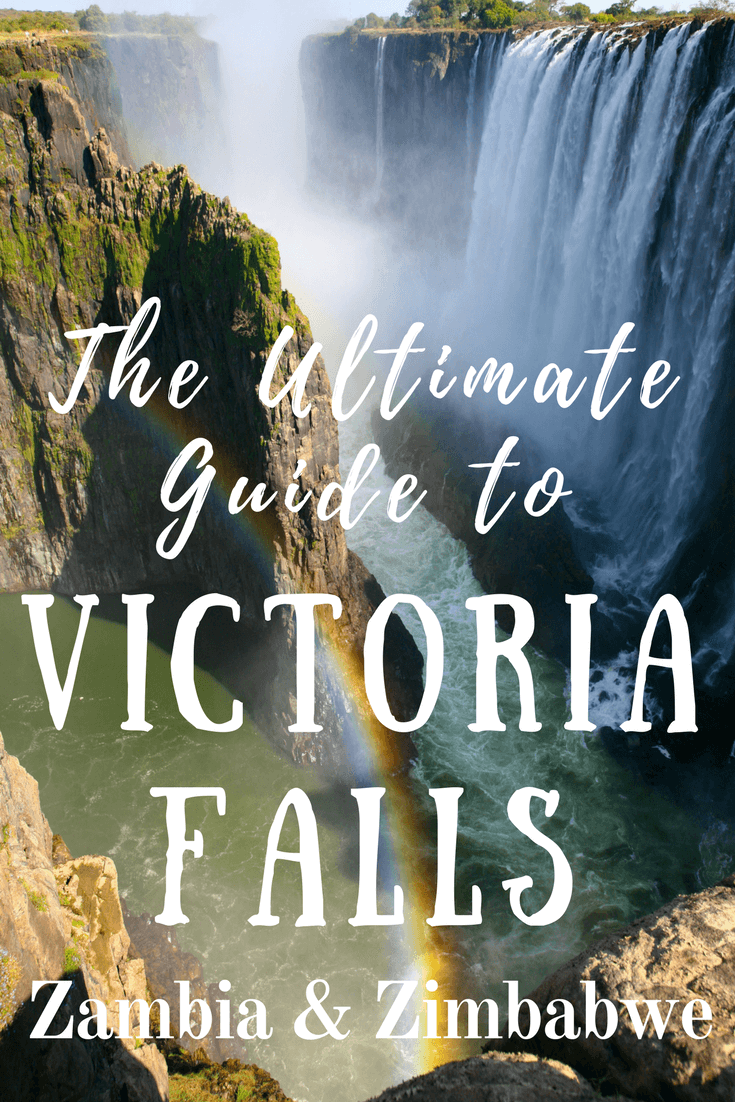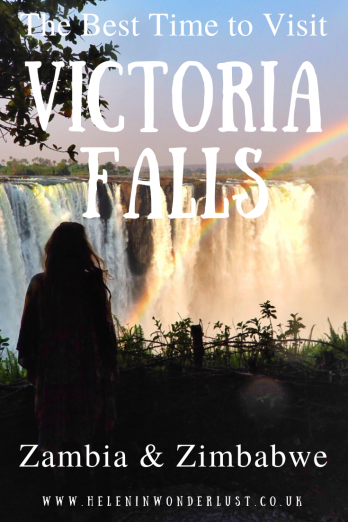 ---
Getting There: I always search for flights on Skyscanner. The nearest two airports are Harry Mwanga Nkumbula International Airport in Livingstone and Victoria Falls International Airport in Vic Falls. Intercape buses connect other cities in Southern Africa to both cities. There are also a number of other local bus companies too.
Travel Insurance: This is Africa, so make sure you have comprehensive travel insurance that will cover you for all of the activities you want to do. I recommend World Nomads or Outbacker.
Resources: I'm a big fan of Lonely Planet guidebooks and usually travel with one wherever I go.
Tours: Don't fancy going it alone? Join a small group tour and come on one of my Rock My Adventure tours.
What To Pack: See my comprehensive Africa Packing List.
Read More About Zambia: 
See all Zambia posts here.
---
I hope you have an incredible trip to Victoria Falls! If you have any questions, please leave them in the comments below.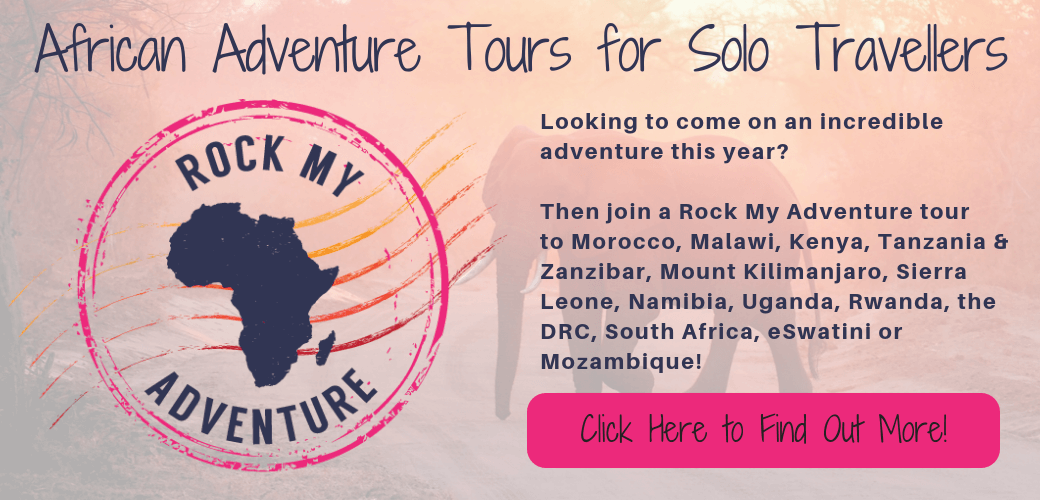 ---
Please Note: Some of the links in this post are affiliate links, which will earn me a small commission at no extra cost to you. Affiliate sales help with the running costs of this site, so thank you for your support!
[ad_2]