[ad_1]

Dreaming of white sandy beaches and warm, lucid-azure blue waters? Then I dare you to hop on a plane and take a last minute vacation to Aruba!
Whether you're a couple looking for a romantic escape, friends needing a tropical getaway, or simply just a wanderlust solo traveler like me looking for a breath of fresh sea air, Aruba and it's incredible beaches are a cure to everyone's needs!
Just a short and typically inexpensive flight from the U.S., and you'll be on this Dutch Antilles Island (don't worry, it still counts as a new country!). I booked a flight only two days in advance for about $150 one way from Los Angeles, and another only $100 back to Miami! All because I was yearning for some intense sunshine, and crystal clear water to swim in!
That being said, there's a lot of things to do in Aruba other than it's beaches! However, since my main desire for going there was a tropical escape, I opted mostly to discover all of the best ones, rather than partake in some of the other adventurous activities. Well, that and also the tiny unfortunate fact that I arrived in Aruba and realized my license was expired so I couldn't rent an ATV or UTV, and the tours were relatively pricey.
So instead, I did my go-to solo traveler move and made friends with locals in order to see the island! More specifically, I used a dating app to find someone cool who wanted to hang out and show me around in exchange for some social media shout-outs (…and that's ALL). It worked out great, and now I have a solid list of Aruba's best beaches, plus a bunch of tips you NEED to know!
So starting with the northernmost beaches I visited and working down south, the best ones I went to were:
1. Arashi Beach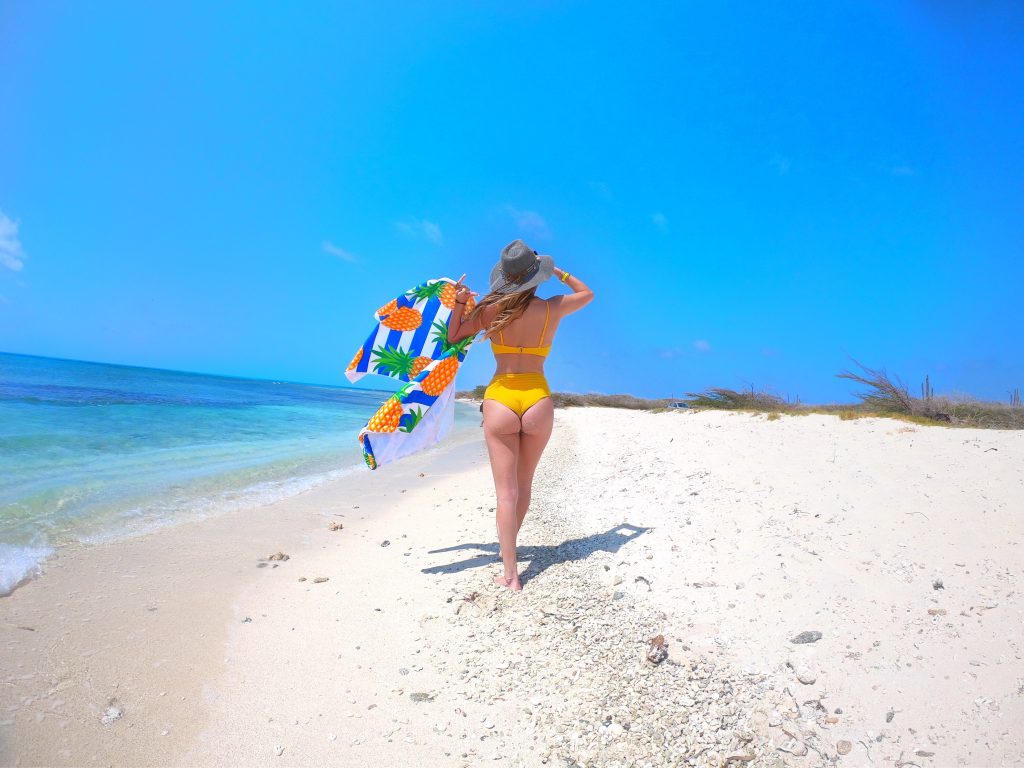 Starting with the northernmost beach in Aruba is Arashi Beach! Which you can get to by bus from the main areas for only $2.50! This beach and the ones near it are most well-known for their amazing snorkeling and diving sites! The main area of Arashi Beach can get a little crowded, but if you walk further north, you're more likely to get your very own little stretch of shore space!
For you adventurous ones like me, go ALL the way up to the southernmost tip of the island, where you can see a forest of tall cacti overlooking the glittering ocean! Just be sure to watch out for ATV's, and wear shoes since the rocks and coral are a bit sharp!
Here you can also see the California Lighthouse; one of the main attractions that Aruba boasts about even though I didn't find it particularly enthralling. 
2. Boca Catalina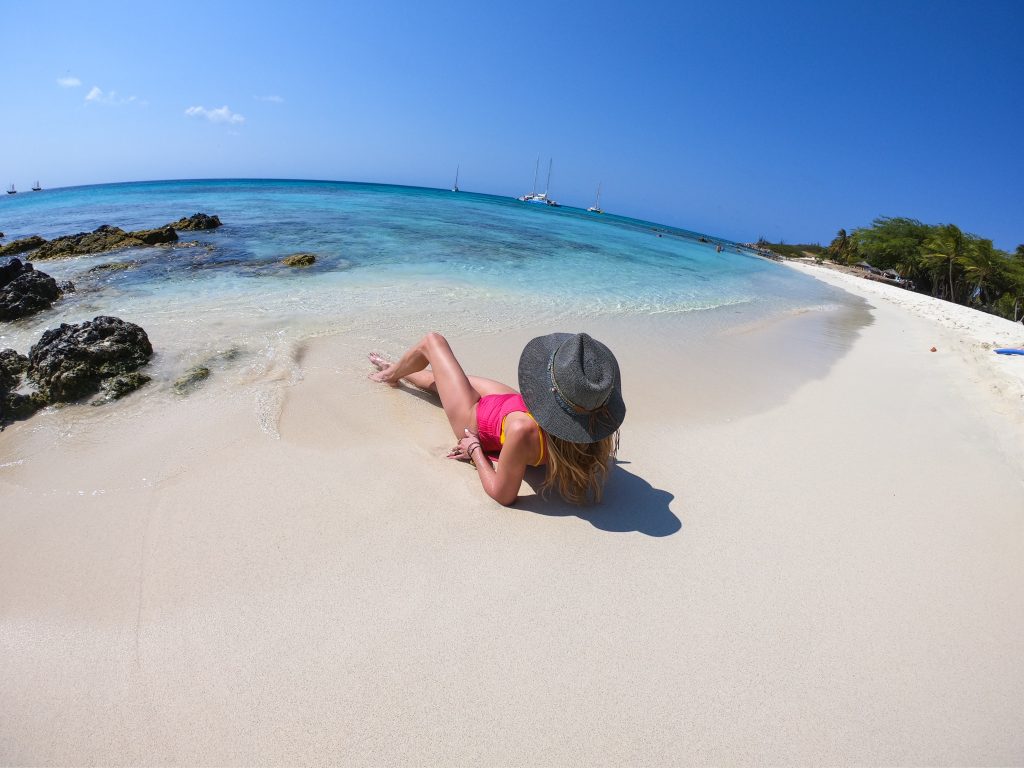 You can take the bus again to get to Boca Catalina, but it will be the same price as taking it all the way back into town, so you might as well walk here from Arashi!
It's relatively safe to walk on the side of the main road, just be sure to stay off of it rather than walk on the actual pavement! The first part of Boca Catalina that you'll see is a small area where many people are snorkeling, and a ton of pelicans are watching (likely laughing) on the rocks to the right. 
Across the street you can also see one of the many fancy houses in this area, which has a pool and hopefully fun tenants who partake in shooting Super Soakers at the Kuku Kanooku bus when it drives by!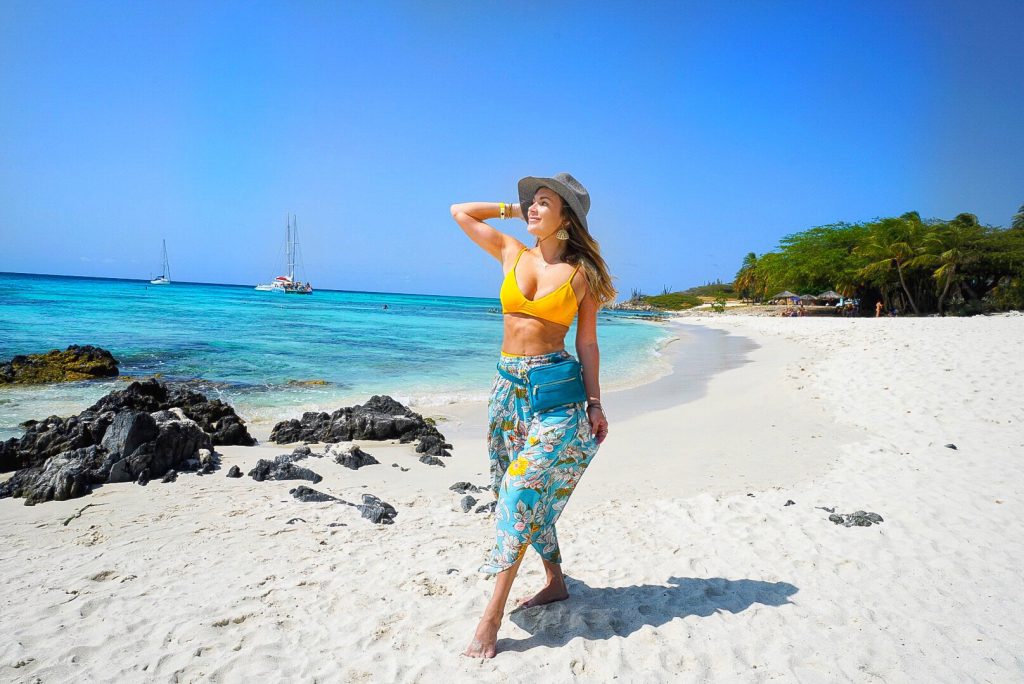 Anyway, walk further down this beach and you'll find a narrow, secluded patch of beach in front of two private properties. The beach here isn't private, but since it seems like it is, it's hardly crowded!
Walk further down and you'll find the main part of Boca Catalina, which I didn't like as much because of how rocky it is. In fact, I sliced my foot open on a rock that was hiding in the sand, so definitely wear shoes here!
3. Malmok Beach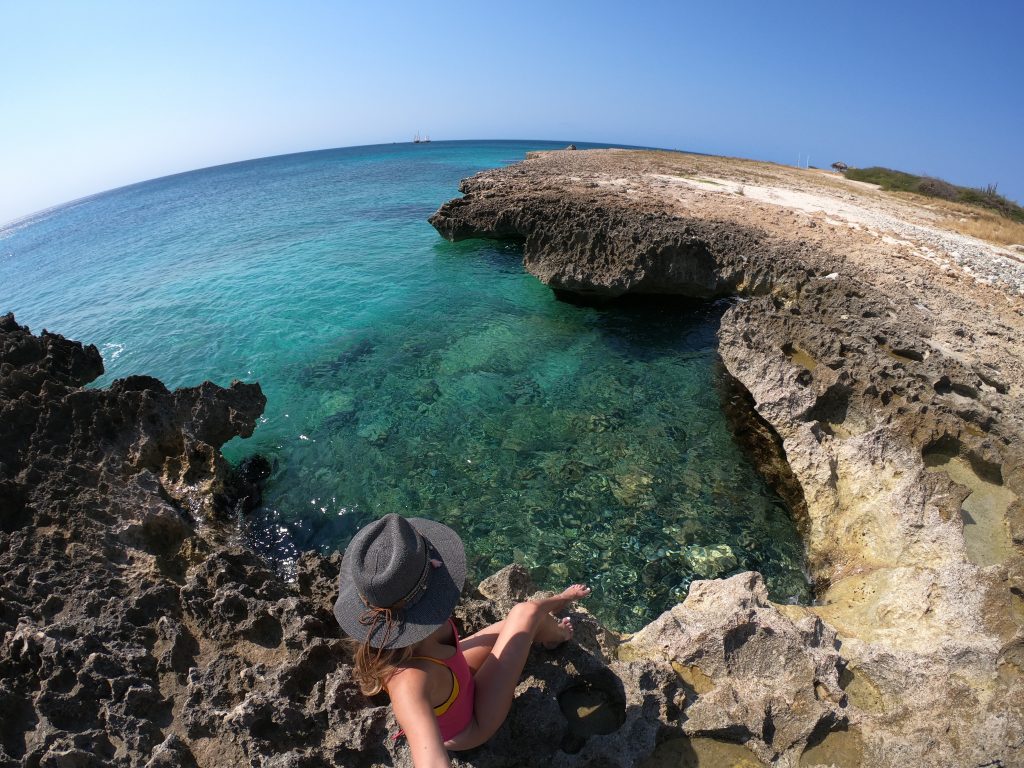 To be completely honest, I had no idea I was even at Malmok Beach… I was trying to walk to it, and looking for a sign, when I saw what I thought was a "Natural Pool", so stopped to take this photo.
I then kept walking in search of Malmok, and ended up almost to Palm Beach! I realized later I was actually at it, but it's not as beachy, more rocky, and most known for the great snorkeling!
4. Palm Beach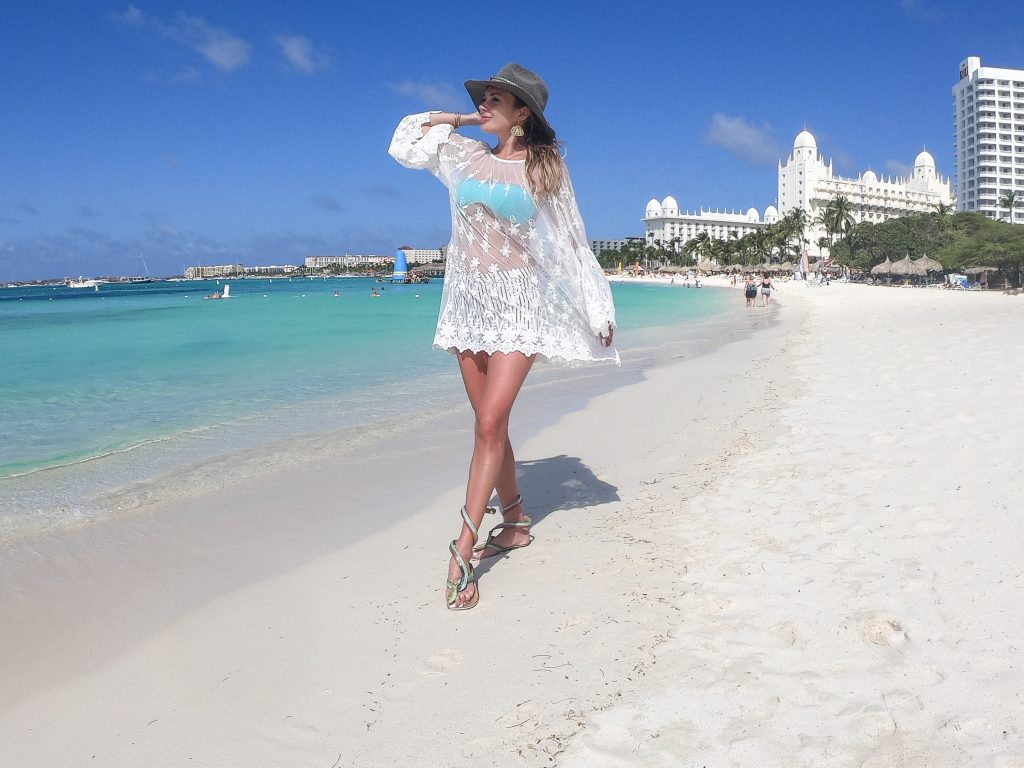 One thing you should know is that Palm Beach is considered the best area for younger people to hang out! It's also referred to as the "high rise area" because it's the only place on the area where they're allowed.
You can find some of the fanciest, most expensive hotels here, that will not even let you into their bar areas without a wristband.
The actual beach is usually pretty crowded, and there's tons and tons of umbrellas (also called "palapas") dotting the sand. It's definitely a fun environment to be in if that's the vibe you're looking for! 
There's also a fun bar/restaurant at the end of the Pier that's great for a cocktail and snack! It's called Bugaloe, and I'd recommend getting there right before happy hour which starts at 5pm in order to get a seat.
If you're trying to go there any later than 4pm, I'd highly recommend making a reservation. Random sidenote; they have really hot bartenders, and if you go and see a tall blonde guy with a man bun, tell him I said what's up. 😉
This is definitely the beach you want to end up at towards the end of the night as well, because it's where all the new best bars and restaurants are! In the past the main bar/club area was Oranjasted, but after a very sad and unfortunate crime, things shifted towards the touristy area.
It's still a fun and very poppin' place to be though! Definitely be sure to make dinner reservations, and if you'd like some suggestions, my new bartender friend made a few! He recommended Dragonfly for sushi, which I ate at and thought was pretty good, and for drinks; Bohemian and Sopranos on either side of the Hard Rock Cafe.
You should be able to take the bus directly to this area from where you're staying as long as it's north of Oranjested, but depending on how late you stay out, I'd recommend taking a taxi home!
5. Eagle Beach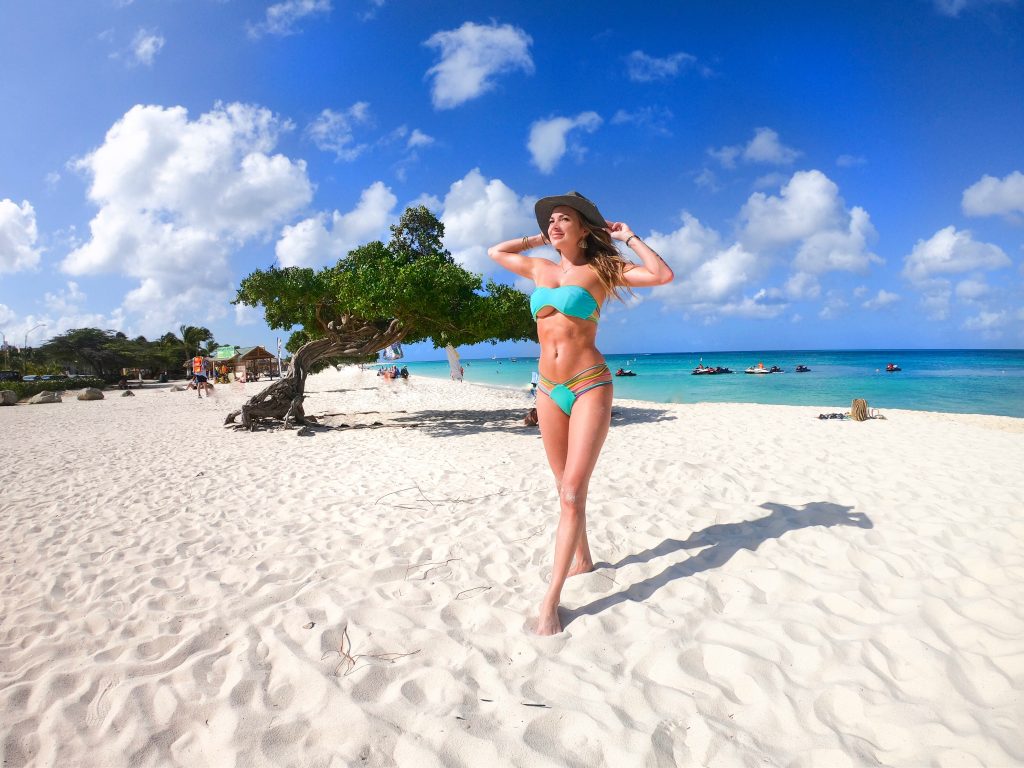 Eagle Beach is argued as the best beach in Aruba compared to Palm Beach, but it's a tough call! Both are beautiful, but Palm Beach has more young people, whereas Eagle Beach has more honeymooners and uh…babyboomers and up.
But one thing Eagle Beach definitely has over Palm Beach is that fluffly, silky sand that you feel like you can almost melt into! It also has these really cool Fofoti trees right on the beach that if you're lucky (AKA get there early AF) you can swoop a spot in the shade under!
I'm not entirely all for that idea since it ruins pictures for everyone else, but someone is bound to do it anyway so it might as well be you.
Another thing I really liked about Eagle Beach was that there were little bars/restaurants right on it, and also bathrooms. Since you can't go into any of the hotels on Palm Beach unless you're staying there, it makes it hard to grab a daquiri, snack, or use the bathroom.
Grab a spot on the beach in front of the Amsterdam Hotel where they have their bar/restaurant extension (and bathrooms)! I particularly like them because they use biodegradable plastic cups and paper straws, and because my new bartender friend Peter works at the pool bar at the hotel!
That being said, if you want to grab a bite during the day, or just talk to someone really cool who can give you shit tons of recommendations (for Aruba and pretty much ANYWHERE else), go to the second level pool bar at the Amsterdam and ask for Peter!
I actually ended up staying in or near Eagle Beach because it had the most affordable hotels for quality and distance to the beaches. They were: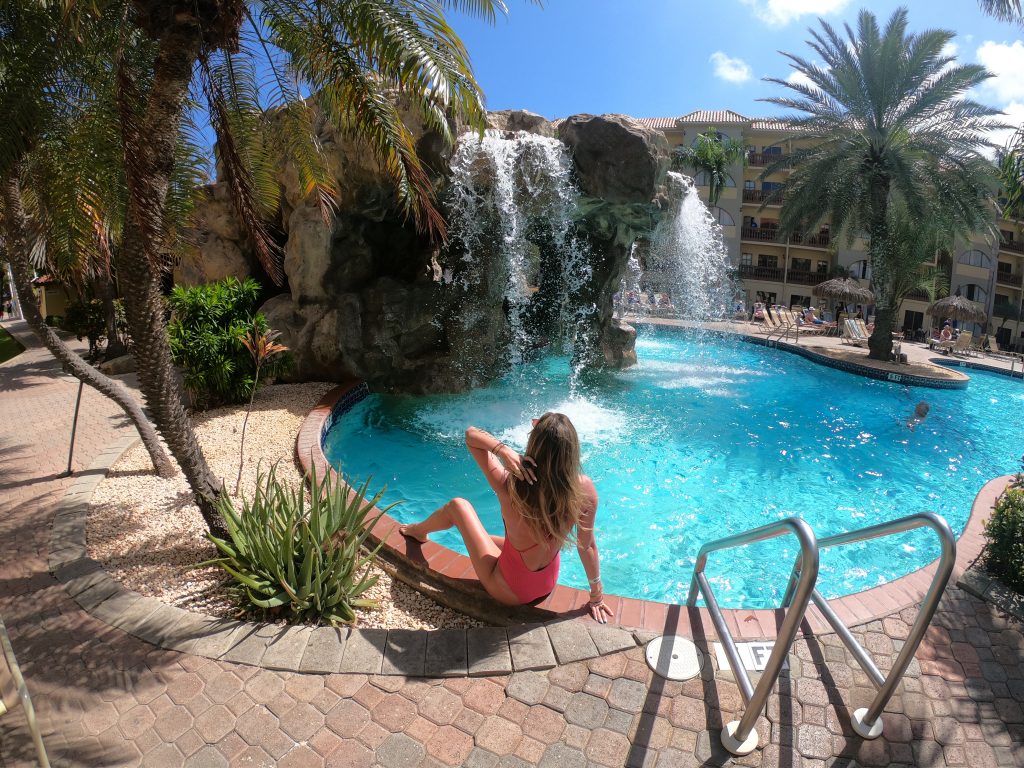 Eagle Aruba Resort and Casino: This was the priciest at $200 per night, but also the nicest, with two pools, a waterslide, waterfall, two restaurants, a spa, and a massive room with a living room! It was also closest to the beach, just a block away! (Note: It also goes by the Tropicana which can get confusing when you're looking for it!
The Mill Resort and Suites: Closer to Palm Beach but not in an entirely convenient spot, this hotel is best if you're planning to go out in Palm Beach, or want to be near both beaches. It has a nice pool, big clean rooms, and a shuttle golf cart to the beach! It was about $150 and the cheapest I found closest to the beach.
TO FIND THE CHEAPEST HOTELS: I use Booking and I use the map feature! Watch my tutorial here, or do your own search below!
NOTE!!! Be sure to check if tax is included or not!! Most of the time it's not and it's a crazy 24% extra! Click here though for $20 off your booking!
6. Mangel Halto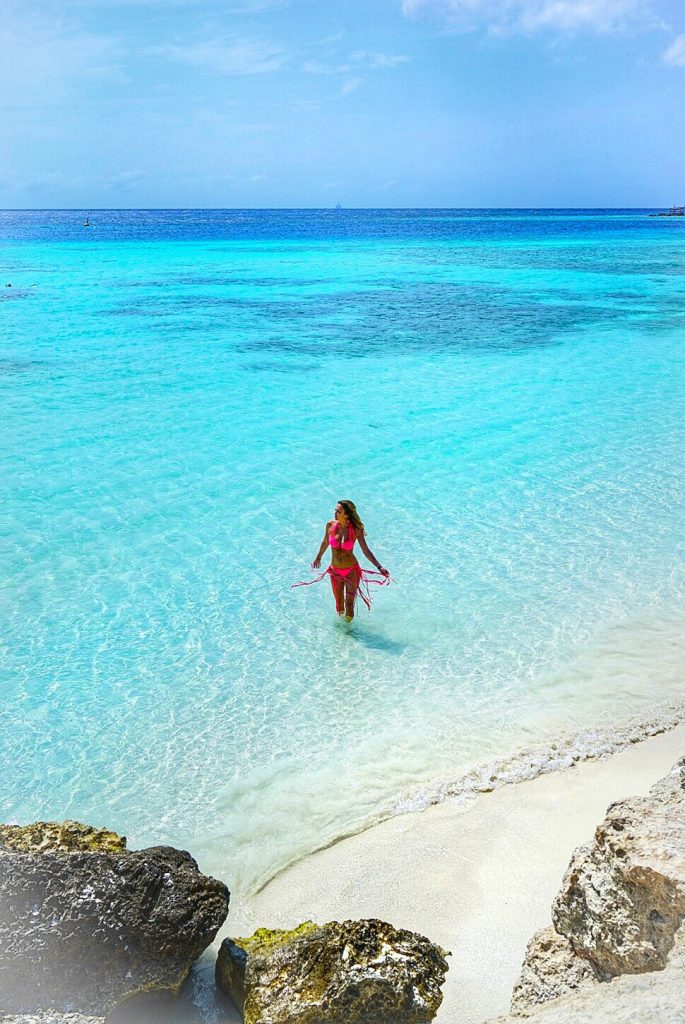 This was one of the top recommended beaches my bartender friend gave me, the only problem at first was that there aren't any direct buses that go to it!
Typically you'd need your own car, a tour, or a taxi to get there, none of which I had or was wiling to pay over $100 for, so I had to improvise. That's where my dating app technique came in handy, and I met Mike, who's an aspiring photographer who also does private tours.
You may be automatically thinking how unsafe it is to trust a random guy you meet on Tinder to drive you to far away beaches, which is why I would only recommend doing something like that if you've read my guide to 'Safely Using Dating Apps While Traveling Solo Abroad'.
But the good news is that after meeting Mike and training him in tour photography, he's for hire! Shoot me an email if you're interested!
But more about this amazing beach! Mangel Halto is one of the most stunning, secluded beaches on all of Aruba in my opinion! People come here mostly to snorkel, but I was mesmerized by the views!
If you go out towards the road, away from the parking lot and main beach area, you'll get this stunning panoramic from the small cliff above that overlooks a nook of white sand and then endless neon blue waters.
Down on the actual beach area are clusters of mangroves, which make pleasant, shady little entrances to the coral reefs beyond them. 
7. Baby Beach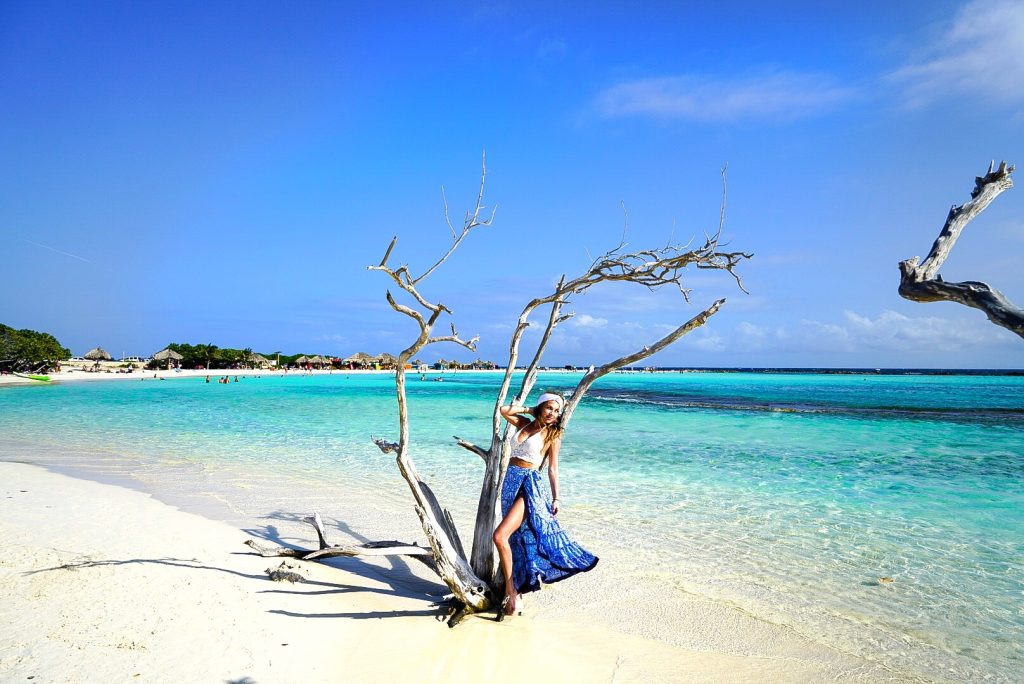 So many people said to go to Baby Beach, but in my personal opinion, it wasn't the most breathtaking. It's more like a lagoon, which Mike told me was actually formed when a hurricane wiped out a makeshift baseball field a few years ago.
It was also said to be one of the most secluded beaches (likely because you need a car, taxi, or tour to get to it), however it was pretty crowded when I went. It does have that clear Alizé-blue water, but so do all of the other beaches, and for some reason they just seem fresher since they aren't enclosed with a rock wall.
Oh, speaking of which, the reason why it's called "Baby Beach", is because there are absolutely zero waves and the whole thing is very shallow, making it the perfect place for babies to swim. If you are not a baby, or don't have babies, you might not find it that exciting.
But on a more positive note, there are these two really cool dead white trees that make for some awesome pictures there! There's also a huge beach bar and restaurant you can grab a drink and some food at! I didn't eat there because I wanted to try to go to two of the other restaurants Peter recommended, but wish I had since both of them ended up not working out for random reasons.
Extra: Why I Didn't Go to the Famous "Flamingo Beach"
If you're going to Aruba, you probably have been influenced by the glorious photos you see of hot pink flamingos in bright blue translucent water, right?
You're probably dreaming about that shot of you with your hand outstretched as the trendy beast poses perfectly for you and the camera. Well, so was I, and like most of the people you see posting photos with the flamingos in Aruba, I was going to be able to do it because of a collaboration with the hotel where they live (as in, get a free stay there).
However, since my free stay wasn't supposed to be until June and I randomly went during their high season in February, they couldn't offer me the stay. I didn't fuss, and looked into just staying there the night anyway, since, BY THE WAY, the only way to see them is if you stay at the hotel or get lucky and get one of their few day passes.
But at over $400 a night plus $100 in taxes, I didn't really find it worth it. The day passes go for about $150, which I would have tried to do, however was told they don't even give them out if the hotel is mostly full. You have to go at around 6am as well to try and get there first for them since you can't buy them in advance.
You can check prices on Booking where I always find the cheapest rates here: Flamingo Beach Hotel
So if it's your dream to see the famous flamingos of Aruba, you at least now know you'll need to save a bit more to see them! For the same price you can also buy a flight and hotel to Curaçao next door, where they have wild flamingos and even a flamingo nature reserve!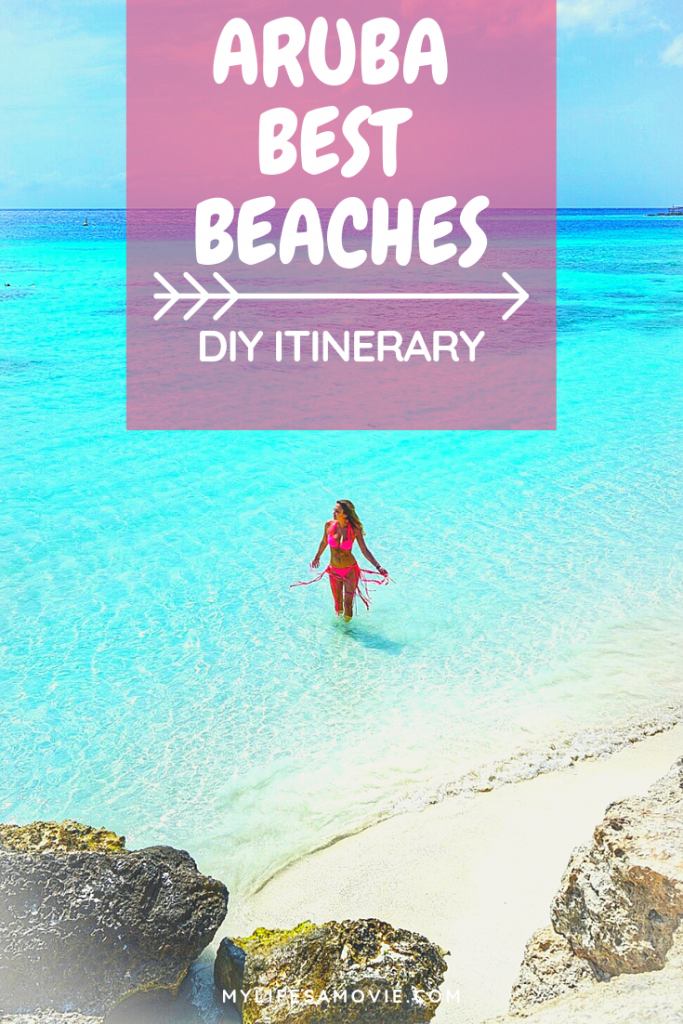 [ad_2]