[ad_1]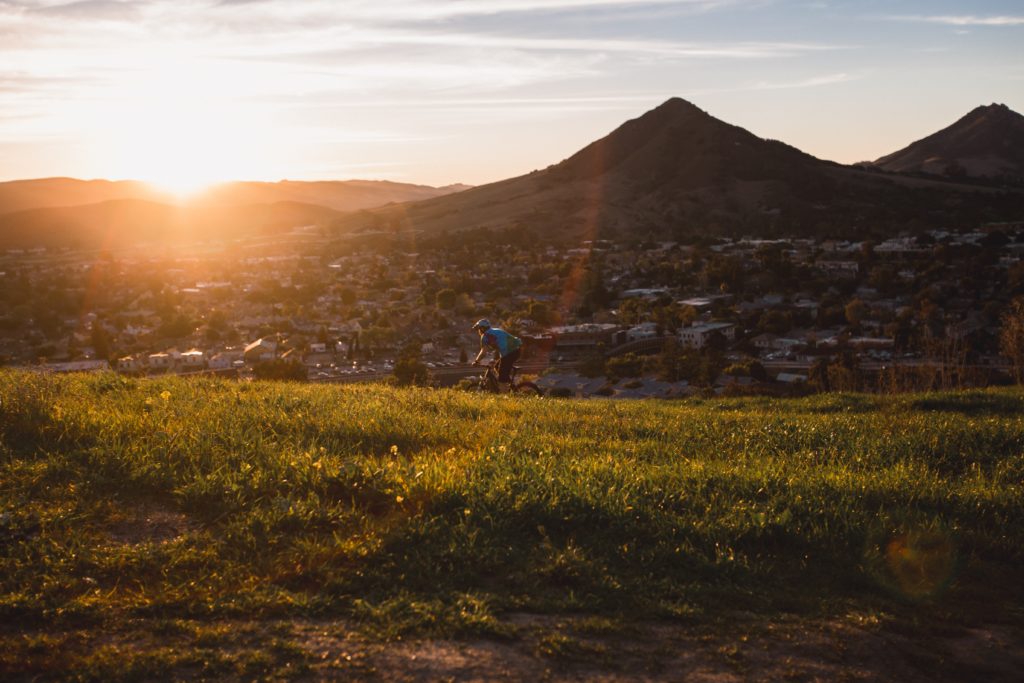 California is a dream destination for millions of travelers, thanks in large part to iconic destinations like San Francisco, Napa Valley, Los Angeles, and Yosemite.
But since moving to Northern California nearly two years ago, so many places that I had never even heard of before have started popping up on my radar.
Places like Half Moon Bay, Livermore, the Lost Coast, Sausalito, Mount Shasta, and San Luis Obispo.
Prioritizing visits to all of these newly-discovered destinations was tricky, but fortunately we had an easy excuse to plan a long-weekend excursion to San Luis Obispo in November; some of our closest new friends from the Bay Area were getting married there!
We hurriedly RSVP'd "1000% YES!!",  booked an adorable Airbnb, and began plotting ways to make the most of our weekend in SLO. Here's what we got up to:
(Pssst – If you just want to see a neat-and-tidy "Weekend in San Luis Obispo Itinerary" without all the backstory and details, click here!)
---
Day One: Thursday
Our weekend in San Luis Obispo kicked off on a Thursday evening.
The drive down from San Jose takes roughly 3 hours, so we wrapped up work before 4pm and hit the highway. There was little traffic along the route, and it was a relatively painless drive (not always the case here in CA, where weekend getaways are common).
Just a few hours later, and we were navigating the streets of downtown SLO in search of a place to park.
Tip: It's not possible to park overnight in most garages in downtown San Luis Obispo, but there is plenty of street parking a few blocks outside the city center (SLO is a small place – less than 50k people – so "outside the city center" really means just a few blocks away).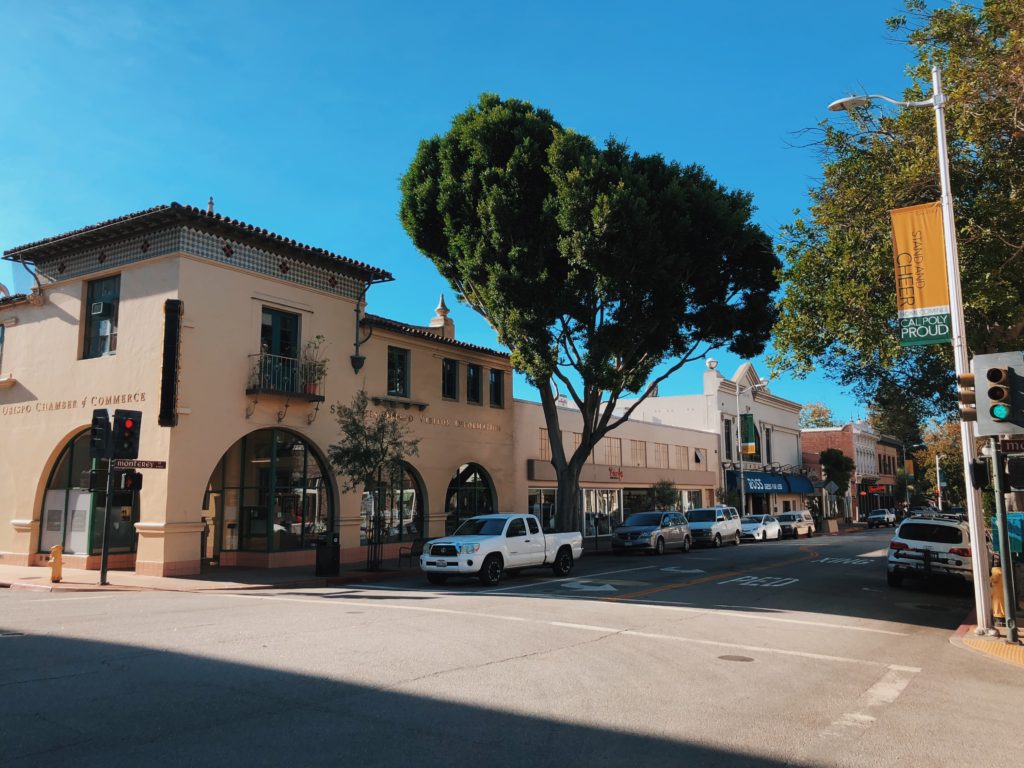 After parking the car and finding the way to our Airbnb, we were excited to discover that we couldn't have picked a more perfect location if we had tried! (Spoiler: I DID try – I'm an obsessive planner
)
Our Airbnb was located right smack dab on Higuera Street, the heart of downtown San Luis Obispo. This lively main street manages to be both quaint and bustling at the same time. It borders a small river that runs through downtown, and is lined with all sorts of local shops, bars and restaurants.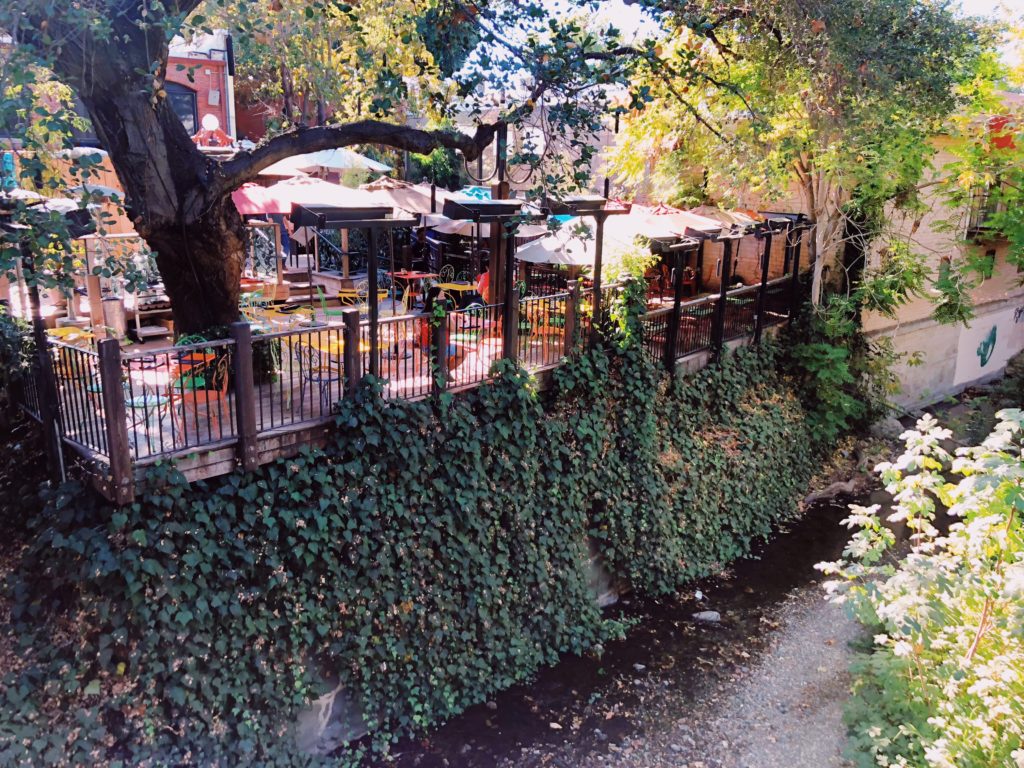 As luck would have it, we had actually arrived just in time to enjoy the last couple hours of the Thursday night farmer's market – one of San Luis Obispo's star attractions. In addition to the standard fresh fruits and veggies, there were also hot food vendors and artisanal goods, as well as live music.
It was more like a street party or festival than a farmer's market, really!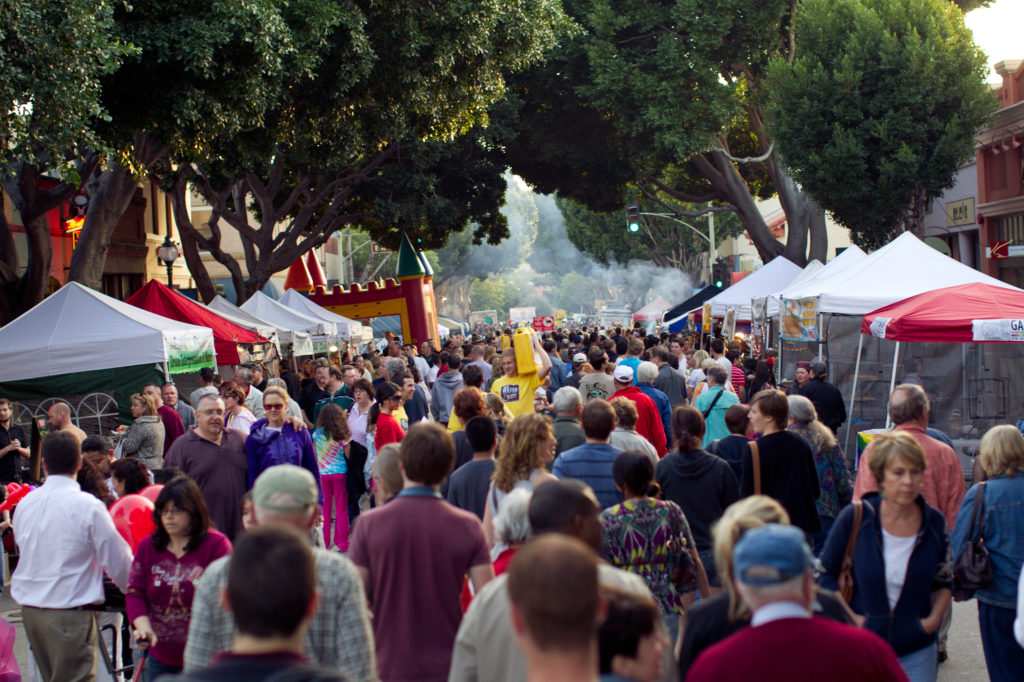 We decided to keep it casual for dinner, and walked a few blocks down the street to Firestone Grill. As it turns out, this local dive is something of an institution here in SLO.
The inside of the restaurant was massive, yet absolutely packed with college students (did I mention Cal Poly is located here in town?). The ambience was casual, retro, and no-frills…a surefire sign that the food was going to be incredible.
The tri-tip sandwich is Firestone's speciality, and Derek confirmed that it was in fact amazing. I opted for the cheeseburger, and we also shared a HUGE basket of fries.
Don't let the crowds scare you off; the line to order moved quickly and there was plenty of seating. We decided to enjoy our meal on the outdoor patio, under the string lights.
---
Day Two: Friday
Being the foodies that we are, we decided to dedicate our first full day in San Luis Obispo to discovering its many culinary offerings.
First stop? Scout Coffee Co., an adorable cafe situated just off Higuera Street.
Scout is your quintessential hipster cafe. It's equipped with a dreamy, airy interior (high ceilings + exposed brick wall = perfection) and decadent lattes featuring Instagram-worthy foam art.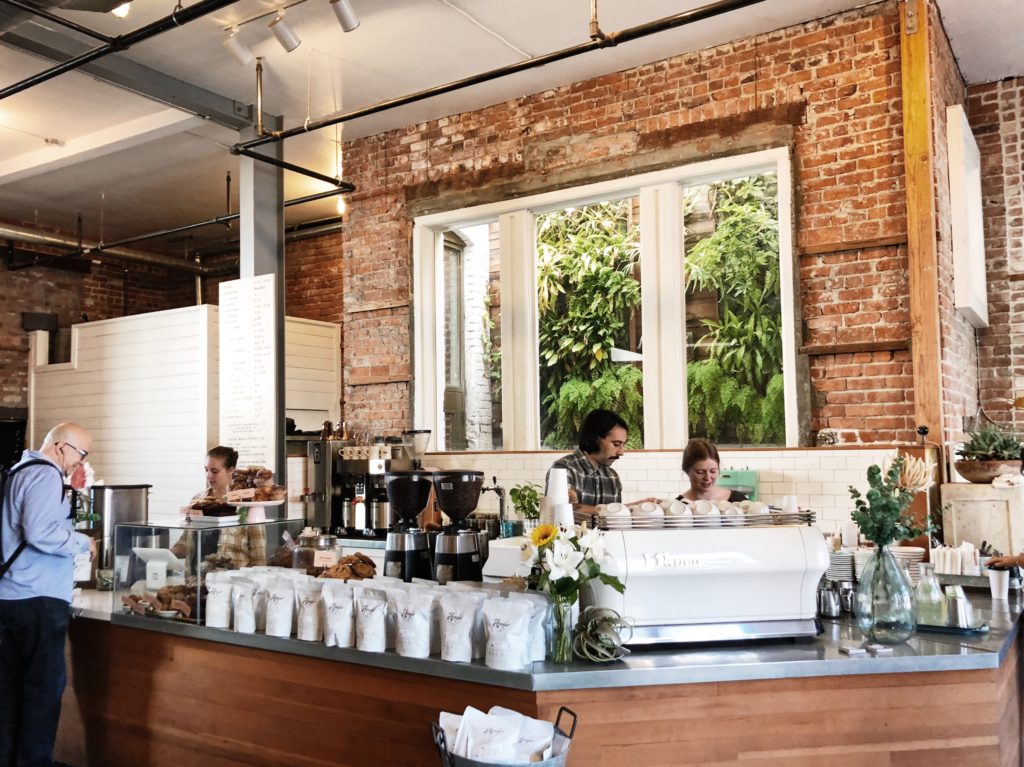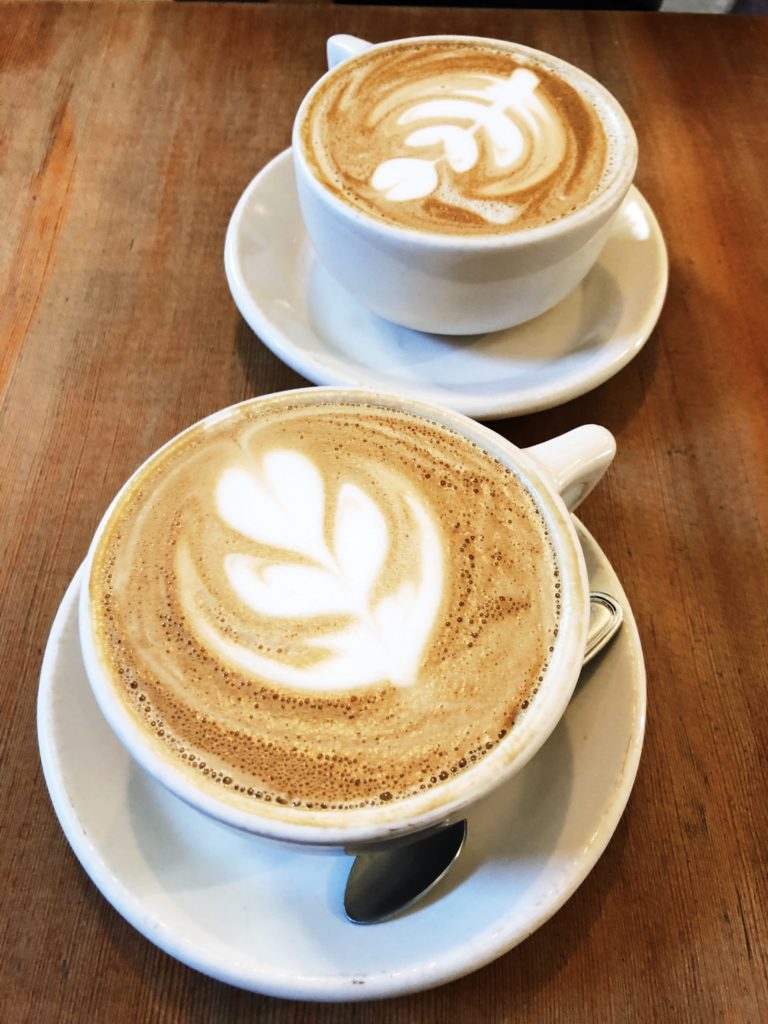 We kept it simple with basic lattes, but the menu also includes creative beverages like honey tea bowls and seasonal flavored lattes. Mmmm!
As tempting as the scratch-made pastries at Scout were, we decided to walk over to Sally Loo's Wholesome Cafe for breakfast…which is a decision I'm happy to say we did not regret!
We did spend a loooong time waiting in the line to order food, but I'm glad we stuck it out; once our orders were in, the food was on the table in around 15 minutes…and it was amazing.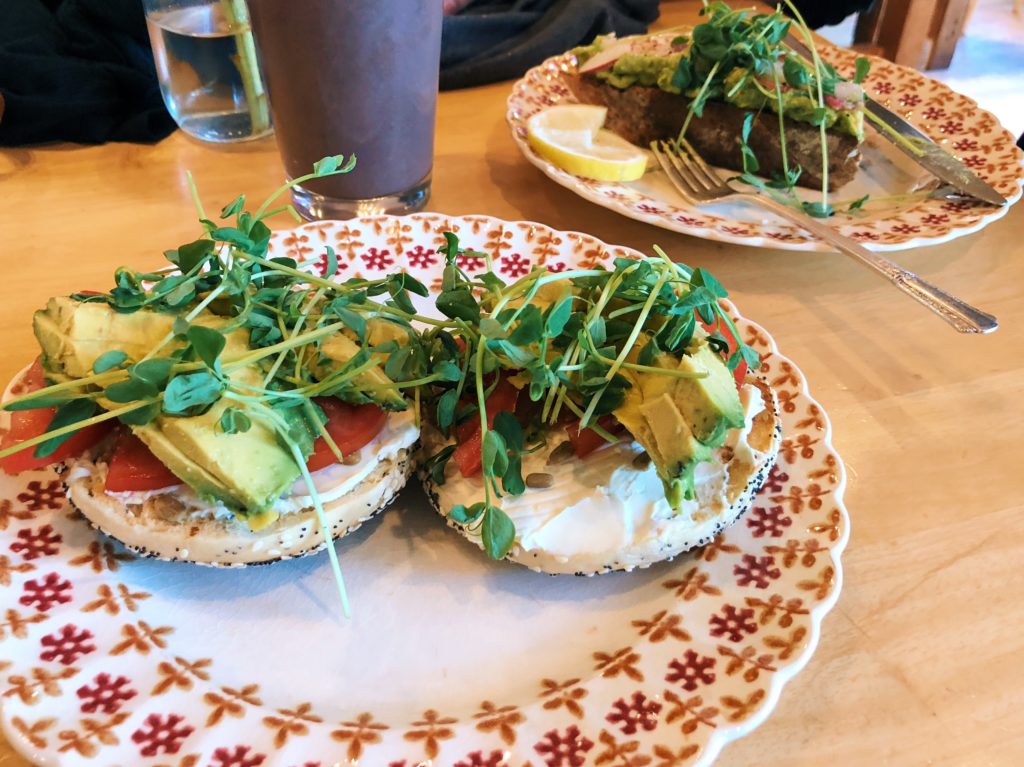 I ordered the San Luis bagel – a toasted everything bagel with sliced avocado, tomato, sprouts, cream cheese, and sunflower seeds. Derek opted for the classic avocado toast, and we also shared a "healing of the nation" smoothie – açaí with kefir, spinach, flax, honey, and bee pollen.
Feeling satisfied that we had already sampled among the best of SLO's breakfast options, we decided to dive headfirst into sightseeing.
We spent a while just roaming up and down Higuera Street, peeking into the quaint shop windows and popping inside the ones that caught our eye.
Junk Girls was probably the most unique store we stumbled across (they had the coolest handmade decor items and refurbished antiques), and we also had fun browsing the offerings at The Sock Drawer. Be sure to stop by Fromagerie Sophie to sample some unique local cheeses, too.
After we were sufficiently shopped-out, we made our way towards the Mission San Luis Obispo de Tolosa, which conveniently enough is also located just off Higuera Street. (Are you sensing a pattern here…?)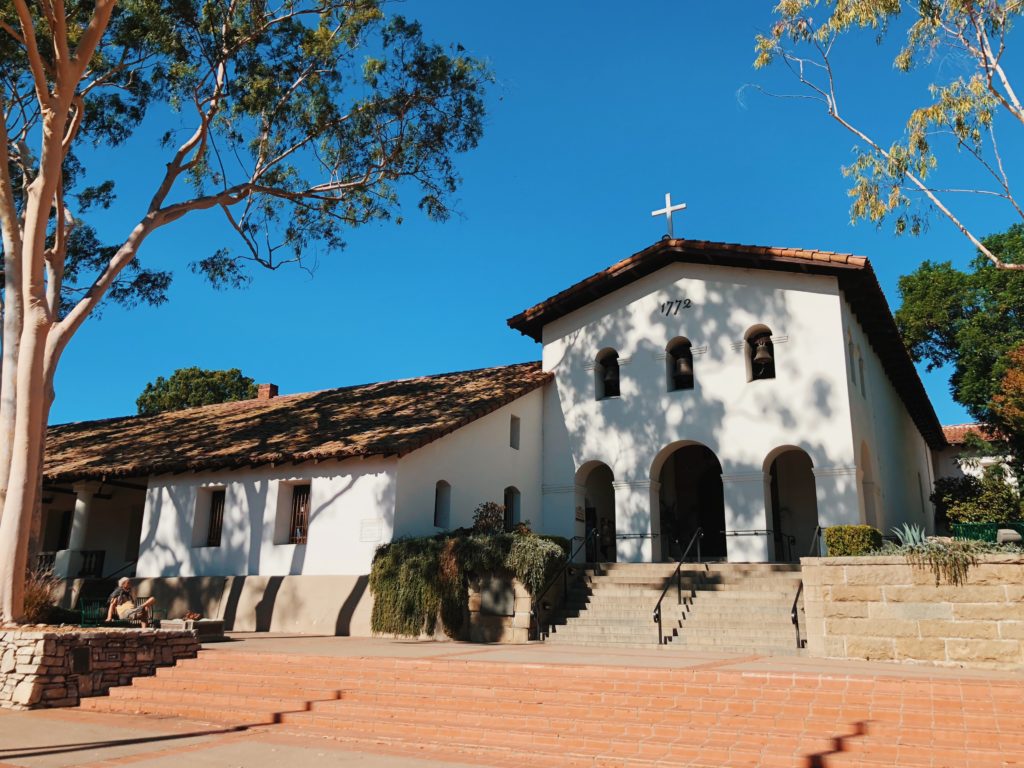 Founded in 1772, this still-active Mission church is an icon of SLO. It's well worth visiting, even if only to glimpse the historic exterior. That said, the Mission does offer free museum admission to visitors, as well as once-daily guided tours.
Around noon, we decided it was finally time for one of the activities I had been most excited about: wine tasting!
Did you know that San Luis Obispo County is actually the third largest wine region in all of California?
It's split into two distinct areas: Paso Robles and Edna Valley. We opted to explore the latter, which is known primarily for its Chardonnays and Pinot Noirs (two personal favorites of mine).
Originally we had planned to visit more than one winery, but as soon as we set foot in the tasting room at Edna Valley Vineyard, I knew we wouldn't be leaving for a while.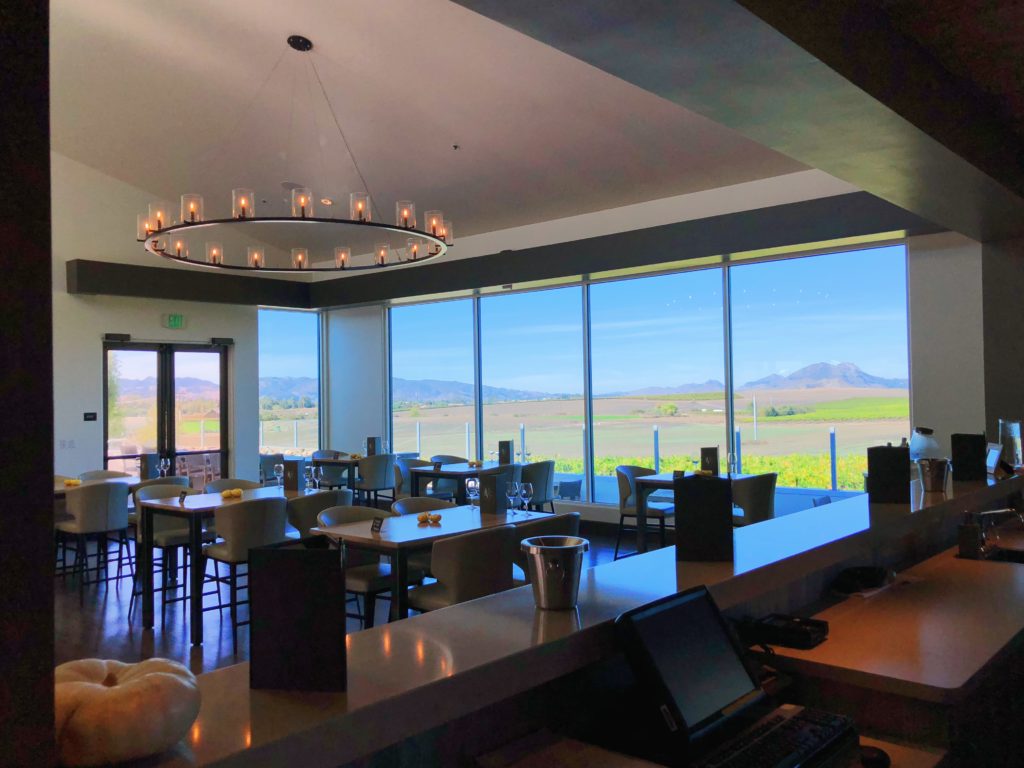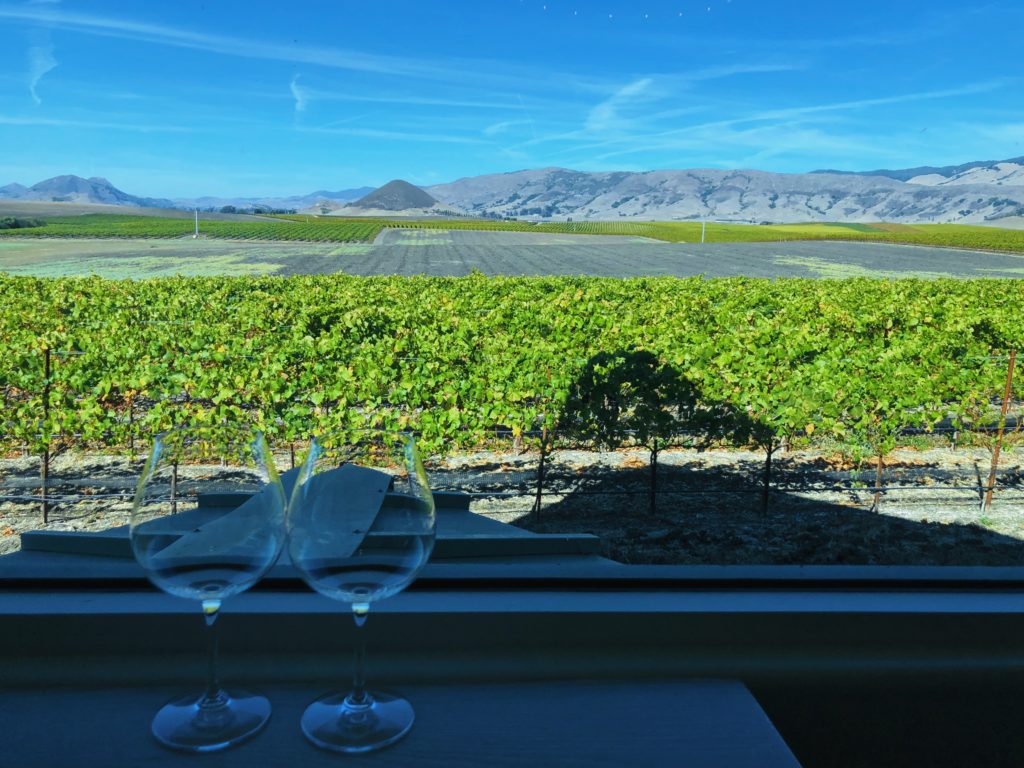 It is no exaggeration to say that Edna Valley Vineyard has one of the most STUNNING tasting rooms I've ever seen. 
Wall-to-wall, floor-to-ceiling glass windows grant views of the lush vineyards outside. We started with the 18 Barrel Flight (5 wines, $20 per person), and then grabbed a bottle of our favorite wine from the tasting and enjoyed it at a table by the window.
Other wineries to check out in San Luis Obispo include:
Baileyana Winery
Biddle Ranch Vineyard
Chamisal Vineyards
Claiborne & Churchill Winery
Saucelito Canyon
Sextant Wines
Wolff Vineyards
All of the above wineries are within ~6 miles of each other, making it easy to drive (but make sure to select a designated driver) or Uber between them.
My recommendation? Pick a few of your favorites, and make a full day of it…picnic and all!
The only reason we didn't hit up a few more vineyards was because we had a wedding welcome party to attend from 2-4pm (which still included plenty of wine and cheese, thank goodness
).
We arrived back to downtown San Luis Obispo before 5pm, and decided to grab a drink at SLO Brew. I had the blueberry blonde ale, which was SUPER tasty!
For dinner, we kept it classy at Ciopinot, where we ordered a half dozen oysters, the tuna trio (sashimi + tuna tartare + ahi tuna taco), and fried calamari.
And for the utterly delicious cherry on top of a wine- and food-filled day?
Cookie dough ice cream sandwiched between two chocolate chip cookies from Cowboy Cookie N' Grub, of course. These cookie sandwiches were huge, so we opted to share…but I wouldn't blame you if you demanded a whole one for yourself!
---
Day Three: Saturday
Eager to continue our tour de cafe of San Luis Obispo, we stopped in for lattes and cappuccinos at the ultra-cool Ascendo Coffee. Never one to fear spoiling my breakfast, I also ordered the salted chocolate chip cookie, which was ridiculously satisfying.
Then, it was time for locally-sourced breakfast with a Latin flair at Luna Red, located a stone's throw from the Mission San Luis Obispo. Derek and I both ordered the Chorizo Benedict: poached eggs, spicy chorizo and paprika hollandaise on buttery arepas, served with a side of potatoes.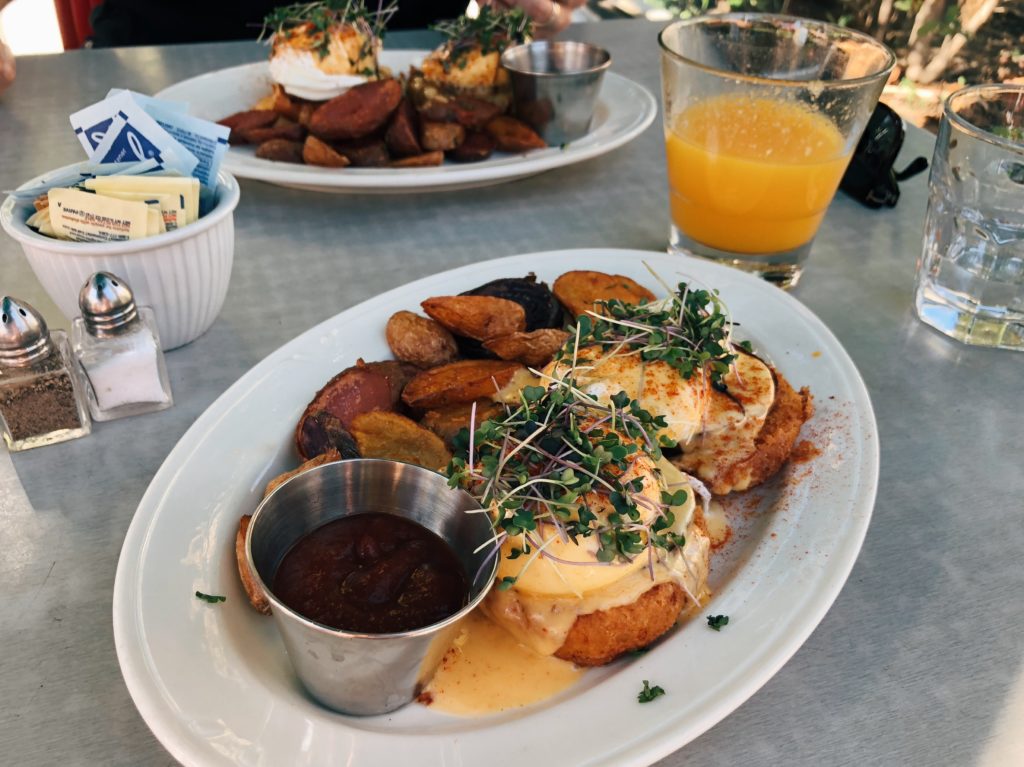 OMG – I will dream of this meal for years to come!
After breakfast we didn't have too much free time, as the wedding we were attending started at 3pm sharp. It was easily one of the most beautiful weddings we've ever attended, set amidst the rolling vineyards of Edna Valley.
The day was also blessed with an absolutely perfect golden hour at sunset – it was pure magic!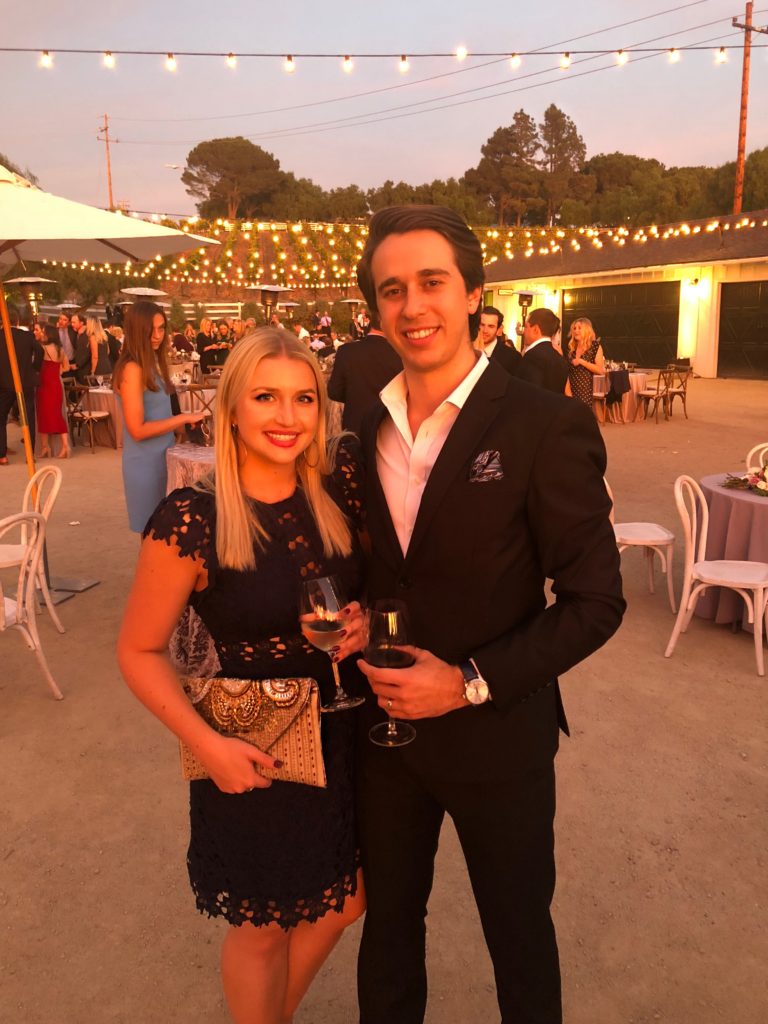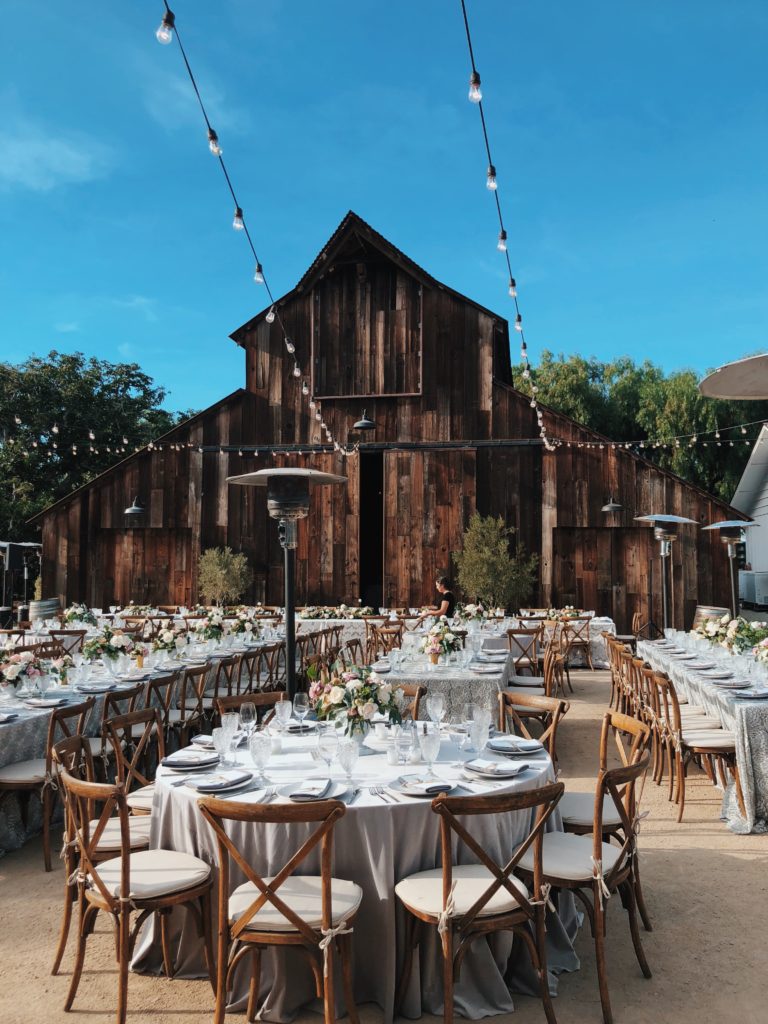 But assuming you're not attending a wedding at Greengate Ranch & Vineyards (…if you are, you're in for a real treat!) here's how I recommend you spend your last full day in San Luis Obispo:
Hike Bishop's Peak: A 3.5 mile roundtrip trail with sweeping views of San Luis Obispo County, especially the city itself. Budget 2-3 hours, depending on your fitness level.
Visit nearby Morro Bay: Walk along the shore, see the iconic Morro Rock, and if the weather is nice, try some kayaking or stand-up paddle boarding.
Bubblegum Alley: Venture into this quirky, colorful, and – depending on your viewpoint – disgusting attraction in downtown. Add your own "contribution" if you dare!
Dinner at Novo Restaurant & Lounge: Upscale global cuisine nestled by the small creek in downtown SLO. Be sure to ask for patio seating!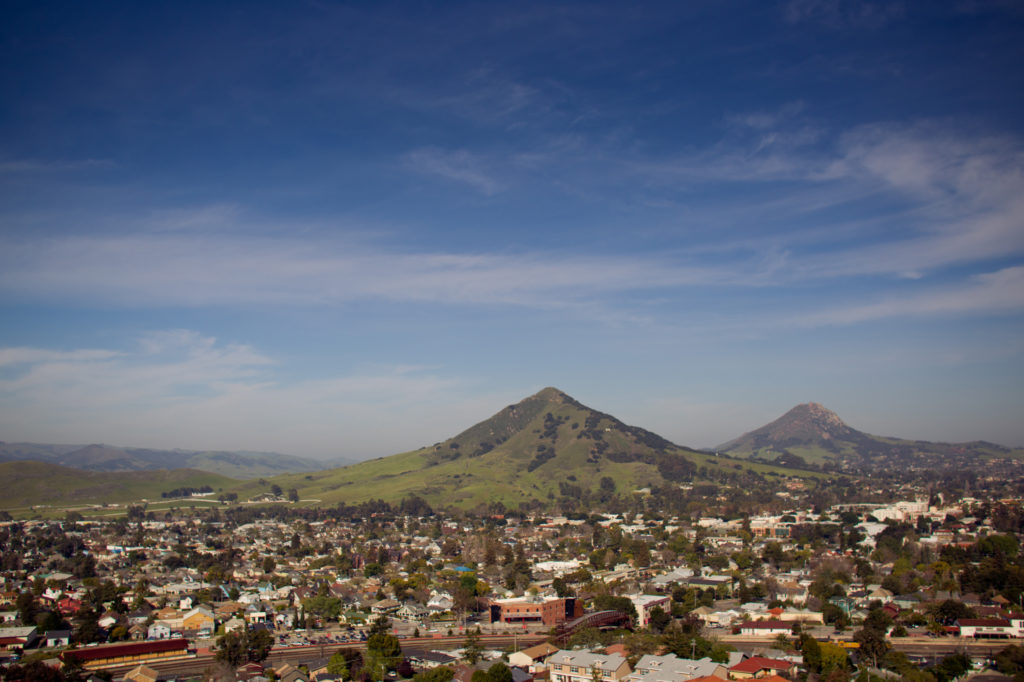 ---
Departure: Sunday Morning
The following morning we grabbed coffee and breakfast at the art-adorned Kreuzberg Coffee Company, before packing up our bags and hitting the road back to San Jose.
You could certainly spend all day Sunday exploring more of the local area, but we were eager to get the 3 hour drive out the way, and spend the rest of the day at home on the couch (#sluglife).
Alternatively, you could also shift this whole itinerary so that you arrive to SLO on Friday evening, spend all day Saturday and most of Sunday in town, and then depart Sunday evening.
Of course, you'd miss the Thursday night farmer's market, but realistically this probably works better with most work schedules.
---
Overview: Weekend in San Luis Obispo Itinerary
Day One: Arrival

San Luis Obispo Thursday Night Farmer's Market (if arriving on a Thursday)
Dinner at Firestone Grill

Day Two

Coffee at Scout Coffee Co.
Breakfast at Sally Loo's Wholesome Cafe
Shopping and sightseeing on Higuera Street
Mission San Luis Obispo de Tolosa
Wine tasting in Edna Valley

Baileyana Winery
Biddle Ranch Vineyard
Chamisal Vineyards
Claiborne & Churchill Winery
Edna Valley Vineyard
Saucelito Canyon
Sextant Wines
Wolff Vineyards

Local beers at SLO Brew
Seafood dinner at Ciopinot
Ice cream cookie sandwiches from Cowboy Cookie N' Grub

Day Three

Coffee at Ascendo Coffee
Breakfast at Luna Red
Hike Bishop's Peak
Visit Morro Bay
See Bubblegum Alley
Dinner at Novo Restaurant and Lounge

Day Four: Departure 

Coffee and breakfast at Kreuzberg Coffee Company
Adios, San Luis Obispo!
---
Where to Stay in San Luis Obispo
There are tons of amazing Airbnb options in San Luis Obispo (pssst – get $40 off your first booking), but if you're set on a traditional hotel, I've heard GREAT things about the following accommodations:
Madonna Inn
Apple Farm Inn
Granada Hotel & Bistro
(function(d, sc, u) {
var s = d.createElement(sc), p = d.getElementsByTagName(sc)[0];
s.type = 'text/javascript';
s.async = true;
s.src = u + '?v=' + (+new Date());
p.parentNode.insertBefore(s,p);
})(document, 'script', '//aff.bstatic.com/static/affiliate_base/js/flexiproduct.js');

---
Pin It!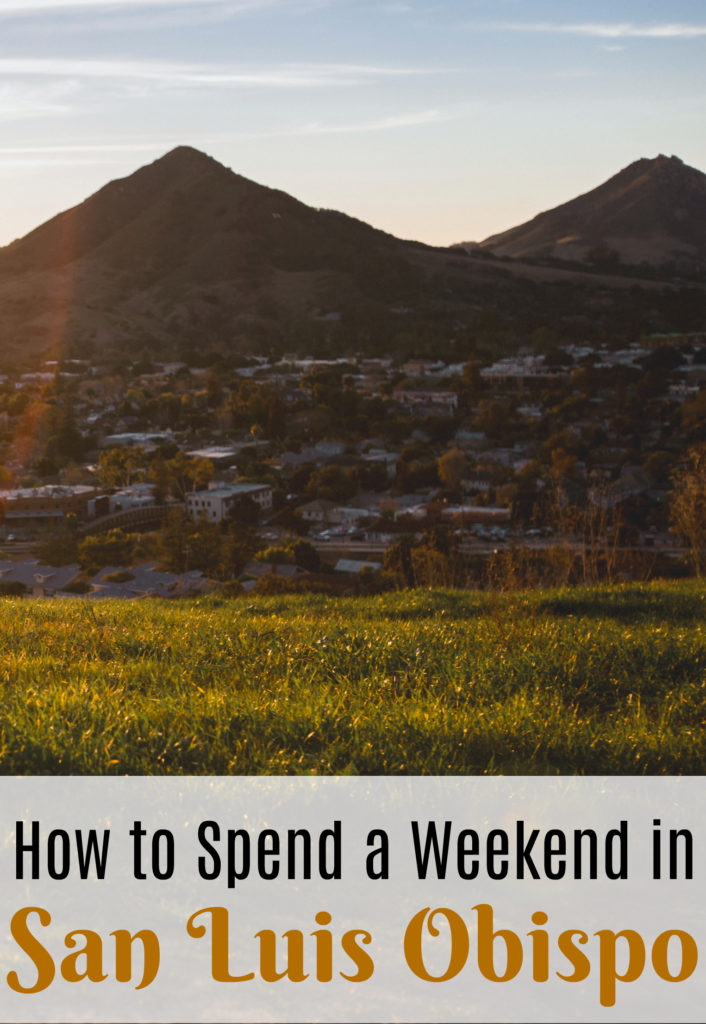 ---
Have you ever heard of San Luis Obispo, California? Do you love discovering and visiting small, lesser-known towns too?
Note: This post contains several affiliate links. If you make a purchase using one of these links, I will earn a small commission at no additional cost to you. My affiliate income helps offset the cost of running this blog, and allows me to keep this site free of ads and sponsored posts. So, thank you!! 
The post A Laid-Back Weekend in San Luis Obispo, CA appeared first on The Wandering Blonde.


[ad_2]