[ad_1]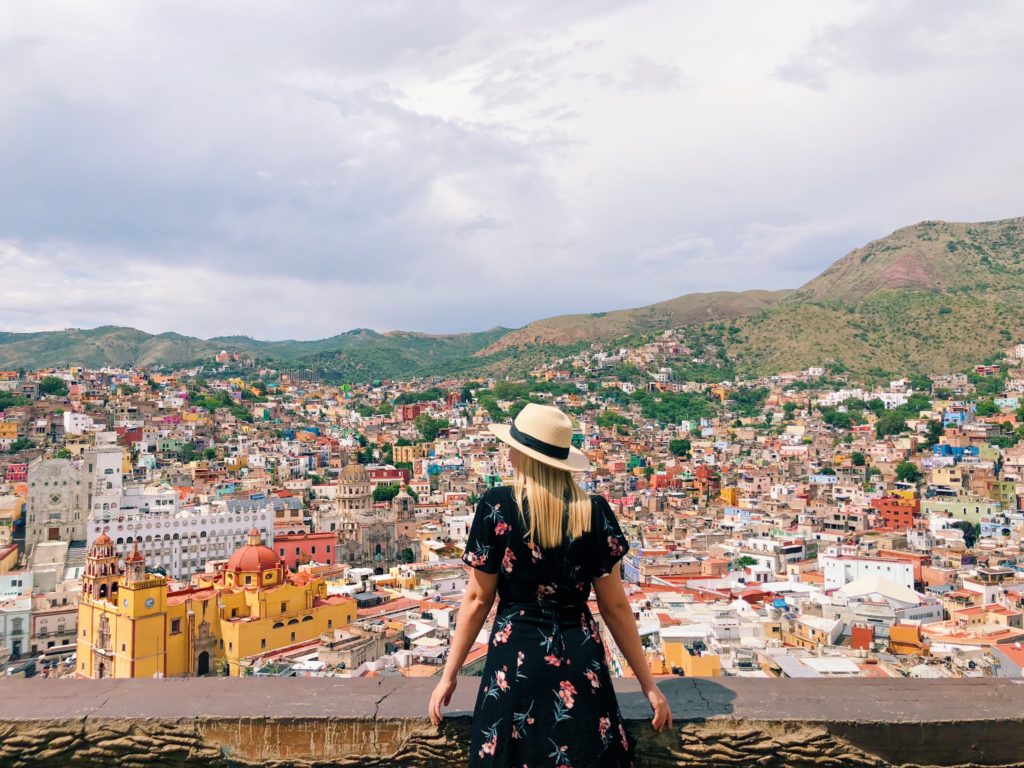 Here's a fun hypothetical scenario: If you were limited to visiting ONE country for the rest of your life (but could visit as often as you wanted) which country would you choose?
My answer? Mexico, hands-down.
Not only is it a short flight from the U.S. and affordable to visit, it's just a genuinely spectacular destination – especially for solo female travelers!
Just think about it – Mexico has all of the following (and more):
Sprawling urban cities with world-class museums and restaurants
Rural small towns with vibrant traditions and storied histories
Awe-inspiring ruins and ancient historical sights
Lush jungles teeming with tropical wildlife
Rugged Pacific coastline dotted with laid back beach towns
Turquoise Caribbean waters and sugary white sand beaches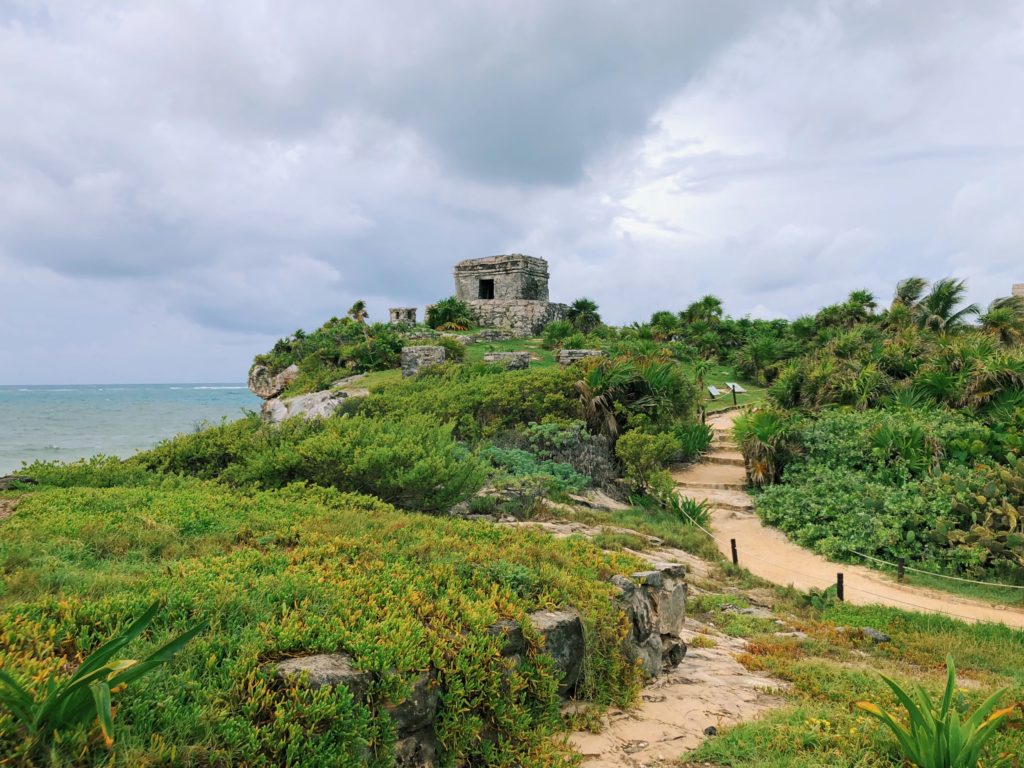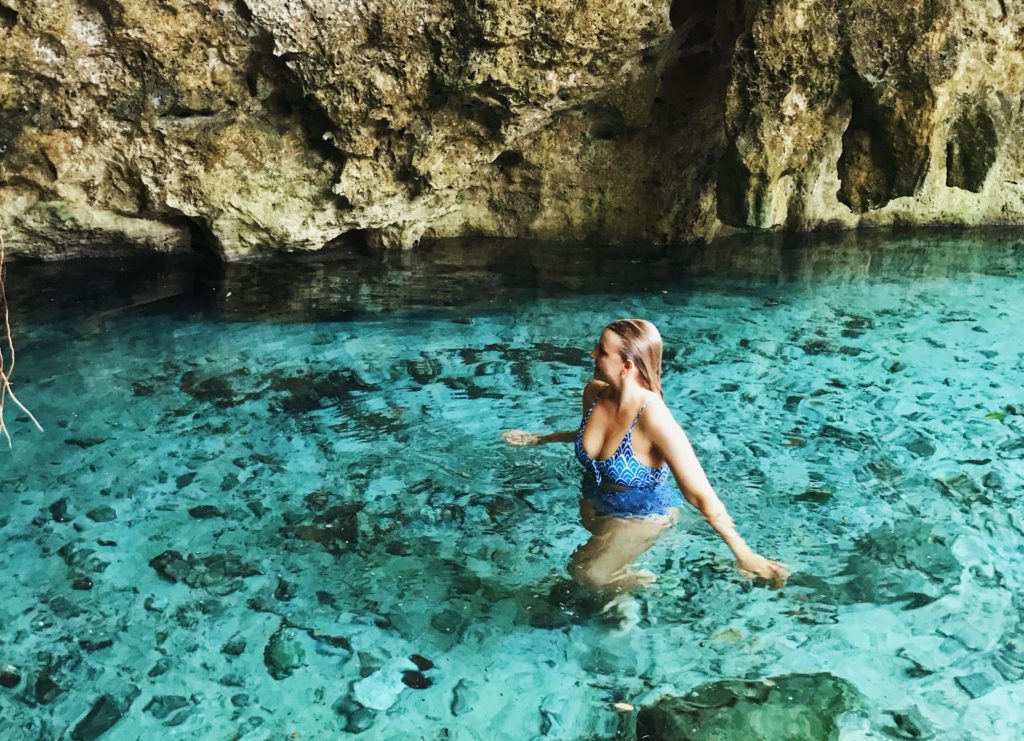 In a single trip to Mexico, you can eat street food in a bustling local market, gaze upon Mayan ruins, cheer with the crowd at a lucha libre or football match, sunbathe on white sand beaches, photograph colorful street murals, hike through the jungle, swim in an ancient cenote, and discover a culture that is rich, warm and enchanting.
Over the years, Mexico has enticed me to visit time and time again, both solo and with others. And honestly, I've loved traveling solo in Mexico just as much as I've loved visiting with my husband and my friends.
---
Why Visit Mexico as a Solo Female Traveler?
I truly believe that Mexico is one of the BEST destinations in the world for solo female travelers…especially Americans. It's definitely one of my personal favorites, anyways.
Why? Well, whenever I'm planning a solo getaway, there are a few priorities that are always at the top of my list.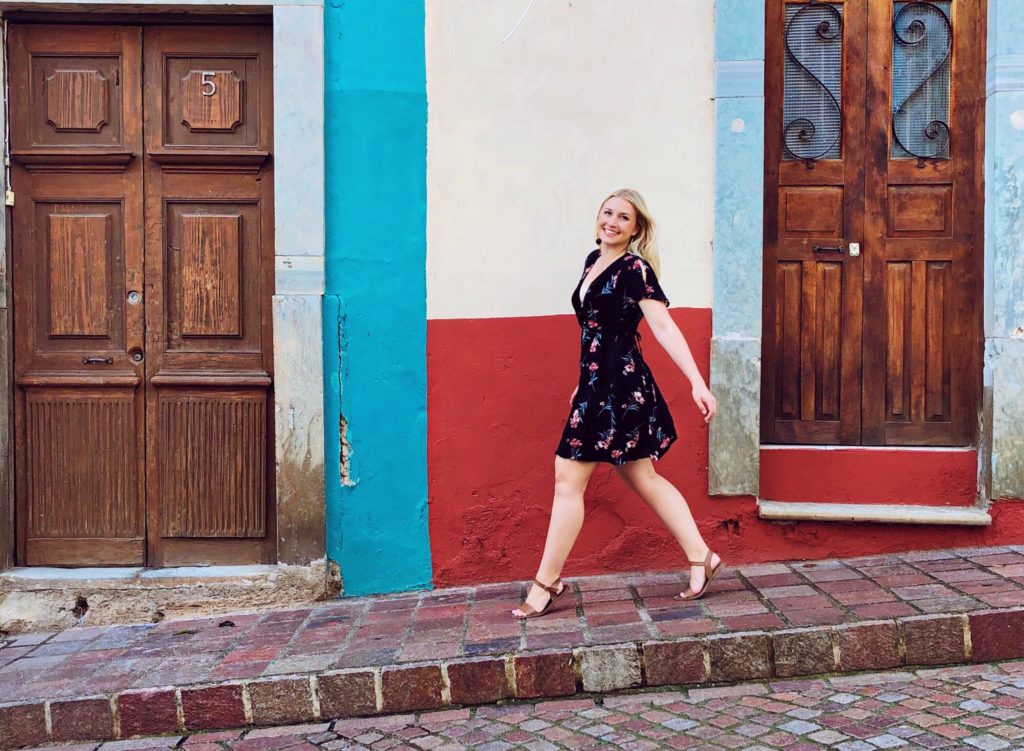 For one thing, I want a destination that will actually be fun and interesting to visit as a solo female! To me, that means there should be an abundance of activities and experiences that I won't feel lonely, anxious, or awkward participating in all by myself.
Casual wandering through scenic city streets is always a good option for solo travelers, but I also look for attractions like museums, markets, art galleries, parks, gardens, and walking tours.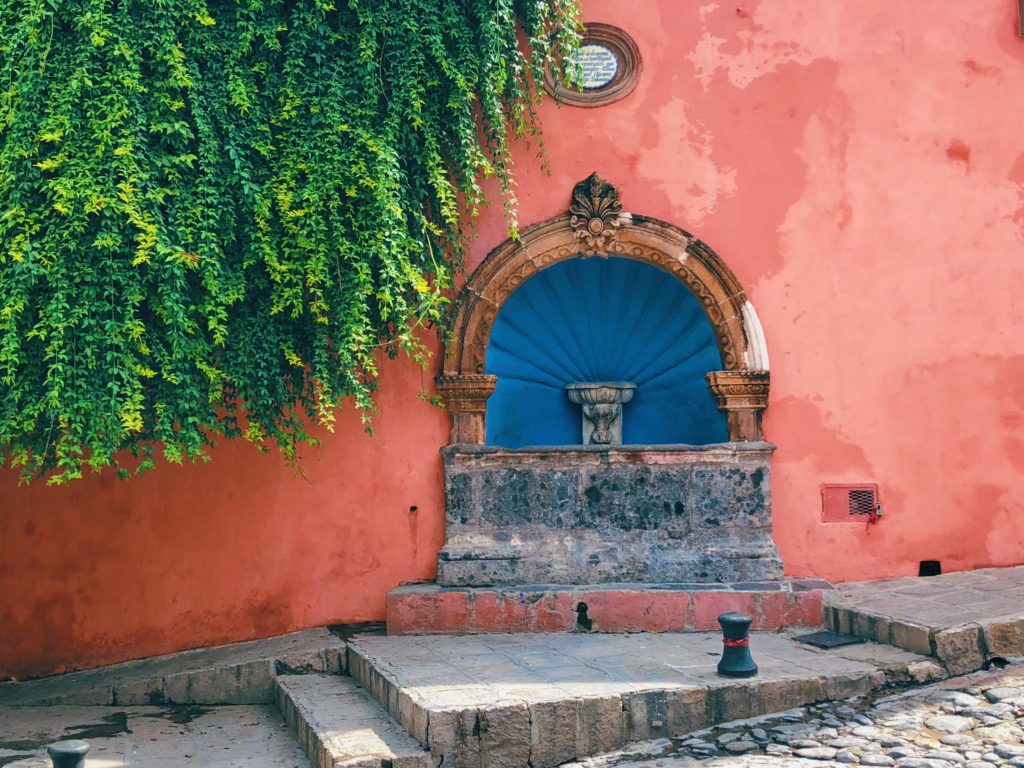 And although I'm comfortable enough going out to restaurants by myself for dinner, the more casual dining options there are (like food markets, street food, cafes, and grab-and-go) the better.
Additionally, I like to visit destinations where it's easy to meet other solo travelers. Even though I'm a mega introvert, I do still get lonely at times while traveling alone. And knowing that I can meet and connect with likeminded ladies (and gents) while abroad is such a welcome thing.
Well surprise surprise, Mexico checks ALL of these boxes.
There are truly an infinite number of reasons to visit Mexico. Whether you want to trek through rainforests and explore mystical ruins, get lost wandering through colorful small towns and villages, or sip fruity cocktails in a hot tub overlooking the sea, you can find it all in Mexico.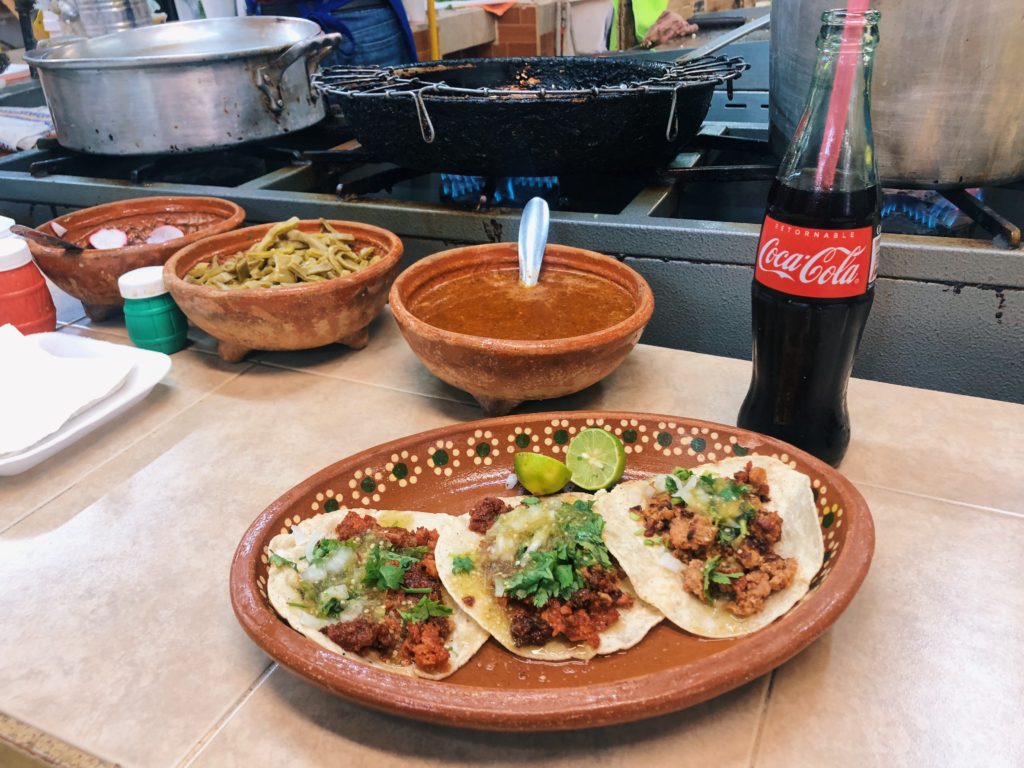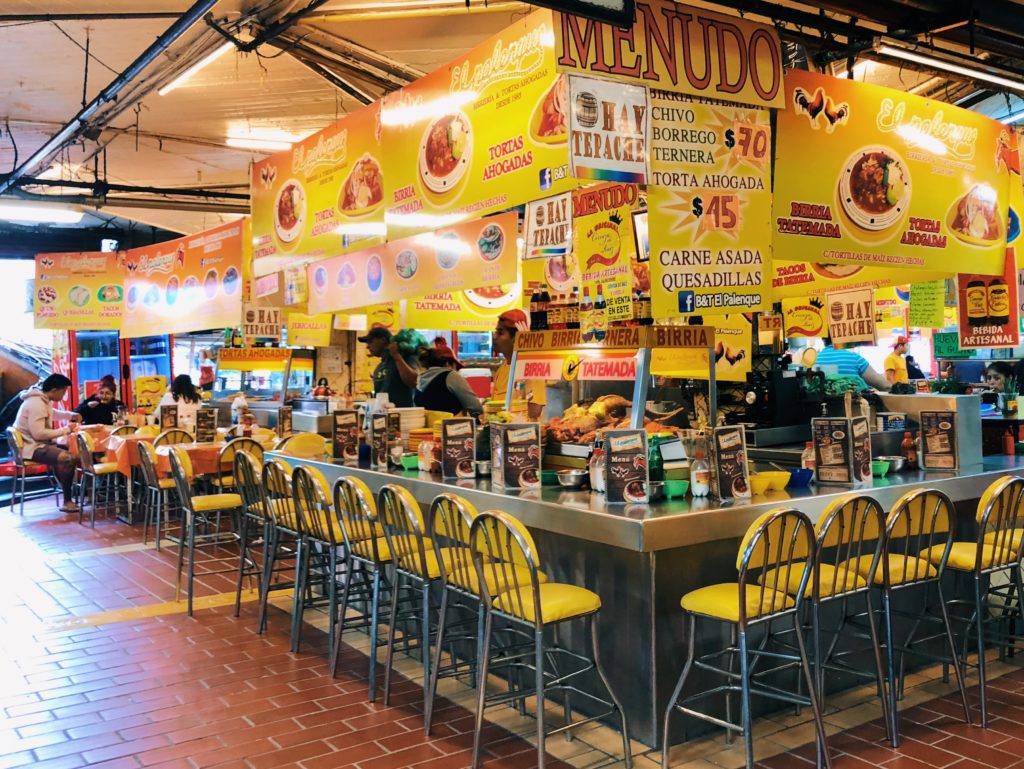 The locals are friendly and welcoming, the cuisine is cheap and flavorful, the culture is rich and warm, the atmosphere is spirited and festive, and the sights are stirring and beautiful.
Is it any wonder that travelers like myself end up returning to Mexico again and again and again?
And as an added bonus, Mexico is INSANELY easy to get to as an American traveler.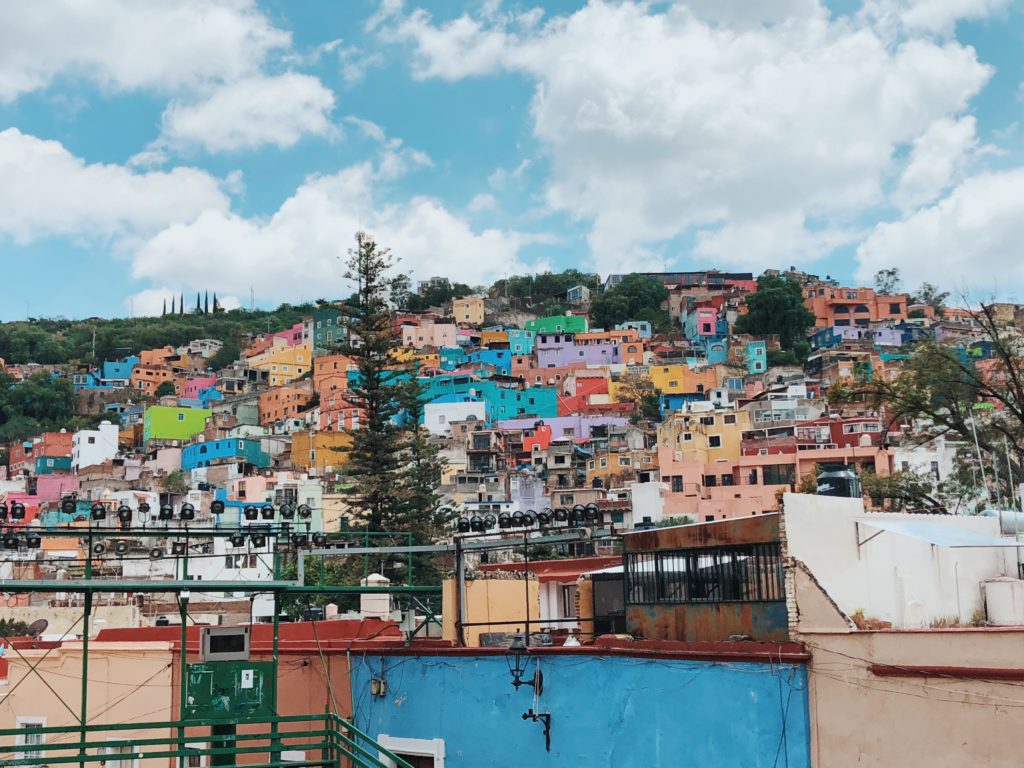 So many amazing Mexican destinations are within a short nonstop 3 – 6 hour flight from where I live in California…which is much more convenient than traveling across the Atlantic to Europe, or across the Pacific to Asia.
And it's nice to still be in a similar time zone to my friends and family back home when I'm traveling on my own (anyone who has tried to coordinate a FaceTime session with a loved one while traveling will understand why).
In summary: Mexico offers the perfect combination of adventure, accessibility, and familiarity.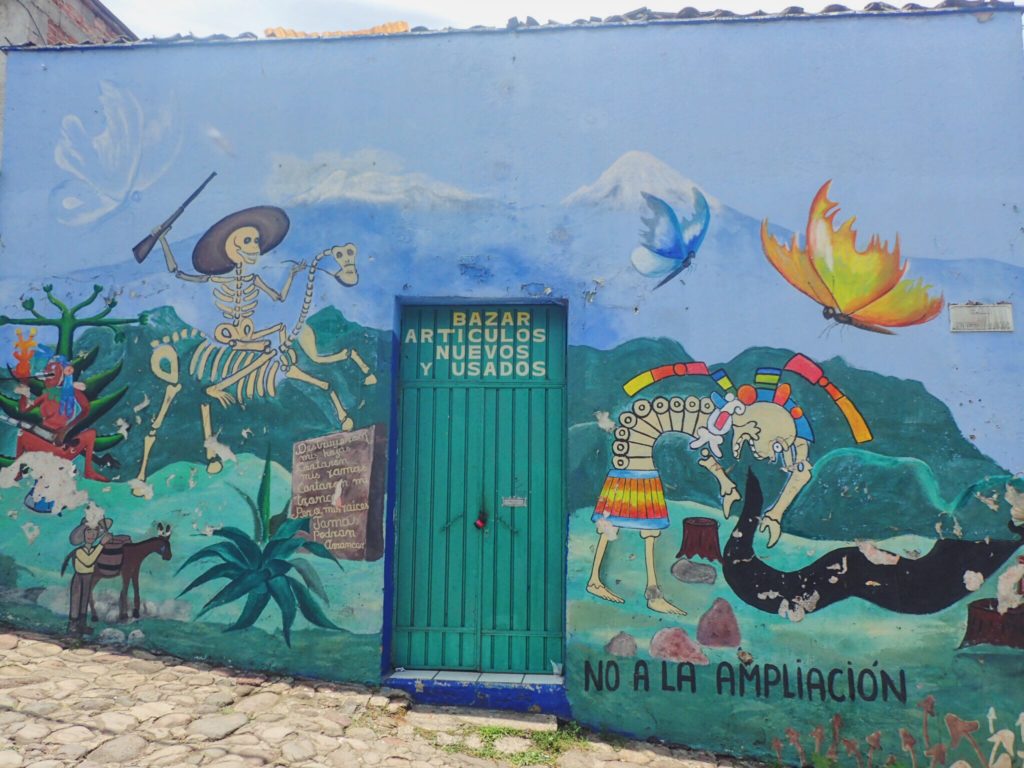 You can visit a vast number of exciting, colorful, and beautiful destinations within Mexico, each with their own cultures, histories, and traditions…without venturing too far from home (I'm speaking to my fellow North Americans here, but I do realize many of my readers are from elsewhere – sorry guys).
But even if you're not from North America, Mexico is well worth the time and money it takes to travel there. It's also a destination where you can easily get by without speaking the local language, although knowing a bit of basic Spanish will always help.
---
Places to Visit in Mexico as a Solo Female Traveler
1. Mexico City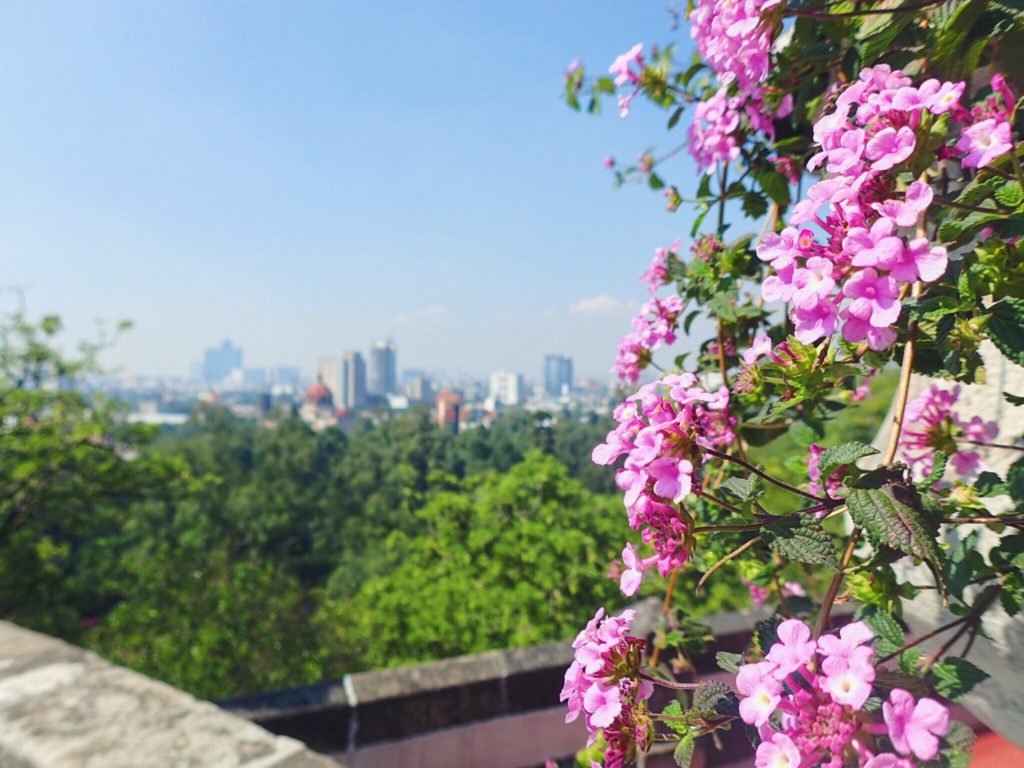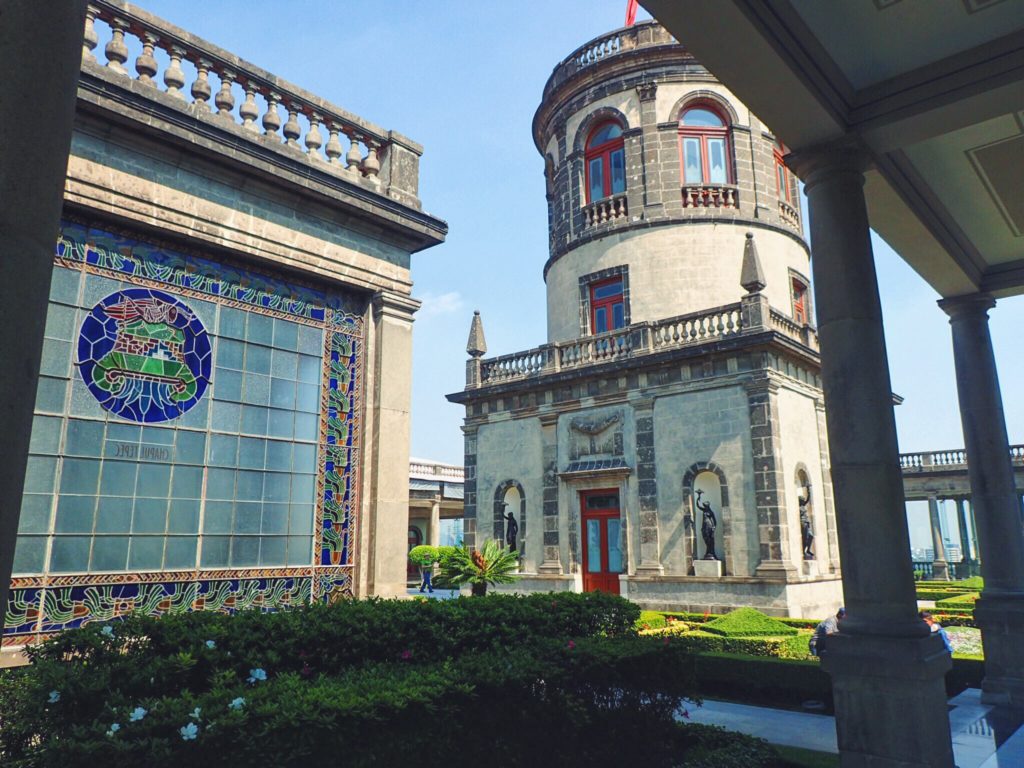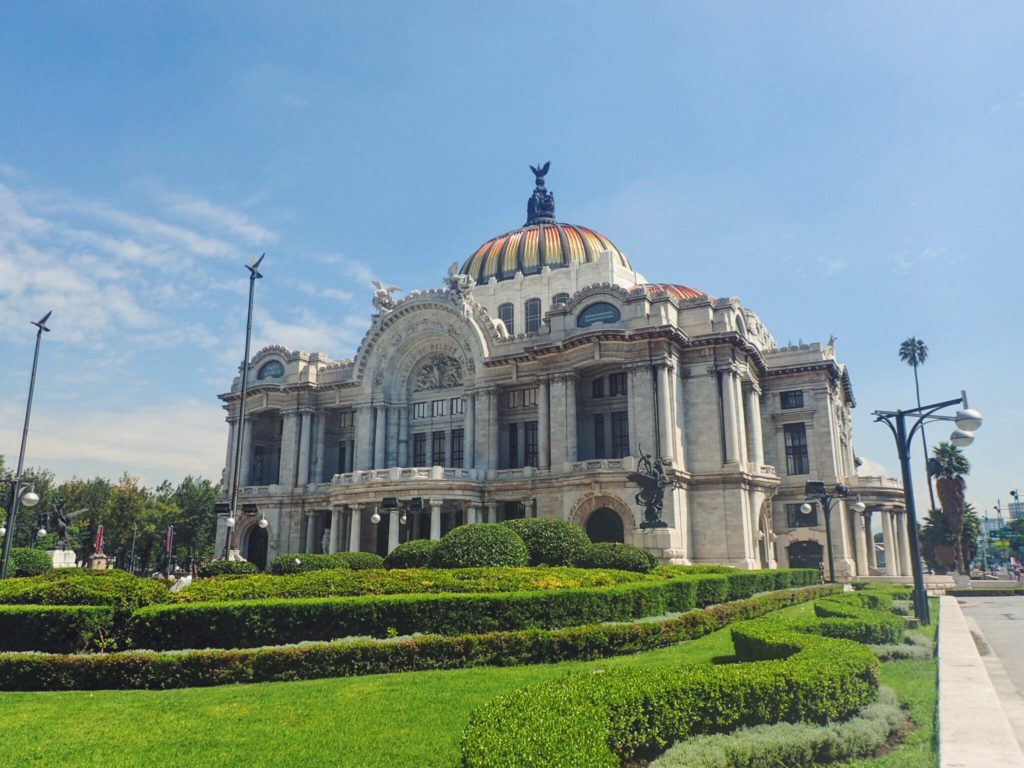 World class museums and art galleries, globally renowned upscale dining, fresh and authentic street food, vast green parks, elegant historic architecture, shady tree-lined boulevards, trendy cafes and hip boutiques…
Ah, Mexico City!
You were absolutely full of surprises – one of those surprises being the realization that I would pack up and move there in a heartbeat if given the chance. If that's not telling about my feelings for this incredible city, I'm not sure what is.
La Condesa is essentially the neighborhood of my dreams, though I also fell hard and fast for Roma, the Centro Historico, and Chapultepec Park. Long story short: Mexico City blew my expectations out of the water, and it's a city I see myself returning to again and again.
The street food is also the best (and spiciest) I've had in all of Mexico!
Read More:
Love New York City? You'll Love Mexico City, too!
La Condesa, Roma & Chapultepec Park: One Perfect Day in Mexico City
Centro Historico: One Perfect Day in the Heart of Mexico City
2. San Miguel de Allende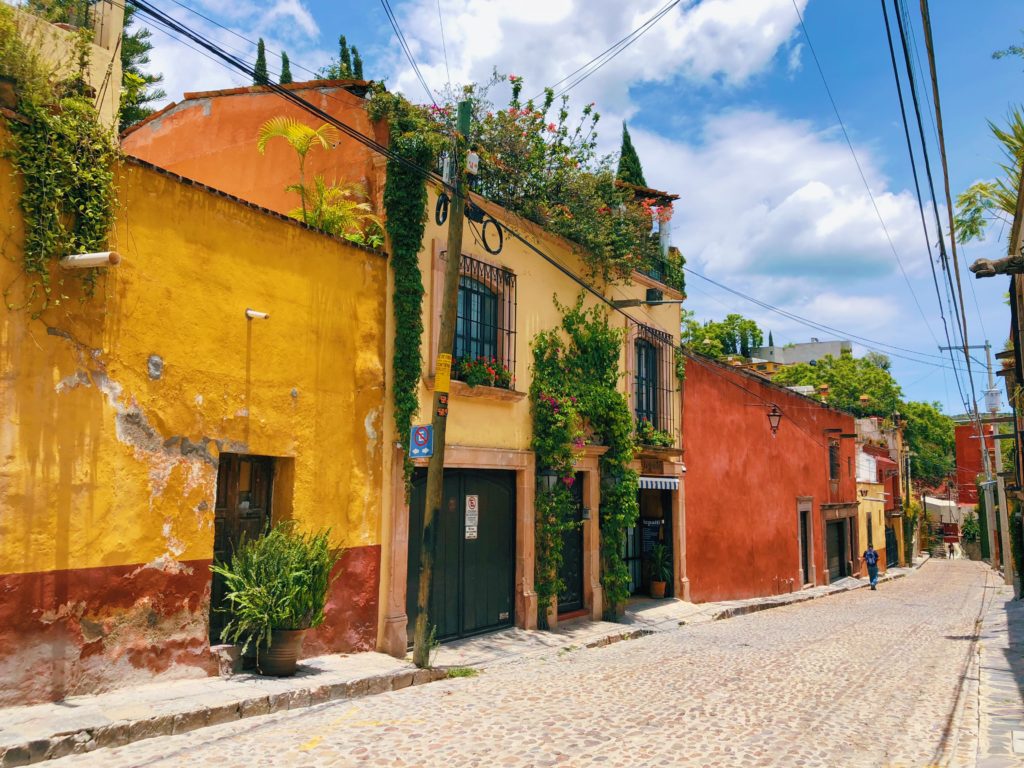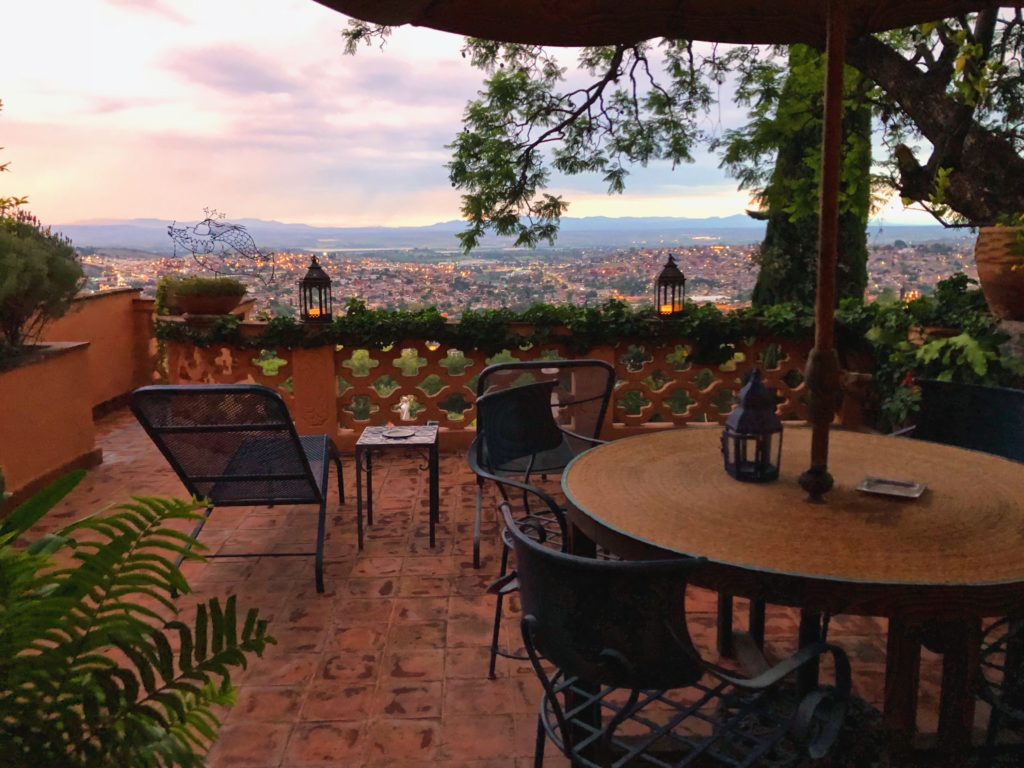 San Miguel de Allende is a historic city in Mexico's colonial heartland, and perhaps one of the most scenic and enchanting cities I've ever visited anywhere in the world!
El Jardin is the city's main plaza, and the heart and soul of San Miguel de Allende. Here, you can find street vendors selling souvenirs, ice cream, sliced fruit, and other foods. Mariachi music always seems to be within earshot, which brings a lively and festive atmosphere to the plaza.
If you start in El Jardin and slowly work your way out towards the steep hills and outskirts of town, you'll stumble across an endless number of eye-catching colonial-era homes, colorful streets and alleys, and enchanting doorways just waiting to be discovered.
San Miguel de Allende is also an international hub for artists, and is home to more than 100 locally owned galleries. You could spend an entire day shopping for unique art pieces for your home!
Read More:
Enchanted by San Miguel de Allende, Mexico's Prettiest City
3. Guanajuato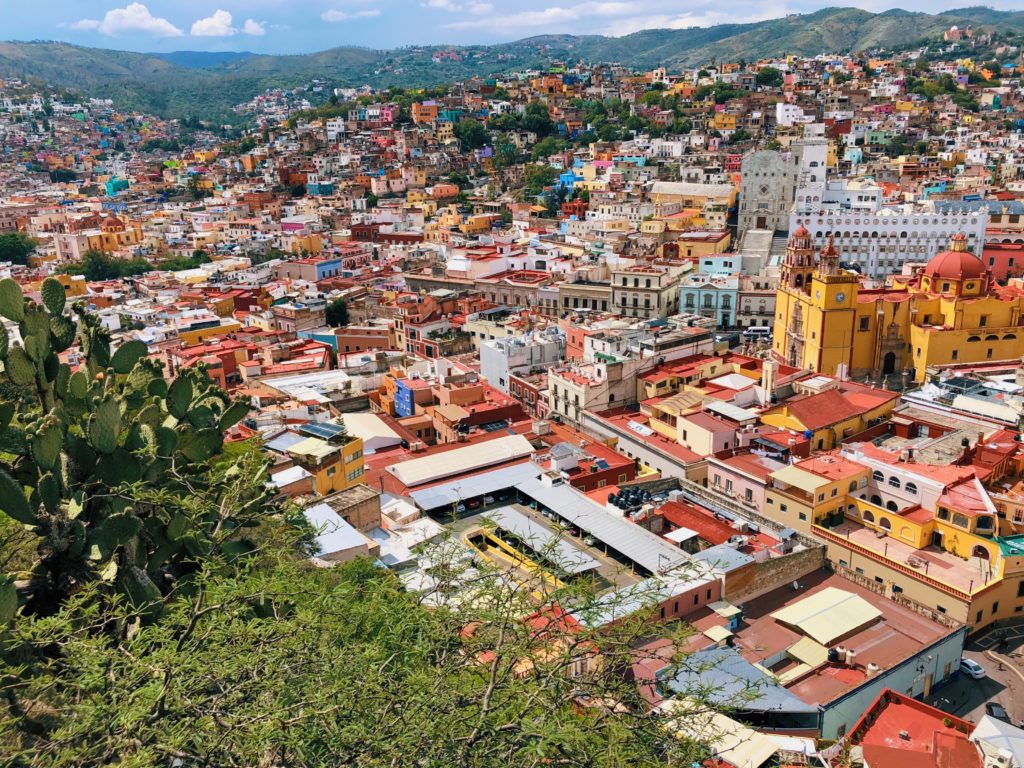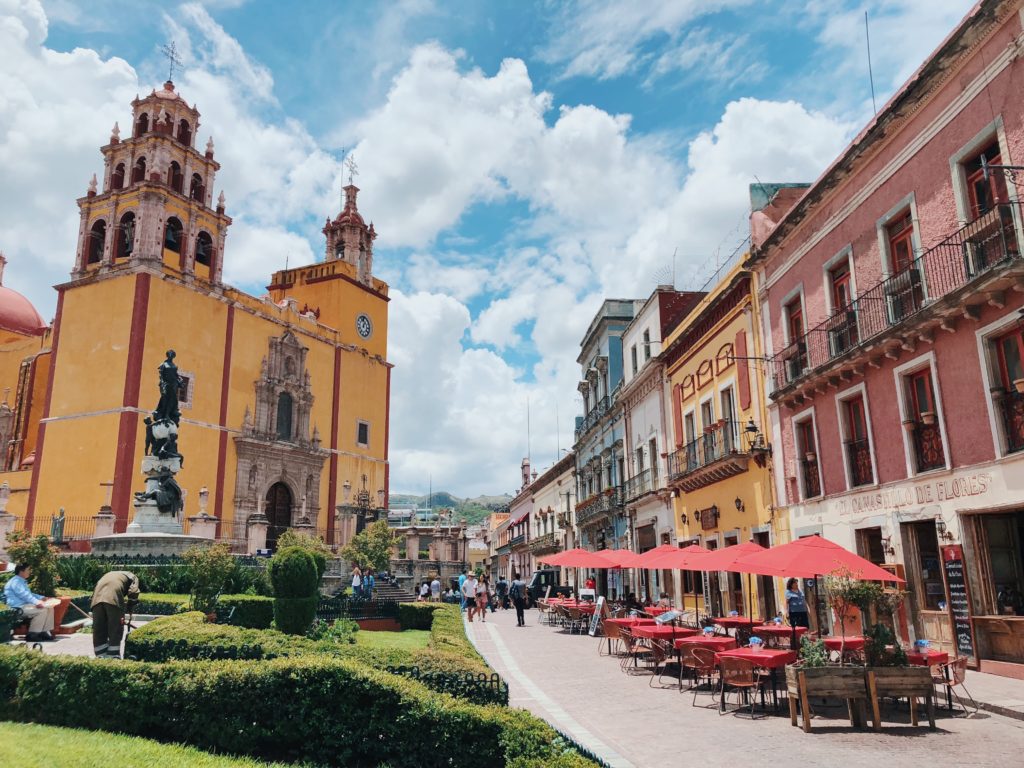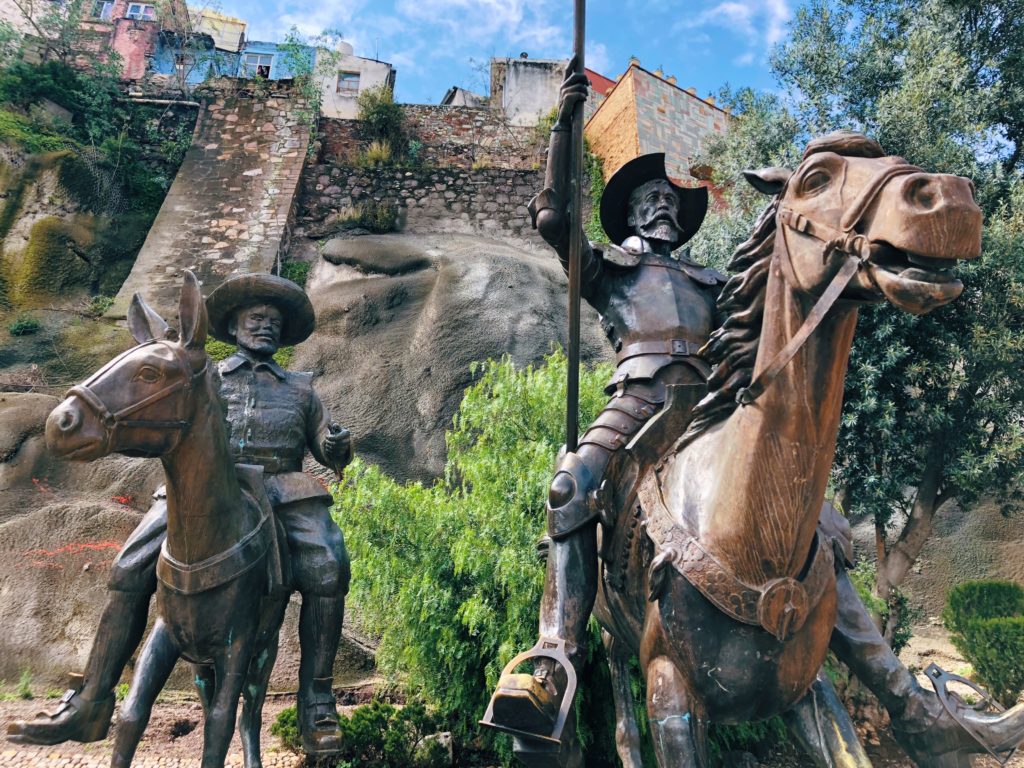 The colorful city of Guanajuato absolutely swept me off my feet from the moment I first laid eyes upon it. In fact, I think I would to venture to say that it's my favorite destination in Mexico!
Once upon a time Guanajuato was the richest city in Mexico, and that wealth is readily apparent in the city's architecture. At times, it truly felt more like I was in Europe than Mexico (…you know, aside from the mariachi bands, cantinas, and street food)!
Several of Guanajuato's churches are recognized for being the pinnacle of Baroque architecture in Latin America, but there is so much more to Guanajuato than its Spanish colonial history.
Getting hopelessly lost while wandering the colorful, narrow, steep alleyways that weave and wind their way through Guanajuato was hands-down my favorite pastime.
Read More:
Gorgeous Guanajuato: Discovering the Soul of Mexico's Colonial Heartland
4. Tepoztlan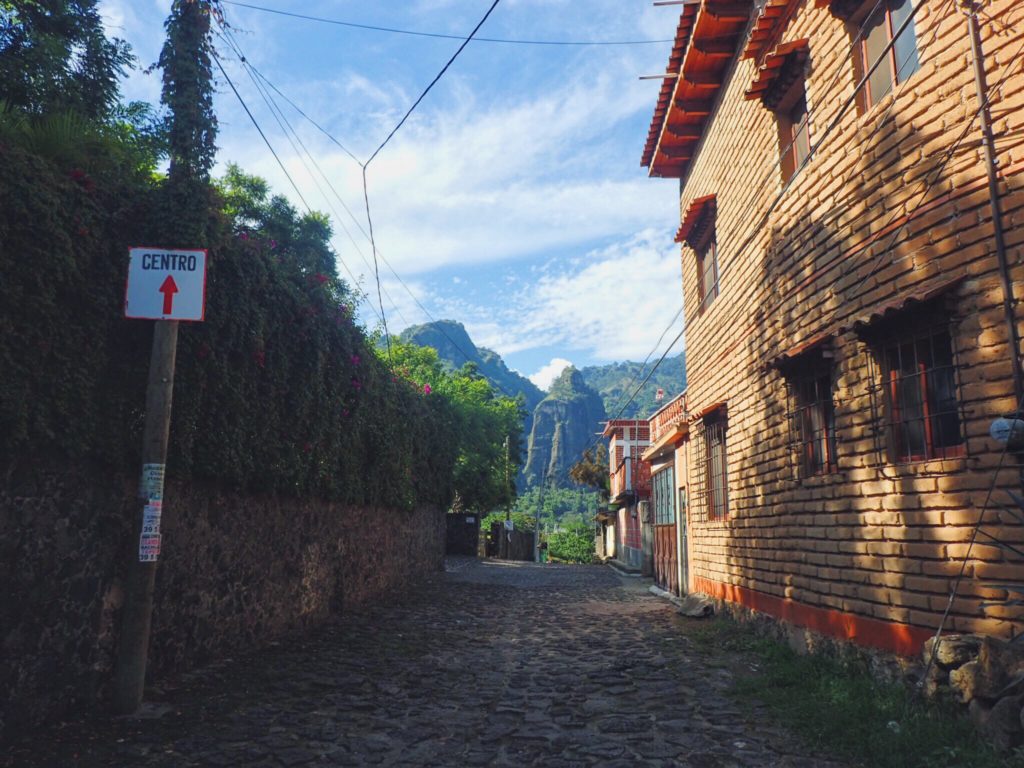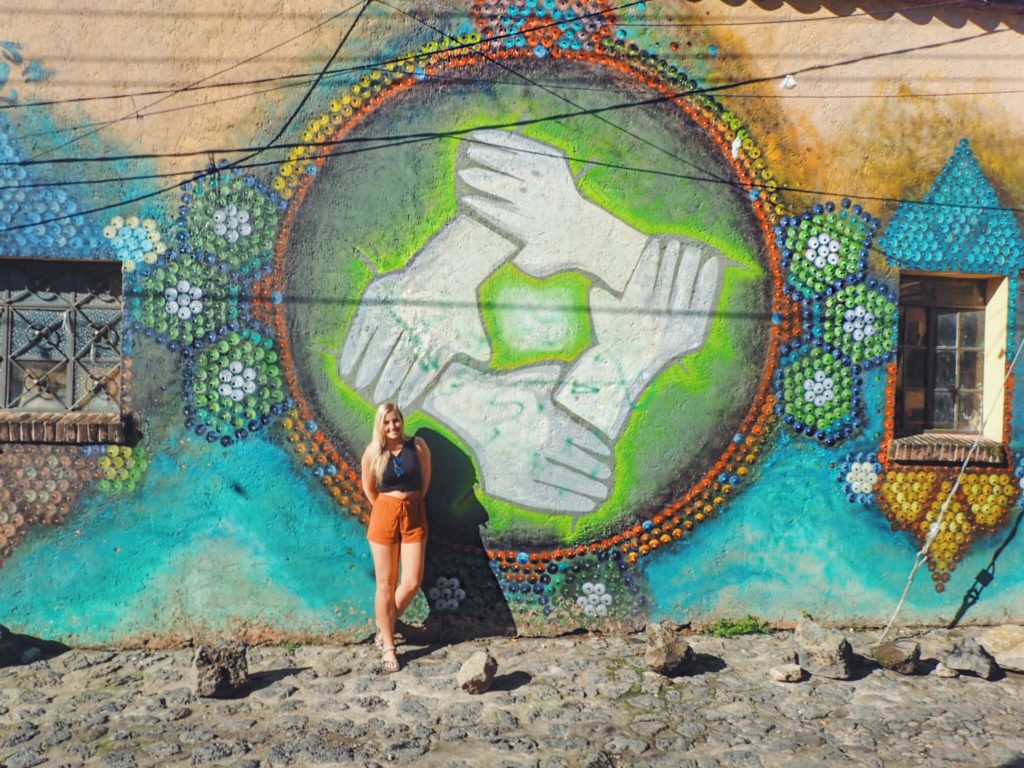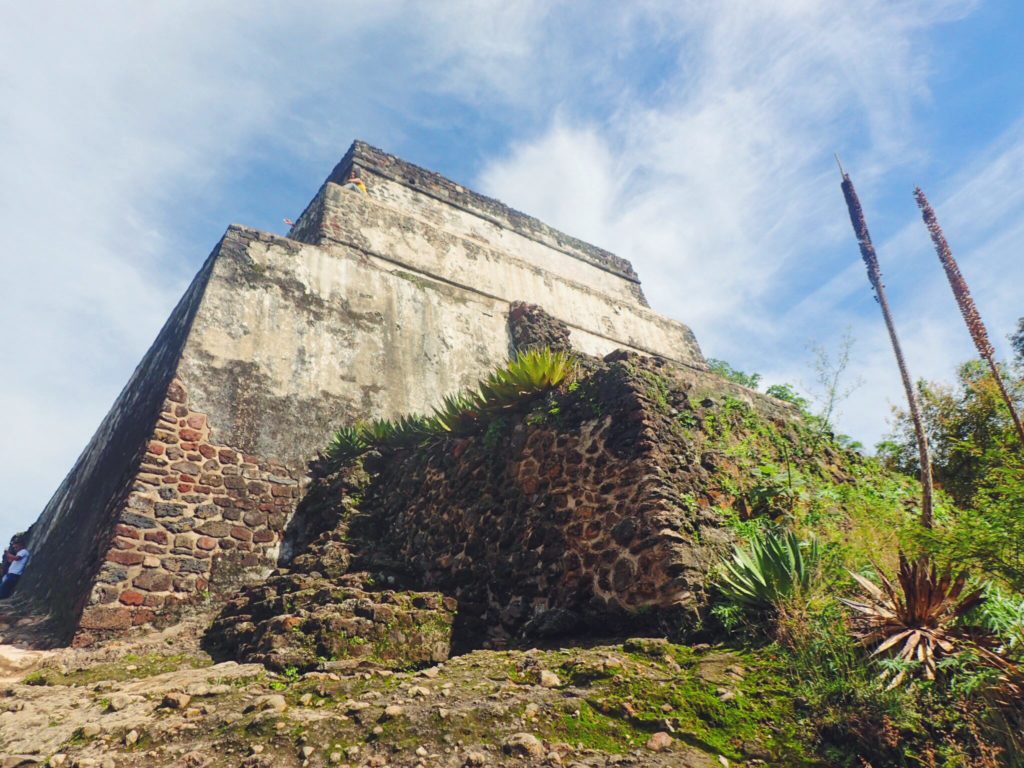 Looking to get off the beaten path in Mexico, without venturing too far from the tourist trail?
Tepoztlan is a relatively unheard-of little town just 1.5 hours south of Mexico City…and it is MAGICAL.
In appearance, Tepoztlán is a very quaint and traditional Mexican town. Children are still taught the old Aztec language Náhuatl in schools, goods sold in the markets are still handmade, and there's not a spot in town that you can't walk to on your own two feet.
The pace of life is slow and carefree, the people are friendly and warm, the food is flavorful and cheap (like, REALLY cheap), the nature is majestic and unspoiled, and the storied history can be felt like a heartbeat throughout the town.
One of Tepoztlan's must-do activities is the hike to El Tepozteco, an ancient Aztec pyramid that overlooks the town from an overgrown mountain peak.
Read More:
Tepoztlán: Off the Beaten Path in a Mountainous Pueblo Mágico
Mexican Hobbiton? Sleeping in a tube at Tubohotel!
5. Tulum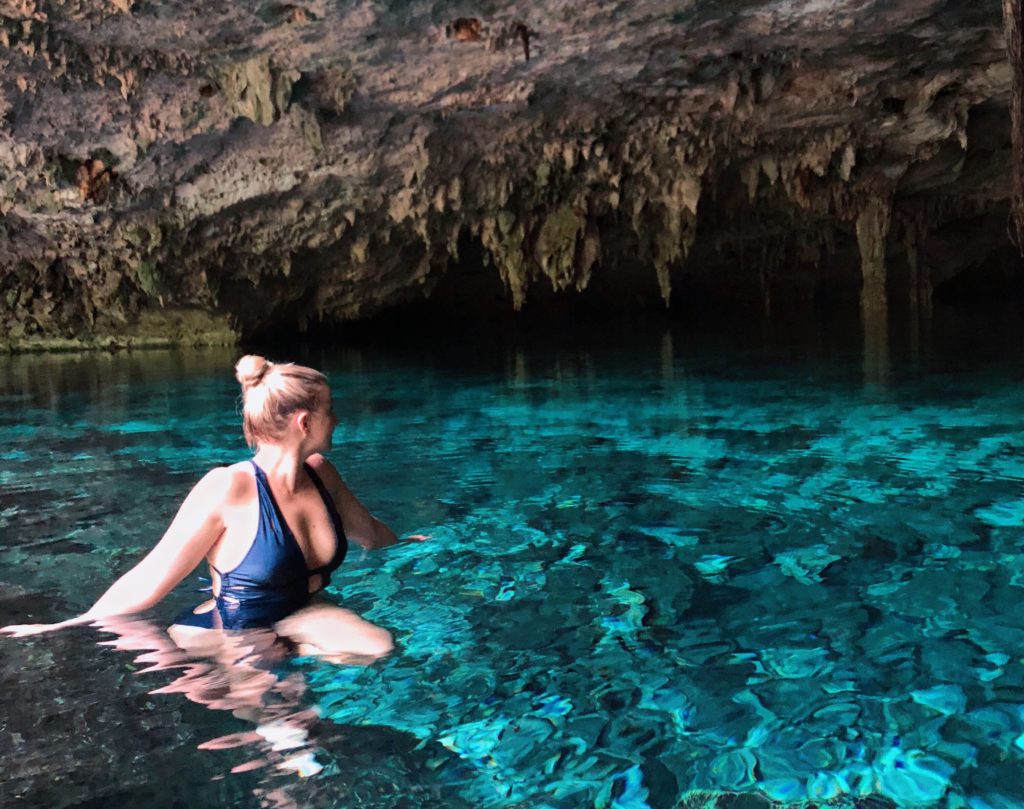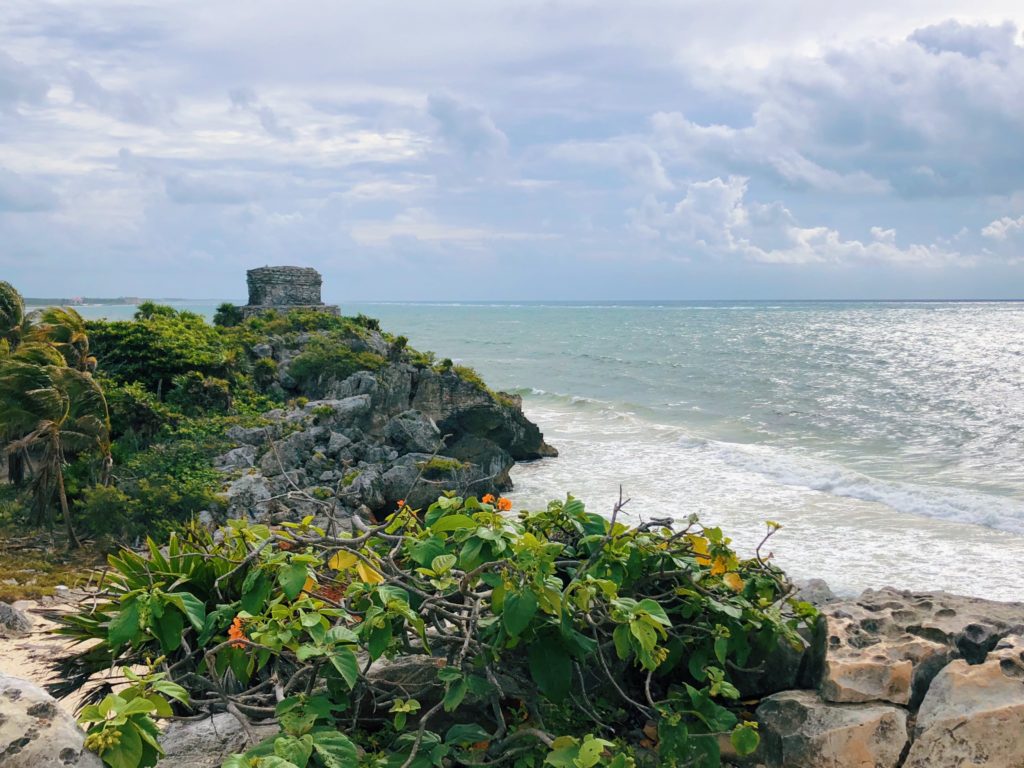 Mayan ruins perched above the Caribbean Sea; crystal clear cenotes beckoning for you to dive on in; airy beach bars with thatched roofs and wooden swings; roadside stands serving up matcha and smoothie bowls; gorgeous eco-friendly resorts by the sea; retro-inspired mezcal bars in the jungle…
This is what you can expect to find in Tulum, a small town located less than two hours from Cancun.
Tulum's beach road is a wonderland for lovers of all things hippie and bohemian. My recommendation? Grab a coffee from one of the cafes or stands (my vote is for Matcha Mama, mmm) and then let your feet carry you as far as they'll go.
Venture out further from the town center, and you can explore gorgeous cenotes, awe-inspiring ruins, white sand beaches, and other natural wonders.
Read More:
Tulum Travel Guide: What to Know Before You Go
The Foodie's Guide to Tulum, Mexico
6. Tequila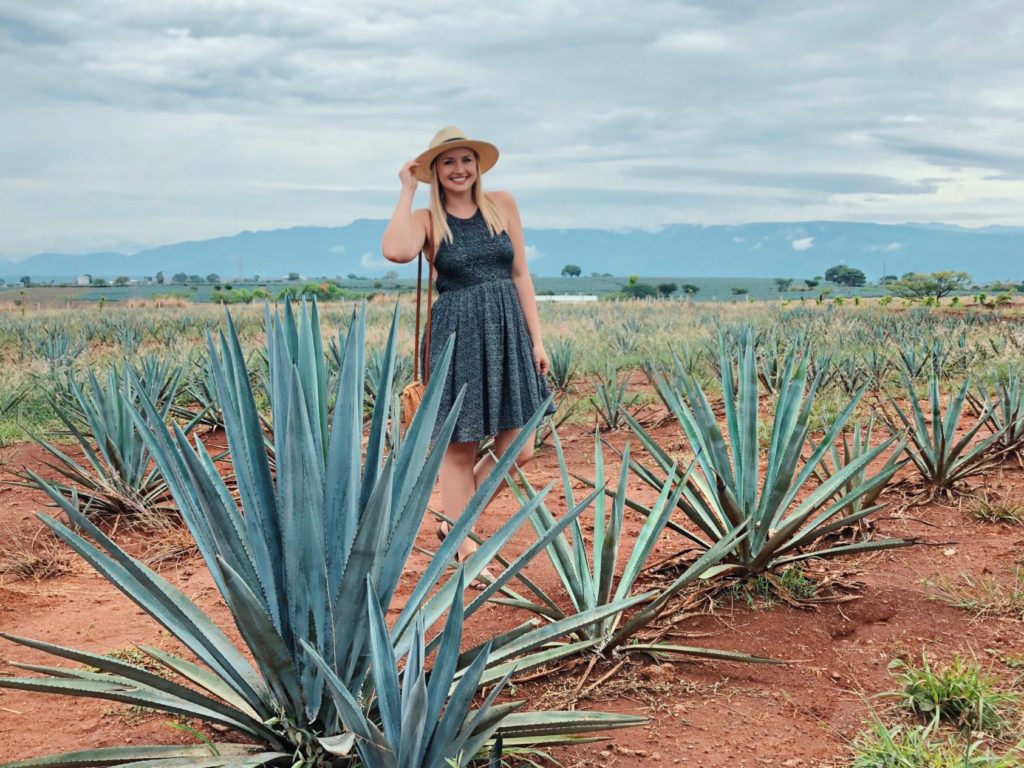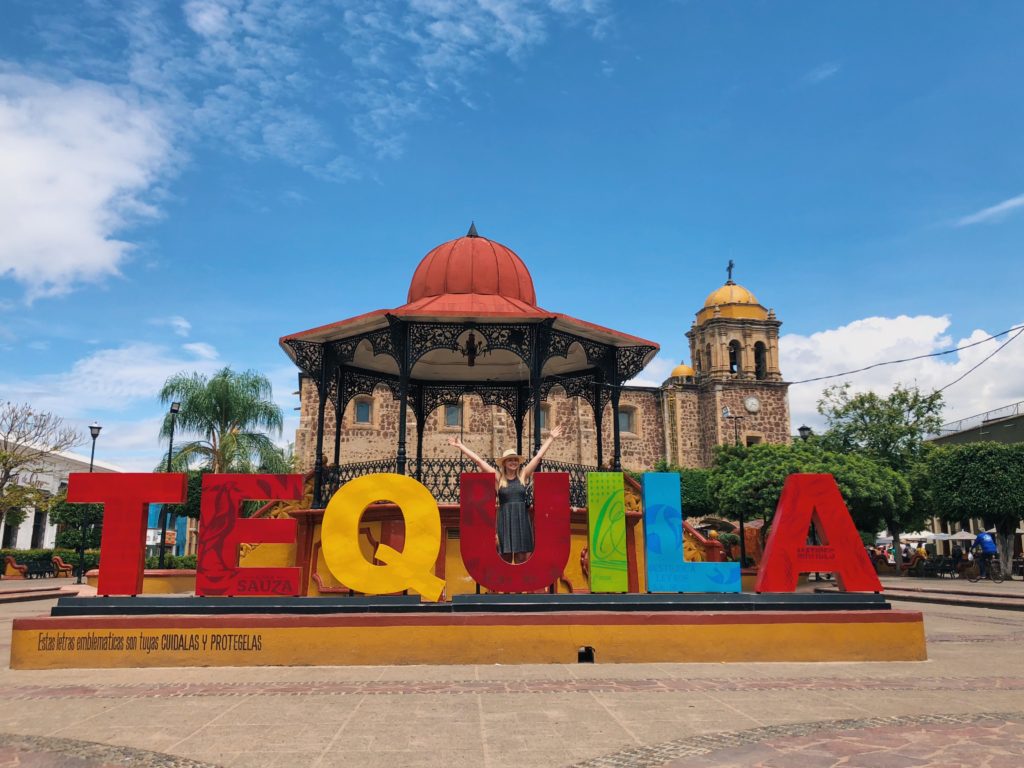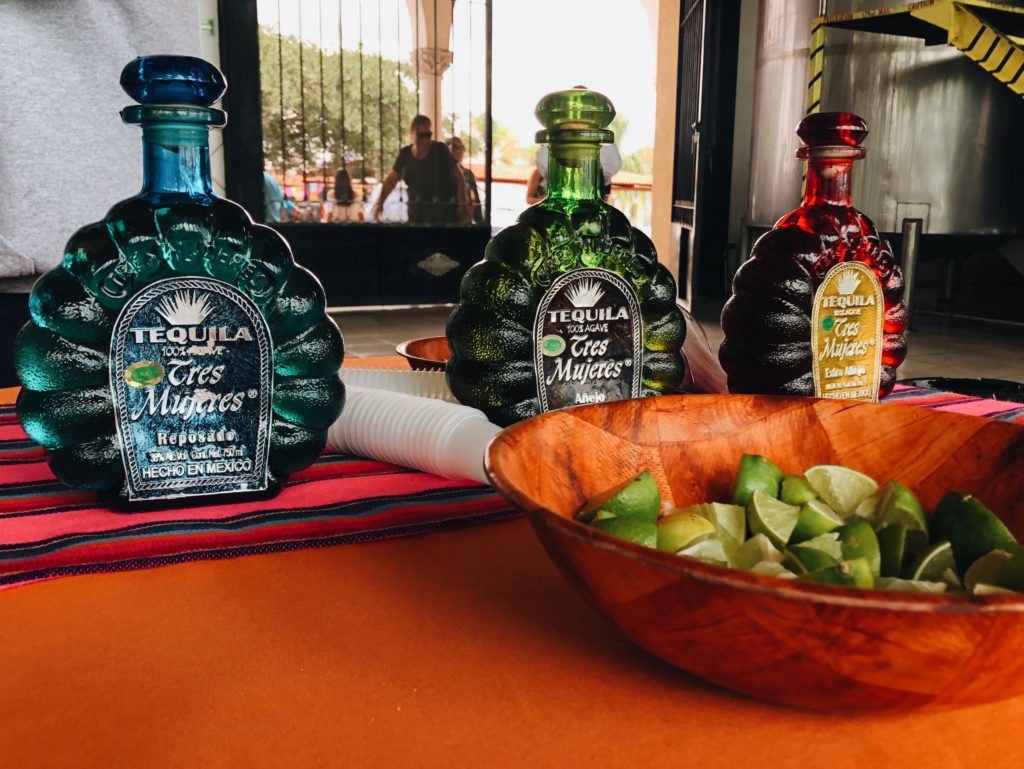 A colorful "Pueblo Mágico" with cobblestone streets and rainbow-hued buildings; endless fields of blue agave rolling across the vast landscape; the smell of bad decisions and sober regrets in the air…welcome to Tequila!
A lot of people may not know this, but just as genuine champagne can only come from the Champagne region of France, true tequila can only come from Tequila and its surrounding municipalities.
I only spent one day in Tequila, as part of a day trip from nearby Guadalajara. But in that short period of time, I quickly fell in love with Tequila's colorful buildings and breathtaking blue agave fields.
Book yourself a tequila tour and spend the day tasting locally made tequilas while learning about the history and culture of this unique region.
Read More:
Day Trip to Tequila: A Tasting Among Mexico's Blue Agave Fields
7. Guadalajara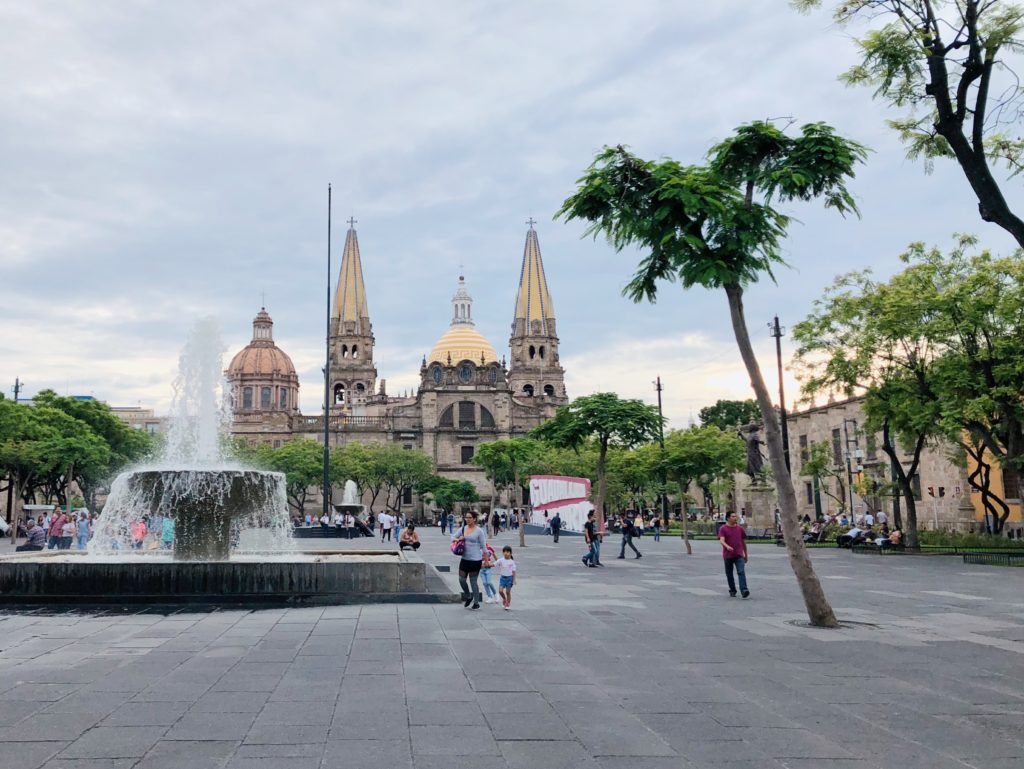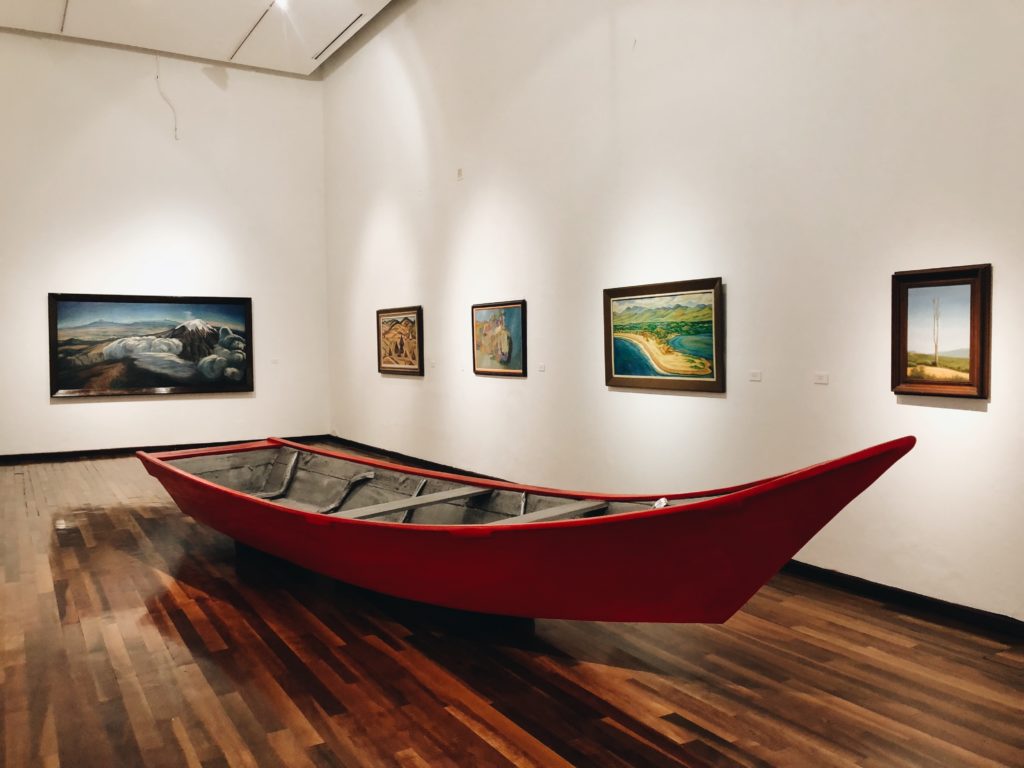 I wavered back and worth for a while on whether or not to include Guadalajara on my list of recommendations for solo female travelers.
Why? Well, it's not the easiest place I've ever traveled on my own. I didn't meet a ton of other travelers here, and the city felt slightly grittier and perhaps a bit less safe than similar-sized cities in Mexico, such as Mexico City.
But, the fact of the matter is that Guadalajara is a vibrant, thriving, historic, and fascinating city with an unbelievably rich heritage, and I had a very positive and memorable experience.
Mexican icons like mariachis, sombreros, and rodeos all started in the state of Jalisco, which Guadalajara happens to be the capital of. Foodies and art lovers rejoice – Guadalajara was practically made for you!
If this is your FIRST solo female trip to Mexico, I might not necessarily recommend Guadalajara. But if you're someone with a bit of experience (and don't mind visiting a "real" city with some rough edges), you'll love it!
Read More:
One Day in Guadalajara: Discovering the Heart & Soul of Jalisco
Other Places to Visit in Mexico
Although I have not visited these other destination, I've heard GREAT things about Isla Holbox, Bacalar, Sayulita, Puerto Vallarta, Oaxaca, Playa del Carmen, and Puebla. All of these locations are popular among travelers and have developed tourist infrastructures – a good sign that they would be safe choices for solo female travelers.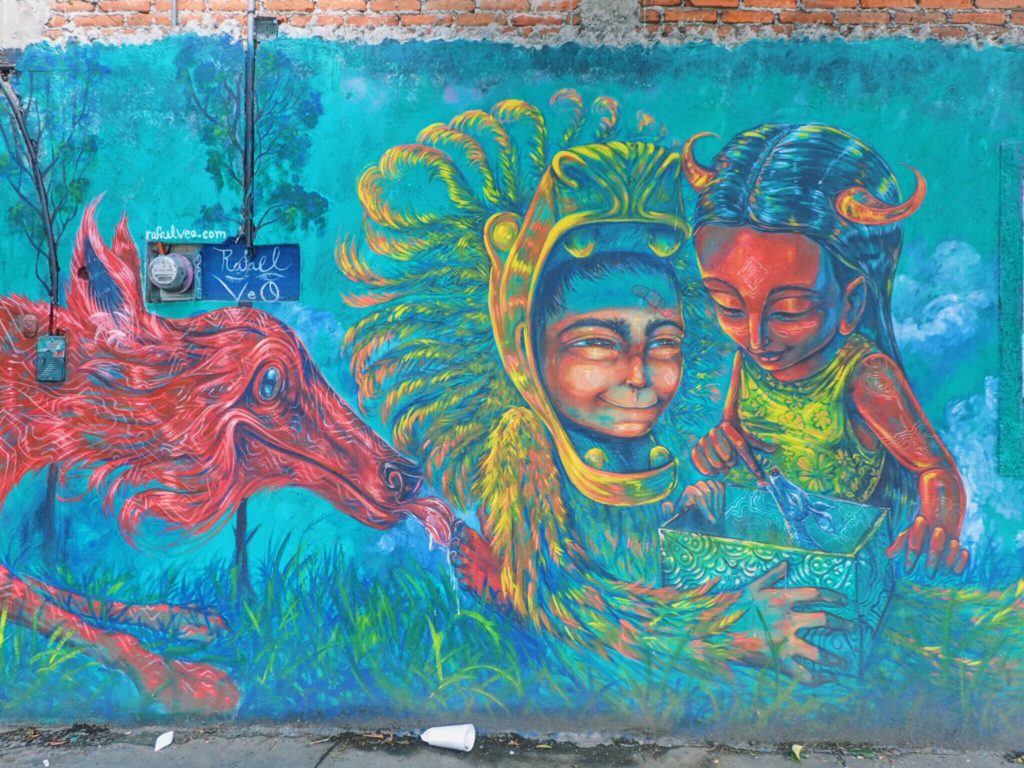 I have also visited Isla Mujeres and Cancun, and found both options to be perfectly safe and easy to navigate. The only reason they're not on this list is because I didn't spend enough time in either to be able to wholeheartedly recommend them. I did enjoy them during my short visits, though!
---
Is Mexico Safe For Solo Female Travelers?
This is a tricky, loaded question, and I'm going to do my best to answer it as accurately as possible.
YES, Mexico is safe for solo female travelers…with the caveat that safety is never guaranteed at any point in time, anywhere in the world.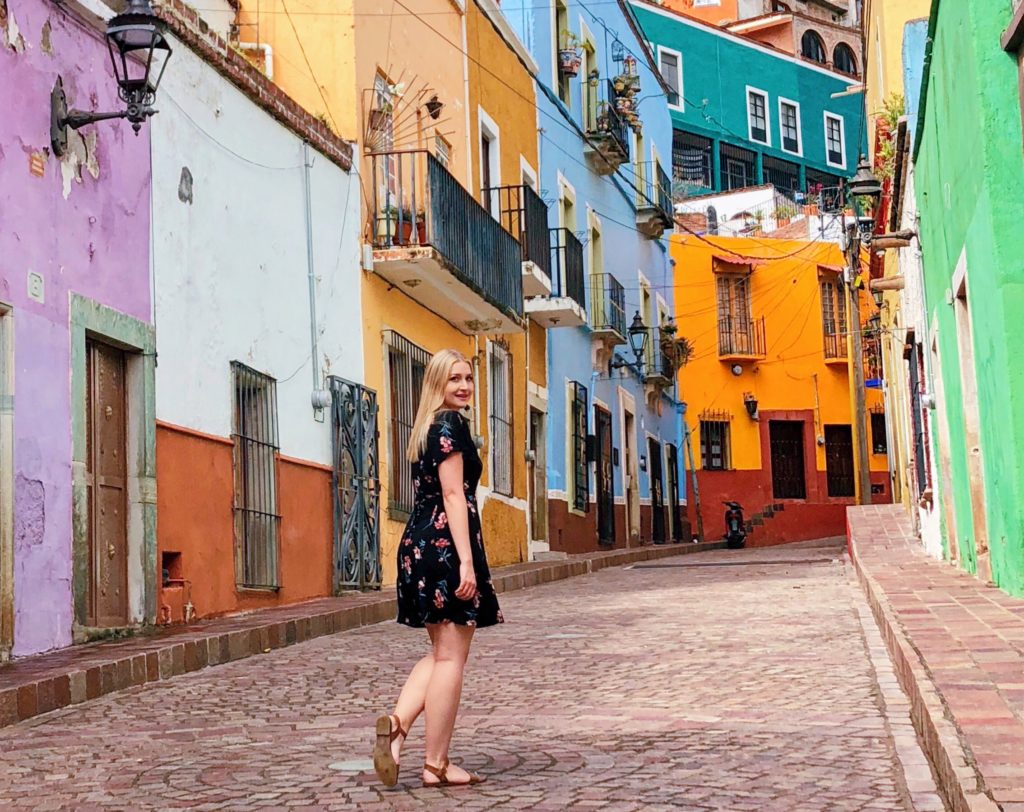 …Okay, now let's break that down a bit. Firstly, it's importantly to know that the U.S. Department of State has NOT advised its citizens against travel to Mexico. There is NO "Do Not Travel" warning in place.
The current alert assured by the U.S. Department of State is "Level 2: Exercise Increased Caution."
But as a street-smart solo female traveler, you always exercise increased caution, right?
What this specific alert means is that there are a few areas of Mexico that are unsafe to visit; but as a whole, there is no reason to avoid visiting as long as you take proper measures to keep yourself safe.
Currently, the Mexican states that you should AVOID traveling to are Colima, Guerrero, Michoacán, Sinaloa, and Tamaulipas, as these regions do have high amounts of crime and violence. None of the locations that I recommended are within any of these states.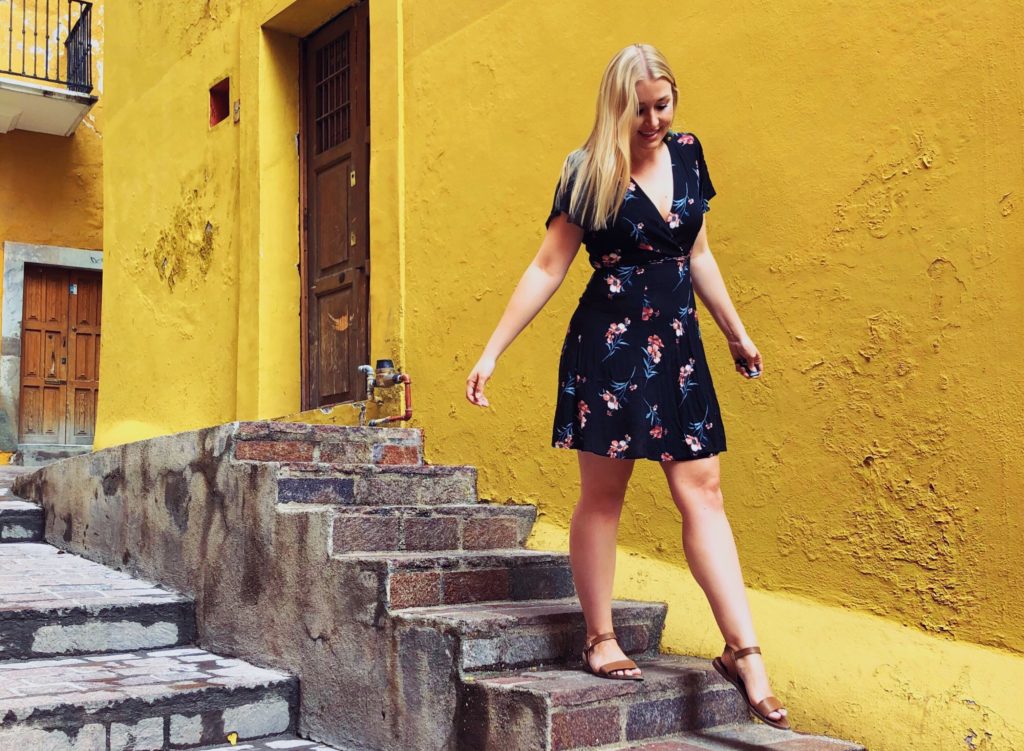 Here's where I'm going with all of this: it is truly impossible (with a few rare exceptions) to classify an entire nation as "safe" or "unsafe."
Is the United States safe? In general, yes…but how about if you're stumbling drunk through a dark alley of New Orleans late at night, or flashing expensive jewelry in a high-crime neighborhood in Detroit?
Mexico is no different – it's a combination of choosing the right destinations and making smart choices that will determine how safe your experience is.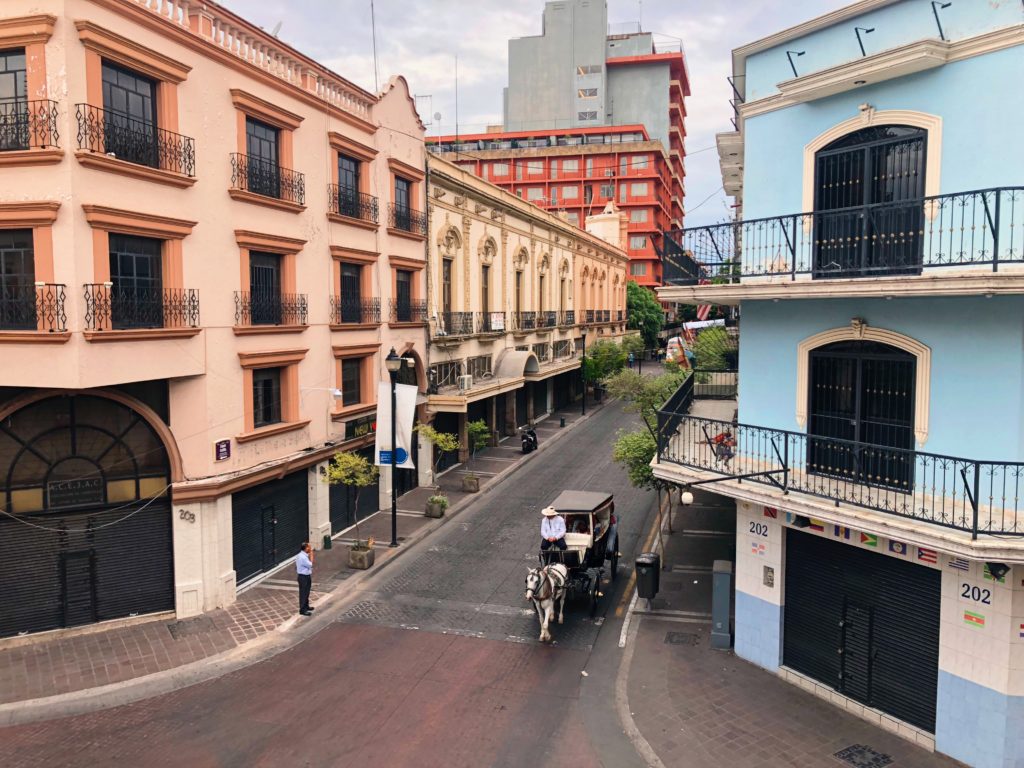 I would never, ever recommend traveling to areas of any country that are known for violence or cartel activity. It is in good faith – and based on my own personal, positive experiences – that I say Mexico can be a safe destination for solo female travelers.
I completely understand that many of you will have friends and family members who will worry; my friends and family members are no different.
Just keep in mind that the media sensationalizes everything, and that the rare violent incidences against tourists make for much more interesting news than the 30 million Americans who safely visit Mexico each year.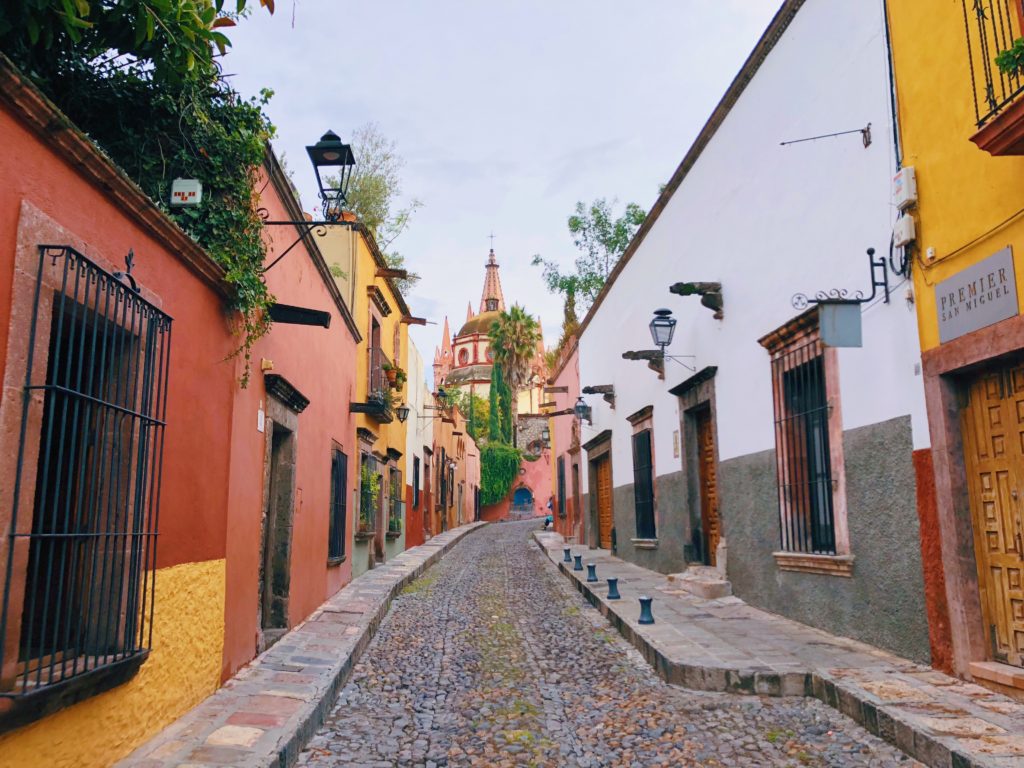 When I'm traveling solo (in Mexico or elsewhere in the world) there are also a few helpful gadgets that I always like to bring with me.
One of my personal must-haves? A basic doorstop – seriously! Better yet, a door stop security alarm.
In either case, this simple tool will make it that much harder for a person with nefarious intentions to get into your hotel room. And with the alarm version, the slight opening of the door will put pressure on the trigger and set off an insanely LOUD alarm.
(This is the exact model I own, and I've tested it myself – trust me, it's loud).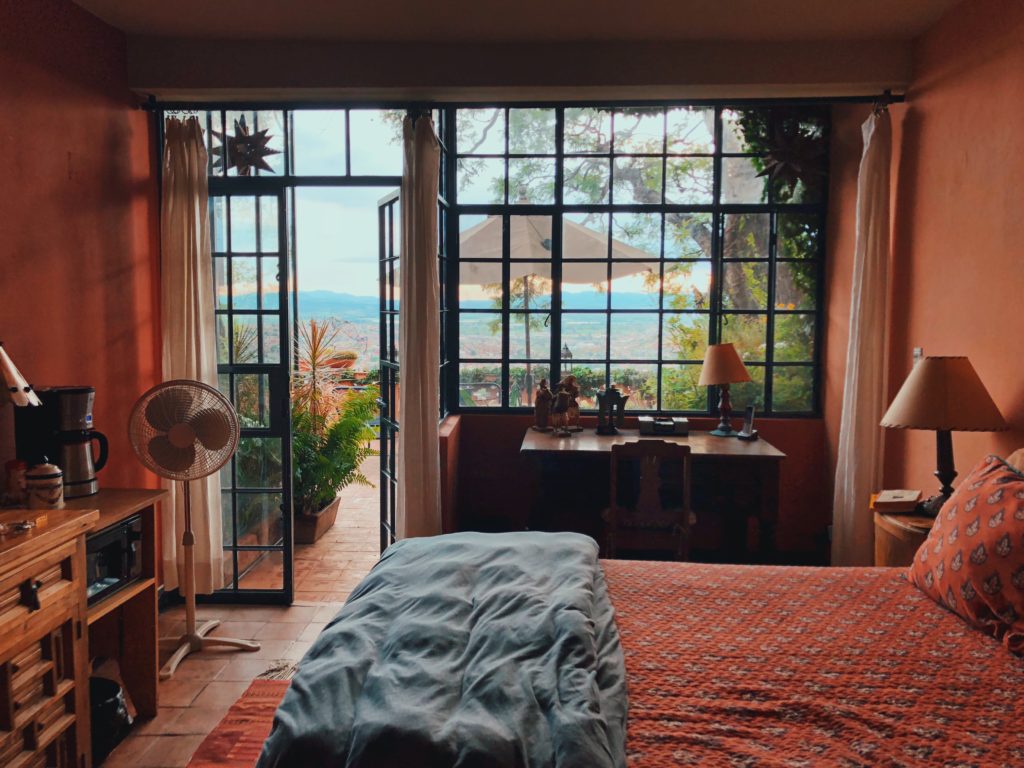 I sleep so much better knowing that my hotel or Airbnb door has a bit of extra reinforcement, and that I'll be alerted if anyone tries to break in while I'm sleeping or showering.
Other items I always like to travel with include a safety whistle or personal safety alarm (both of these can be attached to your keys, backpack, etc). And I always like to have a few spare locks with me, too.
---
Mexico Safety Tips for Solo Female Travelers
Always stay aware of your surroundings. On that same note, watch your drinking! There's nothing like a chilled michelada or icy cocktail on a hot day in Mexico, but limit yourself to ensure you stay sharp.
Never be too trusting! Meeting new people is one of my favorite parts of solo travel, but you should be careful about freely handing out too much personal information. And never go anywhere alone with someone you just met.
Never share that you're traveling alone. Lie if you must – "My significant other is napping at the hotel" or "My friends went on a hike/tour/shopping" are both solid explanations for why you're alone at the moment. One exception to this rule would be if you're staying in a hostel and meet fellow travelers there – I tend to open up in these situations.
Dress conservatively. Yes, I know parts of Mexico can be hot. Yes, I know it's 2019. But as a lone lady in Mexico, you'll likely attract some unwanted stares and attention, and covering up can help with that. I've also noticed that wearing my hair up helps minimize any catcalling, too.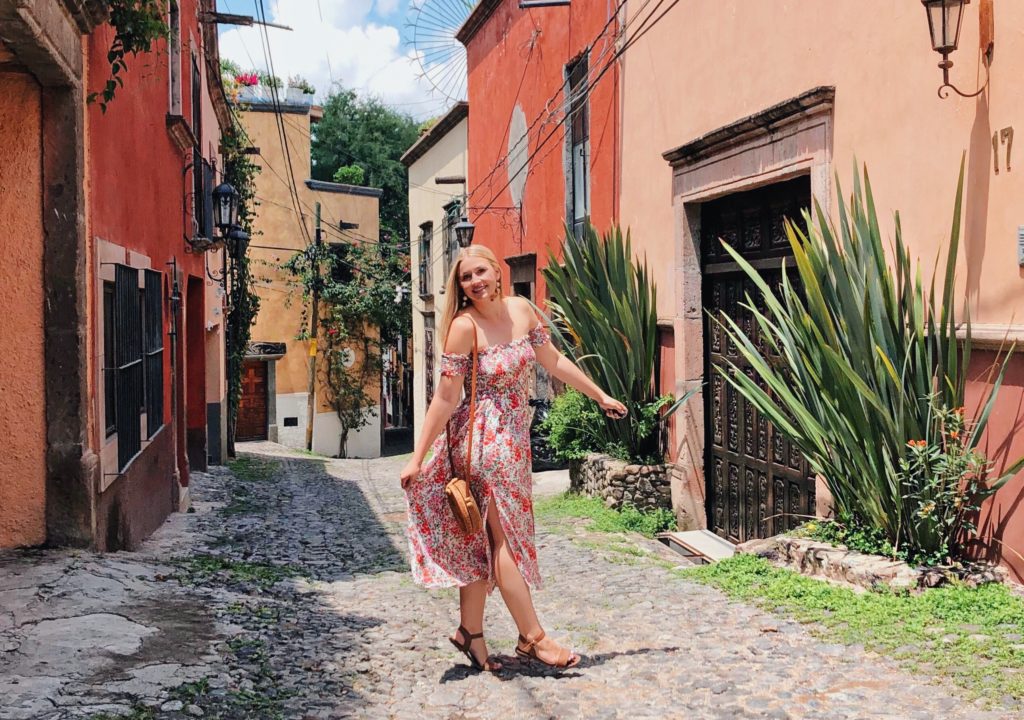 Research extensively. Study Google Maps to make sure your hotel, hostel, or Airbnb is in a good location before you book. Plan out how you're going to get from the airport to your hotel before you arrive. Preparedness = confidence = more difficult target for criminals.
Don't carry ALL of your cash and credit cards on you at once. Only bring what you need for the day, and leave the rest safely stashed away in your hotel room. If you're able to travel with a backup debit and/or credit card, that's even better!
Use Uber. Local taxis can sometimes be more convenient and are usually perfectly fine, but I personally feel safer using Uber, since all of the details of your ride are stored on the app and can be shared with others.
It helps to know some Spanish. Not a true "safety tip" per se, but knowing a bit of Spanish will help you feel more comfortable and confident in your solo travels throughout Mexico.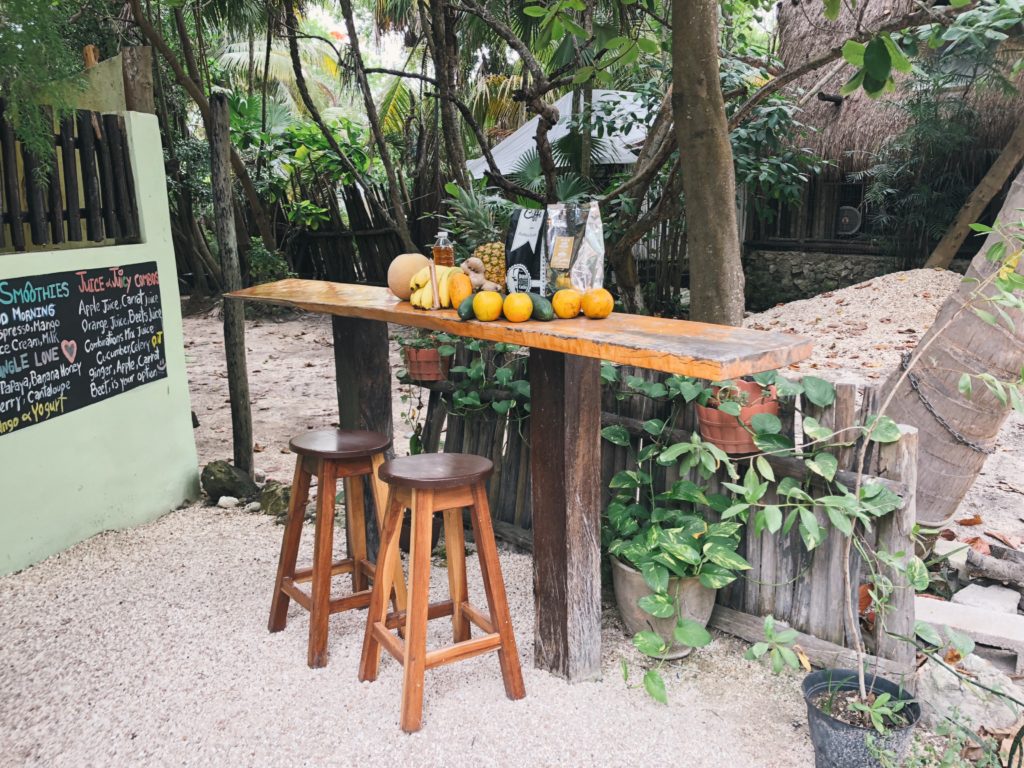 ---
How to Meet People in Mexico as a Solo Female Traveler
Meeting locals and fellow travelers while exploring abroad is for sure one of my favorite things about traveling solo. Sure, you can meet new people while traveling with friends or significant others, but there's just something about solo travel that facilitates easy connections and instant camaraderie.
Staying in hostels is hands-down the easiest way to meet other solo travelers, especially in a country like Mexico, which has a strong backpacker presence.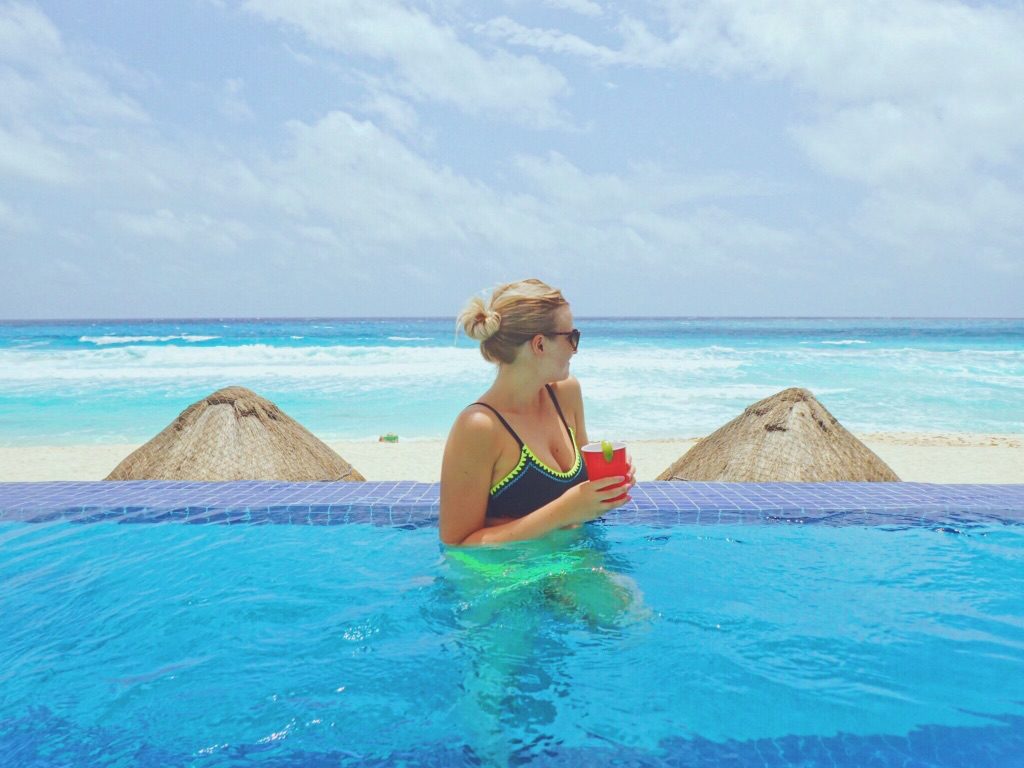 Hostel dorms are great, although these days I mostly stay in private rooms at hostels. For me, this is a good compromise because I get to keep my privacy, while still having access to a social atmosphere with easy access to other travelers.
Whether you're staying in a hostel or another type of accommodation (like Airbnb or a traditional hotel), group tours are another great way to meet new people while traveling.
I also frequently go out to bars for a drink while traveling solo – after the first time, it's much less intimidating than you would think! Be sure to actually sit at the bar (rather than a table) and don't be shy about striking up conversations with the people sitting near you.
This is an especially great strategy for meeting locals!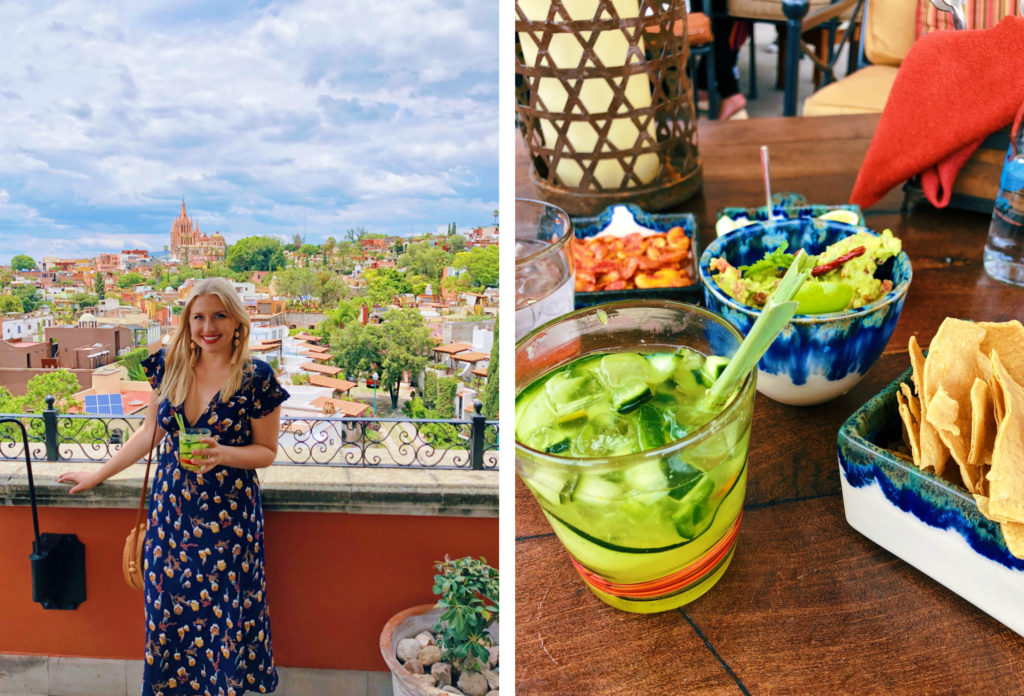 Of course, it is IMPERATIVE that you don't let your guard down; limit yourself to one or two drinks maximum (don't feel obligated to finish your drink if you start feeling too tipsy) and never let your drink out of your sight. Personally, I also only visit the bar solo during daylight hours, never after dark.
---
Travel Insurance for Mexico
I know what you're thinking – do I really need travel insurance for visiting Mexico? Honestly, I'm obligated to say "yes." I just cannot in good faith publish a post on the topic of safety without at least mentioning travel insurance.
During my solo trip to Central America in 2015, I traveled without insurance…and it was one of the stupider decisions I've ever made. While I was there, I contracted dengue fever and ended up in the hospital in Honduras.
I was super lucky that I didn't end up with any serious complications (although I did vomit blood, which was beyond terrifying). I was also lucky that even with multiple days of care, my total medical bill came out to less than $500.
But it could have been SO much worse, and that thought really scares and upsets me.
That's why I always recommend travel insurance from World Nomads. They provide protection for situations like medical emergencies, accidents and injuries, assault, and – god forbid – medical evacuations.
Ultimately, it's your decision to purchase travel insurance or not. But if you're concerned about safety while visiting Mexico, knowing that you're sufficiently covered by insurance should help you feel much more comfortable going into your trip.
---
Pin It!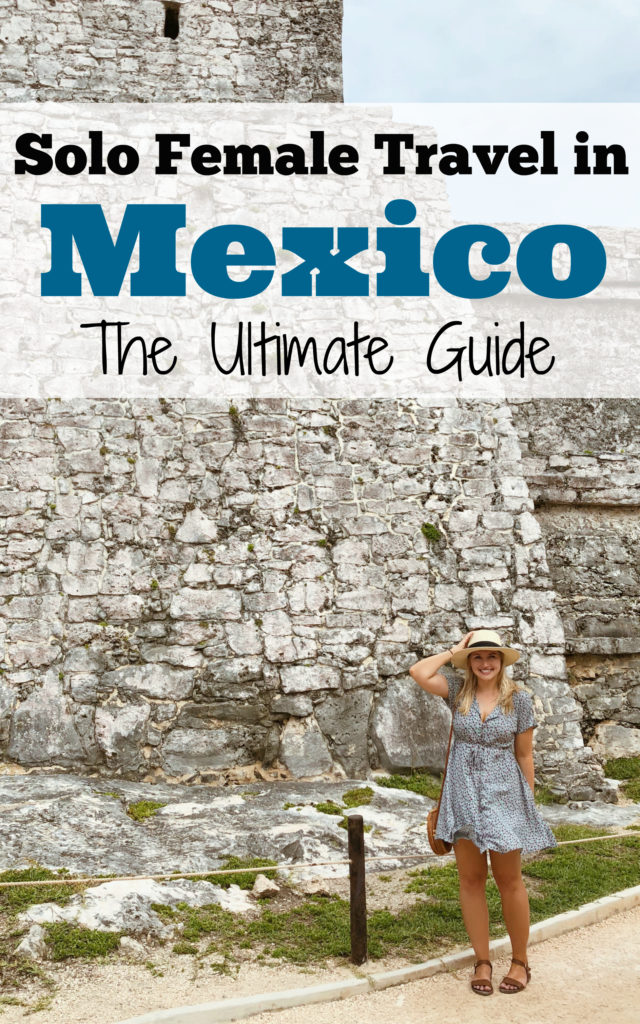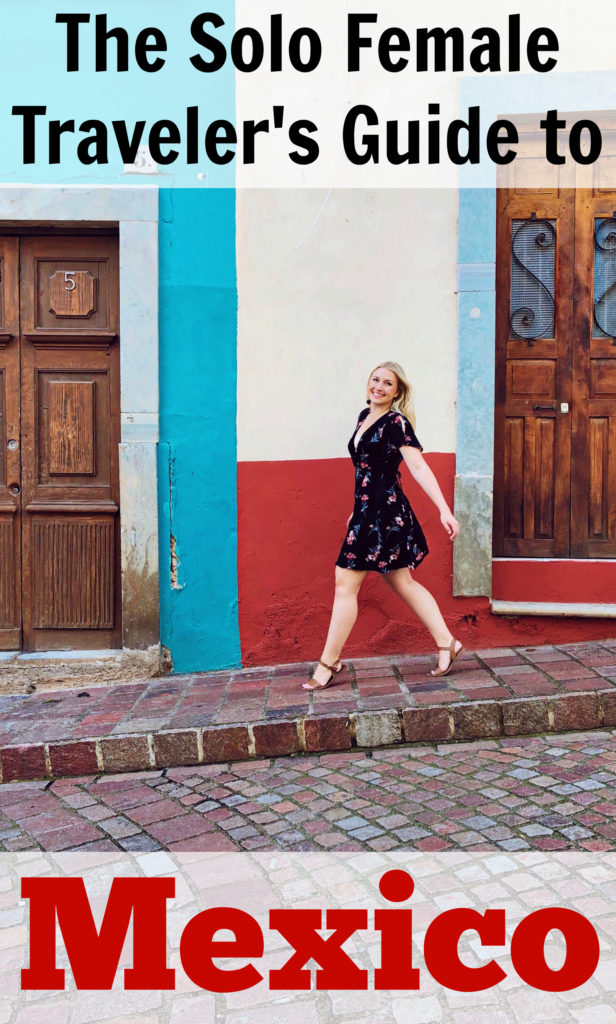 ---
Are you a female traveler planning a solo trip to Mexico? What questions do you have about sights, experiences, food, safety, or other travel-related issues? Like I said, Mexico is one of my FAVORITE countries on the entire planet – I'd love to help answer your questions about visiting!
Note: This post contains several affiliate links. If you make a purchase using one of these links, I will earn a small commission at no additional cost to you. My affiliate income helps offset the cost of running this blog, and allows me to keep this site free of ads and sponsored posts. So, thank you!!
The post The Solo Female Traveler's Guide to Mexico appeared first on The Wandering Blonde.
[ad_2]