[ad_1]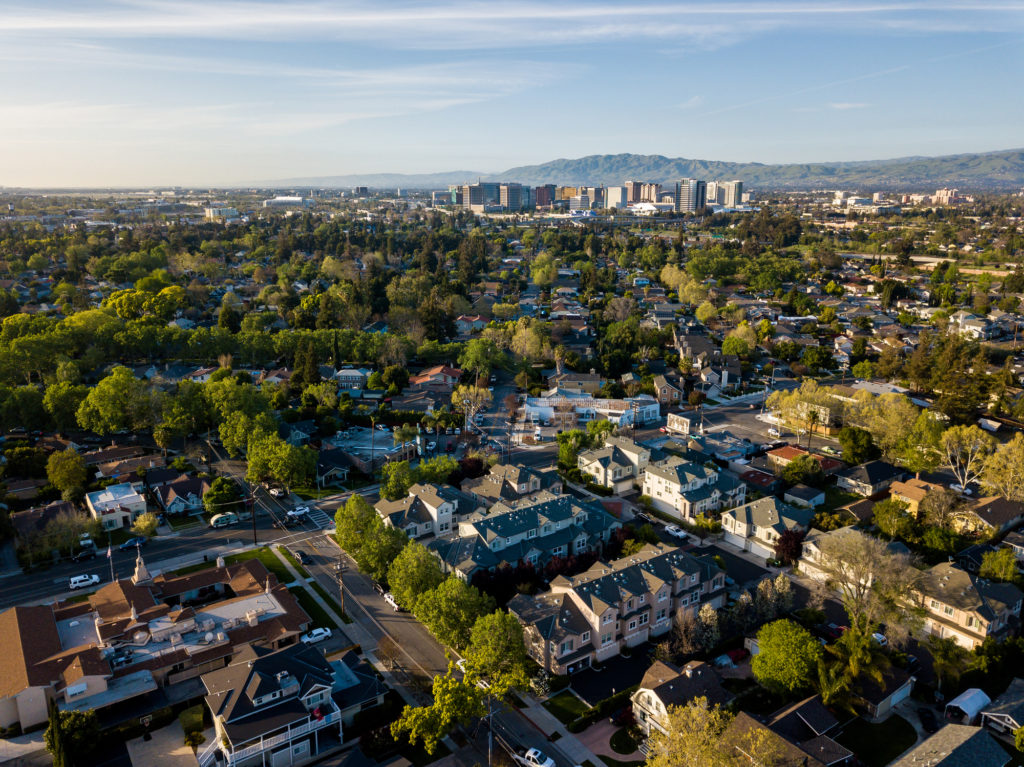 Ah, San Jose. Surrounded (and overshadowed) on all sides by travel magazine-worthy destinations like San Francisco, Yosemite and Napa…you never really stood a chance, did you?
Sure, you're the tech capital of the nation and a popular jumping off point for all sorts of California adventures…but how can you compete with iconic San Francisco and wine country to the north, wild mountain ranges to the east, and stunning stretches of coastline to the south and west?
Honestly, I do understand how many people could feel this way about San Jose…but not me.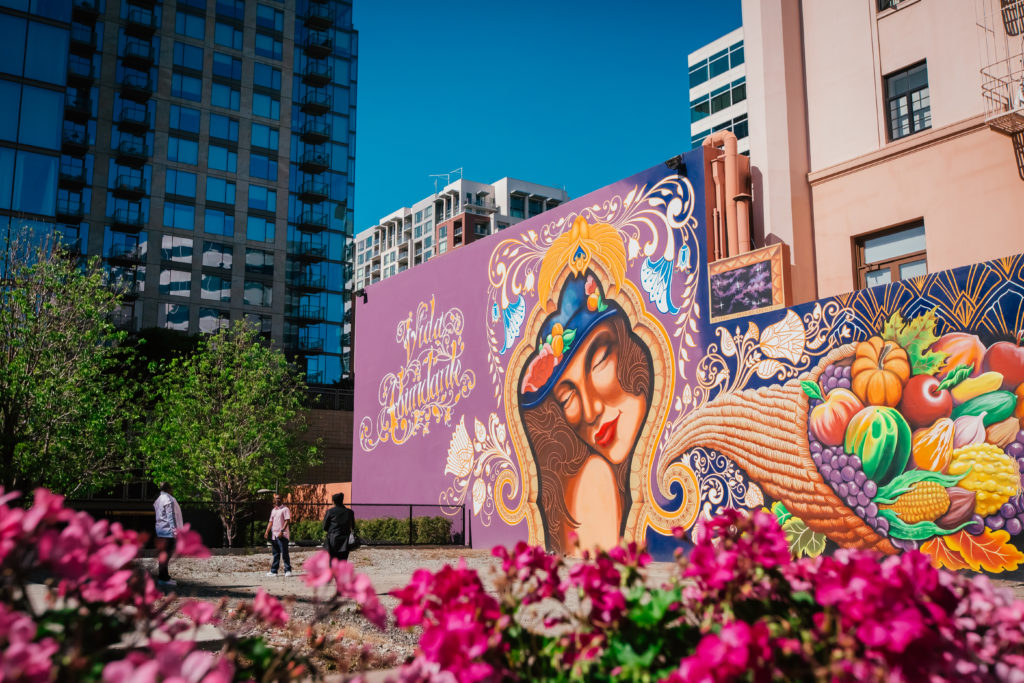 San Jose is the 10th largest city in the United States and the largest in Northern California (yes, bigger than San Francisco).
It was founded by the Spanish in 1777, and is now considered to be one of the most affluent cities in California, a hub of technological innovation, and the heartbeat of Silicon Valley.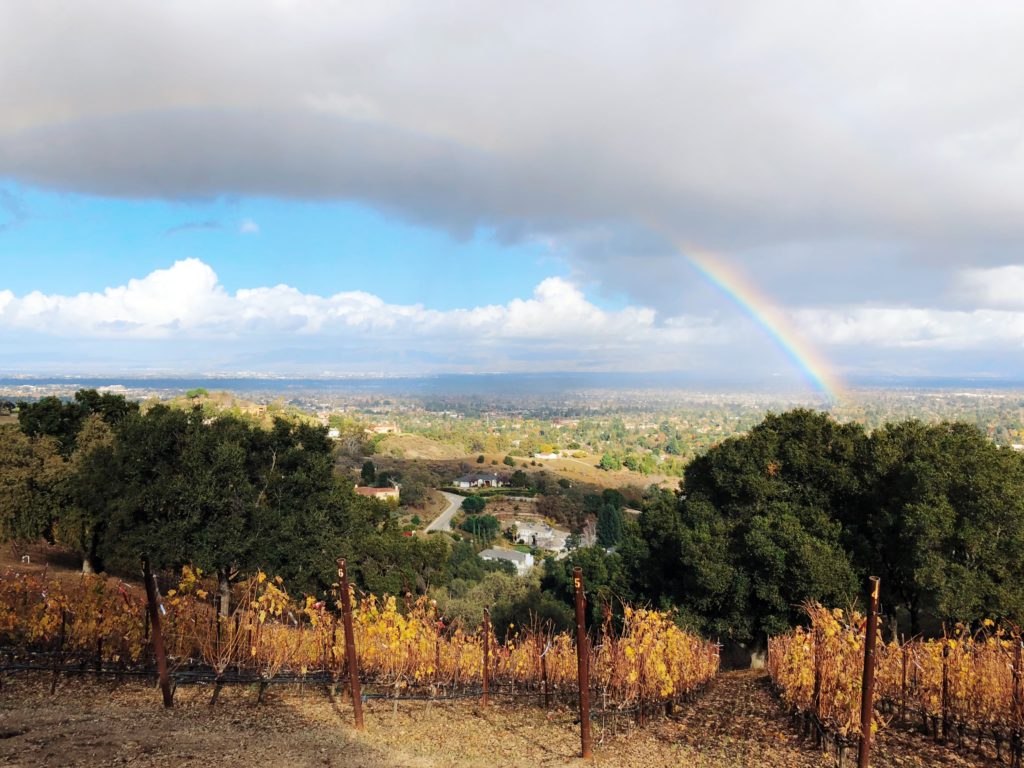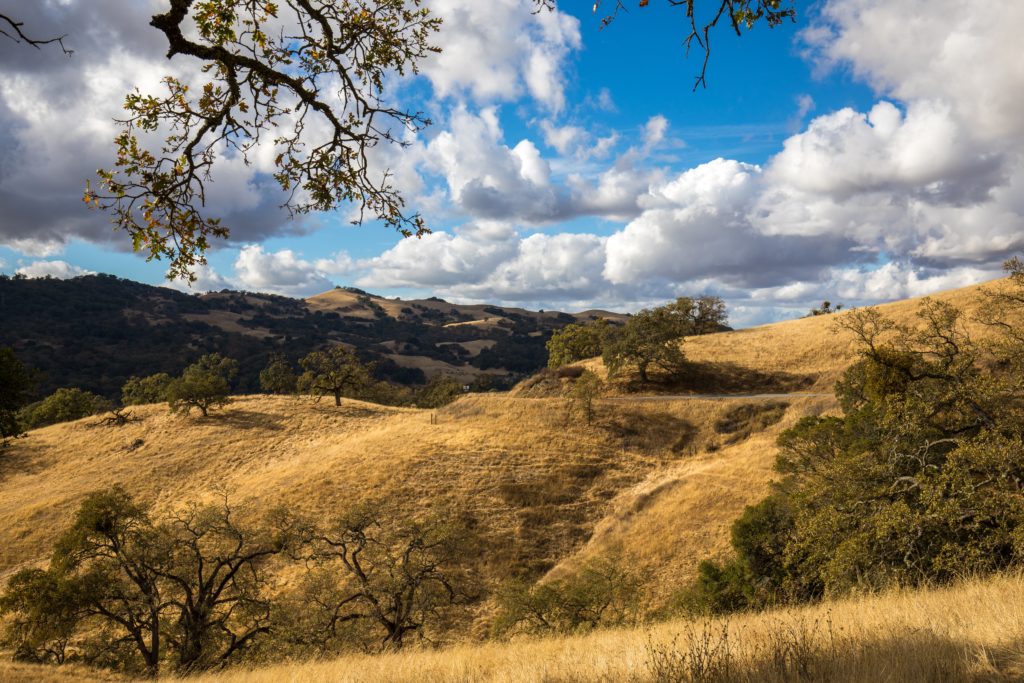 Nestled in a valley surrounded by grassy hills, San Jose has a typical Mediterranean climate (meaning generally mild weather, dry summers, and wet winters). With nearly 300 sunny days per year, I truly think San Jose has some of the nicest weather in all of the United States.
Why Visit San Jose, California?
I don't want to paint a misleading picture – San Jose is no San Francisco.
Although it's actually the larger city, San Jose is much less dense than San Francisco, giving it a more suburban feel in many areas.
It doesn't have a strong existing tourism presence, an abundance of time-tested itineraries, or a long list of "must see" attractions on TripAdvisor. You won't find any sights as iconic as the Painted Ladies or as grand as the Golden Gate Bridge here in San Jose.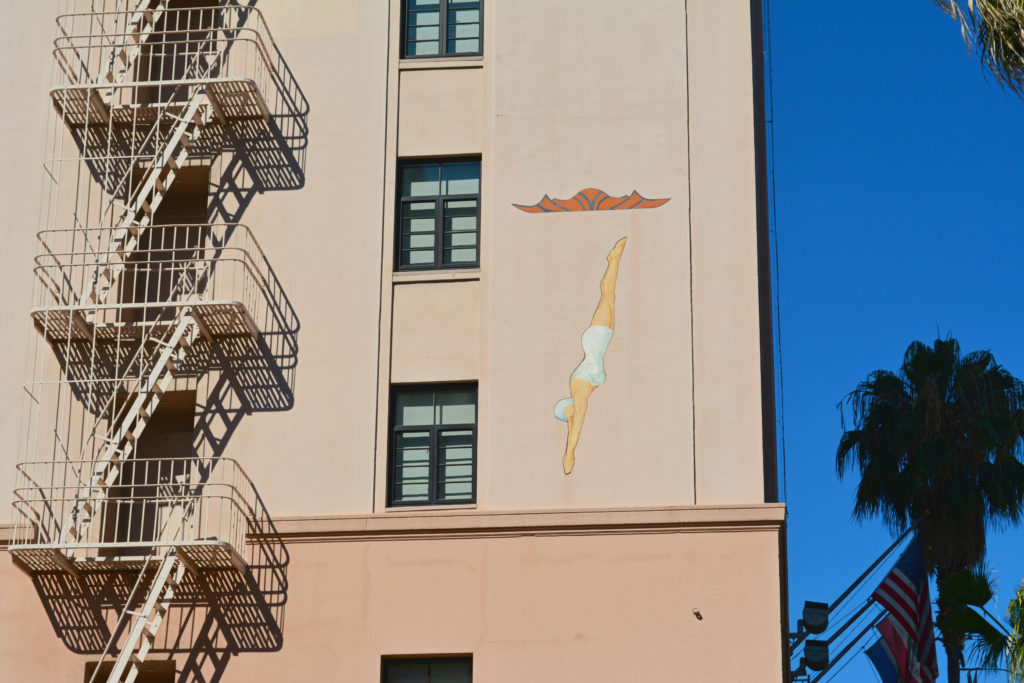 No, San Jose is still far under the tourism radar…so what DOES this city have to offer visitors?
San Jose is incredibly diverse, with large populations of Mexican, Vietnamese, Chinese, Korean, Indian and other immigrants. It's a true melting pot of cultures, which visitors can experience through the vibrant food scene and abundant multicultural events.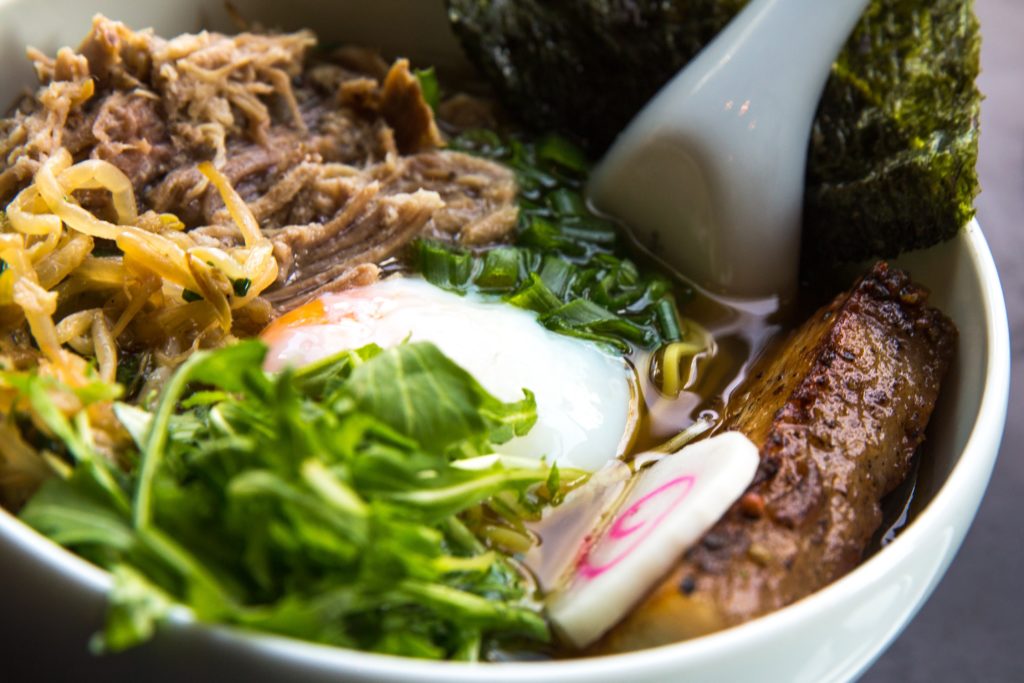 The city also has a growing craft beer presence, and is in close proximity to what Conde Nast labeled as one of "the best wine regions to visit in 2019" (the Santa Cruz Mountains).
Simply put, San Jose is up-and-coming. It's a city with interesting stories to be told, beautiful sights to be seen, and incredible food, wine and beer to be enjoyed.
As someone who is not native to San Jose but has lived here for nearly two years, I like to think I have a unique blended insider/outsider perspective. With that said, here's my take on how to spend one perfect day in San Jose, California:
9:00AM: The Breakfast Club at Midtown
Red. Velvet. Pancakes. Need I say more?
…Okay, I should probably say more! And here it is: if I could recommend just one place for breakfast or brunch in the San Jose area, it would hands-down be The Breakfast Club at Midtown!
View this post on Instagram
And while their red velvet pancakes (topped with cream cheese drizzle, powdered sugar, whipped cream and chocolate chips) are the absolute BOMB, the rest of their menu is pretty dang amazing, too.
I'm a big fan of their Benedicts (they have a whopping ten varieties to choose from),  but they also offer an impressive selection of scrambles, omelettes, and Mexican-inspired breakfast dishes. (Breakfast nachos? Sign me up!)
View this post on Instagram
Oh, and did I mention their crepes, waffles, French toasts, mimosas, spiked coffees, and INSANE Bloody Marys and other cocktails? Just trust me on this one, guys – I KNOW my breakfast & brunch joints, and this is a good one. The best one, in fact!
(Insider tip: Arrive early in order to avoid – or at least minimize – the inevitable long wait for a table.)
10:00AM: Municipal Rose Garden
After breakfast, hop in the car and drive just a mile up the road towards San Jose's Rose Garden neighborhood.
Rose Garden is easily my favorite neighborhood in the city, and it's easy to see why as you drive through the quiet residential streets. Historic homes dating back to the 1800s with beautifully manicured lawns are the norm here, as are towering palms that sway in the breeze.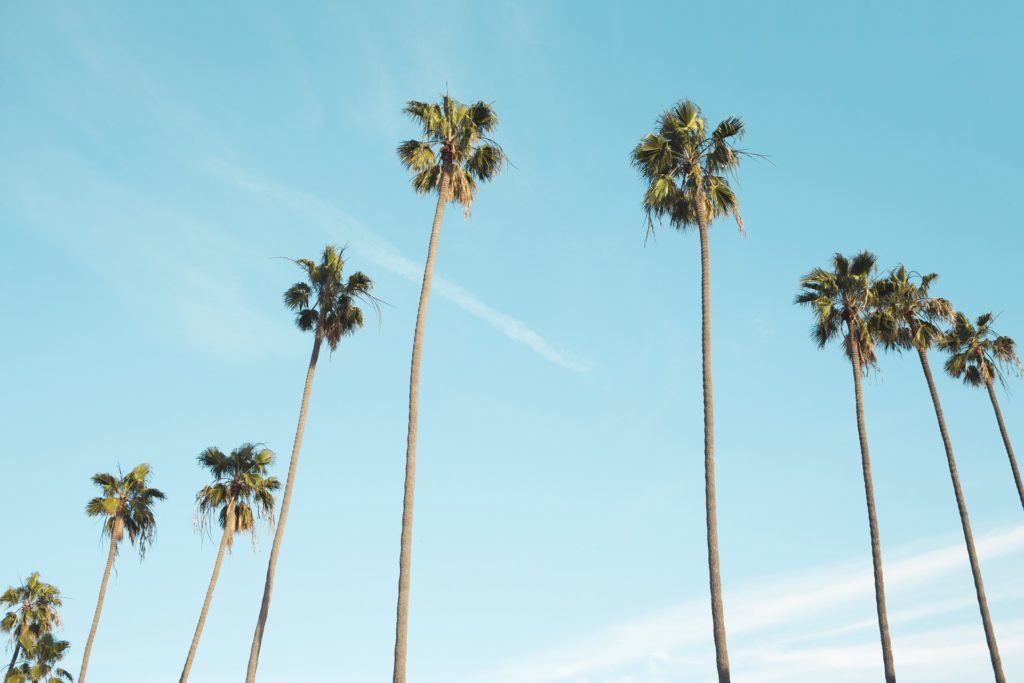 The highlight of the area – and the destination that you're heading for – is the San Jose Municipal Rose Garden, which has been named "America's Best Rose Garden."
This 5.5-acre garden features an expansive grassy lawn and more than 3,500 perfectly planted rose shrubs. It's a gorgeous (and fragrant!) space for strolling and snapping some photos, especially if you happen to be visiting during the springtime.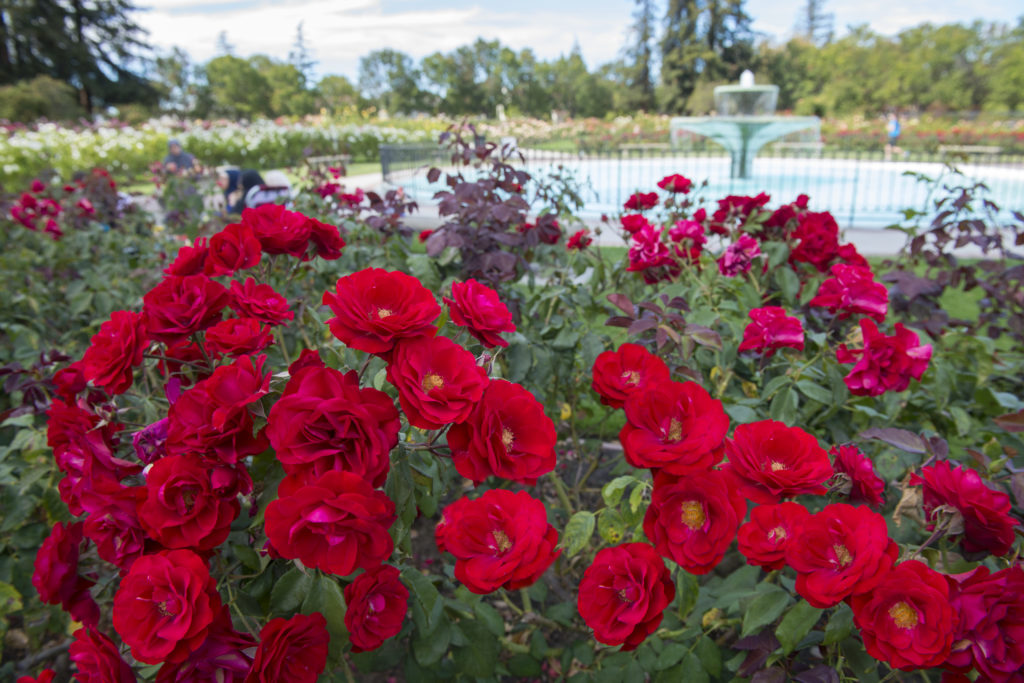 You likely won't need more than 30 minutes or so here, but I'd recommend budgeting a bit of extra time for leisurely exploring around the neighborhood.
(…or holding an impromptu photoshoot in the gardens. It happens!)
11:00AM: Winchester Mystery House
I'm not particularly superstitious; in fact, if anything, I'm a bit of sceptic.
But there's no denying that there's something a bit unsettling about the infamous Winchester mansion!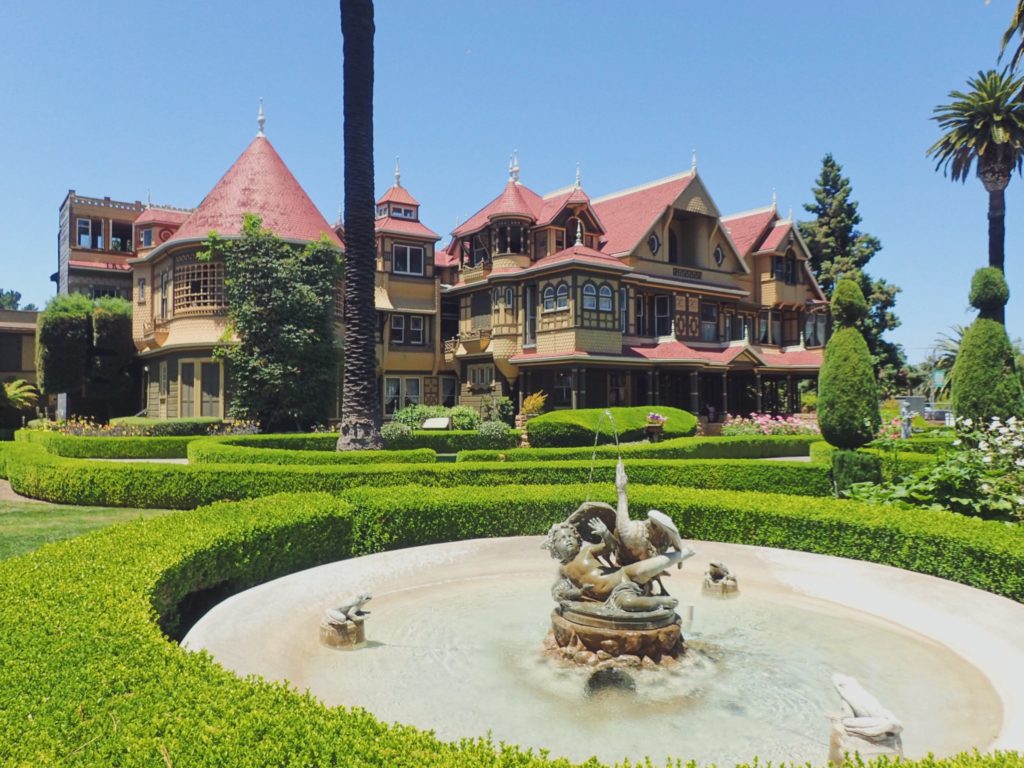 The legend behind the sprawling 161-room Victorian estate goes something like this: After the tragic death of her husband, Sarah Winchester – heiress to the successful Winchester rifle fortune – believed that she was being haunted by the victims of her deceased husband's rifles.
A psychic told the widow that the only way to seek refuge from the angry spirits was to drive them away with the sounds of drills and hammers. So, she purchased an old farmhouse and began renovating it…24 hours a day, for the next 38 years.
By the time Sarah died in 1922, the Winchester estate had become a maze of confusing hallways, slanted floors, stairways that led into the ceiling, and doors and windows leading to nowhere.
Whether it was the Winchester rifle ghosts (as Sarah believed) or just the strange and unusual layout, both Derek and I felt dizzy, disoriented, and on-edge during our tour of the mansion.
We booked the standard Mansion Tour, which is $39 for adults and lasts just over 1 hour. Tours are held every 20 minutes, beginning at 9:20am.
Although there is a good chance you will be able to walk up and purchase a ticket at the window, I do recommend booking in advance online if there's a specific entry time you want.
Otherwise, you may end up waiting a while!
12:30PM: Stroll Down Santana Row
Conveniently located just across the street from the Winchester Mansion is Santana Row, one of San Jose's most scenic and iconic shopping streets.
Personally, when I'm exploring an exciting new city I don't like to spend too much of my precious time window-shopping at stores you can find anywhere in the world (like Lululemon, Anthropologie and Sephora).
That said, Santana Row is still unique enough that it definitely warrants a visit – even if that just means a quick stroll along the length of the street.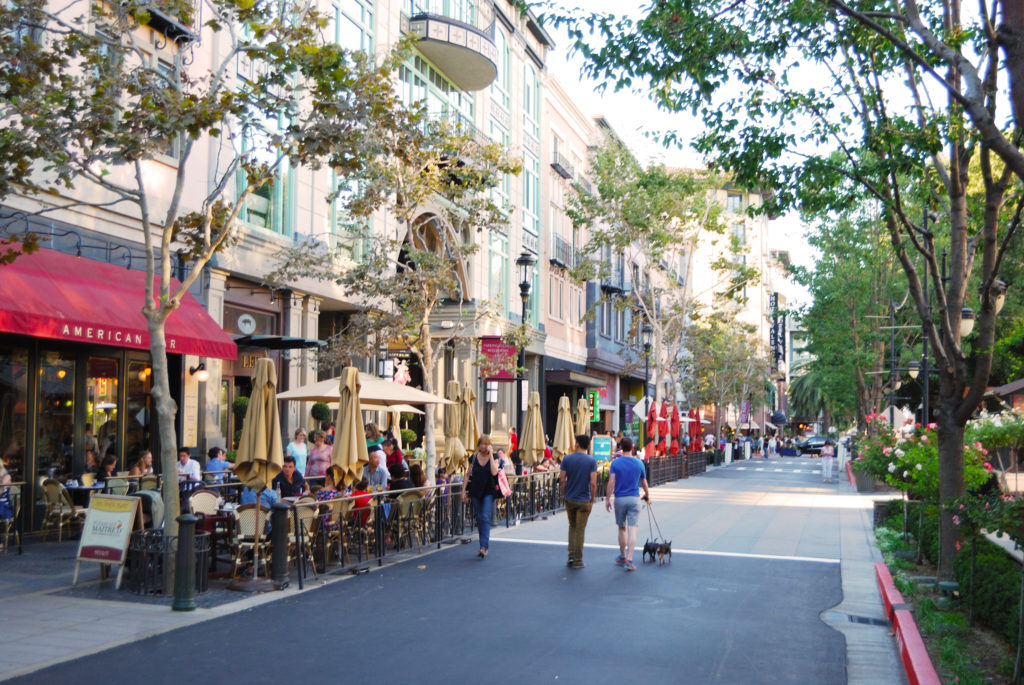 For one thing, it's a truly gorgeous street! Inspired by charming European villages, Santana Row is defined by its colorful buildings, leafy trees, picturesque string lights, and abundant al fresco dining options.
Vintage Wine Bar and El Jardin Tequila Bar are my two FAVORITE spots for getting buzzed and soaking in the ambiance on Santana Row, although if you're in the area before noon, they'll likely won't be open yet.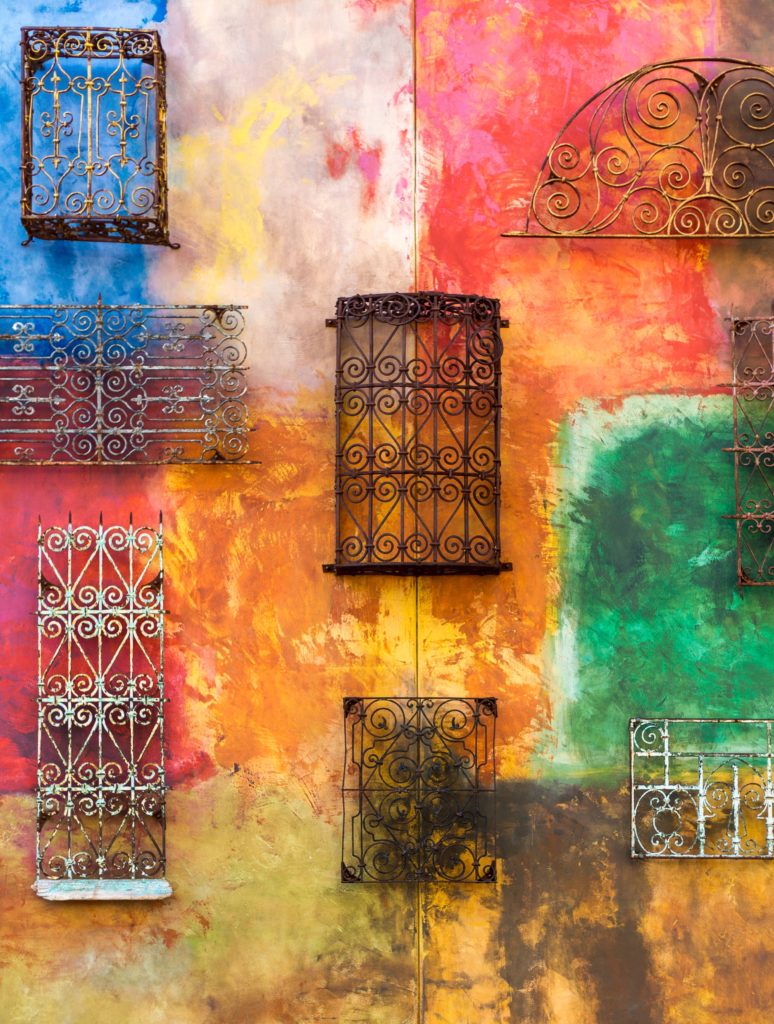 The good news is that if you're visiting on a weekend, you might get lucky and be able to catch the monthly Makers Market event! This curated craft fair features handmade jewelry, art, soaps, candles, and other fun goodies made by more than 30 local artists. There's usually some live music, too!
2:00PM: Choose Your Adventure: Craft Brew Trail or Wine Tasting in the Mountains
Breakfast? Done. Sightseeing? Done. Shopping? Done.
Now, it's time to drink!
I promise I'm not a complete lush – I just truly feel that many of San Jose's most unique and exciting activities happen to involve beer and wine.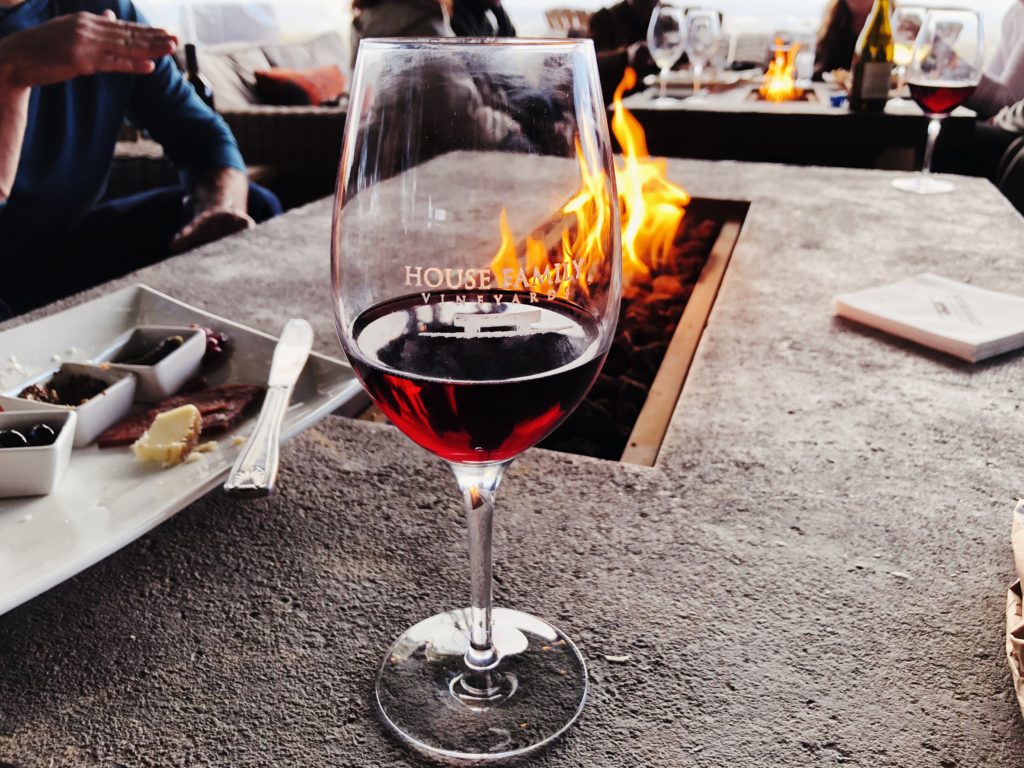 Hear me out: How would you like to spend your day picnicking at mountaintop wineries, sipping locally-made Pinot Noirs and Zinfandels, and soaking in views of redwoods, vineyards and valleys?
Or perhaps you'd rather get a feel for San Jose's urban atmosphere while walking, biking, or ride-sharing your way between some of the city's coolest craft breweries?
The choice is yours – choose your boozy adventure wisely!
Option 1: San Jose Craft Beer Trail
Feelin' thirsty? Downtown San Jose has you covered!
This city may not have the craft beer reputation of Portland or Denver (…yet!) but there's a serious up-and-coming local brewery scene here in San Jose.
My recommendation? Put on your comfiest walking shoes or rent a bike for the day, and follow the craft brew trail through downtown!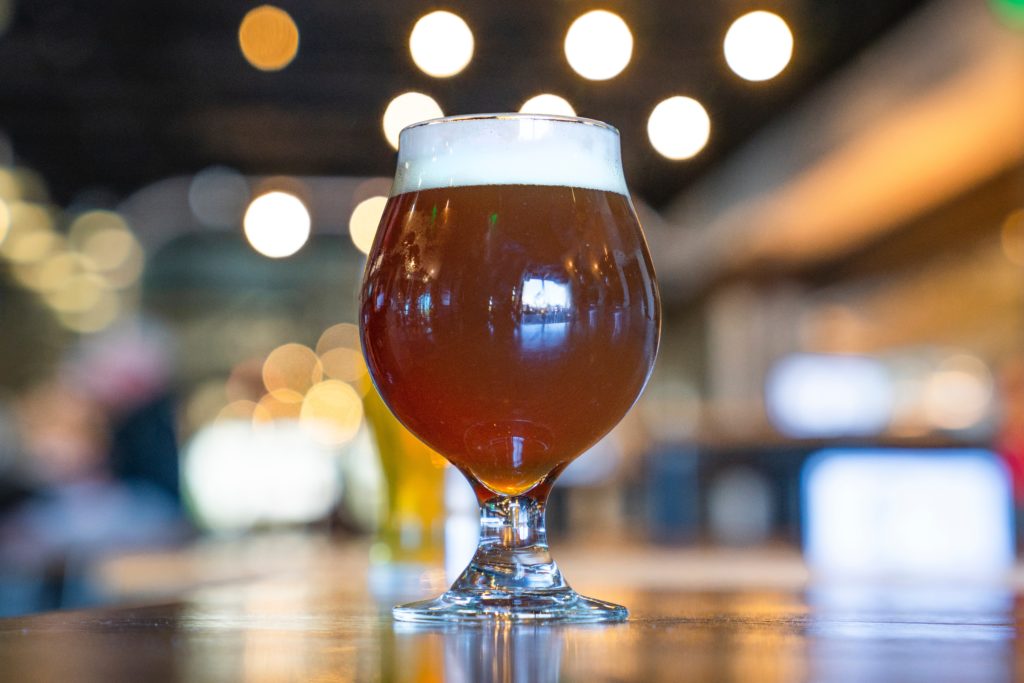 Strike Brewing Co. & Warehouse Taproom, Hermitage Brewing Company, Santa Clara Valley Brewing, Clandestine Brewing, and Uproar Brewing Company are five excellent breweries that are all within a 2.5 mile walk of each other. Make a day of it by hopping from one brewery to the next and tasting what's on tap.
I'm also a fan of Hapa's Brewing Company; it's not quite within walking distance of the other breweries, but they've got plenty of fun board games, food trucks are usually parked outside on weekends (tacos + craft beer = yaaaaas), and it's dog-friendly!
What's not to love?
Option 2: San Jose Area Wineries
Who needs to make the two hour trek north to Napa or Sonoma when you've got the beautiful Santa Cruz Mountain wine region just 30 minutes south of downtown San Jose?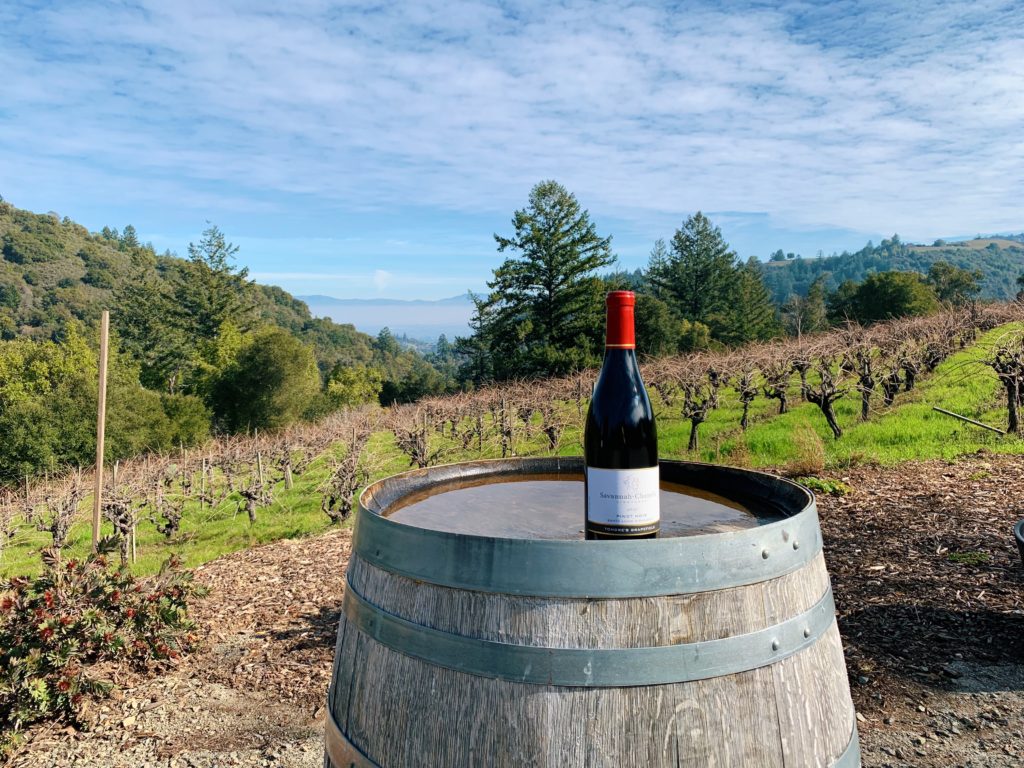 There are more than 150 wineries nestled within these forested mountains, each offering their own unique varietals and stunning views. Some of my personal favorites are:
House Family Vineyards: Following the short quarter-mile trail through the vineyards from the parking area to the tasting room feels like journeying through a storybook setting. Once you arrive, you can choose from the indoor area, the covered patio (with fire pit tables if it's chilly), or the outdoor area (with picnic tables and umbrellas). We've visited on gloomy, cold days and sunny summer days – it's cozy and beautiful either way (and the views of the vineyards and Silicon Valley below are unreal)!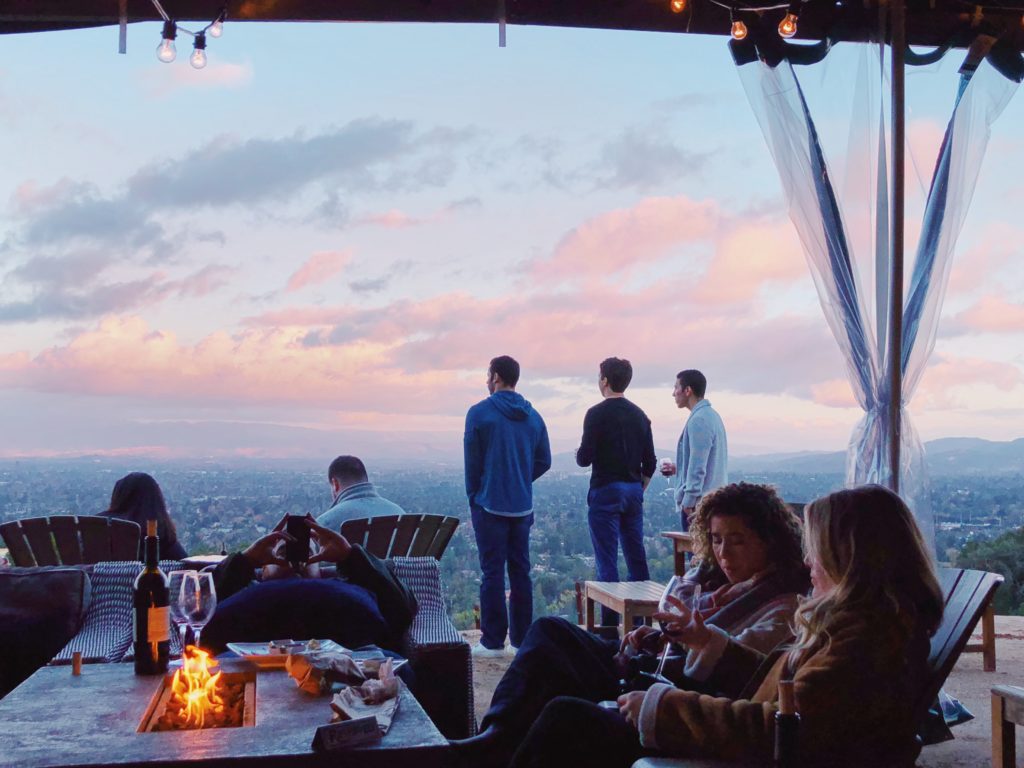 Ridge Vineyards: Monte Bello Estate: This was the first Santa Cruz Mountain winery that Derek and I visited after moving to the Bay Area, and it was completely on a whim. All we wanted at the time was a laid-back winery with a nice picnic area and views of the Silicon Valley (check, check, and check). So imagine our surprise when we later learned that Ridge is actually globally renowned! Apparently its award-winning Cabernet Sauvignon famously beat out top French varietals in a blind taste test.
Picchetti Winery: Free-roaming peacocks. String lights. CHOCOLATE FUDGE. Need I say more?! Unlike the other vineyards on this list, I didn't tour Picchetti until earlier this year…and oh man, how I wish I had come sooner! In a single visit, this charming historic winery became one of my favorites. Insider tip: Choose the Port in your build-your-own tasting flight, and you'll receive a complimentary piece of fudge to go along with it. Mmmm.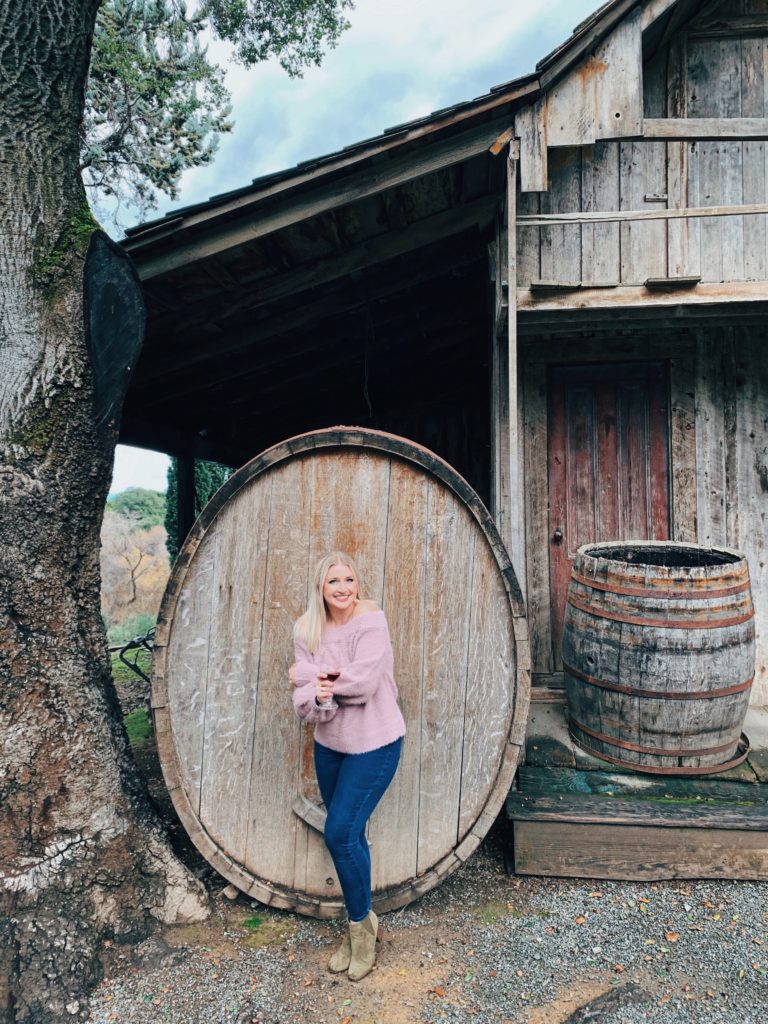 Savannah Chanelle Vineyards: A true mountain winery, this quiet spot will make you feel worlds away from the hustle and bustle of San Jose. Enjoying a tasting in the historic renovated barn, or take a seat in one of the white Adirondack chairs and soak in the views of the misty mountains and towering redwoods (with a Pinot Noir in hand, of course).
Testarossa Winery: Just 20 minutes from downtown, this elegant tasting room is actually located in a historic wine cellar! You can also drink and dine on the outdoor patio, surrounded by shady sycamore trees and equipped with umbrellas, heaters, and fire pits for all types of weather. I will say that I found the tasting to be a bit lackluster; the pours were small and there wasn't much information provided about the vineyards or the wines, but you can't beat the location.
See more vineyards and wineries in the San Jose area here!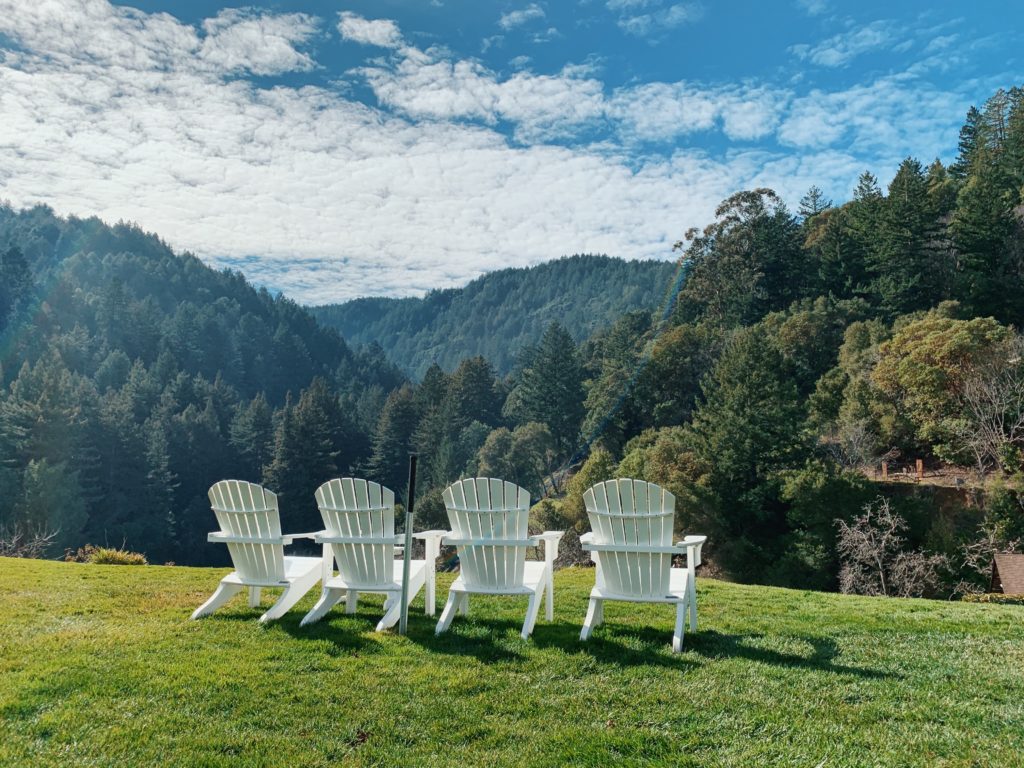 Helpful Tips for Visiting the Wineries:
All of the wineries on this list close by 4 or 5pm, which means you really need to arrive to the first winery no later than 2pm if you want a fully enjoyable experience – after all, wine tasting is not an activity that should be rushed!
Regardless, you'll likely only be able to visit two wineries at the most in a single afternoon. Or, you may simply prefer to pick one and spend an entire relaxing afternoon there!
Most of the wineries do NOT offer food – not even cheese and crackers. If you're in the mood for a picnic, I recommend stopping by a store in town to pick up some supplies before you drive into the mountains. Alternatively, stop by Mendocino Farms while you're on Santana Row to grab tasty salads, sandwiches, and assorted deli items to-go.
Safety first! Although the drive is short (around 30 minutes) the roads to the mountain wineries are narrow and windy, and can quickly become perilous when drinking is involved. Choose a designated driver, or take turns participating in the wine tastings to ensure someone stays sober and able to provide safe transportation.
6:00PM: Dinner at San Pedro Square Market
After a long afternoon of boozing your way through downtown San Jose's craft breweries or the Santa Cruz Mountain wineries, you'll likely be ready to dig into some delicious local cuisine. Whatever you're craving, you'll find it in San Pedro Square Market.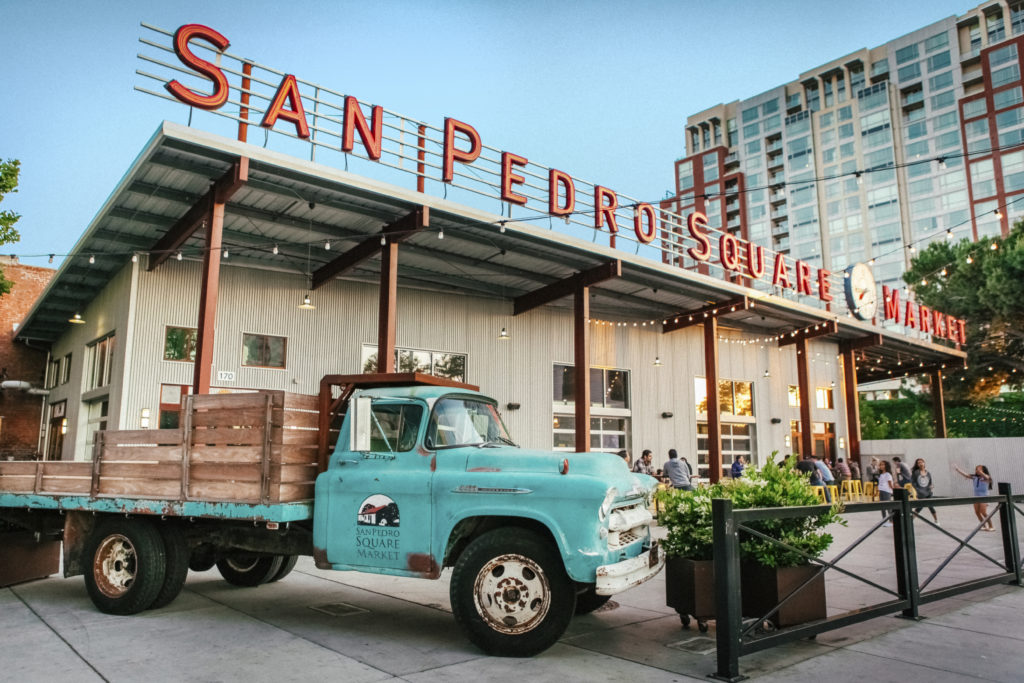 In my opinion, this is one of the COOLEST areas of San Jose. Picture this: an urban public food market with more than three market halls, twenty vendors, and a massive outdoor patio filled with picnic tables, shady trees, and string lights.
Sushi? They've got it. Burgers? Got those too. Wood-fired pizzas, Vietnamese spring rolls, falafel? Yes, yes, and yes.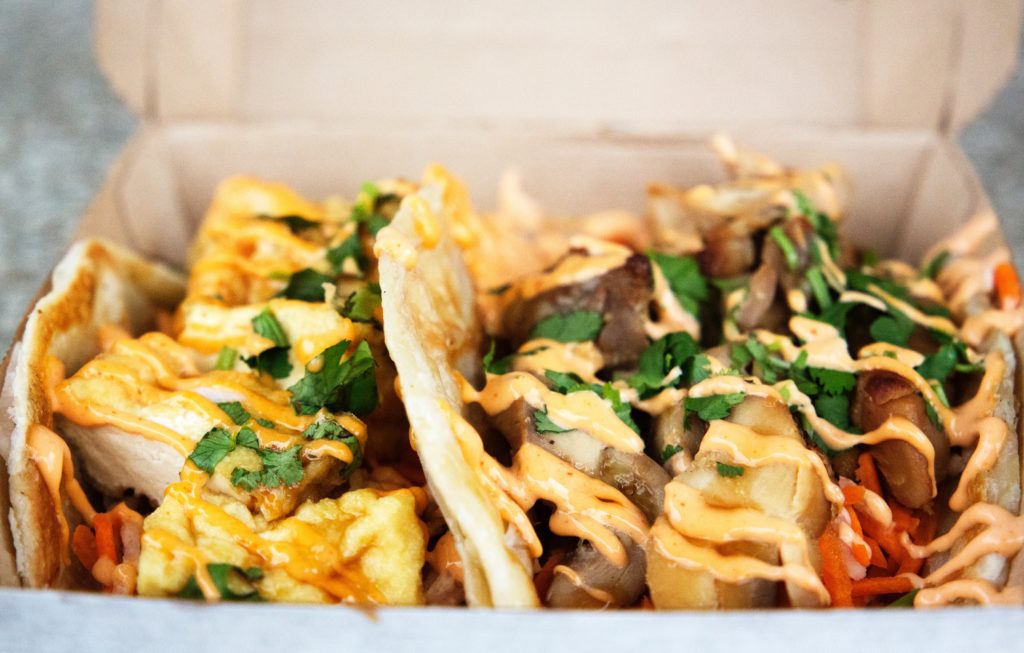 Everyone in the group can find something to eat at San Pedro Square; just step up to any one of the food counters, place your order, and then find a seat at one of the indoor or outdoor tables.
And of course, don't forget to stop by the bar for beer or wine (available by the glass or bottle).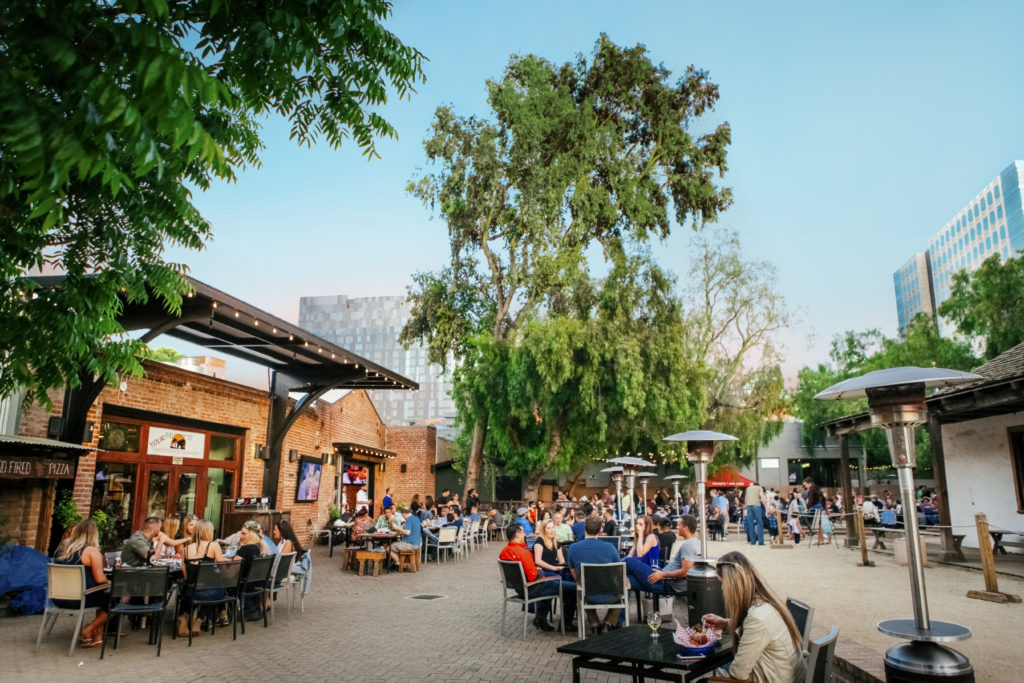 There's often live music in the evenings at San Pedro Square, making it a great place to just chill and socialize for a few hours. Downtown San Jose is also a a great area to keep the party going, if you're so inclined. Many of the city's trendiest bars are located within just a few blocks of San Pedro Square.
…and there you have it, one PERFECT day discovering the best of San Jose! My hope is that after this visit, you'll be as smitten with this diverse, progressive, up-and-coming city as I am
---
Where to Stay in San Jose, California
In my opinion, one of the absolute best hotels in the San Jose area is the Hotel Valencia Santana Row. Derek and I actually planned a one-night "staycation" here for our anniversary last year – that's how much I love this hotel!
It's beautifully designed in an Old World European style, and is incredibly romantic. If you happen to be visiting during the summertime, the outdoor pool and rooftop bar Cielo will definitely be highlights.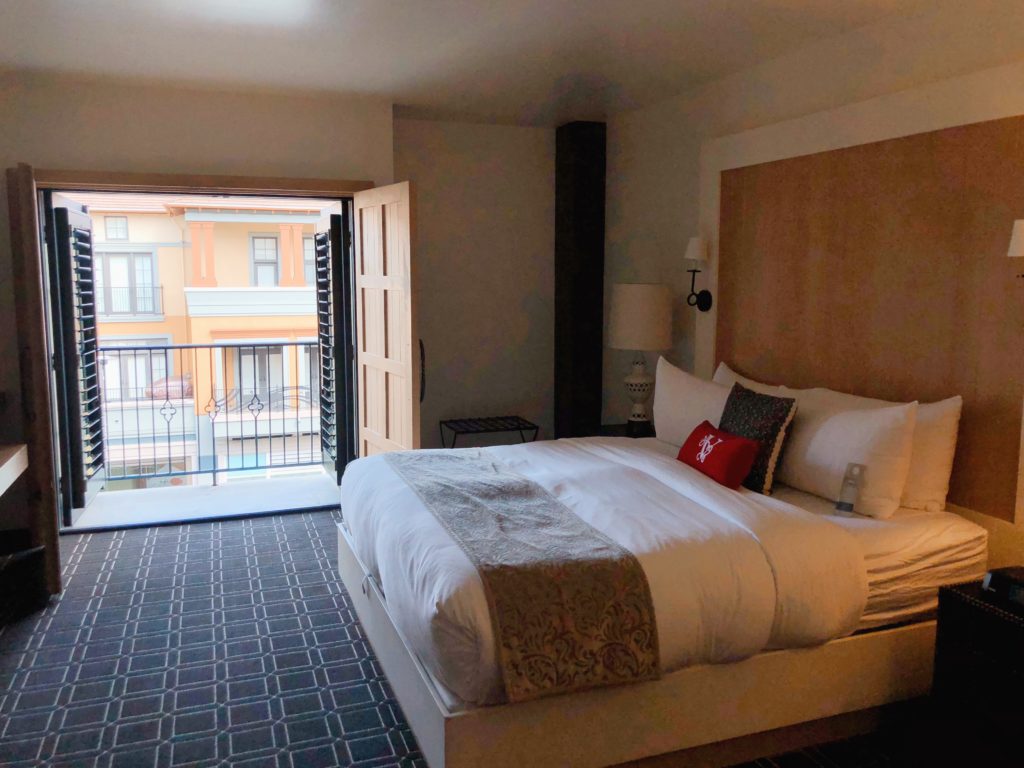 If you're able to pay a bit more for one of the Deluxe Balcony Rooms (rather than the Classic Room) I highly recommend it; propping the huge wooden doors open and soaking in the sights and sounds of lively Santana Row from the comfort of our room was one of my favorite things about staying at this hotel.
Alternatively, there are a TON of great hotel options in Downtown San Jose!
All of the following hotels are highly rated, and have excellent locations in downtown. I've ranked them from closest (0.2 miles) to furthest (0.6 miles) from San Pedro Square, but really you can't go wrong with any of their locations:
Hotel de Anza
Fairmont San Jose
Four Points by Sheraton San Jose
Westin San Jose
Hyatt Place San Jose, Downtown
Hilton San Jose
Personally, I wouldn't stay anywhere other than Santana Row or Downtown while visiting San Jose. They're both interesting, fun, walkable neighborhoods that are in close proximity to everything on this itinerary.
Having a tough time deciding between the two areas?
Go for Santana Row if you're drawn to the luxurious European-inspired design, plentiful shopping, and moderately upscale bars, restaurants and shops; opt for Downtown if you prefer to be located near the heartbeat of the city, are looking for more nightlife and trendy dining options, and don't mind a little bit of urban grittiness.
(function(d, sc, u) {
var s = d.createElement(sc), p = d.getElementsByTagName(sc)[0];
s.type = 'text/javascript';
s.async = true;
s.src = u + '?v=' + (+new Date());
p.parentNode.insertBefore(s,p);
})(document, 'script', '//aff.bstatic.com/static/affiliate_base/js/flexiproduct.js');
---
Pin It!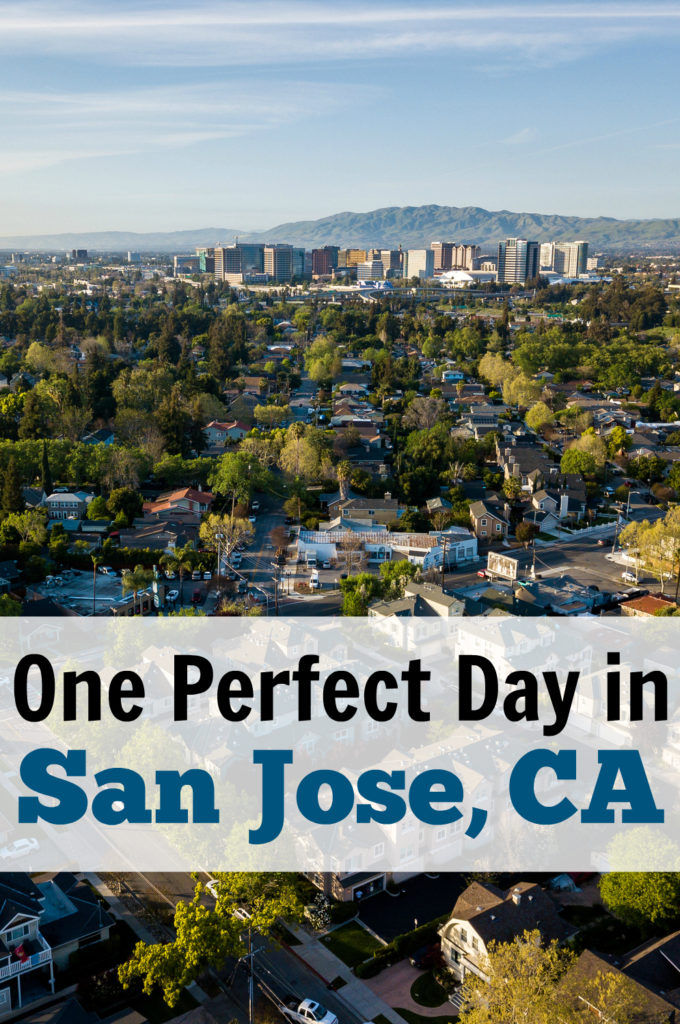 ---
Are you familiar with San Jose, California? Would you ever plan a trip to a city like San Jose? I'm super curious to hear what you guys have to say!
Note: This post contains several affiliate links. If you make a purchase using one of these links, I will earn a small commission at no additional cost to you. My affiliate income helps offset the cost of running this blog, and allows me to keep this site free of ads and sponsored posts. So, thank you!!
The post One Perfect Day in San Jose, California appeared first on The Wandering Blonde.


[ad_2]