[ad_1]

Or: How NOT to write about travel in India
IN THE PAST couple of weeks, I've seen a couple of social media posts go viral in India. One was mine. I tweeted about a very positive experience I had on the overnight Narmada Express Train in Madhya Pradesh, and India's Minister of Railways, Piyush Goyal, first retweeted it — to his 4.7 million followers — and then wrote a dedicated tweet about my journeys and my blog. The tweet had hundreds of comments, almost unanimously positive.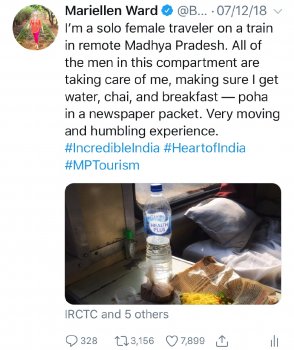 I think this tweet went viral because a good news travel story from a foreigner in India made for refreshing reading, amidst the usually negative news. And this was corroborated by an article in Rightlog India about my viral tweet.
The author of the Rightlog article, Shubham Singh, wrote: "Indians are famous for their hospitality because they live by the principle 'Atithi Devo Bhava' which simply means 'guest is equivalent to God.' Here guests are treated with utmost care and with extreme respect.  The Government of India also adopted the same tagline for an advertising campaign on 'Incredible India' to spread awareness amongst Indians about tourists and tourism places. Every year lakhs of foreign tourists visit India because it offers rich a cultural experience to tourists. Most of the tourists who visit India leave the country with a positive image of the country, but Indian media, as well as foreign media, choose to highlight and even create news that paints our country in a bad light. Positive stories about India like the one narrated by Mariellen Ward don't find any space in any mainstream media outlet."
A cautionary tale
More recently, @smol on Twitter (Anika Kokatayy) tweeted about an Instagram post written by MindBodyColleen, an American woman who had 50,000+ IG followers, and who was visiting Jaipur, India. Smol tweeted: "I need to cleanse my eyes after reading the nonsense I just read … and I need to share it with y'all because this woman thinks Indians can't afford smart phones and aren't smart enough to work one." Here's the Instagram post, below, now deleted. Smol's tweet went viral, too, and unleashed a torrent of anger towards the Instagrammer.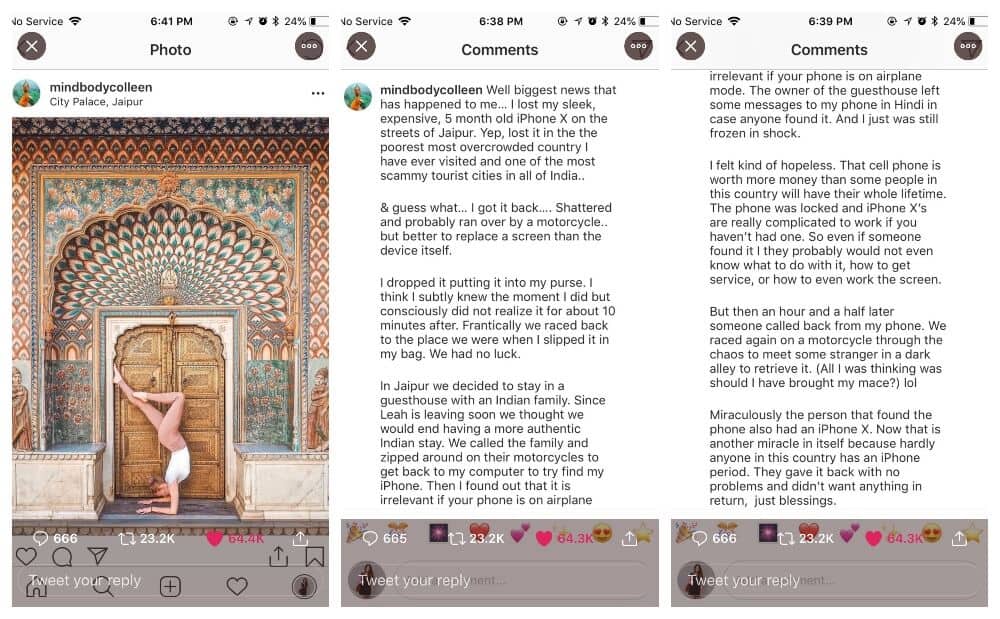 Instagram + travel = the perfect storm
I suppose it was bound to happen. The easy access to world travel and the low barriers to entry to becoming a travel blogger / influencer / digital storyteller mean there are people travelling the world, and posting about their travels online, without any real knowledge or understanding of the culture they're in. And of course the people from that culture, the locals, are reading those posts and, well … you have the perfect storm. And that's what happened in the case of the MindBodyColleen tweet.
Apparently, the anger and hostility directed at Colleen for this Instagram story was so intense, Colleen was forced to shut down her Instagram account. Her website content, too, was replaced by a one-page apology that did not appease the critics. The entire website has gone offline now.
You can read some of the reactions to Colleen's post here on Indian Express. Or follow the hashtags #ColleenGrady or #MindBodyColleen if you want to see how India reacted to her words. They not only harshly criticized Colleen for her comments, but also went after her sponsors, as reported in Business Insider.
So, I wrote Colleen a letter, which I wanted to send to her. But since she is not reachable online, I am sharing it here. I think it's important that people realize cultural sensitivity, respect, and being a responsible traveller cannot be replaced by the ability to take pretty photos as you travel. Likewise, the ability to do an advanced Yoga pose does not mean you know anything about Yoga. As my colleague Rishabh Shah said on Facebook, "there's a responsibility that comes with being an influencer." I couldn't agree more.
The world is not a backdrop for your Instagram feed
I hope she reads it. And I hope it's a wake up call to others who see the world, and the people in it, as simply a backdrop for their Instagram worthy images.
Dear Colleen,

I've been following the story of your Instagram post about losing your phone in Jaipur as I am a travel blogger in India (originally from Canada). I know your post received a lot of negative feedback, and by all accounts, some of it was harsh.

As I know India well, I was not surprised by the reaction. India is a post-colonial country, and Indians are well aware the western media often portrays the country in a negative light. They are understandably sensitive to commentary that aligns with these negative stereotypes.

I have been blogging in India since 2005, so I have had a lot of time to learn about India and Indian culture, and write about my travels in a fair and respectful manner. I'm also a long-time Yoga student (more than 25 years), and my Yoga studies have also helped me learn about the culture. In fact, I feel that travel in India is like a Yoga practice: it teaches patience, acceptance, trust – and perhaps most of all, self-awareness.

When I first came to India, on a six-month trip in 2005, I came as a seeker. I was trying to recover from grief and depression over my Mother's sudden death and I came to India with a wounded heart. I opened myself up to what I now call "the magic of India," and saw everything that happened as a teacher. It was with this attitude of openness, humility, and respect that I travelled in India, and wrote about my travels.

I recovered from depression, restarted my life, and began a new career as a travel writer and blogger – making me one of the first travel bloggers in India. I launched my professional blog Breathedreamgo in 2009 and I've been actively blogging about India and posting to social media since then.

The reason I am writing to you is that I love India and all that it has given to me. I love the lessons I have learned here, though some of them have been very difficult. I believe that India is above all a teacher, and I hope that you will see what happened this way too, in time if not now.

I don't support angry or hateful reactions on social media, and I'm sorry you had to experience them. However, I also hope the intensity of the reaction will inspire you to understand it, and see how your words provoked it.

Personally, I have become very committed to the principles of responsible travel, which includes showing cultural respect, and understanding that travel is a privilege. When you are travelling in another country, you are a guest. You are there at their discretion.

Even though I spend most of my time in India, I am always aware that I am a guest in this country, and behave accordingly. And my own experience is that when you show Indians respect, they respond with an incredible amount of warmth, generosity, helpfulness, and friendship.

I've spent a lot of time travelling in India, and I've learned to count on the goodness of Indian people. I was also not at all surprised that you got your phone back, or that so many people helped you.

None of this surprised me.

The only thing that surprised me was that you didn't see it. You didn't see the helpfulness or kindness of the people in Jaipur. I don't know how or why you missed it. But I hope one day you will see it.

Take care,

Mariellen
---
If you enjoyed this post, you can….
Sign up to The Travel Newsletter in the sidebar and follow Breathedreamgo on all social media platforms including Instagram, TripAdvisor, Facebook, Pinterest, and Twitter. Thank you!
---
If you are interested in travel in India …
Let me know if you want any help with itinerary planning, or booking. I work with a number of highly recommended companies. Plus, I offer several "India for Beginners" custom itineraries.


[ad_2]