[ad_1]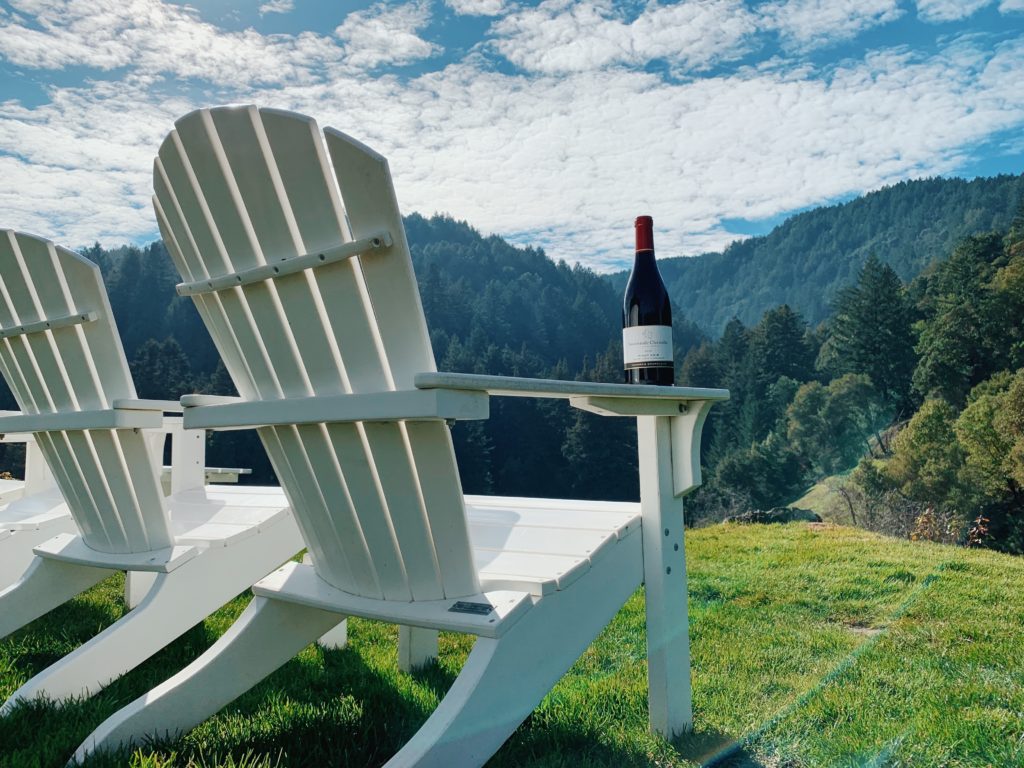 Redwoods and red wine? Talk about a winning—and very quintessentially Californian—combination!
Fortunately for us residents of (and visitors to) the Bay Area, experiencing both is as easy as hopping in the car and making the short drive south to one of California's most up-and-coming wine regions: the Santa Cruz Mountains.
Drinking wine is something of a local sport here in California; come Saturday and Sunday, everyone flocks to the state's various wine regions to indulge in locally-sourced libations.
And since moving to the Bay Area nearly 2 years ago, I have been lucky enough to participate in tastings at dozens of California wineries, from the ever-popular Napa and Sonoma to lesser-known wine regions like Livermore and Edna Valley.
But hand-to-heart, one of my absolute favorite wine regions in California is the Santa Cruz Mountains…and not just because it's located less than 30 minutes from my home in San Jose!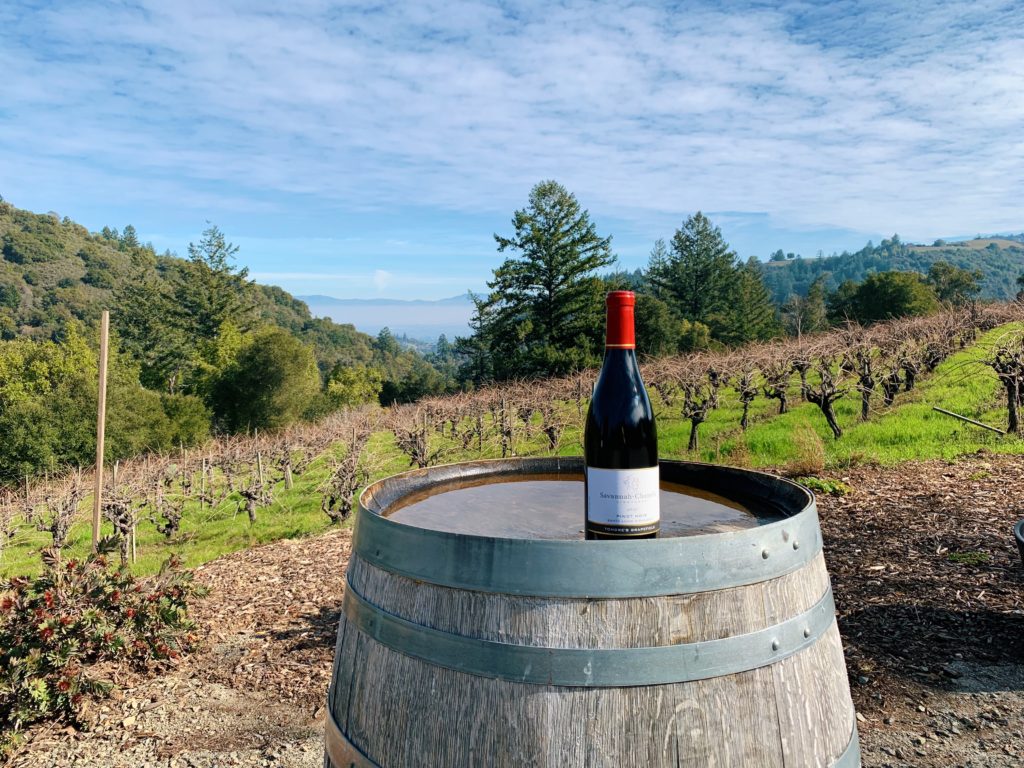 Why Visit the Santa Cruz Mountain Wine Region?
Don't get me wrong, Napa and Sonoma are AMAZING places to spend a weekend exploring vineyards and sipping high quality wines.
That said, planning a visit definitely requires a bit of foresight; the drive can be a little too long for a day trip from the South Bay Area (especially if drinking is involved!) which means booking a hotel is usually required…and those definitely skew towards the pricey side!
And even though Sonoma is often touted as the more laid-back alternative to Napa, both regions can still have an air of pretentiousness.
So what's the alternative? If you're looking for a wine region that is:
In close proximity to the Bay Area (especially San Jose)
Relatively undiscovered among tourists
Completely chilled out, with hardly a whiff of snootiness
Home to multiple award-winning wineries
In a truly GORGEOUS mountainous region of California
…then the Santa Cruz Mountains just might be your dream wine tasting destination!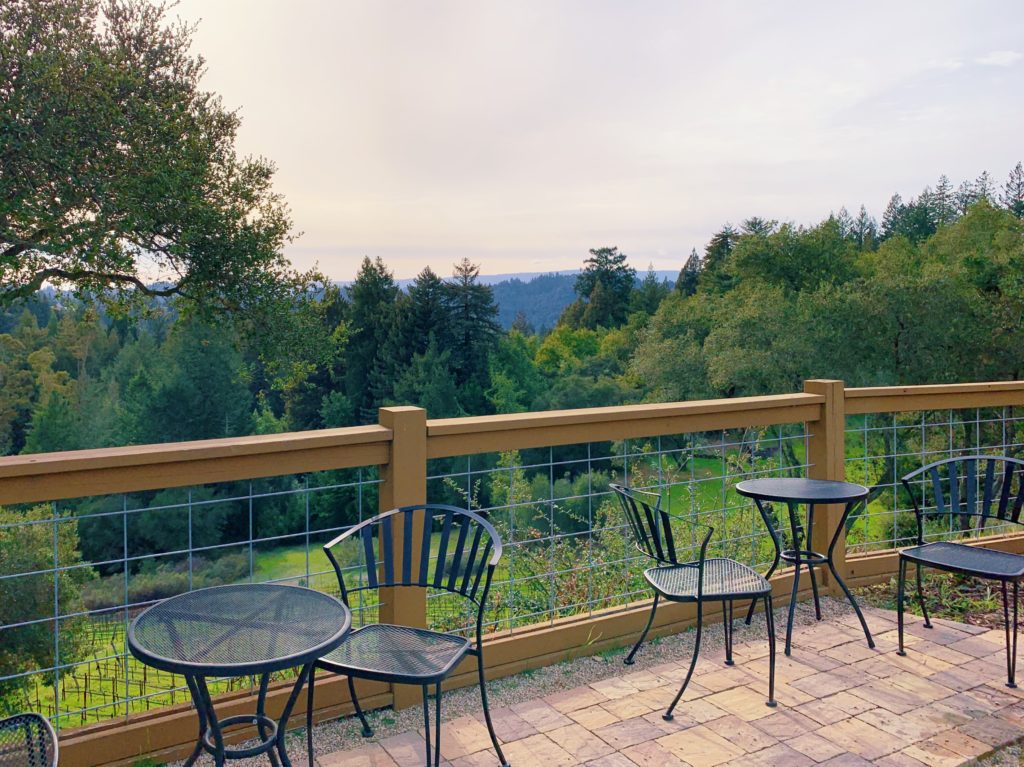 This mountainous region spans roughly from Half Moon Bay on the north end to Watsonville in the south, though the borders are loosely defined. You can expect the drive to take around 20-30 minutes from San Jose, and roughly an hour from San Francisco (depending on which vineyards you visit).
More than 70 local wineries are interspersed among the redwood-forested hills, each offering their own incredible scenery and signature varietals. Part of what makes this wine region so unique is its multitude of microclimates; because of its mountainous topography, some vineyards are constantly shrouded by cool fog, while others bask in warm sunlight.
Want to sip bright, aromatic Pinot Noirs in the shade of an ancient redwood tree? Or share a bottle of full-bodied Cabernet Sauvignon while overlooking lush green hillsides? Or participate in a guided tasting in a historic, restored wine cellar?
Well I've got good news, because there is a winery for every mood in the Santa Cruz Mountains!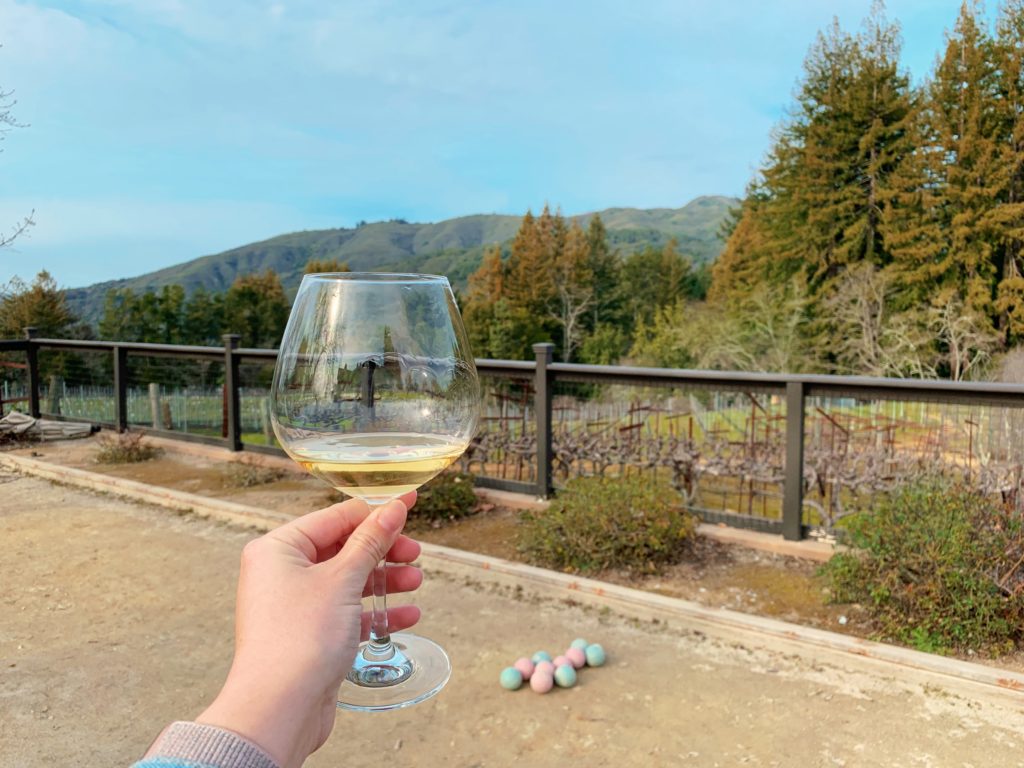 And just because this wine region is far less famous than Napa and Sonoma, don't assume the wine is anything other than amazing. In fact, several of the wineries here are known for their world-class Cabernet Sauvignons, Pinot Noirs, and Chardonnays.
But hey, you don't have to take it from me – Conde Naste recently included the Santa Cruz Mountains in their list of the Best Wine Regions to Visit in 2019.
I still have a long list of wineries in the region I'm hoping to visit (there are more than 70, after all!) but below are 8 of my personal favorite spots for wine tasting in the Santa Cruz Mountains:
1. Ridge Vineyards
Ridge Vineyards: Monte Bello Estate – 17100 Montebello Rd, Cupertino, CA 95014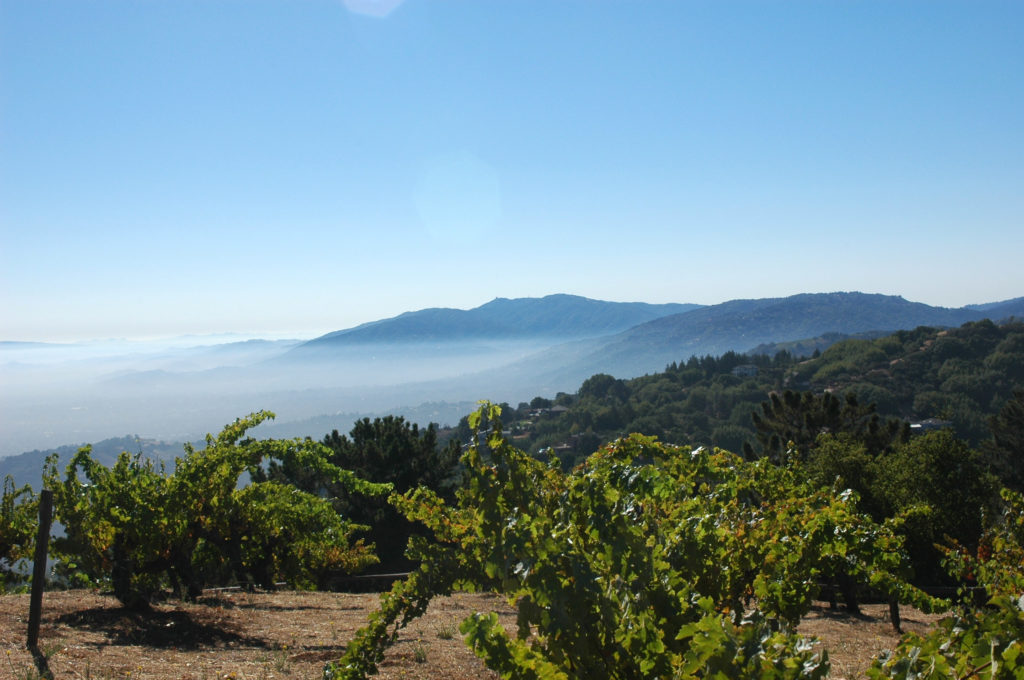 Ridge Vineyards is so much more than just a weekend gathering place for South Bay locals (although it certainly serves that purpose, too!)
During one of my visits to this iconic winery, I was surprised to learn that Ridge's Cabernet Sauvignon has actually achieved international recognition time and time again, earning titles such as "America's greatest Cabernet Sauvignon."
Their Zinfandel was even served at the last state dinner of the Obama administration!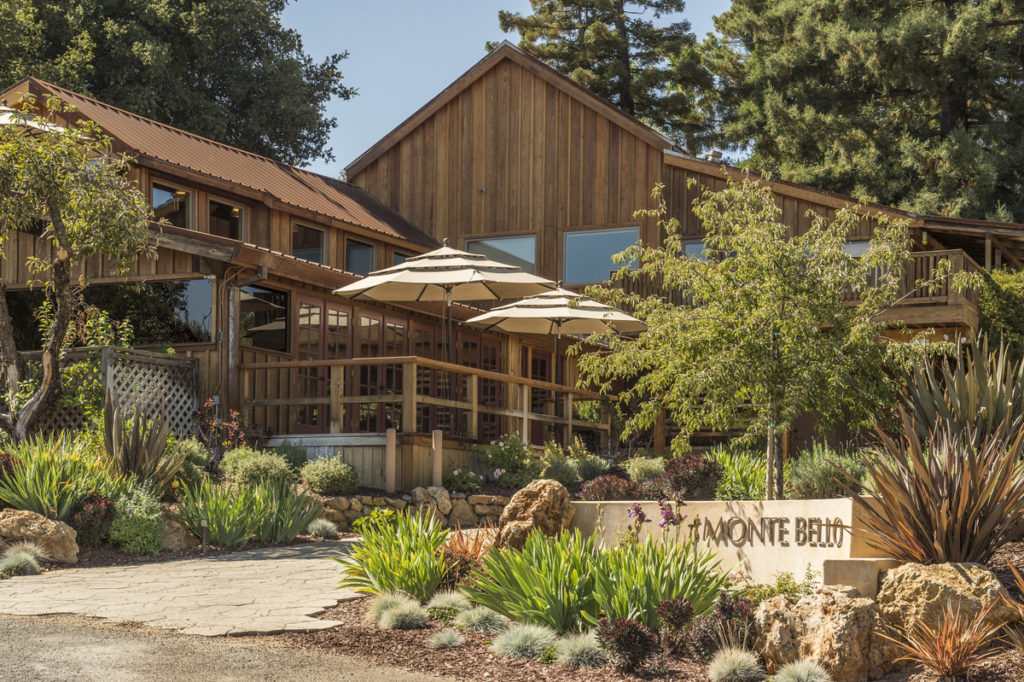 You might expect a winery of Ridge's caliber to be excessively snooty and pretentious…but you'd be wrong. Their tasting room (open Saturdays & Sundays only) offers tastings that cost just $10, $15, or $25.
However, my recommendation is to purchase a bottle and head to their gorgeous picnic area. Nested amidst the Santa Cruz Mountains at an elevation of 2,300 feet, Ridge Vineyards is the perfect location for soaking in birds-eye views of Silicon Valley (see if you can spot Apple's iconic "spaceship" campus!).
2. Picchetti Winery
Picchetti Winery – 13100 Montebello Road, Cupertino, CA 95014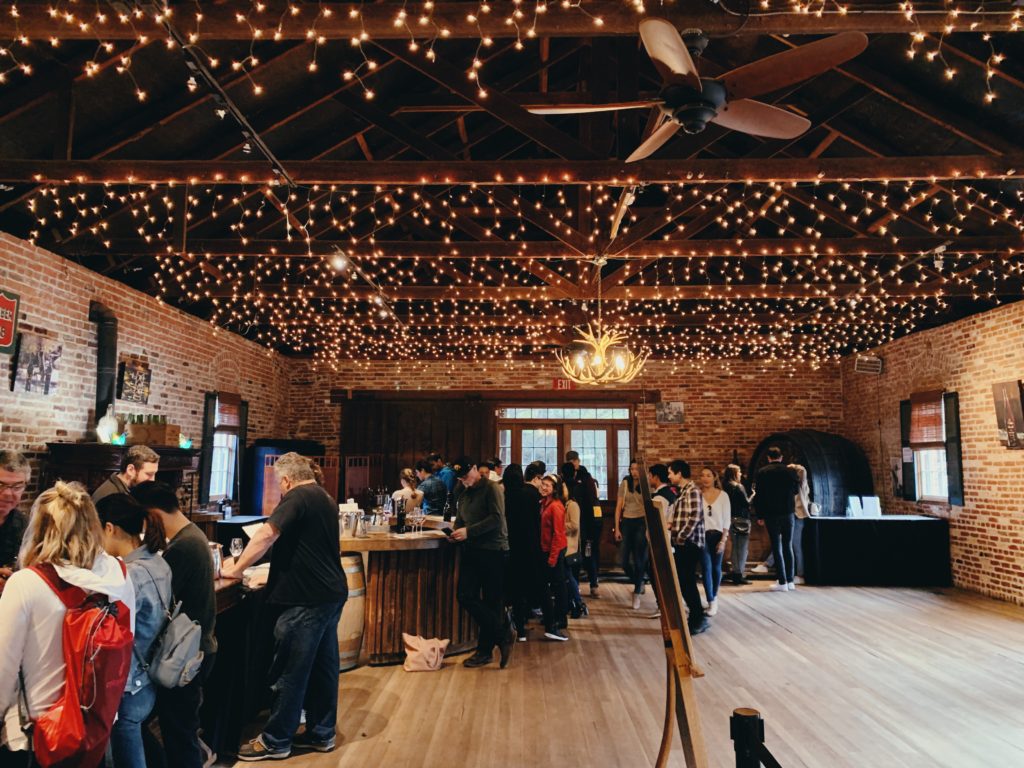 Located just a few miles down the road from Ridge Vineyards, Picchetti Winery is another local favorite. Originally founded in the 1890s, Picchetti is one of the oldest vineyards in California, and tastings are held in their historic tasting room.
Unlike Ridge – which is set atop a hill – Picchetti is nestled in a valley and surrounded by forested hills. But while you may not get those same panoramic views you'll find at other Santa Cruz Mountain wineries, you will be treated to a lush green property with a spacious picnic area.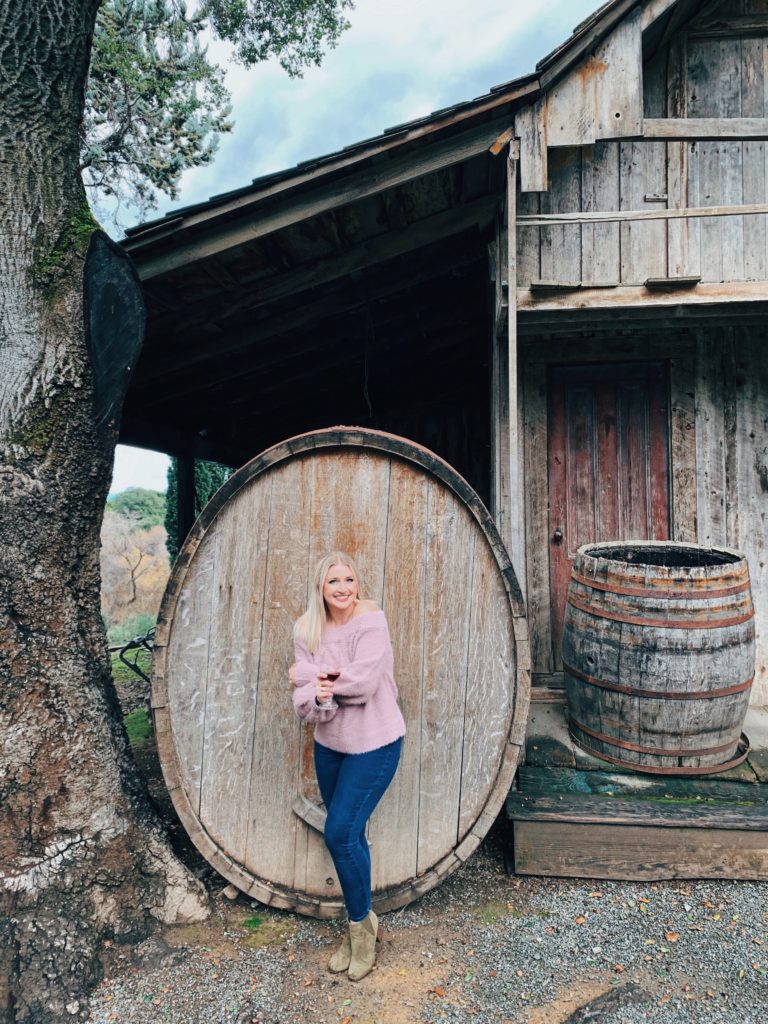 One of the coolest things about Picchetti Winery is that it's connected to the Picchetti Ranch Open Space Preserve, a 300+ acre park that offers 3.7 miles of hiking trails and views of the Stevens Creek Reservoir.
Hike the easy, scenic 1.9 mile Zinfandel Trail (through hillside orchards and woodlands) before circling back to the tasting room for a well-earned bottle of red.
3. House Family Vineyards
House Family Vineyards – 13336 Old Oak Way, Saratoga, CA 95070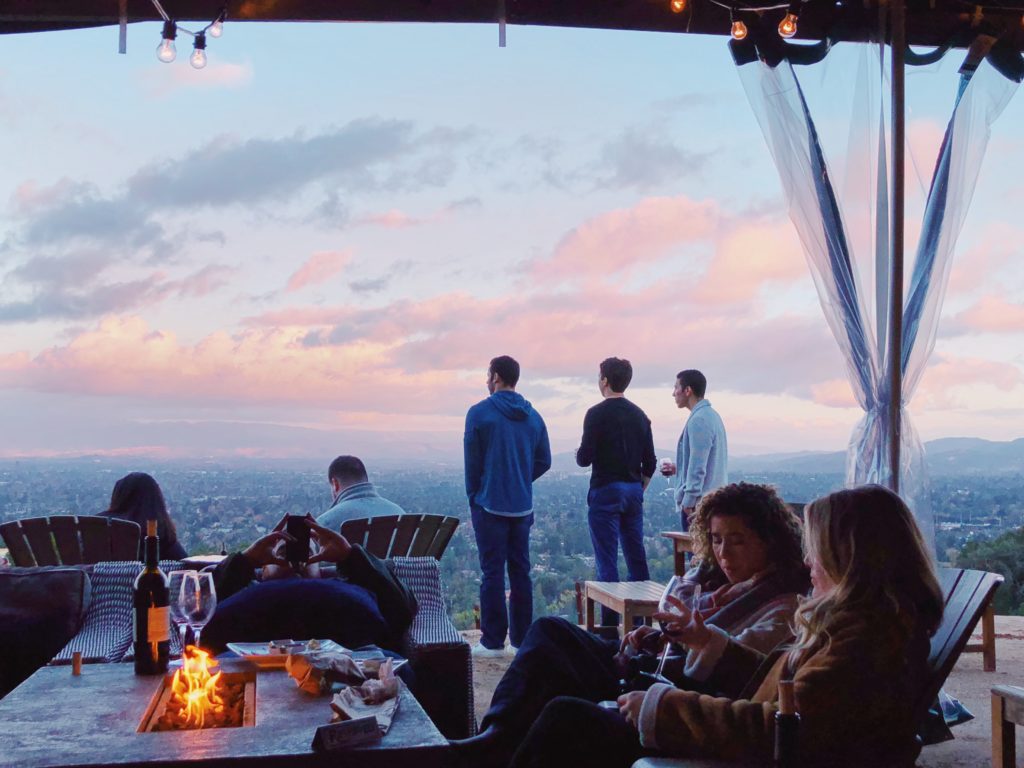 The first time I stepped foot onto the grounds of House Family Vineyards, I could have sworn I had stumbled into a scene from The Hobbit.
In order to reach the tasting room from the small parking area, you must embark on a short and easy quarter-mile walk through the vineyards. After following the compact dirt path through the vines, you'll arrive to the tasting room: a small, rustic building set atop a flat, wide hill.
Gnarled trees and hanging string lights decorate the space, but it's the view that will no doubt capture your attention first; from way up here, you can see all of Silicon Valley.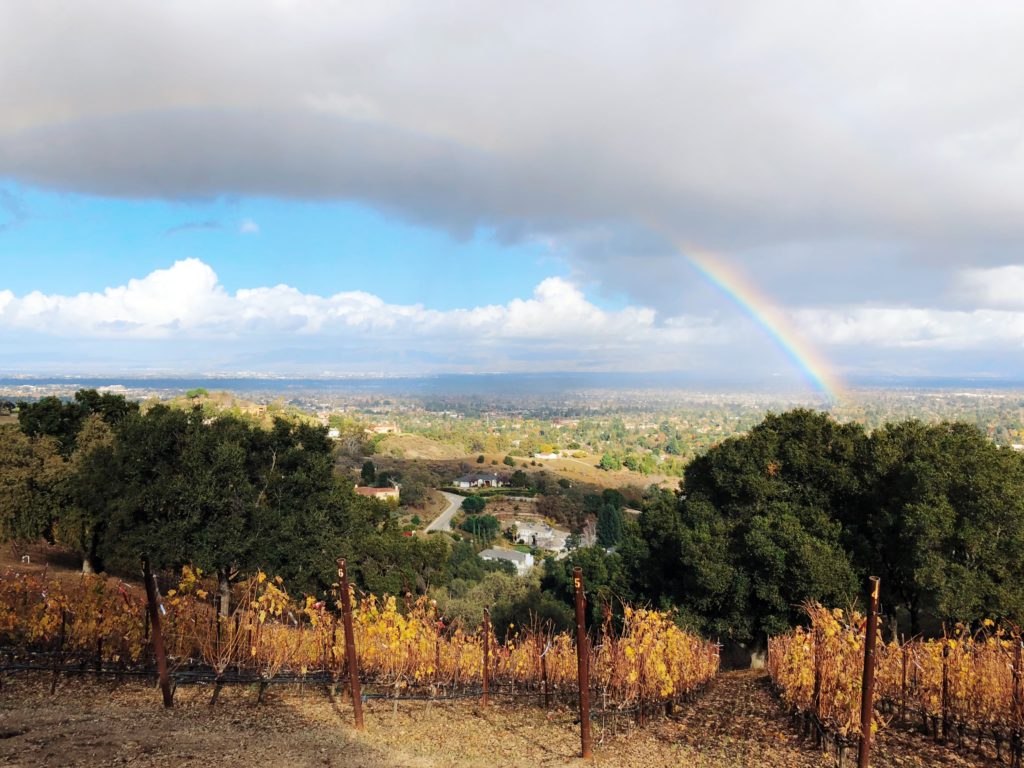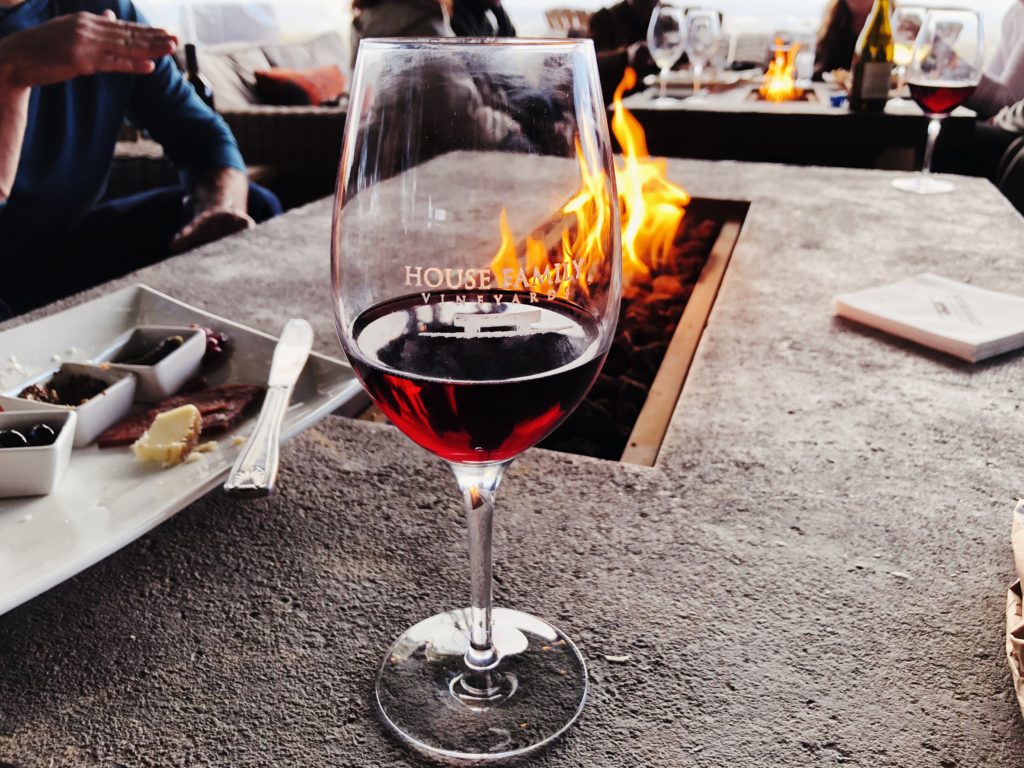 You can choose from the outdoor area (which is equipped with heaters and umbrellas, if either is needed), the indoor tasting room, or the open-air patio. Whether the day is sunny and warm or chilly and gloomy, the scenery and setting are both absolutely spectacular.
And if you happen to time your visit with sunset, get ready for some SERIOUSLY dreamy cotton candy skies.
4. Savannah Chanelle Vineyards
Savannah Chanelle Vineyards – 23600 Congress Springs Road, Saratoga, CA 95070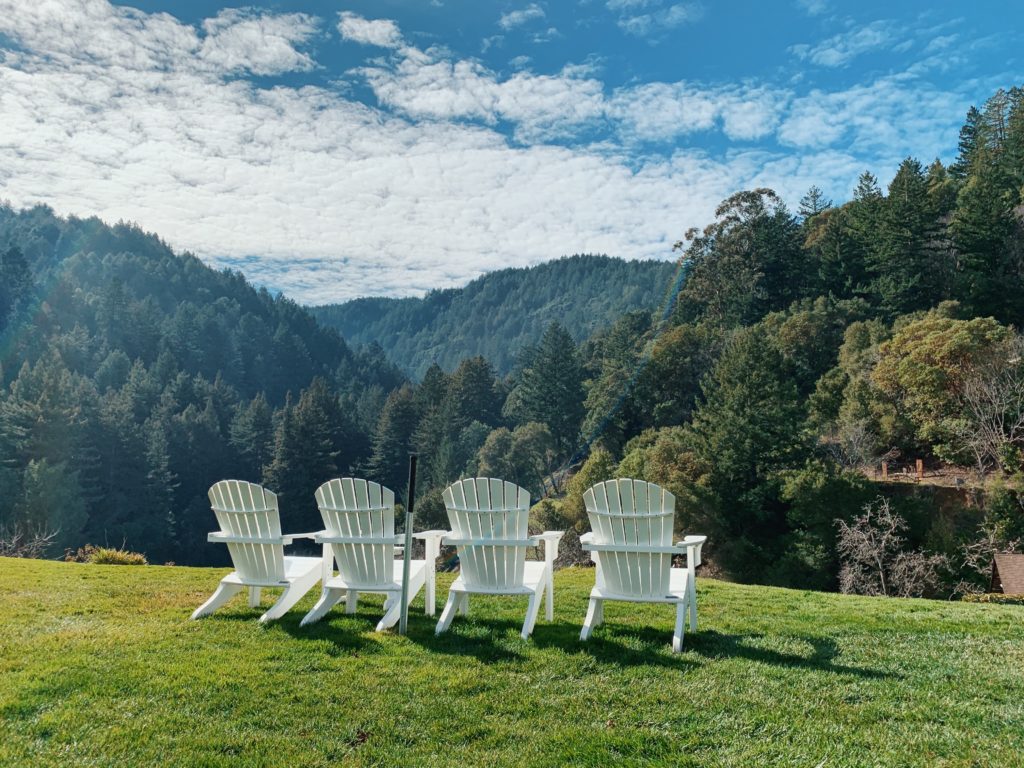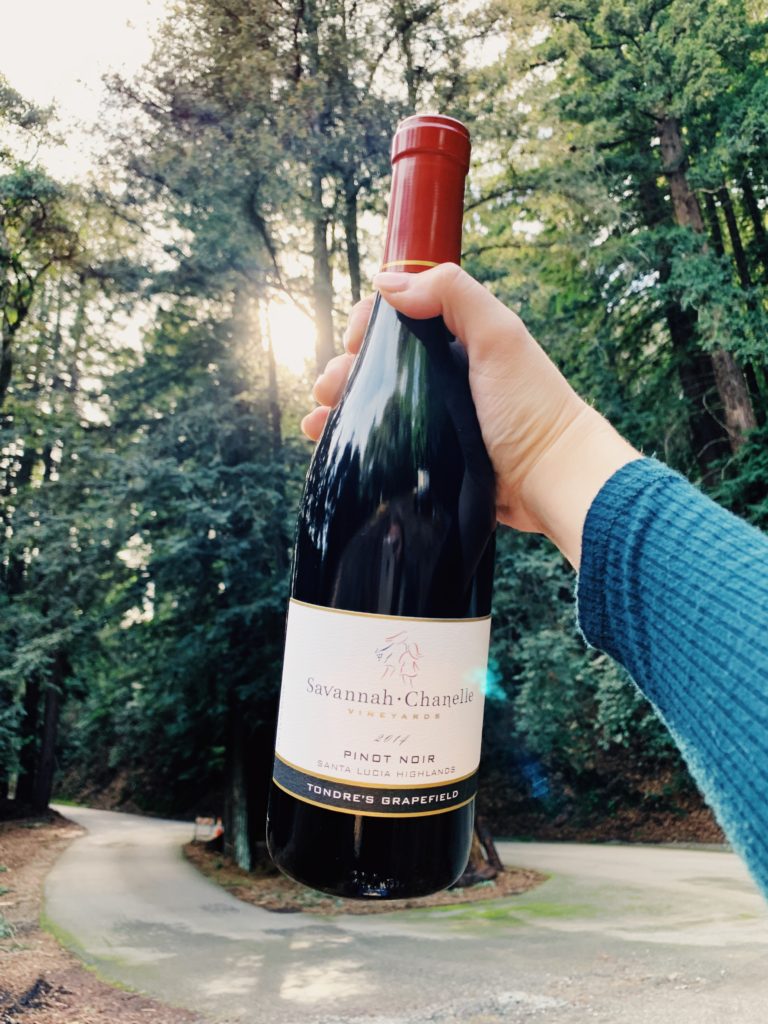 If you're seeking a true "mountain experience" while wine tasting in the Santa Cruz Mountains, look no further than Savannah Chanelle.
On a clear day, I'm not sure that any other vineyard on this list can compete with Savannah Chanelle's beauty. It's entirely surrounded by forested hills and redwood groves, which grant the feeling of being a world away from the madness of Silicon Valley.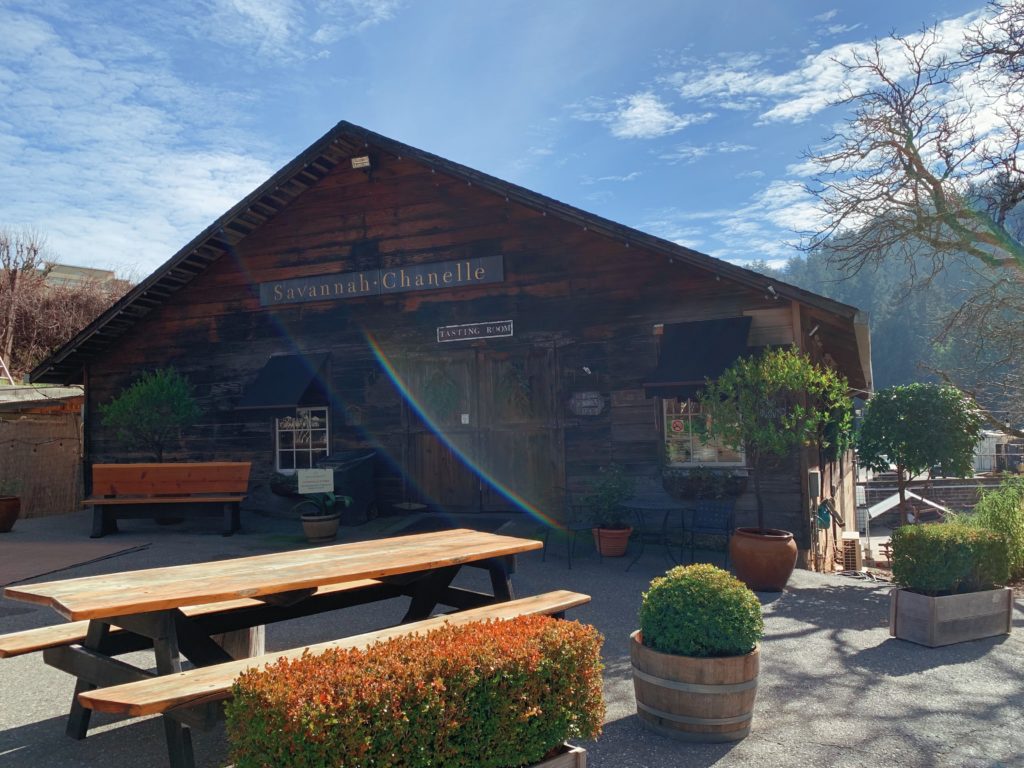 The highlight of the grounds is a spacious lawn dotted with picnic tables and white Adirondack chairs – perfect for sharing a bottle and soaking in the views of the stunning Santa Cruz Mountains.
Alternatively, you can take part in a wine tasting in the historic renovated barn. Many of Savannah Chanelle's best wines are Pinot Noirs, and their tasting is a great way to sample them!
5. Testarossa Winery
Testarossa Winery – 300 College Avenue, Los Gatos, CA 95030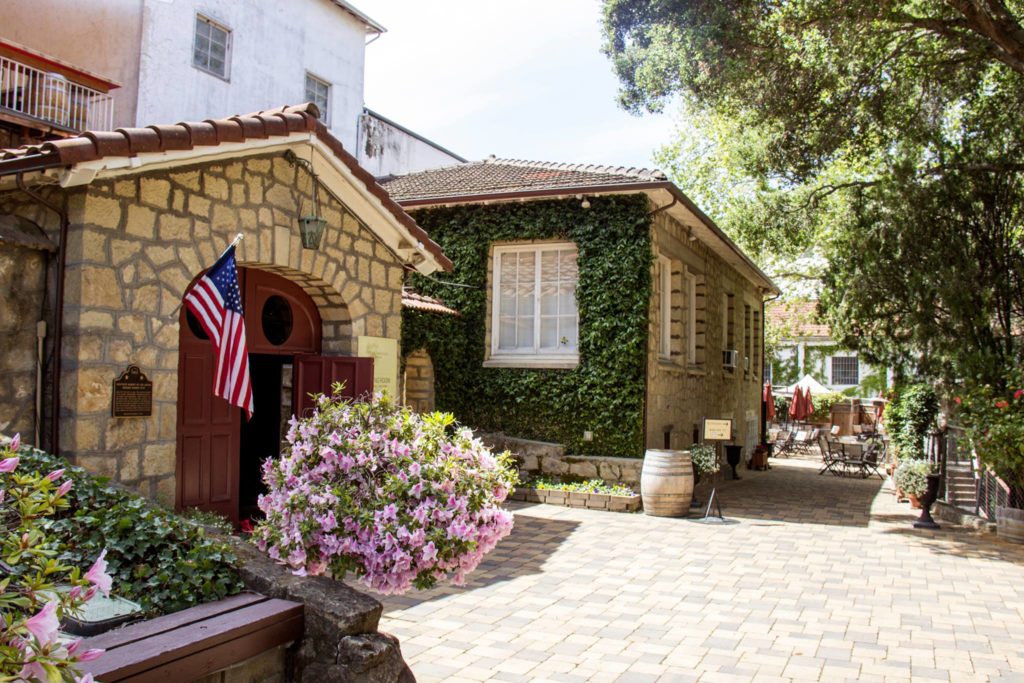 Situated just outside downtown Los Gatos (a small, cute town at the southern edge of San Jose) Testarossa is a great choice for anyone hoping to experience the Santa Cruz Mountain wine region, without venturing too far from the city.
Open 362 days a year (with the exceptions of Thanksgiving, Christmas Day and New Years Day), there's almost always something fun going on at Testarossa!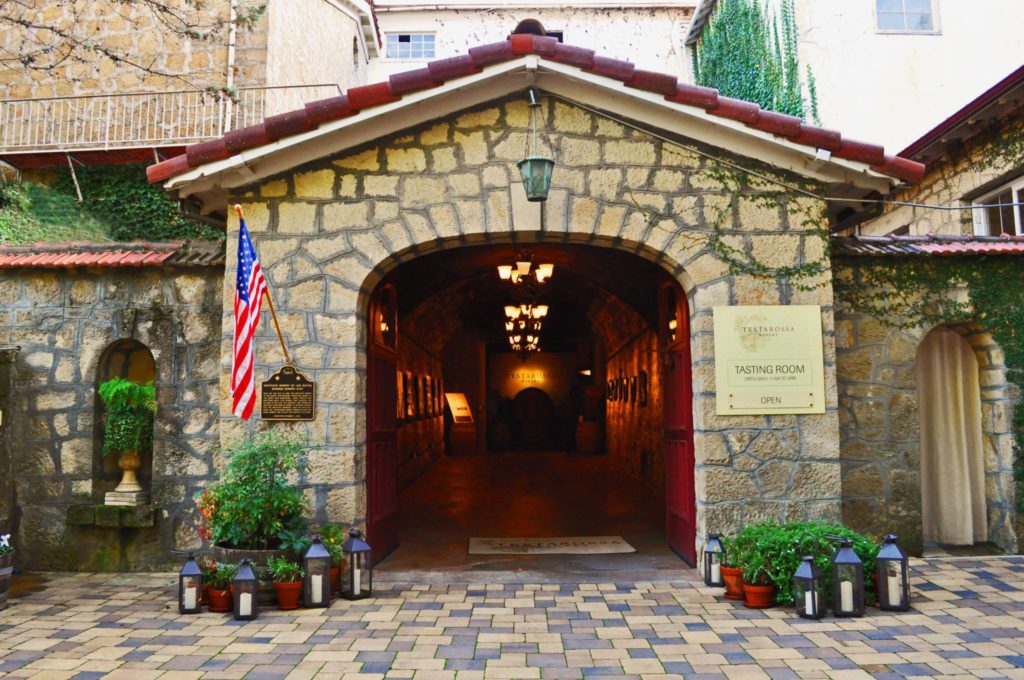 Sample wines in the historic tasting room (a renovated wine cellar), order wines by the glass and artisan cheese plates at the Wine Bar 107 Patio, or bring your own food and set up a picnic at one of the wooden tables. The outdoor seating area is surrounded by shady sycamore trees, and there are also fire pits and heaters for when the temperatures drop.
Testarossa is definitely one of the most popular (read: busiest) wineries in the Santa Cruz Mountains, so I recommend arriving early to snag a table or get on the list for a tasting.
6. Wrights Station Vineyard & Winery
Wrights Stations Vineyard & Winery – 24250 Loma Prieta Ave, Los Gatos, CA 95033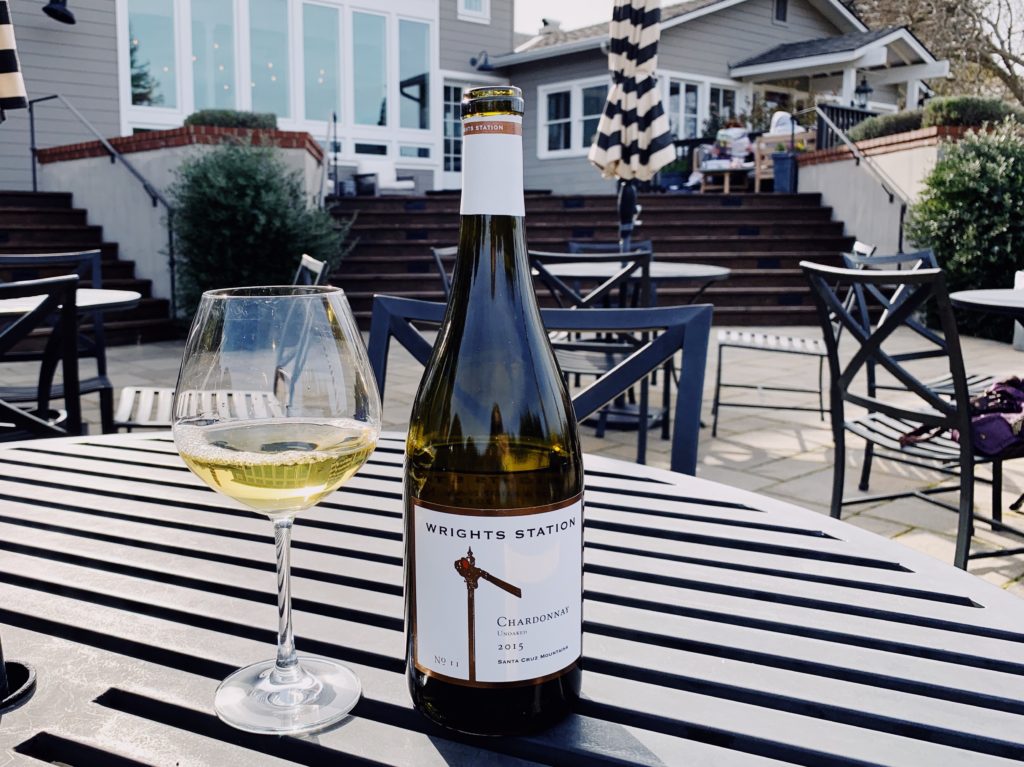 As cliche as it sounds, stepping into Wrights Station feels like stepping into the home of an old friend. The tasting room is stylish but relaxed, and there are several adjoining rooms where you can cozy up on a couch or chair next to one of the large windows while you share a bottle with friends.
The outdoor patio is even better – there is an abundance of tables, and you'll be seated right up next to the vines as you sip their estate-grown Pinot Noirs and Chardonnays. There is also a bocce ball court!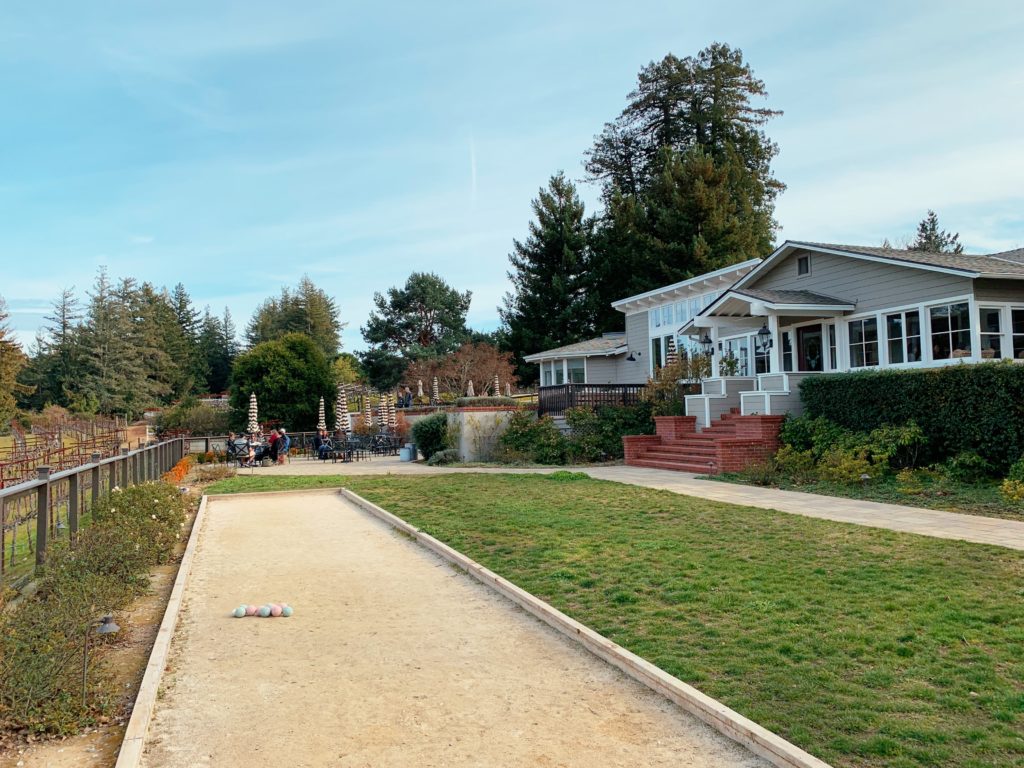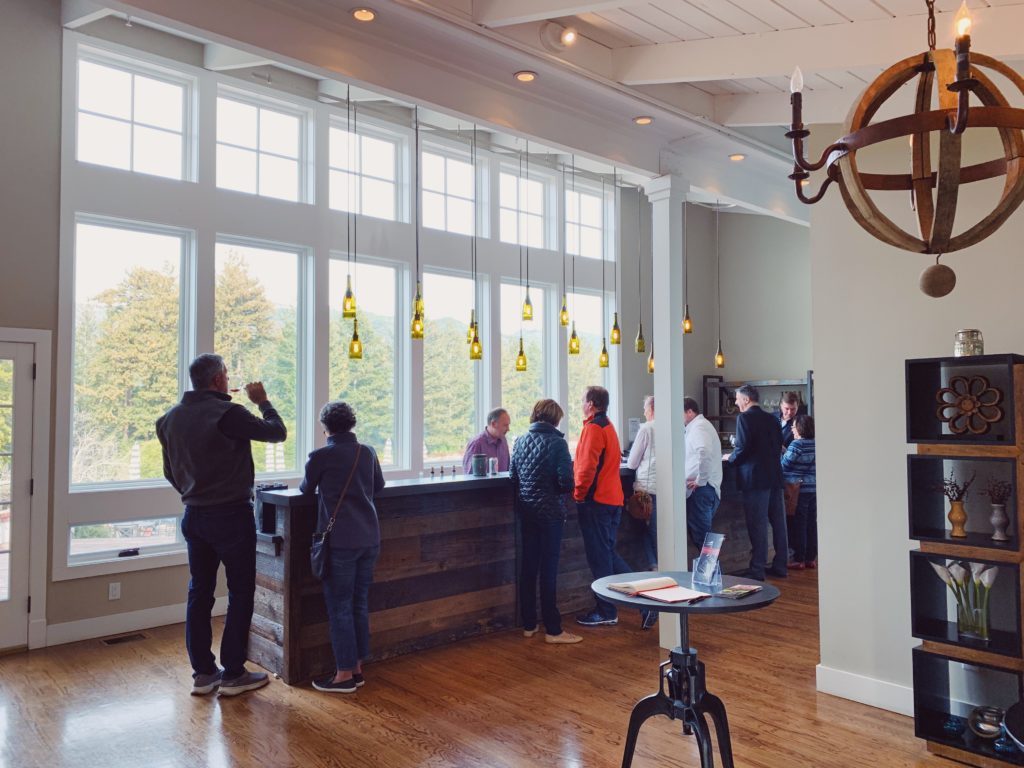 Best of all is the lovely, welcoming staff. Before our first visit, Derek and I called in advance to confirm that they were dog-friendly. When we walked in with our pup, Cooper, the two gals who greeted us took one look at him and said, "For this handsome guy, anything!"
7. Regale Winery & Vineyards
Regale Winery & Vineyards – 24040 Summit Rd, Los Gatos, CA 95033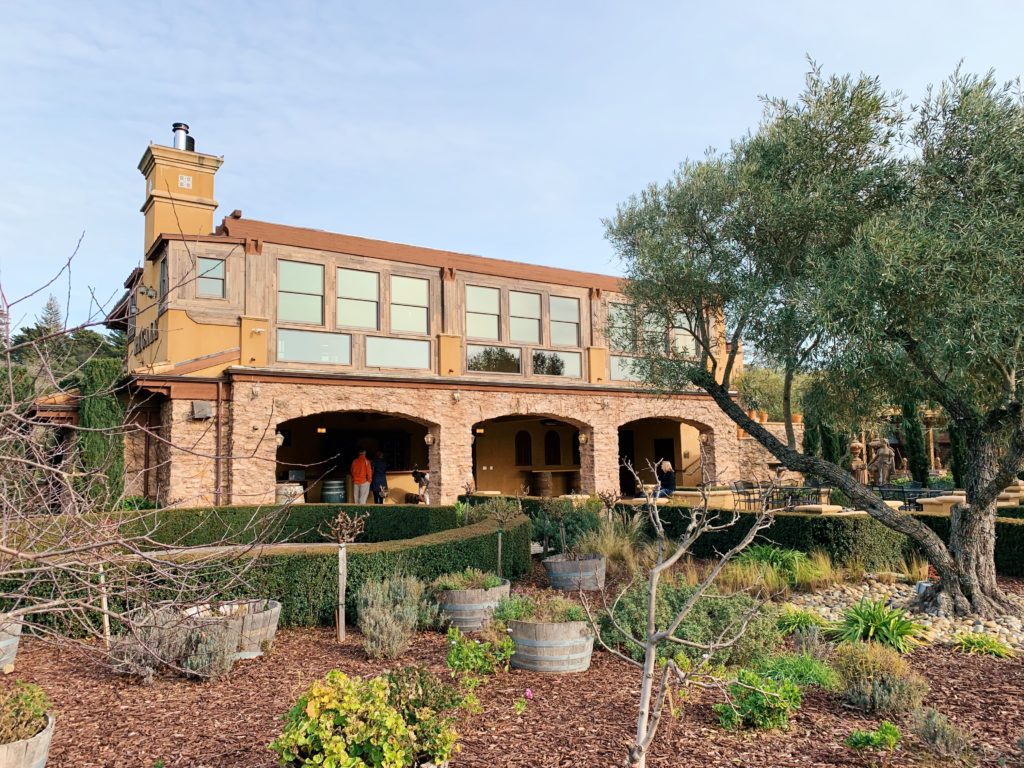 A big part of what I love about wine tasting in the Santa Cruz Mountains is that the wineries tend to have a very casual, cozy feel—think renovated barns and old wine cellars.
Well, that all goes out the window when it comes to Regale, which looks like it could have been plucked out of the Italian countryside (or Napa). The architecture here is pure Old World elegance, with soaring vaulted ceilings, vine-covered trellises, and opulent fountains.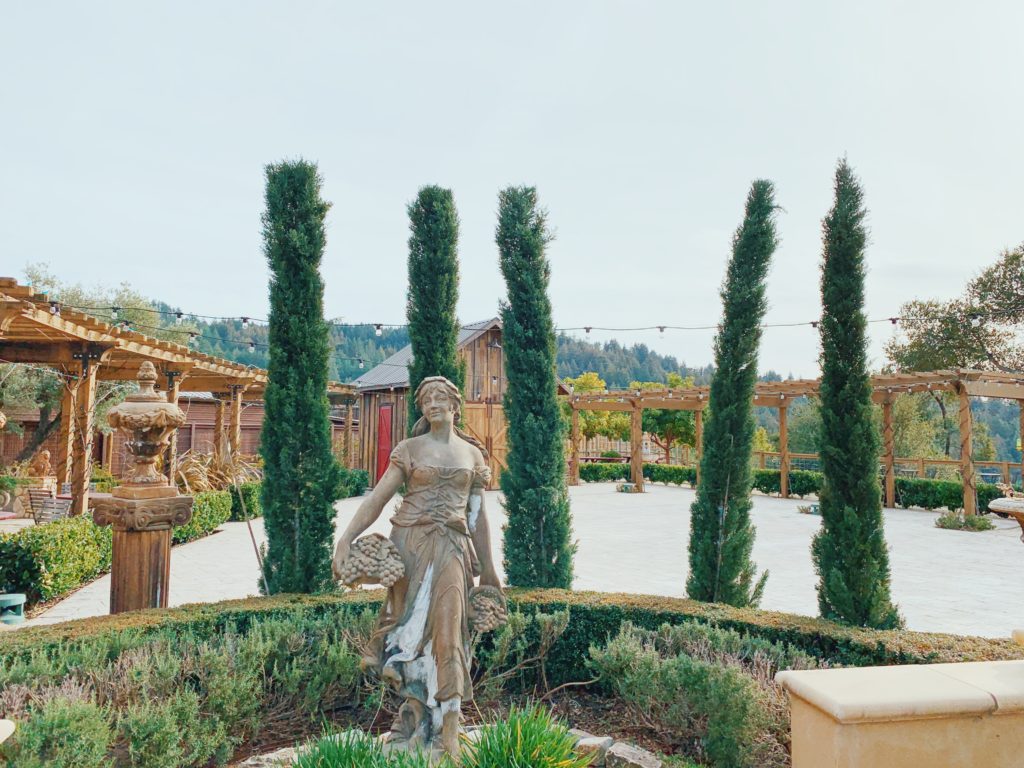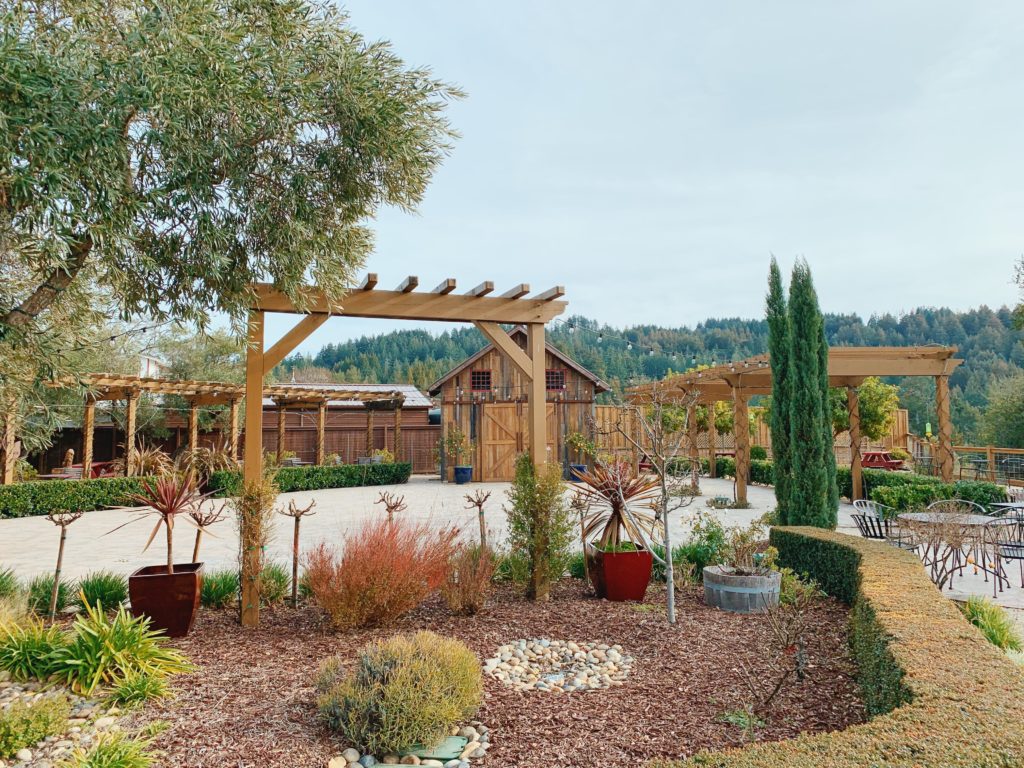 Wander among the statues, olive trees, and rose bushes in the garden, cozy up by one of the outdoor fireplaces, or participate in a tasting at either the indoor or outdoor tasting bar…all while enjoying sweeping views of the Santa Cruz Mountains.
8. Burrell School Vineyards & Winery
Burrell School Vineyards & Winery – 24060 Summit Rd, Los Gatos, CA 95033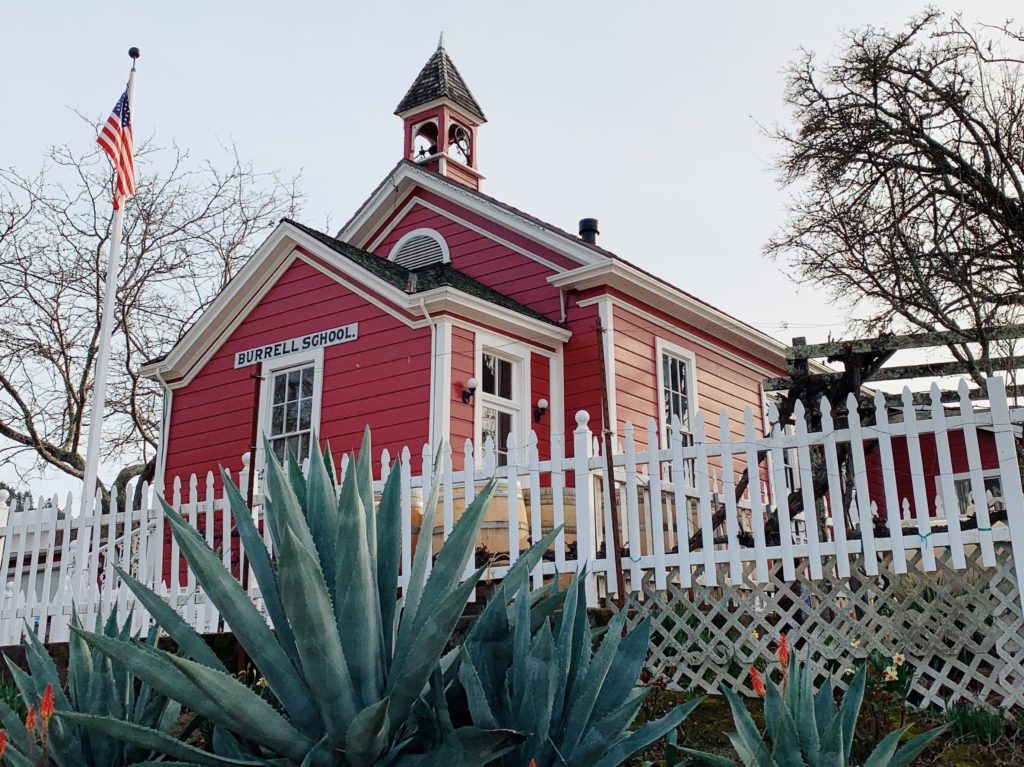 Burrell School is certainly one of the more unique wineries I have ever had the pleasure of visiting! The origins of the iconic red schoolhouse date back to 1854, when Lyman J. Burrell settled in the wilderness of the Santa Cruz Mountains and founded the school.
Today, the historic building remains standing strong – bell tower, white picket fence, waving flag and all!
And that's good news for wine lovers like us, because school is most certainly in session. When you enter the tasting room (which used to be the old teacher's carriage house) you'll pass a chalkboard sign with "Today's Lesson" (the wines being featured in today's tasting).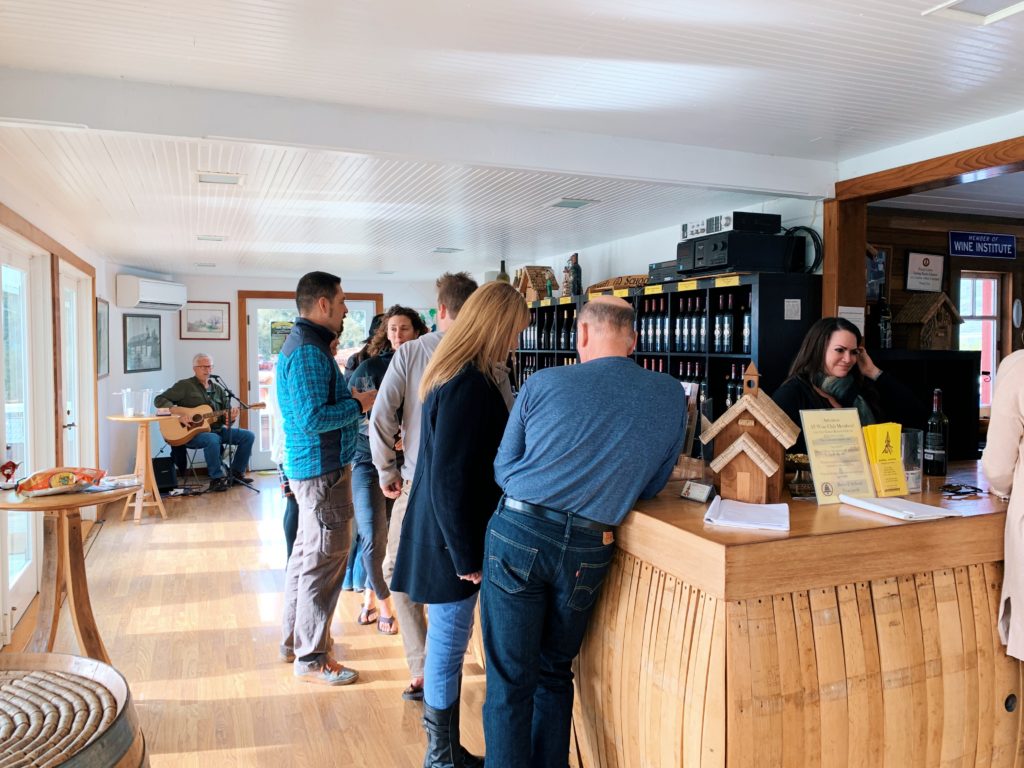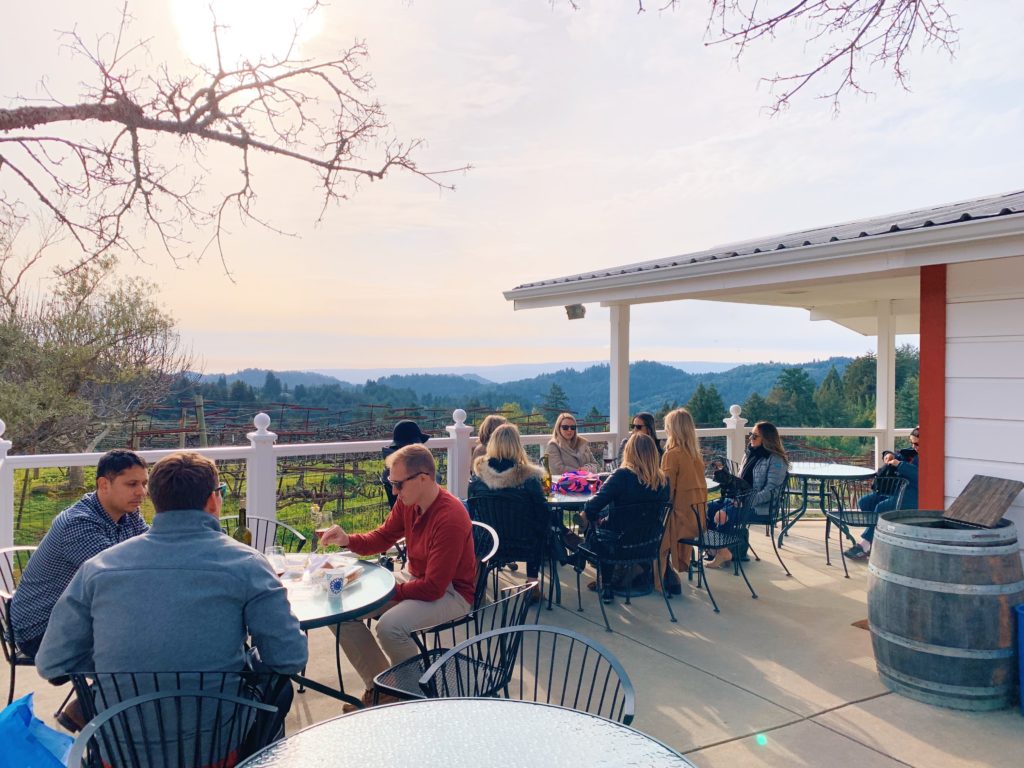 The wines also adhere to the schoolhouse theme, with names like Honor Roll (Merlot), Dean's List (Cabernet Sauvignon), and Teacher's Pet (Chardonnay). And if you're lucky enough to snag one of the tables on the elevated back patio, you'll be treated to panoramic views of the beautiful Santa Cruz Mountains.
---
Where to Stay in the Santa Cruz Mountain Wine Region
If you're local to the San Jose area, spending the day wine tasting in the Santa Cruz Mountains is an easy day trip – no need to book accommodation at all!
If you're visiting San Jose from out of town and want to include a wine tasting as part of your overall itinerary, my top hotel recommendations in the city are Hotel Valencia Santana Row and Fairmont San Jose.
But if you specifically want to book accommodation close to the Santa Cruz Mountain wine region, then I recommend looking for hotels or Airbnbs (pssst – get $40 off your first booking) in Saratoga or Los Gatos.
Both of these small, quaint historic towns on the edge of the mountains will make for a great jumping off point for your wine tasting adventure!
(function(d, sc, u) {
var s = d.createElement(sc), p = d.getElementsByTagName(sc)[0];
s.type = 'text/javascript';
s.async = true;
s.src = u + '?v=' + (+new Date());
p.parentNode.insertBefore(s,p);
})(document, 'script', '//aff.bstatic.com/static/affiliate_base/js/flexiproduct.js');
---
Do you enjoy wine tasting? Have you ever heard of or visited the Santa Cruz Mountain wine region? Would you ever consider it as an alternative to Napa or Sonoma?
Note: This post contains several affiliate links. If you make a purchase using one of these links, I will earn a small commission at no additional cost to you. My affiliate income helps offset the cost of running this blog, and allows me to keep this site free of ads and sponsored posts. So, thank you!!
The post Redwoods & Red Wine: A Guide to California's Santa Cruz Mountain Wine Region appeared first on The Wandering Blonde.
[ad_2]