[ad_1]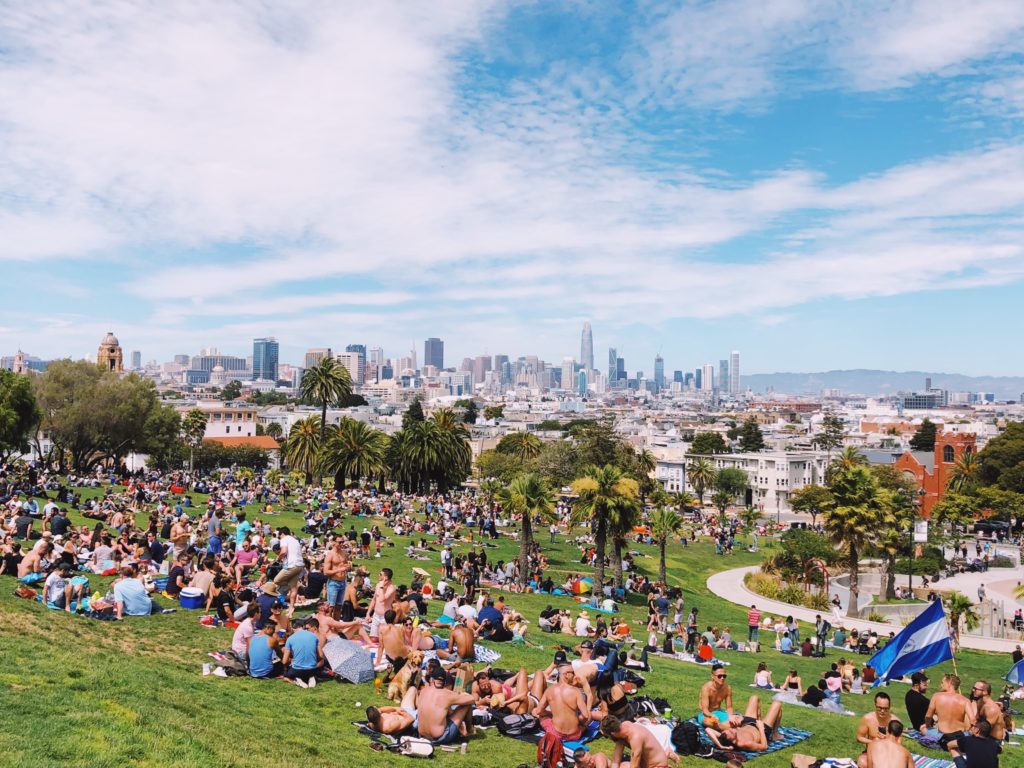 The Mission District is one of San Francisco's coolest neighborhoods, hands-down. It's electric, artistic, colorful, vibrant, youthful, diverse…and that's just Mission Street alone
Pop quiz time! Do you know which of San Francisco's many neighborhoods is the oldest? If you guessed the Mission District – commonly referred to as simply the Mission – you'd be correct!
Founded by Spanish explorers in 1776, the Mission has a long and storied history that is rooted in Latin American heritage and traditions. Once upon a time this neighborhood belonged primarily to working class Hispanic families, but today it is shared with college students, young professionals and startup visionaries.
There's no denying that some serious gentrification has occurred in this neighborhood, but nonetheless the Mission has retained a significant amount of its rich Latin heritage. Passionate street murals, corner bodegas, and abundant taquerias are just a few of the most obvious physical signs of this neighborhood's history.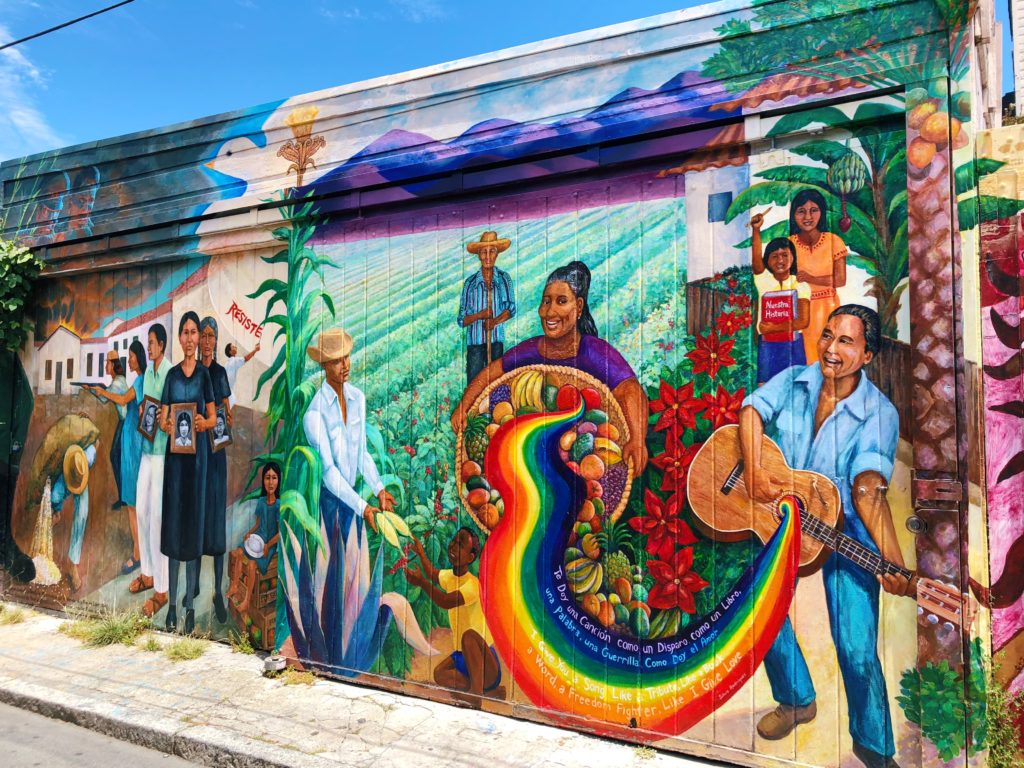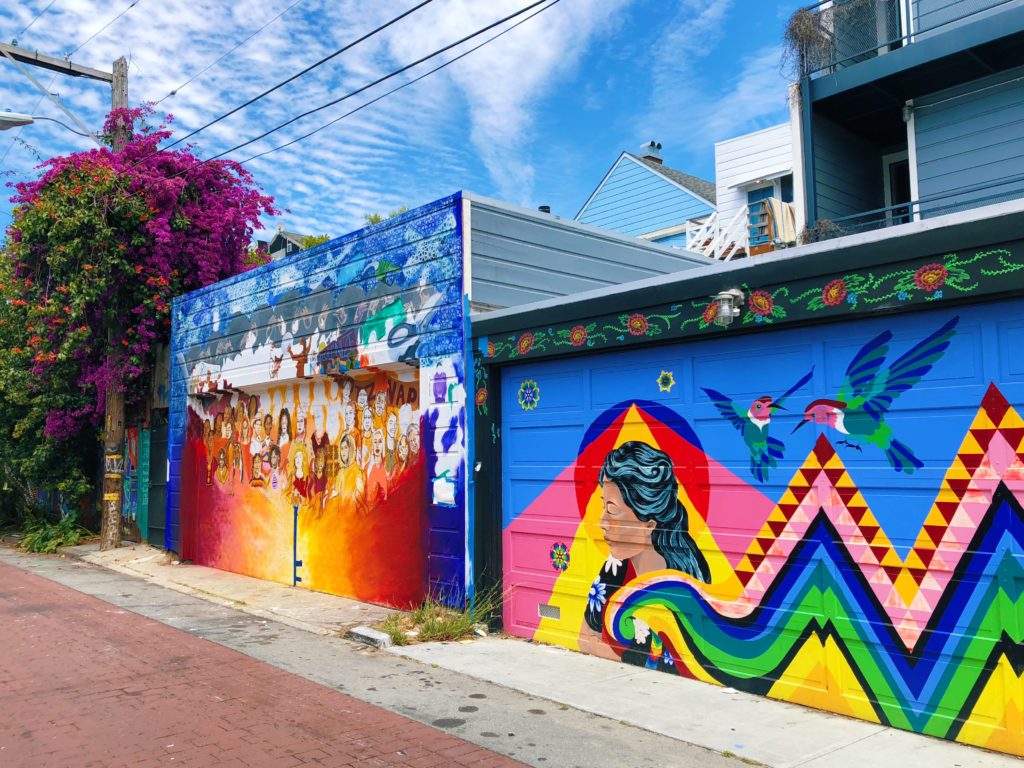 What else should you know about visiting the Mission District?
We've covered history…now it's time for a science lesson! One of San Francisco's most unusual quirks is its many microclimates. Even just traversing from one neighborhood to the next can mean a drastic drop or rise in temperature, and the sudden appearance or disappearance of the sun.
The Mission is one of the lucky ones – it happens to be one of San Francisco's sunniest and warmest neighborhoods. A fine match for its sunny and warm disposition, in my opinion!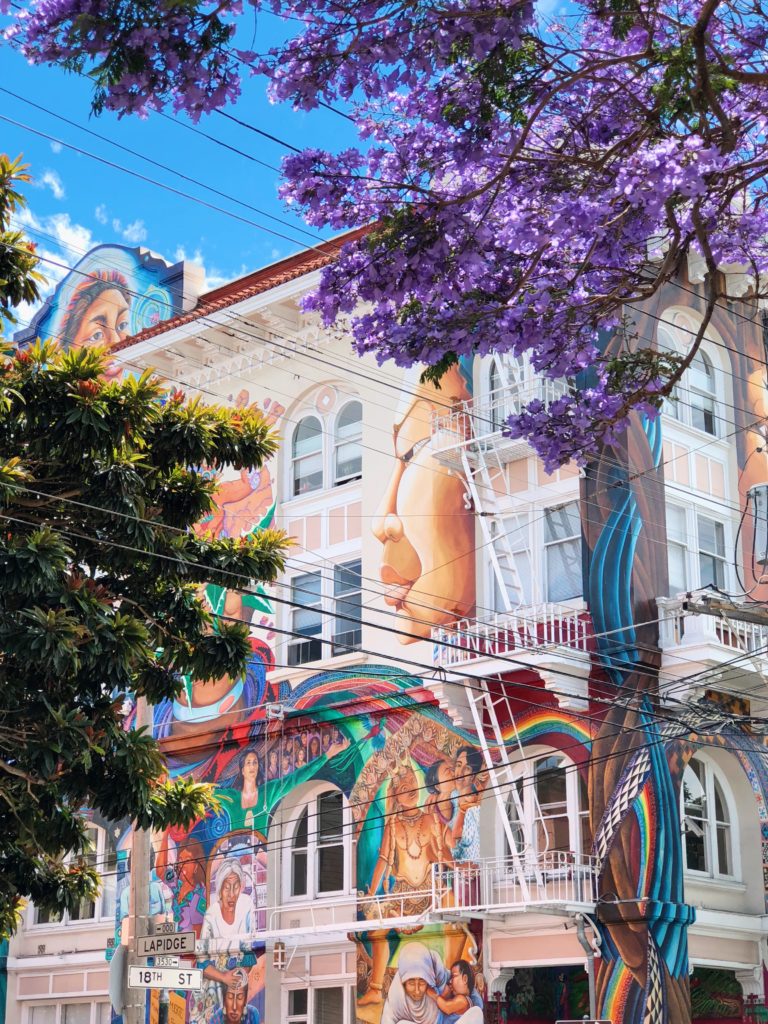 One of the things I love most about the Mission District is that although the neighborhood still feels very quintessentially San Franciscan, it also feels a world away from touristy "Top 10" sights like the Golden Gate Bridge, Painted Ladies, Alcatraz, and Fisherman's Wharf.
And while I wouldn't necessarily recommend ditching those major attractions in favor of exploring the Mission (especially if you're a first-time visitor to the city), I do think it's a great add-on if you're looking to experience something a little different than the norm, or if you have some extra time to play with in your San Francisco itinerary.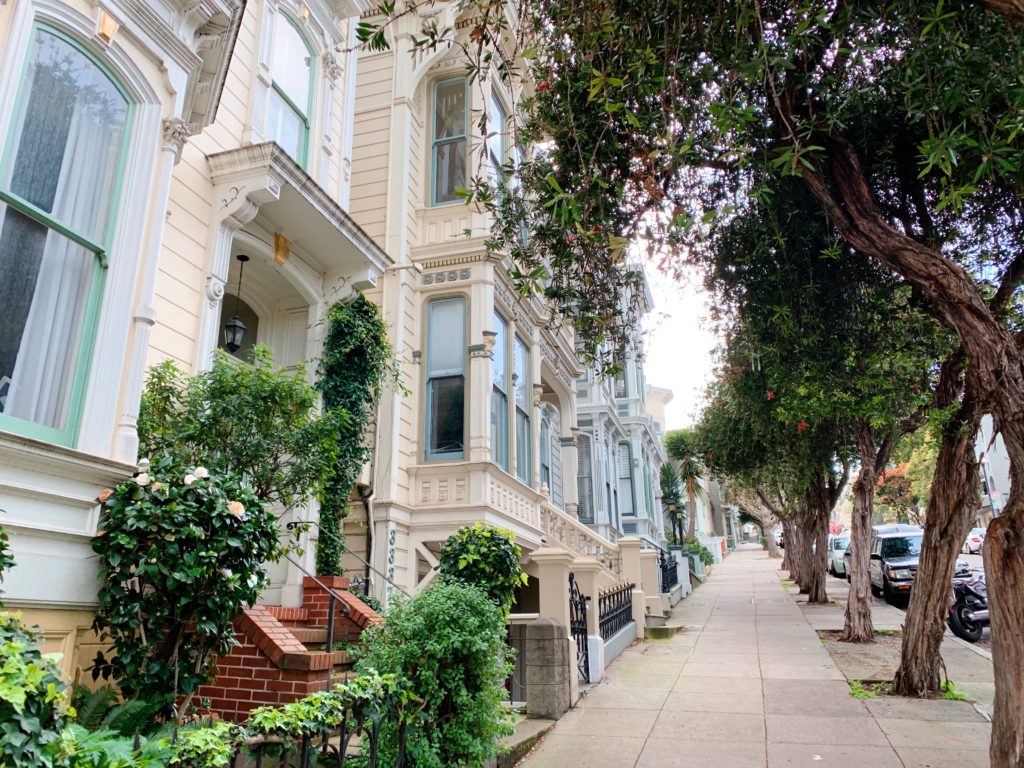 While you could certainly skim the surface of this neighborhood in just an hour or two, I recommend budgeting for one full day in the Mission District if you have the time for it.
The good news? The Mission was made for walking! If you follow this itinerary exactly as it's laid out, you can expect to do around 3 miles of walking…not too shabby for a full day of sightseeing in a city like San Francisco.
Grab a Pastry & Coffee at Tartine Bakery
You'll know you've arrived at the beloved Tartine Bakery as soon as you notice the delectable sugary smells wafting down the block…well, that or the line of hungry patrons stretching out the front door!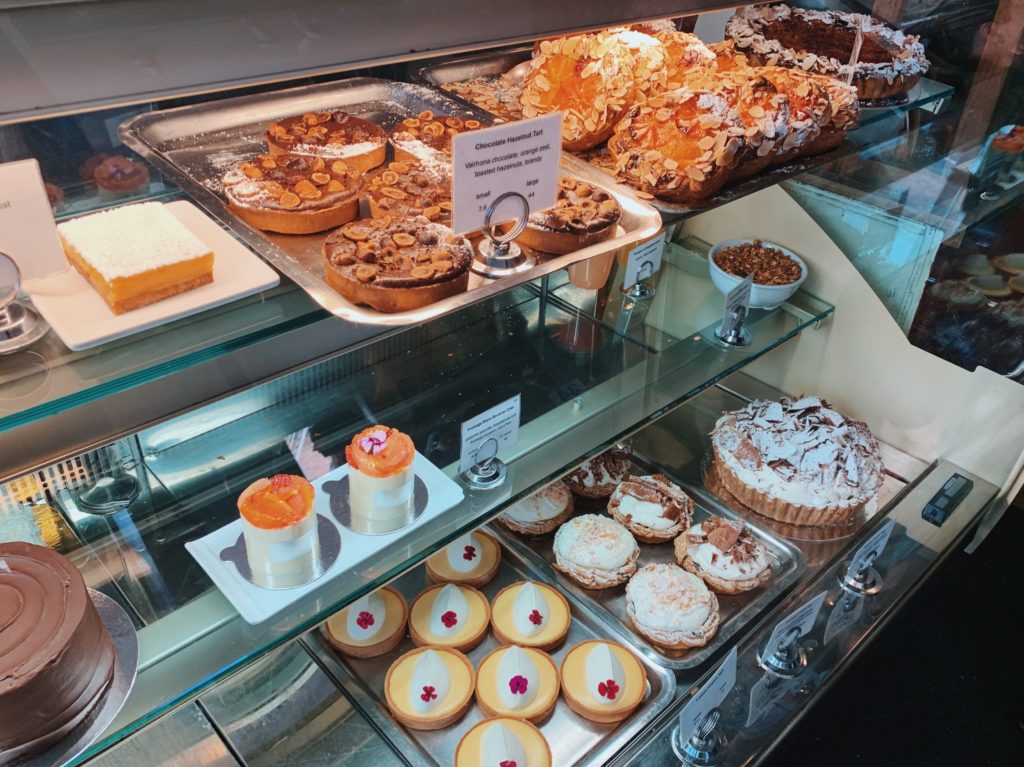 But don't let the line scare you off; it moves quickly, and it's easy enough to order their bakery items to-go if a table doesn't open up.
Please, do yourself a favor and order the utterly DIVINE Banana Cream Tart. The pastry crust is flaky and buttery, the cream is unbelievably rich and velvety, and there are slices of real banana stuffed inside. Oh, and there are drizzles of caramel and chocolate syrup lining the crust, and huge flakes of chocolate on top.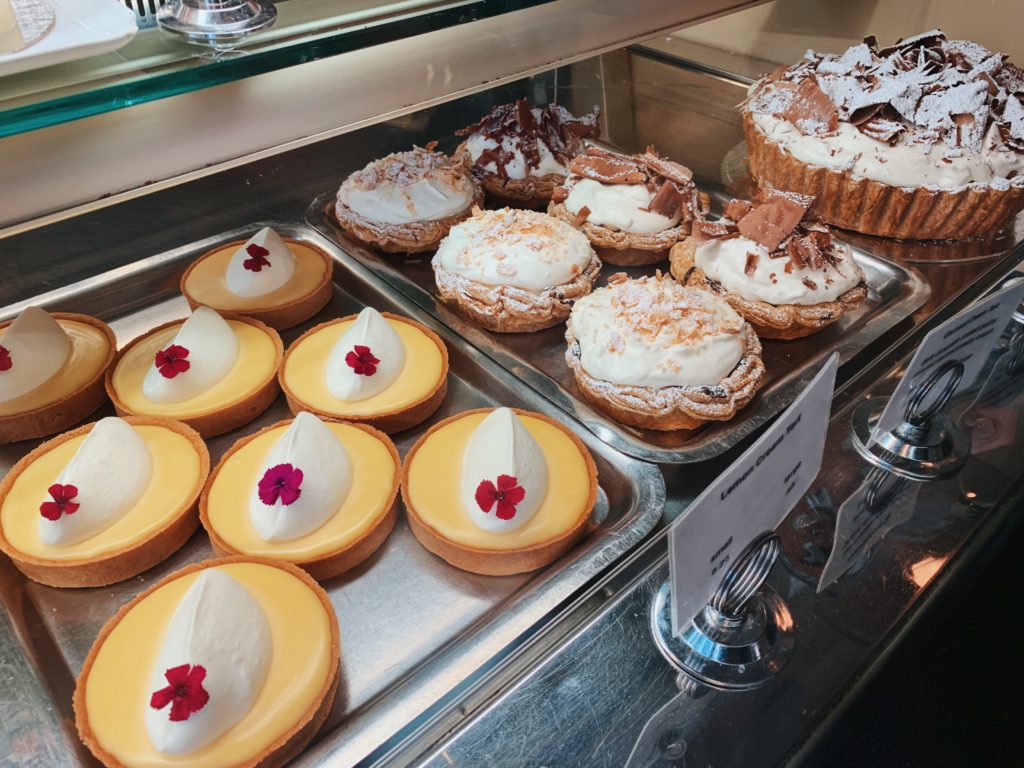 Heaven on a freaking plate, I tell you!
We also shared the Chocolate Rye Bar, which was MUCH better than you might guess based on the name alone. Fresh jams and soft-yet-crunchy merengue are baked into the chocolatey bar. Absolute goodness!
On my list to try next time? The Lemon Cream Tart, the Eclair, and the cinnamon sugar and candied orange-embellished Morning Bun!
Mission Dolores Basilica
Conveniently located just two blocks from the bakery is the single oldest building in all of San Francisco: the Mission Dolores Basilica (Misión San Francisco de Asís). It was founded in 1776 by Francisco Palóu, a Spanish missionary, and played a central role in the early development of the neighborhood and growth of the community.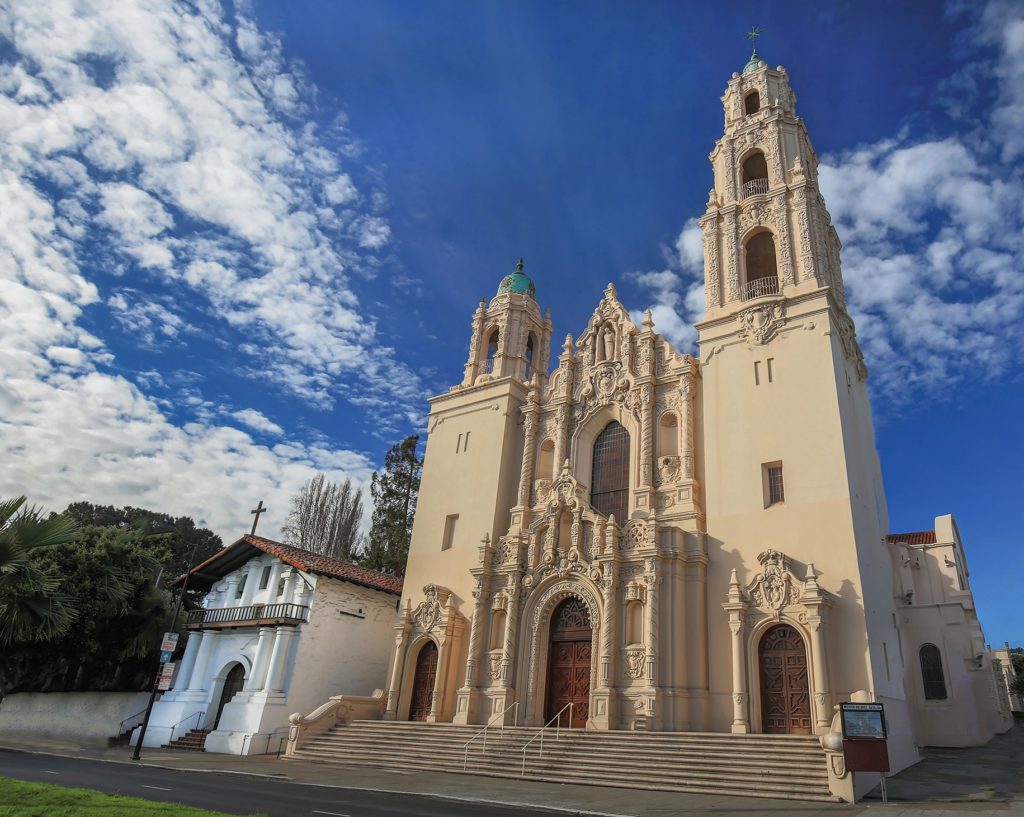 The Mission Dolores Basilica is open daily, and the admission fee is donation-based ($7 for adults is suggested). Be sure to see the historic cemetery and gardens during your visit.
Chill Out in Mission Dolores Park
Mission Dolores Park is hands-down one of San Francisco's coolest and most popular weekend hangout spots. Spanning 16 lush acres, the park is essentially a massive communal lawn.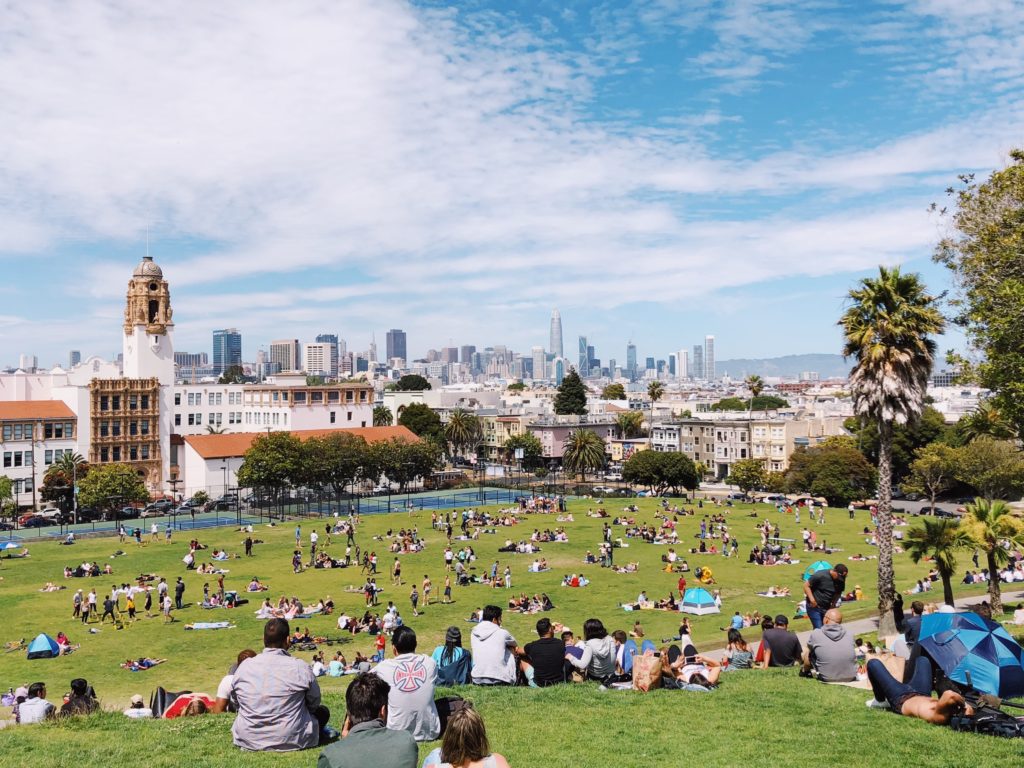 On sunny afternoons, hundreds of people flock to the park to picnic, sunbathe, meet up with friends, and enjoy the panoramic skyline views. It's a great place to get a feel for the heartbeat of the neighborhood, and see how local residents socialize and spend their free time.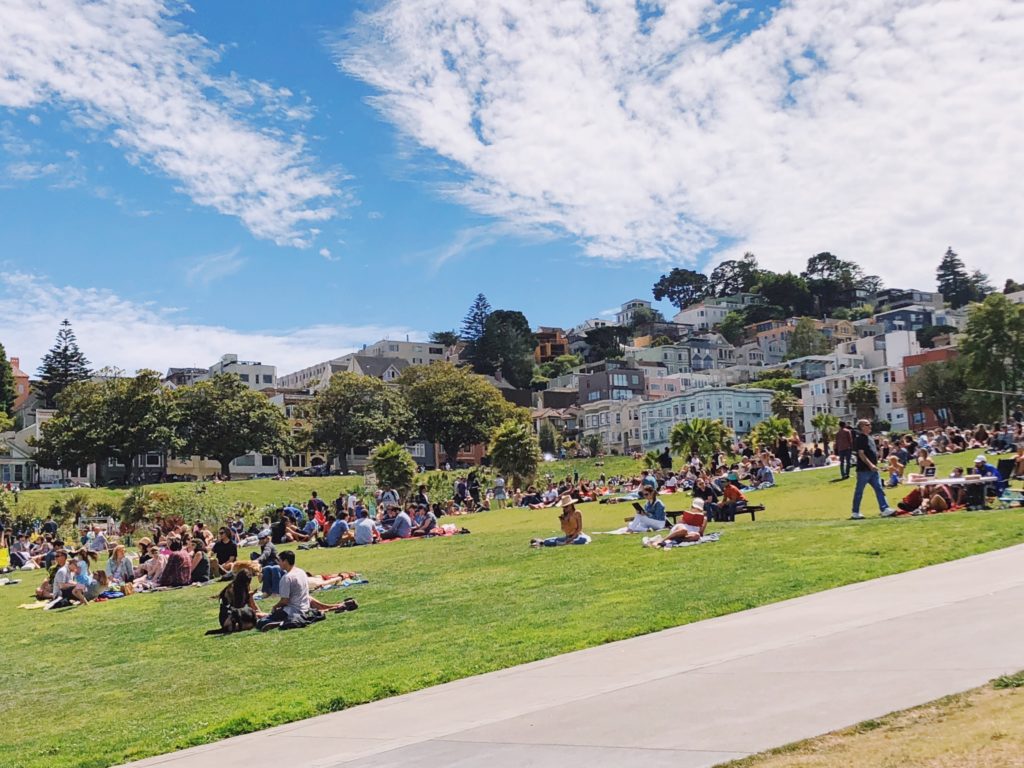 Technically speaking, open containers of alcohol are NOT permitted in Mission Dolores Park…that said, if you were to sneak in a bit of booze (mid-morning mimosas, anyone?) you would be far from the only offender. Just sayin' 

The park is, however, officially dog-friendly!
Clarion Alley Murals
Street art enthusiasts rejoice! The Mission District contains the largest collection of public murals of any neighborhood in San Francisco, and Clarion Alley is easily one of the most iconic examples.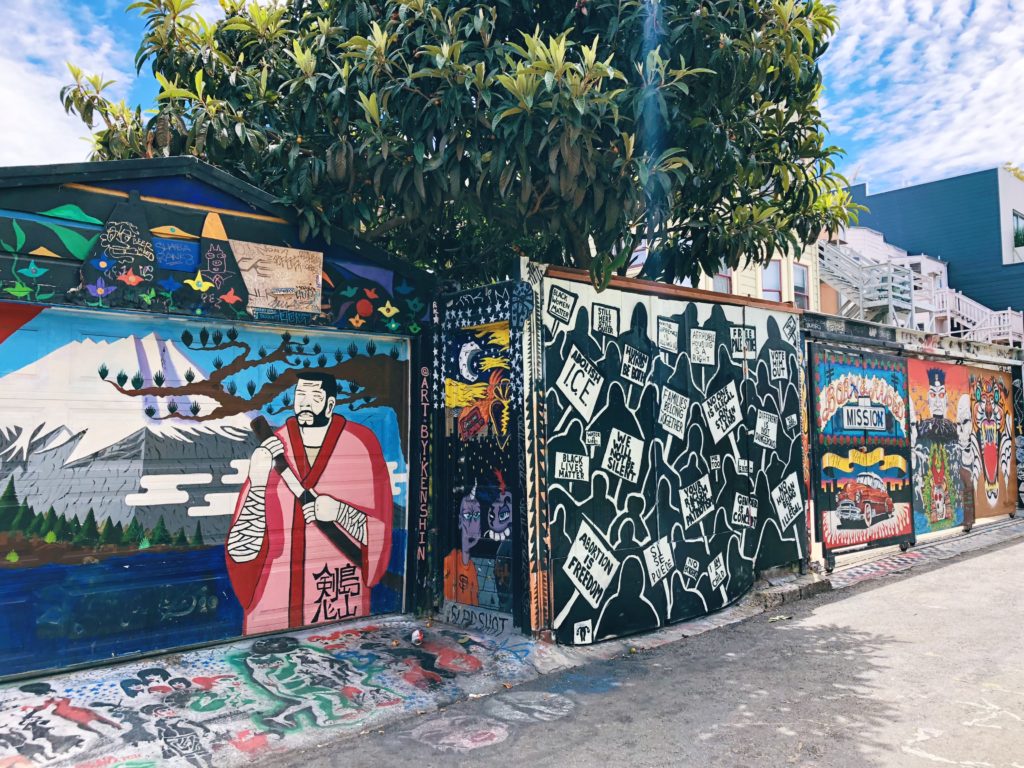 Nestled between Valencia Street and Mission Street, this densely-decorated alleyway is essentially an open-air art gallery. All of the businesses and landowners here have specifically requested to have their exterior walls painted by local artists, resulting in a colorful display of murals.
Most of the artwork centers around themes like politics, gentrification, the housing crisis, minority and women's rights, crime, drug abuse, and other social issues.
For many, these murals are an important part of preserving the heritage of the neighborhood while also brining awareness to problems in the local community.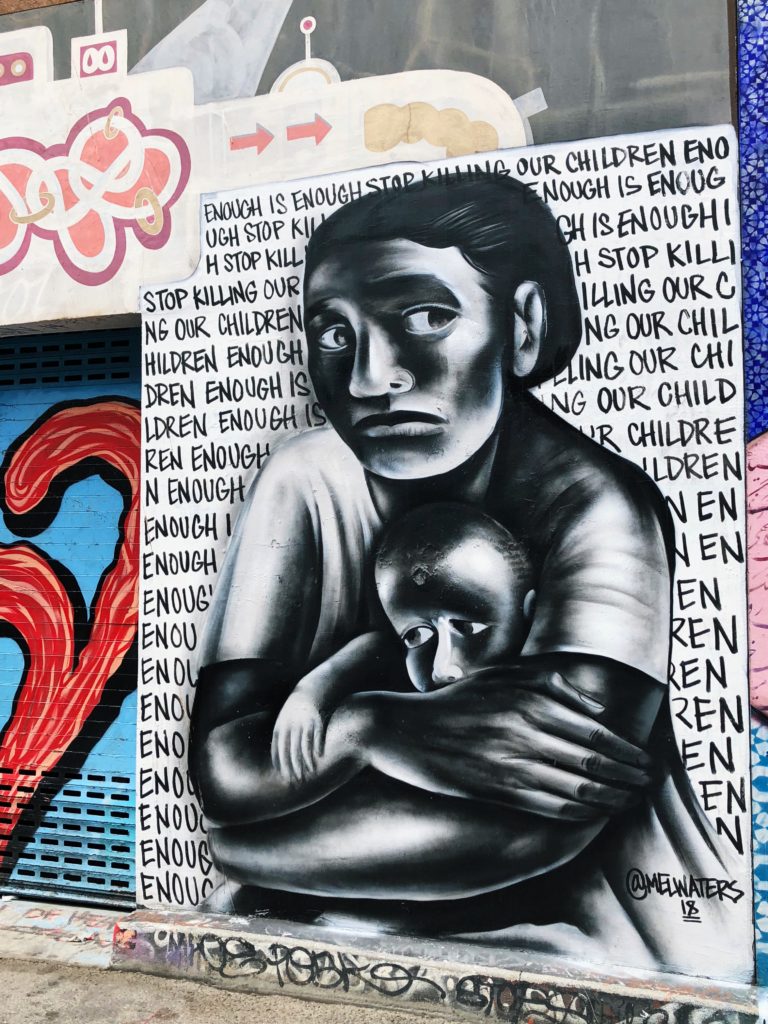 While you're in the area, don't miss the larger-than-life artwork on the nearby Women's Building, a non-profit community center that hosts educational programs and events.
See How Chocolate is Made at Dandelion Chocolate
Still full from your pastries at Tartine Bakery this morning? Sworn off sugar forever after wolfing down an entire Banana Cream Tart? Well, toughen up soldier—there's chocolate to be consumed, and lots of it!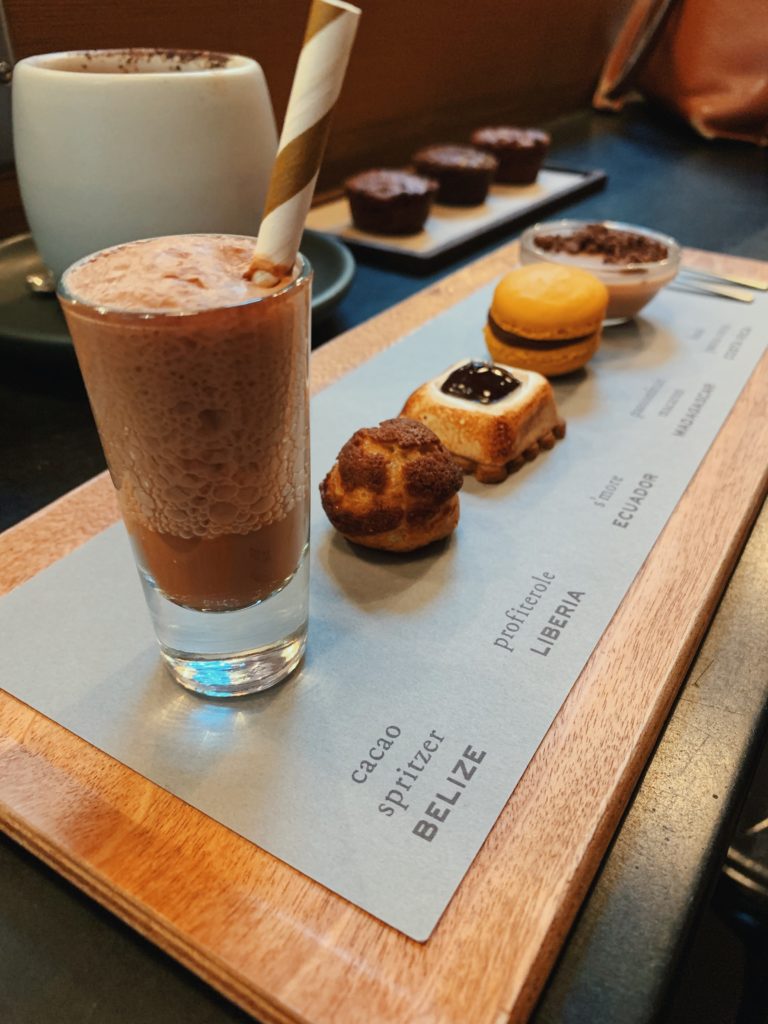 Dandelion Chocolate is a cafe and "bean-to-bar" chocolate factory that should not be missed under any circumstances during your time in the Mission (unless you're some sort of chocolate-hating heathen, I guess).
They source the highest quality cacao beans from farmers in Madagascar, Ecuador, Guatemala, Tanzania, Venezuela, Belize and the Dominican Republic, which they use to produce small-batch chocolates in their onsite factory.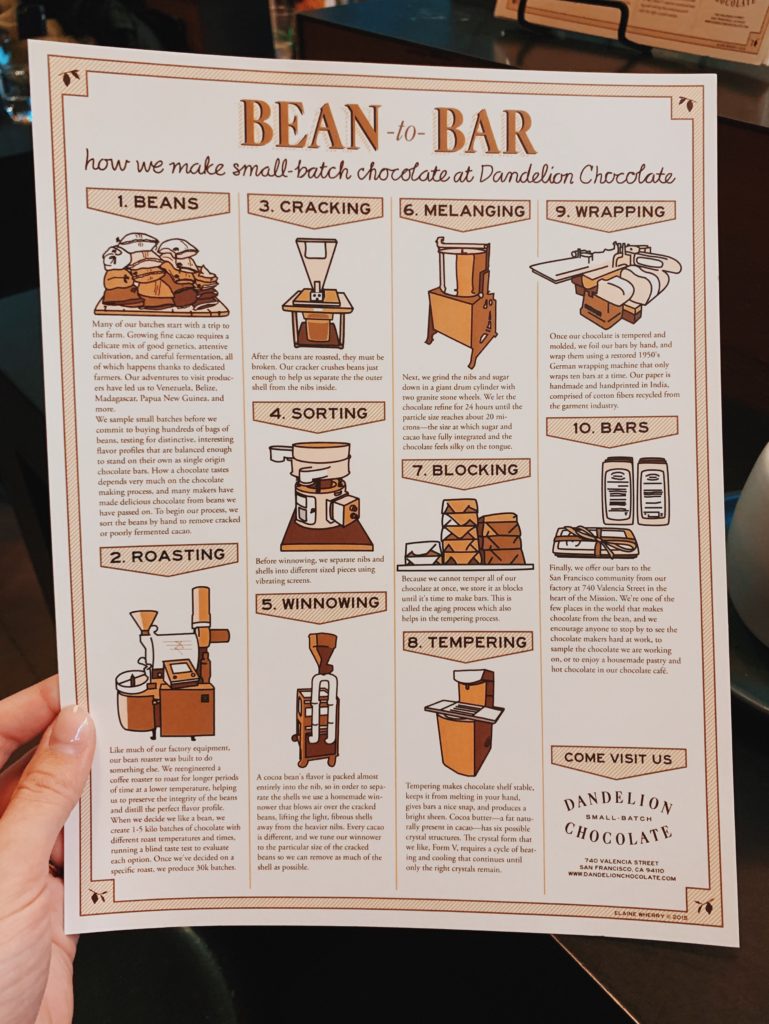 Stepping into Dandelion Chocolate, you'll instantly be wrapped up in the aroma of roasted cacao, melted chocolate and sugary confections. You can sample small bites of their chocolate FO' FREE, or hop in line to purchase a full-sized bar or chocolatey treats and beverages from the cafe.
The coolest part? You can actually see the employees making the chocolates from the main cafe!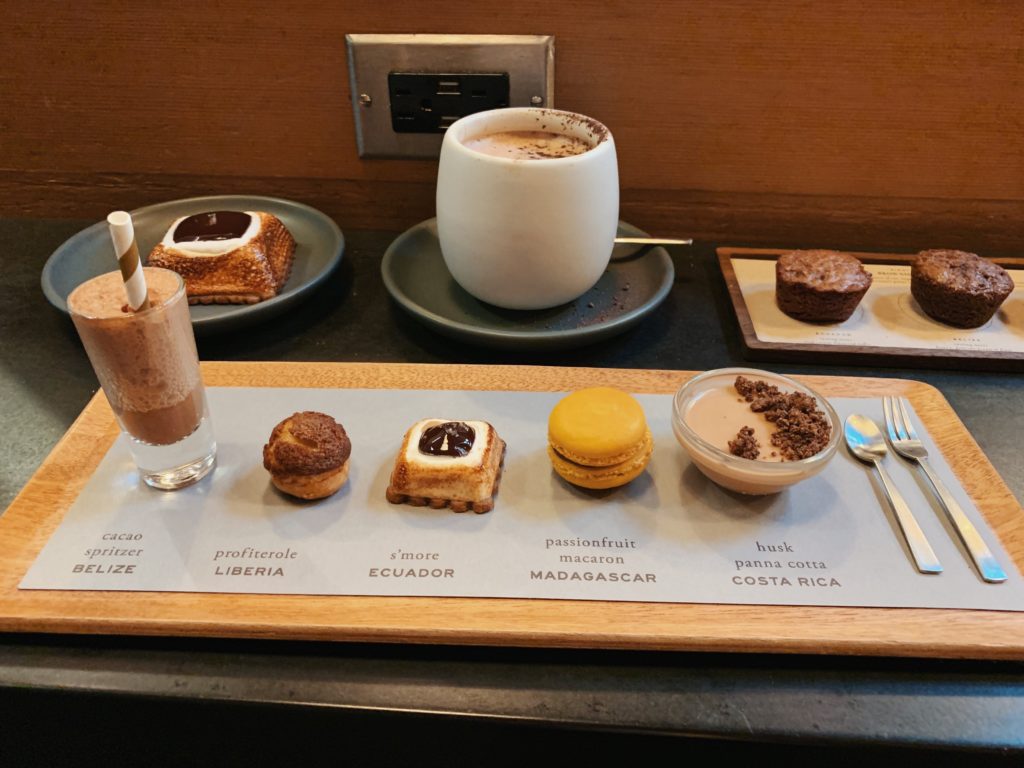 Derek and I went alllll out and sampled a little bit of everything. Here's what we ordered:
Single-Origin Chef's Tasting, which included…

Belize – Cacao Spritzer
Liberia – Profiterole
Ecuador – S'more
Madagascar – Passionfruit Macaron
Costa Rica – Husk Panna Cotta

Brownie Bite Flight
A full-sized S'more
A spicy, frothy Mission Hot Chocolate
Was it a lot of chocolate? Yes. Too much chocolate? Possibly. Any regrets? NOPE.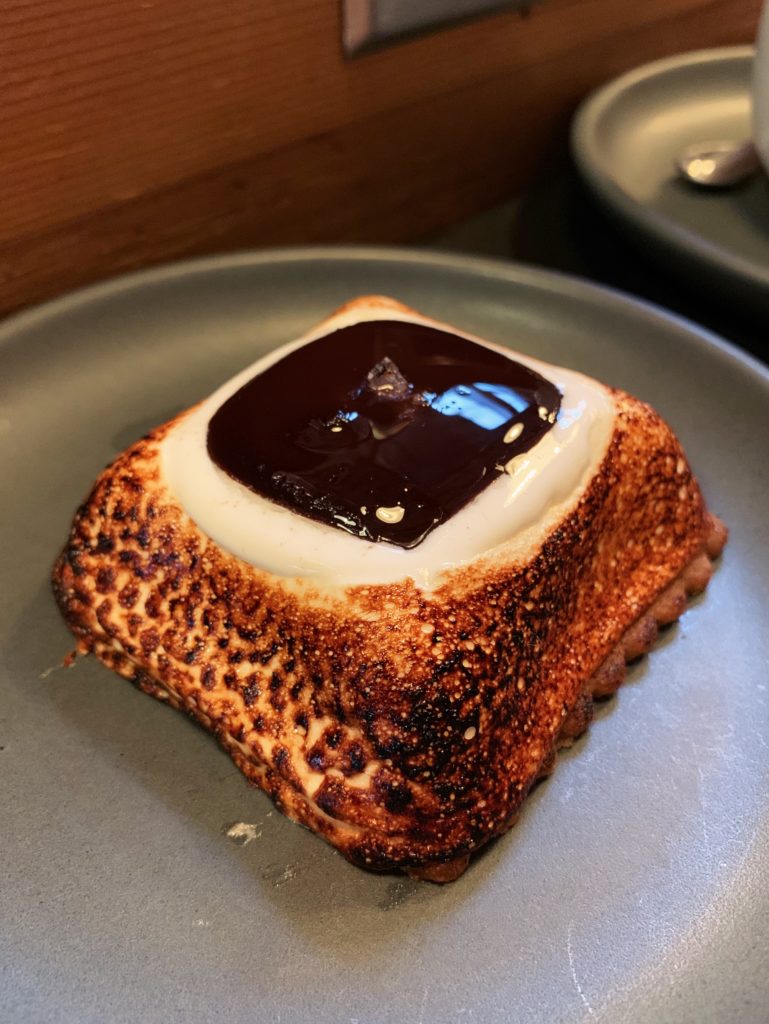 And guys, I will dream about that chocolatey, gooey, crunchy, HEAVENLY s'more until my last day on this earth. Mmmmmmm.
Stroll Down Valencia Street and Mission Street
These two streets are where most of the action happens in the Mission District, and I highly recommend exploring both as thoroughly as possible. However, this can be tricky as they do run parallel to one another!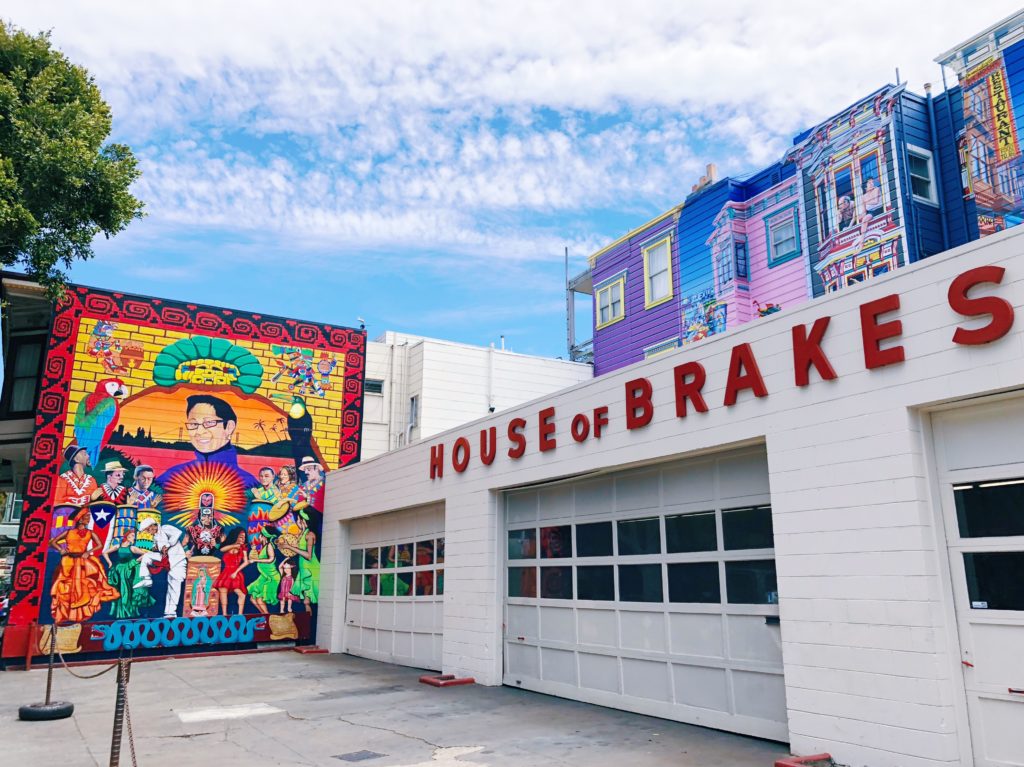 For the sake of this itinerary, I suggest walking south all the way down Valencia Street first (it's super convenient if you plan to visit Clarion Alley, the Women's Building and Dandelion Chocolate) as you head towards Balmy Alley, and then making your way back north along Mission Street.
Valencia Street: This is hipster central, i.e. gentrification in a nutshell. You'll find more cafes, thrift shops, ethnic restaurants, boutiques, and bookstores than you can count. It's a great street for aimless strolling, shopping, and soaking in the "cool factor."
Mission Street: Walking down this street with Derek, I joked that we may have been mistakenly teleported to Mexico City…except, I really wasn't joking! Here you'll find taquerias, grocery markets, bodegas, and street food being sautéed on sidewalk corners. You're more likely to catch fragments of conversations in Spanish than in English, and the Latin music drifting out of shops and homes is pure celebration.
Personally, I think the contrast between these two popular streets perfectly captures the essence and diversity of the Mission District.
Balmy Alley Murals
For more striking displays of public art, you absolutely can't miss the Balmy Alley Murals. It's a bit of trek from Clarion Alley and Dandelion Chocolate, but the walk is a great opportunity to explore Valencia Street and/or Mission Street on foot (which is the best way to do it anyways, so win-win).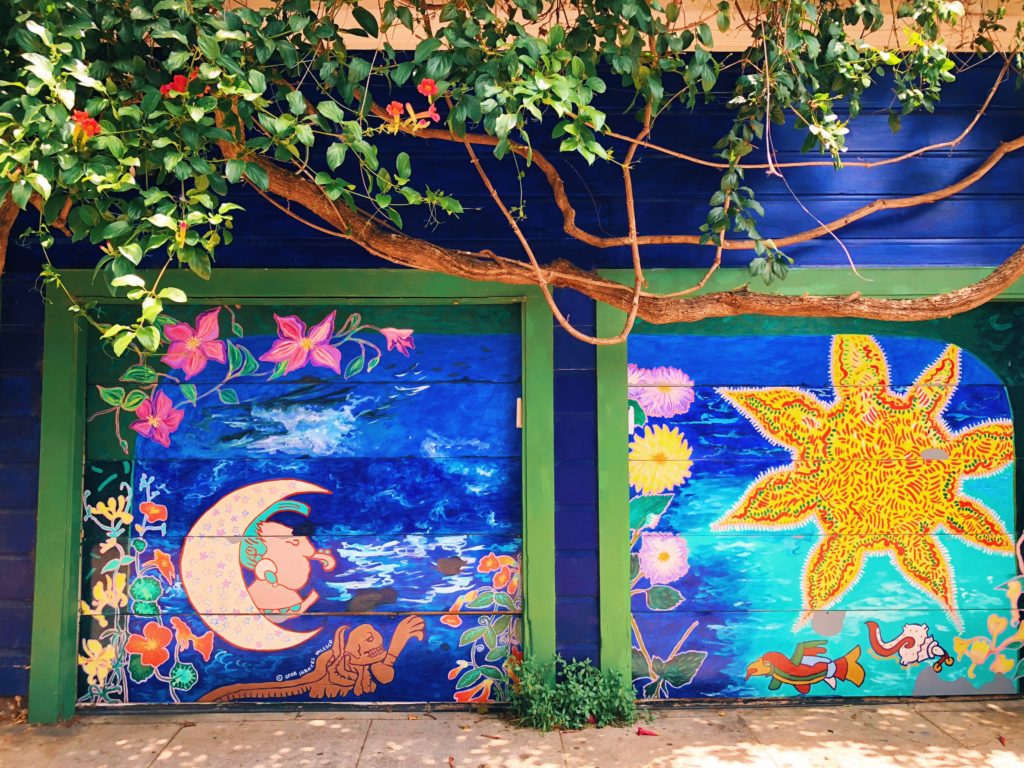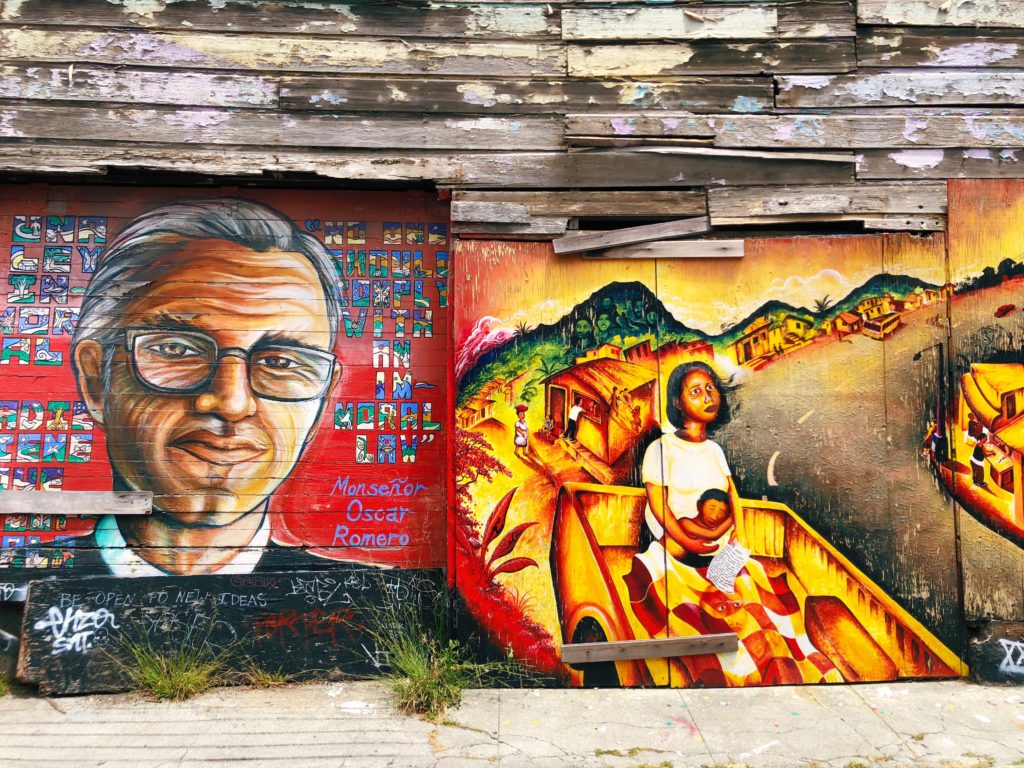 Balmy Alley is wedged between 24th and 25th Streets, and has been a hotspot of public art since the mid-1980s. Much like Clarion Alley, many of the murals center around political themes, especially from a Latinx perspective.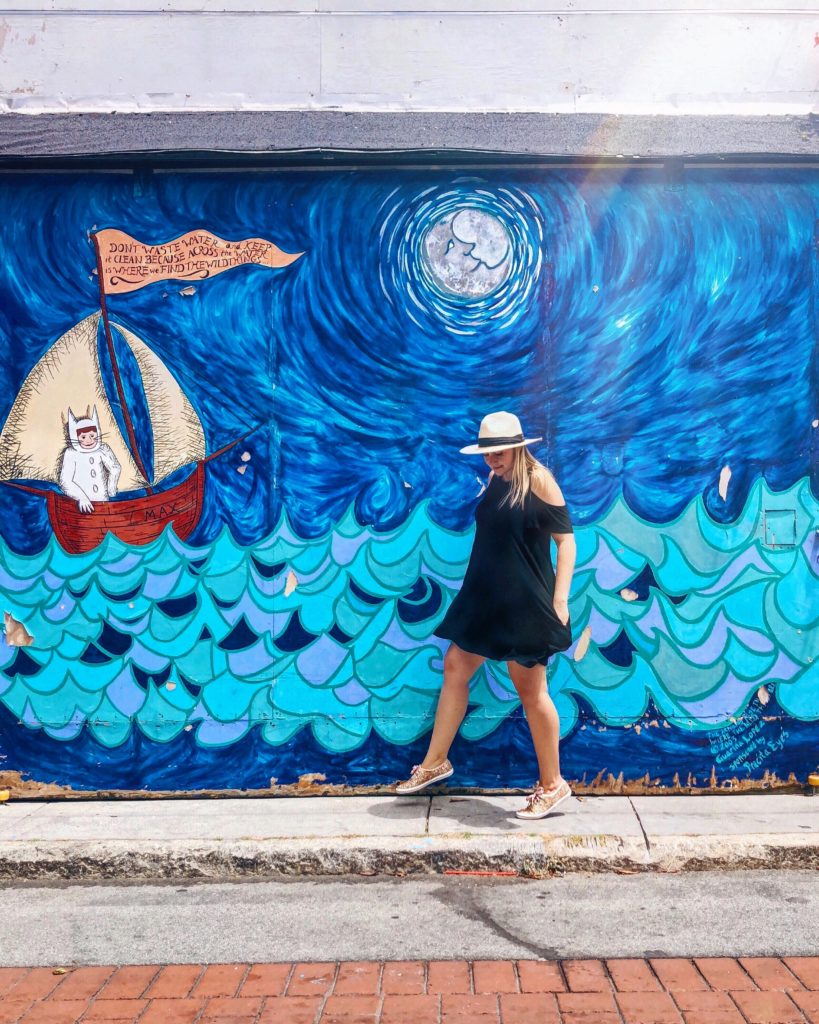 Apparently the artwork on Balmy Alley is updated frequently, so you never know what colorful new surprises may be waiting to be discovered and appreciated.
Dig into a Mission Burrito
Mission burritos are a staple food item here in the Mission District, where they originated during the 1960s. You'll know you've got your hands on a true Mission burrito when you see its huge size, soft flour tortilla, protective foil wrapping, and extra rice inside.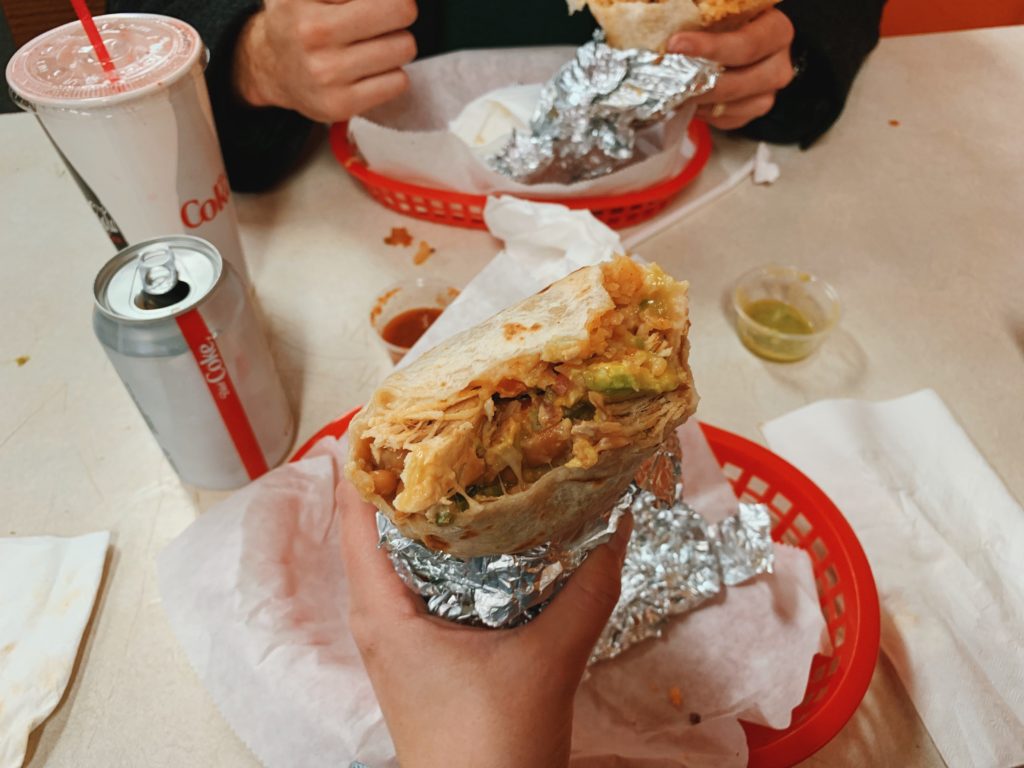 Ask any given resident of the Mission District where you can find the BEST mission burrito, and you may get a completely different (and fiercely defended) answer; La Taqueria, Taqueria El Farolito, Taqueria Cancún, and Taqueria La Cumbre are all considered to be top-tier contenders.
We opted for El Farolito, and while I can't promise that it's the one "best" Mission burrito, I can promise that it's pretty damn delicious. I ordered the Super Chicken Burrito, and Derek ordered the Super Carne Asada burrito, with a strawberry aqua fresca to drink. All three items were incredible!
Like most of popular eateries in the Mission, you can expect a hefty line of customers when you arrive…and again, you can expect it to move quickly and efficiently. Pro tip: Many of the Mission's taquerias (including El Farolito) are CASH ONLY, so don't forget to withdraw some money before hopping in line.
Play a Round of Mini-Golf at Urban Putt
Tucked away inside an unassuming Victorian building is the funky, quirky, colorful indoor putt-putt course of your wildest childhood dreams.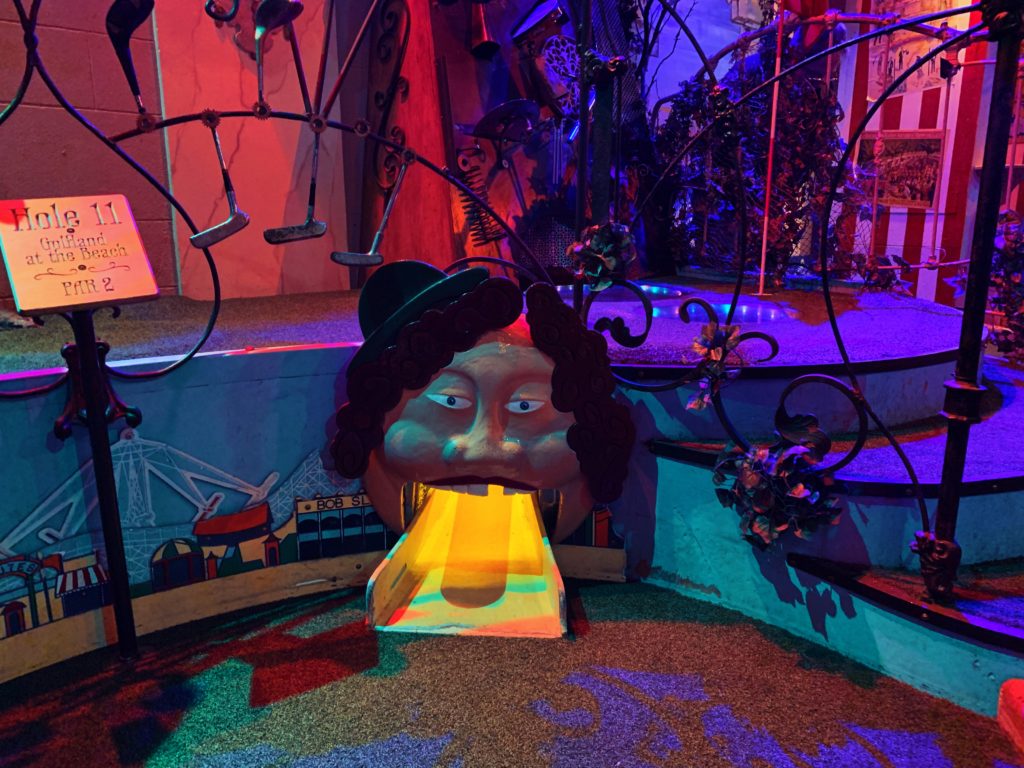 The course itself is highly imaginative and unusual; it sort of feels like wandering through a steampunk carnival funhouse designed by the likes of Phileas Fogg (any other Around the World in Eighty Days fans)?
It all has a very handmade appearance, which definitely adds to the whimsy and charm. It's easy to imagine that the creators hand-selected every piece of decor and lovingly built the animatronics with their own hands.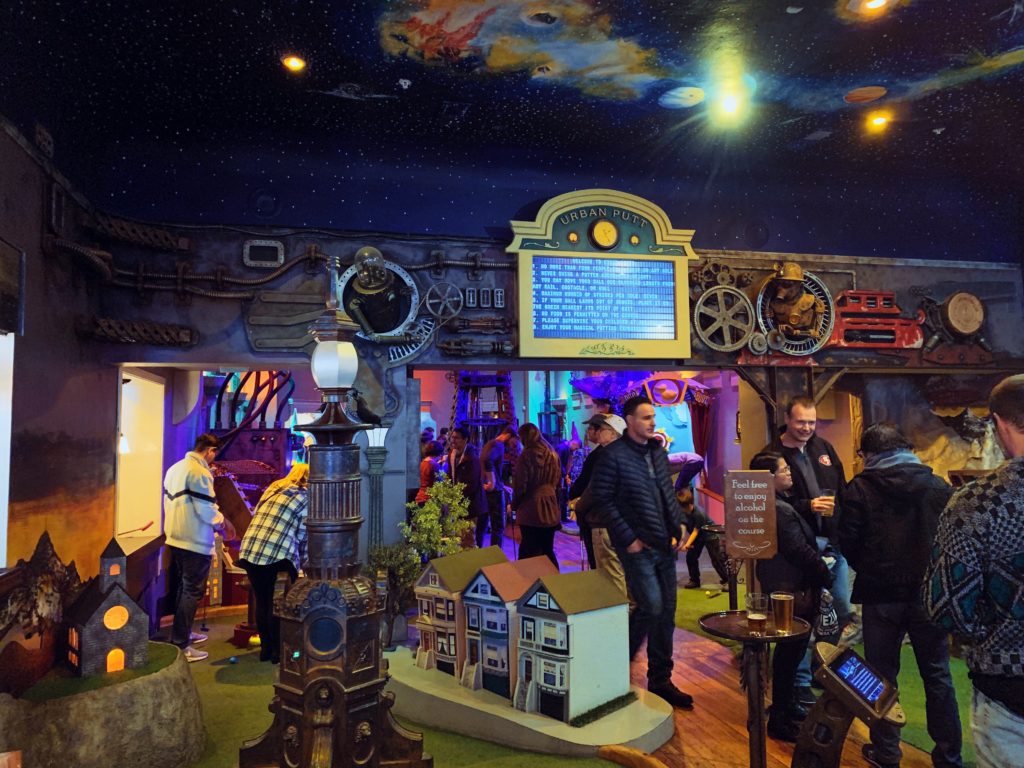 My one complaint? The course is VERY narrow and cramped, and we were constantly feeling simultaneously rushed by the party behind us and slowed down by the party in front of us.
We definitely spent more time gridlocked and shuffling between holes than we did actually playing, which detracted from the fun.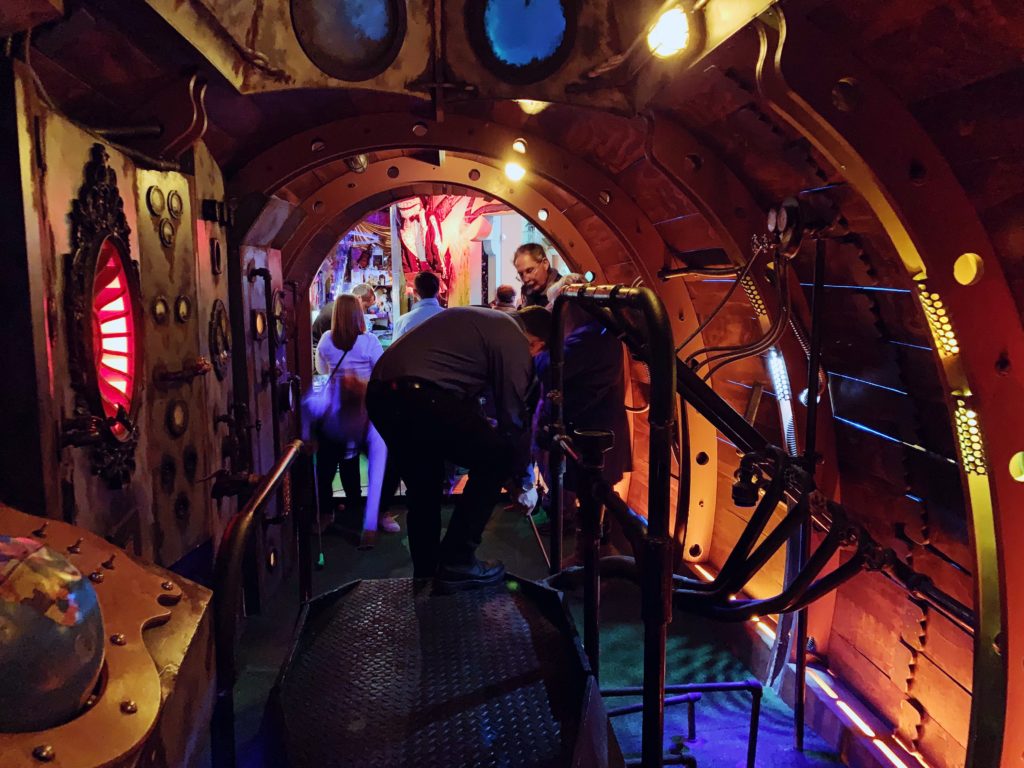 I think our mistake was coming in the middle of the day around 3:00pm, instead of close to or after 8:00pm (when the facility becomes 21+ only). Originally I had wanted to avoid the rowdy late-night bar scene, but in retrospect I would have swapped out the children in favor of the drunkards.
More familiar territory, I suppose
---
Whether you are spending one day in the Mission District or just a few hours, this vibrant neighborhood is well worth exploring during your time in the beautiful city of San Francisco. It's a neighborhood I can see myself returning to again and again…and not just for that scrumptious s'more (…but okay, yeah, that may have something to do with it too)!
---
Pin It!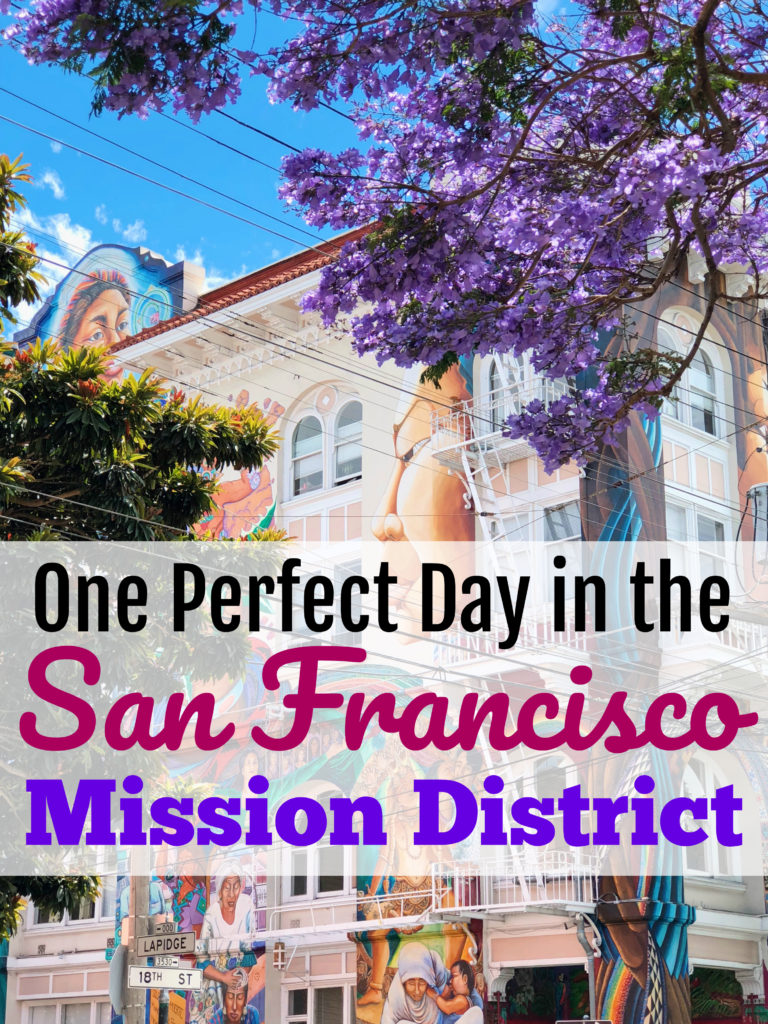 ---
Are you planning to spend one day in the San Francisco Mission District? What questions do you still have about visiting? For those of you who have spent time in this diverse and colorful neighborhood, what would you add to this Mission District itinerary?
Note: This post contains several affiliate links. If you make a purchase using one of these links, I will earn a small commission at no additional cost to you. My affiliate income helps offset the cost of running this blog, and allows me to keep this site free of ads and sponsored posts. So, thank you!!
The post One Perfect Day in San Francisco's Colorful & Diverse Mission District appeared first on The Wandering Blonde.
[ad_2]