[ad_1]

Thailand is one of the most popular countries in the world to travel to, and for good reason. The Kingdom of Smiles has bustling cities, awe-inspiring landscapes, a vibrant culture, and of course, idyllic islands. Thailand is a travel destination that truly has it all.
There are plenty of incredible places to visit in Thailand. From the modern capital of Bangkok to the ancient city of Ayutthaya, from peaceful Khao Sok National Park to hard-partying Koh Phangan, you've got some fantastic choices when planning a trip to Thailand.
Those looking for an island getaway without the crowds that come along with Phuket may want to set their sights on Koh Lanta. You'll find more Birkenstocks than billionaires on this laid-back Thai island. It's the kind of place where you set up shop in a hammock while sipping on a fresh coconut and just laze the day away.
If that sounds good to you, read on for a list of the top things to do in Koh Lanta. We'll explore the island's beaches, mangrove forests, national park, and so much more.
1. Beach Bumming
Nobody knows for sure what the name Koh Lanta means, but its old Malay name Pulau Satak translates as "Long Beach Island." It's a fitting name, as this 30km-long island is home to quite a few long, white sand beaches.
For most visitors, some quality beach bumming is high atop the list of things to do in Koh Lanta. As such, we're going to dedicate a good chunk of this guide to exploring the many beaches of Koh Lanta.
Big Four Beaches
From north to south, the four big beaches of Koh Lanta are: Klong Dao, Pra Ae (Long Beach), Klong Khong, and Klong Nin. In addition, the island boasts several more secluded beaches where you'll find more local fishermen than tourists.
Of the main beaches, Klong Dao is the most developed and thus is usually the most crowded. Don't worry, though — a "crowded" beach on Koh Lanta is nothing compared to other islands in Krabi such as Koh Phi Phi. Klong Dao is a popular place for families and those looking for more diverse options for eating out and shopping.
Next up is the aptly named Pra Ae (Long Beach). This 4km-long stretch of sand is indeed the longest beach on the island. There are lots of choices when it comes to accommodation here, from budget backpacker spots up to luxury resorts.
Continuing south, you arrive at Klong Khong. This area is a favourite of backpackers looking to let loose, as it's home to quite a few beach bars that put on nightly fire shows and parties. If you're travelling with kids, you probably don't want to stay on this beach.
The last of the big four beaches is Klong Nin. This beach is an excellent happy medium. You can still find quite a few places to stay and eat here, but it's far quieter and more peaceful than the others.
Other Beaches in Koh Lanta
In between these larger beaches as well as further south, you can find a handful of nearly deserted beaches. Some of the other beaches you can visit in the far south of the island include Bakantiang, Nui Bay, Klong Chak, and Bamboo Beach.
With a few days in Koh Lanta and a scooter, you can easily hit every single beach on the island and choose your favourite.
2. Go Scuba Diving
While scuba diving might be one of the top things to do in Koh Tao, Koh Lanta is still an excellent scuba diving destination. There aren't any dive sites on the island, but some of the best in Thailand are located just a short boat trip away.
Hin Daeng (Red Rock) and Hin Muang (Purple Rock) boast over 200 hard corals and 100 types of reef fish between the two of them. The former actually has the deepest drop off in all of Thailand, going down to 50 meters. Thanks to the strong currents, these dive sites are only recommended for more advanced divers.
Beginners can head instead to Koh Haa (Five Islands). This area is highlighted by some amazing coral and a cavern called "the cathedral." While diving around Koh Lanta, you might see manta rays, barracuda, turtles, and even whale sharks. Swimming with whale sharks has got to be one of the coolest things to do in Koh Lanta.
There are several different dive shops on Koh Lanta offering everything from half-day beginner lessons, to full PADI certification courses, to week-long liveaboard trips. Reputable shops include Blue Planet and Go Dive. Day trips with two dives range from 3,000-4,000 Baht ($95-$127) depending on the location.
3. Explore Mu Koh Lanta National Park
When you're not relaxing on the beach or out diving, be sure to take the time to visit Mu Koh Lanta National Park. The park actually stretches far out into the Andaman Sea and contains several nearby islands, including the aforementioned Ko Haa.
On the actual island of Koh Lanta, you can access the national park by heading to the far southern point. When you enter the park, you'll follow a 2km-long trail through the jungle. Chances are you'll spot some cheeky monkeys along the way who are looking for something tasty.
You're advised not to feed the monkeys, and also to be careful as they may try to search in your bag for a snack without invitation.
Eventually, you'll arrive at the park's twin beaches on either side of a cliff. Climb to the top to reach the old lighthouse and enjoy some incredible panoramic views. Don't forget to bring your camera for this one!
Entrance to the Koh Lanta National Park costs 200 Baht ($6.35) for adults and 100 for children. It's open daily from 8:30AM-5PM. You can even camp here (250 Baht/$8per night) or stay in some basic bungalows (1,000 Baht/$31.85) if you're really looking to escape from it all.
4. Walk Around Lanta Old Town
While the west coast of the island is dominated by beaches and tourism, the east coast is home to Lanta Old Town. Here you'll find an interesting mix of cultures. The town was originally founded by sea gypsies, who still live here to this day.
Lanta Old Town was once an important stop on the merchant route between Phuket and Penang, which drew many Chinese merchants. There's still a Thai-Chinese population here, as evidenced by the red lanterns and active shrines.
On a day-trip to Lanta Old Town, you can walk around to admire the teak houses on stilts over the ocean. Some of them are even guesthouses where you can stay and fall asleep to the sounds of the ocean below.
While you're here, you might as well enjoy a meal in one of the many restaurants and shop for local products like hammocks and batik art. Spending a few hours walking around Old Town is definitely one of the top things to do in Koh Lanta.
5. Visit the Lanta Animal Welfare Centre
If you're looking to make a positive difference while you travel to the island, I highly recommend stopping by the Lanta Animal Welfare Centre. This great non-profit organization helps stray dogs and cats by providing sterilization, rabies vaccinations, and more.
Since the centre was founded in 2005, they have helped over 15,000 animals! There are many was you can help out, such as becoming a volunteer or sponsoring one of the animals in need.
Even just visiting the centre helps them out greatly. You can drop into their "Kitty City" to cuddle some cute felines, go for a walk with one of the dogs, or just sit down for a snack and drink in the Kitty Cafe, where all proceeds go towards helping the animals.
The animal welfare centre is located at 629 Moo 2, Haad Phra Ae. It's open every day of the year from 9AM-5PM. Tours of the centre operate between the hours of 10-4.
6. Take a Snorkeling Tour
Diving isn't the only way to spot marine life around here. Going on a snorkeling tour is also high on the list of the best things to do in Koh Lanta. Every single travel agent on the island can help you get set up on a snorkeling tour, and there are quite a few to choose from.
The twin islands of Koh Rok are a very popular place to go snorkeling from Koh Lanta. There's some excellent snorkeling out here, and your tour should also include lunch and some time to chill out on the picturesque white-sand beaches.
Remember those Five Islands I mentioned in the section about diving? They are also a solid choice for a snorkeling tour. If you've got both divers and non-divers in your group, this is probably your best choice.
The cost of snorkeling tours depends on the method of transportation (longtail, slow, or speed boat) and the distance traveled. On the budget end, you can expect to pay around 1,000 Baht ($32) per person, while speed-boat tours go for around 1,800 ($57).
See also: Top 17 Things to Do in Chiang Mai
8. Rent a Scooter
Without a doubt, the best way to explore Koh Lanta is with your own two wheels. The island really is quite long, so having a motorbike makes it much easier to skip between the various beaches and experience all the cool things to do in Koh Lanta.
Even if you're not a pro on a motorbike, this is a pretty easy place to ride one. There's really only one main road that goes around the island, and it's mostly flat and paved. There are a few potholes and steep bits down south and on the side roads connecting the coasts, though, so be aware.
Renting a scooter costs around 200 Baht per day, but you can definitely bargain if renting for a week or a month. Little shops all over the island sell petrol out of old whiskey bottles for just 35-40 Baht, and a full tank will last you a couple of days.
If you're going to be riding a motorbike around some remote island in the south of Thailand, make sure you've got adequate travel insurance. And, if you're looking for a really epic motorbike trip, check out the Mae Hong Son Loop!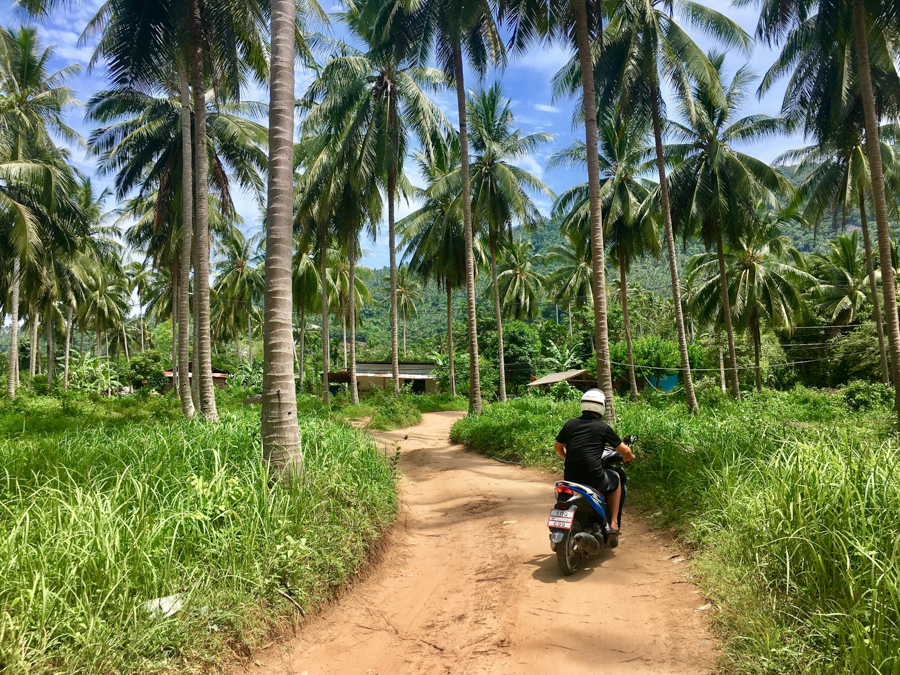 8. Practice Yoga
Yogis everywhere, rejoice — Koh Lanta is one of the top yoga destinations in all of Thailand. Whether you're looking to just drop in for a calming yoga class on the beach or you want to sign up for a multi-day yoga retreat, Koh Lanta has you covered.
One place that comes highly recommended is Oasis Yoga. They have a variety of classes every day except Sunday, including Flow, Yin, and Ashtanga. They even do a sunset stretch in the evenings and free meditation classes in the morning a few days a week. Check their current schedule here.
Oasis Yoga is located at 215 Moo 3, Saladan next to the Cha-Ba Bungalows. Classes range from 400 Baht ($12.75) for a drop-in up to 4,500 ($143) for an unlimited month-long pass.
9. Feast on Seafood
On a Thai island full of fishermen, it should come as no surprise that the seafood here is top-notch. Many restaurants display the day's catch, so take your pick from crab, lobster, oysters, squid, and more.
While you can find fresh seafood all over the island, your best bet is to head to the town of Baan Saladan. Just north of the ferry pier, there are several excellent restaurants cooking up tasty seafood at prices much lower than you'll find in the beach side restaurants further south.
When I first moved abroad to teach English in China, my dad told me to always follow the locals to eat. It's solid advice no matter where you are on the planet! In Koh Lanta, that means joining the crowds at Laanta Seafood, which has some spicy salads and curries in addition to all the grilled seafood.
See also: Digital Nomad Guide to Living in Koh Samui
10. Sundowners on the Beach
Nothing says "I'm on vacation" like sipping a fruity cocktail while you watch sunset on a tropical island. As such, sundowners on the beach easily make our list of the best things to do in Koh Lanta.
The entire west coast of the island is perfect for watching the sun dip below the horizon. Grab a few beers from a local mini-market and plop down in the sand, or take a seat in one of the many bars and restaurants that line the big beaches.
Some of the most popular places to take in the sunset in Koh Lanta include Pangea Beach Bar, Majestic, and the aptly named Sunset Beach Bar. Best of all, most places run their Happy Hour around sunset, so you can have a couple of drinks without spending too much.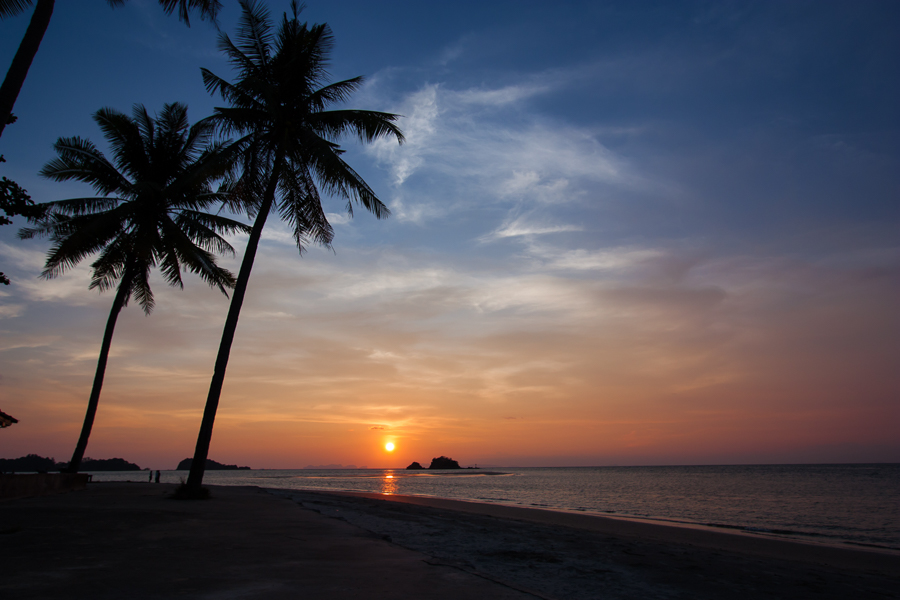 11. 4 Island Tour to the Emerald Cave
One of the most popular things to do in Koh Lanta is taking the four island tour. These tours visit Koh Chuak, Koh Mook, Koh Kradan, and Koh Ngai. They include plenty of snorkeling and swimming, as well as a visit to the stunning Emerald Cave on Koh Mook.
Swim through the pitch-black 80m-long passageway with the help of a flashlight and your tour guide. Once you make it through, you're greeted by a secret lagoon and towering limestone cliffs. This is a travel experience you'll be talking about for years to come!
Full-day tours of the islands and the cave cost around 1,200 Baht ($38) for adults or 600 for children. The tours include transfer to Old Town from anywhere on the island as well as a buffet lunch in addition to all the activities.
While you can book a tour with just about anybody once you're on the island, the folks at the Four Islands come highly recommended.
See also: 21 Awesome Things to Do in Chiang Rai
12. Be a Trash Hero
A great way to give back to the island and leave a positive impact is becoming a Trash Hero for a day. This non-profit has chapters all over the world and it does some amazing work bringing communities together to clean and reduce waste.
The Koh Lanta Trash Heroes meet every Sunday at 4PM at the Long Beach Park. They provide cleaning materials, gloves, and refreshments. There's no cost to get involved and you don't even have to sign up in advance, just show up!
You can also help their cause and help protect the environment of this beautiful island by buying one of their refillable metal water bottles. Not only does this help reduce the plastic waste on the island, but the proceeds also go towards keeping this group going.
If you want to find out more about Trash Hero Koh Lanta, be sure to follow their Facebook page.
13. Hike to Khlong Chak Waterfall
If you're the type who prefers a little bit of adventure to lounging in a hammock, never fear – there are still plenty of things to do in Koh Lanta that aren't beach related. One solid option is taking the 2km hike through the jungle to arrive at Khlong Chak Waterfall.
One thing to keep in mind is that there really isn't much of a waterfall in the dry season (December to April), which is when most people choose to visit Koh Lanta. Even though the waterfall itself isn't too impressive at this time of year, it's still worth it just to take the short jungle hike.
Along the way, you may see some macaques swinging up in the trees. You can also take a brief detour to explore a real life bat cave. Along the way, you'll surely see groups riding elephants to reach the falls. It's advised to skip out on the elephant riding in Thailand, and anywhere else in the world for that matter.
Khlong Chak is located in the middle of the southern part of the island. Just follow the signs to get there. There is no entrance fee to visit the waterfalls, but you'll have to pay 20 Baht to park your motorbike outside of the trail.
14. Attend a Local Festival
There are several traditional festivals in Koh Lanta throughout the year. Taking part in one of these festivals is an awesome travel experience, so be sure to check the calendar to see what's going on.
The biggest local festival is the Laanta Lanta Festival. That's not a typo – laanta is translated as "eye-dazzling," and that's precisely what this festival is! There are musical performances, folk games, sport competitions, and of course plenty of delicious Southern Thai food.
This festival takes place over three days in March in Lanta Old Town, so be sure to add it to your itinerary if you'll be in Koh Lanta in March.
15. Water Sports
As I've already mentioned, diving and snorkeling are two of the most popular things to do in Koh Lanta. That's not all there is to do in the water on this Thai island, though. You've got several other options for water sports when you travel to Koh Lanta.
On all of the four main beaches in Koh Lanta, you can take part in a wide variety of water sports. The water is mostly calm here, so it's a great place to do a bit of SUPing (stand up paddle-boarding, for those not in the know).
There's some wind from time to time, meaning you can try a bit of windsurfing. You can sign up for lessons for around 1,000 Baht if you've never tried it. Koh Lanta gets a surf break once in a while, and there are both surf and boogie boards available for rent along the beaches.
See Also: 21 Fun Things to Do in Koh Lipe
16. Sign Up for a Cooking Class
If you love Thai food, why not learn how to cook it while you're there? Bringing home some classic Thai recipes and the know-how to whip them up in the kitchen is probably the best souvenir ever!
There are a few different options for cooking classes in Koh Lanta. The original is Time for Lime, which just so happened to be started by the owner of the Animal Welfare Centre. All proceeds from their cooking classes go right back into taking care of the animals, so you're supporting a great cause by signing up here.
Time for Lime is located at 72/2 Moo 3, Saladan. Their classes last from 4-9:30PM and cost 2,000 Baht ($64) per person. Additionally, they run special family courses as well as a cooking & cocktail experience for partners or friends.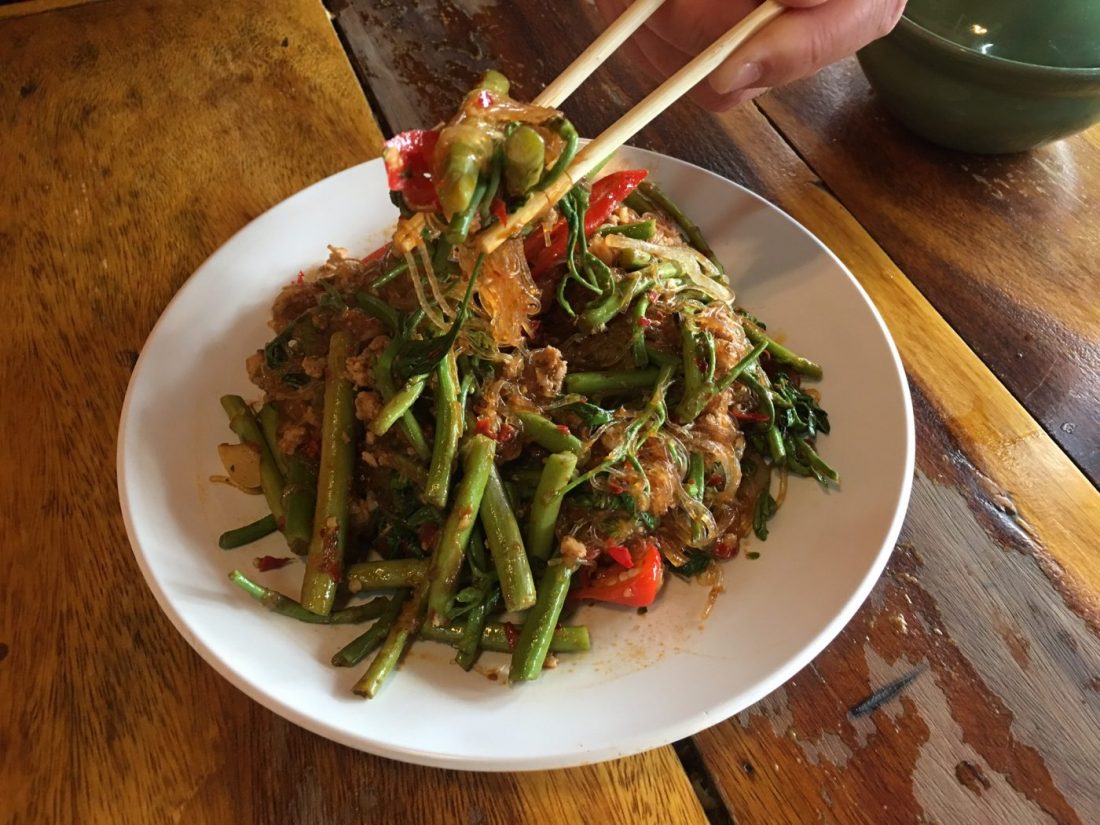 17. Explore the Mangrove Forest
In the northeast corner of Koh Lanta, you'll find the Thung Yee Pheng Mangrove Forest. Visiting this scenic area is a must when travelling to the island. With a few hours here, you can take in the beautiful landscape and probably encounter some monkeys and maybe even monitor lizards.
You've got a few options for exploring the mangrove forest. First up, you can just hoof it and walk along the wooden walkway. Kayaks are also available for rent if you'd rather paddle yourself around the rivers. Finally, you can just jump in a longtail boat and go for a leisurely cruise.
It's possible to sign up for a kayaking tour of the mangroves for around 800-1,000 Baht ($25-$32) per person, which includes round-trip transportation. If you get yourself there, you'll pay a 20 Baht entrance fee and can then rent kayaks for three hours for 500.
Those really looking to get away from it all may want to book a stay at the lovely Koh Lanta Mangrove Floating Homestay. Sleep on a floating house, explore the mangroves by day, and dine on fresh seafood at night.
See also: 21 Cool Things to Do in Pai
18. Learn About the Urak Lawoi
If you're interested in learning about the nomadic sea dwellers who have settled into Koh Lanta, it's worth checking out the Sankga-U Museum in Old Town. This museum was created by the local people themselves to help preserve their ancient culture.
Their name is actually Malay, meaning "Sea People." The Thai translation (Chao Leh) means the same thing, but the Thai government has taken to calling them Thai Mai (New Thai) for some odd reason. Many English-speakers refer to them as "Sea Gypsies," although very few of them live a nomadic life these days.
There's no charge to visit the museum, but you may want to consider leaving a small donation with whoever is there to help them keep the place up. It's located on a hill up from the Sangka-U village itself on the island's main east coast road. Just remember that the village itself is not a tourist attraction, and people probably won't appreciate you poking around there with your camera.
19. Train in Muay Thai
Even if you have no interest in getting in the ring to actually compete, training in Muay Thai is one of the top things to do in Koh Lanta. Not only is Muay Thai an excellent form of exercise, but it also helps to relieve stress and increase self-confidence.
You've got a few choices if you're interested in getting into Thailand's most popular sport. Up in Klong Dao, you can sign up to train at the popular Lanta Muay Thai Complex. Their group classes start at 400 Baht ($12.75) for a single 1.5-hour session. If you're really hardcore, you can sign up for a whole month of training for 6,500 ($207) and be in excellent shape when you leave!
Another option is the Lanta Muay Thai Academy. It's located just south of Phra Ae Beach and offers training to people of any level. They also have fights every Sunday night that you can attend if you'd rather be a spectator. Don't miss watching, or practicing Muay Thai, it's one of the best things to do in Thailand.
20. Get Pampered in a Spa
If getting whipped into shape in a sweaty gym isn't for you, that's cool. Those who would rather go for some old-fashioned R&R will be happy to hear that there are also plenty of excellent spas in Koh Lanta.
In Koh Lanta, your options vary from getting a simple massage from the comfort of your beach chair up to fancy 3-hour couple's spa packages. The world is your oyster when it comes to spa treatments in Koh Lanta!
One place that comes highly recommended is Serenity in the main village of Saladan. They're located at 147 Tambon Sala Dan and are open daily from 9AM-10PM. Their options range from facial treatments for as little as 300 Baht up to a 2.5-hour package for 1,200 that includes several different treatments.
Other options for Koh Lanta spas include: Summer Leaf Lanta, Dreamy Spa, and Twin Lotus. You really don't have to search very far to find a place to get a massage in Koh Lanta.
21. Chilled Out Nightlife
Compared to other Thai islands, the nightlife in Koh Lanta is very subdued. That being said, there are still plenty of relaxed beach bars to hang out in after dark.
The vibe at bars in Koh Lanta is more bean bag than bottle service, so this isn't the type of place where you need to get dressed up, wait in a queue, and pay some ridiculous cover charge.
At the many bars that line the main beaches of Koh Lanta, you can catch some live music, shoot a game of pool, or just enjoy chatting with fellow travellers over a cold one. Some good choices include Rasta Baby Bar, Funky Monkey, and Otto Bar.
Of course, it wouldn't be a night out on a Thai island without a fire show. Several of the beach bars have nightly fire shows, including the popular Why Not Bar. Grab a drink, pull up a cushion (this place is so chilled out they don't even have chairs), and watch the mesmerizing performance.
Ready For Koh Lanta?
With so much going on yet such a laid-back vibe, it's no wonder Koh Lanta has become a favourite destination for intrepid travellers in Thailand. If you're looking for a chilled out island vibe yet still want to fill your days with adventure, Koh Lanta is the place for you.
If you – like so many other travellers – decide you want to try living here, be sure to read up on the cost of living in Thailand. Those content with just taking an epic trip through the country will want to check out this awesome guide to backpacking Thailand.
For those planning some serious travels, Thailand is one of the best countries to visit on a gap year trip. We spent a full two months in Thailand on ours and have been back several times since. It's one of those countries that just sucks you in, thanks in large part to amazing islands like Koh Lanta.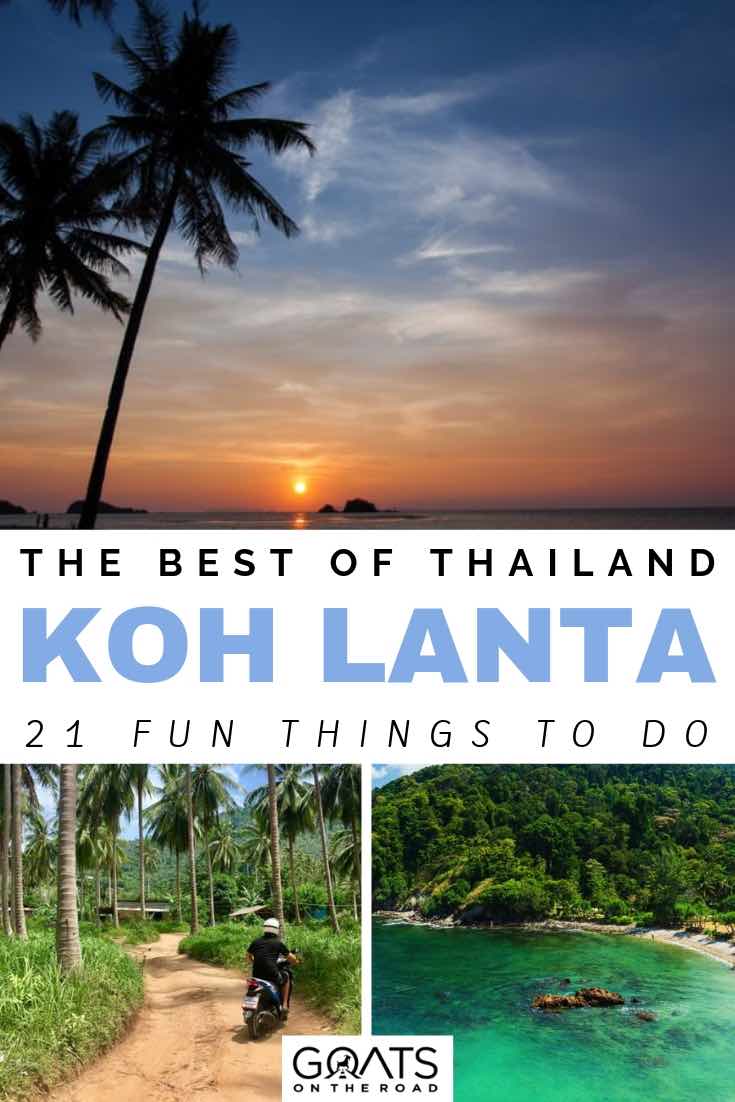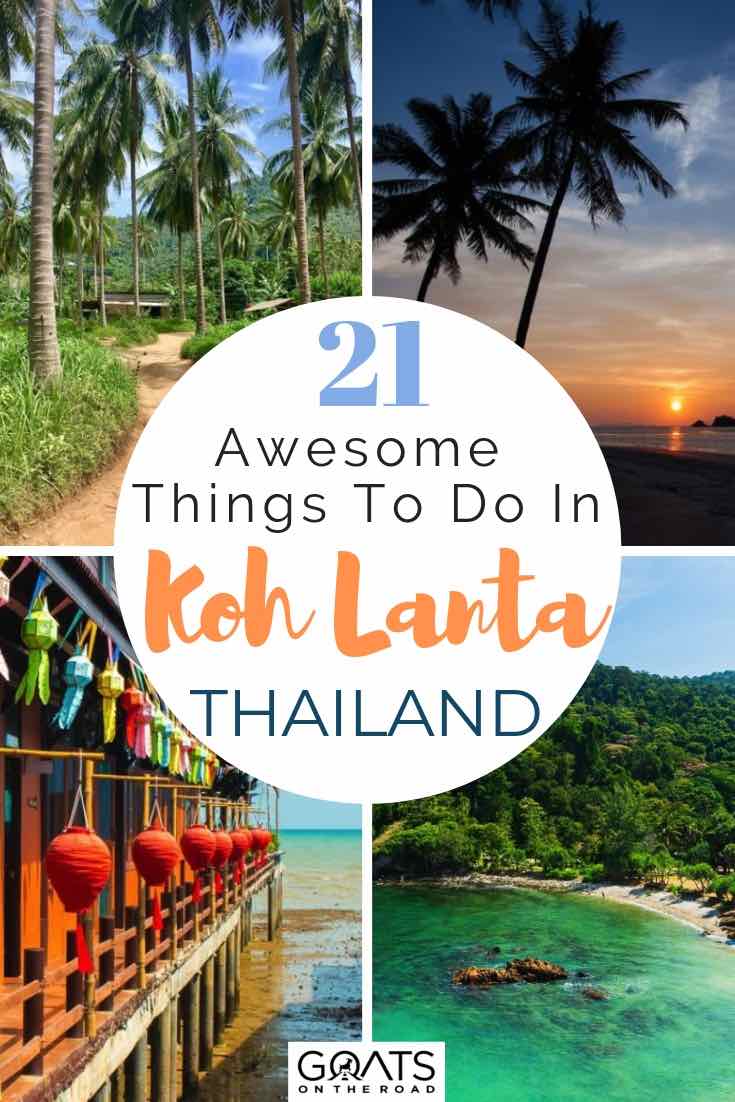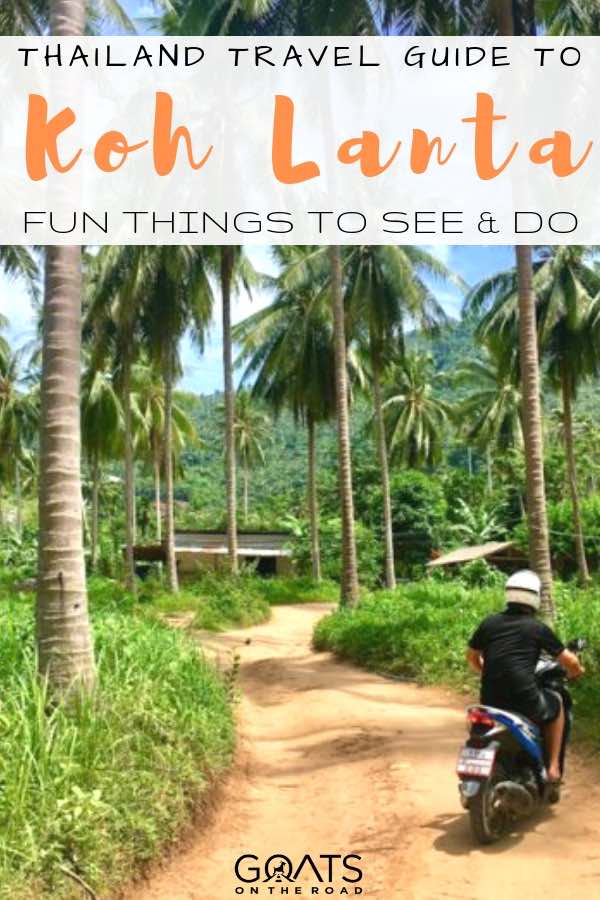 The post 21 Fun Things To Do in Koh Lanta appeared first on Goats On The Road.
[ad_2]