[ad_1]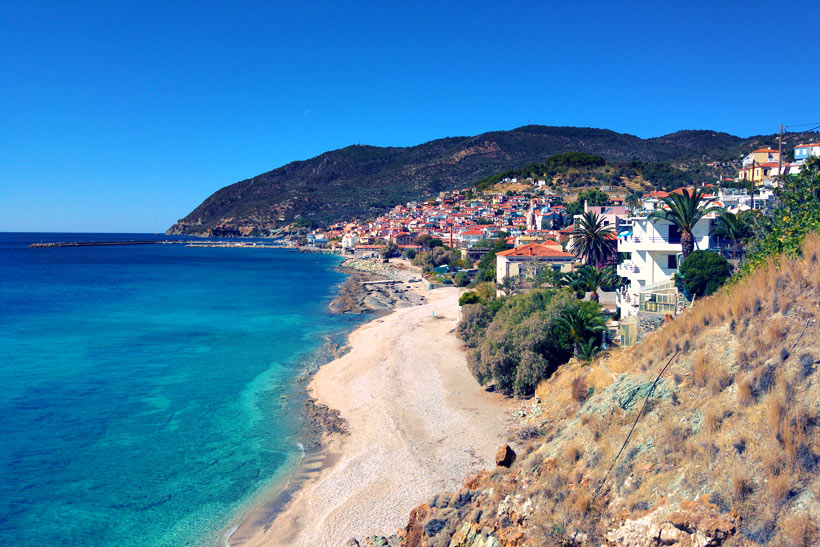 It's been almost 10 years ago since I visited Kos Island in Greece – I loved it, and I always thought I should go back and visit more Greek Islands. Lesvos Island (also known as Lesbos
Island) has been on my bucket list for a while now, and when an opportunity came up to visit this place, I said yes instantly.
Although I was a bit hesitant to travel alone to Greece (obviously traveling is more fun with a friend) so I reached out to my buddy Tom, a.k.a. Travel TomTom (check out his Instagram, he's a superstar!) to see if he was up for a spontaneous road trip to Lesvos Island. Luckily, he said yes.
How to get to Lesvos Island?

Tom and I met up at Athens Airport to catch another plane from there to Mytilene, the airport in Lesvos Island. There are a few airlines flying this route, we flew Aegean Airlines which
was super comfortable. 
I use Kiwi.com to find the cheapest airfares – not
only for the Greek Islands – for all my travel destinations.
Ready for a trip to Lesvos Island? Let's get started!
Getting around in Lesvos Island

I highly recommend hiring a car in order to explore Lesvos Island properly. After touch down in Mytilene – quite a small airport – we went straight the Hertz counter to hire a car for a week.
Insider Tip: Forget the rates on their rate card, and ask them straight what's their best price. Ironically, the price they quoted us was half the price than in the brochure. We
ended up paying USD250 for 1 week for a small car with unlimited kilometers and no AC. Oh well, it was already October and we thought we might survive without AC. Turned out Lesvos Island
might be super chill at night, however it was still hot during daytime.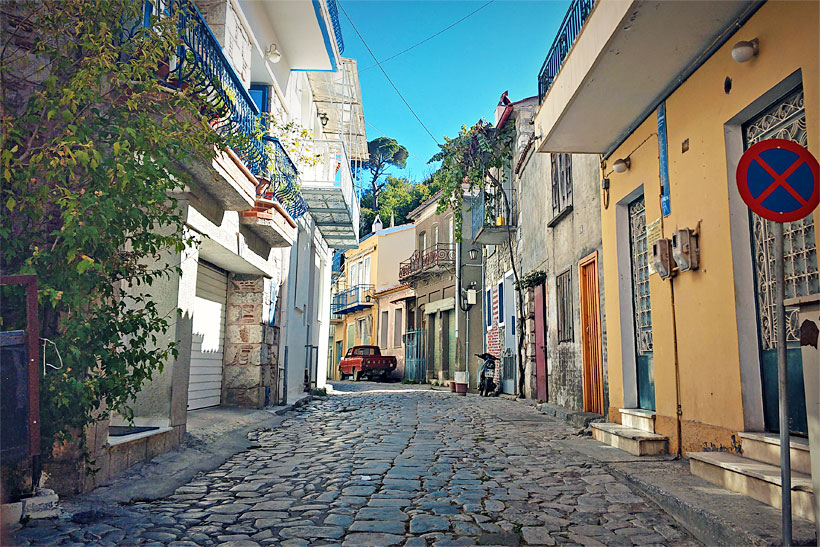 How to stay connected while traveling in Lesvos Island?

I knew a stable internet connection was necessary for this trip since I had to catch up with important emails. Rather than relying on hotel WiFi, I decided to use a portable WiFi in Greece. I rented a hotspot from Tep, you can use the portable WiFi allover
Europe and even beyond. It's very easy to use, fast and reliable.  Just buy a package upfront (from $8,95/day), switch on the device and you can immediately start browsing…
No sim card needed.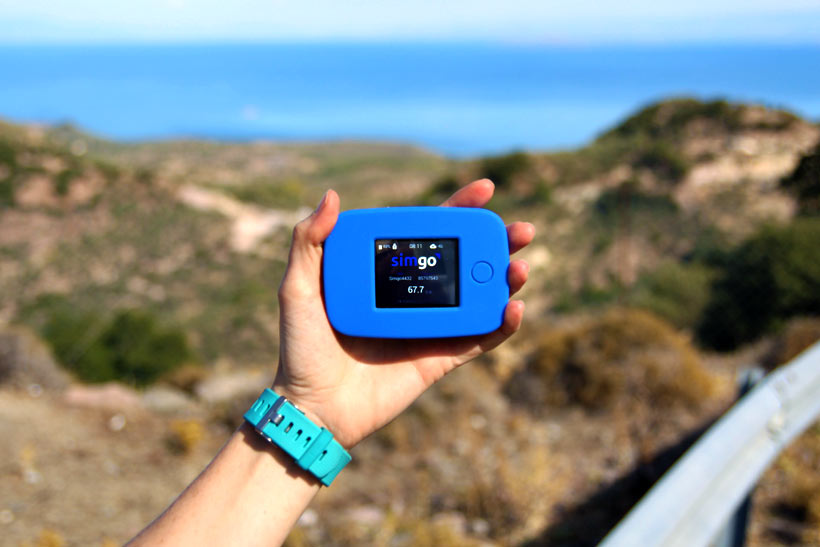 If you think it's better to get a local sim card, don't do the same mistake as I did. I actually bought a prepaid sim card from Cosmote, which was a waste of money. Data was too slow, it
wasn't working properly. The staff from Cosmote couldn't help me much and on top, they didn't know what they were talking about, i.e. they told me I could use data all over Europe without
roaming charges – which was false – there was no more internet at all, as soon as I left Greece and traveled to other EU countries.
Long story short: The Tep WiFi device worked all over Europe and was a real life saver!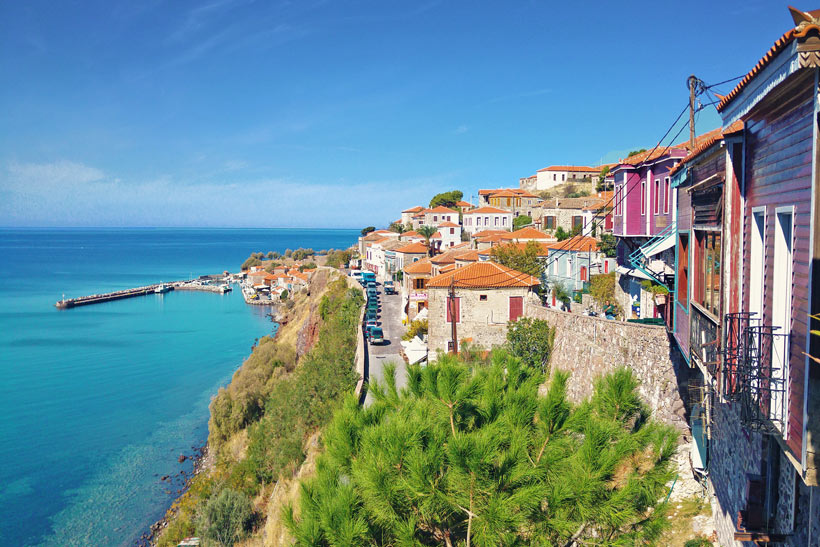 01 | Molyvos

A quite little seaside town, crowned with a castle, and hiding ancient ruins, Molyvos is easily one of the nicer places to go in Greece as a whole. Most of the town has chosen to stick with
traditional building materials, resulting in a picturesque view from the top of the hill and from the water. Home to a number of different Greek Mythology experts, this part of the island is
a dream for anyone interested in major battles in ancient Greece.
The town is small, and easily explored by foot. Walk around the traditional alleys, explore the medieval castle (many cultural events take place there during summer), and finish
your day in one of the restaurants along the pretty harbour of the village. You can also go Island hopping from there, I had a scenic boat trip with Calipso Glass Bottom
Boat.
If you love animals, you can go horse riding with Ippos Molyvos. We did an
excursion with them which was super fun, and a fantastic way to see more of Molyvos!
02 | Sigri

Located in one of the more remote areas of Greece, this small fishing village offers access to Turkish castles, homestay options in local's homes, and a cool climate. Home to a number of highly
skilled artisans, the town resonates with natural beauty.
Sigri is known for being affordable, isolated, filled with good food, and easy to navigate. Most of the time spent in this town will usually be spent in or along the sea, which makes the calm and
temperate waters surrounding the area extremely important. The bay is welcoming for all types or water sports, making it a fantastic place for a sporting getaway. 
If you come to Sigri, the Natural History Museum of
Lesvos Petrified Forest is a must visit! They have an earthquake simulator which is an intense experience!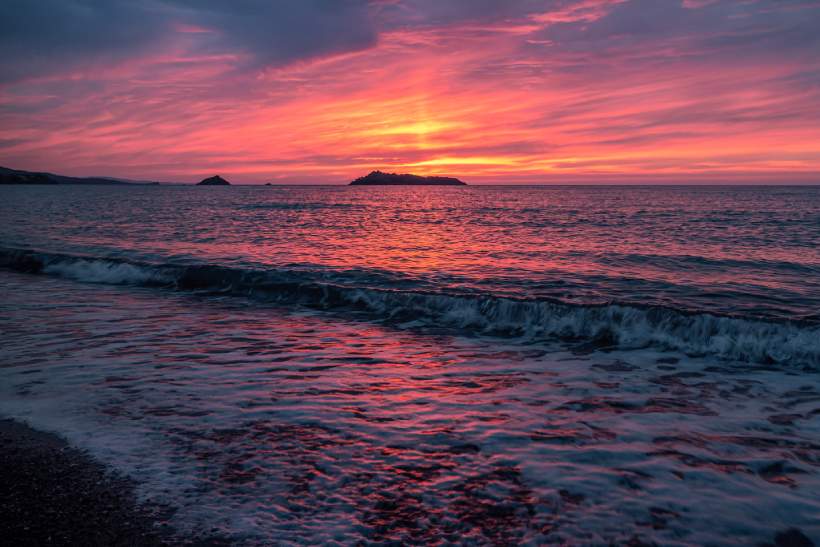 03 | Petra

Petra is another picturesque traditional village with a long sandy beach. It's very close to Molyvos, only a 5-minutes drive. If you want to walk around a city on the island of Lesvos,
this is the place that you want to visit. With many streets being closed off to vehicles and even motorcycles, the town specifically caters to those who are on foot. Discover traditional
markets, well manicured streets, and a stunning coastline, all reached within minutes.
Part of the town surrounds a church called Holy Temple of Panagia. It's 114 steps to get up, once you reach the top you'll be rewarded with panoramic ocean views. Spend at least a half day in
Petra, there are plenty of cozy cafes tucked into alley ways and surprise exhibitions by local artists.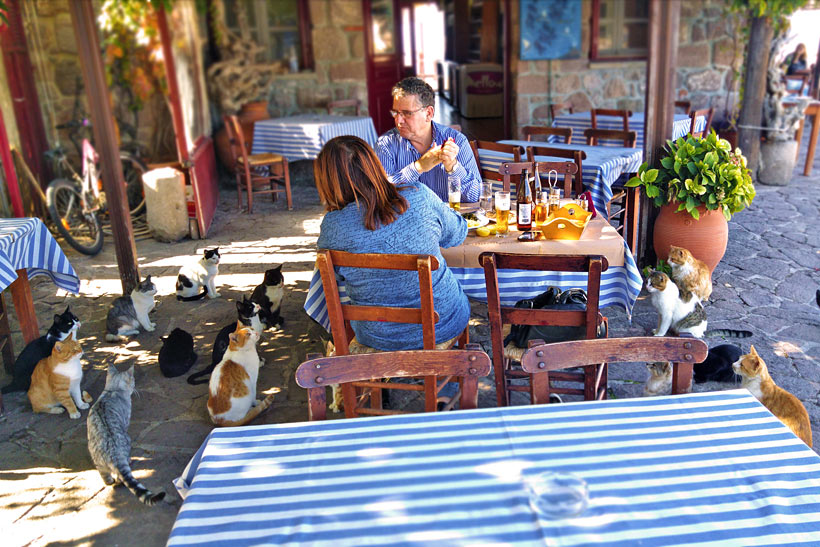 04 | Sykaminea

The first thing I noticed in Sykaminea were all the street cats. From the moment we got off the car we were followed by a group of cats, it was simply adorable. If you're a crazy cat lady
like me, you will love this place right away!
Tucked away in the mountains, Sykaminea may not be able to offer beach side accommodations, but it still offers stunning views, fresh air, and seemingly untouched natural beauty. In addition, the
beach is only 3km away, offering easy access to plenty of seaside activities.
The town's highlight is the characteristic Church Panagia Gorgona, situated on a rock over the sea. Sykaminea is the birth place of the Greek writer Stratis Myrivilis.
One of the most popular activities in this area is fishing and old men are known to join tourists, giving them tips, spending the day drinking and talking, and generally enjoying themselves
without putting pressure on people who just want to get away from it all.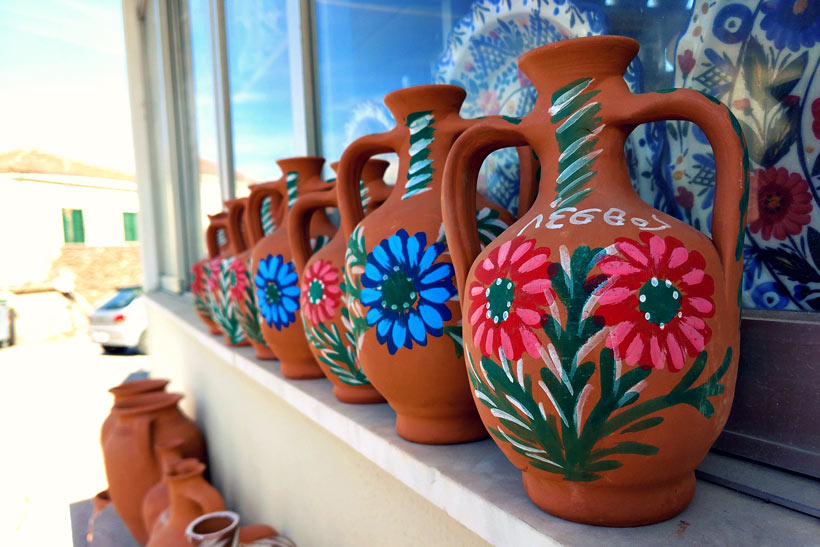 05 | Mantamados

Mantamados is the place to go when it comes to pottery and traditional arts. It's no surprise that this town offers the largest selection of handmade pottery in the country, often made by potters
who have been raised in the craft and continue to raise their children in it as well. Live demonstration and huge exhibitions happen on a regular basis in this area, making it the art lover's
dream.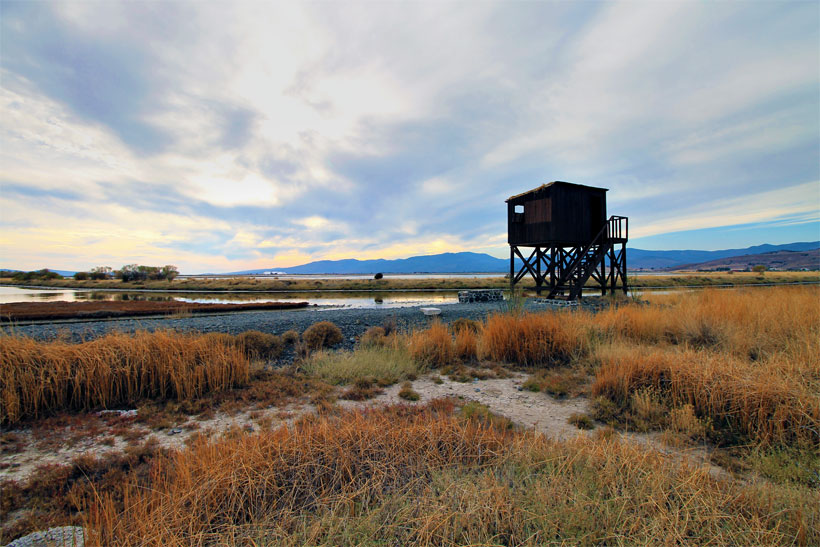 06 | Bay of Kalloni

Known for Flamingos, a thriving wetland, endangered species of birds, and hiking forests, Bay of Kalloni is the best place to enjoy nature and witness wildlife on the island. Horseback
riding, traditional forms of fishing, water sports, and even tours of olive groves are all offered by the locals.
Nature lovers from all over the world trek to this part of the island, while scientists spend their lives researching the large variety of different species present in the area. Nearby, you
can visit the Museum of Industrial Olive Oil Production, found in the village of Agia Paraskevi.  Don't forget
to get some of the rich olive oil soaps from their souvenir shop!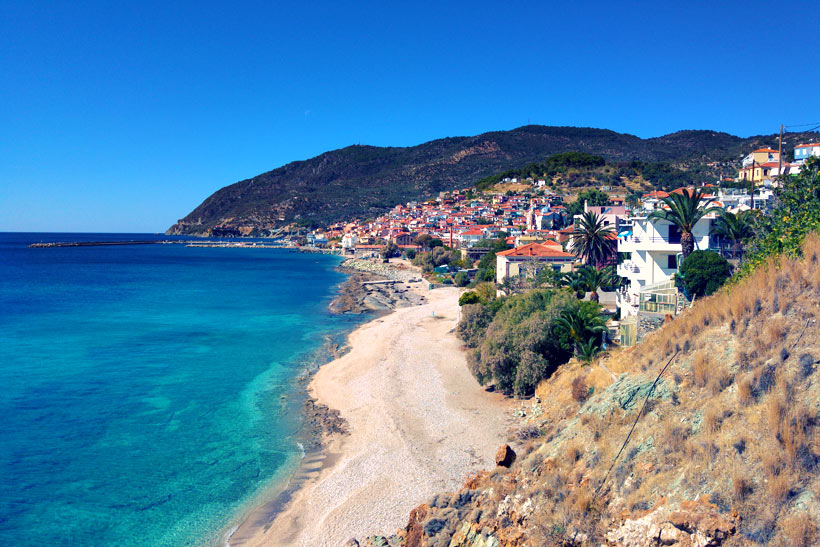 07 | Plomari

First of all, Plomari was my favorite place in Lesvos. Colorful houses, friendly locals and spectacular sea views made me wish to stay longer. But there is much more about Plomari…
If you want to drink Ouzo, you must come to Plomari. Well known for the production of this anise-flavored liqueur, the city also offers everything you would expect in a picturesque
Greek town. Traditional building facades, winding streets, colorful stone homes, and an easily accessible port create a picture perfect setting that must be seen to be believed. Fresh
produce is served from roadside stands, in local cafes and restaurants, and even from trucks within just a few minutes of the food being picked. 
After exploring the hills of the city, the city square offers a number of amazing coffee shops and of course Ouzo shops. There are two Ouzo Museums in town (Barbayanni Ouzo and Ouzo Plomari), make sure to visit at least one of them! You will have a chance to see the ouzo production and surely get a taste of it, too!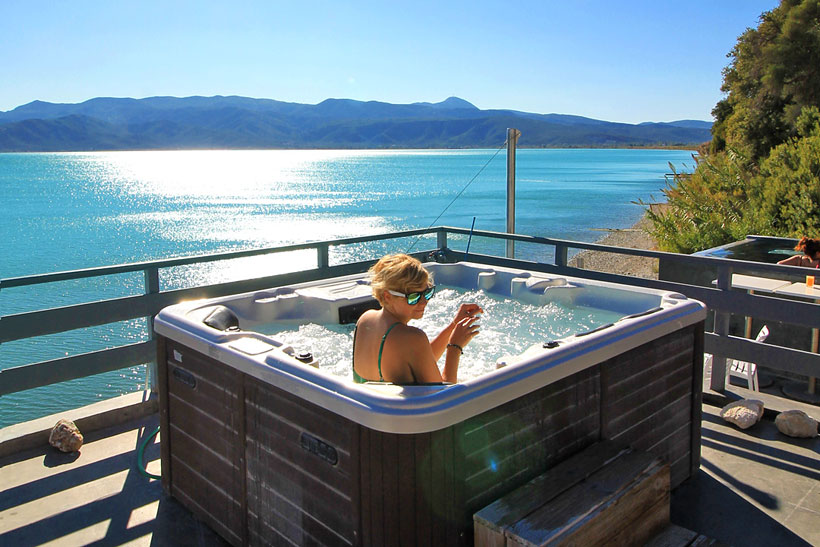 08 | Gera

For relaxation, Gera is the place to go. Located on a bay with emerald water, the town offers thermal baths, pristine beaches, amazing spas such as Therma Spa, which is well worth to visit. This is a town you stay in when you want to relax, enjoy yourself, get rid of stress, and not be
overwhelmed with busy schedules. The picturesque views, clear water, and simple home designs can you feel like you are being transported to ancient Greece with every step you take.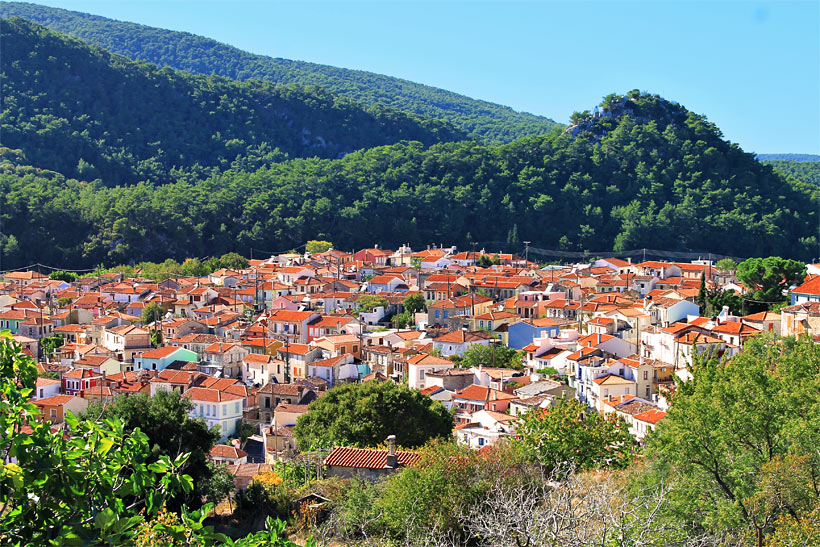 09 | Agiassos

Agiassos is a beautiful mountain village with stunning views from the top, narrow streets and stone homes. The town sets itself apart via the greenery and edible orchards that fill every
available space within the city.
Traditional artisans still weave cloth by hand and create beautiful pottery on the streets. In addition, highly skilled carpenters ply their trade in small shops, offering custom pieces to those
who venture into their doors.
There are plenty of colorful traditional coffee shops (also called "kafeneio") in Agiassos, which serve tea with local herbs and flavorful food, from the early hours of the morning to
the late hours of the night. 
Right in the center is an ancient church, visited by religious pilgrims who make their way through the town each and every year, and hoping for miracles within their own lives.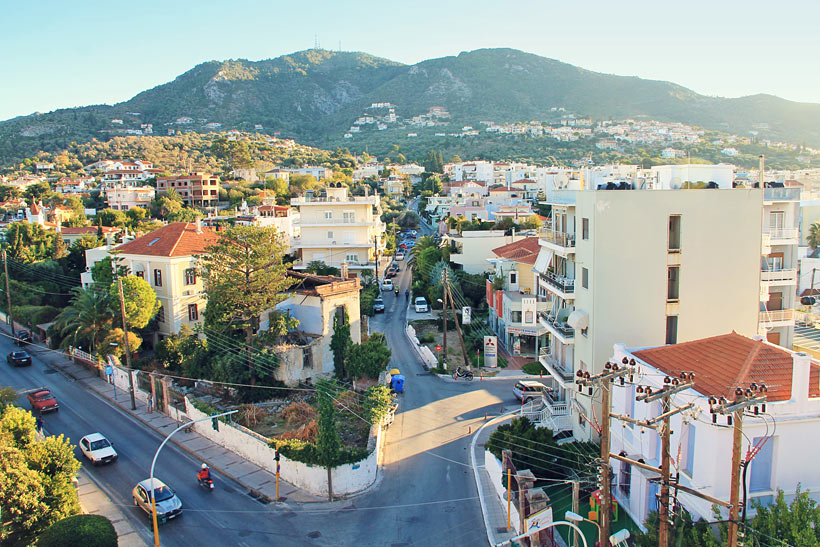 10 | Mytilene

Dating back to before 1000 BC, Mytilene is both the capital and cultural heart of Lesvos Island. Ancient ruins are nestled near modern buildings, and a slight Turkish influence can be seen within
many of the buildings. Mytilene is the birthplace of Sappho, mentioned in literature for over 2000 years, and home to most of the cultural artifacts of the island. 
The center is fairly small and can easily be explored during a walking tour. Some of the city's top sights are the Castle of Mytilene, the Archaeological Museum, the Church Agios Therapon and the traditional markets of Ermou Street. There are
plenty of cozy cafes (try the "Sugar House", pictured above), cool bars and tavernas in the center, where you can spend an entire afternoon eating and watching people.
Our trip to Lesvos Island started and ended in this city, all flights to the island go through Mytilene, making it the transportation hub for the island. In other words: Mytilene is one of
the must see places on the island and shouldn't be skipped.
We stayed in 2 different places during our visit on Lesvos Island. It makes sense to chose 2-3 different hotels, especially if you want to explore the entire island, so you don't
have to drive too much back and forth.
We spend a couple of days in the North, in Molyvos, and the last few days in the South, in Mytilene. Both hotels were an excellent choice, I'm happy to recommend them to you.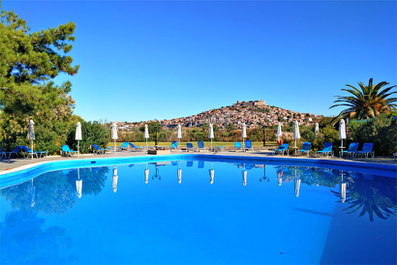 Delfinia Hotels & Bungalows is one of the oldest hotels in Molyvos and features a large outdoor swimmingpool with gorgeous mountain views and a lovely private beach.  A double
room starts from $43 a night and includes a big breakfast buffet.
You can book Delfinia Hotel & Bungalows here.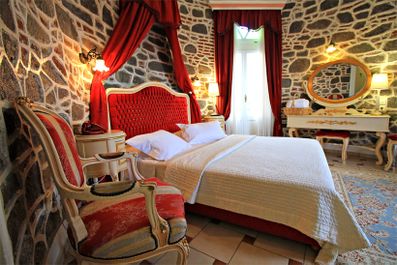 This romantic fairytale hotel makes you feel like staying in a castle. I absolutely loved my room, it had access to a private rooftop terrace with spectacular views over the sea and the
center of Mytilene. Rates from $55/night incl. breakfast.
You can book Pyrgos Hotel here.
 

We visited Lesvos Island in early October, it was still warm and sunny during daytime, however the nights got quite cold. Anything later than mid October and you should be prepared for colder
temperatures. The high season runs from April to September, when the temperatures are warm (from 20°-30°C) and it's sunny for most of the time.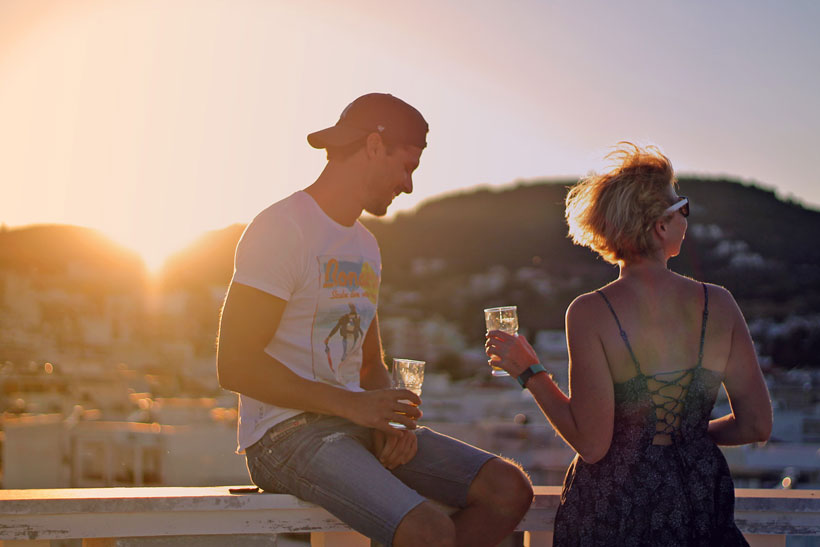 I hope you enjoyed this travel guide to Lesvos Island in Greece. If you've been to Lesvos, please share your tips in the comments below.
Thank you for reading.
If you like this article, please share.
 
 
 
 
 
 
 
 

 




ABOUT THE AUTHOR




 

Sabrina Iovino is the founder of JustOneWayTicket.com. She's half German, half
Italian and has traveled to more than 50 countries around the globe.

She feels weird to write about herself in the third person, so she'll switch now. Phew…much better! Let's restart:

Hi, I'm Sab! This is my blog and I write about the things I love. Mostly.

 

Follow me on Facebook | Twitter | Instagram | Pinterest | Google+ | Youtube

 



 
 
 
 
 
 
Enjoyed this article? Sign up for my Newsletter or
follow me on Facebook and get notified about new posts.


[ad_2]