[ad_1]

Dave and I worked in the film business. When we chose our list of the best travel movies, we took it seriously. 
The type of movies a person likes says a lot about them. So, you may learn a lot about us, because we've chosen what we think are the best travel movies to watch.
Updated March 2019
You can close the tab to start scrolling our travel movies list or you can click on the links below to read about each movie. 
To rent or buy a movie to inspire you to travel right now, check out Amazon Instant Video
Our choices are probably very different than yours, so leave a comment and let us know what you think the best travel movies are.–
#1 One Week – Canada
Starring Joshua Jackson of Dawson Creek and Fringe fame, One Week follows a young man driving a motorcycle across Canada after being diagnosed with terminal cancer.
No movie has made me want to explore a country more than One Week.
The irony is that we have been to most of the stops on this road trip movie because it takes place in Canada.
I didn't want to see this movie because of its morbid subject, but it ended up being an uplifting and enlightening film.
One Week is a love letter to Canada and a tribute to being alive.
It's at the top here for a reason. It's my choice as the Best Travel Movie out there!
Rent One Week Here on Amazon
#2 Before Sunrise, Sunset and Midnight Series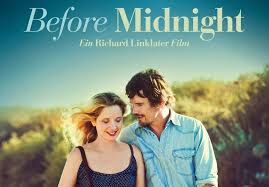 I love these movies. They all take place a decade apart, they were filmed 10 years apart and they take place in three different locations. Vienna, Paris, and Greece.
They capture the essence of each destination. And here's a cool fact – Dave and I stayed at Costa Navarino where After Midnight took place!
Plus it is probably the best romantic travel movie out there literally spanning three decades. I read an interview with Ethan Hawk that they are going to continue doing installments every 10 years. I can't wait for the next one. 
Watch Before Sunrise and Sunset on Amazon Prime – Ore rent it
#3 In Bruges – Belgium
Colin Farrell fell out of my list of favorite actors after the duds Miami Vice and Alexander, but when we watched In Bruges he made me realize why Hollywood loved him in the first place.
When he constantly complained of hating Bruges as he and Brendan Gleeson took the gondola through the canals, I thought it was excellent writing and direction.
The more Colin Farrell's character complained, the more you took in the surroundings and noticed just how picturesque Bruges is.
As Brendan Gleeson took in the history and read the guidebooks admiring the city, Colin Farrell just kept talking about how much he hated Bruges, which made me love it more.
He hated it as they looked out over the city from the clock tower, he hated sitting in the beautiful medieval square, and he hated going into a pub for a drink. The more he hated it, the more I wanted to go to Bruges.
Rent or Buy In Bruges on Amazon
#4 Romancing the Stone – Colombia
Who didn't fantasize about an adventure in Colombia after watching Kathleen Turner and Michael Douglas in Romancing the Stone?
As a kid I always thought about the line "I need to get to Cartagena" and while I had no idea where Cartagena was, I knew it was exciting.
I loved how Kathleen Turner transformed and started to become a confident and beautiful woman as she journeyed through the jungle of Central America.
Michael Douglas was the epitome of rugged mysterious man, and Colombia was completely exotic.
It wasn't meant to be a travel movie, but it certainly was one of the best!
Watch Romancing the Stone today
#5 Up in the Air – America
This movie is a film of contrasts.
While it makes you love the idea of travel, it shows the emptiness that the life of a vagabond can lead to if you don't stay grounded with your family and friends.
I cannot go through airport security anymore without thinking of George Clooney and realize just how disorganized I am.
His character has travel down to a science.  The truth is that while Dave and I may travel a lot, we are very disorganized.
We have way too much in our carry on luggage, we always seem to leave some sort of unauthorized item inside (like nail clippers or an eyeglass repair kit) and we are always misplacing our boarding pass. Ah, to be cool like George. Life would be good.
Rent or buy it on Amazon Instant Video
#6 Julie and Julia –  Paris, France/New York
Not only does this movie star the great Meryl Streep and one of the most versatile actresses around, but this movie is also about travel and blogging. It's like it was made for us! 
It follows the life of Julia Child during her time in Paris and cuts throughout to the present day in New York.
In the modern day setting,  Julie Powell blogs about cooking her way through the Julia Child Cookbook with flashbacks to Julia Child's life in Paris.
Meryl Streep's Julia loved Paris so much that she made you believe that it was the most desirable place on earth.
This movie cannot be watched on an empty stomach, and you must have a fine glass of wine in your hand.
It makes you crave French cuisine and a life of decadence in France. When it comes to choosing a  favourite travel movie this one is right up there. Besides, Meryl Streep can do no wrong.
Rent it now on Amazon Instant Video!
#7 Out of Africa
If you want another Meryl Streep vehicle that is often considered one of the best travel movies, you should try Out of Africa.
Out of Africa takes place in a different time, but it captures the heart of Africa beautifully.
Meryl Streep is a married baroness in love with big game hunter Robert Redford.
Their love can never happen and is doomed to fail, but their chemistry is unmistakable.
She falls in love with Africa and you will fall in love with it too. The cinematography is outstanding.
It won 7 Oscars including Best Picture and yes, Best Cinematography.
Rent Out of Africa on Amazon now.
#8 Once Upon a Time in Mexico, El Mariachi, Desperado – Mexico
How sexy is this movie?
While you are at it, watch the trilogy! Once upon a Time in Mexico ist he sequel to the excellent El Mariachi and Desperado, Once Upon A Time In Mexico ends the trilogy with Antonio Banderas, Salma Hayek, and Cheech Marin.
This time Johnny Depp joins them for the ride.
Even if you don't care about the storyline, just watching these beautiful people is worth the price of the ticket.
Once Upon A Time In Mexico is a fantasy and it is a stereotype of Mexico, but it makes me think of the wild west days of lawlessness and living life on the edge.
The scenery is gorgeous, the film is filled with cool style, and the music is fabulous.
Oh yeah, it makes me want to go to Mexico and find my own Mexican Adventure.
Watch the Trilogy today!
#9 Vicky, Christina Barcelona, Spain
Admit it, we all want to go to Spain and run into beautiful people like Penelope Cruz and Javier Barden.
The Spanish are so much more in touch with their emotions. They live life with a passion that the rest of us don't have.
At least, that is what Vicky Christina Barcelona makes us think.
Oh, how I wish that we all had rich relatives living in Barcelona and that we could stay in their Mediterranean Villa and explore the architecture and culture of Barcelona.
Vicky Cristina Barcelona definitely is an inspiring travel movie for all who want to travel to Europe.
Rent Vicky Christina Barcelona on Amazon
#10 Under the Tuscan Sun – Tuscany, Italy
For the romantics out there, this is one of the best travel movies.
Diane Lane does a wonderful job in Under The Tuscan Sun and fulfills everyone's ultimate fantasy.
Wouldn't you just love to buy a villa in Tuscany on a whim? She shows that getting away from it all and relocating to another country can fix everything.
I'm not sure if that is true, but I do love the premise and everyone lives happily ever after.
Gorgeous scenery, comedy, drama, and fun.
And Guess What, you can download it on Amazon!
#11 Best Exotic Marigold Hotel – India
I love this movie. We always preach that you are never too old to try something new and you are never too old for travel.
The Best Exotic Marigold Hotel follows a group of retirees who travel to India to live out their days at a crumbling retirement hotel.
All mayhem and madness ensue as things can only in India. There's romance, tragedy, and hope.
It's chock full of great actors including Dame Judi Dench, Bill Nighy, and Maggie Smith.
Rent it now
#12 The Bucket List – Everywhere
With two of my favourite actors and a message to live life to the fullest, the Bucket List is one amazing movie.
The phrase has been overused in recent years, but the message never gets old.
Get out there and live your life. Be happy and make sure you leave this earth with no regrets.
So, what are you waiting for? Start creating that Bucket List of items you've always wanted to do and start ticking them off.
It feels amazing, trust me! Rent or buy it here!
#13 The Legend of Tarzan – East Africa
The $180 million dollar budget makes sure to showcase the beauty of the African Savannah, the dense jungles, and the majestic wildlife.
You feel as if you have entered the heart of Africa.
Seriously, rent it, you're going to like it a lot more than you think!
You can't go wrong when Samuel Jackson shows up as his companion, and the eye candy is perfect for both men and women.
Women love Alexander Skarsgård and men can't get enough of Margot Robbie.
Rent it on Amazon
#14 A Good Year – Provence, France
Russel Crowe may be looking a little frumpy and I am not a fan of his wardrobe in the movie, but A Good Year made me want to go to Provence and live a simple life…on a multi-million dollar vineyard estate.
That's reasonable, right?
A Good Year makes life in Provence look like the garden of Eden and I want a piece of it.
Everyone is beautiful, everyone is a wine connoisseur, and everyone is pure and good.
Who wouldn't want to go to the south of France after seeing A Good Year? Rent it now.
#15 Slumdog Millionaire – India
I loved this movie. We traveled to India in 2010 and it seemed to capture the true slums of India.
Many of the rich cities are modern, but when traveling through rural India and the poorer areas, this is what it's like.
It's heartbreaking, raw, and sometimes uncomfortable.
But the people of India are welcoming and wonderful and you can feel the love in their hearts, just like the love in the heart of Jamal, the lead character of Slumdog Millionaire.
Download it here on Amazon
#16 Amelie – Paris, France
So, I liked this movie, but it wasn't Dave's cup of tea. I didn't love it like everyone else but I liked it.
Most people say a best travel movie list wouldn't be complete without it, so I caved and put it in.
I did enjoy the uplifting message of quiet Amelie helping the people around her in the lovely district of Montmartre in Paris.
I also loved the sweeping scenes through Paris streets. If you love Paris, you can't help but like Amelie.
It's overly sweet and optimistic and you have to be in the mood, but the scenes touring the streets of Paris alone are worth watching.
So check it out!
#17 Secret Life of Walter Mitty –  Iceland, Greenland
I had to watch this movie twice before deciding I liked it.
The first time around I was annoyed with all the long drawn out fantasy sequences that happen in Walter Mitty's head.
The second time I watched it I didn't find it so bothersome. Once he gets to Iceland and Greenland, it really becomes a fun adventure.
I loved revisiting places Dave and I had been and even though it wasn't bang-on accurate, they did capture a bit of life in the North.
The ending was my favourite, but I won't spoil it for you.
You'll have to download it to see what you think.
#18 Planes Trains and Automobiles – USA
T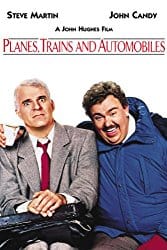 Dave's favorite movie 
his is possibly Dave's favorite movie of all time. He always references some funny scene from this John Candy/Steve Martin Classic.
It's an overland road trip from New York City to Chicago.
Anyone who has ever driven cross country can relate to some of the shenanigans. Have you stayed in a cheap motel? You can relate.
Ever come close to falling asleep at the wheel? You can relate.
Have you ever sat beside someone that has made you incredibly uncomfortable? You can relate!
Ever stare the devil in the face…okay, maybe you can't relate. 
This is considered one of the great comedy travel movies, but I look at it as a drama. John Candy's character breaks my heart. 
If you're in the mood for a good heartfelt comedy, rent it today.
#19 Raider's of the Lost Ark – Middle East, Asia, South America
I love Egypt, and Raiders of the Lost Ark captures the essence of
Cairo.
I feel like I am following Indy and Sallah, walking through the streets eating dates and sipping tea.
Nothing brings out the wanderlust more than an Indiana Jones movie. Indiana Jones starts off in a booby-trapped temple in Peru then heads back to the United States. And it continues to be one of the great adventure travel movies of all time. 
The film then takes us from Nepal to Egypt to the Aegean Sea.
Luckily, you always know where he goes because Steven Spielberg makes sure to show us a map whenever a plane takes flight.
Rent it on Amazon
#20 Tracks – Australia
I actually really enjoyed Tracks.
It's a film about a woman who walks across Australia with four camels and her pet dog. What's more amazing is that it is based on a true story.
What I really liked is how the lead character Robyn Davidson learns the skills needed to survive.
She is visited by a photographer from National Geographic who shared her story and was led through the sacred lands of the Outback by an Aboriginal elder.
Check it out on Amazon! It was also on Netflix when we watched it. You may be able to see it for free.
#21 Black Panther
Wakanda may be a fictional place in Africa, but this movie captures the spirit of East and South Africa. It embraces the Africa culture and many of the movie's scenes were filmed in Africa. 
We have been to Africa numerous times and this movie transported us there again. 
If you haven't seen it, watch it now!
#22 Everest – Nepal
This movie was a little abrupt as far as telling the story of what happened on Everest in 1996, but I loved it because it really did capture the spirit of Everest.
Dave and I trekked to Everest Base Camp in 2010 and we were giddy watching the team gather in Kathmandu before flying to Lukla and finally starting their trek to Base Camp.
They stopped at a monastery just like we did and stayed in tea houses. It was all so familiar.
We didn't go above base camp, but this film takes a dark turn as the events in 1996 was one of the worst disasters in Everest history.
You can rent this movie made in Hollywood
You can also check out the documentary.
#23 Lord of the Rings and Hobbit – New Zealand
They may be set in Middle Earth, but the Lord of the Rings movies are a love letter to New Zealand. When traveling 
Lord of the Rings and the Hobbit Movies make us want to go to New Zealand and these films capture its beauty perfectly.
Rent the trilogy on Amazon today
#24 The Way – Spain
Dave and I have always wanted to walk the Camino de Santiago in Spain. This movie is a bittersweet tribute to the epic hike. 
Acting legend Martin Sheen walks the trail to honor his son Emilio Estevez (also director) who died on the walk. Sheen's character finishes what his son started helping him connect and understand his son while examining his own life. 
You can watch it on Amazon
#25 Lawrence of Arabia – Jordan, Morocco
Dave and I saw Lawrence of Arabia on IMAX when it was re-released years ago, and it made us dream of the Arabian desert. 
When we got the chance to visit Jordan and walk in the footsteps of the real Lawrence of Arabia, we couldn't believe we were living a movie. This will make you want to go on an adventure and spend the night in a Bedouin tent. 
Rent it on Amazon Prime Now
#26 Darjeeling Limited – India
It's completely quirky and is pure Wes Anderson at his best. 
This movie takes Owen Wilson, Jason Schwartzman and Adrian Brody across India starting on the Darjeeling Express. It's strange, heartbreaking, hilarious and odd and I love it. 
When they visit their mother in an Ashram, it makes me think of the strange people that run away to India to find themselves. Oh yeah, he gets it. 
Check it out on Amazon Prime
#27 Last Holiday – Somewhere in the Alps
This is the ultimate fairytale on how travel can change a life. Queen Latifa is priceless as a woman who is diagnosed with a terminal disease, so she takes her life savings to enjoy her final holiday at a luxurious resort. 
She does everything from base jumping to snowboarding and indulging in decadent French cuisine. If everyone took a holiday like this, we'd all live happier lives. 
Rent, Buy or Watch on Amazon Prime
#28 Midnight in Paris – Paris, France
Midnight in Paris captures the golden years of Paris as Owen Wilson walks through the streets at night in search of that romantic nostalgia of the city. 
He ends up meeting the famous patrons of the 1920s including Cole Porter, Ernest Hemingway, Gertrude Stein and more! This movie makes me want to hop on a flight to Paris every time! 
Watch it on Amazon Prime or get it on DVD
#29 The Hangover 2 – Thailand
The First Hangover was far better and if you haven't seen it, I recommend watching.
It too is a travel movie taking you to Vegas,  but this one is a lot of fun taking us through Bangkok. It captures the crazy energy of the city. 
My favorite scene is when Bradly Cooper has to go to the hospital and comes out with an absurdly low hospital bill.
Dave and I have been to the hospital in Thailand and can attest. When you walk out, you feel as if you have just robbed them for their time and service. 
Rent it now! 
#30 The Tourist – Italy
It's a little indulgent and Angelina Jolie is a bit annoying with how amazing she thinks she is in this, but it does capture traveling in Europe beautifully. It makes you want to have a romantic tryst in Venice.
It makes you want to ride a train and have a mysterious encounter. 
It gives you a glimpse into how the rich live and travel the world.
Watch it on Amazon Prime or buy it 
#31 Lost in Translation
We were just in Tokyo and I wish we re-watched this before going.  Tokyo is a bit strange.
It is unlike anywhere else on earth. There are different customs in Japan and the culture is much different than anywhere else and this movie captures that odd feeling you get when traveling there. 
It also highlights some of the best spots in Tokyo and the hotel that the movie takes place in still has one of the best views in the city! And who doesn't love Bill Murray, he is priceless and it's one of Scarlett Johanson's best performance. 
Check it Out
#32 Motorcycle Diaries – South America
After traveling to Cuba I want to watch this again. I remember seeing it when it first came out and it gave me that sense of wanderlust. 
Che Guevera is fascinating and this movie follows his journey before he became a part of the revolution.
Travel can change a person. I believe it was traveling through South America that Che saw what people were going through and that is what sparked him to take action in his own way. 
Check it out for yourself
33. Grand Budapest Hotel – Fictional Setting
I can't help it, I love Wes Anderson movies. He's not for everyone, but his humor is offbeat and quirky. 
I like this for a travel movie because it reminds me of the grand old hotels from another era.
Well, it should because it is set in another era. The hotel is fictional, but it does take you away to another world. 
Dave and I have been to some of these hotels that have seen better days and we love imagining what life was like when they had their heyday. This is a cat and mouse murder mystery farce. 
#34 Into the Wild – America
The real life story of  Christopher McCandless who went on a road trip through the US ended up in Alaska .
Another movie based on a Krakauer book which was fascinating as he dug into the psyche of McCandless.
What possesses a person to cut all ties with their family, hitchhike across the country, and then finally cut themselves entirely off from society, completely choosing to live in solitude in Denali National Park?
Enjoy it now!
#35 French Kiss – France
I used to be a huge Meg Ryan Fan and this movie was a the height of her legendary comedy career. She plays a woman named Kate who is afraid to travel.
When her fiance falls for another woman in France, she vows to win him back and travels there despite being terrified. 
Hilarity ensues when she meets con man Kevin Kline and the venture across the country together.
My favorite scene is when she is indulging in cheese on the train. It's that French moment that made me daydream about traveling by train across the French countryside. 
Watch French Kiss for yourself
#36 Australia – Australia
This movie was crucified by the critics, but I loved it. Nicole Kidman and Hugh Jackman take her cattle across the Outback. 
It also touches on the injustices of how Australia treated the Aboriginal People, reminding me of what Canada did with residential schools to our own indigenous communities. 
It's beautifully shot and is a love letter to Australia. I think it deserved more love than it got. 
Check it out on Amazon
#37 World's Fastest Indian – New Zealand to the USA

From New Zealand to America, Anthony Hopkins takes his Indian Motorcycle to the salt flats to see how far he can go.
It is one of my favorite performances by Hopkins. He is vulnerable, lovable and inspiring. 
This movie wants to make you follow your dream and proves you are never too old to make it happen. That's pretty much our motto! 
Rent it on Amazon Prime
#38 My Life in Ruins – Greece
While not as good as My Big Fat Greek Wedding, My Life in Ruins is a nice comeback for Nia Vardalos.
She plays a tour leader taking stereotypical tourists through the sites of Greece. It's fun, it's romantic and the setting is beautiful. 
It's not going to win any Academy Awards, but for a fun Saturday afternoon movie, this will transport you to Greece.
Rent it or buy it on Amazon
39. Sideways – California
I admit it, after this movie came out, I didn't drink Merlot for years! 
Last year we were in California wine country and all I could think about was Paul Giamatti's snobbery when it came to Pinot Grigio. 
It's a fun dramedy that was perfect for the 1990s. A superb cast with Sandra Oh, Virginia Madsen and Thomas Hayden Church.
Rent or buy on Amazon Prime 
Enjoy our video round-up of our favorite travel movies
We'll be updating this list regularly and we love finding new travel movies to watch. So, if you have suggestions, leave them in the comments below and we'll be sure to give them a watch!
Honorable Mentions
These action travel movies and series will take you around the world, but they aren't exactly fitting to the category, but they do inspire international travel and adventure, so we wanted to include them. 
#40 Bourne Movies – It's not really a travel movie, but it takes you around the world! 
#41 James Bond – The original travel films showcasing incredible scenery from around the world. We've been to a lot of Bond Locations around the world, check it out! 
#42 Mission Impossible – Like The Bourne and Bond movies, Mission Impossible pushes the envelope to shoot around the world while upping the adrenaline factor. 
#43 Long Way Round and Down – It's more a documentary series, but these two trips by Ewan McGregor and Charley Boorman makes you want to hop on a motorcycle and see the world. 
Travel Films on Other Movie Lists that We Didn't Love
#44 The Beach – this is one dumb movie. Skip it and read the book instead. 
#45 Eat Pray Love – Another boring adaptation. I didn't love the book either, but it is much better than the movie. 
#46 Roman Holiday – This did not age well. We watched it recently and it is just downright bad. 
#47 Seven Years in Tibet – As much as we love Brad Pitt, this wasn't as good as people make it out to be. It tries hard and it looks beautiful, but it's slow. 
Tell me what you think are the best travel movies and we will compare notes.
Read More:
44 of the Best Road Trip Songs
Best Travel Songs Playlist
Best Travel Books to Inspire Travel
[ad_2]