[ad_1]

After our Saint Lucia holiday at the beginning of the year, I promised I'd share a post about everything we got up to there. We stayed at a gorgeous all-inclusive resort (read my review of Royalton Saint Lucia for info) so much of the fortnight was spent lounging around the pool, but cabin fever combined with wanderlust forced me to get out and explore the island as much as I could. It's first and foremost a relaxed destination that's perfect for a romantic escape, but there are still enough fun things to do in Saint Lucia to keep adventurers busy, and I've listed them here.
Saint Lucia is one of those places I've always dreamed of visiting but never actually thought I'd be fortunate enough to see, so I  was beyond excited for this trip. Between pool days and feasting at the buffet, I made sure to visit Saint Lucia's main attractions, experience local nightlife and spend some time in the capital, Castries.
Whether you're staying in one of Saint Lucia's luxury villas for your honeymoon, on a family holiday at an all-inclusive Saint Lucia resort or you have just one day in Saint Lucia on a Caribbean cruise, these are the best attractions to see in Saint Lucia, from rainforest to shoreline. You can do excursions to most of these sights or visit them independently.
If you're planning a trip, here's what to do in Saint Lucia. Hope you find it helpful!
Top things To Do In Saint Lucia
Visit Marigot Bay
As you sail towards this tropical paradise, you'll understand why Marigot Bay is one of the most popular places to visit in Saint Lucia. This picturesque bay is dotted with small beaches, and it's the only 'hurricane hole' in the Caribbean, where boats and catamarans can shelter in bad weather. Marigot Bay's picture-perfect looks got it featured in the original Dr Doolittle, so it's worth visiting the DOOlittle's Restaurant for a bite.
You can snorkel in the calm water there and refresh with a coconut hacked straight from the tree afterwards.
Check out hotels in Marigot Bay

Chase waterfalls
If I've learned one thing from travelling, it's not to heed TLC's advice. Chasing waterfalls is usually a worthy endeavour – and Saint Lucia's lush landscape has tons of them. The tallest waterfall on the island is called Sault Falls and it's located in Dennery on the east coast. Sault Falls' water cascades from 55 feet! We went to one called Toraille near Soufriere and I discovered that standing under roaring cold water is the perfect hangover cure. I'd just thrown up off the side of a boat, and a few seconds under the waterfall sorted me right out! Entry is 3USD per person and water shoes are recommended.
You might prefer to visit the Diamond Waterfall at Diamond Botanical Gardens (swimming isn't allowed here) or La Tille Waterfall, which is less touristy. These excursions include trips to the island's waterfalls.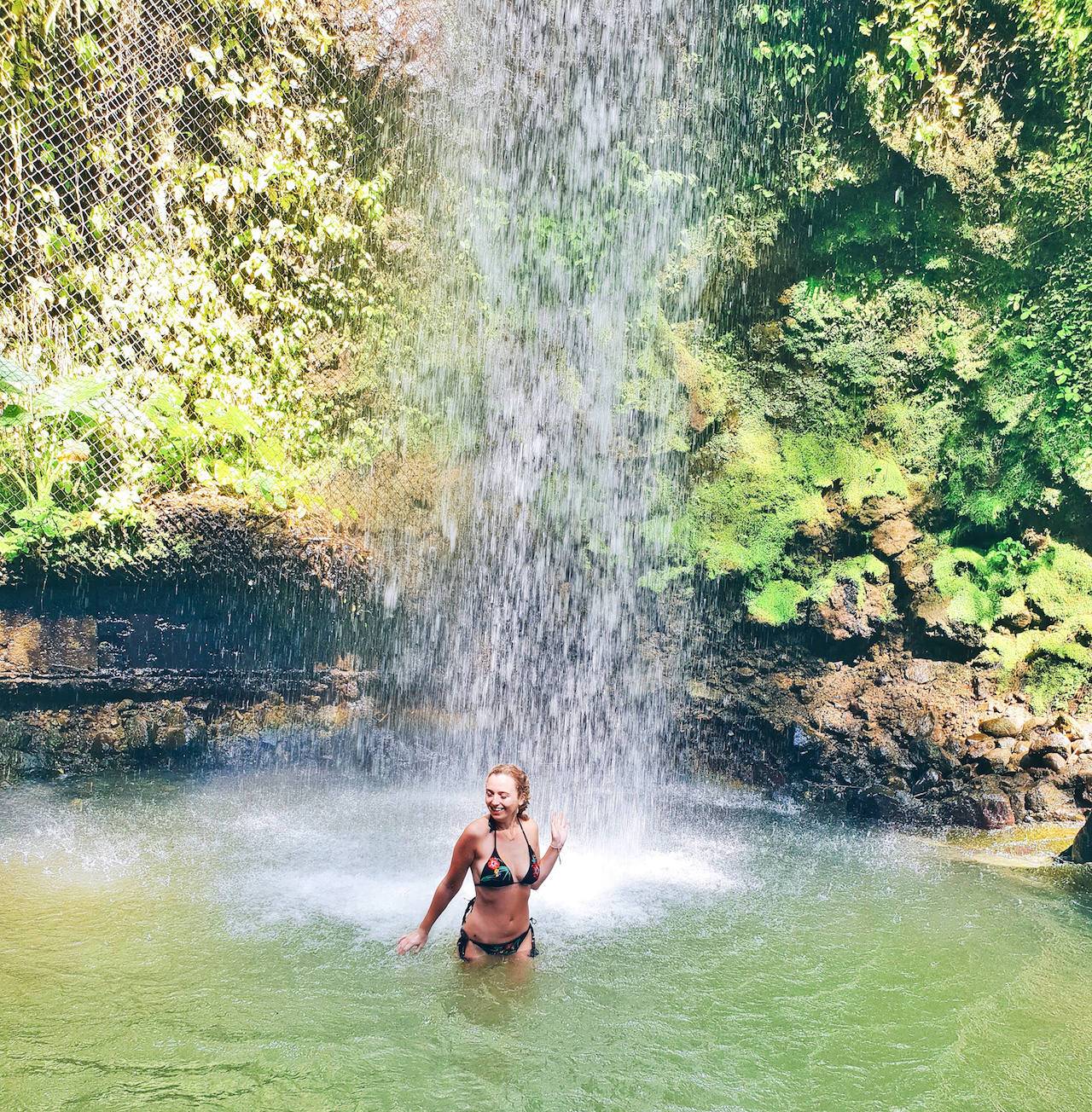 Take a mud bath
The world's only drive-in volcano is a must-visit in Saint Lucia. The town of Soufriere is named after the French word for sulphur, and the rotten-eggs smell is strong at the Sulphur Springs. Not what you want in your nostrils after an over-indulgent night at the hotel bar, trust me. The baths are roasting and a bit crowded with a lot of men shouting instructions, but it's a fun photo opp (our tour guide/photographer forced Tom to kiss me for a picture, but this was right after the boat-puking incident so I hope you enjoy the hesitant kiss pictured here. Poor Tom).
The mineral-rich mud really does make your skin feel incredible! Just be sure to wear your darkest swimming gear. These excursions will take you to the Sulphur Springs.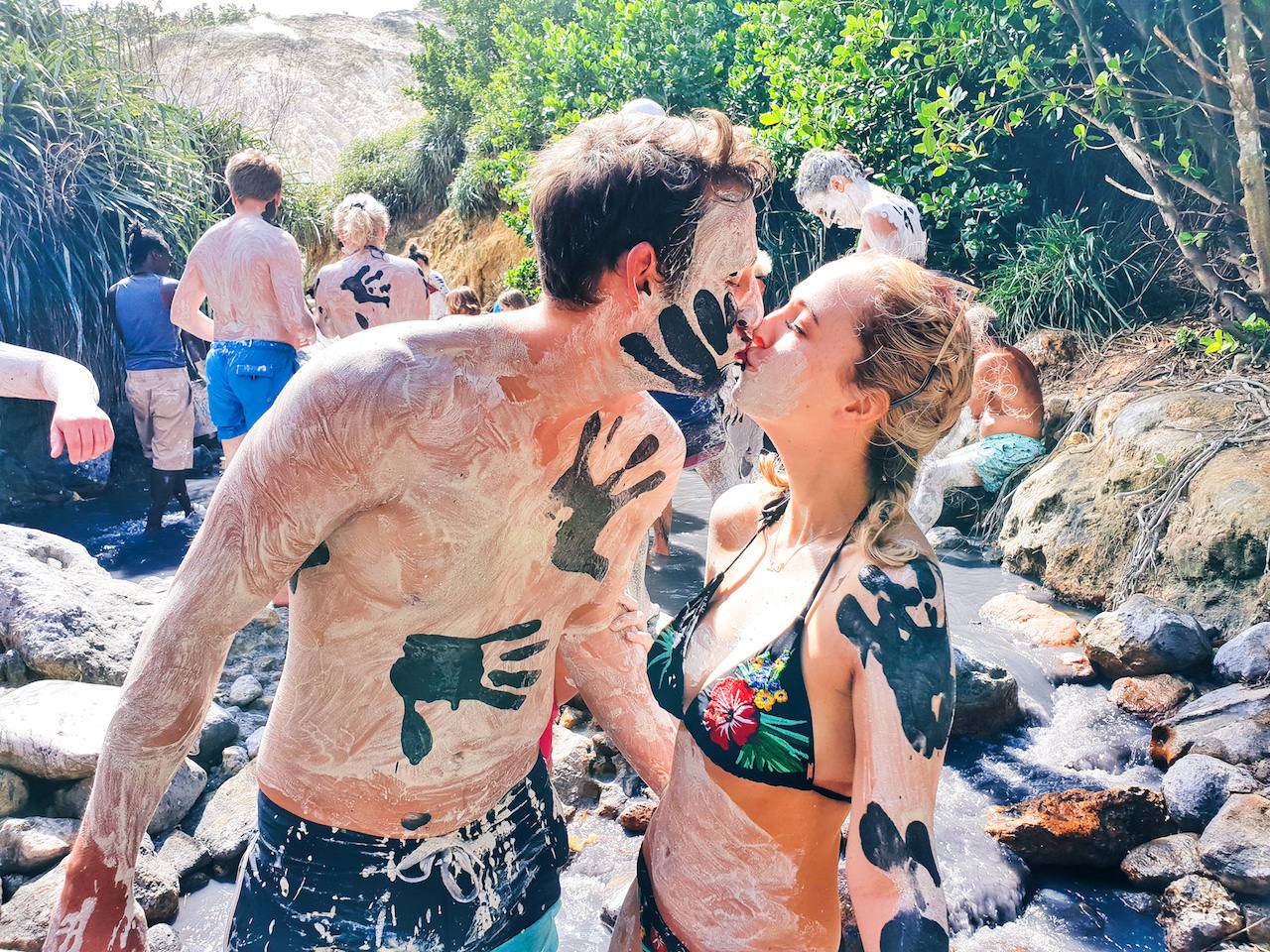 Party with the locals
One of the best things we did during our Saint Lucia holiday was go to the Jump Up! Street Party in the small fishing village of Gros Islet, just north of Rodney Bay and conveniently close to the Royalton. We'd wandered through the pastel streets days before and it was like a ghost town, but the place comes alive at night. The Gros Islet street party happens every Friday night and is a unique chance to experience local life after dark. There's a jovial mix of tourists and locals in attendance, and the music is blasted out of speakers into the packed street until late. Aim to arrive around 7.30pm to fuel up on street food, then grab a rum punch from one of the many pavement stalls and dance the night away. Most tourists leave around midnight but we stayed until after one, when the vibe was entirely different.
We went independently but if you want to be sure you have a ride back to your accommodation, I recommend booking a shuttle for safety.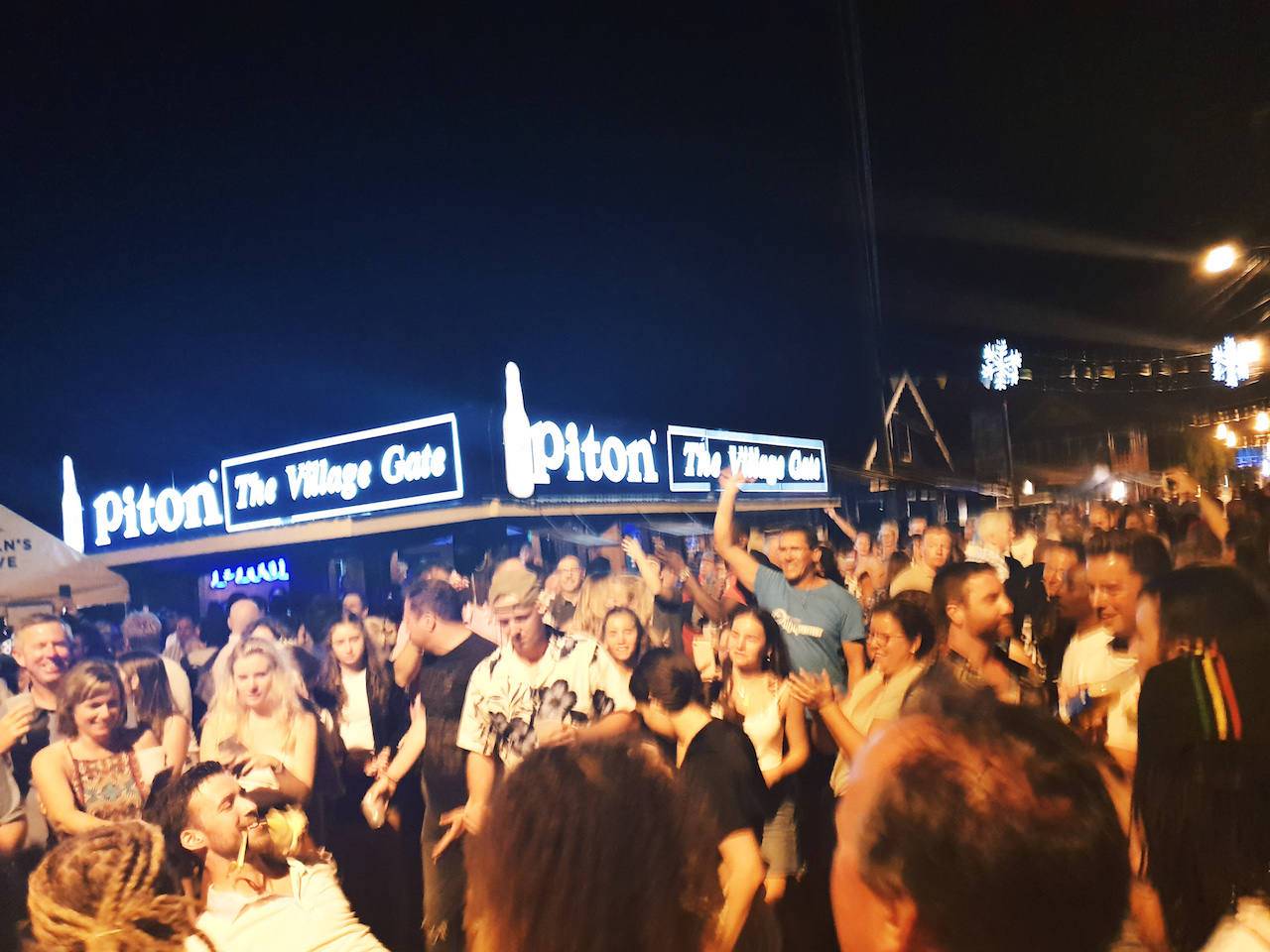 Hike Pigeon Island
Pigeon Island is one of the top things to see in Saint Lucia. It was used as a lookout point back when the British and French fought over the island, and you can still see the crumbling Fort Rodney and bunkers. Entrance to the Pigeon Island National Park is 8 USD per person and you don't need a guide. There are two peaks you can climb up for unique views over the island. We did both, because I was apparently feeling energetic that day. Neither hikes take long – about 15 mins each – and only the larger peak (Signal Hill) requires actual climbing. I don't recommend doing this in flip-flops.
The view over Reduit Beach and across to Martinique are well worth the sweat. And you definitely, definitely will sweat.
If you want to be picked up and dropped off at the port in Castries, book a tour with a local guide.

Drink sundowners at Rodney Bay
It's busy, but this manmade lagoon is the one of the best spots for sunset in Saint Lucia. Head to Reduit Beach in the late afternoon for a golden hour swim and walk along the soft sand, then pull up a chair at popular bar Spinnakers for happy hour. Watch the sun go down with a cocktail in hand and order some seafood to end the day on a high note.
We could have happily sat there all night – though that may have had something to do with the strength of our drinks…

Shop in Castries
It's not the most aesthetically pleasing Caribbean port, but there are still a few things to do in Castries and if you're nervous, you can take a walking tour to explore the city safely. Castries Market is a must-visit, and at its best on a Saturday morning. We went by ourselves and found the vendors are friendly and not too pushy. Despite being directly opposite the cruise port it's still an authentic local market selling fruits and vegetables in addition to the usual nick-nacks in the craft arcade. Pick up some banana ketchup, hot sauce, soaps and spices to take home, then head over to the nearby Cathedral Basilica of the Immaculate Conception if you're interested in seeing that.
Check out these Castries tours on GetYourGuide for more information.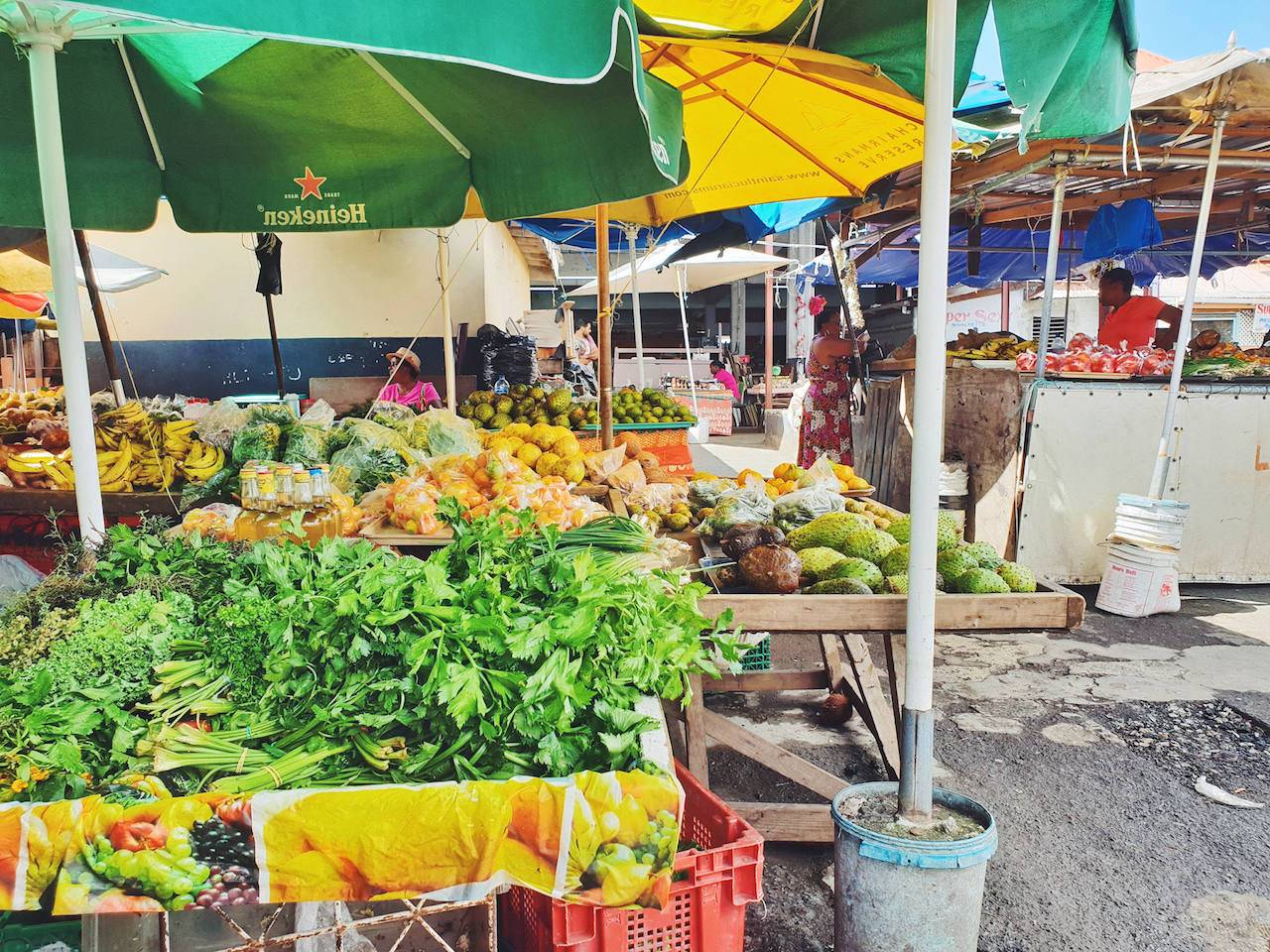 Hike the pitons
The twin pitons' ahem, feminine form might be the reason that Saint Lucia is the only Caribbean island named after a woman, and hiking the emerald peaks is one of the top things to do in Saint Lucia for active travellers. The iconic pitons sit on the south west coast of the island in Soufriere and have UNESCO status. The Gros Piton trail, which takes approximately 4-5 hours and takes you to highs of 2617ft, starts at the hamlet of Fond Gens Libres (Valley of the Free People, so-called because it's where escapes slaves settled) and will take you to the top of the mountain. You probably shouldn't attempt Petit Piton unless you're like, Lara Croft.
If you'd like to hike with a local guide who will show you all the most scenic spots and even take you through some fishing villages and for lunch afterwards, it's worth booking in advance.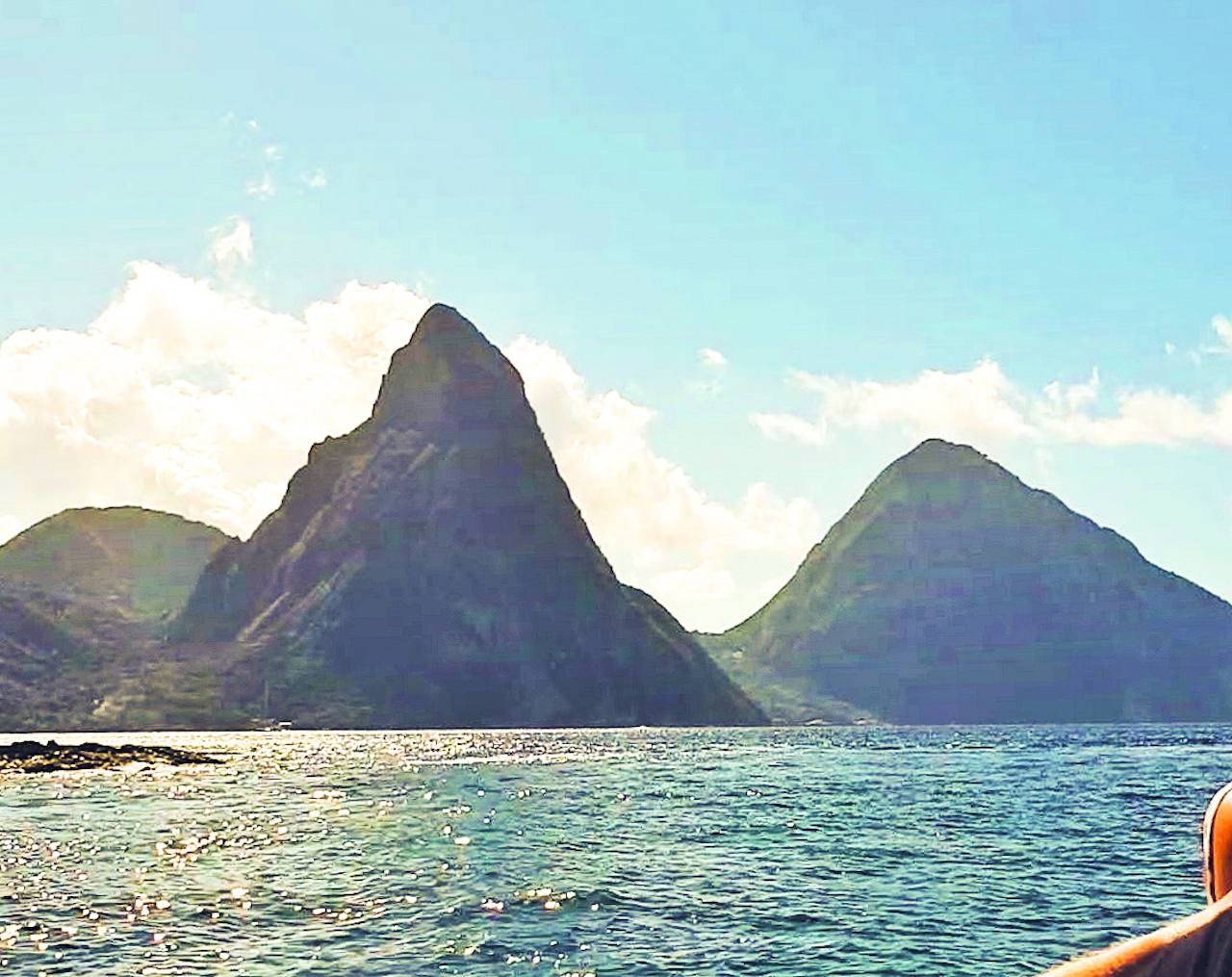 Taste local cuisine
Caribbean cuisine is always delicious, and in Saint Lucia the French, native and African cultures have fused to create unique flavours. We ate roti on an upper floor terrace in Castries, and our hotel had local food on offer at the buffet every day, plus a dedicated Creole restaurant. The island's bananas are some of the best in the world (we passed a Sainsburys plantation) and seafood like lobster and conch is available in abundance. Saint Lucia's national dish is green figs (unripe bananas) and saltfish, but other popular foods include plantain, accra and callaloo soup. Oh, and of course try the local beer, Piton!
If you're keen to learn more about food in Saint Lucia, you can do a cooking class and learn to whip up your own Creole favourites.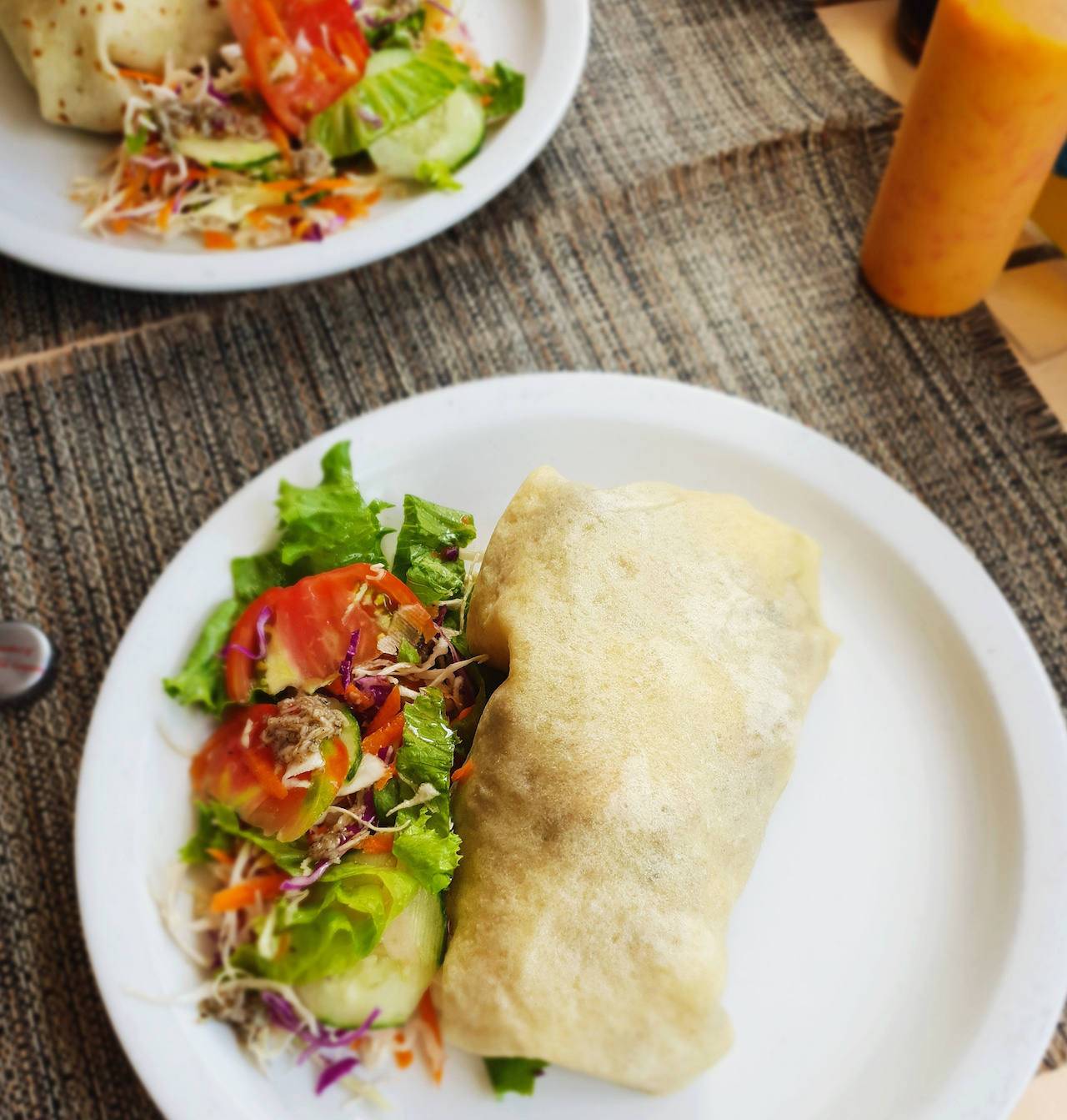 Explore Soufriere
The original capital of Saint Lucia is perhaps where the island's French influence is most apparent. Multicoloured colonial-area facades line the busy streets and the waterfront is a peaceful place to escape, with the majestic Pitons guarding the town. A lot of the top Saint Lucia attractions are in or around Soufriere, but it's worth having a walk around town in between sightseeing sessions.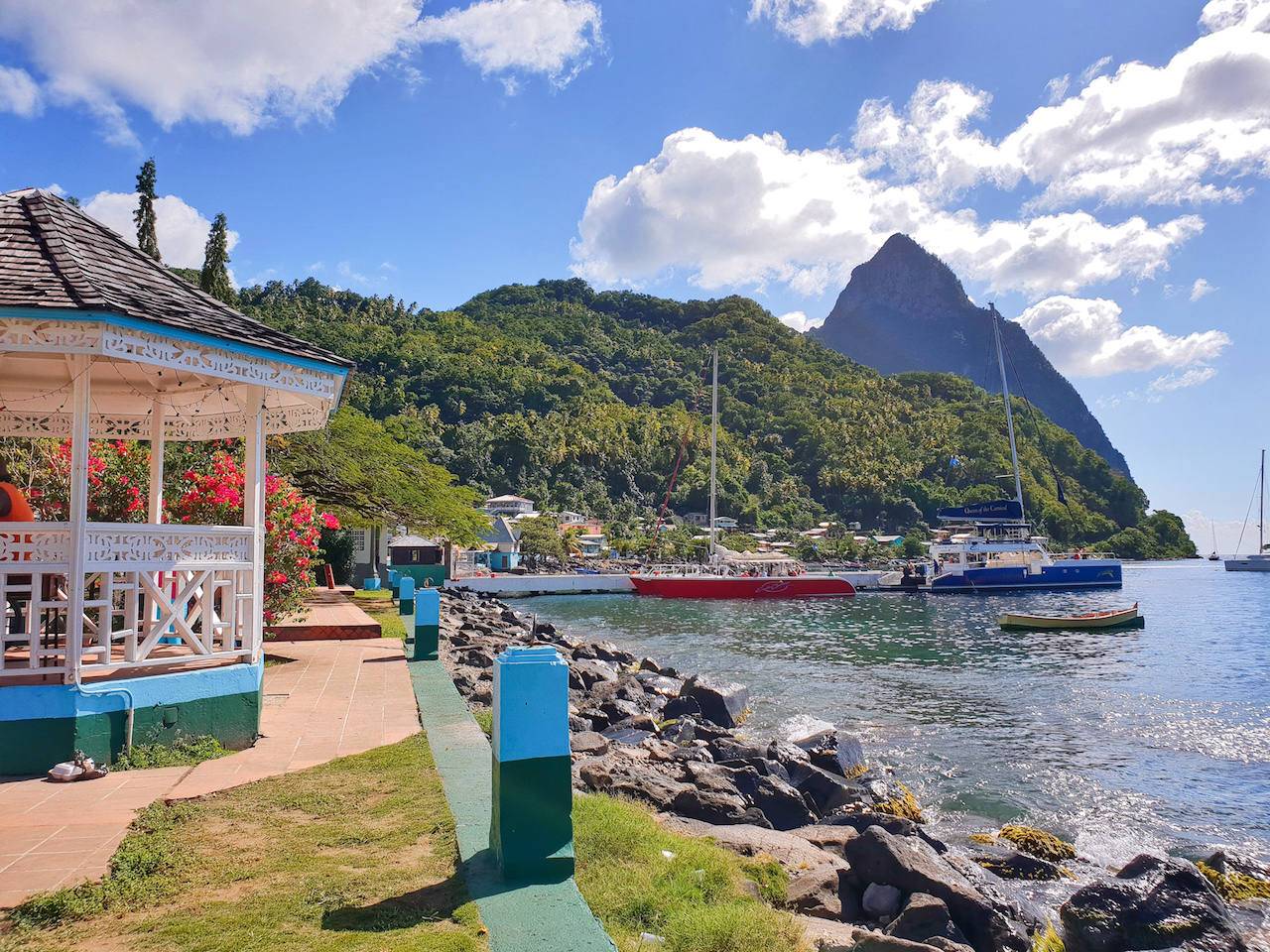 Snorkel in the Caribbean Sea
The island's volcanic landscape has created a generous smattering of underwater oases. The best places to go snorkelling in Saint Lucia are Anse Chastanet, Anse Mamin and Jalousie Beach. If you want to escape the crowds, Anse Cochon (which translates to 'bay of pigs'), is only accessible by sea or a strenuous hike. One of the best and easiest ways to cram in all of the best snorkelling spots while you're on holiday in Saint Lucia is to do a tour.
This five hour snorkelling tour takes you to the island's best spots.
Indulge at the Rabot Estate
Hotel Chocolat's famous cocoa plantation is a must-visit in Saint Lucia. You can stay at the Boucan by Hotel Chocolat and enjoy their spa, or book a 'Tree to Bar Experience'. The experience starts with a walk through the estate's cocoa groves, where you can choose ripe cocoa pods to harvest from the tree, and it ends with making your own chocolate bar. The price for non-guests is 88 USD).
Alternatively, you can eat at the hotel's restaurant, where every dish uses some form of the cacao grown at the plantation. Try the 9-stage tasting plate or the cacao marinated scallops. Prices are pretty reasonable, considering how unique the experience is.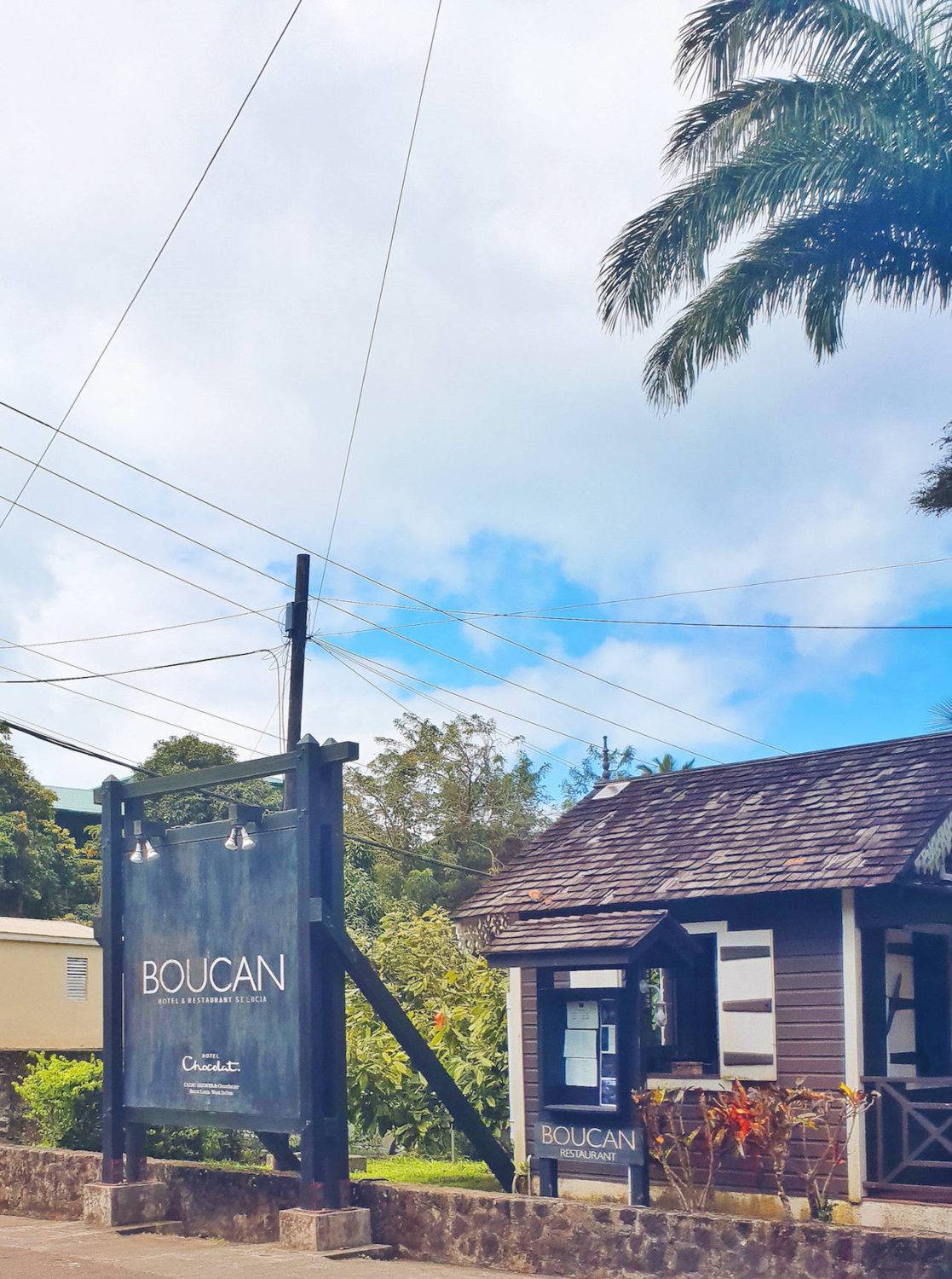 Stay at an Instagram-friendly hotel
The Royalton was an incredible resort, but I'm only going back to Saint Lucia if it means staying at Jade Mountain. The uber-lux resort has open-living 'sanctuary' suites with private infinity pools instead of a fourth wall, meaning you're looking right out onto the tropical scenery. Serious goals.
I don't mean to be an enabler as it's super expensive, but maybe you can save up and just stay for one night? I'm happy to hide in your suitcase!
Do a boat trip
A boat trip is a great way to see a lot of the main points of interest in Saint Lucia in one day while enjoying some time on the water. You can even book a day out on a pirate ship, if you want to go full-on Captain Jack Sparrow. I kinda wished we'd had kids with us so I had an excuse to do it!
Check out this catamaran day out or, if you're in Saint Lucia with your partner, try a champagne sunset cruise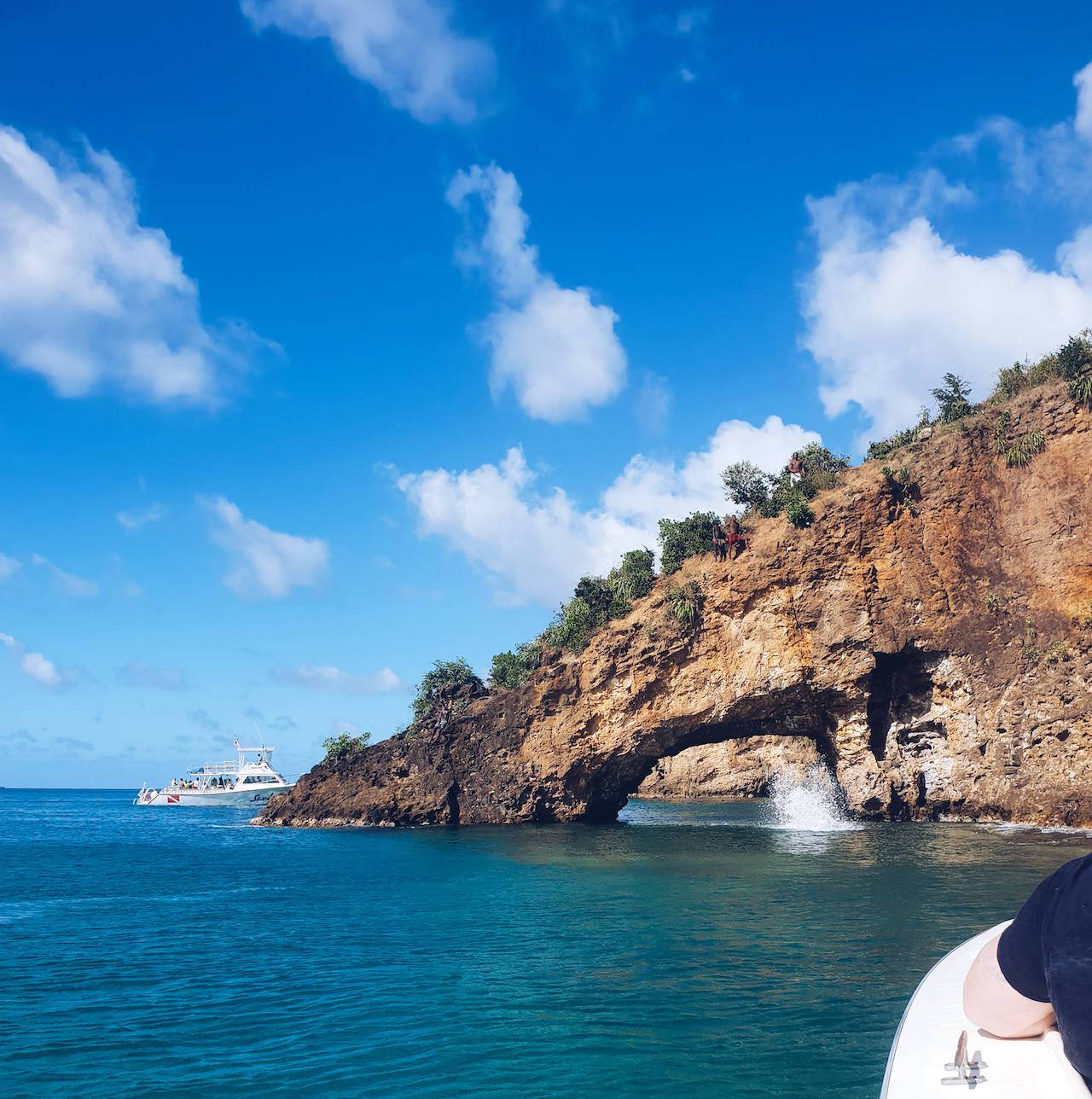 Zip-line through the rainforest
Adrenaline junkies, this one is for you. If you want to immerse yourself in Saint Lucia's tropical rainforest, book a 4.5 hour eco-adventure where you're clipped into a harness to zoom through a 10-zipline canopy tour and enjoy a hike through the rainforest accompanied by an expert adventure guide. This high-speed day out is fun for all the family and you also get to ride the aerial tram.
Check prices and availability for your zip-lining tour
Spend a day at the beach
In a place as laid-back as Saint Lucia, nobody can blame you for wanting to lie on the beach with a cocktail in hand. The best beach in Saint Lucia is Sugar Beach (between the pitons). Anse Chastanet's 150 metres of dark, silvery sand is one of the best beaches in the south-west of the island. Oh, and all beaches in Saint Lucia are public, even the ones in the resorts, so you can wander anywhere you please!
Pigeon Island beach is a fun day out, though it was packed every time we went, and Reduit Beach is home to Splash Island Water Park, so it's a must if you're visiting Saint Lucia with kids.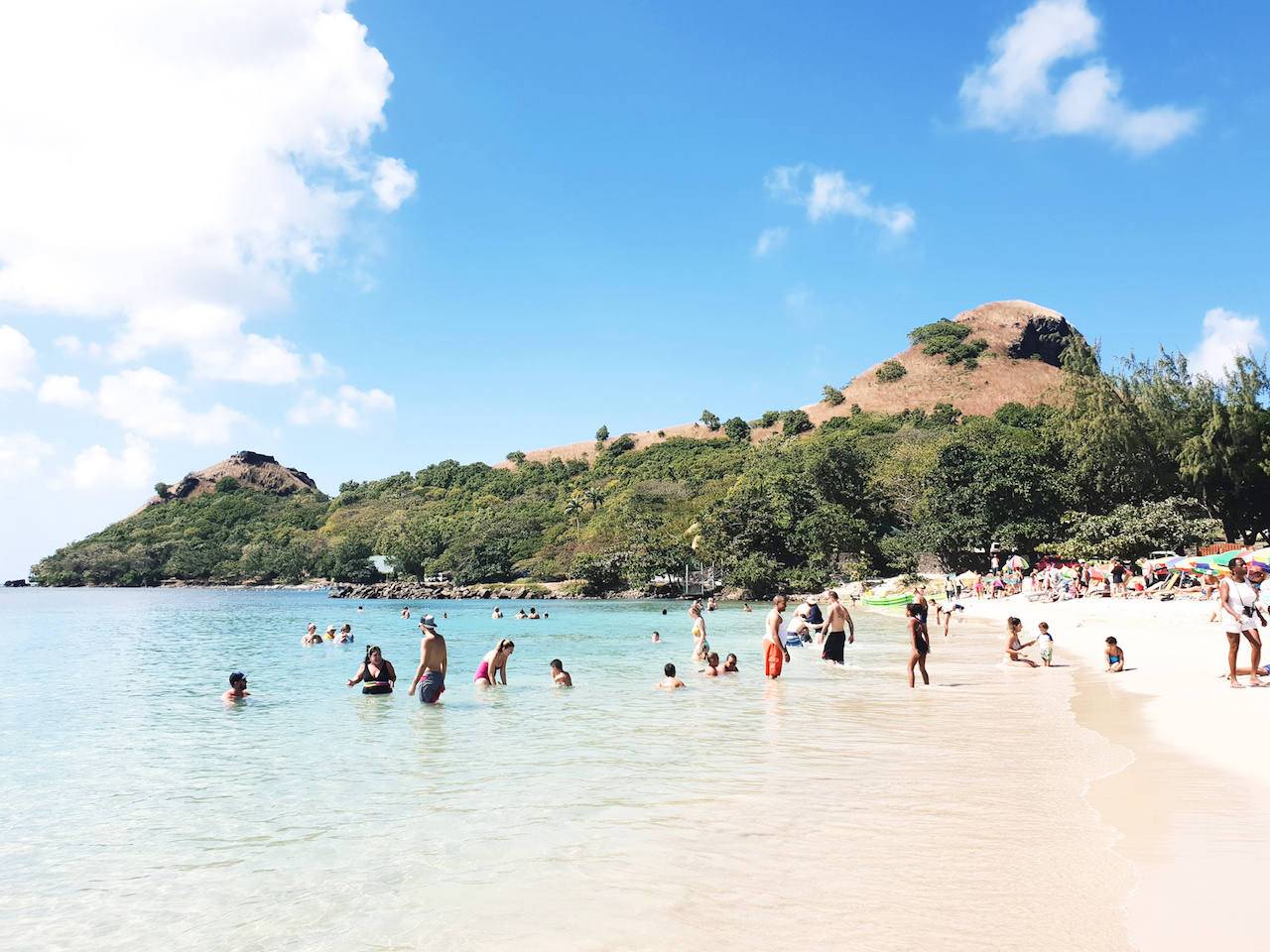 See local sea life
If you're a nature lover, you can go to Grande Anse to spot endangered leatherbacks, the largest of sea turtles which can weigh as much as a ton full-grown. They crawl out of the water and lay their eggs on the shores of Grande Anse from March until November.
Alternatively, you can go on a dolphin and whale-watching boat trip for the chance to see sperm whales, pilot whales, humpback whales and dolphins. Deep sea fishing tours and kayaking trips are also popular.
Go rum-tasting
You're in the Caribbean, so it's sacriligious not to drink any rum, right? You can visit a distillery near Marigot Bay and learn all about how sugarcane is turned into rum from your local tour guide, then enjoy tasting some of the over 25 rums that the distillery produces, including Chairman's Reserve Spiced Rum, 1931 and Admiral Rodney. They even have a chocolate orange flavour! Our favourites were coconut cream and banana flavours.
Book your rum tour ticket in advance
Best Saint Lucia tours and experiences
If you're only in Saint Lucia for a short time, it's probably best to book a tour that will take you around the island's best bits. Here's are some of the best Saint Lucia excursions and island tours:
1 Half-day tour from Castries: Hike the Pitons, stop in Soufriere and visit the banana and cocoa plantations in Morn-Fortune.
2 Six-hour 'Best of Saint Lucia tour': Get picked up at your hotel or cruise-ship port then head to the Tet Paul Nature Trail for views of the Pitons. Other stops include a drive-in volcano, Diamond Falls Botanical Gardens, and small fishing villages.
3  Speed boat sightseeing tour: This full day tour whips you around most of the island's sightseeing spots including a city tour, volcanic mud bath, waterfall swim, and snorkelling. The fast boat means you don't waste time in transit and get to see spectacular coastline from the water.
4 Soufriere full-day excursion: Journey through rustic villages to the Diamond Botanical Gardens, the Sulphur Springs drive-in volcano, the Tet Paul Nature Trail, and the Toraille Waterfall. You'll also get an authentic local lunch.
Where to stay in Saint Lucia
There's no shortage of beautiful places to stay in Saint Lucia. If your budget doesn't quite stretch to Jade Mountain, I can definitely recommend The Royalton – we had an incredible holiday there.
One of a kind accommodation includes Boucan by Hotel Chocolat and Fond Doux Plantation & Resort, which both offer guests the opportunity to indulge their love of chocolate. Sugar Beach's  private luxury bungalows with personal butlers are bound to be amazing, as is The Landings (all-inclusive options are available). Anse Chastanet eco-resort, with its view of the Pitons, looks incredible, as do Stonefield Estate Resort's private villas with plunge pools.
If you're looking for cheap places to stay in Saint Lucia, Marigot Beach Club & Diving Resort, Harmony Suites and Bay Gardens are on the budget end of the scale and have decent reviews.
Getting around Saint Lucia
Flights from London to Saint Lucia take around nine hours. You can browse for the best cheap flights on Skyscanner.
Our airport transfer made me feel very car sick. If you don't want to face stopping at various hotels for other holiday-makers, you can book a private airport transfer to your hotel and back to make the journey easier.
Hiring a car is probably the best way to get around Saint Lucia and with your own wheels, you're able to explore the attractions at your own pace. Check out the best deals for car hire in Saint Lucia on Skyscanner.
What to know before you go to Saint Lucia
Travel insurance is essential for a holiday to Saint Lucia. Check out World Nomads' article about safety in Saint Lucia and use the widget at the bottom of their page to get a quote for travel insurance for your trip. I felt very safe there, even walking around Castries with one other young woman – but it's good to have as much information as you can find before you go so you can make informed choices.
Saint Lucia uses Eastern Caribbean dollars but they do accept US dollars too. When paying in local bars and shops, you'll usually get Caribbean dollars back as change, even if you pay in US. I recommend getting a mix of both. You can get ECD at the Post Office while you order your USD.
If you're super lucky and combining your trip to Saint Lucia with a holiday in Barbados, this guide book is bound to come in handy.
Are you planning a holiday in Saint Lucia? I have loads of pictures on Instagram (look for my 'Saint Lucia' highlight on Stories). You can follow my travels both in the UK and further afield on Facebook, Pinterest and Twitter too.
While I'm Young uses affiliate links which means I may make a small commission on some of the links in this post. It doesn't cost you anything extra.
Pin this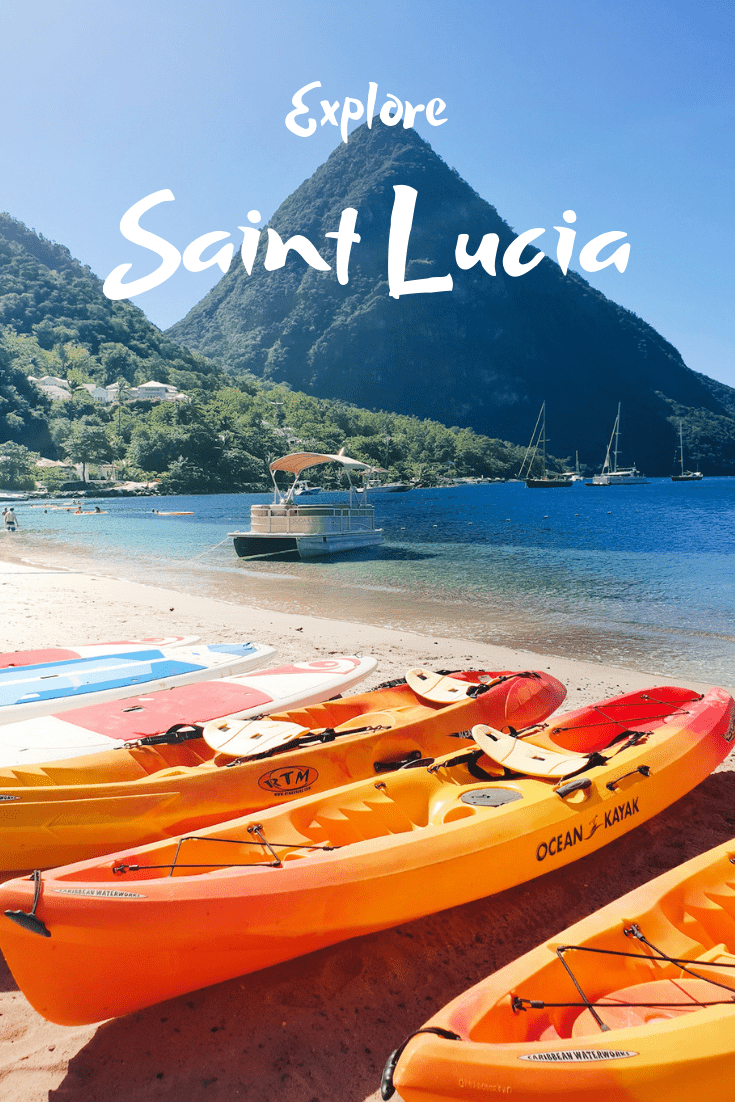 [ad_2]