[ad_1]

Welcome to paradise. No other word describe the Maldives better than the word paradise. Imagine an archipelago of more than 1200 islands, surrounded by the bluest
waters you have ever seen, and if you dare to dip underwater, a fascinating and colorful world will open up to you… More than 1000 species of fish, 40 species of sharks and the world's largest
population of Manta rays is home in the waters of the Maldives. Even turtles and whale sharks can be seen here.
This was my third trip to the Maldives and no words can express how blessed I am to witness such a true paradise, a place like nowhere else on this planet, and a destination that everyone
should visit, at least once in their lifetime.
I traveled with my friend Mar, fellow travel blogger and drone
pilot, she's the lady who took all these amazing drone shots in this article. And on a side note, you'll be surprised, the Maldives is not only for honeymooners, it's also a perfect
place for a girl's or friends getaway. Getting curious? Let's get started…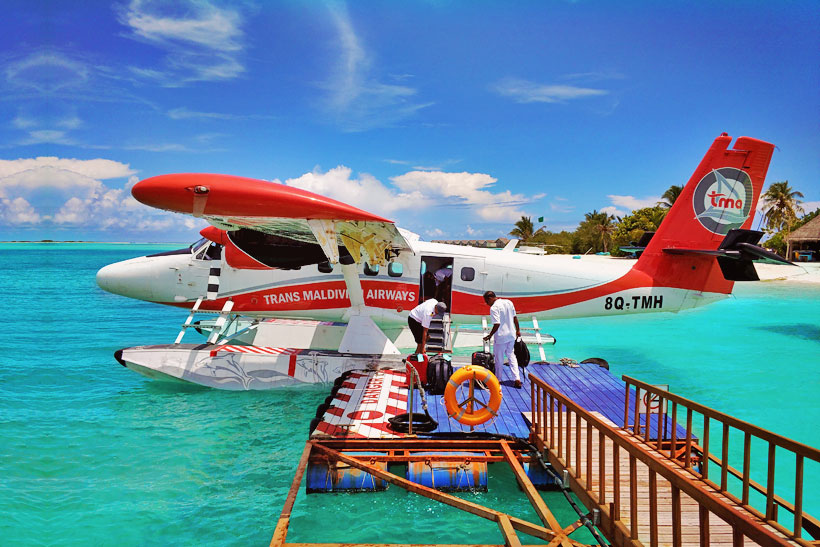 Lux* South Ari Atoll – A peaceful hideaway for luxury and adventure seekers

Our trip started at the beautiful Lux* Resort, a peaceful hideaway for luxury and adventure
seekers. The resort is located in Dhidhoofinolhu in the South Ari Atoll, and can be reached via seaplane within 30 minutes from Male. The flight on the seaplane is a spectacular experience
by itself, and a great way to get into vacation mode, seeing all those tiny islands from above is simply breathtaking.
The moment I stepped my feet on the island, I felt like I'm dreaming… Is this even real? From every perspective this place looks like heaven… Let me show you a little video teaser
first, before I get into all the details! During our 3 days at Lux*, we managed to film several areas and fly the drone around the island, to show you how AMAZING this place looks
like… I hope you enjoy this 🙂
Rooms at Lux*

The 5-star resort offers almost 200 gorgeous villas, all of them located along the water, offering mesmerizing beach and ocean views. Mar and I checked into a water
villa, built on stilts over the ocean.
I had to hold my breath when we entered the room. It's not very often that I get such incredible views from every perspective in the room! The villa was more than big enough for two,
with a comfortable king-size bed, sofa, desk, a spacious bathroom with a bathtub overlooking the Indian ocean. Each villa features a private terrace, with sun beds, a day bed, table and chairs
and a massive hammock installed over the water. The terrace has direct access to the lagoon.
All villas are well equipped with a coffee machine and kettle, minibar, safe, complimentary WiFi, TV with satellite channels and movies on demand. One thing to mention was the glass
window in the bottom, if you're lucky, you'll see some creatures swimming under your feet…
We were welcomed with plate of chocolate pralines and a bottle of red wine. Needless to say, we couldn't resist using those for our first little photo shoot on our
fabulous terrace, enjoying a glass of wine with infinite sea views. Here is the photo we took: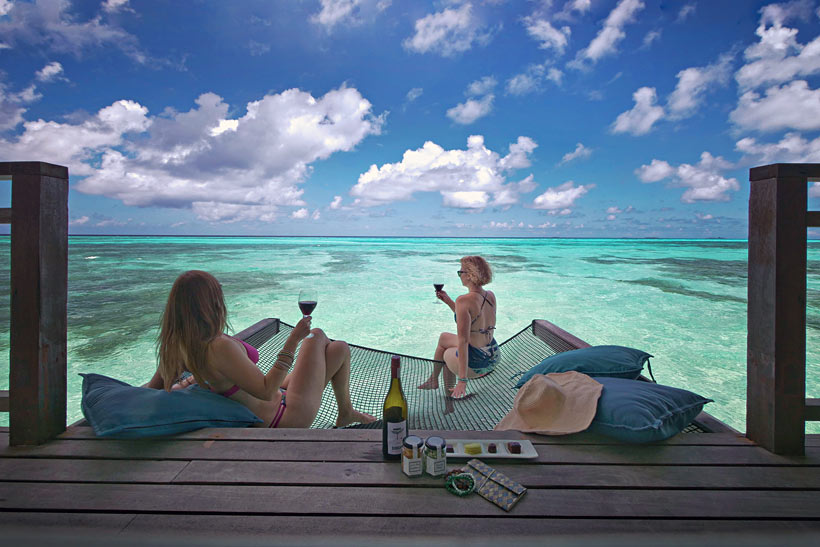 Facilities & Activities

One of the biggest fear of people traveling to a small island is not knowing what to do all day. Don't worry, if sunbathing isn't your thing, there is a lot more to do, I'll promise, you won't
get bored in paradise!
Guests at Lux* can enjoy a range of activities, such as diving (full training and PADI certification for all levels), snorkeling, kite and wind surfing, wake boarding and fly boarding, jetski,
SUP and so much more. If you feel safer on land than on the water, try beach yoga, hit the gym, or play volleyball or tennis.
Guests can also take advantage of the free bicycle rental and explore the island. There are plenty of activities to keep you active and entertained. I brought my own yoga hammock, installed
it on our terrace and got my daily exercise just right there. Who says workouts can't be fun?
If you feel like rather relaxing, visit the library, read a book while you overlook the ocean, make yourself comfortable in one of the sunbeds along the beach, enjoy a swim in the infinity
pool, or just forget time and space and float in a hammock in the turquoise ocean. 
For the ultimate relaxation a visit to the spa Lux* Me is unmissable. Skilled therapists will give you a holistic treatment in a tranquil surrounding. Every treatment is tailored to your
needs to guarantee the best result for your health and well being.
One thing I noticed instantly when exploring the island is that Lux* is so instagrammable, everywhere along the beach you can find hammocks, day beds, swings, everything you can imagine to pimp
your Instagram profile. Here my fav spots for a cool photo!
Is it allowed to fly a Drone at Lux* Resort?

Yes, it is allowed to fly drones in the island, however, only in designated areas. We were extremely grateful as this isn't common in the Maldives. Getting some drone footage of the
island was like the icing on a cake. My friend Mar took all these awesome shots, while my drone was in repair in Hong Kong at the DJI service center. If you have a drone,
you must bring it! 
Drone shots taken by my Instagram wife Mar Pages of OnceInALifetimeJourney.com
Breakfast

If you're looking for a vegetarian or vegan friendly resort in the Maldives, you will love your food options at Lux* Resort (and if you're not veggie, you'll love it even
more.) I apologize if I focus in this section mainly on vegetarian and vegan food, because… well… this is what I eat… And, oh boy, I found almost everything I could have
dreamed off.
Let's start with the breakfast! There are 2 restaurants to chose from, one is the East Market, offering more of Asian dishes, while the other one called Mixe has literally everything.
Needless to say, I chose the latter one. The breakfast buffet was absolutely amazing, I couldn't imagine any better so I didn't bother trying the other place… I mean look at my breakfast!!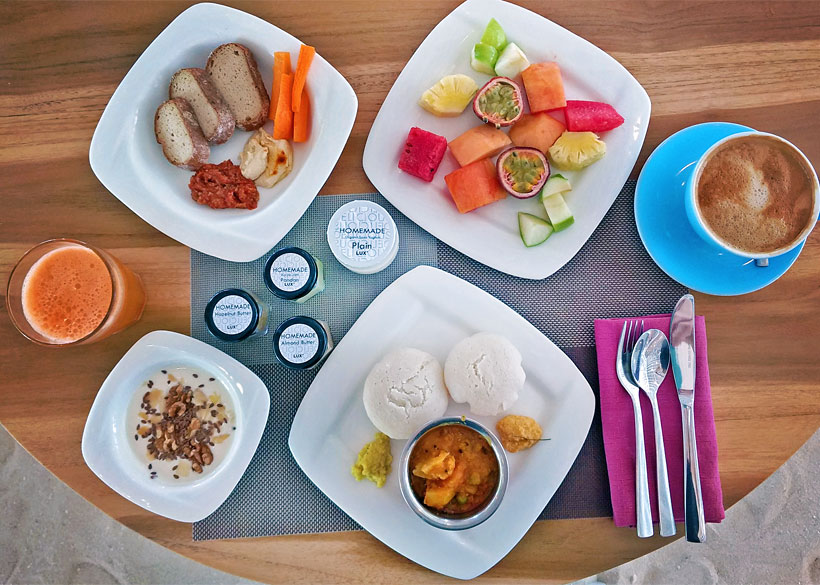 My typical breakfast at Lux*: Gluten free bread, hummus, baba ganoush, almond and hazelnut butter, fresh fruits, soy cappuccino, idlys with sambar,
granola in tofu yoghurt, freshly pressed orange-carrot-ingwer juice
Here are a few things you can enjoy for breakfast at Mixe: excellent coffee (soy or almond milk available), coconut tofu yogurt, homemade nut butters such as almond, hazelnut,
peanut butter, fresh fruits, hummus, baba ganoush, from pita bread to gluten free breads, pastries, cakes, cookies, croissants, a variety of seeds, nuts and herbs, such as maca powder, tiger
nuts, chia seeds, nutritional yeast, whey protein powder, homemade granola bars… It was unbelievable!
I couldn't hide my excitement when I spotted idlys with sambar, one of my favorite Indian foods at all! Everything was so fresh and tasty! The drink selection was overwhelming as well, from
all kinds of freshly pressed juices to homemade kombuchas, they had literally everything to make my day. I was blown away by the variety, for me this was one of the best breakfast buffets I ever
had. 
Restaurants and Bars

There are 8 restaurants and 5 bars on the island. Pretty much all restaurants cater to vegetarians and vegans, I had no struggles finding delicious food. Lux* is definitely one of the more
vegan-friendly places in the Maldives. I did not have the chance to try all of the restaurants (but most of them), let me show you some more meals I enjoyed at Lux*.
One must-try is Umami, not only for the food, also the place itself is pretty fascinating with its artwork on the walls and contemporary interior. You must watch the chef, he's got some
entertaining teppanyaki skills. I absolutely loved the food, they prepared an amazing set of vegan sushi for me (photo below), with avocado, tomato, asparagus, and cucumber… Have
you ever seen vegan sushi that colorful? The red stuff isn't salmon, it's tomato! I was impressed, visually and by the taste as well.
Vegan Sushi at Umami Restaurant
We also enjoyed one lunch at Senses Bar & Lounge, it's all open and breezy, a beautiful spot for a meal or an afternoon tea. Actually they offer indeed a selection of Sri Lankan
teas from 5-7PM. Senses is located right beside one of the infinity pools, so a quick dip is always nearby, or alternatively you can enjoy a snack by the pool.
The food is described as light Indian Ocean Cuisine, and the dish I ordered was all about that. Light, delicious and flavorful. Unfortunately I forgot the name of it, but of course I got a
photo.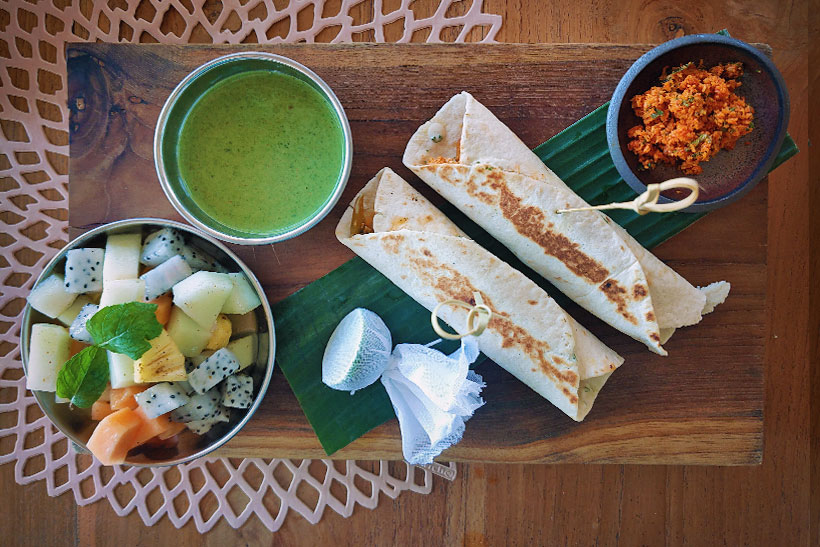 Light Indian Lunch at Senses Bar & Lounge
The other day we had lunch at Beach Rouge. The bar and restaurant is open all day. It offers some fantastic ocean views and the food is pretty good, we got some Mediterranean mezze,
pizza, and potatoes in tomato sauce. In the evening this place turns into a popular hangout spot, with DJ and sunset cocktails. 
For more comfort food, head to Lagoon Bar! The broccoli burger was delicious, I also recommend the quinoa avocado bowl. The bar is located beside the reception, where you can get all day
coffee. Did I mention that Lux* has excellent coffee? They do their own island-roasted coffee! Make sure to grab a bag of coffee beans before you leave! Every time I passed by the
reception I grabbed a latte and some cookies, it was so awesome to have good coffee any time of the day.
Pizza at Beach Rouge, Broccoli Burger and Quinoa Bowl at Lagoon Bar, Coffee and Cakes at Cafe Lux*
Overall the food was superb, it was easy for me to find the right meals on the menu, many dishes were marked as vegan, vegetarian, and gluten free. They even mark healthy items, which
helps you to make a better choice. Lux* was a foodie heaven for me, I can't imagine how much work goes into the logistics of bringing all these food items to the island. I was beyond
impressed.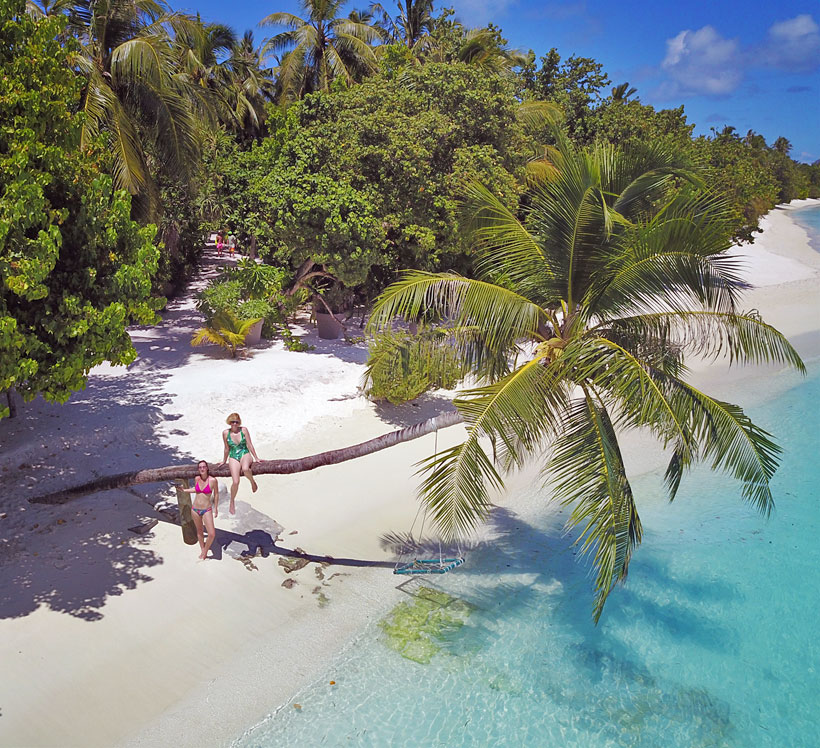 Our 3 days at Lux* went by too quick, Mar and I were both not ready to leave. Lux* is one of those places that makes you want to stay forever, or at least much longer
than you have planned for…
I loved that the island has so much to offer, there was not a single moment we were bored. The island is quite big and I can safely say, we surely did not see all of it.
One of things I really enjoyed was cycling across the island every day, getting smiles from the friendly staff, stopping by the beach and pinching myself if this place was real… There was
something to explore in every corner and I truly wish, I had more time on the island. 
Lux*, I'll definitely come back to you another time… <3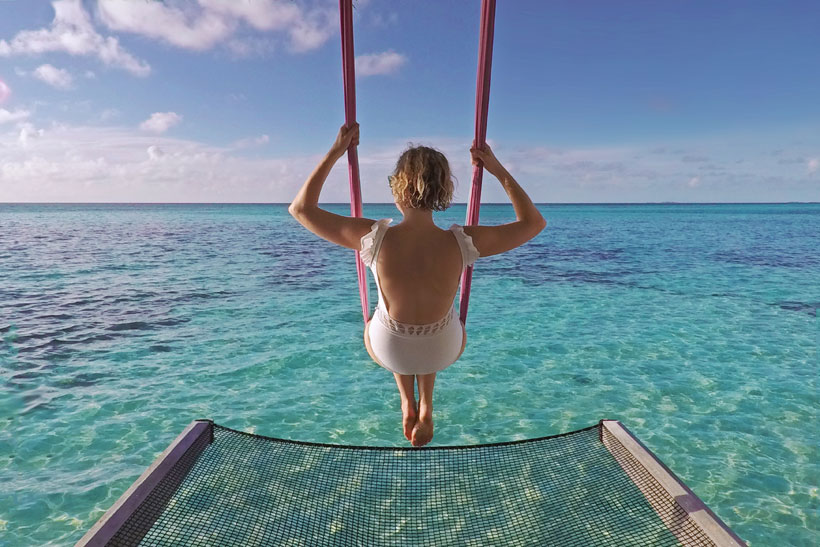 Special thanks to Lux* Resorts & Hotels for hosting us. All opinions are, as always
my own.
Thank you for reading.
If you like this article, please share.
 
 
 
 
 
 
 
 

 




ABOUT THE AUTHOR




 

Sabrina Iovino is the founder of JustOneWayTicket.com. She's half German, half
Italian and has traveled to more than 50 countries around the globe.

She feels weird to write about herself in the third person, so she'll switch now. Phew…much better! Let's restart:

Hi, I'm Sab! This is my blog and I write about the things I love. Mostly.

 

Follow me on Facebook | Twitter | Instagram | Pinterest | Google+ | Youtube

 



 
 
 
 
 
 
Enjoyed this article? Sign up for my Newsletter or
follow me on Facebook and get notified about new posts.


[ad_2]